What's your cruise vacation style? If you immediately think that's "small-ship, relaxed, luxurious, fun, off-the-beaten-path and immersive," then definitely check out Windstar Cruises. It's casual cruising but with pampering service and amenities.
(Windstar Cruises' Star Breeze is shown above in Tahiti. Photo by Windstar Cruises.)
"What makes Windstar better and different in the small-ship category is reflected in our tag line '180 Degrees from Ordinary,' as we try to live up to that in everything we do," says Betsy O'Rourke, Windstar's chief commercial officer.
"The big 'takeaway,' though, is that we truly understand personal, authentic service," she tells The Meandering Traveler. "It's unpretentious luxury as on a private yacht."
Fleet-wide, the line has six ships:
Three Wind-Class sailing ships are stately, elegant, yet still casual in style. They accommodate 148 to 342 guests. While they have full sails, they're also motorized for flexibility in ocean travel.
Three Star-Plus-Class motorized ships each serve up to 312 guests. Newly revitalized, they were recently "stretched" (see more details below) during Windstar's recent $250 million Star-Plus-Class Initiative.
Casual Cruising: Wind-Class Vessels
The most intimate ships in Windstar's fleet are the 148-passenger Wind Star and Wind Spirit. With four teak decks, these sleek, four-masted sailing yachts feel akin to a private yacht. All staterooms offer ocean views, queen beds and flat-screen TVs with an info-entertainment system. Plus, the Owner's Suite includes a sitting area.
O'Rourke informs us that Windstar Cruises does a good amount of business with Tauck, which places its groups on the line's vessels on certain itineraries. Pavlus Travel is the number one seller of Tauck worldwide. So, if you enjoy Tauck and also desire to sail on Windstar, talk with one of the agency's skilled personal travel planners.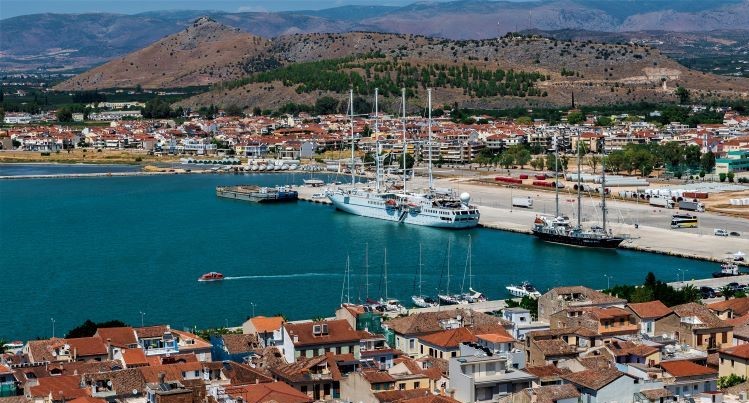 But back to the Wind-Class ships…
Guests sailing on Wind Star and Wind Spirit will dine at Amphora, a restaurant serving gourmet, course-by-course cuisine at dinner. The Veranda restaurant offers both a casual buffet and full-service dining for breakfast and lunch. All dining is open seating.
Desire to dine under the stars? Well, we have a great option. Guests can also make a reservation for Candles which features steaks and skewers.
Other public spaces aboard Wind Star and Wind Spirit include the World Spa by Windstar, a watersports platform, lounge, library, pool and hot tub.
"Windstar was one of the first small-ship cruises I ever did," says
Heidi Sarna,
cruise expert, co-founder and publisher of
QuirkyCruise.com.
" I was hooked. My husband and I sailed from Istanbul to Athens on the
Wind Spirit."
Still thinking about what she calls "that dreamy cruise," she tells us: "I loved all the wood and the nautical feel, the intimacy of just 148 passengers and the delicious dinner on deck one night sailing away from a moonlit port."
Flagship Sailing Ship
Windstar's flagship, Wind Surf, is the world's largest sailing ship. This 342-passenger, five-masted vessel is truly resplendent when all its sails are unfurled. That's nearly 27,000 square feet of canvas.
Catching the wind is yachting at its best (but again, the ship is also motorized, adding flexibility for travel in various sea/wind conditions).
Accommodations-wise, guests can choose from 18 Ocean View Suites with his and her bathrooms, two Bridge Suites, one Officer's Suite, and 150 Ocean View Staterooms.
All Wind Surf staterooms and suites also are decked out in new upholstered furniture and fine Egyptian cotton linens. And, when guests arrive in their stateroom or suite, Windstar's signature bowls of flowers and fresh fruit will be waiting.
Unique Officer's Suite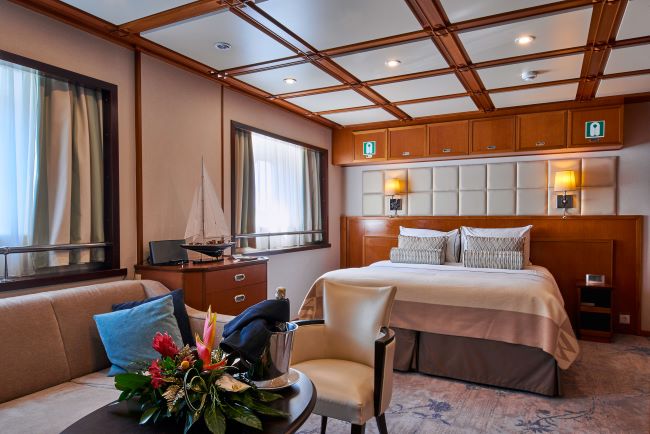 That Officer's Suite is an interesting option. Windstar says that "it might be the only one of its kind." How so? Guests have the opportunity to stay in the heart of the officers' quarters tucked right behind the bridge.
Recently, Wind Surf received a significant renovation of public spaces and suites, including an expanded lounge with new lights and sound for stage performances. The new World Spa by Windstar offers regional spa treatments, including such massage styles as Swedish, Japanese Shiatsu and Hawaiian Lomi Lomi.
Casual Cruising: Star-Plus-Class Ships
Following major drydocks over the past several years, all three Star-Plus-Class vessels received major renovations. Most notably, they were also "stretched" – with a new center section inserted. That's opened up the vessel's configuration — providing more overall space and new venues too.
Yet, the ships nicely retain their small-ship, casual cruising feel. We can speak first-hand on that point, as The Meandering Traveler has sailed twice on these vessels since their updates — on Star Breeze in 2021 and Star Pride in 2022. (Our new Star Balcony suite is shown in the photo below.)
All three Star-Plus-Class vessels have now been updated with new suite options, enhanced public spaces, a completely transformed spa and gym, and more top-quality specialty dining.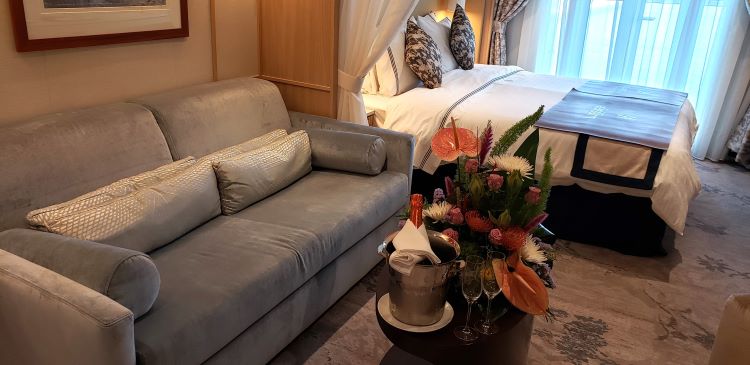 On the specialty dining front, "Cuadro 44 is a huge hit," says O'Rourke. She's referring to the ships' new interior Spanish cuisine restaurant, set up in partnership with Michelin-star Chef Anthony Sasso.
What's in the name? Here's an interesting factoid. Cuadro 44 translates to "Frame 44" in Spanish. When ships are built, a vessel is mapped out in sections called frames. So, Cuadro 44 is the ship's numeric "address" for where the restaurant resides — inside frame 44.
Outdoors on the Star-Plus-Class ships is the new, modern, casual Star Grill, created in partnership with famed grill master Steven Raichlen. Guests can enjoy grilled, smoked and rotisserie specialties, including seafood, meats and vegetables, alongside side dishes and sauces.
New Broadmoor & Sea Island Suites
Added to the three Star-Plus-Class Suites in the recent drydocks are two new suites (#500 and #501). One is named the Broadmoor Suite, the other the Sea Island Suite.
In their ambience, style and decor, they reflect the relationship between Windstar and a sister company, the Broadmoor-Sea Island Company, which operates the Broadmoor Hotel in Colorado and the Sea Island Resort in Georgia.
That hospitality company is owned by TAC (The Anschutz Corporation), which in turn, also owns the Xanterra Travel Collection, Windstar's parent firm. So, the look of those suites is a bit different.
"Everyone is loving the integration of the brands," O'Rourke says.
Sailing the South Pacific 
In Tahiti, Wind Spirit has been sailing year-round for many years. In February 2024, it will be replaced by the 312-passenger Star Breeze.
"We're doubling our capacity there," O'Rourke notes. "Tahiti is just a beautiful destination. We've been there for 35 years, the longest standing cruise line there." She adds that Windstar offers "a very localized, immersive experience."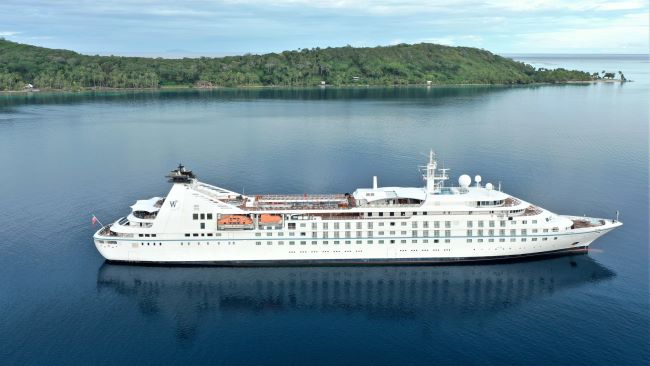 What's different for 2024 and 2025? Highly anticipated is Windstar's new 14-day "Tahitian Treasures and Magnificent Marquesas" itinerary on the all-suite Star Breeze.
Sailing roundtrip from Papeete, Tahiti, the ship will call at popular Tahiti favorites. But it also will venture to the extremely remote Tuamotu Islands of Fakarava and Rangiroa, plus the even more distant Marquesas.
There, the yacht will spend time in Omoa, Fatu Hiva; Atuona, Hiva Oa; and Taiohae, Nuku Hiva.
Gauguin and Wildlife
On Hiva Oa, for example, guests can visit artist Paul Gauguin's former home, as well as view the largest Tiki sculptures found anywhere in the Pacific. At Fakarava's Lagoon, a UNESCO Biosphere Reserve, travelers will discover an ecosystem teeming with colorful tropical fish and seabirds.
Then the ship will head for the Society Islands of Tahaa, Bora Bora (overnight), Moorea, and finally a return to Papeete.
In designing this new Marquesas itinerary, Windstar listened to guests who love visiting Tahiti but desired to see other destinations too. So, this new "Tahitian Treasures and Magnificent Marquesas" itinerary does just that.
Some isles visited have fewer than 1,000 residents.
At press time, that new Marquesas itinerary was priced starting at $5,999 per person, double occupancy (cruise only), or $7,245 per person, double occupancy (all-inclusive).
Shelby Steudle, president, Pavlus Travel, suggests that consumers chat with one of the agency's personal travel planners about a potential Windstar Cruises vacation.
"We'll help you sort out all the itinerary options, explain accommodations and features and discuss departure dates," she says. "Our skilled professionals can assist you in deciding on the best voyage choice for your vacation style and budget."
Most helpful is that "we'll take the stress out of the booking process by handling all the details," emphasizes Steudle. "So, let us do the work and just sit back and relax." 
A Relaxing Way to Go
Seeing the South Pacific's tropical isles via travel on a ship truly offers "the best value and best experience," O'Rourke tells The Meandering Traveler. 
For instance, while the voyage is underway, the cruise offers easy transportation from island to island. So, guests avoid any airport or airline hassles, as well as ground transfers, while they move between the islands in a much more civilized fashion.
Instead, Windstar's guests will relax, listen to enriching lectures, enjoy savory dining, and sleep in well-appointed, luxurious accommodations as they float from isle to isle. 
Casual Cruising, Platform Play
Certainly, Windstar's casual ships fit well with the tropical breezes, soft sands and rich cultures of the South Pacific. "All of our yachts have platforms," stresses O'Rourke.
So, guests can swim right off the platform, which also has floating mats and a trampoline in the water. We'd love to do that, exclaiming "bouncy, bouncy," and "wheeeee"!
Guests can explore coves and the ocean by hopping on a paddleboard or taking out a kayak. "It's literally like having your own private yacht," she says.
Discovery Events
In addition, "we do Discovery Events in Bora Bora," O'Rourke tells The Meandering Traveler. Since Bora Bora is surrounded by tiny pristine, secluded islets called "motus," Windstar also sets up these private events on those.
One is a daytime beach barbecue. Another is an even more spectacular Tahiti evening event. As has long been the tradition in Tahiti, guests will be welcomed with a fragrant flower lei.
"Guests will enjoy a special, immersive evening with fire dancers and an amazing array of local foods," says O'Rourke.  "You can literally taste and feel the destination." Simply put, it's idyllic.
Venice and Beyond 
Small ships may not have all the razzle-dazzle, theme-park-like activity options of big ships, but they have another appealing advantage. They're often able to visit some port destinations that big ships can't.
So, they can easily call at remote coves or harbors. In Alaska, for example, Windstar's ships can sail into narrow fjords and take cruisers to pristine, far-removed-from-civilization harbors. Bigger vessels simply can't enter.
"We have a very different product than the big ships," stresses O'Rourke. As for this year's Alaska season, "we're almost sold out, although we still have some sailings with availability." Casual, relaxed cruising with pampering service is a big draw when exploring The Great Frontier. 
Small-Ship Access
Even in larger, more well-known, favorite destinations, Windstar's small ships have an advantage at times. For instance, O'Rourke points to Venice, Italy, which now has strict regulations to prohibit large ships from docking in the heart of the city. Lines with large ships have had to seek out alternative options for guests to get off and then travel to Venice.
But O'Rourke reports that all Windstar ships qualify to dock directly within Venice itself. So, guests can simply walk from the dock into the city and begin exploring. In positioning Wind Star and Wind Spirit to sail within Greece, "we have a beautiful new itinerary roundtrip from Venice," she adds.
What's that? Debuting in July 2024, the 148-passenger motorized sailing yacht Wind Spirit will operate a nine-day "Adriatic Icons & Venetian Treasures."
At press time, fares began at $4,199 per person, double occupancy (cruise only) or $5,000 per person, double occupancy (all-inclusive). Chat with a professional travel advisor about details.
Casual Cruising: New in the Middle East 
As travel has returned post-pandemic, many experienced travelers seek to vacation in destinations they've never visited in the past. Many desire exotic, off-the-beaten-path places.
Thus, O'Rourke is excited about the line's new line-up of Middle East itineraries. Those begin in November 2023 and continue through spring 2024.
Why not ask a Pavlus Travel advisor about all the new Windstar options in that region? For instance, we'd suggest checking out the "Signature Persian Gulf Passage Cruise Tour" itinerary from Dubai, United Arab Emirates (UAE). Thirty-one departures of this robust itinerary are offered by the 312-passenger motorized yacht, Star Legend.
Arriving in Dubai, guests will spend three nights on land with included guided tours of both old and new Dubai, and visits to Sharjah (the UAE's cultural and literary hub) and Bab Al Shams (a pampering desert resort area). Then on Day 4, guests will embark Star Legend, a Star-Plus-Class vessel.
The ship will call at Sir Bani Yas, UAE; Doha, Qatar (overnight); Damman, Saudi Arabia; Manama, Bahrain; Abu Dhabi (overnight), UAE; Ras Al Khaimah, UAE; and Fujairah, UAE, before guests disembark at Muscat, Oman.
Enticing Exotic Ports
"While the ports may not be familiar to all, they're enticing in many ways," says Pavlus Travel's Steudle. "For example, Manama is the modern capital of the gulf island nation of Bahrain. But heritage buffs will love learning that it's been at the center of major trade routes since antiquity. We'd suggest checking out the Bahrain National Museum, which showcases amazing Dilmun civilization artifacts."
Throughout the land portion of this Windstar itinerary, guests will enjoy included guided tours. Post-cruise hotel stays are also included for Jabel Akhdar,  Nizwa, Wahiba and Sur in Oman. In total six hotel nights (both pre- and post-cruise) are included.
To learn more, here's the link to this "Signature Persian Gulf Passage Cruise Tour" itinerary. At press time, pricing started at $6,399 (cruise only) or $7,289 (all-inclusive); fares are subject to change. Talk to your personal travel planner if you have questions.
Casual Cruising: Around Iceland 
Also enticing this year and next are Windstar's circumnavigations of Iceland on a week-long "Around Iceland" itinerary. Sailing roundtrip from Reykjavik, Iceland, the 312-passenger Star Pride, a Star-Plus-Class ship, encircles the isle. Star Legend also sails within the area for Windstar.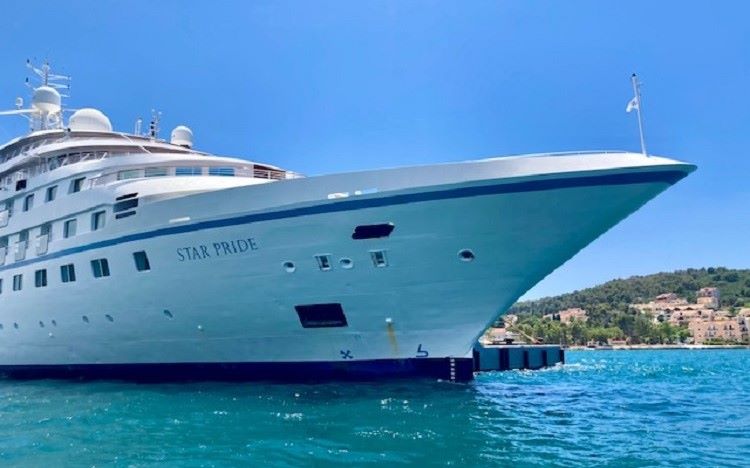 On the "Around Iceland" itinerary, consumers can choose from multiple departure dates. At press time, fares started at $2,199 (cruise only) or $2,822 (all-inclusive). Click on the "Around Iceland" link above for the itinerary and more details, or chat with your travel advisor. 
"By far, the best way to see Iceland is on a Windstar cruise, with all your food and lodging included and you get to see many spots," believes O'Rourke. "People love it."
Casual Cruising: The Culinary Slant
Wherever it is in the world, small-ship, casual Windstar also focuses strongly on cuisine. Guests can participate in shoreside Market Tours with a Windstar chef. "That's one of the things we're most proud of," O'Rourke explains.  Guests accompany the ship's chef to a vibrant local market.
Cruisers will see how the chef selects fresh vegetables, fruits, fish, cheese and other food products. Plus, "we're small enough" to incorporate local foods into onboard menus on the ships, she notes.
In addition, Windstar has a partnership with the James Beard Foundation. At least three themed cruises a year sail with a James Beard Foundation chef aboard. Look for cooking demonstrations and chances for guests to mix and mingle with the guest chef.
In addition, the James Beard chefs will share their recipes with guests and Windstar now integrates some of their recipes into nightly dining menus across its fleet.
Windstar's line-up of James Beard chefs planning to sail with the line in 2023 was included in this previous Meandering Traveler blog.
Choices and Trends
One perk of a Windstar Cruise is that you can choose your fare — "either a la carte or all-inclusive," notes O'Rourke. Guests can choose basic fares or those that include alcohol, gratuities and Wi-Fi, for example.
As travel and cruising continues to return with more options, O'Rourke is seeing a marketplace of contrasts. For example, "our biggest trend right now is that we're seeing guests book very far out" (so for 2025 and beyond)" and also "very close in" (under 90 days).
Yes, she sees both of those. One reason for the close-in bookings may be the impact of airline fares, she says. "The biggest barrier we hear about booking a cruise is the cost of the airfare, but many airlines are now discounting any unsold seats with just 90 days left in the sales cycle."
Casual Cruising: Contract Air Option
However far out guests choose to book, though, Pavlus' Steudle says that her agency's contract air fees are often much less than what consumers can get on the open market. So, be sure to contact a personal travel advisor to discuss your needs — everything from the cruise or tour itself to air ticketing and any hotel needs.
Sliding into the second half of 2023 and looking beyond to 2024, it's a good time to plan your vacation for this year or next. If you're someone who loves small-ship cruises, casual cruising, luxurious accommodations and plenty of pampering, consider Windstar.
Sarna, in particular, is fond of Windstar's sailing ships, saying they're not cookie-cutter: "I'm rarely one to quote marketing tag lines, but Windstar's '180 degrees from ordinary' is very true!"
But whether readers might prefer those classic sailing ships or the newly updated, motorized Star-Plus-Class vessels, Windstar offers some appealing small-ship getaways. Just pick your passion for a region of travel — from Tahiti to Iceland, from the Middle East to the Mediterranean, Alaska or beyond.
Then get ready to sail on a small ship with a casual cruising vibe, savory cuisine and pampering service!
Important Information from Pavlus Travel
If anything tweaks your interest in this blog and you'd like to talk about a future vacation, please DO call us at 800-528-9300.
Definitely, if you have questions about specific pricing, brochures, savings, itineraries, dates of travel, accommodations, accessible options and so on, please contact us.
Again, call us at 800-528-9300 or visit and "live chat" at Pavlus Travel's official agency Web site.