River cruise powerhouse Viking recently announced that Nile River voyages on the new Viking Hathor are now open for sale. Set to debut in 2024, that new river vessel will join the line's expanding fleet of purpose-built ships along the storied Egyptian waterway.
(Check out the photo above of identical sister ship, Viking Osiris, on the Nile. Photo by Viking.)
Strong Demand for Egypt
Interestingly, Viking reports that its 2023 Egypt season is "sold out." In addition, the line says that some sailings as far out as 2025 are also selling out.
As a result, Viking is adding more 2024 Nile River departures for the new Viking Hathor. When it begins sailing, the ship will operate the popular 12-day "Pharaohs & Pyramids" itinerary.
At press time, pricing for that itinerary started at $6,999 per person, double occupancy; fares are subject to change. Talk to a personal travel planner for any questions and booking of your Nile River cruise. But if you want to go in 2024 or beyond, do it now, given high demand.
"Egypt continues to be one of our most popular destinations," explains Torstein Hagen, Viking's chairman. As a country rich with history and culture, we are pleased to bring the Viking way of exploration to Egypt for our guests. With the addition of the Viking Aton this summer and the Viking Hathor next summer, we are looking forward to meeting the growing demand in the region."
In its first year of sailing, the Viking Hathor's identical sister ship, the Viking Osiris, was named as one of the "Best New Cruises" in Conde Nast Traveler's "2023 Hot List."
Egypt itself is a most desired spot for many travelers. TIME magazine featured both Giza and Saqqara on its "World's Greatest Places of 2023" list, recommending sailing the Nile River with Viking. TIME notes that Viking is among the very few who stop in both Giza and the village of Saqqara, where excavation sites, like the megatombs of animal and human mummies, are active.
Pavlus Travel: A Nile River Resource 
To learn more about river cruises along the Nile River offered by Viking or other river cruise lines, tap into the services and expertise of a professional travel advisor. That personal travel planner will gladly answer all your questions. He or she will also happily explain diverse accommodation choices, discuss departure dates and talk pricing.
In terms of Viking, a good example is made by Shelby Steudle, president, Pavlus Travel, who tells us this: "Our Viking experts at Pavlus sell tens of millions of dollars of cruises with Viking every year. So, they absolutely know the Viking river cruise product inside and out. That's a huge plus for consumers."
So is getting a great deal, she emphasizes, noting that one Pavlus Travel Special is a new $400 per couple discount off the lowest Viking Nile prices. "Our Viking Nile River cruise deals also include the lowest (at times, even free) airfares, plus shipboard credits of up to $1,000," she adds.
"In addition to the best available pricing, we also will deliver outstanding service to our customers," Steudle notes. "We definitely can help smooth the experience. Our customers can just sit back, relax, read up on Egyptian heritage and culture and savor the pre-cruise period — knowing that Pavlus will handle all the nitty-gritty details of making and servicing your booking. That way, you can enjoy the anticipation of a fantastic Nile River vacation."
Citing Hagen's comments about strong demand for Egypt cruises, Pavlus' Steudle also reminds The Meandering Traveler that Viking's 2023 Nile River season is already sold-out. "So, if you have interest in a Nile River cruise on Viking for 2024 or 2025 travel, it's a good idea to act now. Give Pavlus Travel a call today at 800-528-9300."
Viking's Growing Egypt Fleet
If you're interested in knowing a bit more about Viking's Nile River cruises, here are additional details about the ships and Viking's "Pharaohs and Pyramids" itinerary. Plus, keep reading to learn more about the river line's pre- and post-cruise extensions.
Hosting 82 guests in 41 staterooms, the new, state-of-the-art Viking Hathor is inspired by Viking's award-winning river and ocean ships that offer the elegant Scandinavian design for which Viking is known. Viking Hathor is an identical sister ship to the Viking Aton, debuting in August 2023, and the already sailing Viking Osiris.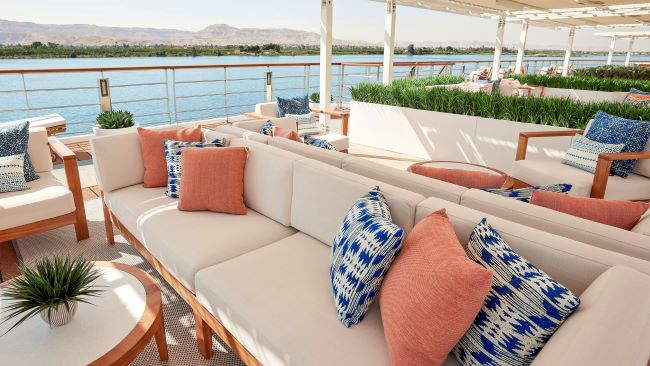 If you've sailed on Viking elsewhere in the world, such as on a European river, you'll find that the newest sister ships offer several aspects familiar to Viking guests, such as a distinctive square bow. And yes, for those loyal Viking enthusiasts who love the line's indoor/outdoor Aquavit Terrace, you'll also find that popular space aboard.
In addition to those three sister ships, Viking also operates voyages with other Egypt vessels including the Viking Ra and Antares. In fact, Viking will have six ships sailing the Nile by 2025 with the addition of Viking Sobek, also now under construction and expected to be delivered in 2025.
Nile River: "Pharaohs & Pyramids" 
During the 12-day "Pharaohs & Pyramids" itinerary, guests will begin their Egypt adventure with a three-night stay at a first-class Cairo hotel. While there, they'll visit such iconic sites as the Great Pyramids of Giza, the necropolis of Saqqara (also known as "Sakkara") and the Mosque of Muhammad Ali.
Next, they'll fly to Luxor to visit the Temples of Luxor and Temple of Karnak. Then, they'll board their Viking river ship for an eight-day, roundtrip cruise on the Nile River.
They'll enjoy Viking's Privileged Access to the tomb of Nefertari in the Valley of the Queens and the Tomb of Tutankhamen in the Valley of the Kings. It's famed because it is the only royal tomb in the Valley of the Kings to be discovered relatively intact.
In addition, they'll set out on incredible excursions to the Temple of Khnum in Esna, the Dendera Temple complex in Qena, the temples at Abu Simbel and the High Dam in Aswan.
Guests will also get to know some of the "locals," by visiting a Nubian village and its traditional elementary school. Finally, the journey will conclude with a flight back to Cairo for a final night in the ancient city.
Again, this "Pharoahs and Pyramids" itinerary begins at $6,999 per person, double occupancy; pricing is subject to change.
Pre- or Post-Cruise Extensions
Desire to extend  your vacation? Pavlus Travel will chat with customers and provide details about Viking's pre- and post-cruise extensions. Those nicely provide Privileged Access to some archives and exhibits.
For example, guests on the five-day "British Collections of Ancient Egypt" extension will begin in London, where they'll meet their Viking Tour Director, an expert Egyptologist, and experience Privileged Access to two museums.
First, they'll enjoy a private, early morning visit to the Egyptian Collection at the British Museum. They'll arrive before that popular museum opens to the general public.
Second, they'll visit the home and personal museum of world-renowned architect, Sir John Soane. There, candlelight will illuminate the way, reenacting how Soane entertained his guests.
For example, Soane showcased his exquisite Egyptian antiquities collection, which includes a 3,000-year-old Egyptian sarcophagus.
More Privileged Access
On this pre-cruise extension, guests also will visit London's Petrie Museum of Egyptian Archaeology. It's home to more than 80,000 artifacts from ancient Egypt and Sudan. In Oxford, guests also will visit the Ashmolean Museum, one of the world's oldest. It's home to a diverse collection of Egyptian mummies and art.
They'll also go behind the scenes at Oxford University's Griffith Institute, enjoying a Privileged Access visit to see Howard Carter's archives. Those detail the discovery of Tutankhamun's tomb.
Lastly, travelers will have further Privileged Access with an exclusive visit to Highclere Castle (the setting for the TV series "Downton Abbey"). There, they'll view the Earl's private collection of Egyptian artifacts, plus archives and exhibits not normally accessible by the public.
More Extensions to Extend Your Vacation
Pre-cruise extensions are also provided by Viking to Istanbul, Turkey, and Jerusalem, Israel. Or, after concluding their Egypt river voyage, guests can also opt for a post-cruise extension to "Jordan – Petra, Dead Sea and Amman."
Again, to discuss all the Nile River vacation choices and reserve space for 2024 or 2025 (given the high demand cited by Viking), Pavlus' Steudle recommends calling Pavlus Travel today at 800-528-9300.
Important Information from Pavlus Travel
If anything tweaks your interest in this blog and you'd like to talk about a future vacation, please DO call us at 800-528-9300.
Definitely, if you have questions about specific pricing, brochures, savings, itineraries, dates of travel, accommodations, accessible options and so on, please contact us.
Again, call us at 800-528-9300 or visit and "live chat" at Pavlus Travel's official agency Web site.