From The Meandering Traveler's goodie bag of "what's new in cruising" this month, we've picked out our Top 5 Newsy Cruise Tidbits. If you desire to keep up with the cruise industry's happenings, here are our anecdotal picks!
1. Cruise Tidbits: Crystal & Port Everglades
Interested in sailing from a U.S. port on the new Crystal Cruises, now owned by A&K Travel Group? Seeking to sail from a U.S. port in late 2024?
Well, then you'll likely be happy that Crystal has announced plans to homeport Crystal Serenity at Port Everglades (Greater Fort Lauderdale, FL), starting in November 2024.
(In the photo above, the ship is shown at Port Everglades prior to the pandemic. Photo by Susan J. Young.)
That 740-passenger ship is expected to relaunch under the new ownership on July 31, 2023, from Marseilles, France.  So, what can guests expect for the new voyages from Port Everglades later next year?
Right now, itineraries are not yet available, but Crystal plans to release details later this year.
Extensive Refurbishments
Crystal Serenity is currently undergoing an extensive refurbishment in Trieste, Italy. When the vessel debuts later this summer, guests will discover such enhancements as larger, updated suites with artisanal finishes.
In addition, the ship will offer new wellness programming and a revamped spa. Specialty restaurants Umi Uma and Osteria d'Ovidio will have a new look. And yes, the ship will have a new pickleball court.
As for the late 2024 voyages from South Florida, "Crystal is a natural fit for Port Everglades and will complement our growing fleet of high-end brands," says Jonathan Daniels, Port Everglades' CEO and port director.
"That offers new opportunities for those seeking a more intimate, luxury cruise experience from that port," adds Shelby Steudle, president, Pavlus Travel. "Give us a call to let us know you're interested in a 2024 Crystal voyage from Port Everglades. That way, we can monitor the schedules and alert you when Crystal releases more information."

2. Cruise Tidbits: Lindblad Partners with "FOOD & WINE"
Lindblad Expeditions-National Geographic, a global expedition cruise line, has teamed up with FOOD & WINE, which covers the best of what's new in food, drinks, travel, design and entertaining.
The result? The duo has unveiled a new series of gastronomic expeditions, which should appeal to foodies in search of adventure!
Aboard National Geographic Sea Bird or National Geographic Sea Lion, wine lovers and gastronomes will embark on an eight-day "Columbia and Snake Rivers Journey Presented by FOOD & WINE" expedition.
 Nimble, reliable, and intimately scaled, these U.S.-flagged vessels both offer 31 outside cabins and suites. Purpose-built, they were designed to navigate shallow and tight waterways.
Cruise Tidbits: A Chef's Dream
The inaugural "Columbia and Snake Rivers Journey Presented by FOOD & WINE" expedition will set sail from Portland, OR, on March 31, 2024, aboard National Geographic Sea Bird. At press time, pricing started at $6,060 per per person, double occupancy; prices are subject to change. 
"The bountiful diversity in the Columbia and Snake Rivers region is every chef's dream," emphasizes Ana Esteves, vice president of hotel operations, Lindblad Expeditions-National Geographic. "With the opportunity to source fresh ingredients directly from farmers along the way, this new itinerary perfectly captures the best culinary delicacies of the region."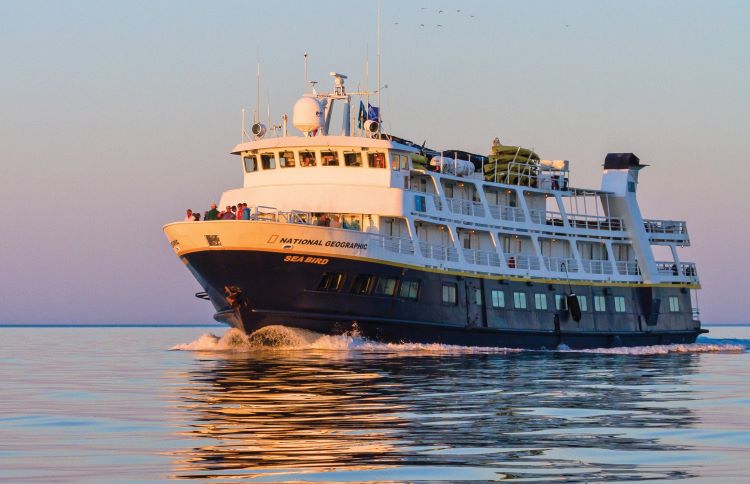 Cruise Tidbits: A Trio of Delights
When they're not off exploring by foot or Zodiac, guests will enjoy regionally inspired menus. Those will be designed around ingredients and wine sourced from within 250 miles of the destination. Here's what goes into that sourcing:
Central Washington's

canyons and gorges offer miles of wheat fields, orchards and vineyards. That creates easy access to fresh grains, fruits and savory local wines. 

The Lindblad ships take aboard fresh, wild-caught seafood from the region's coastal waters. 

In Oregon's forests, Lindblad's partners also forage for fresh mushrooms to bring aboard the ships.
On these gastronomically themed cruises, the extensive wine list will offer more than 40 regional varietals. Those will be curated by Esteves in collaboration with Ray Isle, FOOD & WINE's executive wine editor.
Cruising through Wine Regions
The expedition follows the Columbia River through some of the Pacific Northwest's most beautiful wine country — Oregon and Washington regions that include the Columbia Gorge, Walla Walla, and others, according to Isle.
"Cruisers can taste the wines while traveling within the heart of the region's landscapes — thus creating an extraordinary experience," says Pavlus Travel's Steudle. "In addition, wine enthusiasts will appreciate a savory perk on these themed cruises — nightly onboard wine tastings!"
For more information on the itinerary and inclusions, visit Lindblad's website page on the program. Want to know more about Lindblad? Check out our blog of earlier this year.
For reservations or additional information on Lindblad Expeditions-National Geographic voyages, definitely contact a skilled personal travel planner.
3. Cruise Tidbits: Regent Unveils 2025-2026 Voyage Collection
Another ultra-luxury cruise line, Regent Seven Seas Cruises, has unveiled its 2025-2026 Voyage Collection. Much is new, including new itineraries and 29 maiden ports of call!
Travelers can cruise within popular cruising areas — Alaska, the Caribbean, the Mediterranean, and Northern Europe. Or, they can opt for such far-flung spots as Australia and New Zealand, Asia, South America, and the South Pacific.
What's unique? This voyage collection will offer nine new sailings in Africa and Arabia — more than any previous voyage collection. Guests will have the ability to embark in Doha, Qatar, and Port Louis, Mauritius, for the very first time.
Cruise lengths? "Those vary from seven nights to the 154-night 2026 World Cruise," says Pavlus' Steudle. "We particularly like that Regent Seven Seas has introduced five of those captivating Grand Voyages — not as long as a World Cruise, yet robust and lengthy."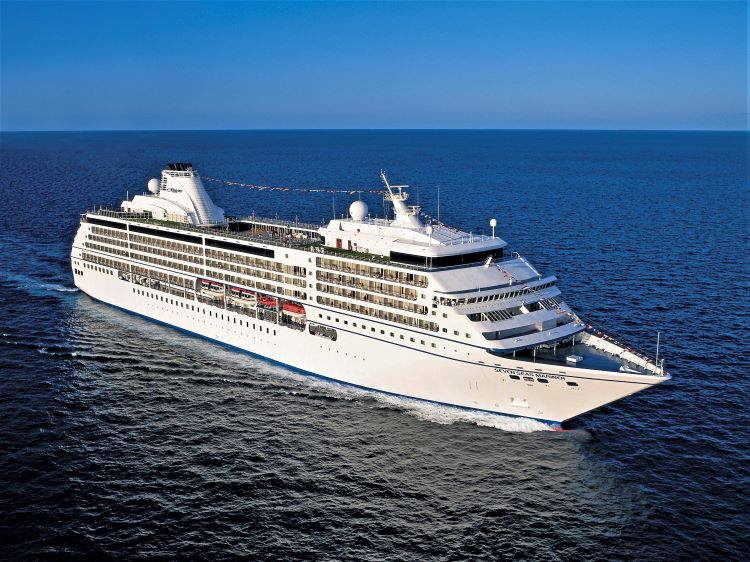 Highlights of the Collection
Regent Seven Seas will also sail to five new ports in Madagascar. Alaska buffs will discover two 14-night roundtrip sailings in Alaska for Seven Seas Explorer. The line's newest ship, Seven Seas Grandeur, also will transit the Panama Canal twice and sail an inaugural season in Northern Europe.
"Those who love plenty of shore time will likely appreciate 124 overnight stays in such ports as Istanbul, Turkey; Bangkok, Thailand; and Luxor (Safaga), Egypt," says Pavlus Travel's Steudle.
Contact your personal travel planner for all the details about these new voyages.
4. Cruise Tidbits: Hidden Caribbean with Chef Robinson
For those who love small vessels, which can easily navigate into remote coves, bays and hidden spots, small-ship, upscale Emerald Cruises is offering an eight-day "Hidden Charms of the Caribbean with Chef Ben Robinson," departing on March 2, 2024.
It's certainly one of our most savory cruise tidbits! Chef Ben Robinson is an Internet personality and chef previously featured in the TV reality series, "Below Deck."
Guests will sail on Emerald's new 100-passenger luxury yacht, Emerald Sakkara. Operating between San Juan, Puerto Rico, and St. John, Antigua, Antigua and Barbuda, this voyage will include the celebrity chef's custom-tailored welcome reception, a full dinner prepared by the chef, and select special plates throughout the week. 
Chef Robinson will also conduct a live cooking demonstration, mix and mingle with guests at a Q&A session, and accompany an exclusive excursion ashore.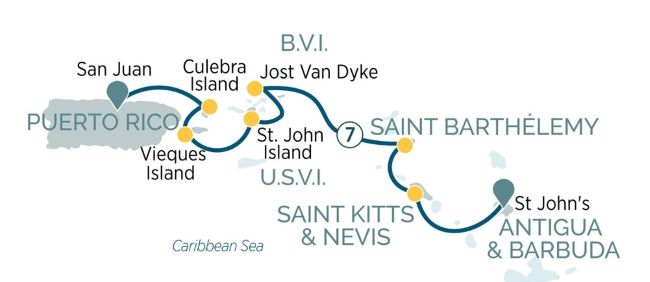 Appealing Caribbean Itinerary
Emerald Cruises' itinerary will take guests to white sandy beaches, vibrant towns and gorgeous scenic coasts. Ports of call will include: Culebra, Culebra Island, Puerto Rico; Vieques Island, Puerto Rico; St. John, U.S. Virgin Islands; White Bay, Jost Van Dyke, British Virgin Islands; Gustavia, Saint Barthelemy; Friars Beach, Saint Kitts and Nevis.
At press time, pricing started at $4,999 per person, double occupancy. Contact your professional travel advisor for all the details. or visit this Emerald website page. 
5. Cruise Tidbits: Seabourn's Powerhouse Lineup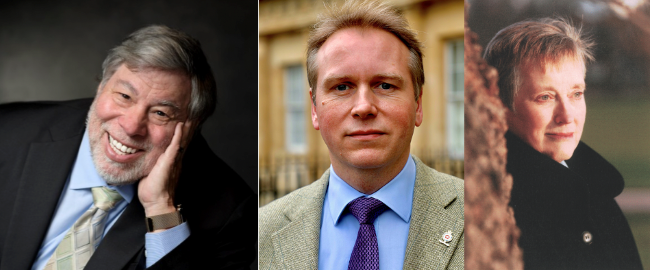 For travelers who love enrichment and hearing from notables in science, history, culture and gastronomy, Seabourn will offer some enticing new options. Earlier this month, the ultra-luxury line revealed what can best be described as a "powerhouse lineup" of speakers.
They'll participate in the Seabourn Conversations program between this month and November 2023. Here are a few highlights of the enticing enrichment speaker line-up:
Steve Wozniak, co-founder of Apple, is sailing on a Seabourn voyage this week.
Grant Harrold, butler to the royals, will be aboard Seabourn Encore from Athens, Greece to Tenedos, Turkey, on November 5, 2023. He's even expected to hold a "Royal Etiquette" session for guests!
Stella Rimington, former director general of the U.K.'s MI5, will sail on Seabourn Ovation's voyage from Barcelona to Rome on October 29, 2023. Interesting factoid? She's widely known as the role model on which Judi Dench's "M" character in the James Bond 007 movies was based.
Other Accomplished Speakers
Chef Robert Thompson, the youngest Michelin-star chef ever, will sail on multiple voyages this year. Among those are  Seabourn Quest's sailing from London to Quebec on August 1, 2023, and Seabourn Sojourn's voyage roundtrip from Dover, U.K., on September 7, 2023. 
The World Wine Guys (Mike DeSimone and Jeff Jenssen) and Will Lyons, The Sunday Times of London's wine critic, will be aboard Seabourn Encore for a "Wine Interest Cruise" from Istanbul, Turkey, to Athens, Greece, on November 12, 2023.
More Notables, Seabourn Moments
Plus, there are other notable speakers lined up too. They include explorers and astronauts who will speak on other dates. All speakers will conduct lectures, share meals, venture ashore and socialize with guests throughout the voyage.
As a result, these accomplished speakers will create "truly enriching 'Seabourn Moments' for guests while they experience Seabourn's uncompromising luxury and intuitive, genuine service," according to Natalya Leahy, Seabourn's new president.
Cruise Tidbits: Parting Thoughts
From The Meandering Traveler's perspective, "we hope you've enjoyed catching up on some of the enticing cruise news tidbits for the month of June" says Pavlus Travel's Steudle. "Give us a call if we can assist with helping you sort out all the voyage options for the developments listed above.
"We'll provide the best deals and discounts, as well as  discuss accommodations options, explain fares and inclusions, assist with air tickets, if desired, and much more," she explains. "And, of course, we'll happily book your cruise. That includes expertly handling all the nitty- gritty details for that, giving you top-notch service." So, get ready to cruise!
Important Information from Pavlus Travel
If anything tweaks your interest in this blog and you'd like to talk about a future vacation, please DO call us at 800-528-9300.
Definitely, if you have questions about specific pricing, brochures, savings, itineraries, dates of travel, accommodations, accessible options and so on, please contact us.
Again, call us at 800-528-9300 or visit and "live chat" at Pavlus Travel's official agency Web site.