Do you love sailing with a cruise line that provides guests with many value-added inclusions? Well, then it's good to know that upscale Oceania Cruises has unveiled a new value-added program of inclusions. Delivering three major, value-added perks, it's officially called "simply MORE."
Good to know? The new program applies for all new reservations made on or after July 1, 2023, for sailings departing October 1, 2023, or beyond. It will replace Oceania's previous OLife Choice program. See below for more details about the changeover.
New "simply MORE" Perks
First, here's the scoop on the new"simply MORE" program — which the line says is its latest evolution — designed to elevate the guest experience. The perks include:  
A hassle-free arrival and departure with free roundtrip airfare and free airport transfers. Oceania's terms and conditions regarding free airfare and free airport transfers are here.

More

unforgettable travel experiences with a generous shore excursion credit. That starts at $600 per stateroom for an itinerary of seven to nine days and ranges up to $1,600 per stateroom for 31-to-35-day itineraries. The credit can be spent on the guests' choice of shore tours during their cruise.
A comprehensive, complimentary beverage package available during lunch and dinner. It will include dozens of premium label Champagnes and wines, plus more than 20 American and international beers.
Value and Choice: "simply MORE"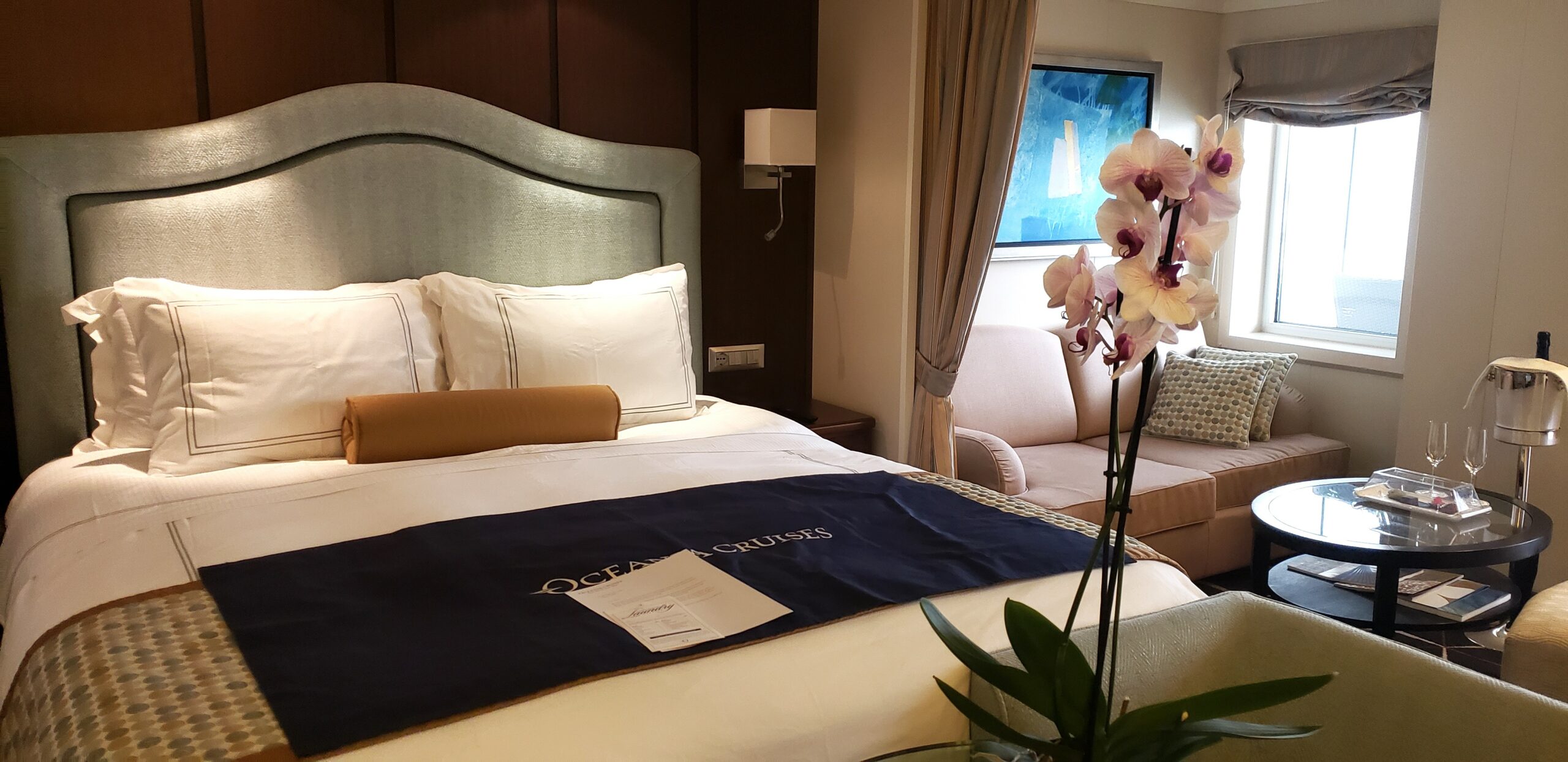 "Thanks to the launch of 'simply MORE,' our guests will enjoy even more value, more choice and more convenience than ever before," believes Frank A. Del Rio, president, Oceania Cruises. During the past 20 years, the line has evolved to adapt and evolve based on what guests desire, he adds. 
For example, the upscale line recently asked guests and travel partners what they wanted. The answer: "simplicity, choice and value."
In particular, Shelby Steudle, president, Pavlus Travel likes the generous credit that guests will receive for their shore excursions. "Oceania is known for high-quality, immersive shore options," she notes. "With the new 'simply MORE' program, Oceania's guests can use that generous credit toward more than 8,000 tour choices in more than 600 ports of call."
Best of all, the credits can be redeemed for all excursions. So, guests can head into the sky via helicopter to witness an active volcano on Montserrat, or "go rural" by learning how to tend and herd sheep at a shepherd school in northern Spain.
Beyond "simply MORE" 
Other immersive choices to which that Oceania shore credit could apply include:
Beyond Blueprints architectural excursions
Food and Wine Trails Tours
Culinary Discovery Tours
Sustainability-focused Go Green Tours
Luxurious excursions with a private car and driver
Already Included Perks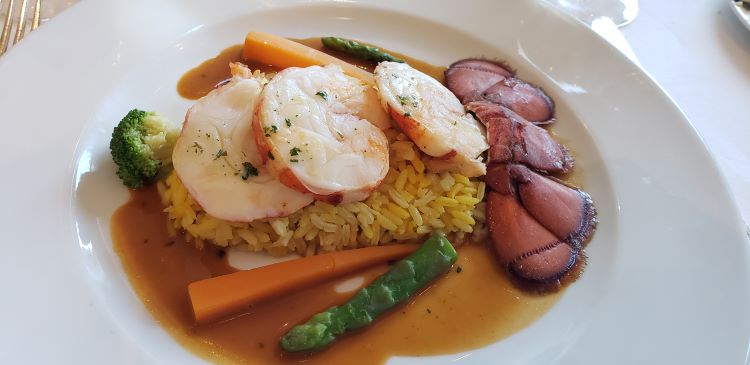 If you're not familiar with Oceania, the upscale line already provides gourmet dining with no reservation fee or cover charge at specialty restaurants.
For example, "guests can enjoy Toscana's authentic Italian dishes on the Insignia, Polo Grill's steakhouse fare on Riviera, Red Ginger's Asian flavors on Regatta and French country cuisine at Jacques aboard Marina," among many other options aboard these and other Oceania ships, emphasizes Pavlus Travel's Steudle.  
Guests also receive complimentary, 24-hour room service, plus complimentary fine teas and coffees, soft drinks and still and sparkling Vero Water. And most of us can't live without Wi-Fi, so Oceania also includes that within its fares.
Plus, travelers can keep in shape on board with complimentary fitness classes.  
OLife Choice or "simply MORE"?
As noted, this new "simply MORE" program applies only for new bookings made on or after July 1, 2023, for travel on Oceania on or after October 1, 2023.
If you booked prior to July 1, 2023, then you'll have no changes; OLife Choice if applicable will still be in effect. The same occurs if you made a new booking on or after July 1, 2023, but are traveling this summer or in early fall (prior to October 1, 2023).
In both cases, Oceania says that cruise terms, conditions and inclusions will remain unchanged from what they were at the time of the original booking — with the amenities included as originally selected.
But "if you have any questions, of course, feel free to contact one of our skilled professional travel advisors," Steudle suggests. "We'll also show you how the 'simply MORE' program could help on a future Oceania vacation in terms of value."
Oceania has a multi-faceted fleet. It's newest vessel, Vista, debuted this past spring. Steudle and other Pavlus Travel executives and personal travel planners were aboard for the inaugural sailing. Here's a link to that previous Meandering Traveler blog.
More Food and Wine News
In other Oceania news, the line recently also launched a rare wine collection across its fleet. That collection now features 80 new labels from the world's top vineyards in Italy, France, South America and elsewhere. The line's newly upgraded, luxury wines and vintage lists will be featured for the first time across the entire fleet's vetted menus.
In addition, Chef Alexis Quaretti, Oceania's senior culinary director, is newly inducted into the prestigious echelons of the Maîtres Cuisiniers de France. He joins Eric Barale, the line's vice president of culinary, in that program.
For more information, visit the line's official website at Oceania Cruises. Contact your Pavlus Travel advisor for details on the line's food-and-wine offerings, itineraries, inclusions and more. Read on for how to contact the agency.
Important Information from Pavlus Travel
If anything tweaks your interest in this blog and you'd like to talk about a future vacation, please DO call us at 800-528-9300.
Definitely, if you have questions about specific pricing, brochures, savings, itineraries, dates of travel, accommodations, accessible options and so on, please contact us.
Again, call us at 800-528-9300 or visit and "live chat" at Pavlus Travel's official agency Web site.