Calling all foodies! Yum, yum, it's great to know that Regent Seven Seas Cruises (RSSC) is introducing 128 new culinary excursions. During time ashore in the Mediterranean, guests can now choose from a portfolio of new food-focused options.
Crafted in collaboration with local chefs and culinary experts, these new excursions will take travelers for a "deep dive" through the tastes of France, Greece, Italy, Portugal, Spain, and Turkey.
(In the photo above, a Mediterranean market offers an array of fresh produce. Photo by James Arnold, Courtesy of Regent Seven Seas Cruises.)
Epicurean Perfection Programming
The introduction of the new foodie-focused shore excursions is the latest development for Regent Seven Seas' new Epicurean Perfection programming unveiled earlier this year.  
During the new culinary excursions, guests will head ashore, accompanied by local guides, for exclusive wine tastings, cooking classes, and exquisite gourmet meals.
"With its rich history and diverse culture that have undeniably shaped its delectable cuisine, the Mediterranean serves as the perfect backdrop for these tantalizing culinary adventures," says Andrea DeMarco, president of Regent Seven Seas Cruises.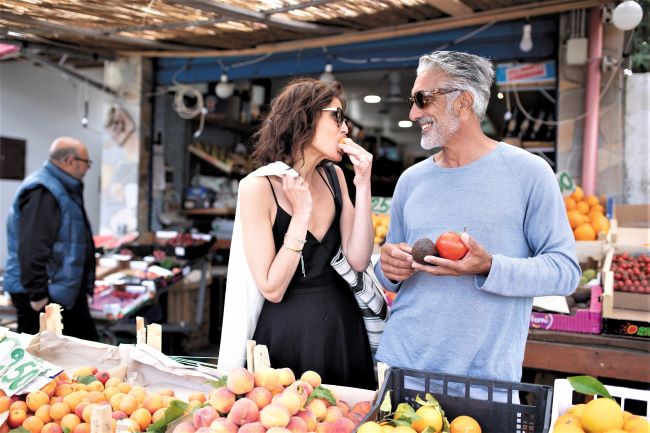 So, without further ado, here's a sneak peek at the new culinary excursions to whet your appetite. We've also listed whether these are free for the line's guests or at an additional charge. 
"Minoan Gastronomy Through History" 
In Heraklion (Crete), Greece, guests can experience "Minoan Gastronomy Through History," a free culinary shore excursion. It unfolds at a restaurant in Amnisiades Park, surrounded by ancient olive trees.
Guests will learn about the ancient Minoan diet and culture as they cook an authentic meal prepared from seafood, goat, wild deer, lentils, fruits, and nuts, accompanied by wine. Some dishes will be baked in a Minoan-style oven using olive oil sourced from the park's ancient trees.
One ultra-luxury itinerary that includes Heraklion is Regent Seven Seas' "Grandeur in the Greek Isles." Fittingly, it's operated by the new, 750-passenger Seven Seas Grandeur.
Departing on June 11, 2024, this 10-night, island-focused itinerary operates between Istanbul, Turkey, and Piraeus (Athens), Greece. At press time, cruise fares started at $12,299, per person, double occupancy.
"Contact one of our experienced personal travel planners at Pavlus Travel for more information about this cruise," notes Shelby Steudle, Pavlus' president. "Our agency sells millions of dollars in Regent Seven Seas Cruises annually and has unadvertised discounts, plus you'll receive great service."
"Cooking Class with a Local Chef"
During a port call at Dikili, Turkey (famed for the Greek and Roman ruins of ancient Pergamum/Pergamon), guests can enjoy "Cooking Class with a Local Chef." This new shore excursion is also complimentary.  
A quick tour of the city's historical sites will precede a hands-on cooking class at a local restaurant. A skilled local chef will teach guests about locally sourced ingredients and traditional Turkish cuisine.
With guidance from the chef, cruise guests will prepare such regional dishes as shepherd's salad, yuvalama soup, and adana kebab made with lamb. Participants will then savor their creations and local wine for lunch.
The exact menu will depend on seasonal availability, ensuring fresh and delicious ingredients.
"Farm to Table Amalfi-Style"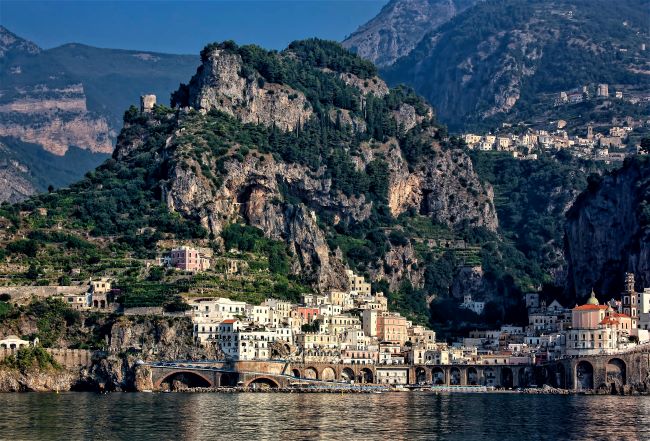 For those visiting Italy's Amalfi Coast and Positano, the new "Farm to Table Amalfi-Style," a Regent Choice shore excursion, is priced at $119 per person. It will begin with a tour of a family-owned organic farm in Scala, a hilltop village founded in the 4th century.
The farm is located inland and is owned by the Ciccio family. They'll guide visitors around their vineyards, fruit orchards, and vegetable fields.
Guests will learn about organic farming methods and taste the natural flavors of the produce. Then it's time for an inspiring lunch made with the farm's fresh ingredients while savoring panoramic views.
One option for a Regent Seven Seas voyage is the line's 14-night "Journey to the Aegean" sailing. Departing on July 31, 2024, Seven Seas Grandeur will sail from Rome (Civitavecchia) to Athens (Piraeus), Greece. At press time, pricing started at $15,499 per person, double occupancy.
"We like this voyage as it sails to the Amalfi Coast/Positano, Italy, as well as multiple other ports in Italy including an overnight in Trieste, which gives our cruise guests an opportunity to visit Venice, if they so desire," notes Pavlus Travel's Steudle.
"Plus, the voyage will take guests to Montenegro, Croatia, Turkey and many appealing Greek ports of call," she adds. "Give us a call and we'll happily answer your questions and discuss the itinerary, accommodations choices and unadvertised discounts."
"Porto's Port Wine Cellars"
Another new Regent Choice excursion at $119 per guest is "Porto's Port Wine Cellars," which unfolds along Portugal's Atlantic coast.
First, guests will embark on a scenic drive through Porto, a UNESCO World Heritage Site. They'll view such landmarks as Casa da Música and the monument of explorer Henry the Navigator. Porto is also famed for its blue-tile churches or other structures (see photo below).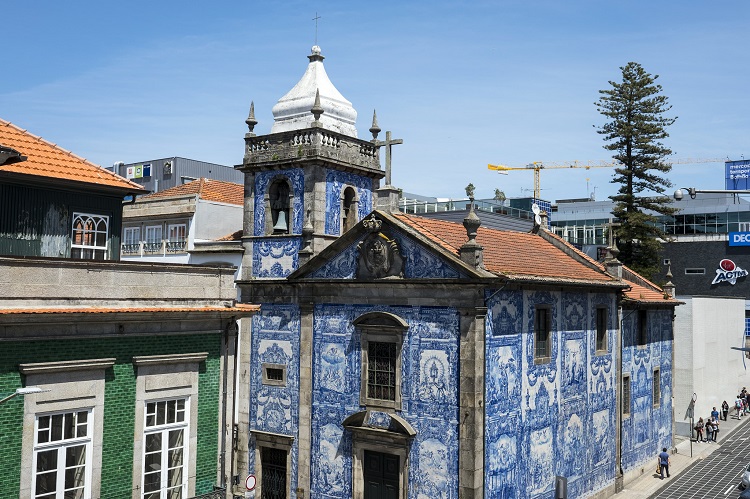 Then, they'll learn more about Porto's culture and the production of port wine. At Graham's Port Lodge in Gaia, guests will be treated to a tasting of appetizers paired with these wines. Among them is the refreshing Graham's Extra Dry White.
"Ultimate Provence Specialties" 
At Toulon, France, guests can opt for the new "Ultimate Provence Specialties" shore excursion. This culinary-focused Regent choice excursion is priced at $139 per person.
Guests will embark on a gastronomical journey into the Provencal countryside after exploring Saint-Tropez. From the perspective of Pavlus Travel's Steudle: "Let's just say that the scenic drive to both destinations is truly breathtaking, while the Saint-Tropez visit certainly adds a touch of glamour to start this culinary excursion." 
Anticipation will then build as guests reach Ultimate Provence, an eco-friendly hotel wine estate in France's largest nature reserve. After a tour of the property and its organic vineyards, they'll taste fresh oysters, other succulent seafood, and French cheeses such as abondance.
Carefully selected wines — including Ultimate Provence's award-winning rose blend — will perfectly complement the dining experience.
"Menorcan-Style Lobster"
At Mahon (Menorca), Spain, Regent Seven Seas' guests can head out on the new "Menorcan-Style Lobster" excursion. This Regent Choice option is priced at $139 per guest.
On the way to Sa Llagosta restaurant in Fornells, guests will admire dramatic natural views. A highlight is Monte Toro, the area's highest peak.
At the restaurant, foodies will then savor Menorca's signature dish, lobster stew. Originating more than a century ago, this classic dish is centered around spiny lobsters caught in the surrounding waters.
Chef David Coca adds his own twist to the dish. But its base remains the traditional sofrito of tomato paste, onions, and garlic. Guests will also enjoy flao, a cheesecake-like dessert.
We hope you enjoyed this brief snapshot of several of the new culinary excursions. Did you know that globally, Regent Seven Seas Cruises offers 5,000 shoreside experiences, with approximately 3,900 of those complimentary for guests?
Keep reading below for details on how to connect with a skilled personal travel planner!
Important Information from Pavlus Travel
If anything tweaks your interest in this blog and you'd like to talk about a future vacation, please DO call us at 800-528-9300.
Definitely, if you have questions about specific pricing, brochures, savings, itineraries, dates of travel, accommodations, accessible options and so on, please contact us.
Again, call us at 800-528-9300 or visit and "live chat" at Pavlus Travel's official agency Web site.