Earlier this month, Oceania Cruises' elegant, new Vista, an enclave of superb suites, savory dining and a multitude of activity spaces, was christened in Malta. Pavlus Travel's executives and personal travel planners were on the scene to check out the ship for readers. So, read on for their helpful, first-hand "intel" about the Oceania Vista (photo above by Donna Fontenot).
The first of the line's new Allura-class vessels, Vista is a stunningly gorgeous ship. But before we reveal our Pavlus experts' "favorite spots" aboard the new ship, here are a few quick factoids about the ship itself.
Factoids about Vista
Size: At 791 feet long and more than 67,000 tons, Oceania Vista has capacity for 1,200 guests at double occupancy.
Staffing: Vista has

two crew members for every three guests.

Staterooms: The new ship offers what Oceania describes as "the most spacious standard staterooms at sea," as they measure more than 290 square feet.

Solo Travel: Designed specifically for solo travelers are new Concierge Level Veranda Staterooms.

Setting New Standards: With an eye toward residential-style luxury, the ship features all-veranda accommodations.

Spa: Yes, you'll find a full-service A

quamar Spa + Vitality Center and Aquamar Spa Terrace.

Socializing Spaces: Guests can enjoy drinks and socializing in

eight bars, lounges and entertainment venues.
As for savory food, Vista's guests will dine at 11 culinary venues including three that are totally new. One is Aquamar Kitchen, which serves up wellness-inspired dishes with a hint of indulgence.
Another is the Bakery at Baristas, which serves freshly baked pastries. Also, there's a new signature restaurant, Ember, which is covered a bit more below. 
With Oceania's emphasis on innovations for beverages, Vista is also introducing the Casino Mixology Bar, a new concept for the line, focused entirely on the art of the cocktail.
So, are you ready to see which spaces aboard our Pavlus Travel experts liked the most and why? Here goes…
Specialty Dining: Ember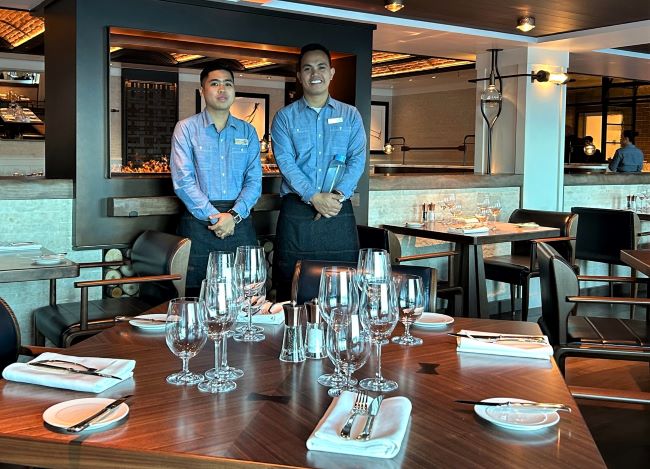 A 23-year veteran of Pavlus Travel, Donna Fontenot, personal travel planner, works remotely in Ft. Sumner, NM.
One of her favorite spots on the ship is Ember, the new specialty restaurant aboard Vista. For an appetizer, perhaps order the blackened crab cake with fresh corn salsa and acidic roasted tomato sauce or a roasted beetroot salad with tangy goat cheese.
Then for the main event, how about a succulent steak? One option is a porcini-dusted, bone-in ribeye. And for dessert, one unique choice is the roasted apple tart served with Humphry Slocombe sweet summer corn ice cream.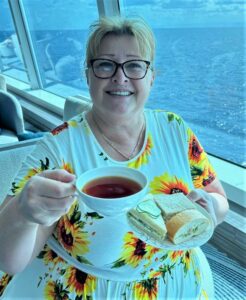 What does Fontenot (shown elsewhere on the ship in the photo above) recommend to order? "The lobster mac-and-cheese was amazing," she tells us. In addition, the travel advisor provides these additional tidbits about other experiences on the ship:
High tea is always a favorite and "Oceania did a great job."
The Spa Terrace is a wonderful space for guests in Concierge and higher accommodations.
"I really enjoyed the area of the ship with the heated tile beds and the thalassotherapy pool."
The Culinary Center 
Shelby Steudle, President, Pavlus Travel, tells The Meandering Traveler that she most liked the Culinary Center on board Oceania Vista.
This center is a great way for culinary buffs to learn more about regional techniques and local cooking secrets of the destinations they're exploring.
"While still run by Chef Kathryn Kelly, it's larger than on the other Oceania ships, and they also added a new room to it for dining," says Steudle. Kelly is Oceania's executive chef and director of culinary enrichment.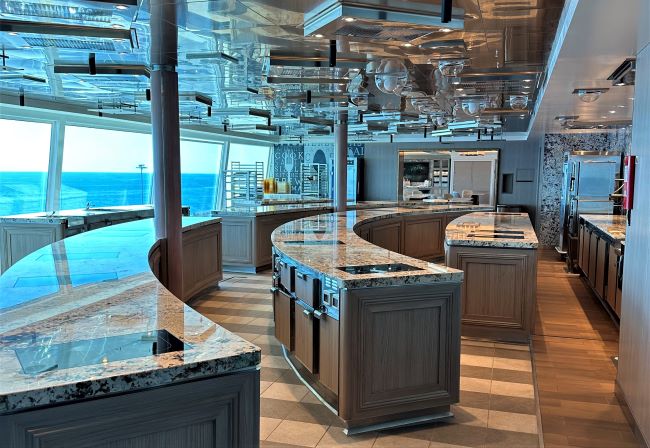 Classes in the Culinary Center are led by chef instructors. Here's the class line-up from Oceania for guests sailing on Vista.
Oceania also offers Culinary Discovery Tours in certain ports. Guests who sign up will be accompanied by a ship's chef as they stroll through a local fresh market to peruse fruits, vegetables, fish, meat and seafood.
Steudle did a private tour with a similar concept (see photo below of the fresh fish and seafood in the Ajaccio, Corsica market). Talk with the ship's concierge, shore excursion office, or your travel advisor in advance if you're interested in taking one of Oceania's Culinary Discovery Tours or setting up a private culinary tour.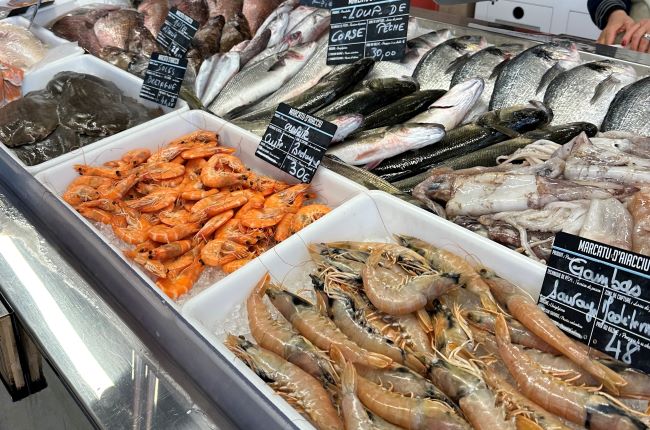 Important Note: Chefs from Vista also regularly head ashore to buy fresh produce, fish, seafood, meat and other ingredients at markets in local ports. They bring those back aboard for use in dishes served in the ship's dining venues.
Expanded Artist Loft
Tapping into her creative side, Fia Bauer, a personal travel planner for Pavlus, told us that the Artist Loft is one of her favorite spots on Oceania Vista.
Bauer is a five-year Pavlus employee and based in Albuquerque, NM. She explains that the new ship now has the largest such Artist Loft in Oceania's fleet.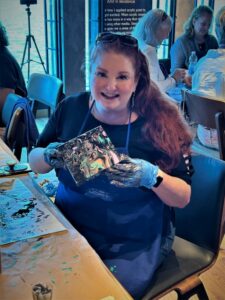 Professional artists have a "residency" at the loft, so guests have an artistic expert to talk with and learn from in classes for guests. Bauer (shown in the photo above) tells us that each artist's residency is between two to four months.
"Each class accommodates 34 guests," she says. "Generally, cruise guests can expect approximately three classes for every seven-day sailing." Guests can create masterpieces of glass, plastic, canvas and wood. 
Baristas Enhanced with New Bakery
Michael Steudle, vice president of Leisure Sales, Pavlus Travel, really likes Baristas on Oceania Vista. "It's greatly expanded and redesigned versus what's on Marina and Riviera," he explains, noting that it replaces Oceania at Sea on those two other ships.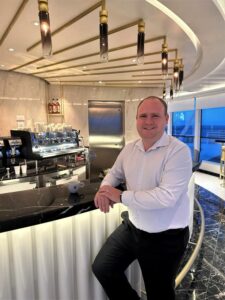 While Steudle mentions Baristas' convenient location overlooking the pool deck, it's the tasty offerings that he really likes. "It's now a bakery with delicious pastries added," he says, "plus they have fantastic, made-to-order cappuccinos, lattes, macchiatos and coffee."
In addition, Steudle says Baristas offers "a continental breakfast buffet in the morning and food offerings throughout the day."
Vista Sails the Globe 
We'll also chat a bit about Vista's accommodations in another upcoming blog focused on several new ships. Meanwhile, here's a bit about the ship's schedule.
Given all the advance interest by consumers in the new ship, Vista's summer 2023 Mediterranean season of sailings is pretty much sold out. In September, the ship sails to Canada and New England before heading south for a series of winter itineraries.
Thinking about a winter getaway? During the 2023-2024 winter season, Vista will explore Mexico, Bermuda and the Caribbean from PortMiami.
Moving to summer 2024, Vista will sail a series of Grand Voyages in the eastern Mediterranean, Aegean and Adriatic seas. The ship will call at an array of marquee cities as well as smaller boutique ports throughout Italy, Turkey, Greece and the Holy Land.
A full overview of Vista's 2023 and 2024 itineraries can be found at the Oceania Cruises website. "Definitely contact your personal travel planner if you're interested in a Vista sailing," says Pavlus' Shelby Steudle. "While the ship's first year is highly booked, we'll do our best to discuss your needs and find out what options are available, particularly for 2024."
In addition, there's another Allura-class ship on the horizon. It's been fittingly named Allura as we discussed in this previous blog. For now, though, "Ahoy, Vista!"
Important Information from Pavlus Travel
If anything tweaks your interest in this blog and you'd like to talk about a future vacation, please DO call us at 800-528-9300.
Definitely, if you have questions about specific pricing, brochures, savings, itineraries, dates of travel, accommodations, accessible options and so on, please contact us.
Again, call us at 800-528-9300 or visit and "live chat" at Pavlus Travel's official agency Web site.