Are you a river cruise enthusiast? Perhaps you've enjoyed strolling through a Christmas Market in Europe on a land tour or river cruise? Well, now you'll have access to a similar holiday offering in Natchez, MS, thanks to American Queen Voyages' new "Christmas Markets Experiential Voyages."
(Natchez is a quintessential holiday destination. Photo above by KateLee Laird, courtesy of Visit Natchez.)
The beauty of this new river cruise option is that guests can vacation closer to home on the Mississippi River. Yet, they'll still have the ability to soak up the onboard flavor of a holiday season voyage, coupled with going ashore on a new Christmas Market experience.
The Natchez Christmas Market experience is available for AQV's guests sailing on select holiday voyages in 2023 and 2024. Talk with your personal travel planner about voyage dates, pricing, accommodations and more.
Quintessential Christmas Town
"Natchez is the quintessential Christmas town, making it the perfect place for our guests to enjoy this festive fusion of European yuletide nostalgia and authentic Southern charm," says Cindy D'Aoust, president, American Queen Voyages.
Customers who sail on American Countess or American Queen during select Thanksgiving, Christmas and New Year's voyages will enjoy an extended Natchez port call.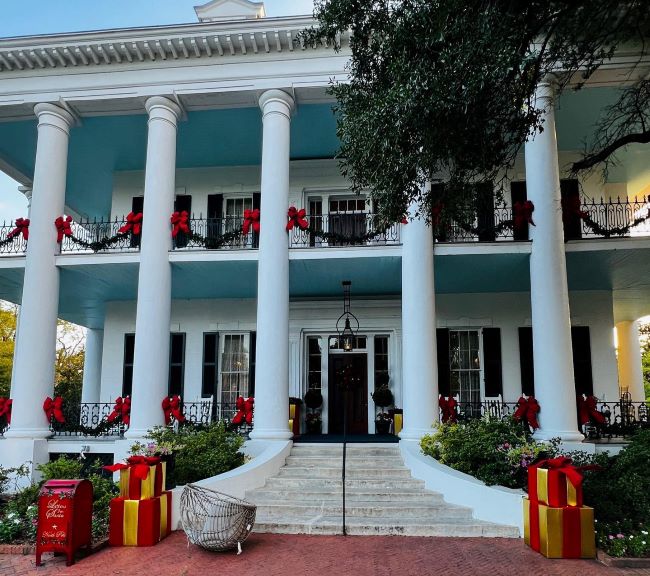 That way, they can stroll Natchez's festive Christmas Market stalls decked out with holiday décor and twinkling lights. Look for the market to become a lively hub of holiday cheer.
AQV's guests will savor traditional delicacies like eggnog, fruitcake and gingerbread. Also, they'll browse and shop for hand-crafted treasures by local artisans.
Natchez Christmas Market 
"Natchez is the only city on the Mississippi River selected for this great opportunity and we are honored," says Dan Gibson, mayor of Natchez. He believes the Christmas Market experience wouldn't have happened without the assistance of several local residents.
Gibson credited Regina Charboneau, AQV's culinary ambassador, Natchez resident and cooking school owner, as well as local residents Warren and Nancy Reuther for having the vision.
The Meandering Traveler has previously written about Charboneau's AQV culinary activities. Here's a link to our website page with the Charboneau blogs.
From Gibson's perspective, having a new Christmas Market experience in Natchez, "will provide an additional draw for tourists from our entire region, and it will be the best Natchez Christmas ever."
D'Aoust adds: "The new, immersive Christmas Markets voyages have expanded our holiday offerings for travelers who wish to discover the hidden gems along the river."
Christmas Market on Select AQV Voyages
Again, the new Natchez "Christmas Market" experience will be available on select AQV holiday voyages. But AQV also provides festive onboard holiday experiences on all of its Thanksgiving, Christmas and New Year's voyages.
Contact Pavlus Travel for details on specific voyages, pricing, accommodations and more. For details about the American river line, where it operates and more, visit American Queen Voyages, 
Even More Crystal
Are you a Crystal fan? Well, then you'll likely be as excited as we are that the ultra-luxury cruise line plans to build four new ultra-luxury ships — two classic and two expedition vessels.
Details are still being worked out as shipyard negotiations continue. But the plans have been confirmed in a public statement by A&K Travel Group, Crystal's new owner.
It's too early to know anything else about the new ships. That said, A&K Group says that construction of one classic ship and one expedition ship could begin as early as the second quarter of 2024.
The line currently operates the recently revitalized 740-passenger Crystal Serenity and 606-passenger Crystal Symphony.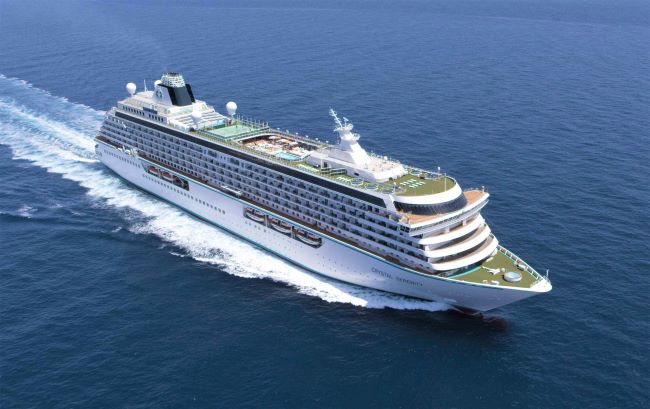 While any new ships hitting the water are a few years out, The Meandering Traveler is sailing this week on the recently revitalized Crystal Serenity. Stay tuned next week for an update from the ship.
For now, though, it's enticing to savor the thought of "even more Crystal" to come.
Important Information from Pavlus Travel
If anything tweaks your interest in this blog and you'd like to talk about a future vacation, please DO call us at 800-528-9300.
Definitely, if you have questions about specific pricing, brochures, savings, itineraries, dates of travel, accommodations, accessible options and so on, please contact us.
Again, call us at 800-528-9300 or visit and "live chat" at Pavlus Travel's official agency Web site.