If you're thinking of sailing on the new Crystal, what can you expect? Well, The Meandering Traveler just sailed on the Crystal Serenity in the Mediterranean for a three-night preview cruise. Here are our top 10 gleanings for readers about this "luxury at sea"  experience.
(Photo of Crystal's revitalized Crystal Serenity is shown atop this story. Photo by Crystal.)
1. Many Fewer Folks Aboard
Let's look at the basic change in guest capacity. When Crystal Serenity sailed prior to the shut-down of the former Crystal Cruises (owned by Genting Hong Kong) in early 2022, its capacity was 940 guests.
But presto, capacity is now much less! Under the new Crystal's owners, A&K Travel Group (headed by Manfredi Lefebvre d'Ovidio, former owner and chairman of Silversea Cruises, and Geoffrey Kent, co-chairman and founder, Abercrombie & Kent), the new Crystal is more intimate.
Crystal Serenity now carries just 740 guests. That's created a nearly one-to-one ratio of crew members to guests — a nice luxury perk right off the bat.
2. Crystal's Service Still Shines Brightly
If you're a loyal past Crystal guest from sailings prior to the line's shut-down in early 2022, you understand just how superb the service level was on this ship in the past. The good news? We found that absolutely to be the same during our sailing last week.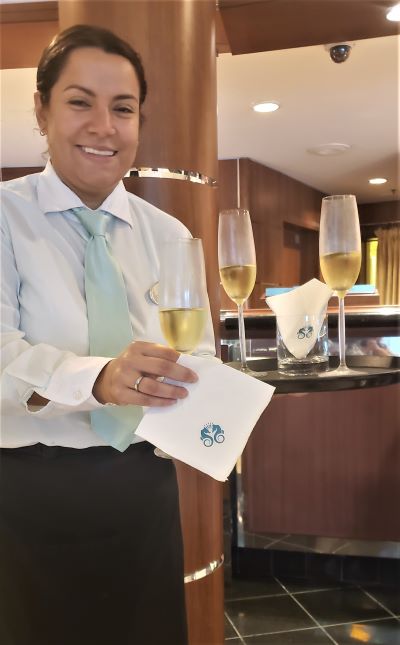 A&K Group has strived to replicate the superb service that Crystal delivered in the past. It's been "on the search" for former Crystal crew members to rehire.
As a result, more than 80 percent of the staff and crew that now serve guests on the relaunched Crystal Serenity (and soon-to-relaunch Crystal Symphony) have worked for Crystal in the past.
Luxury at Sea: Butlers are Stellar
Of course, many butlers — with one for each stateroom or suite — are former Crystal crew members. A&K Travel Group told travel industry people traveling last week that some senior servers in Crystal's restaurants have also been tapped to train as butlers.
Even if your butler isn't a past Crystal crew member, it's likely he or she has worked at another upscale line. All butlers are trained to provide Crystal's high service standards. And that's precisely what we felt we received from our butler, who HAD worked only at another cruise line.
Here's a good example.
Our hair brush went "missing in action" somewhere along the pre-cruise journey. We discovered it as we were about to hop into the shower. Of course, it's just 90 minutes prior to an important onboard meeting.
"Oops, where's the brush," we asked ourselves, before urgently calling our butler and asking for help! With confidence in his ability to deliver some option for a comb or brush, we proceeded with the shower.
Ten minutes later, we exited the bathroom, clean but hair askew. Yes, our appearance looked akin to a wild woman or some creature from the black lagoon. Alas, we then spotted a small black case on the living area's desk surface.
Presto, it unfolded into a handy mirror and brush. Clearly, while we were showering, our butler (whom we'd given permission to enter after knocking) was in and out of the living area in a flash.
He solved our brush issue. Soon, once again, we looked civilized, thanks to Crystal's "shining" service.
The Crystal Culture
We know that the Crystal culture (including those dedicated crew members) is absolutely the top reason that many loyal, past Crystal Cruises guests have now booked a voyage on the new Crystal.
We met a solo female guest boarding last Sunday in Marseille, and she had a prolific past sailing history with her late husband on Crystal. She said: "I'm back for the Crystal people!" That said it all.
3. Crystal Serenity is Redesigned
If you sail, you'll find that Crystal Serenity, originally launched in 2002, is now a refreshed vessel with a "new ship feel." That's because the new parent, which acquired the Crystal brand name and its two classic ships in 2022, has spent $150 million to revitalize both.
So, Crystal Serenity and the 606-passenger Crystal Symphony, which begins sailing on September 1, 2023, look totally new in many ways. Extensive changes in structure, such as walls being removed and spaces reconfigured, vary by ship.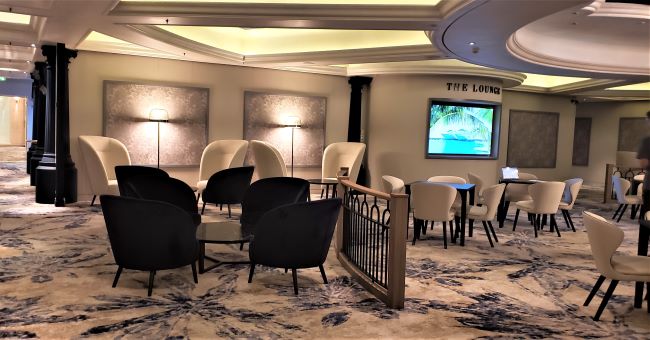 But in terms of interior design, that's new throughout both ships. Tillberg Design updated all public spaces for a new look and feel, plus redesigned some spaces such as the spa and restaurants. Guests will discover new carpeting, wall coverings, furniture and so on.
In addition, all staterooms and suites now feature new design by GEM. Walking into our Sapphire Veranda Suite, the space had a refreshing, contemporary, light aura. It also felt truly upscale, thanks to such design elements as Italian marble surfaces.
Certainly, it's fabulous to have the two classic Crystal ships back sailing with guests. But did you know that Crystal plans to build new ships? Check out the little bit we know thus far. See the last section of our blog of late last week.
4. Luxury at Sea: Cuisine is Superb!
During any "shake-down" period, the first few weeks of operation for a new ship or a cruise product under new ownership, there can be some onboard "nits." It's not rocket science to realize that it takes a few weeks for crew members to get into a rhythm, so to speak.
But amazingly, this didn't show at all in the Crystal Serenity's cuisine. Nope. Instead, it was first rate all the way. That's the consensus of not just The Meandering Traveler but others who sailed with us too.
Of the multiple dining venues, Waterside, the ship's main restaurant, was highly popular. Several people we met talked about it over and over again as their favorite restaurant aboard.
We enjoyed the casual Marketplace restaurant atop the ship — with great indoor/outdoor deck views, good diversity of dishes, a carving station, and attentive service.
But our favorite "go-to spot" for a quick bite and drink was The Bistro on Deck 6. At breakfast, we enjoyed fresh fruit, freshly baked pastries and light dishes, plus coffee, tea, lattes and so on.
At lunchtime, we savored the smoked salmon, charcuterie items, salads, fresh fruit and yummy desserts too. Plus, there's a full bar here during certain hours.
This is the spot to meet up with friends for a quick bite before a tour or after one. One tip? Be sure to check out The Bistro's creative walls with black-and-white jungle scenes.
You'll notice small metal art structures on those walls too. Look carefully and you'll see that they're "birds." If touched, they move back and forth, as if the bird is flying and has just landed!
The ship also has other casual dining options too. Check out Crystal's website page about the ship's dining venues.
Nobu Has Returned
In particular, the onboard cuisine shined at the ship's two main, newly redesigned specialty restaurants. Guests are thrilled that the Umi Uma by Nobu Matsuhisa Restaurant and Sushi Bar is back!
Yes, we ordered Nobu's signature "Black Cod." Incredibly flavorful, it has a buttery taste and absolutely melts in one's mouth. We'd highly recommend that dish (but steak or other options are also available) and the freshly prepared sushi too.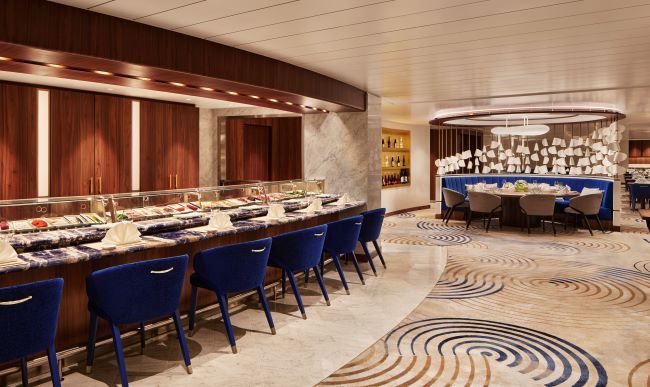 5. The Casino is Gone
Former owner Genting Hong Kong operated a major casino gaming operation. In fact, that company was often known more for gaming resorts than cruise operations. So, the equipment and gaming management on the ships was in-house, so to speak.
Obviously, that's not the case with A&K Travel Group, which has a strong tour and charter cruise background. So, putting in a new casino operation would have required to start from scratch in building and likely contracting out the gaming operation.
Of course, that was doable. But the question the new owner asked itself was this: "Is a casino that important to our guests?"
Bottom line? Past guests were surveyed and asked if "not having gaming" would cause them to avoid booking a Crystal cruise. Results revealed that fewer than 5 percent of those past guests said "yes."
The vast majority — 95+ percent — said "no," indicating that the casino wasn't critically important. So, for now at least, guests won't have any casino play aboard.
That said, the line will arrange for guests to head ashore in some ports such as Bimini, the Bahamas, for casino action.
6. Luxury at Sea: New Stateroom/Suite Choices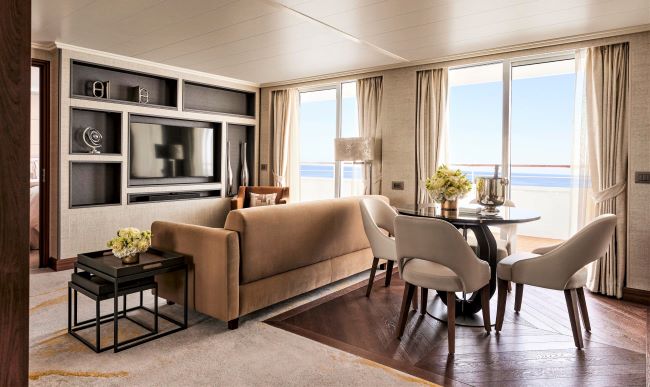 If you'd like to sail on the new Crystal, why not have a chat with your personal travel planner today? The line's upcoming voyages are selling out quickly in certain categories of accommodations.
Best news? You'll have a couple of new choices for your stay on Crystal Serenity:
The Crystal Penthouse Suites have doubled on this ship. So, instead of just two, there are now four! That's helpful as these sell out quickly.
The next best thing is a new suite category called the Junior Crystal Penthouse Suite. With 645+ square feet of space, it's akin to a mini-condo of sorts. It also has a private veranda across the length of the suite. (See photo above for the living area look, and below for the master bathroom.)
Another new suite category is the Single Guestroom with Ocean View, perfect for solo travelers.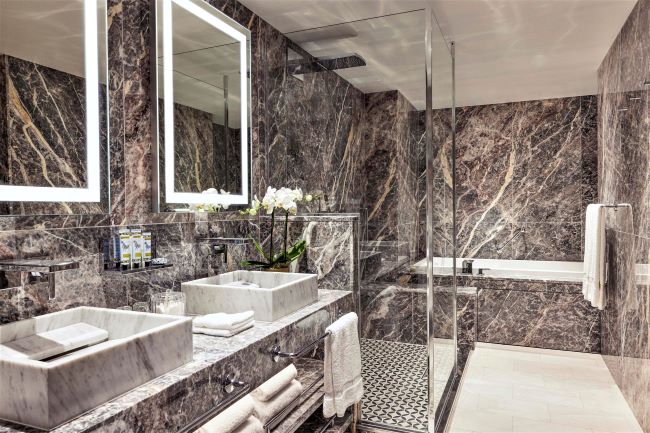 Also of great interest for many potential guests? The popular Sapphire Veranda Suite is now offered on Crystal Serenity in both classic and new configurations.
Our stay was in #8073, one of those newly configured suites. Top change? Our bathroom fielded a massive shower (no tub) with rainforest and hand-held spray options.
However, no worries if you love a tub. Just opt for the classic Sapphire Veranda Suite; that lay-out still has a large tub and separate shower.
We'd suggest chatting with your professional travel advisor about all the accommodations options aboard the new Crystal. For example, Pavlus Travel is a top seller of luxury cruises, so its advisors understand the Crystal product.
Also, they often can provide a cruise perk, amenity or discount beyond the norm — adding more value to your vacation. Be sure to ask!
7. New Land Programs from A&K
New owner A&K Travel Group is obviously a storied expert in creating land touring programs of distinction. A&K's tour programs are popular, and 33 percent of past tour guests say they now desire to try a cruise.
So, it's a "win-win" situation for the company and guests alike. A&K past guests who want to try a cruise will find ultra-luxury service, luxurious accommodations and fine dining on Crystal, as well as new shore options by the A&K Travel Group team.
In turn, Crystal's past and new cruise-focused guests will also soon have more immersive, shore options. Beyond day outings, that includes pre- and post-cruise stays and overland journeys during long cruises.
Luxury at Sea: Authentic Shore Trips
Some things are happening quickly. On our recent cruise, while the ship was docked in Livorno, Italy, guests set out on several new shore excursions. One was a truffle hunting adventure, another was a local wine tasting excursion.
Other options too were offered, all set up or created by the teams at A&K and Crystal. But look for much more as the land-based development of programming will continue in earnest through 2025.
8. Luxurious New Aurora Spa
From a personal perspective, we loved the new Aurora Spa. With a redesigned footprint, it's more spacious and has a light, airy look. It also offers an enticing new spa menu for guests.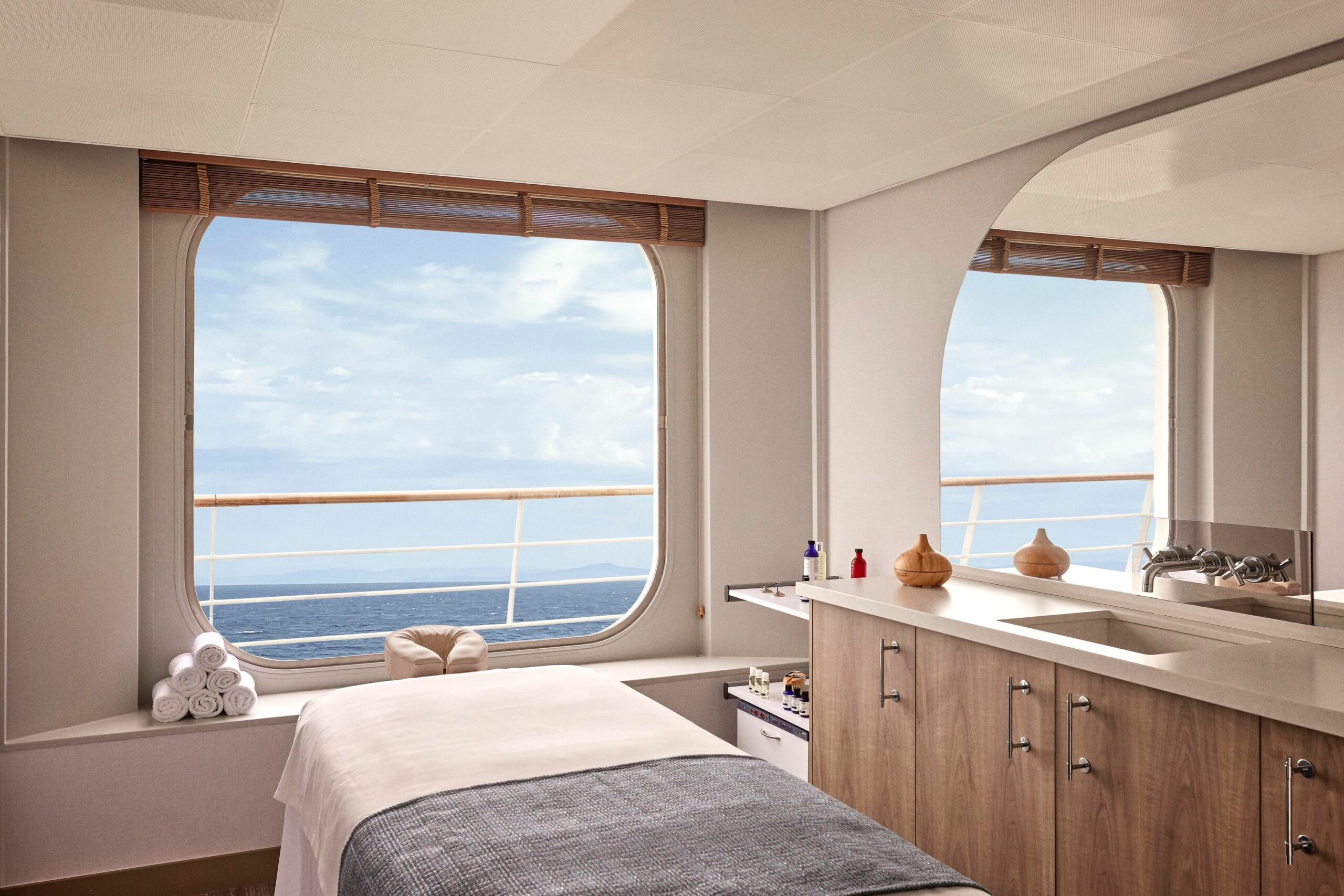 That said, some factors are familiar. For example, OneSpaWorld is back as the operator. We encountered friendly, attentive staff during our spa visit. The spa's front-desk was well-staffed and there was a comfortable waiting area.
Aurora Spa offers everything from aromatherapy to aqua meditation, exfoliation, reflexology and Swedish massage. Treatments are by appointment only.
Luxury at Sea: Stone Massage and Pedicure!
We'd suggest the signature Aurora stone massage, available for your preferred amount of time — 50, 75 or 90 minutes. Or, we can vouch from personal experience for the spa's pedicure offering, our first ever!
The nearly hour-long procedure cost $89. It was a positive experience, thanks to the beauty technician who was both friendly and patient.
She explained the entire process, asked about skin sensitivity before undertaking "this or that" and suggested some home remedies to help soothe our feet.
An acupuncturist is also aboard and, on our cruise, provided a demonstration and complimentary consultation for those wanting to know more.
New 3,000-Square-Foot Fitness Center
Crystal Serenity also has a new Technogym fitness center. This 3,000-square-foot center offer the latest, state-of-the-art fitness machines and free weights. Guests enjoy ocean views, plus there are classes in yoga, mat Pilates and spinning.
An added perk is that the gym has a full-time fitness director. That person can help design a personalized, work-out regimen that meets the guest's individual needs.
9. Still in the Shake-Down Period (But VERY Good)
For the next few weeks, if you're sailing, just keep in mind that Crystal Serenity will still be within that so-called "shake down" period. Crystal Serenity now has new ownership, redesigned spaces, some completely new interior structures, engineering updates, and new technology systems.
So, there are bound to be a few "nits." We packed a dose of patience, always good to have. For instance, IT experts were aboard during our cruise to fix some purser's desk computer issues. Plus, in our suite, the phone system and in-suite entertainment system had a few quirks.
The good news is that companies and ships typically get into a rhythm quickly. That's precisely what seemed to be happening every day while we were aboard Crystal Serenity in the Mediterranean.
The new Crystal had plenty of people aboard to check out any issues and tackle them right away. Overall, we had an excellent experience onboard.
10. Luxury at Sea: Familiar Crystal "Touches"
Certainly, Crystal Serenity's newly refreshed interior design is a big plus for guests. But most notable, from our perspective, is the much-awaited return of "that Crystal feeling."
We definitely had pangs of familiarity — remembering our beloved cruises from the past. That was particularly the case when we recognized elements that have carried through over the years.
For instance, we loved spotting the ship's colorful, one-of-a-kind atrium ceiling (see photo below) that past guests likely will remember.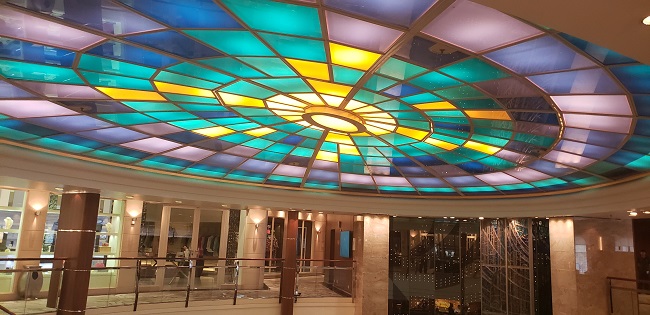 So, in many ways, it was the absolute best of both worlds — a new, refreshed design and yet the return of the old Crystal too.
Sailing the World 
As for itineraries, Crystal Serenity is sailing this summer in northern Europe including the U.K., Ireland, and Iceland. The ship then will operate voyages as far north as Canada and as far south as Cartagena, Colombia.
That's followed by the ship's 2024 World Cruise, operating from San Diego or Miami. For the complete range of upcoming itineraries, visit the line's website.
And for details on accommodations, pricing and getting the best deal, chat with an experienced travel professional, such as the personal travel planners at Pavlus Travel.
Important Information from Pavlus Travel
If anything tweaks your interest in this blog and you'd like to talk about a future vacation, please DO call us at 800-528-9300.
Definitely, if you have questions about specific pricing, brochures, savings, itineraries, dates of travel, accommodations, accessible options and so on, please contact us.
Again, call us at 800-528-9300 or visit and "live chat" at Pavlus Travel's official agency Web site.