It's official! American Cruise Lines' (ACL) new 100-passenger American Eagle, the first "Coastal  Cat" (a high-tech, innovative catamaran) was delivered on time and has successfully completed sea trials.
Signaling the start of an exciting new era for ACL, American Eagle is first in a series of 12 Coastal Cats. In an incredibly fast-paced timeline, the next four sister catamarans are already under construction. They'll all be hitting the water within the next year.
(Photo above of American Eagle and those below of public spaces and accommodations are all by American Cruises Lines.)
American Eagle: Nod to the Past, Look to the Future
Did you know that the new American Eagle is the namesake of ACL's first vessel in 1972? It's true. But while that's a nod to ACL's history, clearly the small-ship line is looking to the future with this new class of small ship.
We can't wait to see it! The Meandering Traveler previously wrote about the start of the Coastal Cat project in a 2022 blog. Designed with versatility in mind, these ships will sail along American rivers, traverse the Great Lakes and navigate along North American coastal ocean waters.
New Ship Class, Built in America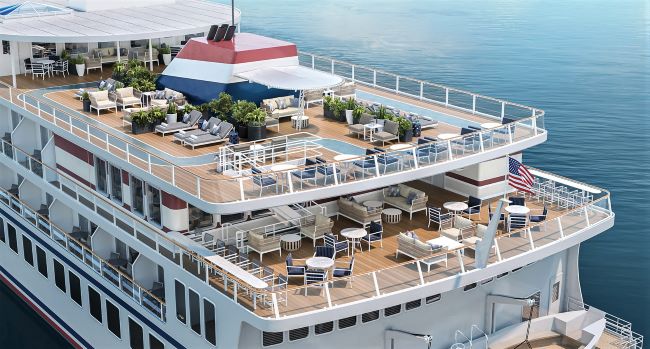 Built by ACL's affiliated company, Chesapeake Shipyard, in Salisbury, MD, the American-flagged vessel is currently en route to Massachusetts to begin service.
"American Eagle embodies our continued commitment to building new small ships to explore America's rivers and coasts," says Charles B. Robertson, ACL's president and CEO. "It's the flagship in American Cruise Lines' new series of small Coastal Cats, which are unlike anything else available in the U.S. market."
He believes that "American Eagle and her sister ships will change the landscape of possibilities for small ship adventures around the U.S.A." ACL's press release launch announcement says that they'll "blend the luxury of river cruising with the access and adventure of expedition cruising."
For instance, guests can relax in one of the ship's observation areas or on their own private balcony to admire scenic vistas. Alternatively, if they're feeling adventurous, a unique Swim/Activity Platform at the ship's stern features kayaks and a tender for local exploration.
In this blog, we've provided a number of photographs, Our goal is to help readers see the look of American Eagle's new public spaces and accommodations. Want to see more? Check out ACL's  "virtual ship tour" about the new Coastal Cats.
Inaugural Cruise and Voyages Beyond
On August 14, 2023, American Eagle will sail an inaugural cruise roundtrip from Boston.  Now sold out, that voyage is ACL's popular "Cape Codder Cruise" itinerary.
In addition, the vessel sails the same seven-night itinerary on August 21, 2023, with very limited availability; at press time, those fares began at $7,495 per person, double occupancy. Another Cape Codder option is on August 28, 2023, but that's sold out too.
Our suggestion? If you want to sail on the new "Coastal Cat," your best bet is to look at all of its East Coast 2023 and 2024 voyages. Those embark guests at many U.S. ports along the Eastern Seaboard. Here's a link to American Eagle's schedule of upcoming itineraries.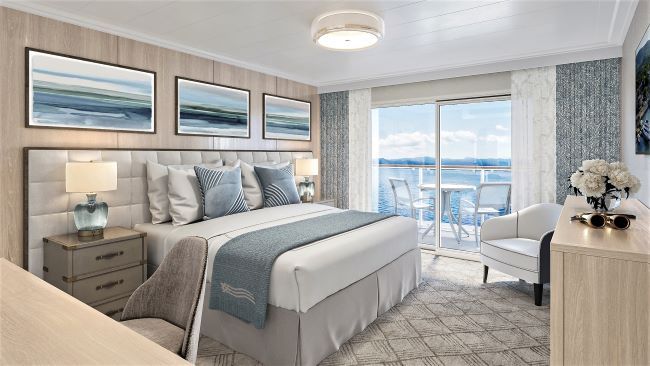 American Eagle: East Coast Explorer 
Later this fall and in winter 2023-2024, guests can embark on multiple itineraries to explore the U.S. South. Those coastal journeys depart from Baltimore, MD, Charleston, SC, or Jacksonville/Amelia Island, FL.
Then, during June 2024 and again in September 2024, American Eagle will sail Hudson River voyages roundtrip from New York City. At press time, the June voyages started at $7,110 per person, double occupancy, while the fall foliage cruises started at $7,745 per person, double occupancy.
What's special? "Guests will venture ashore at such storied Hudson River destinations as Sleepy Hollow, Hyde Park, West Point, Kingston, Catskill, Albany and Troy, NY," says Shelby Steudle, president, Pavlus Travel.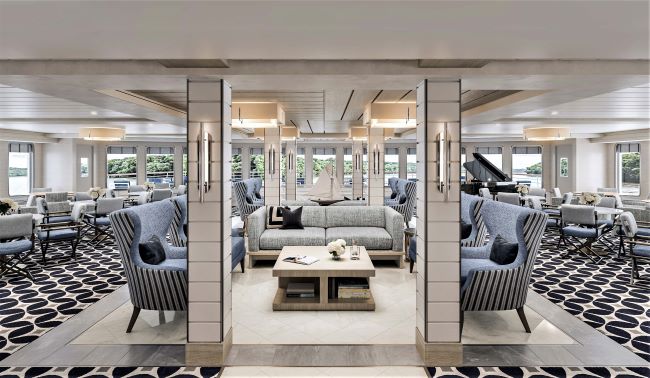 Other summer voyages will embark guests at Bangor, ME, Boston, MA, and Portland, ME. How about a lovely voyage along Maine's "Down East" coast, or another New England sailing?
Interiors by Miami's Studio DADO
Accommodating just 100 guests, American Eagle features four decks, and showcases a new catamaran bow. Inside, American Eagle and the other new Coastal Cats will reflect interior design by Miami's Studio DADO.
Look for design that's contemporary, elegant and welcoming, with soft tones and pops of color. Accommodations feature private balcony accommodations. Guests can choose from spacious single and double occupancy staterooms as well as suites.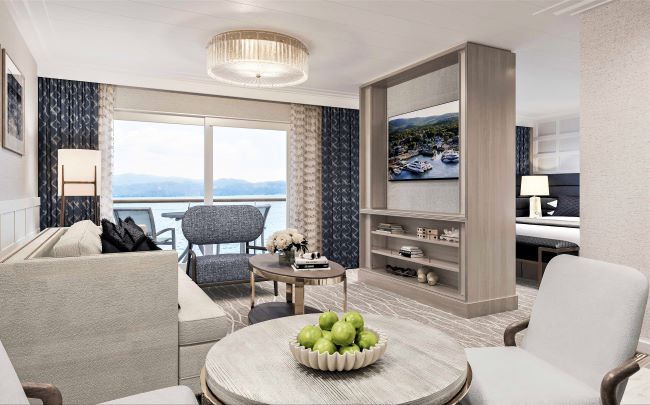 "In addition to fabulous accommodations, American Eagle offers a gorgeous top deck for scenic viewing," says Pavlus' Steudle. "Guests can relax on comfortable lounges both inside and outside."
Public spaces include the main restaurant, casual cafe, fitness center and more . Again, you can virtually tour the ship here: American Cruise Lines Virtual Coastal Cat Tour.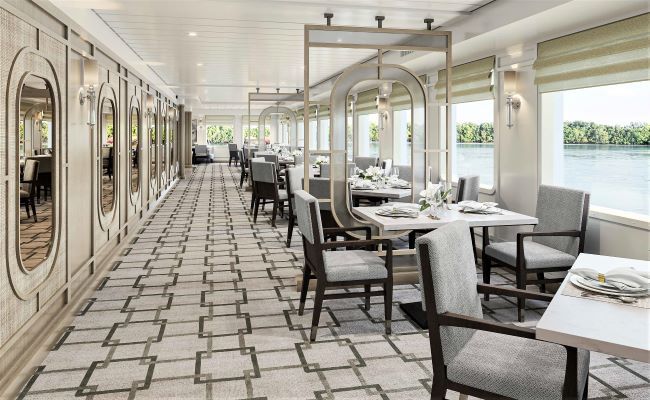 Coming Soon!
This year, ACL will operate a total of 17 ships, each accommodating just 90-180 passengers. On all, guests have great opportunities to discover U.S. history and culture.
These riverboats and small ships cruise to more than 50 domestic itineraries in 35 states. It's also good to know that ACL offers flat-rate domestic airfare for all U.S. cruises. Plus, guests receive complimentary pre-cruise hotel stays in cities across the country.
Coming soon? In November 2023, the company plans to introduce American Glory, its second new Coastal Cat. Here's the link to the website page with itineraries for American Glory.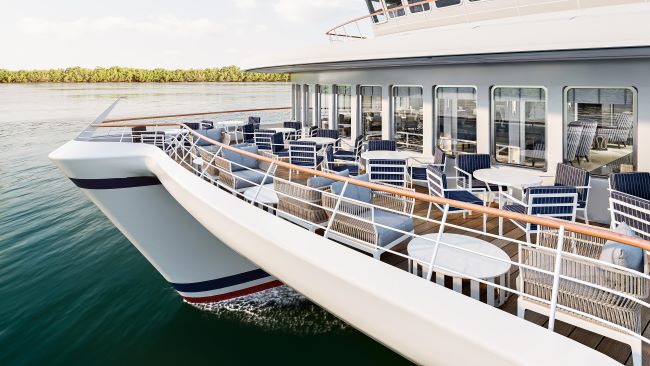 For all of ACL's ships, Pavlus Travel's personal travel planners will happily assist potential guests. They'll help you learn more about the vessels, their itineraries, accommodations, pricing and any special discounts or deals. So, why not call today for more information?
Important Information from Pavlus Travel
If anything tweaks your interest in this blog and you'd like to talk about a future vacation, please DO call us at 800-528-9300.
Definitely, if you have questions about specific pricing, brochures, savings, itineraries, dates of travel, accommodations, accessible options and so on, please contact us.
Again, call us at 800-528-9300 or visit and "live chat" at Pavlus Travel's official agency Web site.