Getting to Antarctica requires significant travel time. So, for travelers seeking a luxurious, polar-style adventure closer to home, Ponant has a new, enticing North American option. The small-ship boutique luxury line is adding four, 13-day Boreal winter exploration cruises along the St. Lawrence River. 
That's "a first" for any cruise ship! In another first, guests will sail on the 245-passenger Le Commandant Charcot. Launched in 2021, this "icebreaker" is the world's first hybrid-electric polar exploration ship powered by LNG.
(See photo above of guests exploring ashore on a polar-style expedition. Photo by Ponant).
By way of background, a Boreal ecosystem is one with a subarctic climate in the Northern Hemisphere. What's nifty is that Le Commandant Charcot can safely explore areas that might typically be inaccessible to other cruise ships during wintertime.
Here's one "gee whiz" factoid. This polar expedition ship can break through ice up to eight feet thick!
Four 2025 Voyages
The four 2025 St. Lawrence River voyages — setting sail on January 17, January 29, February 10, and February 22 — will cruise between St. Pierre in Saint-Pierre and Miquelon,  and Quebec City, Quebec, Canada.
By the way, Saint-Pierre isn't part of Quebec. Nestled within the north Atlantic, this isle is near Newfoundland. It's part of France's last remaining North American territory.  
St. Lawrence River: Boreal Winter
The Ponant expeditions will encompass a mix of cool outdoor adventures. For instance, guests can choose such activities as kayaking, ice-fishing or dogsledding.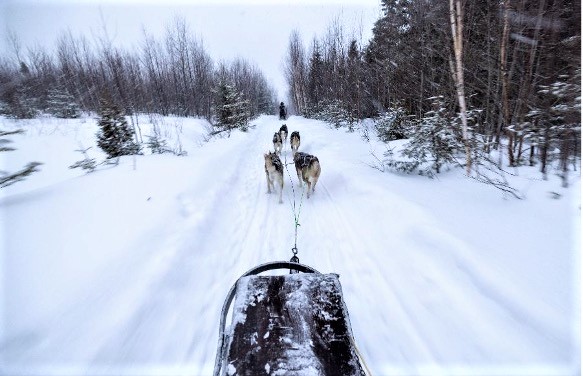 "One fun, unique activity that's also planned is skijoring," notes Shelby Steudle, president, Pavlus Travel. What's that, you may ask? Skijoring is an unusual winter sport. "So, a Ponant cruise guest on skis will be pulled by a horse, a dog, another animal or a motor vehicle," she quips. But it's true. 
As for cultural enrichment, guests will have opportunities to visit with indigenous Innu and Mi'kmaq residents. They'll also have the potential to spot rare wildlife including caribou and black bears.
An added bonus? Guests are likely to see the spectacular Aurora Borealis or Northern Lights dancing across the night sky.
St. Lawrence River Itineraries
Two of Ponant's St. Lawrence River itineraries will depart from Saint Pierre Island on January 17 and February 10, 2025.  The January 29, 2025, and February 22, 2025, departures will sail from Quebec City.  
On some of the departures, the French-flagged Le Commandant Charcot will head west to Sydney, Nova Scotia, then on to the Magdalen Islands. That's the only place in the world where you can observe newborn whitecoats or harp seal pups.
The archipelago offers captivating landscapes. Guests will look out from the ship to see drifting ice floes, tall red sandstone cliffs and snow-covered valleys.
From there, Le Commandant Charcot will sail through the Gaspe. In the Forillon National Park, guests can opt for a snowshoe walk. In the Magic Forest, they can admire Perce Rock and snow-covered conifers.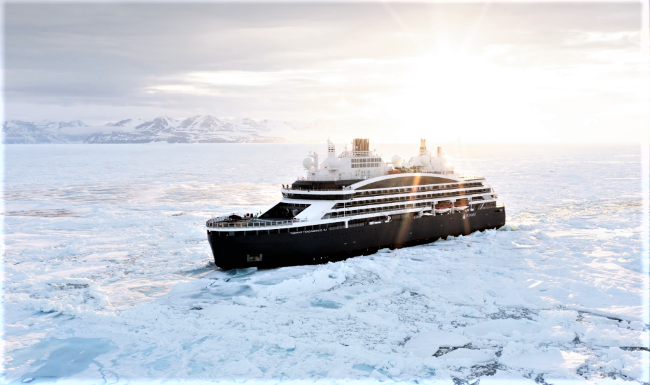 More on the St. Lawrence River
At Sept-îles, guests will meet indigenous Innu people and chat about their ancestral customs and traditions. At La Baie in the majestic Saguenay Valley, guests will experience the hospitality of the Saguenayen people on dogsledding, snowshoe and ice-fishing adventures.
The expedition ends in Quebec City. Guests who've sailed on the January 2025 departure will arrive just in time for Winter Carnival—one of the world's largest. Activities include ice-carving contests, sleigh rides and canoe races.
St. Lawrence River Cruises: Guest Photographers
Joining the Ponant expeditions are Sue Flood and Ian Dawson, award-winning British photographers. They'll share stories from their travels and guide guests as they snap photos of wildlife and landscapes.
At press time, Ponant's cruise fares for these journeys started at $24,210 per person, double occupancy. For any questions, unadvertised discounts, promotions and bookings, be sure to contact Pavlus Travel.
Ponant's website provides more details on the "St. Lawrence River in the Heart of the Boreal Winter." For U.S. residents seeking a luxurious, small-ship winter adventure, but don't want to travel two days or more to reach Antarctica, this may be a good option. 
But if you're not a cold weather explorer, Ponant also sails in summer to the Arctic.
Important Information from Pavlus Travel
If anything tweaks your interest in this blog and you'd like to talk about a future vacation, please DO call us at 800-528-9300.
Definitely, if you have questions about specific pricing, brochures, savings, itineraries, dates of travel, accommodations, accessible options and so on, please contact us.
Again, call us at 800-528-9300 or visit and "live chat" at Pavlus Travel's official agency Web site.