If you love river cruising but also like vacations longer than a week, AmaWaterways has new offerings. The luxury river line is debuting new European combination cruises for 2025.
This new "Grand" series of 14-night itineraries, includes "Grand Seine & Bordeaux," "Grand Seine & Rhone" and "Grand Rhine & Dutch Canals." They're attractively priced, starting at $5,999 per person, double occupancy. Also, the pricing includes convenient transfers between the rivers, where applicable.
(Photo atop this story shows AmaCello. Photo by AmaWaterways).
By combining two popular seven-night sailings into one convenient itinerary, AmaWaterways invites travelers to immerse themselves in a European experience with added time to explore. Plus, guests will stay on two delightful, upscale AmaWaterways vessels with gourmet dining, fine wines, good enrichment programming and many included shore tours.
Prices start at $5,999 per person, double occupancy, cruise-only including transfers between ships, when necessary.
A plus? "For those reserving their staterooms on these 2025 sailings by December 31, 2023, AmaWaterways is also offering Early Booking Reward savings of up to 20 percent on select sailings," says Shelby Steudle, president, Pavlus Travel. "So, talk with your personal travel planner today about the options for accommodations, itineraries, air ticketing and more. The advice is free and we're here to assist you."
Increasing Demand for Longer Vacations
"Throughout 2023, we've seen firsthand that many consumers heading out on vacation desire to stay longer," she emphasizes. "In addition, with rising airfares, they want to get the most bang for their buck. So, many choose to lengthen their stay."
"As the demand for more extensive travel experiences continues to rise, we are thrilled to unveil three new 14-night itineraries set to debut in 2025," says Kristin Karst, co-founder and executive vice president, AmaWaterways.
She stresses: "The new Grand series offers combination cruising complete with complimentary transfers between ships and the choice of up to 40 included excursions." So, guests can see and do more during their time ashore within France, Germany and the Netherlands.
So, let's take a closer look at the three new "Grand" itineraries. Just click on the itinerary titles below to reach AmaWaterways' pages with full itinerary details including ports of call.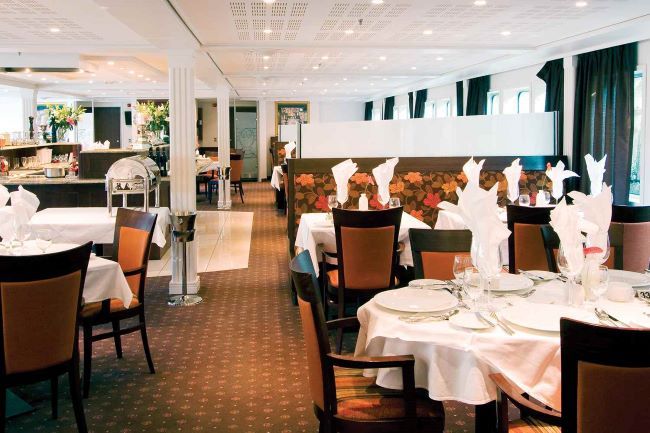 Combination Cruises: "Grand Seine & Bordeaux"
The 14-night "Grand Seine & Bordeaux" river cruise takes travelers through four European waterways. They include the Seine, Garonne and Dordogne rivers, as well as the Gironde Estuary.
This combination cruise merges two of AmaWaterways' most popular itineraries – "Paris & Normandy" aboard the 144-passenger AmaLyra and "Taste of Bordeaux" aboard the 140-passenger AmaDolce. Guests booking this extended vacation also will receive a train transfer between Paris and Bordeaux. That makes it a breeze to combine the trips.
Pavlus' Steudle says this combination itinerary should appeal to both history enthusiasts and wine connoisseurs. "Guests will enjoy opportunities to savor the region's finest vintages, admire or tour historic castles, and immerse themselves in French culture along the way," she emphasizes.
What's good to know? Travelers have great flexibility in their travel dates. AmaWaterways is offering this "Grand Seine & Bordeaux" option on 15 departures. They range from March 2025 through October 2025.
At press time, fares for the earliest departure in late March 2025 started at $6,999 per person, double occupancy. Peak summer season departures started at $8,299 per person, double occupancy.
Combination Cruises: "Grand Seine & Rhone"
The 14-night Grand Seine & Rhone river cruise explores the treasures of France's Seine and Rhone rivers. The journey combines AmaWaterways' "Paris & Normandy" itinerary by the 144-passenger AmaLyra with the "Essence of Burgundy & Provence" itinerary of the 140-passenger AmaCello.
What's to see and do? First, it's a palate-pleasing adventure in the heart of France, both on board and ashore. During port calls, guests will visit world-famous monasteries, admire Normandy's stunning coastline, explore French chateaux, and delve deeply into French culture and history.
AmaWaterways also provides convenient train connections for guests, so they have a seamless transfer from Paris, where they disembark one vessel, and Dijon, where they board another. Eleven departures are available from March 2025 to November 2025.
At press time, the earlier March departure started at $6,999 per person, double occupancy, with pricing higher throughout the summer.
"Guests can also extend their vacation even further. How so? "They can add on two nights in Paris pre-cruise and three nights in France's Loire Valley post-cruise," Steudle suggests.
Combination Cruises: "Grand Rhine & Dutch Canals"
Sailing from Amsterdam to Basel aboard the 156-passenger AmaStella, the 14-night "Grand Rhine & Dutch Canals" river cruise combines AmaWaterways' popular Best of "Holland & Belgium," "Enchanting Rhine" and "Captivating Rhine" itineraries.
It's a good option for those who love castles, storybook-like villages along the Rhine, and to explore both the Netherlands and Belgium. Nine separate departures are offered from July 2025 through December 2025. Prices at press time started at $6,999 per person, double occupancy.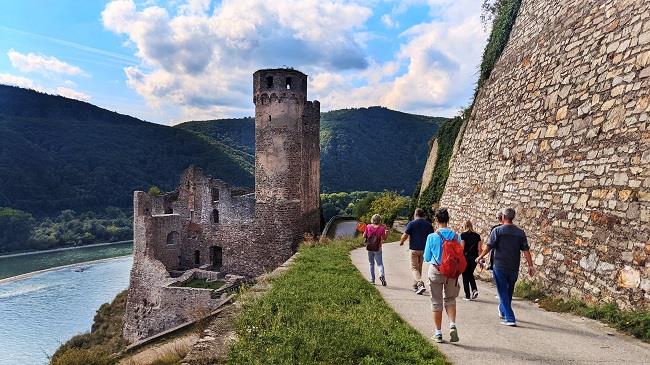 Other Longer Voyages
Other curated 14-night AmaWaterways voyages include the "Grand Danube" sailing between Vilshofen, Germany and Giurgiu, Romania and "Magnificent Europe" sailing between Amsterdam, Netherlands and Budapest, Hungary. Each can be combined with pre- or post-cruise land packages.
When it comes to vacation time, "more" is one big trend of 2023. So, why not plan ahead and start thinking of your next "Grand" adventure in 2025?
Important Notes from Pavlus Travel
If anything does tweak your interest in the story and you DO have questions about specific pricing, brochures, savings, accommodations, accessible options and so on, please contact us at  800-528-9300.
Or visit us online at Pavlus Travel's official agency Web site; there you can "live chat" with us online too!
This blog site is designed for "basic, general information" about travel. It's not staffed by travel advisors.
Any price examples used in the above blog are subject to change. They also do not represent the full range of options; a travel advisor can assist with additional information.
Please don't use the Reply Section below if you are asking for pricing, travel dates, accommodations, brochures or other specific requests. Please use the 800 number or online link.