One of the non-human stars of the 2018 movie, "Crazy Rich Asians," was Singapore's glittery, spectacular 2,200-room Marina Bay Sands. Hotel guests have amazing views from its 56-floor Sky Observation Lounge and 57th-floor Infinity Pool. For those seeking premium or luxury hotels with a view for a potential stay, this one is hard to beat.
"If there's an iconic Singapore hotel, it's definitely Marina Bay Sands," says Heidi Sarna, co-founder and publisher of QuirkyCruise.com, a guide to small-ship cruising under 300 passengers. Heidi is a travel journalist who resided in Singapore for 17 years, so she knows the turf.
"Its trio of curved Dr. Suess-ish columns topped with a huge surfboard (or is it a futuristic cruise ship?) have defined Singapore's downtown skyline since the hotel opened nearly 15 years ago," she tells us. Sarna adds that the hotel is built on reclaimed land — as is much of coastal Singapore, as the tiny city-state has sought to literally and figuratively grow in size and stature.
"The 57-story Marina Bay Sands hotel doesn't just turn heads with its height and quirky design by renowned architect Moshe Safdie, but also with features like its rooftop infinity pool, observation deck and bars with killer views," she emphasizes. 
Luxury Hotels Can Offer Breathtaking Views 
Those venturing atop the Marina Bay Sands hotel to the 56th-floor SkyPark Observation Deck will enjoy breathtaking views of both Marina Bay and downtown Singapore. In particular, they'll see Gardens by the Bay, the Supertree Grove and the durian-shaped domes of the Esplanade.
It's definitely one of the top luxury hotels for spectacular city views in this dazzling destination. "The frequent photos of Marina Bay Sands appearing all aross the world are what attracted me to this hotel," acknowledges Shelby Steudle, president, Pavlus Travel.
So, when she and her family were heading to a cruise that began in Singapore recently, "there was no doubt we would stay at Marina Bay Sands," she stresses. "The rooftop pool is amazing and worth the money, especially at nighttime."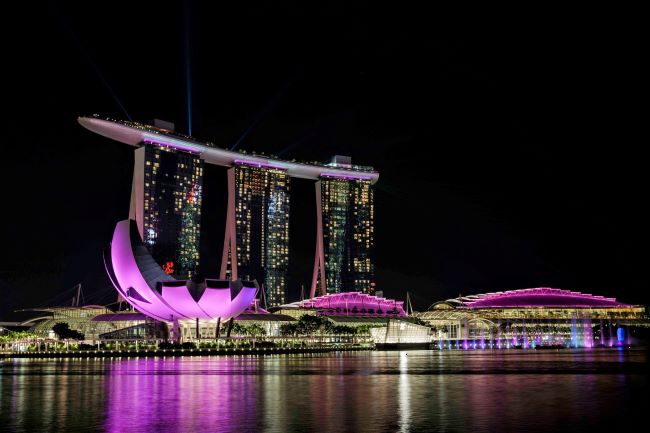 She adds: "We are a family of three and my daughter was 13 at the time. It is for all. The hotel also will help you get through customs at the airport and can provide private transfers."
$1 Billion Revitalization
In 2022, Marina Bay Sands, which is owned by Las Vegas Sands, announced a new $1 billion reinvestment program. This sizable investment is redesigning the hotel on a scale never seen before.
It's the biggest investment since the property opened in 2010. Renovation of the hotel's rooms is being carried out in phases. No part of the property is being spared updates.  Some of the world's best inerior designers are working on this project.
850 New Rooms Completed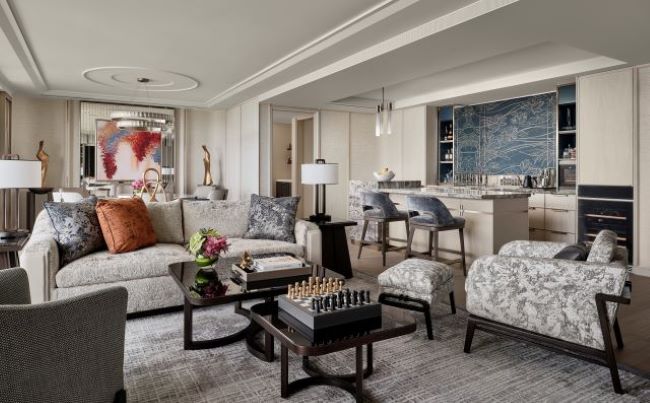 Earlier this year, the Marina Bay Sands completely revitalized more than 850 hotel rooms in Towers 1 and 2. If you're traveling this year, talk to your professional travel advisor about staying in one of those. 
Those newly refreshed rooms represent nearly two-thirds of the 1,282 rooms that will result from the renovation at those two towers. 
Next? Catering to rising demand from luxury travelers, the hotel plans to increase the number of ultra-luxury suites inTowers 1 and 2. They'll increase from 137 previously to around 422. The good news is those enhancements should be completed by the end of 2023.  
So, if you're traveling to Singapore in 2024 — on an independent trip or perhaps for a pre- or post-cruise stay — talk with your professional travel advisor. Ask about the new accommodations choices. The newly configured rooms and suites convey a sense of space and offer guests a calming enclave of luxury and pampering.
Updated Accommodations
Every item in the revitalized accommodations is designed to combine functionality with a luxurious feel. For example, the bedroom headboard mimics a Chinese screen in a Peranakan shophouse. Accommodations' floors are covered with thick Axminster wool carpet, a motif similar to textiles found along Singapore's Arab Street.
At the center of the design is the eye-catching armoire, a bespoke minibar that isn't what guests traditionally find. Decorated with a muted-gold chinoiserie pattern on shiny black lacquer, it's an eye-catching piece of art that depicts a traveler's journey en route to the pagoda.
That's an interpretation of "East meets West," which alludes to Marina Bay Sands' position at the heart of botanical beauty.
Inside the armoire? Guests will find a wide range of specialty teas, coffees, fine wines and snacks. They'll also discover that same chinoiserie design in several porcelain items within their room or suite.
Shaken Not Stirred?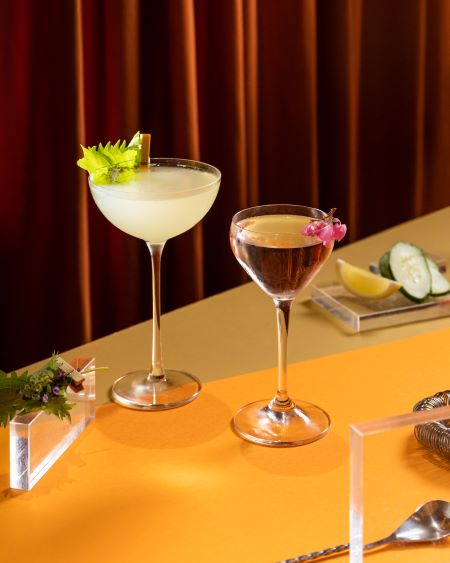 Now, guests can mix up a cocktail exactly how they like it — within the peace and pampering luxury of their own room or suite. That's because the updated digs now have a well-stocked cocktail trolley. That's designed to replicate the excitement of Singapore's eclectic cocktail scene.
So, after a long day of touring, pool play, shopping or casino action, guests can head for their room or suite to relax with their favorite drink. The trolley provides a great assortment of liquors and pre-mixed cocktails. What's nifty is that the trolley also has cocktail garnishes such as dried orange slices.
Accommodations Technology Updates
Entering their revitalized rooms and suites, guests will also find many techie updates. Marina Bay Sands has introduced wireless smartphone charging pods, bedside lighting and curtain control panels. In addition, motion-activated occupancy sensors will automatically respond to guest preferences.
Want to watch "Crazy Rich Asians" or another great flick while relaxing in your room or suite? Movie night can be perfect, thanks to a 75-inch television, high-technology entertainment system and Yamaha sound system.
Guests who wish to personalize their own music experience can choose to connect their devices to a portable Bang & Olufsen bluetooth speaker.
In addition, Marina Bay Sands is introducing a live jogging app, virtual gym, yoga and stretching sessions. All that's accessed from a digital platform from the comfort of one's room.
Luxury Hotels: Digital Transformation
Tech-savvy guests will likely appreciate additional elements that are part of the resort's digital transformation. The hotel has launched its own Marina Bay Sands mobile-application that includes many Smart Hotel features.  For instance, guests can skip the traditional means of checking in and out at the front desk.
Instead, guests can pre-register wherever they are, check in, and complete verification requirements on their mobile phones. Upon arrival at the hotel, guests can activate digital keys for room and elevator access.
Marina Bay Sands: A New Hospitality Benchmark
"This extensive design transformation of our iconic hotel is a leap forward in our commitment to set new benchmarks for ourselves and the industry," says Paul Town,  the hotel's chief operating officer. "The transformation doesn't just stop at our new rooms, as this is only the beginning."
He says that over the next few years, guests will witness luxury at every corner of the property. That includes continuing revitalization including Tower 3. Travelers can also expect  enhancements in the lobby arrival experience and at Sands SkyPark.
Moving forward, guests will also enjoy an enhanced Executive Club lounge, new premium fine dining options, and new health and wellness offerings.
But there's more! Guests can expect more premium offerings in the casino and more world-class fine-dining venues.
Plus, the resort has hosted new entertainment extravaganzas, among them the 2023 Singapore debut of the Broadway show, "Frozen." In March 2023, the property also relaunched its premier Sands Live concert series, celebrating the top entertainment acts from Asia and elsewhere. 
The updates show the extent to which luxury hotels go to remain fresh and relevant.
Wolfgang Puck Updates
Beyond the revitalization, there's much more that's new at Marina Bay Sands too. First, CUT by Wolfgang Puck, the hotel's one-Michelin-starred restaurant has unveiled a new raw bar. It also has recently expanded its culinary offerings — introducing an array of 10 new, Singapore-exclusive seafood dishes.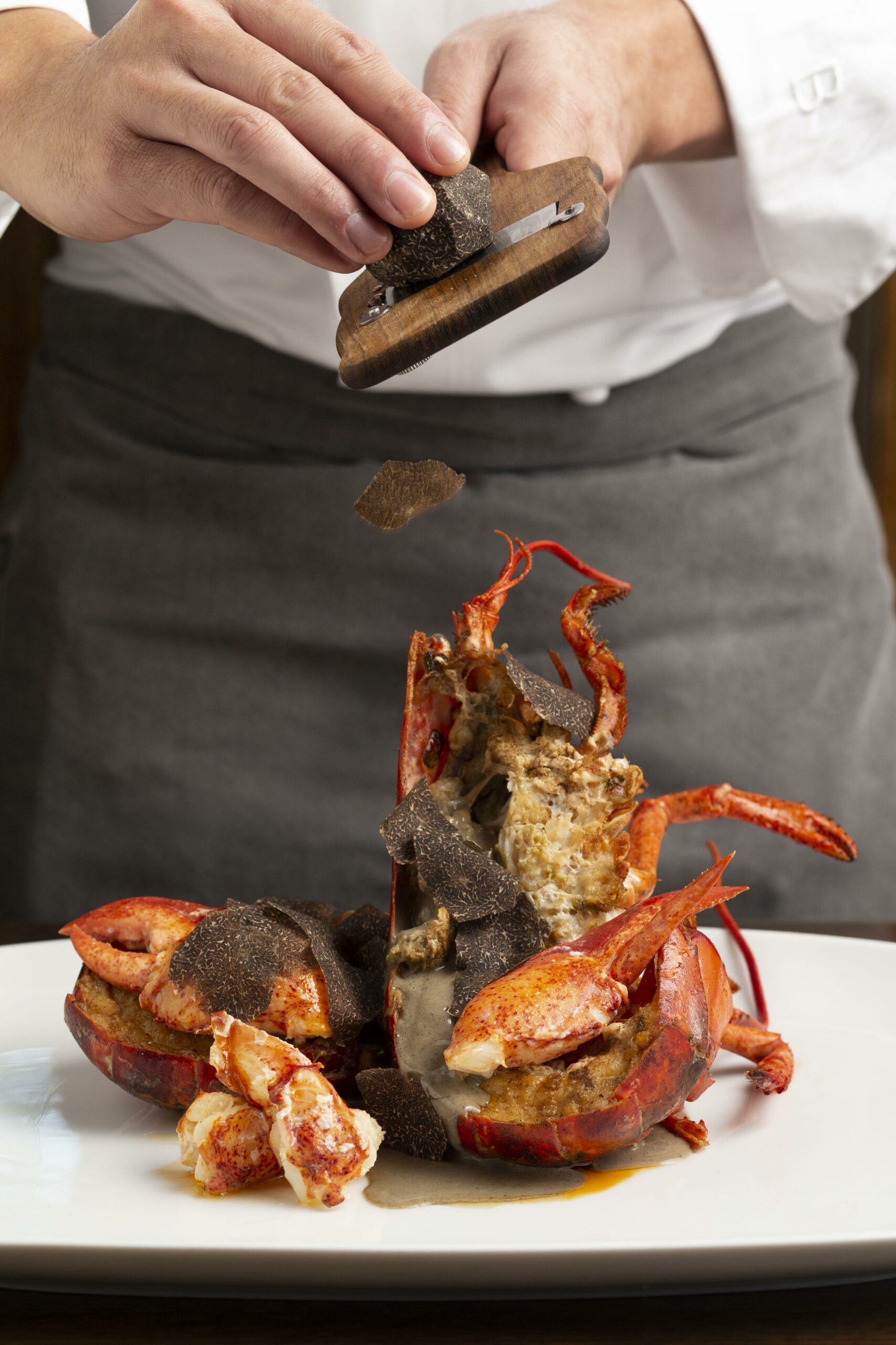 A new seasonal showcase also serves up premium ingredients sourced from around the world. So, yes, guests can order CUT by Wolfgang Puck's celebrated meats but now they also have more choices. As for the new seafood dishes, here are a few:
The Tsarkaya oyster duo with two succulent, sustainably sourced oysters from New Zealand. They're seasoned with a citrusy concoction of ponzu vinegar, tapioca and shiso oil, plus a refreshing blend of green apple granita, apple cider and horseradish.
The king crab leg gratin elevates the texture and sweetness of Alaskan king crab with a layer of avocado and glistening Kaluga caviar. That's topped with yuzu kosho for an added fiery kick.
Celebrating the ocean's bounty is Hokkaido uni atop jade abalone and razor clam grilled over binchotan. That's served in a decadent, velvety potato cream base.
New On-Site Experiences
Luxury hotels need to introduce new experiences to continue to entice guests. So, Marina Bay Sands also recently refreshed its on-site attractions. Among the new offerings? Here's a quick peek at three new programs.
"Eye of the Waterfall Tour"
Beginning at The Shoppes at Marina Bay Sands, the new guided "Eye of the Waterfall Tour" allows visitors to get a close-up view of the majestic Rain Oculus. They'll see water cascading from a skylight two stories overhead.
Tour goers will gain insight into the design and sustainability features of the Rain Oculus. So, they'll see how sustainability features have been seamlessly integrated into the architecture and art of the integrated resort.
The tour is available every Tuesday at 5 p.m.  Cost is 18 SGD (Singapore dollars) per person.
"Sampan Musical Voyage"
The "Sampan Musical Voyage" welcomes guests on a leisurely ride while they're serenaded by talented Sampan singers. Guests will take a musical cruise along the Canal at The Shoppes.
Eager to go on this? You'll be invited to play simple percussive instruments and also sing along to the "Little Boat of Dreams." That's a song specially composed to pay homage to the Sampan boats' role in Singapore's history and culture.
The Sampan Musical Voyage is now available for guests every Thursday through Saturday at 2 p.m. and 6 p.m. Cost is 25 SGD (Singapore dollars) per person.
"Sunset in the Sky"
Another new program is "Sunset in the Sky." This sky-high experience is refreshingly visual and tasty too.
Guests will head for SkyPark Observation Lounge atop the hotel to revel in 360-degree, panoramic views of Singapore's beautiful skyline. But they'll also do so while savoring chocolates from celebrity chef Wolfgang Puck and sipping a flute of bubbly.
"Sunset in the Sky" is available from 6 p.m. to 9 p.m. every Thursday through Sunday. Cost is 88 SGD (Singapore dollars) per person.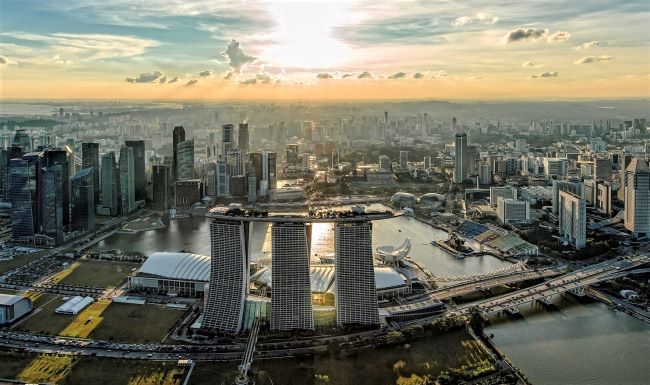 Luxury Hotels: Parting Thoughts
Want to know a bit more about the hotel's vision for its revitalization and projects underway? Here's a link to the 2022 report from the hotel about the $1 billion revitalization and what's planned. In addition, here's the property's own website page. 
"If you are interested in an independent vacation in Singapore, or perhaps as I did, to stay here on a pre- or post-cruise stay, then be sure to give our personal travel planners at Pavlus Travel a call," says Steudle. "Our experts can help you find the right accommodations for your travel style, budget and personality. We're here to assist." Check out the information below. 
If you're already planning a Singapore trip, check out our recent blog from "road warriors" about the best packing tips for that special journey.
Important Notes from Pavlus Travel
If anything does tweak your interest in the story and you DO have questions about specific pricing, brochures, savings, accommodations, accessible options and so on, please contact us at  800-528-9300.
Or visit us online at Pavlus Travel's official agency Web site; there you can "live chat" with us online too!
This blog site is designed for "basic, general information" about travel. It's not staffed by travel advisors.
Any price examples used in the above blog are subject to change. They also do not represent the full range of options; a travel advisor can assist with additional information.
Please don't use the Reply Section below if you are asking for pricing, travel dates, accommodations, brochures or other specific requests. Please use the 800 number or online link.