A trip to Rome just wouldn't be complete without a historical excursion or two. So, how does a traveler even begin to choose a starting point? Well, in today's blog, The Meandering Traveler chooses six of Rome's best ancient sites for readers to check out.
From our perspective, "we never truly met a ruin we didn't like!" We love taking a deep dive into history. With a glorious history spanning over 2,800 years, the Eternal City offers abundant ancient ruins, archaeological sites and historic landmarks. Consequently, it's "ancient civilization heritage" at its very best.
Some are world-famous. In contrast, others are hidden gems. So, here are our first six, many of which are well-known sites. Next week, we'll lay out 10 additional options including a few of those lesser-known sites. 
1. Best Ancient Sites: The Roman Forum
From our perspective, travelers should begin their tour of ancient sites in Rome at the Roman Forum or Forum Romanum. Did you know that originally, this site was a marshy burial ground? However, in the 7th century B.C., the Romans began to develop the site. And over time, the Roman Forum expanded to become the social, political, and commercial hub of the Roman Empire.
Back in the day, Romans would head here for triumphal celebrations, gladiatorial contests, elections, public speeches, religious ceremonies and for business meetings. Our perspective? Even despite repeated visits, we always find something else to see and learn about in the Roman Forum.
The Temple of Saturn, Arch of Septimius Severus, and the Basilica of Maxentius rank as the most significant landmarks here. Other buildings have vanished, and only fragments of their past remain.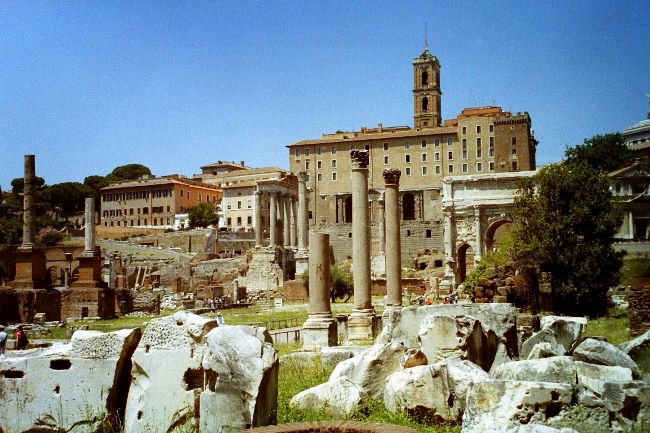 Entry Specifics
The opening hours of the Roman Forum vary throughout the year. However, it's generally open daily (except on Christmas and New Year's Day) from 9 a.m. to approximately one hour before sunset; the last admission is one hour before closing.
Desire to go? If so, be sure to know the following. Given strong consumer demand, visitors must have advance bookings for the Roman Forum. Tickets aren't sold on site anymore. So, be sure to get them online prior to your trip at the CoopCulture website, the Roman Forum's official ticket agency.
Your nonrefundable tickets (18 euros) to the Roman Forum also will nicely include entry to the nearby Colosseum and Palatine Hill.
2. Best Ancient Sites: The Colosseum
It's no wonder that ancient Rome's greatest architectural legacy, the Colosseum, also called the Flavian Amphitheater, is often a traveler's most defining image of the city. It all began when Roman Emperor Vespasian ordered construction of this spectacular arena in 72 A.D. However, his son Titus actually inaugurated the elliptical bowl in 80 A.D.
When finished, this vast amphitheater measured 623 feet long, 511 feet wide and had 80 entrances. Rivaling some modern-day football stadiums, it could seat between 50,000 and 80,000 spectators.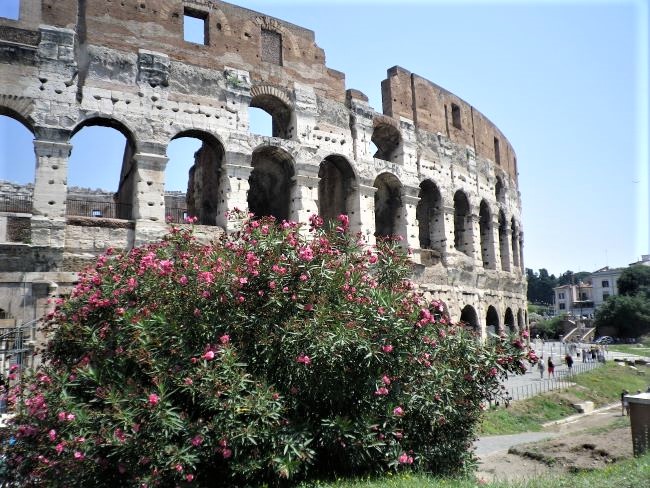 While the Colosseum today is missing some of its original structure, what does remain continues to awe visitors.
During its prime, the Colosseum was the scene of countless public spectacles. That essentially means that many events were designed to satisfy a bloodthirsty audience.
People died, for example, after being pitted against wild animals on the arena's floor. Lions, panthers and elephants also were killed for sport. Gladiators fought each other.
And wounded contestants either lived or died, based on the emperor's whim. Of course, that was quickly expressed by an Imperial thumb up or thumb down.
Colosseum Entry Details
Opening hours vary. But generally, the Colosseum opens daily (except Christmas and New Year's Day) at 9 a.m. and remains open until approximately one hour before sunset. The last visitors are admitted one hour prior to closing. Some private tour groups can visit in the early morning and evening hours.
Unless you desire to stand hours in line at peak periods, advance booking for Colosseum tickets is highly recommended. Tickets can be purchased online through the CoopCulture website. And as noted previously, the ticket also includes entry to the Palatine Hill and the Roman Forum.  Nonrefundable tickets cost 18 euros.
One firsthand piece of travel intel? The Meandering Traveler visited the Colosseum a few years back accompanied by a relative in a wheelchair. Yes, there's a modern elevator attached to the Colosseum, which is available for those with mobility challenges.
Our relative was so pleased at being able to get views of the interior of the Colosseum from a higher perch. It's well worth heading to that higher level to take in the full expanse of the arena much in the way that spectators did in ancient times.
3. Best Ancient Sites: Palatine Hill
You've likely heard of the Seven Hills of Rome. Well, Palatine Hill (or Palatino) is one of those, and considered one of Rome's most significant historical sites. It's adjacent to the Roman Forum and near the Colosseum.
As legend goes, twins Romulus and Remus were brought up by a ferocious she-wolf in a cave on Palatine Hill. Consequently, after a violent disagreement between the two, Romulus killed Remus on Palatine Hill before supposedly founding Rome on this hill in 753 B.C.
What's to see today? We'd suggest checking out the Domus Flavia, Domus Augustana and Stadium of Domitian.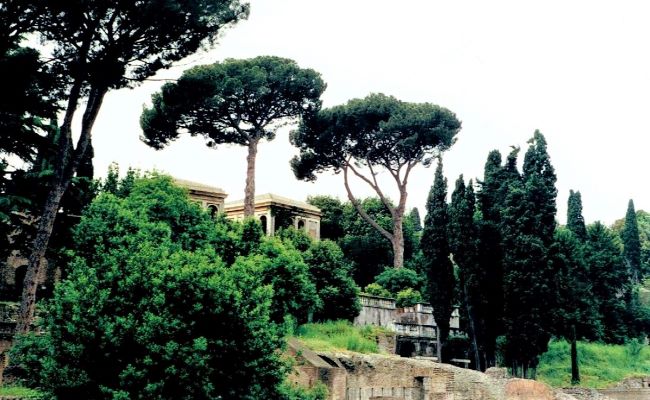 Lovely Farnese Gardens
Plus, don't miss the Farnese Gardens, one of Europe's first botanical gardens. Cardinal Alessandro Farnese laid out these gardens in the mid-16th century. At that time, they featured frescoed aviaries, underground passages, ancient sculptures and fountains.
By the 1700s, the gardens fell into disrepair. Subsequently, though, they roared back to popularity as wealthy consumers embarked on "Grand Tours" of Europe in the 18th and 19th centuries.
As with the Forum and Colosseum, the Palatine Hill's hours vary throughout the year. It's typically open daily from 9 a.m. to approximately one hour before sunset; the last admission is one hour before closing. It's closed on Christmas and New Years Day.
Important: Tickets must be booked in advance, as no tickets are sold on site. Travelers should purchase tickets online through the CoopCulture website, the official ticket agency for the site; nonrefundable tickets (including entry to the Palatine Hill, Roman Forum and Colosseum) are 18 euros.
4. Best Ancient Sites: Arch of Constantine
The last great monument of Imperial Rome is the magnificent Arch of Constantine (Arco di Constantino). Situated between the Roman Forum and the Colosseum, it was erected in 315 A.D. The arch commemorated Emperor Constantine's victory over his co-emperor Maxentius at the Milvian Bridge in 312 A.D.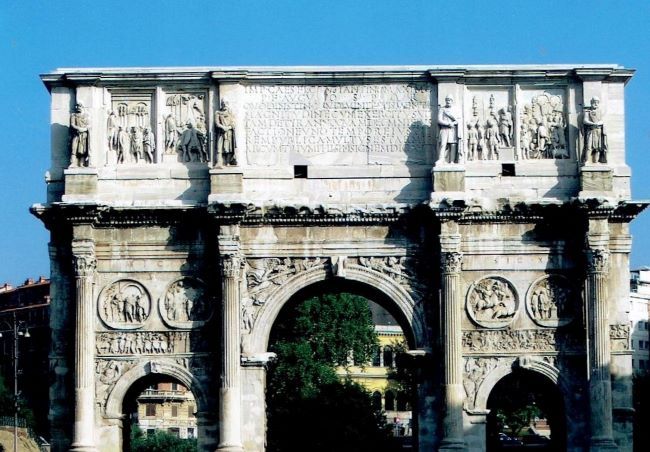 Spanning 68 feet in height and 86 feet in width, the Arch of Constantine is the largest of Rome's three surviving ancient triumphal arches. Most importantly, check out the elaborate medallions, reliefs, and statues, many of which were plundered from various earlier-period structures.
There's no entry fee to see this. One can walk fairly close to it, although a chain link fence keeps visitors from touching the base.
5. Et Tu Brute! Area Sacra di Largo Argentina
Changing direction, one of Rome's most fascinating sites, the Area Sacra di Largo Argentina, is often overlooked by visitors. To find it, just head for bustling Largo di Torre Argentina square, home to lots of vehicular traffic.
Did you know that during construction of a modern building between 1926 and 1930, the remains of four Republican-era temples were discovered here? It's true, but no one seems to know to whom these temples were dedicated.
As a result, they've been pragmatically renamed Temples A, B, C and D. What's to know? First, the oldest of the four temples of Area Sacra di Largo Argentina is Temple C, built in the early third century B.C.  Second, Temple D, the largest of the four temples, reportedly dates to the second century B.C.
And third, the Area Sacra di Largo Argentina is also home to the Curia of Pompey ruins, nestled behind temples B and C.
Julius Caesar's Demise
What's unique about the Curia? It's the site where Julius Caesar was assassinated on March 15, 44 B.C., or the "Ides of March." He was stabbed 23 times by a group of his own senators. That's because they were opposed to his megalomania and hoped his death would lead to the restoration of the Roman Republic.
If you're a Shakespeare fan, it's good to know that the spot where Caesar was killed, unlike the bard's play, doesn't have any "X marks the spot." In addition, the assassination wasn't even in the Roman Forum — but instead here in the Curia of Pompey. The spot today is a jumble of limestone rocks, bricks and grass. 
In the past, travelers would gather along the balustrades above the Curia de Pompey, taking photos. Access to the site itself was closed. However, starting in 2018, travelers were permitted to enter the Curia.
One added tidbit? If you visit, you'll immediately see dozens or even hundreds of stray cats roaming the Area Sacra di Largo Argentina. It's a cat sanctuary, where volunteers feed, clean, and look after the homeless felines.
6. Theater of Marcellus
Known as ancient Rome's largest, oldest and most important theater, the Theater of Marcellus (Teatro di Marcello) is amid the Campo Marzio's southern area. That's between the Tiber River and Capitoline Hill.
With space for approximately 20,000 spectators, this impressive theater hosted such cultural events as plays, musical contests, and poetry recitals.
Julius Caesar is credited with starting the construction of the Theater of Marcellus. But it was actually not finished until many years after his assassination. That effort is credited to Emperor Augustus, who dedicated it to his favorite nephew, Marcellus, who died at age 19 in 23 B.C.
What's special about this theater is that its architecture became a standard feature of Roman theaters across the empire. Moreover, the architecture even influenced the facade design of such famous Roman buildings as the Colosseum.
Good to know? The Theater of Marcellus is closed to visitors. As a result, it can only be admired from the outside.
Top Ancient Sites: Ways to Explore Rome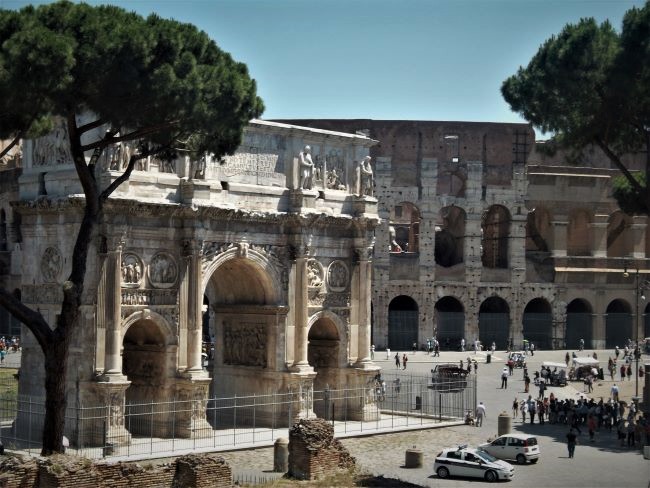 "Travelers love exploring Rome, either on an independent hotel stay, or alternatively, an escorted tour or pre- or post-cruise stay," says Shelby Steudle, president, Pavlus Travel. "Fortunately, the city is easily accessible via air flights from the U.S. or Canada, and it's a perfect getaway for history buffs."
If you're excited about history, you might consider a multi-night, independent hotel stay. Check out our recent blog about "Journey to Rome: The Eternal Lure of the Spanish Steps." You'll find, for instance, that it covers sightseeing, dining and personal experiences within that area, which is also home to The Hassler, a luxury hotel.
Several Luxury Cruise Options
Other travelers may desire to spend time in Rome on an escorted tour or during a pre- or post-cruise stay. For instance, Silversea Cruises' 608-passenger Silver Spirit will sail a 10-day Venice to Civitavecchia (Rome) voyage on May 6, 2024.
"Along this route, travelers can explore plenty of UNESCO World Heritage Sites," says Pavlus' Steudle. "For example, to explore another enticing Roman site beyond the Eternal City, travelers can go underground at Diocletian's Palace in Split, Croatia."
Therefore, here's a link to that Silversea itinerary. At press time, fares started at $10,400 per person, double occupancy, for Silversea's "door-to-door" package. Ask your personal travel planner about a post-cruise stay at Rome's Bernini Bristol luxury hotel. Certainly, that's one option available from Silversea.
Seven Seas Grandeur
In addition, on June 21, 2023, Regent Seven Seas Cruises' new 1,200-passenger Seven Seas Grandeur will sail an 11-day Athens, Greece, to Civitavecchia (Rome) itinerary. During that journey, cruise guests will enjoy an in-depth exploration of Turkey, Greece, Malta and Italy's most renowned historical sites and beautiful coastlines.
Here's a link to the RSSC itinerary. Pricing started at $12,099 per person, double occupancy. All prices listed in this blog are subject to change.
Check Back Next Week
We hope you've enjoyed our look at Rome's ancient sites. If so, then check back next week for part two of this "Best Ancient Sites of Rome" blog.
Moving to the next chapter, we'll look at Trajan's Market, the Imperial Forum, Pantheon and much more. At the same time, we'll reveal a few more vacations that begin or end in Rome, giving travelers free time to explore the Eternal City.
Important Information from Pavlus Travel
This blog site offers "basic, general information" about travel. Thus, it's not designed to provide specific pricing nor is it staffed by travel advisors.
Any personal views expressed reflect the anecdotal perspective of the author — simply one opinion by a frequent traveler. That means the views expressed should not substitute in any way for use of a professional travel advisor. And that applies to either advice or booking of any vacation.
Also, please don't use the Reply Section below if you're asking for pricing, travel dates, accommodations, brochures or other specific requests. 
That said, we are most happy and eager to assist you. Here's how…
If anything does tweak your interest in the story and you'd like to talk about a future vacation, please DO call us at 800-528-9300.
Definitely, if you have questions about specific pricing, brochures, savings, itineraries, dates of travel, accommodations, accessible options and so on, please contact us. That means please call us at 800-528-9300 or visit and "live chat" at Pavlus Travel's official agency Web site. We're here to assist you!