It's that time again! Let's dig into the past month's top travel news, snazzy reveals or simply unique happenings by air, land and sea. In this blog, we'll highlight announcements made during March 2022.
1. Top Travel News: Americans are Ready to Go!
Yippee, it's time "to vacation." In fact, 73 percent of American travelers plan to vacation within the next six months,  according to MMGY Travel Intelligence's latest "Portrait of American Travelers" research survey.
That's up from 62 percent one year ago.  MMGY said the spring edition 2022 survey showed "unprecedented optimism." The research was based on responses of 4,500 "representative" consumers.
The top states of interest for travel among U.S. travelers over the next two years are Hawaii (64 percent), Florida (62 percent), California (53 percent), Colorado (50 percent), Alaska (49 percent) and New York (49 percent).
Opting to"Go Big"
"Overall, we anticipate that 2022 will be seen as a year of continued growth for the travel industry, with many Americans opting to 'go big' with their travels after playing it more conservative the last few years," said Chris Davidson, executive vice president, MMGY Travel Intelligence.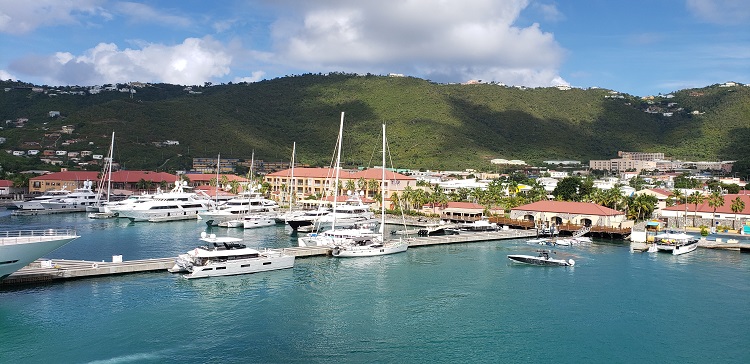 "Inflation and the recent increase in gas prices may mean that travelers choose to venture a bit closer to home or alter their spending slightly, but the demand for travel is palpable," he added.
Top Travel Research Findings
For the majority of Americans, it appears that COVID-19 is no longer a barrier to travel. Most plan to travel domestically, many on "road trips," although 19 percent plan international trips.
The survey revealed that younger generations intend to vacation most during the next 12 months. Gen Zs and Millennials lead the charge with an average of 5 and 4.1 trips planned, respectively.
Conversely, older generations generally plan to invest more in their vacations. For instance, Baby Boomers plan to spend an average of $1,142 per trip. In turn, Gen X travelers were the next closest generation at $670 total per trip. 
Another trend is the growth of solo travel. Did you know that one in four American adults plans to take a trip alone in the next six months?
Solo travelers said that they most desire to travel to Los Angeles, Palm Springs and Anaheim, CA,. In addition, Chicago, IL, Atlanta, GA, Ann Arbor, MI, and Kansas City, MO/KS, also rated high on their list.
More Top Travel Tidbits
The research provided other gleanings including these tidbits:
Hotel cleanliness standards are now as important as the room rate and free breakfast in determining how travelers choose their accommodations.
Six in 10 travelers are willing to pay more for travel providers who demonstrate a commitment to environmental responsibility.
2. Spa, Glorious Spa – Silversea's Silver Dawn Debuts with Otium
It's always exciting when any new ship debuts.
For instance, in early March, this blog talked about enticing spaces on Royal Caribbean International's new 5,700-passenger Wonder of the Seas. Check out our blog series: Part 1 and Part 2.
This week, though, The Meandering Traveler sailed on a very different new ship — the ultra-luxury, 596-passenger Silver Dawn.
A sister to Silver Muse and Silver Moon, this new Silversea Cruises' ship introduces the line's new Roman-inspired Otium spa concept.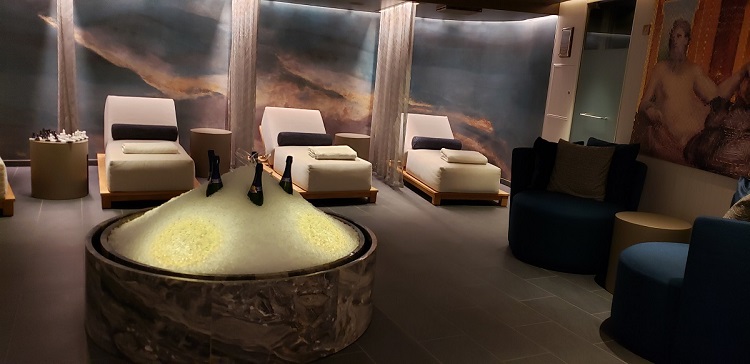 Naturally, this spa focuses on relaxation and well-being. But, guests will also find surprising elements of indulgence (think champagne and chocolate, among other treats). Silversea points out that wealthy Romans were truly experts at that!
Sneak Peek Photos
The spa's luxurious relaxation room offers champagne on ice (see photo above). Guests seeking a massage or other body treatment can relax within a soothing spa treatment room (see photo below).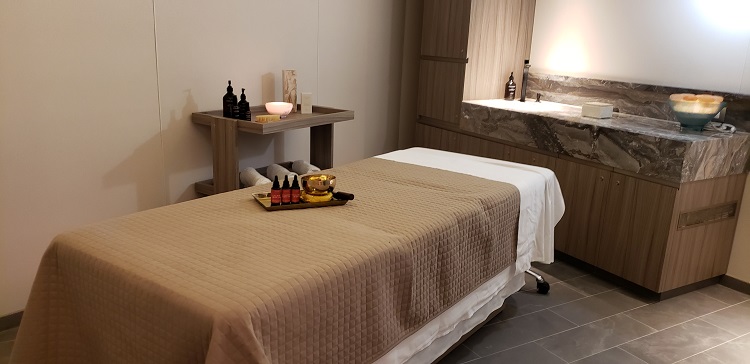 Tune in next week for more photos and details about Otium as well as S.A.L.T. (Sea and Land Taste) programming and other highlights of this new ultra-luxury ship.
Meanwhile, check out the line's press release about the christening in Lisbon, Portugal. 
3. Top Travel News: Oceania Adds More "Solo" Staterooms
As part of its OceaniaNEXT initiative, Oceania Cruises is adding 56 more dedicated staterooms for solo travelers!
Four of the line's ships, the similarly sized Regatta, Insignia, Nautica and Sirena, will each offer 14 new Solo Oceanview Staterooms. They're all centrally located on Deck 6.
Look for their debut starting September 25, 2022, on Regatta, September 26, 2022, on Nautica, and October 1, 2022, on Insignia and Sirena.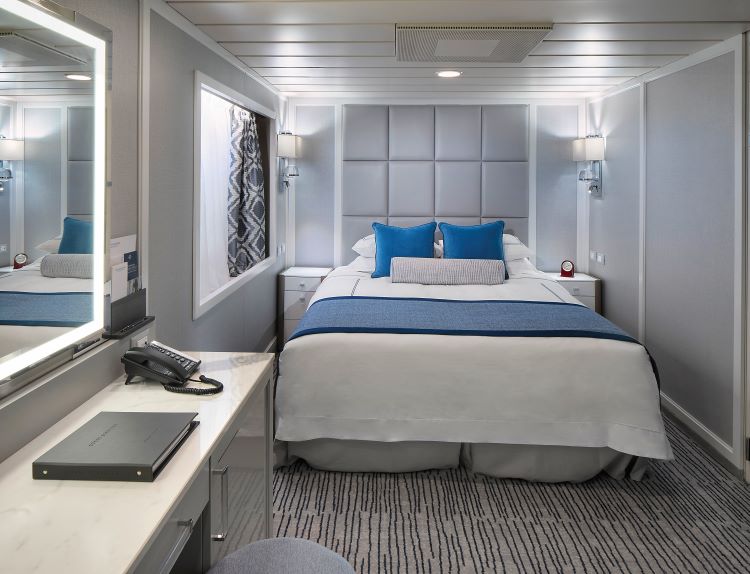 Settling into these staterooms (see photo above), solo travelers will discover the line's signature Tranquility Bed, a refrigerated mini bar, cozy seating area and abundant storage space.
Listening to Guests
Howard Sherman, Oceania's president and CEO, said the upscale line added the solo accommodations at the request of both guests and travel partners: "These new single-occupancy staterooms are ideal for guests seeking the joy of traveling solo while experiencing all the comfort, cuisine and destination expertise" that Oceania delivers.
Curious about solo cabin pricing? Well, you'll have to wait just a tad longer for that. Oceania says that it will release details about fares and availability starting on April 11, 2022.
But if you travel the world on your own, it's nice to know that traveling with "me, myself and I," will soon become a bit easier on Oceania.
4. Game Show Fun: "Deal or No Deal"

Well, we just had to pick one "fun" item for our top travel news roundup for the month. So, if you're a game show fan, you'll likely love this one.
Get ready to play "Deal or No Deal" on every voyage of Princess Cruises' new 3,660-passenger Discovery Princess! That ship's Princess Theater stage has begun hosting the high-energy "Deal or No Deal" game show (which fans know from the long-running TV game show of the same name.)
Free Cruise & Grand Prize
Guests sailing on the 3,600-passenger Discovery Princess can expect a fun, live, hosted experience. It's a hoot on the entertainment side. Best of all, contestants will have the chance to win prizes ranging from a free cruise to the grand prize of $1,000.
Discovery Princess will sail to "the Last Frontier" this summer, offering seven-night Alaska cruises roundtrip from Seattle; those sailings are on multiple dates.
At press time, balcony cabins on the May 2, 2022 departure started at $799 per person, double occupancy. For a full range of options and the latest pricing, consult your travel advisor.
But wait, there's more. Princess is also introducing "Deal or No Deal" on Majestic Princess, Regal Princess and Sky Princess. In the future, it also plans to roll out this experience to other ships across its fleet.
5. Top Travel Development: World-Class Chef Joins Uniworld
It didn't take long for Robert van Rijsbergen, new culinary director of Uniworld Boutique River Cruises, to dive into into his new role.    
His appointment was announced in March 2022, and, presto, he's already created several new culinary choices for this year's European season.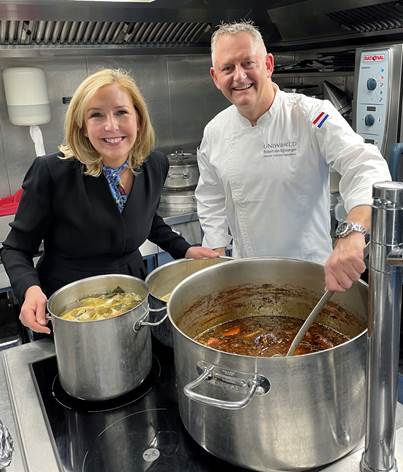 For example, Van Rijsbergen crafted new menu additions for S.S. La Venezia's La Cantinetta. They include Antipasto, Insalata di Anguria e Pomodoro, Risotto ai Funghi di bosco and Pasta Aragosta con Linguine al nero di seppia e Frutti di Mare. 
Also, Van Rijsbergeno elevated the culinary experience on both River Empress and River Duchess by introducing a new, four-course "Captain's Lounge Private Dining Experience."
Leading the Culinary Team
Leading Uniworld's team of corporate and senior executive chefs. Van Rijsbergen now handles culinary operations on all ships. In addition, he's tasked with creating new food concepts and menu designs.
Van Rijsbergen, who's served at many elite restaurants in the Netherlands, also plans to foster continuous development and training of Uniworld's culinary crews. Another goal is to strengthen the practice of sustainable sourcing of produce for river cruises.
Van Rijsbergen spent five years working alongside food connoisseurs, earning Michelin stars and learning from Master Chef Robert Van Kranenborg.
6. Smoother LAX Airport Experience for Delta Passengers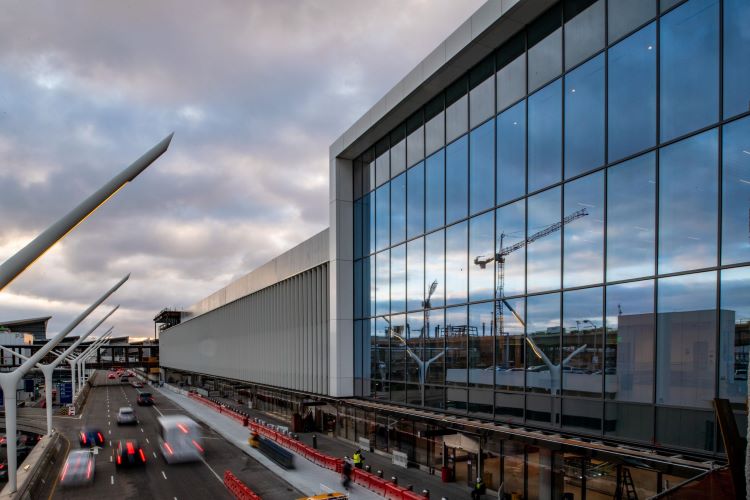 Air travelers will soon have a smoother experience at LAX if they're flying on Delta Air Lines. In March 2022, Delta and Los Angeles World Airports (LAWA) celebrated the completion of the first major phase of the Delta Sky Way at LAX.
Designed to modernize and update Delta's hub facilities, it's a joint $2.3 billion investment. While Phase One is just the start, this multi-year-project kicks off Delta's decade-long, $12 billion investment in multiple U.S. airport hubs.
Seamless Experience
Ed Bastian, Delta's CEO, joined by Los Angeles Mayor Eric Garcetti and other officials celebrated the Phase One completion with a March ribbon-cutting.
"In partnership with LAWA and the City of Los Angeles, we've built a modern, state-of-the-art facility that will make travel through LAX a seamless and elevated experience, " Bastian said.
As part of Phase One, Delta will begin welcoming customers to a centralized, check-in lobby and expanded security checkpoint and baggage claim on April 20. From our perspective, anything that makes life a tad easier for air travelers is a blessing.
For example, the consolidated check-in lobby is designed to create a more efficient, seamless experience. So, air travelers will find 32 self-serve kiosks, plus 46 check-in positions.
Digital Backwall
Notable in the check-in and baggage drop area is a 250-foot digital backwall. Spanning the facility's entire length, it will provide flight information in both English and Spanish.
In addition, this digital backwall will show how many guests are already within the Sky Club and offer gate information.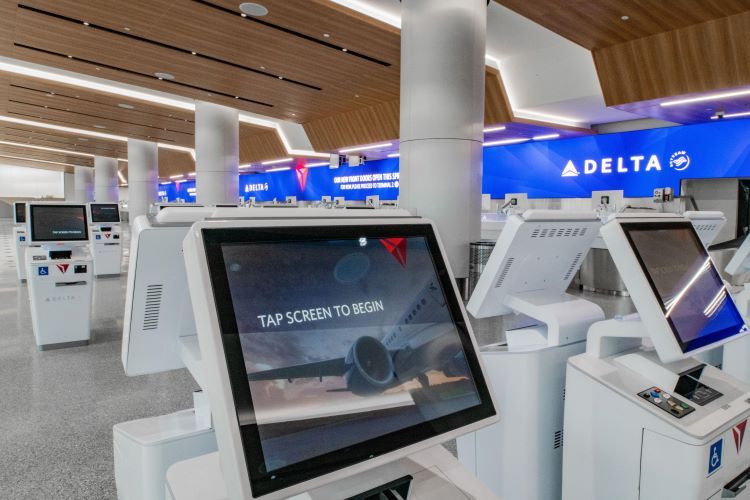 Completion in 2023
When the Delta Sky Way at LAX project is complete in 2023, Terminals 2 and 3 will be consolidated. The project will create a 1.2-million-square-foot, 27-gate complex.
Also, Terminals 2 and 3 will be connected to the Tom Bradley International Terminal (Terminal B), enabling quick airside connections to Delta and Delta partner-operated flights.
So, the Delta LAX project's Phase One completion gets our vote. Thus, this announcement (here's the Delta press release) shows up here on our March line-up of top travel happenings.
7. Top Travel Partnership: Lexus & Miraval Resorts
Lexus is hitting the road for health and wellness. Inking an enticing new partnership with Miraval Resorts and Spas, the luxury car brand is launching Lexus "Wellness Destinations."
The program offers Lexus-curated wellness packages paired with complimentary transportation for each guest.
"After the last couple of years we have all experienced, it's no surprise to see the focus on self-care paired with the desire to get away resulting in record demand for wellness travel," said Vinay Shahani, Lexus' vice president of marketing."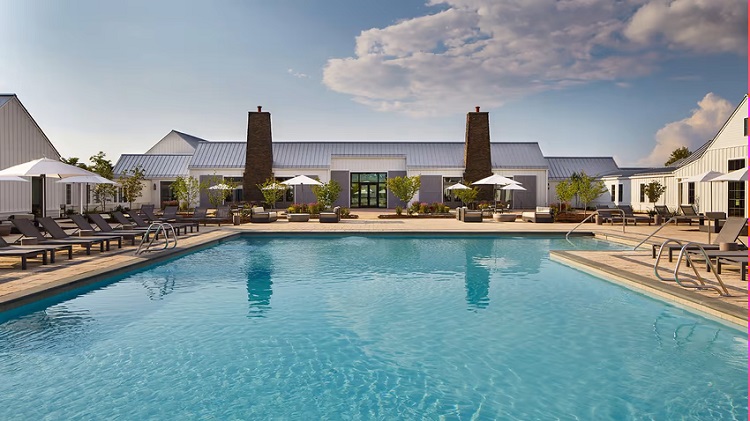 With the new partnership, Miraval is offering guests a "Lexus Drive Your Way to Wellness" custom experience.
Ranging from six to eight hours, the one-day experience was priced at $495 per person, at press time. It's offered through March 2023 and is subject to availability and price changes.
Where can you enjoy  this experience? It's available at Miraval Resorts in either Tucson, AZ; Austin, TX; or the Berkshires in Lenox, MA.
Guests will enjoy use of a Lexus vehicle throughout the experience as well as the resort's many wellness activities..
More Package Highlights
Three other highlights of this wellness package include:
An "intention-setting" ceremony with a Miraval guide;
Scenic drives to various destinations where a private guide will lead hiking, biking and/or swimming expeditions; and
3. A chef-prepared picnic lunch and local outdoor activity such as kayaking, paddle boarding or birdwatching.
Each wellness package highlights the unique offerings available at the three Miraval resorts. A member of the Hyatt portfolio, Miraval specializes in wellness resorts and spas.
For more information, contact your travel advisor or visit www.miravalresorts.com. 
8.  Top Travel Christening: Viking Times Eight
Many cruise lines have welcomed new ships over the past decade. But no line has done so in quite the same way as Viking. Celebrating its 25th anniversary this year, the upscale line christened not one, not two, not three — well, you get the picture….
Viking christened eight new river vessels in one ceremony in mid-March 2022!
Four of those Viking River Cruises' vessels – the 168-passenger Viking Fjorgyn, Viking Kari, Viking Radgrid and Viking Skaga – were designed and built specifically to navigate the Seine River.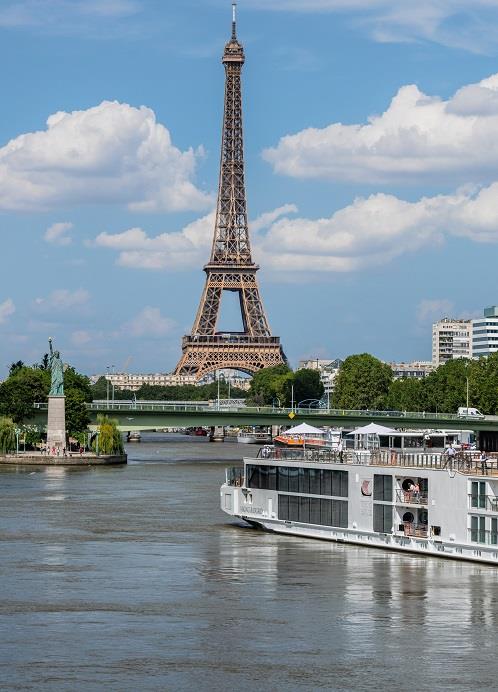 While those river vessels operated a partial season in 2021, they were officially christened in March 2022 and will sail their first full season this year.
The new vessels are now sailing from an exclusive docking location at Port de Grenelle, just a short walk from Paris' Eiffel Tower.
The four additional ships christened – the 190-passenger Viking Egdir, Viking Gersemi, Viking Gymir and Viking Hervor – are now sailing itineraries on Europe's Rhine, Main and Danube rivers.
Christening Traditions
March's naming event spanned two cities — both a full christening event in Paris and "live streaming" celebratory action from Amsterdam; four ships each were christened in the two cities.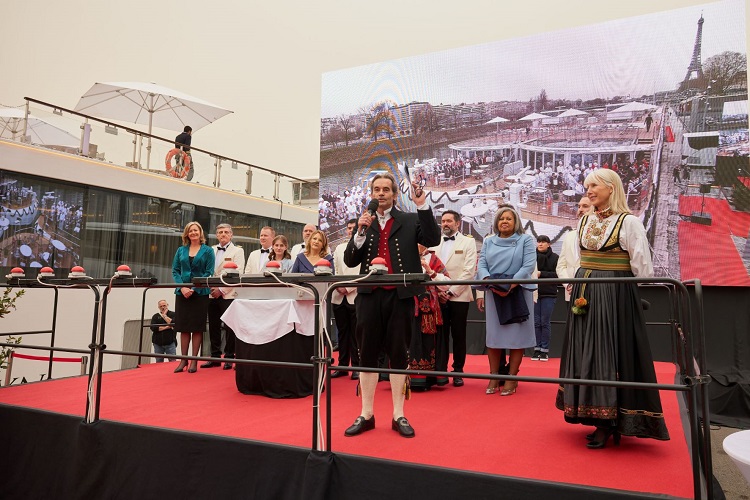 Ever wondered about the history of ship-naming ceremonies and the role that godmothers play? Then, we'd suggest viewing a recent Viking.TV episode — Explore the Role of a Ship's Godmother, a Revered Nautical Tradition.
It's an excellent program hosted by Karine Hagen, Viking's executive vice president (shown at far right in the above photo).
9. Top Travel News: MSC Cruises Heads to Big Apple
MSC Cruises is coming to the Big Apple. The European line plans to send its modern, 5,700-passenger MSC Meraviglia to New York City for year-round cruising, starting in April 2023.
Operating six- to 11-night voyages, the amenity-laden ship will sail from the Brooklyn Cruise Terminal. It's the first time the line will provide year-round voyages from a U.S. homeport beyond Florida. (Currently, it sails from both Port Canaveral and Miami, FL)
The New York departures will include cruises to Bermuda, the Bahamas (including the line's private isle, Ocean Cay MSC Marine Reserve), the Caribbean and New England/Eastern Canada.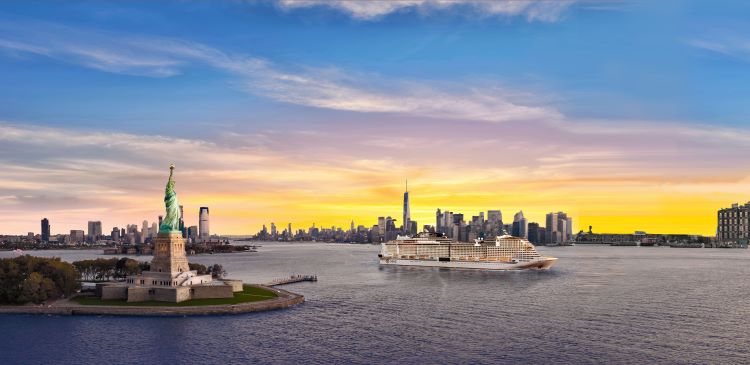 At press time, schedules and pricing had not yet been released by MSC Cruises. So, check with your travel advisor who can alert you when the details are available to the public.
That said, generally speaking, MSC Cruises' vacations tend to be affordably priced. This big-ship experience is expected to be particularly appealing to multi-generational families.
Highly convenient for residents of the Middle Atlantic and New England region, the new sailings will offer diverse entertainment, activities for all age levels, multiple pools, a full service spa, a multitude of accommodations, supervised kids' and teen clubs, 20 bars and 12 restaurants.
MSC Yacht Club Perks
While all the razzle-dazzle amenities and activities make MSC Meraviglia attractive to multigenerational family groups, what if you prefer a bit more private, exclusive space? One option is to book a suite or other accommodations in the MSC Yacht Club.
The yacht club is an exclusive, ship-within-a-ship enclave. It's key-card-only-accessible and offers upscale accommodations including suites.
Plus, it has a bit more intimate aura. MSC Yacht Club guests have their own exclusive lounge, bar, restaurant and more.
10. Top Travel News: Regent Seven Seas' New Shore Excursions
New this spring, Regent Seven Seas Cruises will make traveling ashore more immersive. Look for new "Behind the Design" and "Eco-Connect" shore tours across the ultra-luxury line's fleet.
As for pricing, while many of these new tours are included within the line's portfolio of free unlimited shore excursions, some select experiences classified as Regent Choice Shore Excursions will carry an added fee.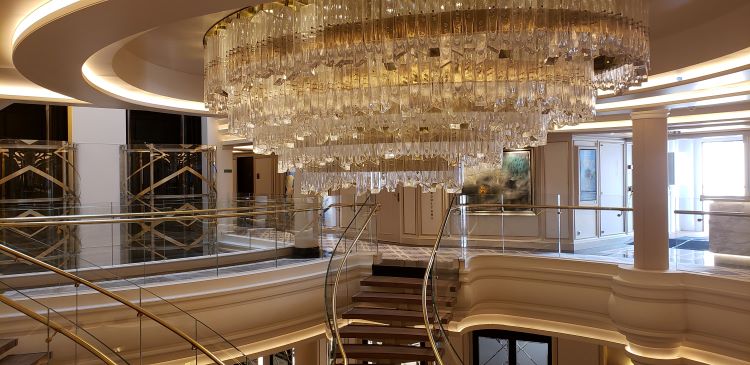 While Regent Seven Seas' ships are architectural jewels in their own right (see photo of the atrium/lobby area of Seven Seas Splendor above), now, the line will offer "Behind the Design" tours ashore.
Those new tours will offer insights about some of the world's most captivating architectural feats. For example, those include the La Villa Mediterranee and MUCEM in Marseille, France.
Eco-Connect Tours
Separately, more than 150 new "Eco-Connect" tours will allow guests to interact with eco-focused groups and businesses. Cruisers can sample the products of sustainable farming practices in France, New Zealand, Argentina and other regions.
Alternatively, they can see innovations in energy production at facilities in Portugal, Iceland and Japan.  Cruisers can also see flora and fauna in Costa Rica, Vietnam, Australia and elsewhere. 
For example, during a new "Eco-Connect" tour, "A Sloth Paradise – Give Back to Nature," in Puntarenas, Costa Rica, cruise guests will visit a sanctuary for orphaned/injured sloths or for sloths who've lost their habitats due to deforestation.
To help the cause, travelers will plant a tree in a nearby forest reserve. Pricing was not yet available at press time.
So, that's "our wrap" of notable supplier announcements made in March 2022. Be sure to tune in at the end of this month to see what the travel industry has served up in April 2022!
Important Notes from Pavlus Travel
This blog site is designed for "basic, general information" about travel. So, it's not designed to provide specific pricing nor is it staffed by travel advisors.
Please don't use the Reply Section below if you are asking for pricing, travel dates, accommodations, brochures or other specific requests. 
That said, we are most happy and eager to assist you. Here's how…
If anything does tweak your interest in the story and you DO have questions about specific pricing, brochures, savings, accommodations, accessible options and so on, please contact us at 800-528-9300.
Or visit us online at Pavlus Travel's official agency Web site; there you can "live chat" with us online too!
Thanks for reading!