Last week, The Meandering Traveler merrily sailed along the Iberian Peninsula and witnessed the celebratory christening of the new, 596-passenger Silver Dawn in Lisbon, Portugal.
In fact, we were aboard this new Silversea Cruises ship throughout the week as it called at Porto/Oporto and Portimao, Portugal.
Hobnobbing with top Silversea executives, we asked questions of interest to many cruisers. So, check back this coming Friday for interesting snippets from our one-on-one conversation with Roberto Martinoli, president and CEO, Silversea Cruises.
Today, though, let's look at 10 fun facts and a few first-hand observations about the new ship.
1. Silver Dawn is a Third, Muse-Class Sister
Third in the Muse-class, the 596-passenger Silver Dawn is a sister size-wise to Silver Moon and Silver Muse.
Essentially, much of the new ship resembles the two sister vessels. That said, the external design of the stern and funnel have been tweaked.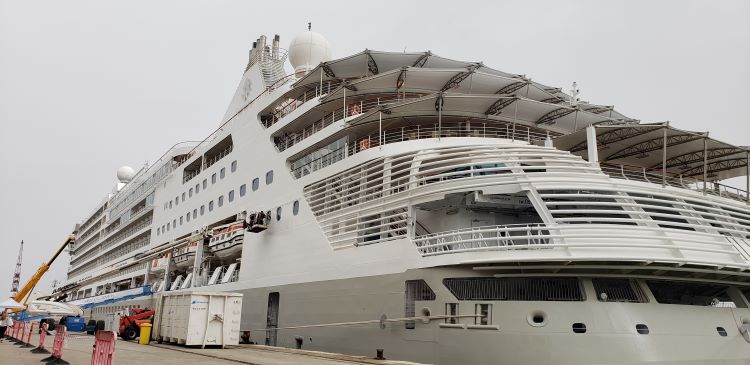 Service-wise, Silver Dawn carries 414 crew members, and the crew-to-guest ratio is 1:1.45. All suites, by the way, have butler service.
By the numbers, the 40,700-gross-ton Silver Dawn has become the 10th ship in a fleet that also includes the 388-passenger Silver Shadow and Silver Whisper, as well as the 608-passenger Silver Spirit.
In addition, the line operates four expedition ships – the 254-passenger Silver Cloud and Silver Wind, the 144-passenger Silver Explorer, and the newly launched, 100-passenger Silver Origin, now operating in Ecuador's Galapagos Islands.
The line's largest capacity ship, the 728-passenger Silver Nova is now under construction; it begins cruising in summer 2023.
2. It Harkens Back to Italian Heritage & Ancient Rome
Well, no, the ship isn't ancient by any means, but it is distinctive among Silversea's current fleet. That's because it debuts the pioneering, Roman-inspired Otium spa concept.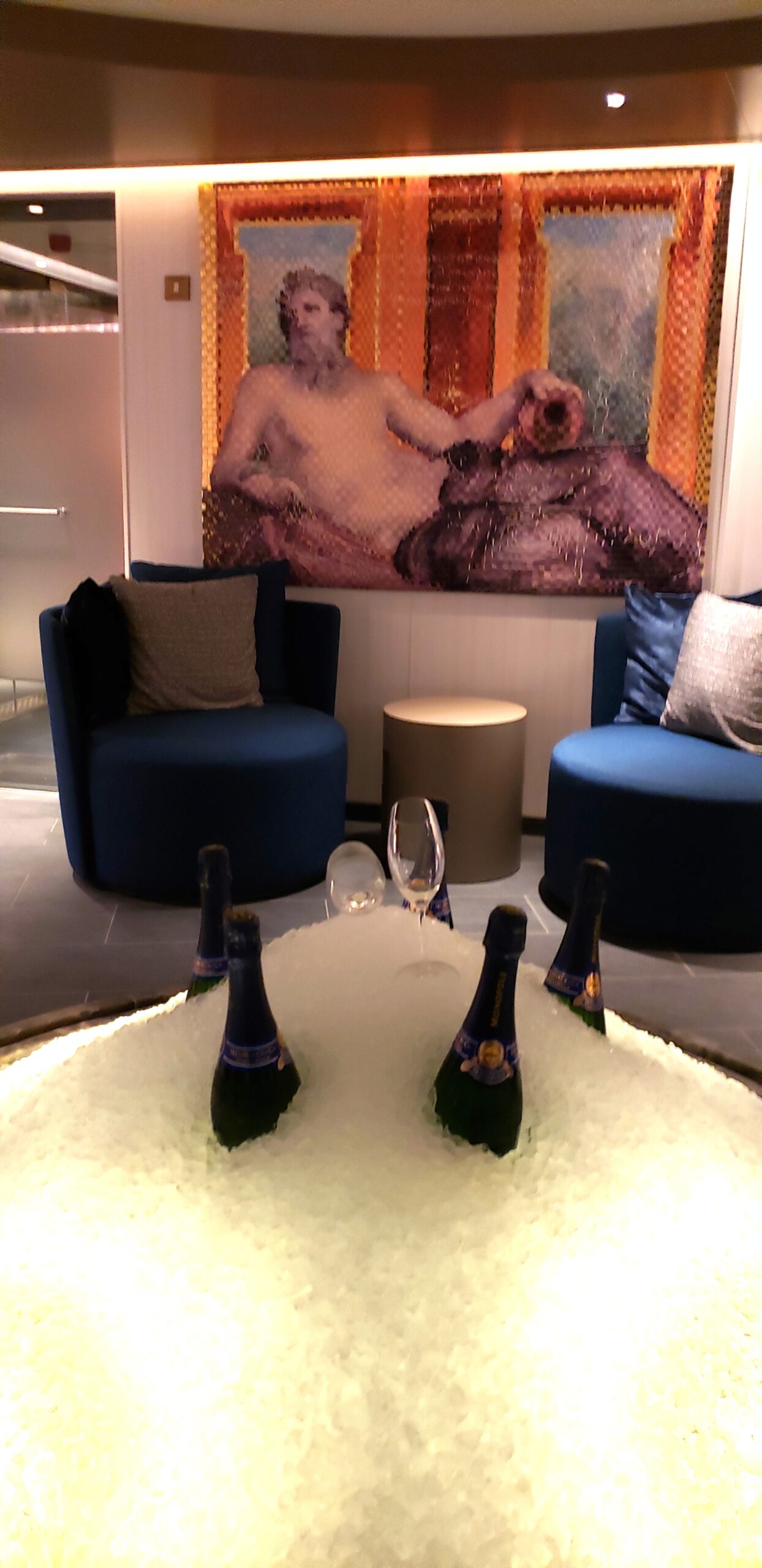 Harkening back a bit to the line's Italian heritage and founding by Italy's Lefebvre family, it actually goes much further back in history for inspiration too.
Simply put, entering the spa feels as though you're a wealthy Roman entering your extravagant villa in ancient times!
Guests "lounge around" while staff pamper them. Around the villa are replicas of Roman artifacts and mosaic-like murals (see photo at right).
And of course, it's not just about having a pampering spa treatment. It's also about "indulgence" — sipping champagne and sampling sweet treats while in the relaxation lounge, for instance.
Well, you get it. It's a bit decadent in a pampering, classy way.
The line also listened to guest feedback during the past year and requests for longer treatment.
New Treatment Menu
As a result, Silversea has created a new treatment menu with four new 100-minute treatments.
One of those is the signature Otium treatment. Guests who've booked this treatment can expect warm, fragrant oils infused with shea butter, raspberry and chamomile to be drizzled onto their body. Expect soothing, sweeping movements.
Plus, mineral-rich pink salt stones, natural bamboo and calabash will help stimulate skin and release tension. This 100-minute spa treatment is priced at $399.
Many other treatments are available at less cost, just fyi. But since that one is new and 100 minutes we opted to use it here.
The spa itself has a big bigger footprint than on its sister vessels. In addition, the outdoor pool area was removed.
Hirsch Bedner Associates (HBA London) gave special importance to the interior areas intended for guests' relaxation. For instance, that includes the relaxation area (see photo above), treatment rooms, the steam room and sauna.
We toured one spacious couple's treatment room (photos shown below) with a private whirlpool.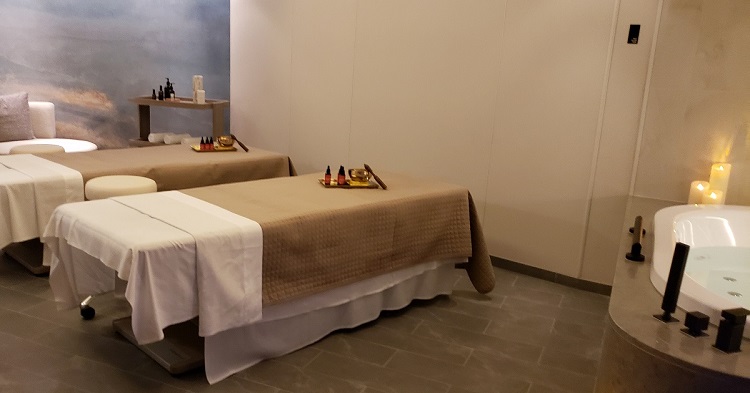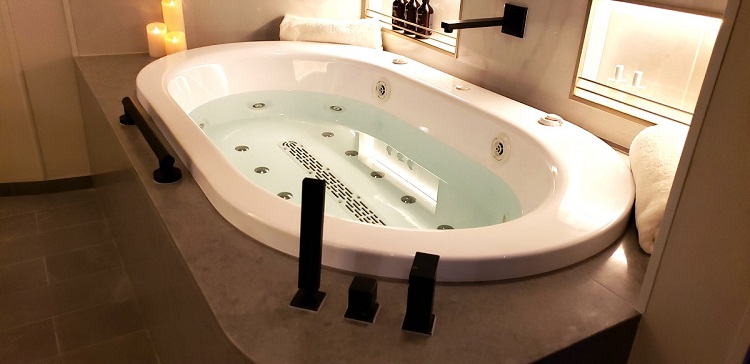 In-Suite Experience
What else distinguishes Otium? The concept also now extends to in-suite experiences and private balcony experiences.
For example, on a cool day, you can relax on your balcony and then call for the butler to bring you a cashmere blanket and hot chocolate (with differing choices for that drink too).
Or on a warm day, in contrast, the butler will deliver a cool cocktail and suntan lotion to you as you relax on your balcony lounger.
For movie nights, there's truffle flavored popcorn that can be delivered. Plus, Silver Dawn's guests can order new Otium gourmet "comfort foods" for room service (check out our photo below of the new dishes).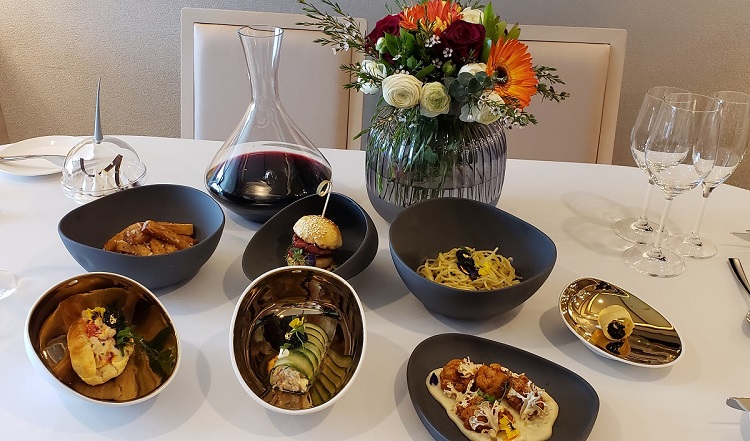 3. Silver Dawn: Embracing the World of S.A.L.T.
Silversea debuted its new S.A.L.T. or "Sea and Land Taste" program last fall on Silver Moon. Now, it's on Silver Dawn too.
Not all the line's ships have this program, which is designed to immerse guests in the local food and beverages of the ship's region of sailing.
Why isn't it going to be added to other ships? Officials told us last week that the S.A.L.T. Kitchen requires a separate galley, so don't expect to see it on Silver Wind or Silver Whisper, for example. There simply isn't enough space.
From our perspective, S.A.L.T. delivers exactly what it promises – local food and drinks the way the locals enjoy those. Think Bourdain not Michelin in approach.
Local Dishes in S.A.L.T. Kitchen
In S.A.L.T. Kitchen, the new restaurant on Deck 4, cruisers have two menus from which to choose. Incredibly, a Terrain menu changes daily and features dishes from the port visited that specific day! That's pretty amazing from the provisioning and logistical standpoint.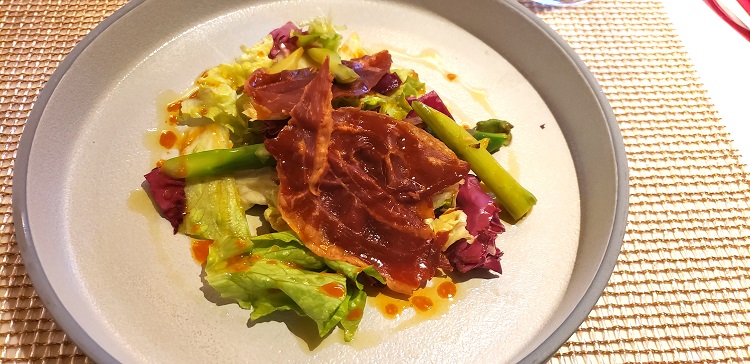 We sailed roundtrip from Lisbon and the ship was traveling to points in the  Iberian Peninsula for its first few voyages. So, a yummy Wild Asparagus and Iberio Ham Salad was one starter (see photo above).
A separate Voyage menu is also offered so guests can also select dishes from the broader region of sailing – such as the Mediterranean or Caribbean.
While we picked the Terrain menu appetizer, we opted for a Voyage menu entrée, a traditional Portuguese seafood stew.
4. S.A.L.T. Goes Far Beyond the Kitchen
In addition to the new, 160-seat S.A.L.T. Kitchen, you'll also find two other S.A.L.T. spaces aboard Silver Dawn. One is the sparkling test kitchen, S.A.L.T. Lab. It replaces and occupies the space of Teppanyaki (on Silver Muse).
At S.A.L.T. Lab cruisers can take cooking classes – again with a "local foods" focus. But it's not so much that you'll cook the dishes and then replicate your culinary knowledge upon returning home (although you could).
Rather, Adam Sachs, director of S.A.L.T. and a former editor-in-chief at Saveur magazine, says the culinary program is simply another way to dive in.
Guests immerse themselves deeply in the local lifestyle through cuisine or drinks. They will soak in traditions that enrich the overall destination experience.
By way of background, our cruise sailed roundtrip from Lisbon; the ship called at Portimao and Porto/Oporto (Port of Leixoes), Portugal. So, for example, here were two of the S.A.L.T. Lab classes offered.
"Tascas: The Food and Culture of Traditional Portuguese Family Run Restaurants"
"In Cod We Trust: Beloved Bacalhau (Salt Cod), the Building Block of Portuguese Cuisine."
S.A.L.T. excursions were also offered, such as "S.A.L.T Portuguese Terroirs: Wine Tasting at the Vila Vita Parc's Cellar" in Portimao.
S.A.L.T. Bar
Separate but adjacent to both S.A.L.T. Kitchen and S.A.L.T Lab is S.A.L.T. Bar. Nearly everyone aboard seemed to love this cozy, intimate bar, seemingly tucked away. Yet, it's still close to three major dinner venues.
Guests can expect to find an unusual menu with local drinks including cocktails, wines, spirits and nonalcoholic beverages.  Taking the advice of a fellow guest at the bar who'd "been there, done that," we ordered "Aurora, The Dawn.
This drink was a pretty concoction of Aperol, Ruby Port, orange, tonic and saffron. In fact, this cocktail put on quite the show.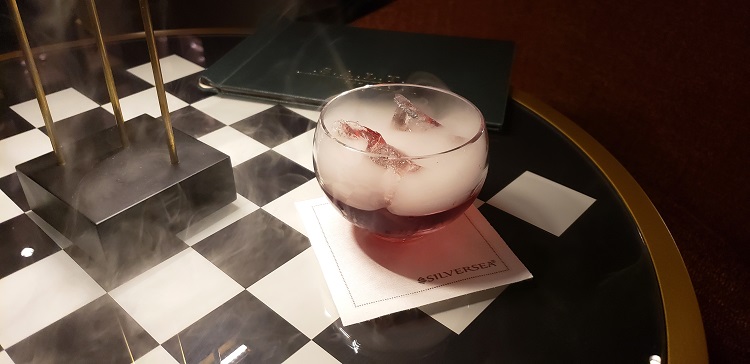 Let's just say it came out "smoking" (see photo above) as the bar server placed it in front of us on the cocktail table . Our first sips indeed were a bit smoky in flavoring.
But then it settled down, the smoke disappeared and the drink's deep red color emerged. Yes, we enjoyed the mix of tasty ingredients (see photo below).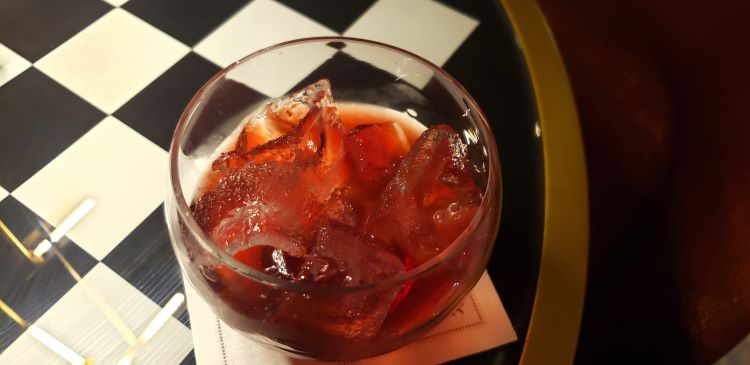 5. More Space Changes on Silver Dawn 
To make room for the new S.A.L.T. spaces, La Dame, Silversea's signature French restaurant, was relocated from Deck 4 (where it's at on Silver Muse) to Deck 8.
Now offering 76 seats versus 30 on Silver Muse, La Dame also gained some outdoor seating. Yes, you'll still find the hand-made Lalique crystal panels inside this elegant restaurant.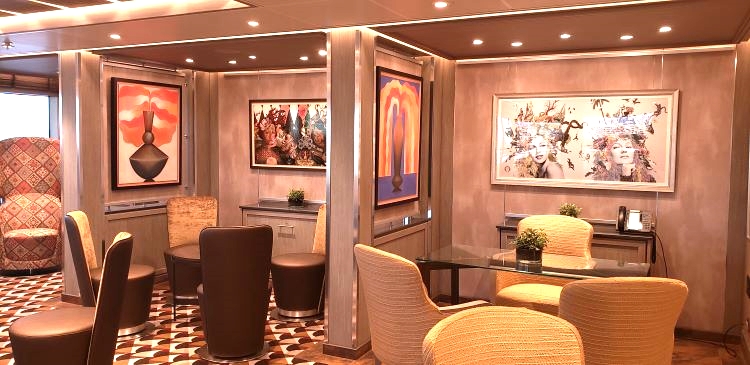 We loved the Arts Café (see photo above), a popular, casual food-and-drink venue with books and comfortable seating areas.
Sauntering up to the Arts Cafe's counter, guests are greeted with a cornucopia of light fare. You'll find everything from fruit and cheese plates to canapes, croissants, sweets, sandwiches and more.
Full bar service is also available, with servers who circulate to assist guests.
While the cafe embraces the same concept, look and feel as on Silver Muse, it's in a new spot — portside on Deck 8, also the case for Silver Moon. Separately on the dining front, the main Atlantide restaurant has a slightly larger footprint.
In addition, guests who've been on Silver Moon will notice that Silver Note now has a repositioned performing area. So, guests have better views of the entertainment.
Additional Updates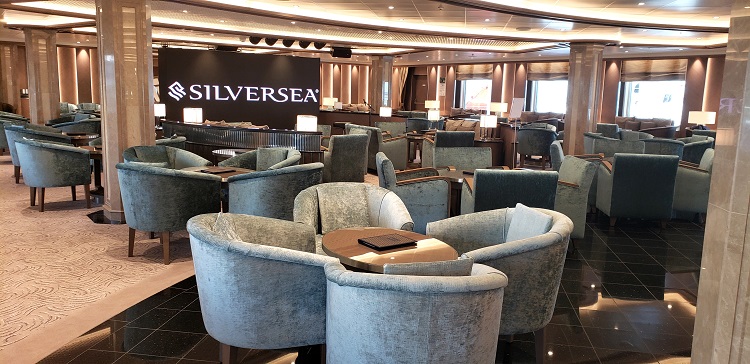 Dolce Vita (see photo above) has been reimagined aboard Silver Dawn when compared to Silver Muse. The bar is now in the center of the area. That divides the space into two sub-areas.
One is an evening bar, with more of a formal setting. The second is a bar/café in which guests can relax during the daytime.
From its former position on Silver Muse, the cigar/smoking spot, Connoisseur's Corner, was repositioned. Now on Deck 9, it's expanded and has a new outside Wintergarden area.
In addition, the Pool Deck bar has increased in size aboard Silver Dawn. It's also been altered in shape to accommodate more guests. Steps into the pool basin have been incorporated, allowing for easier water access.
6. No, You Don't Have to Order Sushi in Kaiseki
Our favorite restaurant on this ship? We enjoyed our meals in both the S.A.L.T. Kitchen and the main Atlantide restaurant. But for our palate, our favorite eatery was the 32-seat Kaiseki.
This intimate, Japanese restaurant has a slightly tweaked design (from other Muse-class ships) that focuses on "seasonality." Think minimalist design concept paired with sophistication too.
First and foremost, Kaiseki is the ship's sushi and sashimi hot spot. So, if you love those for lunch or dinner, you'll be happy.
But we discovered that this restaurant also serves a wonderful selection of Asian cooked dishes too.
Cooked at Kaiseki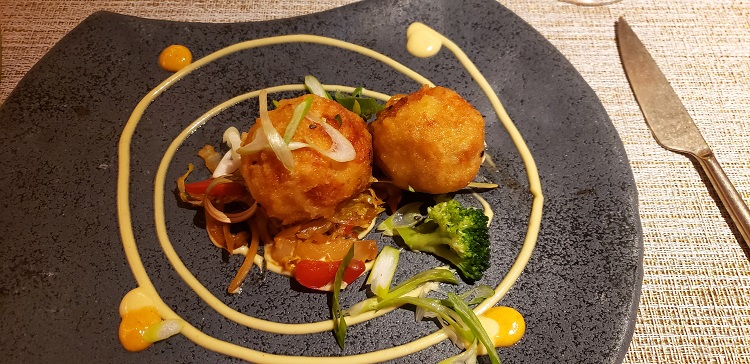 We ordered the skewered, tempura-battered shrimp balls (see photo above) for an appetizer. Yum, yum. Others at our table loved them too.
In addition, we ordered the lemongrass and Yuzi-infused seafood consommé with lobster medallions (see photo below).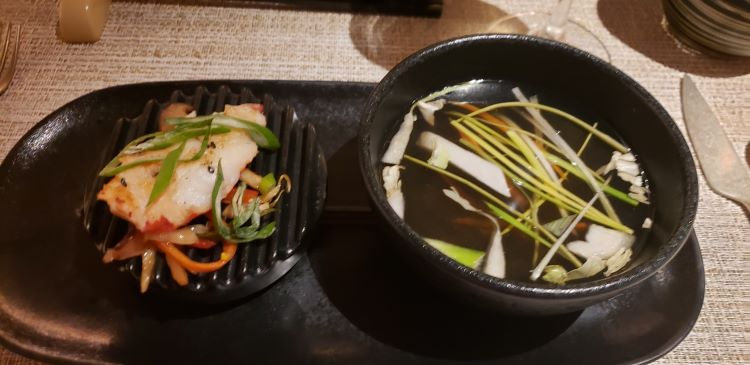 And for the entrée, we opted for the Maine Lobster tail and Wagyu surf and turf (see photo below); it was tasty and cooked to perfection.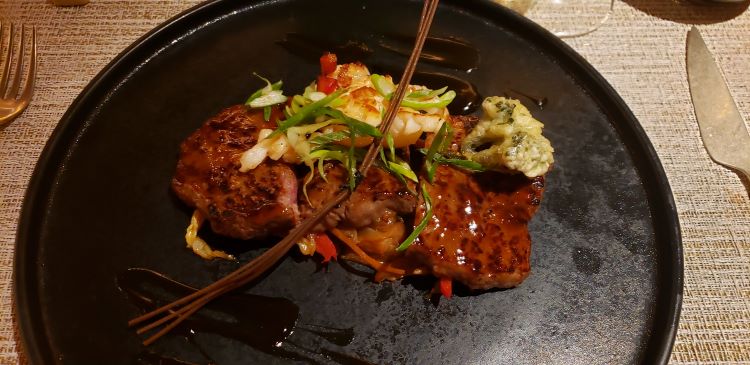 We found both the culinary presentation and table service in Kaiseki to be excellent.  Reservations are required.
7. Building Silver Dawn – Fun Factoids
What goes into the building of a new ship? It's fun to check out a few statistical tidbits.
More than 390 companies contributed to Silver Dawn's construction at Italy's Fincantieri Shipyard in Ancona, Italy. In peak periods, an average of 1,000 professionals were working simultaneously aboard the ship.
More than 15,000 steel plates and profiles were cut for the ship's construction.
Part of the ship's superstructure – comprised of 920 tons of steel – was assembled in Castellammare di Stabia, Italy. Loaded onto a barge, it traveled more than 755 nautical miles to Ancona.
Approximately 25,228 gallons of paint and more than 6.5 million square feet of insulation were applied to the ship.
Eighteen contractors installed more than 5.5 million feet of electrical cables.
8. Pampering Enclaves: Silver Dawn's Suites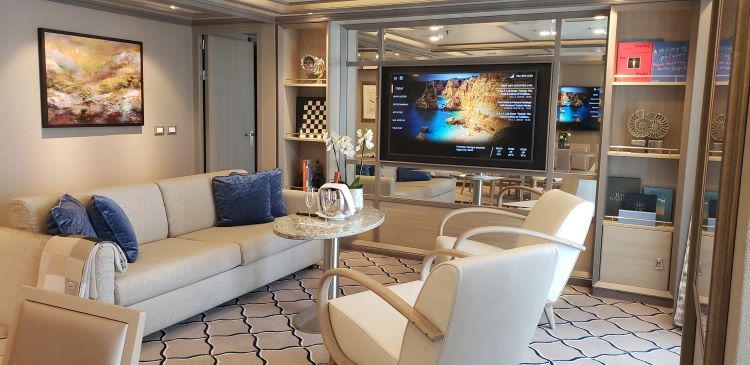 It's easy to feel pampered and cocooned in Silver Dawn's 298 spacious suites, all with ocean views. In fact, 97 percent offer private verandas. The ship also has four accessible accommodations.
Silver Dawn's accommodation options have one of the highest space-to-guest ratios at sea. Desire to check out an Owner's Suite?
The Meandering Traveler toured one of the ship's four Owner's Suites (see photo below for dining area). The two-bedroom Owner's Suite configuration ranges from 1,281 square feet to 1,389 square feet of space including a 129-square-foot veranda.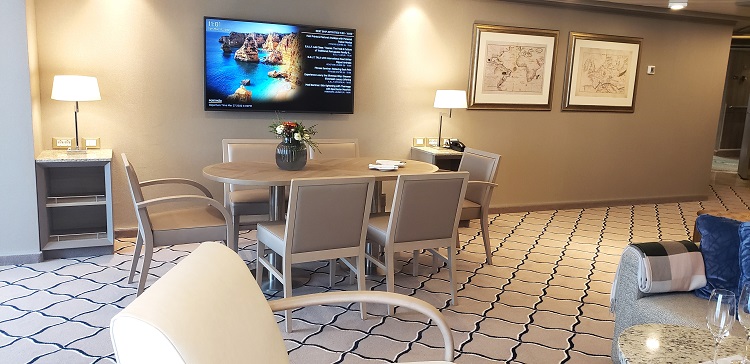 Silver Dawn also offers four one- and two-bedroom Grand Suites, two Royal Suites, plus 34 popular Silver Suites.
The Meandering Traveler stayed in an accessible Silver Suite, which was virtually identical to what we experienced on Silver Moon late last year. Plus, there are other accommodations categories too.
9. Silver Dawn's Sustainability & Eco-Features
Royal Caribbean Group has invested heavily to ensure that Silversea's next class of ship, Silver Nova, arriving in 2023, will be cutting edge on the sustainability and eco-side.  For instance, Silver Nova will have zero local emissions when in port.
But Silver Dawn has positive eco-features too. For instance, it incorporates Green Star 3 Design, assigned to ships that are designed, built and equipped with the environment in mind.
In addition, the vessel is equipped with an Open Loop Exhaust Gas Cleaning System. Plus, internal and external lighting has been updated to LED technology.
10. Silver Dawn: Ultra-Luxury Cruising Across the Globe
Silver Dawn departed April 1 for her inaugural voyage from Lisbon to Barcelona. The new ship is scheduled to sail in the Mediterranean until November.
For instance, on July 27, the ship will sail from Bari, Italy to Civitavecchia (Rome), Italy, on an eight-day cruise. Pricing at press time started at $5,400 per person, double occupancy.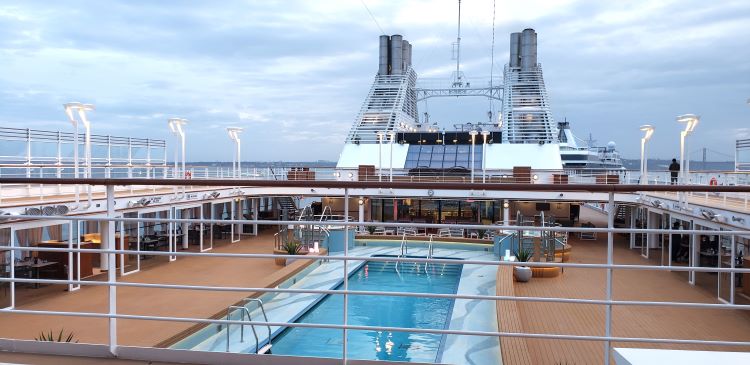 For those seeking a much longer cruise, Silver Dawn will operate a 21-day itinerary from Venice, Italy, to Barcelona, Spain on July 21. At press time, prices started at $12,900 per person, double occupancy.
Prices can change rapidly and are subject to availability. Talk with a travel advisor if you're interested in sailing.
Following its Mediterranean summer season, then the new ship will sail across the Atlantic Ocean via the Canary Islands. Later this year, Silver Dawn will operate Caribbean and Central America itineraries
For more information on Silver Dawn's itineraries, visit https://www.silversea.com/ships/silver-dawn.html
Important Notes from Pavlus Travel
This blog site is designed for "basic, general information" about travel. So, it's not designed to provide specific pricing nor is it staffed by travel advisors.
Please don't use the Reply Section below if you are asking for pricing, travel dates, accommodations, brochures or other specific requests. 
That said, we are most happy and eager to assist you. Here's how…
If anything does tweak your interest in the story and you DO have questions about specific pricing, brochures, savings, accommodations, accessible options and so on, please contact us at 800-528-9300.
Or visit us online at Pavlus Travel's official agency Web site; there you can "live chat" with us online too!
Thanks for reading!