Well-supported by parent Royal Caribbean Group, ultra-luxury Silversea Cruises is sailing through 2022 with three sparkling, new ships to entice guests to book luxury cruises.
One addition is the 596-passenger Silver Moon, launched in mid-2021. Another is its ultra-luxury sister ship, Silver Dawn, christened last month. The third is the intimate, 100-passenger, expeditionary Silver Origin, now sailing the Galapagos.
During the cruise for Silver Dawn's recent christening in Lisbon, Portugal, The Meandering Traveler sat down for about 20 minutes to chat one-on-one with Roberto Martinoli, Silversea's president and CEO. He's shown above with Silver Dawn's godmother, Nilou Motamed (photo by Silversea Cruises).
We asked about the line's latest developments, consumer trends and the new Silver Nova. Here's a bit of that buzz from Martinoli.
Luxury Cruises: New Sea & Land Taste (S.A.L.T.) 
After Silversea officially rolled out the new S.A.L.T. (Sea and Land Taste) culinary program on Silver Moon in 2021, Martinoli and Barbara Muckermann, chief commercial officer and co-creator of S.A.L.T., told us that the line expected 10 to 15 percent of guests to probably do one or more S.A.L.T. activities.
They thought about 50 percent would dive into multiple options. Others would do none. So what's happened thus far?
"All in all, I think the restaurant — S.A.L.T. Kitchen (shown in the photo below) — is working very well," Martinoli said. "There is very good, balanced demand, which goes well with the seating capacity that we have around the ship." The restaurant is now open for guests on both Silver Moon and Silver Dawn.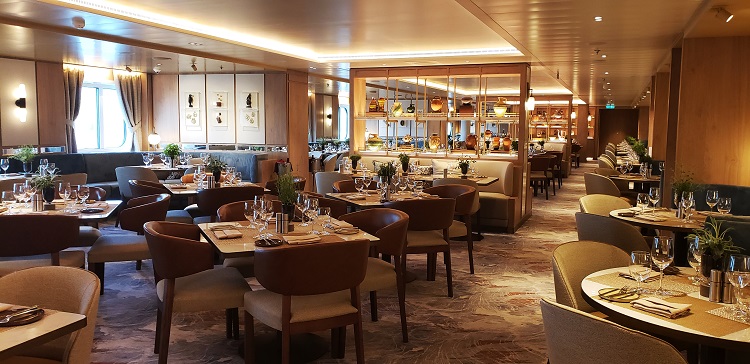 Bit More Demand in S.A.L.T Kitchen & S.A.L.T. Lab
"It's a little more demand than initially expected in that restaurant," he noted. In addition, Silversea is seeing "definitely a little more demand in the SALT Lab."
That's the hands-on cooking class venue where guests sign up for classes in making local dishes of the port of call or being visited.
In addition, "the S.A.L.T. Bar (see our blog of last week for a look at one drink there) is "doing very well," he added. "But the bar is small – and that probably makes it even more appealing because it is more intimate."
Guests are also booking the S.A.L.T. excursions in good numbers. "So, I would say that, all in all, the response is about our expectation but pretty well-balanced with the capacities that we have,," Martinoli said. "It's working well."
The Meandering Traveler then asked about whether Silversea had any plans for adding pre- or post-cruise S.A.L.T. programs.  While the line has not introduced anything like that, Martinoli told us that "it's a very good point."
He continued: "We do quite a bit of that anyway. You know the dining and food in general is part of our DNA."
So, while there's no firm plan for pre- or post-cruise S.A.L.T. programs right now, Martinoli seemed to like the suggestion: "Actually, it's a good idea."
The Crystal Situation
With the sad cessation of service by Crystal Cruises, industry sources have been wondering about what will happen to that former, ultra-luxury line's new expedition ship, Crystal Endeavor. Would Silversea be interested in acquiring it?
Silversea has been building its expedition business over the past few years. Clearly, Martinoli likes that expedition ship calling it "appealing," but he also indicated that it's not something he could acquire on his own.
Bottom line? Any such major financial decision would need both funding and approval from the Royal Caribbean board of directors.
In addition, the complexities of the financial workings of that ship and ownership (the creditors/banks) is a bit of a  murky playing field right now. So, for now, any talk of the acquisition of that ship is speculative.
It was clear that Martinoli couldn't really get into the possibilities. But he was quite clear about what Silversea is now seeing with Crystal's former guests.
"We are one of the first, obvious options for them, and we have had a few of them aboard already," said Martinoli, who calls the situation with Crystal "a sad story."
But as for Crystal's loyal past guests, he said this: "It's one of the natural choices for them to come to Silversea and we are happy to serve them if we can."
Luxury Cruises: Silver Nova on the Horizon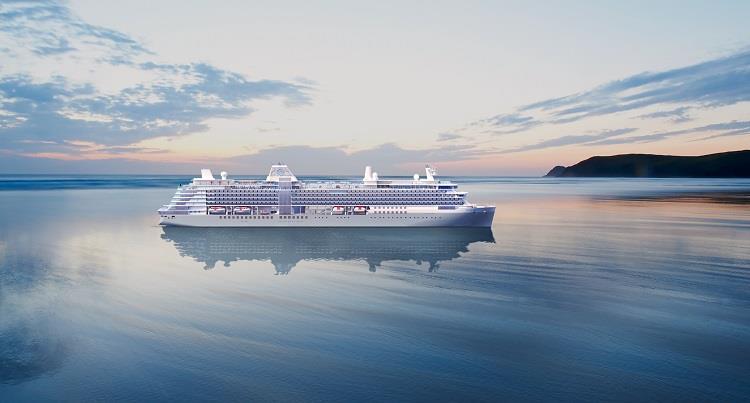 Much has been written about the first in a new class of ship, Silver Nova, now being built for Silversea; the 728-passenger vessel begins service for the ultra-luxury line in summer 2023.
So, what are Martinoli's top three product "features/threads" to point out to potential guests?
"What they will find in Silver Nova – the content, the basics – are the same as what you see here [on Silver Dawn]," he stressed. "But that's brought to the next level because of the new design….and obviously sustainability is a very big thing."
Cruising into the future with Silver Nova, Martinoli emphasized that "it's a very revolutionary project in terms of how we produce and use energy onboard." The ship will operate with a fuel cell and new technology that uses hydrogen through the LNG carried aboard."
That means that the ship can use that fuel cell for power while in port. "So, we won't be emitting anything harmful out of the ship, which is a big thing," he noted.
In addition to that, there are many more features being incorporated to maximize energy efficiency. "We've been making sure that all the systems onboard are as responsible [as possible] for treating anything that needs to get off the ship," explained Martinoli.
That means minimizing the amount of waste that goes out and in the best possible way. "I can just summarize it in a few words, he says: "I mean the water that gets discharged [into the ocean] is water that is almost drinkable. Actually, it's drinkable for many standards that are in certain parts of the world."
So again, for Silver Nova, in his mind, the ship's top two draws are  "design and sustainability." If he had to add a third? "It's probably comfort and creature comfort," he added, and "taking those to the next level."  (Check out the photo of a Signature Suite's living area below.)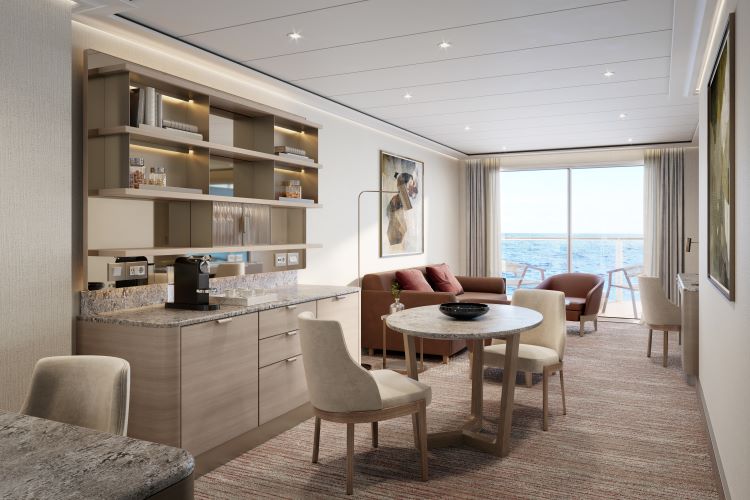 2022 World Cruise
Martinoli chuckled in discussing how Silversea designed its 2022 World Cruise, which didn't wrap around the globe in the traditional way. Simply put, there weren't any Asia or South Pacific calls.
But obviously, no one could have anticipated the upcoming, pandemic-era port closures. Who knew that so many ports in Asia and the South Pacific would be closed to cruise ships for so long?
So, while many other lines were forced to cancel or curtail their 2022 World Cruises, given the line-up of port calls selected in advance, Silversea's World Cruise went off as planned in late 2021.
In fact, it's still going strong. "We've been extremely lucky," Maritinoli acknowledged. "That was a stroke of luck, it's not anything that was done intentionally."
In fact, he reported that "we would have never thought Asia would be so inaccessible for so long."
Luxury Cruise: Grand Voyages
Increasingly, Grand Voyages (typically cruises in the 35-to 75-day range) have grown in popularity among consumers too. Silversea is no exception, Martinoli says: "For us, Grand Voyages are a big thing."
"Also we do a lot of back-to-back cruises," he stressed. While Silversea always has seen decent demand for those, today's guests are increasingly choosing to get more "oomph" from their vacation.
They're seeking to stay longer — perhaps two, three or even four cruises in a row. "So, we've been adding a lot of focus to that," Martinoli said.
He mentioned that those itineraries appeal greatly as they also allow people to stay aboard for multiple cruises but with few, if any, repeating ports.
Yes, "if we design one itinerary and do it 20 times, it's a lot easier [for the line]," he acknowledged. "But we are stimulated by this demand for the back-to-backs.
So that's something that's really working well, Martinoli said. It's not easy logistically, though: "It's a challenge but we have become masters of that. So, we pay attention to that and hardly ever do the same thing again."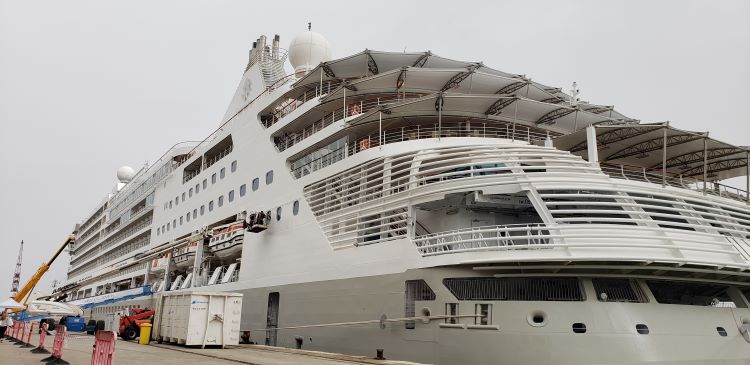 Suite Upgrades
Many contemporary or premium lines are seeing higher guest spending aboard ships. That's a bit less evident for luxury lines, which offer a more inclusive product overall.
But what Martinoli is seeing is "a little more demand for upper suites." So, ships are filling from the top down, not the bottom up.
In addition, guests who opt for longer cruises, Grand Voyages and back-to-backs are clearly also spending more in that regard.
Luxury Cruise: Mature Travelers are Raring to Go
We asked what was the most interesting trend that Martinoli has observed during this pandemic. Interesting, it's that mature travelers 75 and older are raring to go!
"The very interesting thing about the pandemic is that we've seen that people in the older age groups have always been more eager to travel since the very beginning [of the pandemic,]" Martinoli explained.
Initially, the thinking of many within the cruise industry was that older people would simply be more cautious about traveling and what could happen. "You would think that people who are older there would be more concerned, but it was exactly the opposite," Martinoli told us emphatically.
"The age group of 75 and above has never stopped booking since the beginning," he stressed.
Otium Spa Concept
During the christening week, a hot conversation topic about Silver Dawn was the line's new Otium spa concept. And more precisely, how do people pronounce that?
Martinoli said Otium is pronounced with a "z" such as "aught-ziem." It's a Latin term that means the opposite of "negotium" or work.
Silversea characterizes the Otium experience as providing an unprecedented level of comfort and delight. That's reflected in the tagline, "The Original Art of Comfort." (see photo below, showing the waiting area just outside the spa's front desk).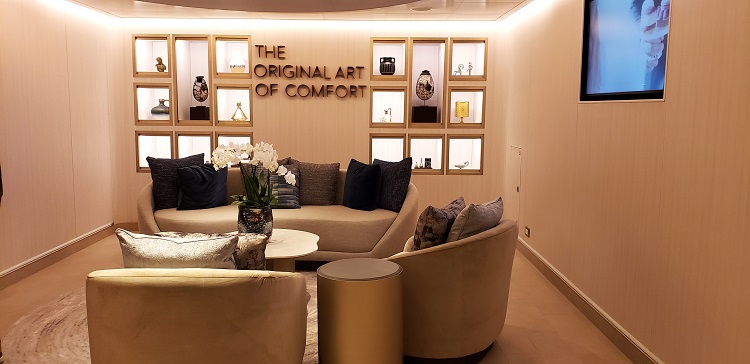 How did Otium come about? To further enhance the onboard product, "we started with food and S.A.L.T.," said Martinoli. "Then, we said, 'What else? What other activities onboard can we look into and make sure they're consistent with our brand?'"
"And, of course, the spa is one of those," said Martinoli. "While spas exist everywhere, we wanted to make sure that our spa experience was the right one for the people that we attract onboard."
Luxury Cruises: A Taste of Indulgence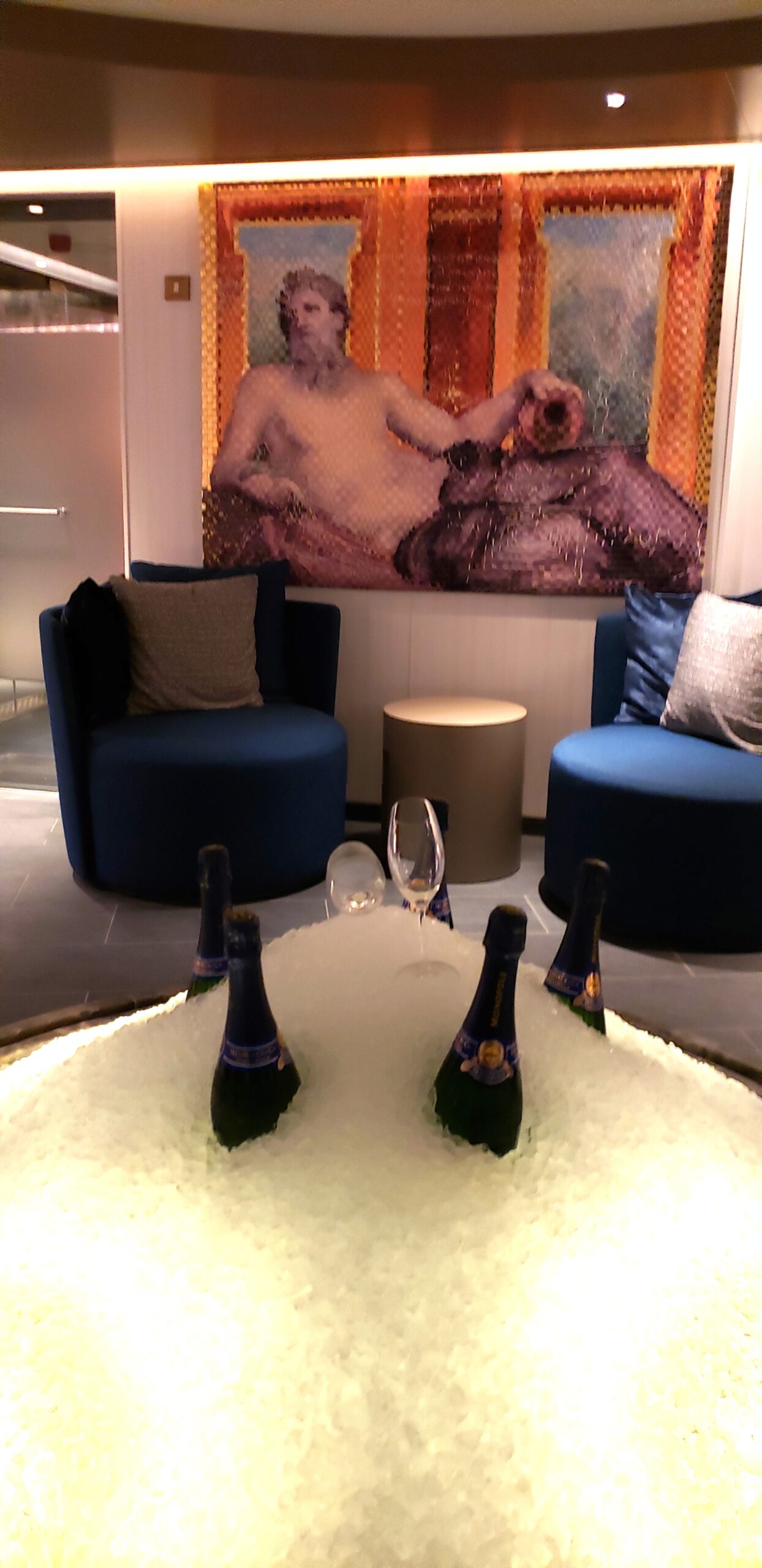 Citing indulgence as a big part of what the new spa concept needed to provide, Martinoli talked about the upper-crust of Roman culture back in the day:
"To enjoy life, according to the Romans, was not only about having a treatment, but about having good food and having something that pleases you — a piece of chocolate, a glass of champagne" and so on, he said.
So, it wasn't simply to ensure that the new Silversea spa would be a nice facility with offerings that could be found on any ship of any luxury line.
More importantly, Martinoli said, Otium needed to be "more focused on what do our guests expect?"
In the creative process pre-launch, the line surveyed its guests. They were asked their preference — given a choice of three separate spa concepts.
"By far, the Otium concept prevailed against any other concept," according to Martinoli. "The other two were more along the lines of what the normal spa is."
Part of that normal approach is often "the suffering part," he quipped to us. That refers to such elements as a weight loss program or an exceptionally hard workout regimen.
The line came to one conclusion: "Being on a ship for one or two weeks is not going to change your weight or body type of anything else," reported Martinoli.
So today, guests on Silver Dawn can head to the new spa for services that the Romans likely would have loved — with a hefty dose of pampering and touches of indulgence.
So, look for champagne on ice in the spa's relaxation room or orange rind peels or chocolate to munch on. Plus, new signature treatments. 
For more information about Silversea Cruises visit www.silversea.com.
Important Notes from Pavlus Travel
This blog site is designed for "basic, general information" about travel. So, it's not designed to provide specific pricing nor is it staffed by travel advisors.
Please don't use the Reply Section below if you are asking for pricing, travel dates, accommodations, brochures or other specific requests. 
That said, we are most happy and eager to assist you. Here's how…
If anything does tweak your interest in the story and you DO have questions about specific pricing, brochures, savings, accommodations, accessible options and so on, please contact us at 800-528-9300.
Or visit us online at Pavlus Travel's official agency Web site; there you can "live chat" with us online too!
Thanks for reading!