Fast forward from the 1800s to 2022. Arriving at Natchez, MS, by riverboat, cruisers see much of the same Mississippi River scenery that Mark Twain did from a 19th century steamboat. But what are the top attractions?
What should travelers see and do ashore?  Here's Part One of our two-part series about what to see and do in Natchez.
Exploring by Riverboat
First, a bit about "getting there." Natchez is a popular port of call for Lower Mississippi river cruises. Many voyages sail roundtrip from New Orleans or between New Orleans and Memphis, TN.
In addition, for consumers seeking the "full shebang" on the Mississippi River, some voyages sail more than 1,100 miles between New Orleans, LA, and St. Paul, MN.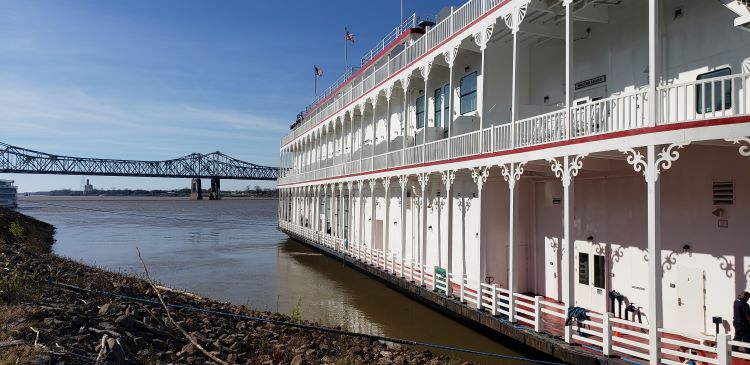 Two veteran Mississippi River "sailors" are American Cruise Lines (ACL) and American Queen Voyages (AQV). New in June 2022, Viking River Cruises will start sailing the Missisippi River as well.
Tour operators also offer guests options on some of those cruises. For example, Tauck offers an 11-day "Life on the Mississippi" vacation on AQV's American Duchess.
For the full range of voyage options (including sailing dates, itineraries, pricing, accommodations and add-ons), contact your travel advisor or read the Important Note from Pavlus Travel at the end of this story.
Our focus instead with this blog is "the destination." We hope to offer helpful tidbits and suggestions for shoreside fun.
So, here's Part One of our two-part blog series about "Top Natchez Attractions for River Cruisers." Check back next week for Part Two.
1. Top Attractions: Natchez Under the Hill 
Most river cruise vessels arrive at Natchez Under the Hill, nestled below soaring riverside bluffs. The city itself is atop the bluffs.
In the 19th century and early 20th centuries, this area was — to put it bluntly — a seedy area that bustled with gambling, drinking and brothels.
Today, it's a relatively quiet, lovely spot for a riverside stroll. Plus, you'll also find a few places to dine, enjoy a brew or shop.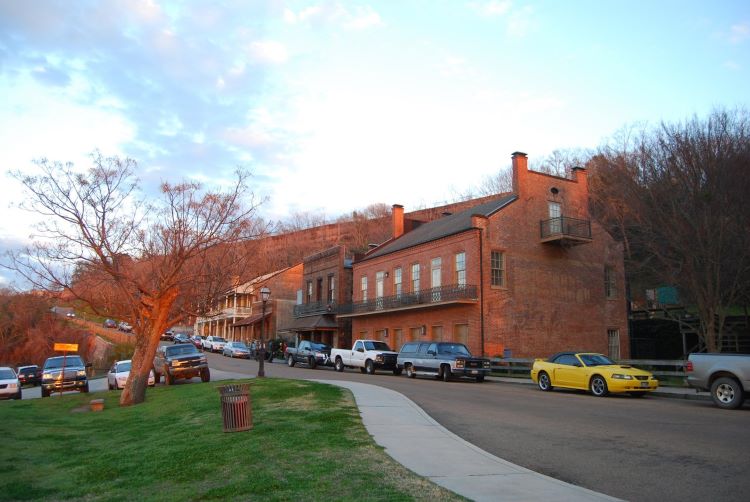 To reach Natchez's downtown, there are two options. Active travelers might enjoy hiking up the hill and walking into the city.
Most travelers, though, will opt to board the cruise lines' "on-off" or shore excursion motorcoaches. That makes for an easier journey to the top and beyond. Shuttles and taxis can be arranged too.
2. Top Attractions: Grand Village of the Natchez Indians 
Natchez's historical and cultural influences are eclectic. Long before French explorers arrived, indigenous Natchez Indians lived in the Natchez area.
Not far from downtown Natchez is the 128-acre Grand Village of the Natchez Indians. If you go, you'll see three prehistoric native American mounds and a museum.
Separately, the area's Natchez Trace Federal Parkway is now a scenic highway under the auspices of the U.S. National Park Service. This trace (or trail) was a footpath originally used by the Natchez Indians and other native American tribes.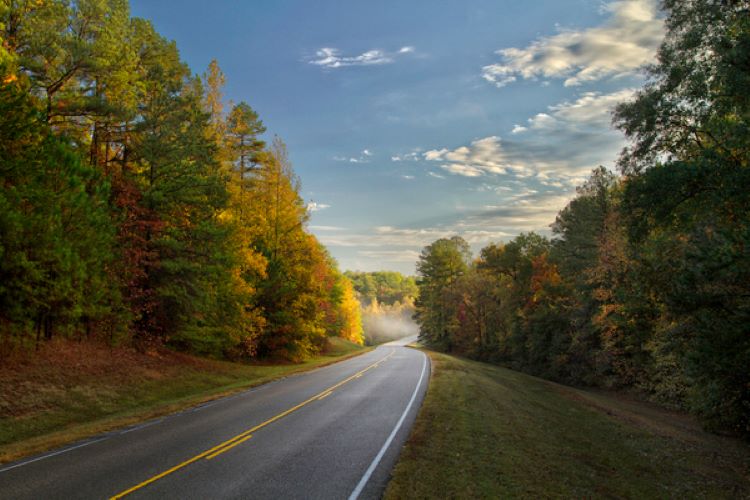 Centuries ago, trappers/fur traders also used the trace to bring goods to/from Mississippi River vessels. Today, the parkway is a lovely drive with pretty eco-scenery (see photo above).  Hiking trails and a designated biking trail also await.
Viking Shore Excursion
When it begins cruising in June, Viking River Cruises plans to offer a "Grand Village of the Natchez Indians, Emerald Mound and Fort Rosalie" shore excursion; that's just one of many shore excursions it will offer for Natchez.
Over three or so hours, this shore trip will provide an enticing look at the history and culture of the Natchez people. The first stop will be along the Natchez Trace.
Cruisers will visit Emerald Mound, North America's second largest temple mound, likely a political and ceremonial center.
Afterward, Viking's guests will visit the Grand Village of the Natchez Indians (see one of the site's huts in the photo above). They'll view a special presentation, followed by a guided museum tour. Cruisers can expect archaeological insight and exhibits.
The tour then concludes at Fort Rosalie (see next section). In this area, cruisers will learn about the dispersal of the Natchez people from their ancestral homeland.
3. Top Attractions: Fort Rosalie Site & Lovely Rosalie
In 1716, France established Natchez as a settlement. From Natchez Under the Hill, visitors can either walk up/climb or take a shuttle/motorcoach to reach the Fort Rosalie site.
While nothing really remains of the French-era fort, the U.S. National Park Service maintains the site. As a result, you'll find a riverside path, signage with historic information, parkland and picnic tables.
It's a great starting point for a hike with stellar Mississippi River views.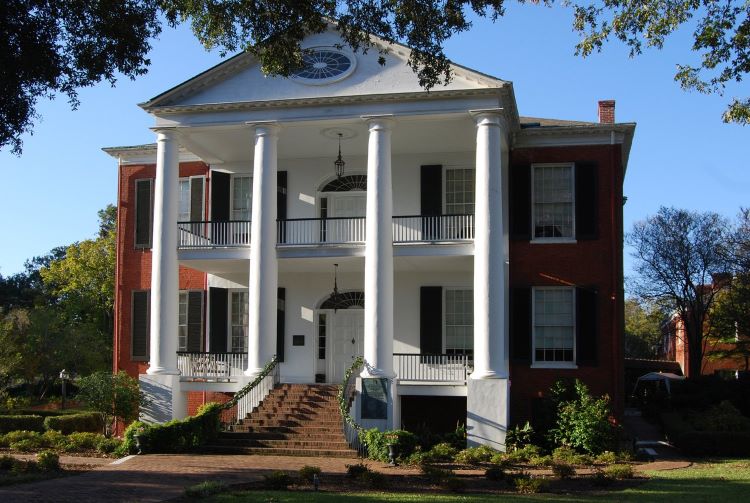 Rosalie, Gorgeous Lady on the Bluff 
Not far away is Rosalie, an elegant historic mansion close to the bluffs (see photo above). Built in 1823 for Peter Little, a wealthy cotton broker, the structure will "wow" visitors. Among its architectural features is a gorgeous, four-column Tuscan portico.
On July 13, 1863, during the U.S. Civil War, General Ulysses Grant came to town. He took possession of Rosalie for his Union Army headquarters. The following month, General Walter Gresham took over from Grant in Natchez.
Today's visitors can thank Gresham. Why? The general arranged for many of the owner's furnishings to be stored in the attic. Also, he assigned guards to protect them.   
Thus, travelers taking a tour will see many original furnishings and decorative items. The preserved Rosalie plantation mansion is lovingly maintained by the Mississippi State Society, Daughters of the American Revolution. It's open for guided tours by guides wearing period clothing.
4. Top Attractions: Natchez Visitor Reception Center
Looking again at Natchez's eclectic historical timeline, first came the Natchez Indians, then the French. They were followed by the Spanish and British. In 1817, Mississippi became a U.S. state. 
The southern U.S. cotton boom and sad slavery era of the 1800s followed. Then, in 1861, Mississippi seceded from the U.S. and joined the Confederate States of America. At war's end, Mississippi once again became part of the United States.
Wow, that's a lot of historical twists and turns!
To help put things in perspective, we'd recommend a quick stop at Natchez Visitor Reception Center (see photo below). Fortunately, this center is often a scheduled stop on those "on-off" motorcoach tours.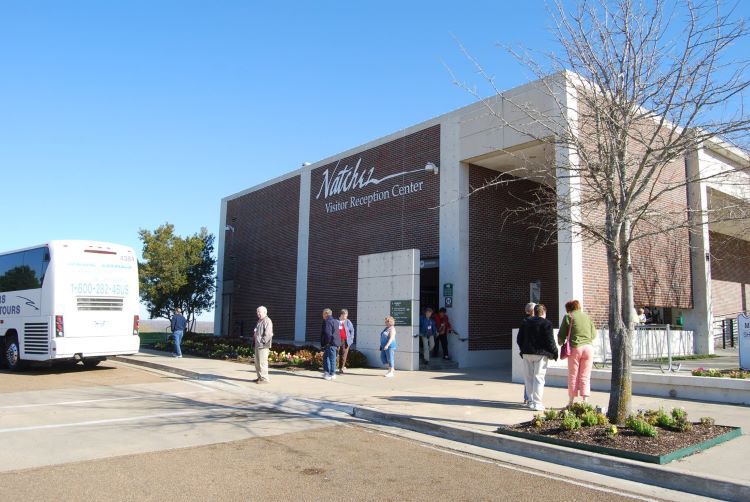 We'd suggest going inside, checking out the exhibits, grabbing brochures and asking questions of staff. In addition, cruisers can purchase select historic home tickets at the center. River lines too, obviously, offer excursions that include historic home tours.
Natchez Pilgrimage Tours 
Another spot to stop if you're interested in tickets for historic homes is Natchez Pilgrimage Tours' office at 211 Main Street. What's special? During certain times of the year, Natchez offers "pilgrimages" — with ticket packages that include entry to two or three different historic homes or sites.
Now in its 90th year, the pilgrimages typically are in spring and fall. For example, this year's Fall Pilgrimage is set for September 24 through October 21, 2022.
The next Spring Pilgrimage is March 11 to April 11, 2023. For more information, visit Natchez Pilgrimage Tours at the link provided above.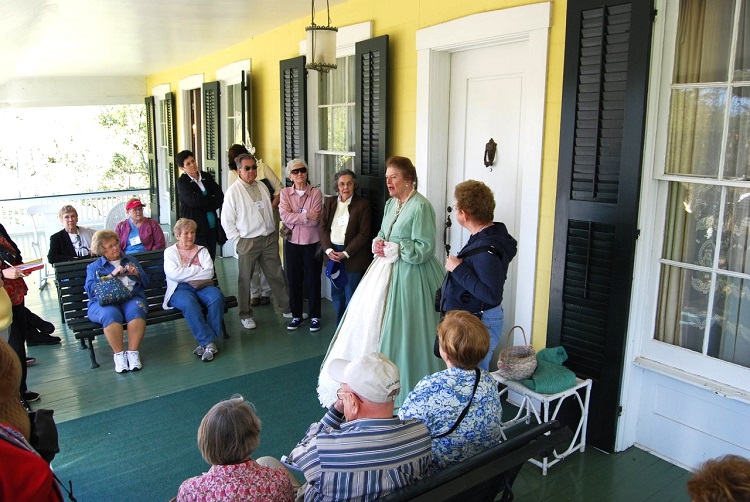 Some historic Natchez homes/sites are open for touring year-round or much of the year. Others, though, are normally not open to the public, but do welcome visitors during the annual pilgrimages.
5. Top Attractions: Natchez in Historical Photographs
We love many attractions in Natchez, some we've visited repeatedly. Among our favorites? It's Natchez in Historical Photographs.
Travelers will gaze at 500-plus historic photos and feel they've "stepped back" in time. All were taken by local, professional photographers between 1845 and 1910. These photos visually captured the essence of Natchez life "back in the day."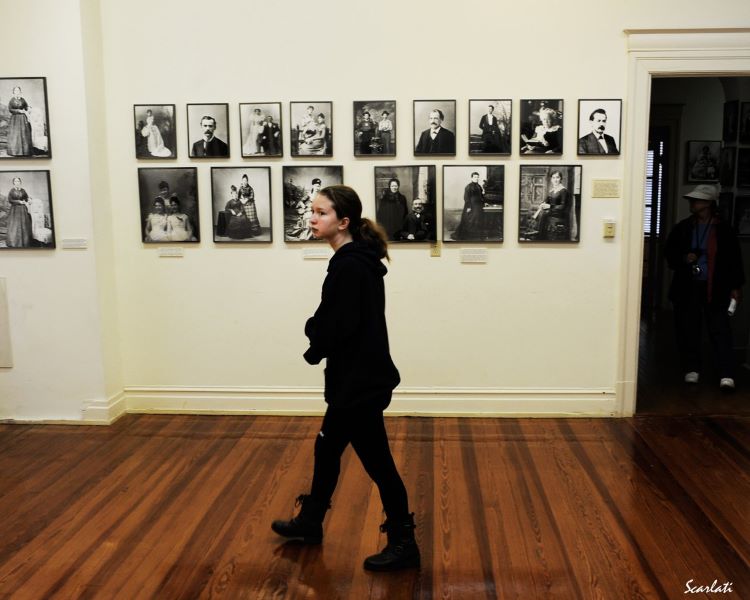 This amazing photo collection is on the second floor of Stratton Chapel. That's behind the Natchez Presbyterian Church on Pearl Street. An elevator is available.
The photos reflect scenes of the young and old, rich and poor. They also showcase people of diverse ethnic backgrounds. For instance, you'll see images of society belles, shopkeepers and workers in the field.
It's also fun to look at the photos of young children decked out in their finest attire.
Gazing at this collection, you'll also see a mix of city sites, magnificent homes and farm scenes. Of interest to river cruisers are the shots of Mississippi River steamboats laden with cotton bales.
Simply put, an hour here is a bit akin to entering a time warp. A $5 donation is requested for admission.
6. Top Attractions: Octagonal, Unfinished Longwood 
When it comes to historic structures, Natchez has a diverse portfolio. Many are listed on the National Register of Historic Sites and open for visitors to tour. Some date from the French, Spanish or English Colonial periods.
While some other southern towns or cities (such as Vicksburg) suffered significant devastation during the Civil War, that didn't happen in Natchez. In 1862 after the fall of New Orleans, Natchez surrendered to the Union Army.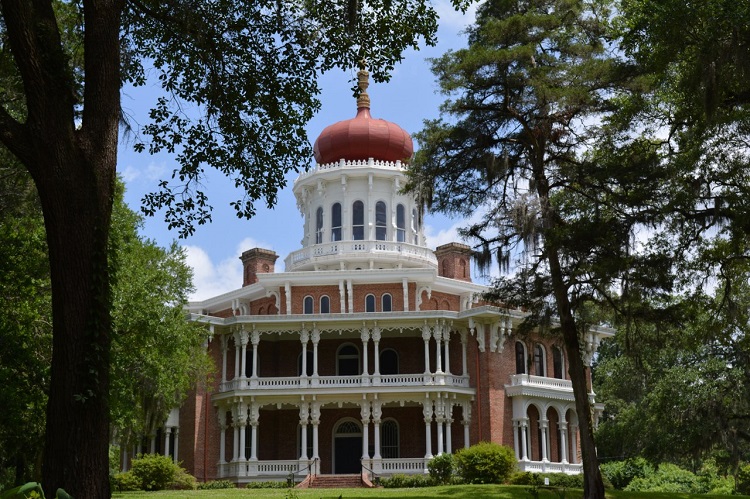 One of the "must see" sites in Natchez — included in many cruise line tours — is the humongous, unfinished Longwood, a grand octagonal villa.
Planned as a 30,000-square-foot mansion, Longwood was designed by a Philadelphia architect for Haller and Julia Nutt. The couple were members of Natchez's "planter elite" society.
Challenging Timing
However, the couple's timing in building a new home wasn't good. Construction began in 1860. But rising Civil War political tensions in 1861 halted the work. So, beyond the first level (mostly completed), the rest of the structure above is unfinished.
Adding insult to the family's situation, local residents began calling the unfinished mansion "Nutt's Folly." However, the Nutt family lived on that first floor until the 20th century.
Also, we must say that Longwood's exterior looks impressive. On guided tours of the home's interior, visitors will first see that lower level, which has a few lovely rooms to view.
But when the guide leads the tour group upstairs, the tour gets really interesting. On that second level and above, all that visitors will see are bare walls, exposed beams and wooden structural elements (see photo below).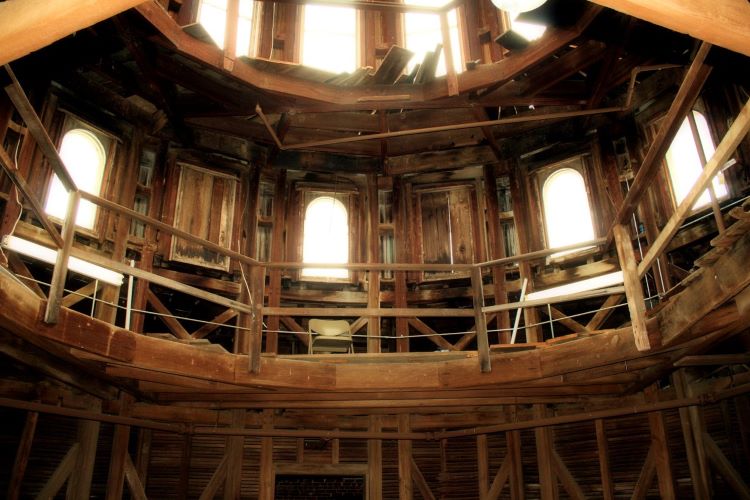 Think of a "snapshot in time." That's because this part of the mansion appears exactly as it did when construction stopped in the 1860s. Outside, though, there are magnificent porches, which are accessible from that unfinished interior space.
Today, the Pilgrimage Garden Club of Natchez cares for the large structure and its outbuildings. Cruise lines often offer shore excursions to Longwood.
For example, American Cruise Lines' guests can book the line's complimentary shore excursion, "Historic Longwood Exploration." It's just one of many excursions that ACL offers for Natchez port calls on multiple itineraries.
7. Top Attractions: The William Johnson House 
Natchez has done much to preserve its rich African-American and Creole heritage. Did you know that many "free blacks" worked as skilled tradesmen during the French and Spanish periods? Yes, that's true, and it happened long before the British arrived.
One historic, downtown Natchez site with fascinating history is the William Johnson House, operated by the U.S. National Park Service. Admission is free.
As a free man of color prior to the Civil War, William Johnson (1809-1851) bought this home and lived here with his family. While Johnson had started life as a slave, he was freed at age 11.
The Barber of Natchez
Known as the "The Barber of Natchez," Johnson owned a local barber shop. In addition, he purchased other structures and 2,000 acres of land outside Natchez.
Well-respected locally, Johnson also was a banker of sorts — loaning money to others. 
Interesting tidbit? Visitors are often surprised to learn that this free man of color also owned slaves. Here's a link to the NPS site if you'd like to read more.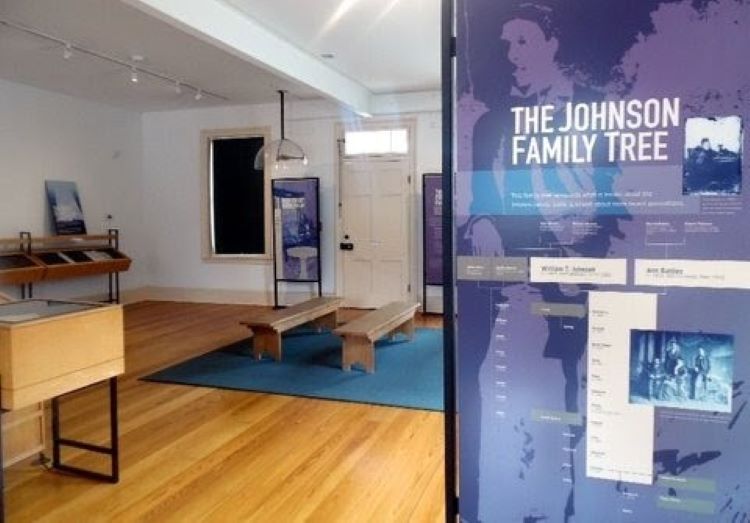 Exhibits and Recreated Living Quarters
Heading into the William Johnson House, you'll first enter the downstairs exhibit space (see photo above). There's also a bookstore here. Upstairs, the U.S. National Park Service has done a nice job of recreating the Johnsons' furnished living quarters.
Park service rangers will tell visitors about about Johnson's life story and the home's history. Fortunately, Johnson kept a diary.
He wrote faithfully in that diary between 1835 and 1851. He talked about everyday life in Natchez — everything from a search for a lost cow to a local visit by former President Andrew Jackson.
8. Top Attractions: Museum of African-American History/Culture
We'd also pop into the Natchez Museum of African-American Culture and History. It's located downtown inside the 1905-era, former U.S. Post Office building on Main Street.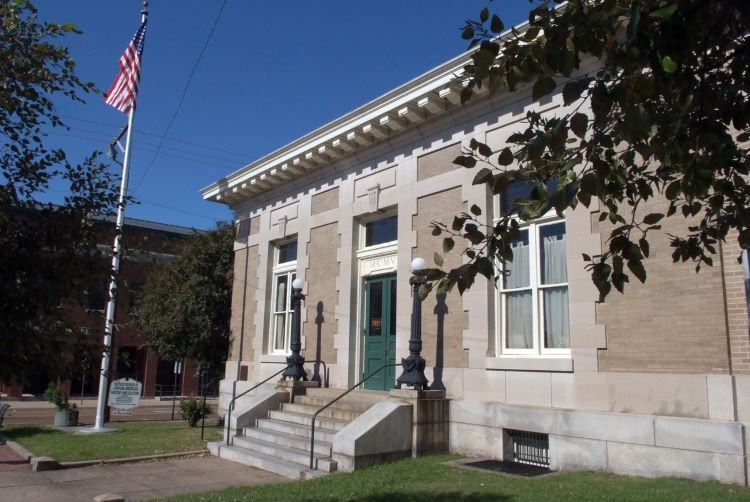 As a National Literary Landmark, the museum's exhibit hall is dedicated to Richard Wright, author and Natchez native. With many simple, interesting displays, the museum is home to African-American memorabilia, photographs, books and artifacts.
Here too cruisers can learn about Forks of the Road  just outside the city. No building remains, but this notorious site was once the site of the South's second largest slave market.
Recently, the U.S. National Park Service, which maintains the small, grassy site, installed free-standing exhibits and wayside panels at Forks of the Road.  They explain what happened here regarding the domestic slave trade era.
Melrose and Plantation Life
To learn about plantation slave life in the 1800s, one good option is Melrose, a Natchez historic mansion. What's unique is that, unlike many other mansion sites, this one has intact slave cabins.
Melrose was constructed around 1845 for John McMurran, a Pennsylvania native and Natchez attorney. Today, it's operated by the U.S. National Park Service.
NPS suggests a 2.5-hour visit to get the "full picture" at Melrose. That includes a guided mansion tour plus a self-guided tour of a slave cabin — allowing time to read the exhibits in the cabin.
9. Top Attractions: The Towers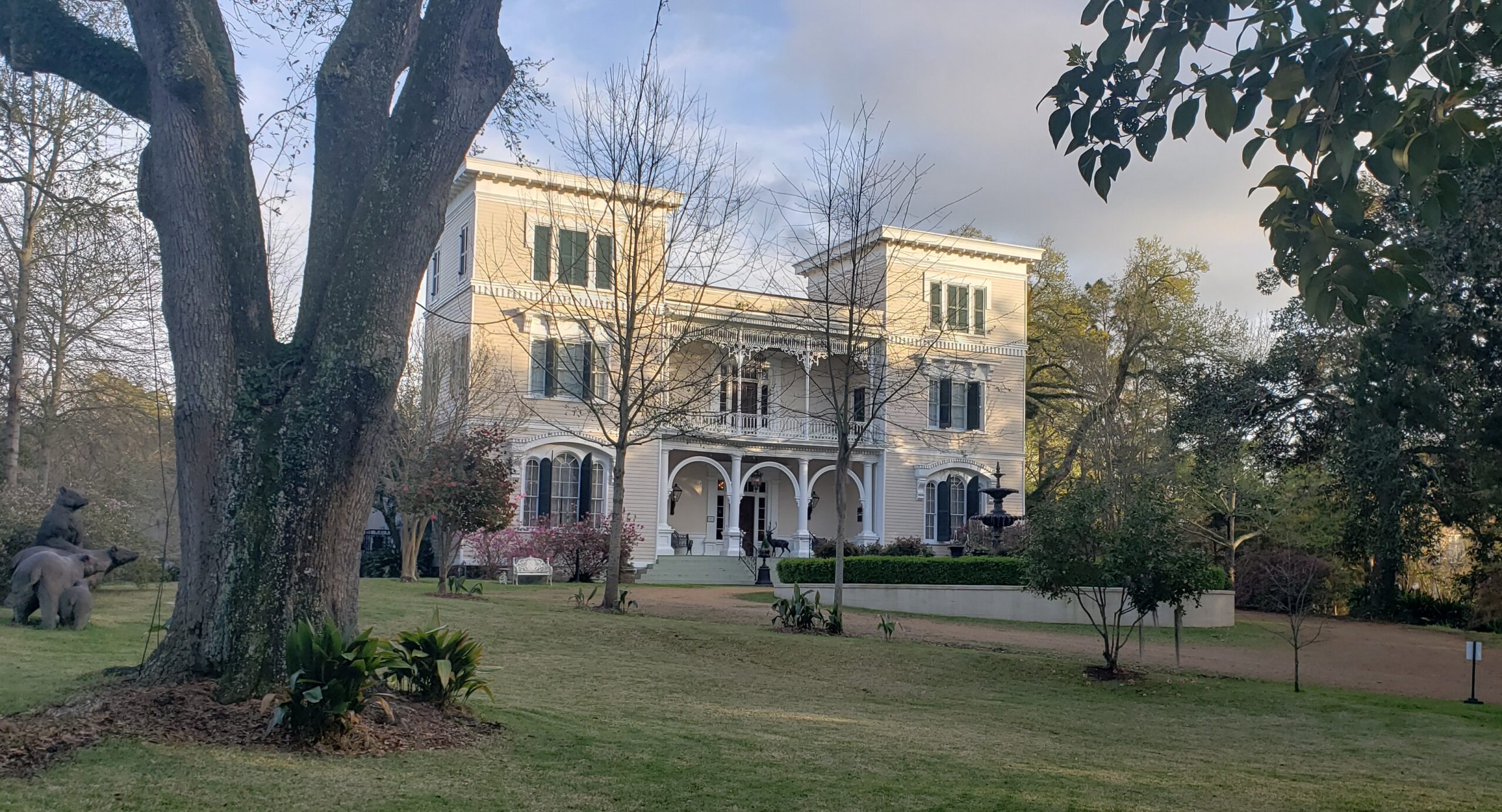 Another one-of-a-kind, historic home is The Towers, built over several centuries. Huge pre-Civil War Oak trees surround the mansion.
For river cruisers, it's interesting to know that many of the mansion's structural elements show signs of peg construction and barge-board elements. That type of construction was found in historic river vessels that transported furs from Natchez.
The Towers has evolved in its look over the years. In 1826, a second Neo-Classical construction phase added a colonnade of square columns. For instance, you'll see some of those still visible on the porches.
In an 1858-era update, The Towers received an Italian villa-like, Renaissance Revival façade; that also created a pair of third-story tower rooms. However, a 1920's storm sizably damaged those upper tower rooms, which were then removed.
Recently, owners Ginger and James Hyland have restored and rebuilt those two towers.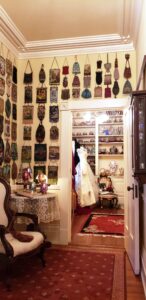 River cruisers often visit The Towers for tours (and sometimes lunch). We've been privileged to enjoy two tours that the affable Ginger has conducted.
She's an owner who takes enormous pride in the mansion and every little detail of its interior furnishings and decorative items.
Collections Galore
Tour participants will see antique furniture, antique laces at every window and amazing collections of items. For example, one wall is totally filled with small "hanging" beaded purses (see photo at right).
Aviation buffs should head for the first floor's rear door. Here they'll find a display area that's a tribute to Ginger's late father, L. A. (Buzz) Hyland.
His claim to fame? He was among the men credited with inventing radar.
That feat impressed Howard Hughes, who hired Hyland to run Hughes Aircraft Company. Hyland retired as that company's chairman of the board in 1983.
Ginger honors her father with a display that includes much aviation and aerospace memorabilia. If you go, look for the award that Hyland received from NASA.
Diverse Tours
The Towers offers many types of tours such as "Decorative Arts Tours" or "Jeweled Christmas Tours." All showcase the home and its spectacular décor and collections. You'll find Easter and Passover tours too.
For guests cruising on American Queen Voyages, one premium shore excursion ($79 per person) is the "Home Hosted Visit with Ginger and James."
Cruisers will arrive at The Towers, where the owners will greet them and guide them around.  That's followed by a sampling of southern comfort foods on the mansion's sunny, enclosed back gallery.
10. Top Attractions: More to Come
This concludes Part One of our two-part look at Natchez, MS. Stay tuned for Part 2 next week, focusing on these additional sites:
Natchez's historic Jewish temple, Temple B'nai Israel;
The elegant historic mansion, Stanton Hall;
More historic homes and mansions including Monmouth, Dunleith, Texada, the House on Ellicott Hill and others;
Downtown Natchez and the Antique District;
Sites that reflect new downtown investment by the Tate Taylor Company; and
Attractions beyond Natchez such as the Windsor ruins and the Delta Music Museum & Arcade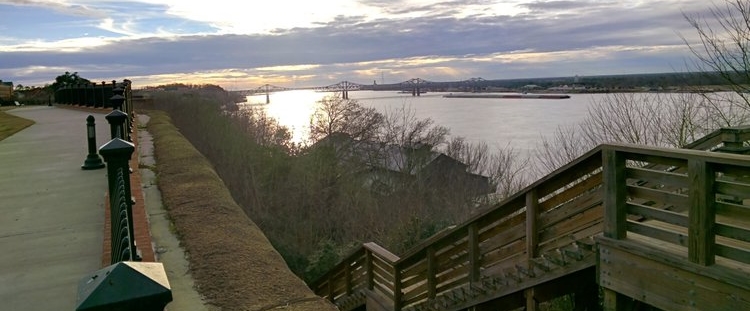 For more information on Natchez, MS, and what to see and do in the city or its environs, visit www.visitnatchez.org.
For information about Mississippi River Cruises (itineraries, pricing, accommodations, departure dates and so on), contact your travel advisor.
Important Notes from Pavlus Travel
This blog site is editorial in nature. It's designed for "basic, general information" about travel; it's not designed to provide specific pricing nor is it staffed by travel advisors.
 So, please don't use the Reply Section below if you're asking for cruise or land pricing, travel dates, accommodations, brochures or other specific requests.
That said, we are most happy and eager to assist you. Here's how…
If anything does tweak your interest in the story and you DO have questions about specific  cruise lines, itineraries, pricing, brochures, savings, dates of travel, accommodations, accessible options and so on, please contact us at 800-528-9300.
Or visit us online at Pavlus Travel's official agency Web site; there you can "live chat" with us online too!
Thanks for reading!
.