'reACold weather, icy conditions and snow, be gone! Welcome news is that spring is now in full swing, with summer on the horizon.  So, what destinations deliver the best summer vacations?
Drum roll, please!
Allianz Partners analyzed nearly 1.8 million airline flight itineraries for early summer 2022 trips between five and eight days in length. What did it find? The latest research shows that three of four Americans — 75 percent —  plan a summer vacation within the U.S.A.
Best Summer Vacation: Top Domestic Destinations
Within the U.S., here's the line-up of where folks are headed.  For the sixth year in a row, Orlando, FL, is ranked as the most popular domestic destination for summer 2022 travel.
Thinking of an Orlando vacation? One good resource is the Visit Orlando site. In addition, The Meandering Traveler recently wrote a story about what's new at Walt Disney World in central Florida. 
In second place in Allianz Partners' research is Seattle, WA, moving up two positions from 2021. Many ocean cruises sail to Alaska from Seattle, so why not check out our recent story about "What's New in Alaska for Summer 2022"?
Continuing our look at top summer destinations that consumers will visit, the tropical Pacific USA beckons too.  Honolulu, Oahu, HI, takes the third spot, followed by Kahului, Maui, HI, in fourth position.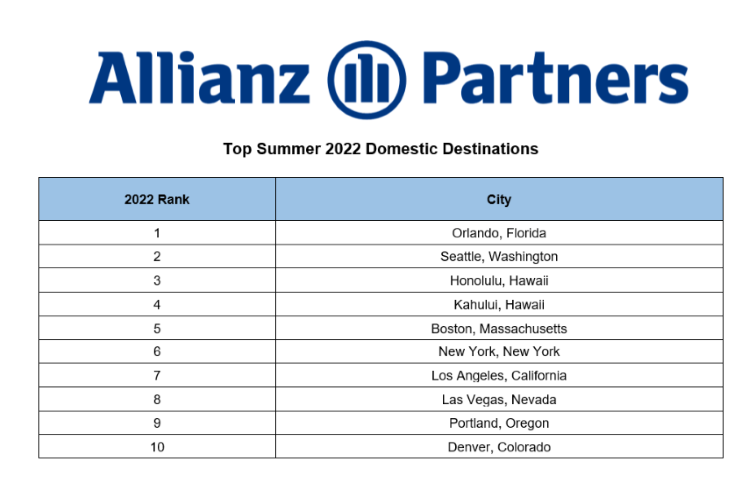 Boston, MA, is in fifth position, followed by New York City, NY, and Los Angeles, CA, as numbers six and seven, respectively. Those heading to Los Angeles might read about what's new for Delta passengers at Los Angeles International Airport. 
From a trend perspective, "U.S. cities that were once buzzing tourist destinations pre-pandemic, like Boston, New York and Los Angeles, are seeing a significant return of travelers this summer as well,  says Daniel Durazo, director of external communications at Allianz Partners, who says that signals "a positive step in tourism recovery,"
Best Summer Vacations: More Top Choices
In eighth position in the Allianz review is Las Vegas, NV, followed by Portland, OR, at number eight; it's the first time Portland has appeared on the Top 10 list since 2019. Rounding out the Top 10 is Denver, CO.
Many travel suppliers including Tauck are offering a slew of enticing close-to-home vacation options this year and next. Here's a look "Five Tauck Vacations We'd Love to Take" in the U.S.
Or, for river cruises, Viking Mississippi will begin sailing the Mississippi River this summer. In addition, American Queen Voyages and American Cruise Lines operate Mississippi River and other USA river cruises too.
Top 10 International Destinations
Internationally, Americans are flocking to Cancun, Mexico, for summer 2022. As in the past several years, it ranks solidly at the top of Allianz Partner's list of Top 10 international Summer Destinations.
In addition, San José del Cabo, Mexico ranks number two as a most desired international destination as it did in 2021. For fun in the sun, Oranjestad, Aruba, in the southern Caribbean, is number three.
Next on the count-down are Montego Bay, Jamaica and Punta Cana, Dominican Republic, at numbers four and five, respectively.
Desire to vacation in the Caribbean or Mexico? Don't know exactly where? The Meandering Traveler offered some ideas for all-inclusive resort stays in Mexico, Jamaica and the Dominican Republic in a story published earlier this year.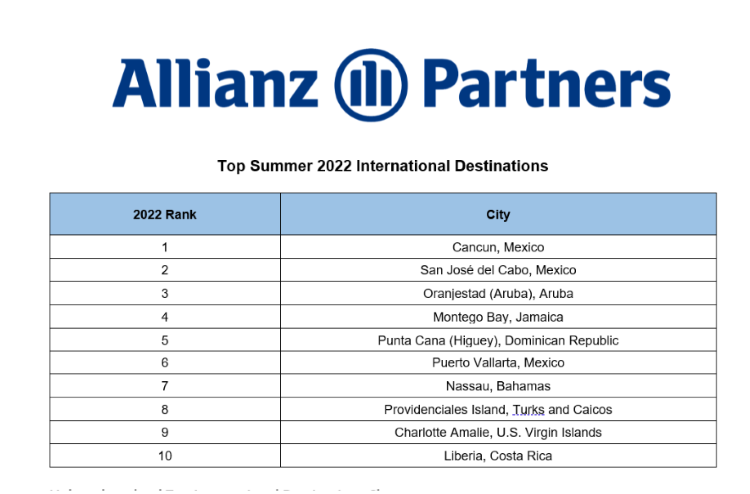 In sixth position for a top summer travel destination is Puerto Vallarta, Mexico, followed by Nassau, the Bahamas in the seventh slot.
Numbers eight, nine and 10 respectively are Providenciales, Turks and Caicos; Charlotte Amalie, U.S. Virgin Islands and Liberia, Costa Rica.
To complete its outlook for summer travel 2022, Allianz Partners analyzed the number of travelers that went through the online booking process for airfare, packages and travel insurance. Specifically, it reviewed itineraries for roundtrip flights from US airports between May 27, 2022 and September 6, 2022.
Best Summer Vacations: On the Horizon
Whether by land or sea, whether domestic or international, the Allianz research shows that travel demand is growing.
With summer 2022 just a few months away, have you made your vacation plans yet? Many Americans weary of pandemic-era travel restrictions can't wait to get out and go.
Travel suppliers report a strong surge of pent-up demand. For example, Allianz projects that 2022 summer travel  2022 will increase 16 percent from 2021.
From Durazo's perspective: "Our findings show that 'revenge travel' is about to be taken to a whole new level in summer 2022."
Important Notes from Pavlus Travel
This blog site is designed for "basic, general information" about travel; it's not designed to provide specific pricing nor is it staffed by travel advisors.
So, please don't use the Reply Section below if you're asking for pricing, travel dates, accommodations, brochures or other specific requests. 
That said, we are most happy and eager to assist you. Here's how…
If anything does tweak your interest in the story and you DO have questions about specific pricing, brochures, savings, itineraries, dates of travel, accommodations, accessible options and so on, please contact us at 800-528-9300.
Or visit us online at Pavlus Travel's official agency Web site; there you can "live chat" with us online too!
Thanks for reading!