Editor's Note: This is Part 2 of a two-part series about what's rolling on the Mississippi River in terms of river cruises and port activities in Natchez, MS. To read Part 1, go here first.
If river cruisers are sailing on the Lower Mississippi River, one port jewel is Natchez, MS. Oozing charm, this friendly city of 17,000 offers a small-town feel and delivers a great day ashore. So let's get rolling on the Mississippi River and ashore too.
Travelers who desire a 2022 or 2023 Mississippi River voyage have several great choices. American Cruise Lines (ACL), American Queen Voyages (AQV) and Viking River Cruises (starting this summer) all sail the river.
Plus, they all offer Natchez port calls with numerous shore excursion choices! So you can pick your passion — historic homes, active adventures, culture and so on — and head out.
Tauck and others also offer escorted river cruises; their guests sail the Mississippi on vessels operated by the river lines mentioned above. During late 2021, The Meandering Traveler sailed on American Duchess and observed Tauck's motorcoaches taking guests out on Tauck-exclusive outings.
For river cruise details (prices, accommodations, dates of travel and so on) as well as finding the "right" river voyage to match your travel style, talk with your travel advisor. Or, see the "Important Notes by Pavlus Travel" at the end of this blog.
As for what top attractions to see ashore in Natchez, let's get rolling! Here's Part 2 of our series below with more Natchez highlights. We pick up where we left off … number 11 is next!
11.  Elegant Stanton Hall
For a great selfie shot, river cruisers should definitely stand at the bottom of Stanton Hall's curved front driveway. Located at 401 High Street in Natchez, this elegant mansion is operated by the Pilgrimage Garden Club.
Stunningly gorgeous, the pre-Civil War structure is styled with Corinthian columns and cast-iron railings. The house tour also is fascinating.
Before or after that tour, if your schedule permits, consider chowing down with a yummy lunch at Stanton Hall's Carriage House Restaurant. Under the direction of Bryant McLaurin Canon, aka "The Continental Cook," this this eatery serves up fried chicken, grits, fried soft-shell crabs and other local specialties.
In particular, diners love the buttery, silver-dollar-sized biscuits. They're a huge hit.  Of course, we also can vouch for a tasty mint julep, which we simply "had" to order during our last visit.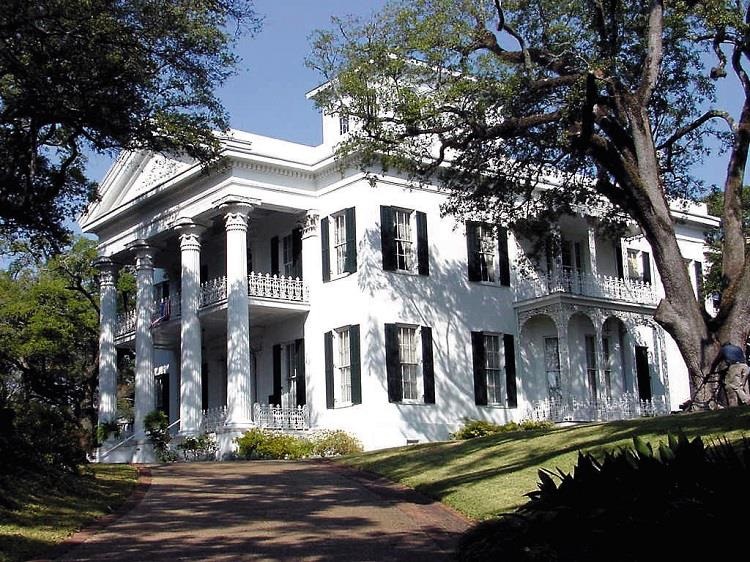 Best of Natchez Excursion
Cruisers who are rolling on the Mississippi River with Viking River Cruises have a plethora of Natchez shore options. For a quick overview  plus a Stanton Hall visit, we'd opt for Viking's two-hour "Best of Natchez" excursion.
This tour includes motorcoach sightseeing around town with views of Rosalie Mansion and Gardens, St. Mary's Basilica and other Natchez highlights. Cruisers will then get off the coach for a guided tour of Stanton Hall.
Back on the coach, the drive will continue past King's Tavern, the oldest building on the Natchez Trace (mentioned in our Part 1 of this series), and Main Street.
Finally, the Viking excursion will conclude with the new "Proud to Take a Stand" memorial. Erected in 2019, it honors Natchez's citizens wrongfully incarcerated during the 20th century's Civil Rights Movement.
12.  Downtown Natchez & Antique District
If exploring independently in downtown Natchez, check out the Natchez Trails — walkways dotted with interpretive panels (see photo below).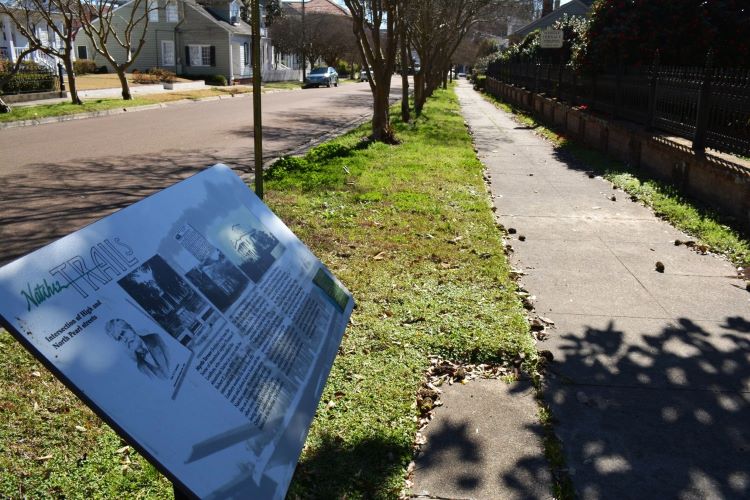 Visit Natchez's website offers a handy map showing the length and route of each Natchez Trail. The map indicates the key stops along the way.
Hop On, Hop Off
In addition, both AQV and ACL also operate popular "hop-on/hop-off" motorcoach tours for river cruisers. On port days, the coaches circulate in downtown Natchez. Cruisers simply hop on and off at designated stops, as they so wish.
We love this approach for independent explorers. It's another way for cruisers to feel they're not only "rolling on the river" but "rolling while ashore" too.  Both AQV and ACL give guests a route map showing the stops.
Many times, guided commentary is also provided aboard. What's nifty? Travelers seeking a quick, scenic overview can simply remain on the coach — riding around the complete loop back to the starting point. That's also helpful for people with mobility concerns about too much walking.
Late last year, The Meandering Traveler stayed aboard AQV's hop-on/hop-off coach for two complete loops. We changed our seating to the other side of the coach for the second loop. Presto, it was a great scenic overview of the city.
In addition, one nice perk for AQV's hop-on/hop-off coach tours, for example, is that the line offers complimentary admission to a few select attractions near some of the designated stops.
Just always pay close attention to the timing details — particularly, "the last" pick-up time for your return to the ship.
Antique District & New Shops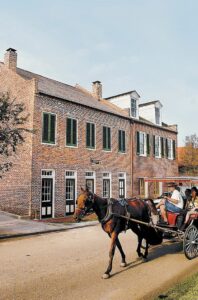 Natchez's small, downtown Antique District is home to several antique stops. Travelers will discover such treasures as antique furniture, rugs, collectables, glassware, estate jewelry, coins, china, cystal and more.
Check out what's available on MississippiAntiqueTrail.com.
Also, we've heard a few update tidbits from Natchez tourism contacts.  Mrs Holder's Antiques at 636 Franklin Street is celebrating 30 years in business this year.
The antique store is currently open from 11 a.m. to 5 p.m. or by appointment. On June 9-11 and June 16-18, the owner plans a store-wide sale, which is rare. If you love antiques and are in town these dates, you might schedule a visit.
A Sampling of More Antiques
Lower Lodge Antiques at 712 Franklin Street has been in business in Natchez since 1987. It also offers treasures of all sorts.
H. Hal Garner Antiques, a long-time Natchez favorite, has been taken over by John Grady Burns. He's combined the antique business with his floristry shop NEST.  Burns has an amazing eye and offers a remarkable array of old and new finds.
Sissy Blackwood, a Natchez native, owns Natchez Mercantile. Her business also offers a combination of fresh finds and classic pieces. A plus? She has the scoop on many incredible antiques, thanks to her extensive work with estate sales.
New Stores Downtown
What's new in the downtown area overall? According to Visit Natchez, several shops downtown either have opened or are opening this year. They include:
Natchez Unique – bodega-style shop offering gifts and amenity shopping (toiletry items, snacks and so on);
Hallelujah Wine & Spirits – offers unique tasting events; and
Olive Market – specialty food market with tastings and a diverse selection of gourmet items.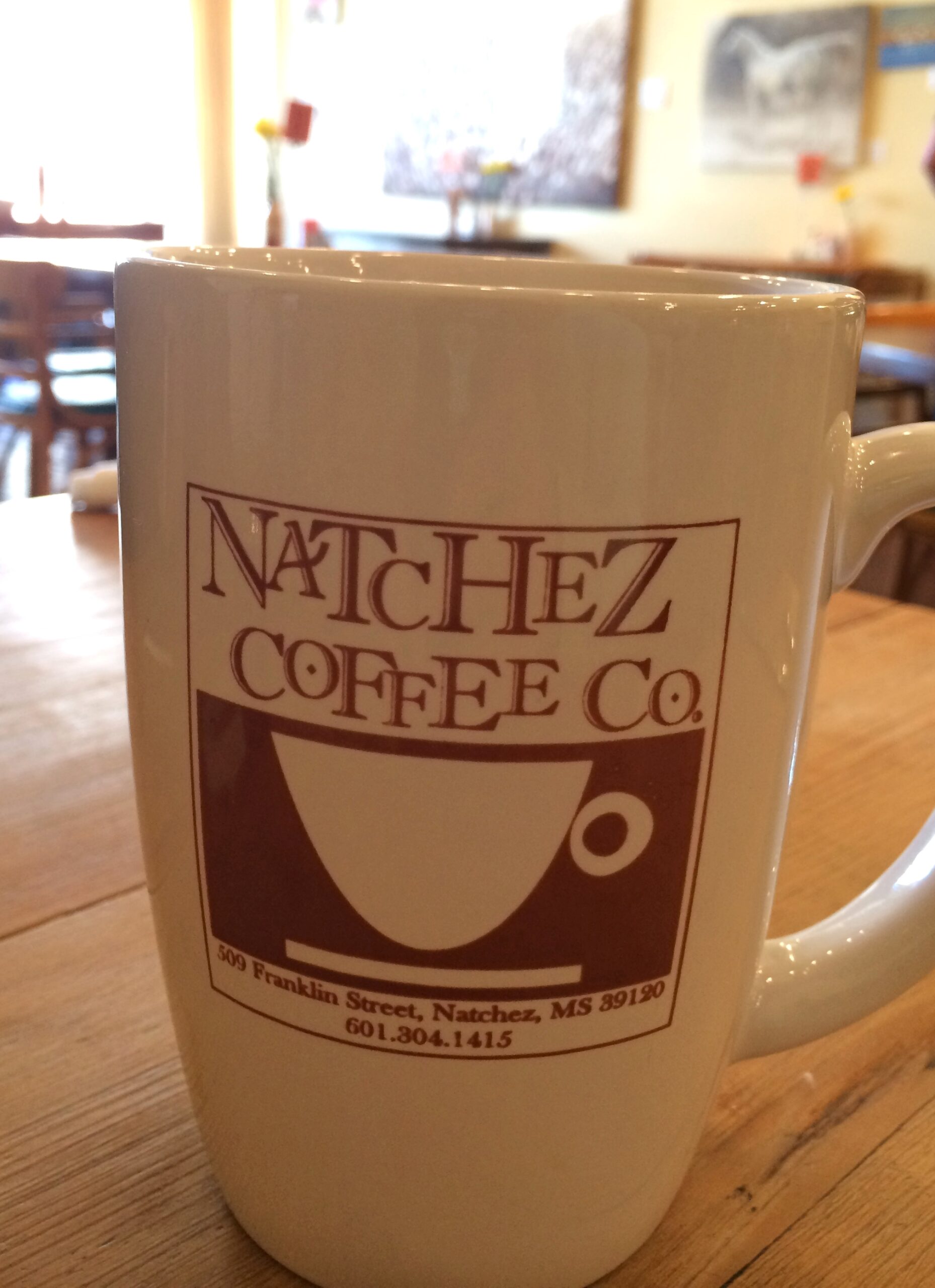 While walking around downtown, we'd pop in for coffee, breakfast or a snack at the Natchez Coffee Company. Located at 509 Franklin Street, it's a popular spot with locals and visitors alike.
For example, you might chow down on a special such as BBQ brisket sandwich with grilled onions on ciabatta bread and a side of potato salad.
Or, how about pepper jack cheese soup with roasted bell peppers? Breakfast too is legendary here.
A Few Dining Tidbits 
For some other Natchez eatery suggestions, check out our previous Meandering Traveler blog that featured Chef Regina Charboneau. This Natchez native operates a highly regarded cooking school in town. She also is AQV's culinary ambassador.
In that blog, Charboneau revealed her favorite Natchez dining spots. Among those is Fat Mama's Tamales, 303 S. Canal Street in Natchez. Visitors can dine inside or outside on the patio.
We've "been there, done that." This eatery serves up delicious tamalas, nachos, margaritas, gringo pie and more. A stop here is even included within select shore excursions.
Another of Charboneau's favorites is the new Little Easy Cafe in Natchez. Several business executives from the area told The Meandering Traveler that this new eatery at 114 High Street is a definite hit.
"We serve a boozy brunch and have wonderful lunch options," according to Stratton Hall, spokeswoman for the developer and owner, Tate Taylor Company. "A huge pavilion is currently being built for more outdoor dining."
13. Rolling on … New Tourism Draws On the Horizon 
Now, here's a bit more about the Tate Taylor Company and its "Hollywood" angle.  As an actor and producer, Taylor is known for several blockbuster movies — Get on Up (2014), The Help (2011) and The Girl on the Train (2016).
But Taylor was also born and raised in Mississippi. He and John Norris of Tate Taylor Entertainment have already invested in the downtown area with Little Easy Cafe. But they have bigger plans too.
Simply stated, Taylor would prefer not always leaving Mississippi to make movies, TV shows and other creative projects. His vision is to offer all the amenities for film production locally to stimulate the economy. Natchez is already attracting a large number of film projects.
For example, last year, people noticed Christmas decor downtown as early as August. Why? The Hallmark Channel was filming a holiday movie.
Reinvigorating The Prado
So, the Tate Taylor Company has recently acquired land atop the bluffs. The Prado (or "meadow" in Spanish) is the name of that bluff green space.
Pre-Civil War, the Prado was a strolling promenade with hanging gardens and lush terraces. Let's just say that it was the place for the town's wealthy socialites "to see and be seen." So, "the Prado will be the area we use for large festivals and community events," says Hall.
Three festivals are planned in 2022. If you happen to be in town, head out to the Mudbug Music Festival on May 13-14; the Fourth of July Celebration on July 2-3; and the Blues & Soul Super Bowl on October 7 and 8.
Reinvigorating a Train Depot
Tate Taylor also has leased a historic train depot in that area and is redeveloping it. A new restaurant inside the depot, called The Beti, will offer white tablecloth fine dining. An outdoor area, The Terrace, will serve casual fare.
"We are hoping for an October 2022 opening of the Terrace," says Hall. "The Beti will open later."
In addition, the group has just launched the new Smoot's Grocery & Blues Lounge downtown. Open Thursday through Sunday, "it's an awesome bar with a great courtyard and live music on Saturdays," notes Hall. She's hoping to work with cruise lines on some creative excursion options.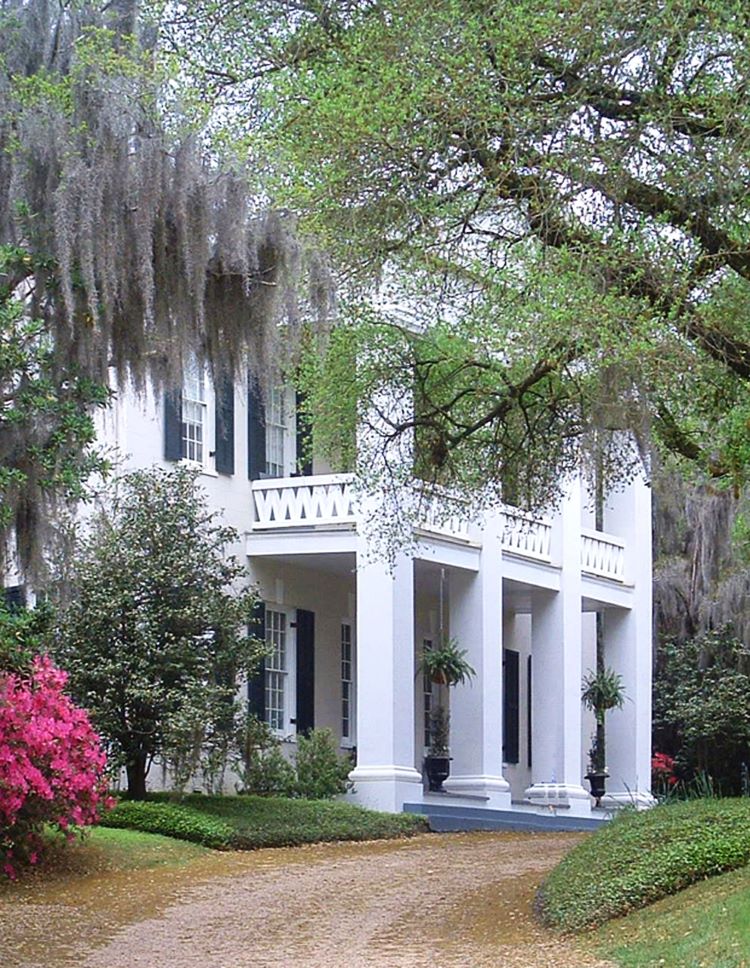 14. General Quitman's Monmouth
Now let's get back to a few more gorgeous historic homes:
One is the 19th century Monmouth, which is an estate with 26 acres of gardens and two ponds.
It's one of Natchez's grandest mansions in Greek Revival-style (see photo at right).
Built in 1818, the elegant, stately Monmouth was restored around 1853 by John A. Quitman.
This former Mississippi governor was perhaps best known, though, for his Mexican-American War service.
Desire to explore inside? Guests on American Cruise Lines' seven-night, "Lower Mississippi River Cruise," from Memphis to New Orleans, can do so easily.
ACL Shore Excursion
They can book the river line's complimentary "Monmouth Historic Inn & Gardens" excursion. 
Depending on the time of year, ACL's tour goers might see colorful, blooming magnolias, roses, azaleas and other posies.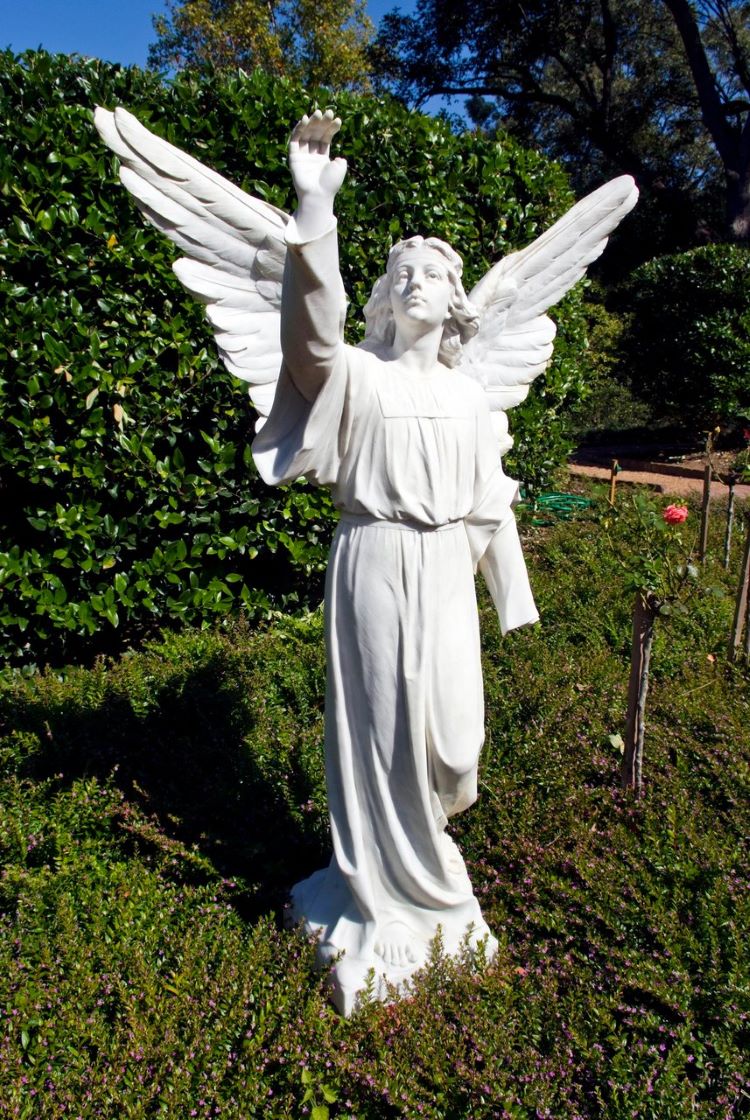 Plus, Monmouth's grounds are known for an "angel statuary" collection (see photo at left).
After touring Monmouth and strolling its lush grounds, ACL's tour guests will return to the mansion's Quitman Study and Lounge. There, they'll sip on a complimentary drink surrounded by historical artifacts.
If you're visiting independently (not on a shore excursion), check out the Monmouth website for additional visitor information.
This mansion is also a high-quality bed-and-breakfast inn, rated in 2020 as a AAA Four Diamond property.
The Meandering Traveler loved the experience of overnighting and having dinner at Monmouth in the past. 
15. Historic Texada
Named for a Spanish Nobleman, historic Texada was constructed between 1793 and 1805.  Today, it's one of only a handful of 18th century buildings that remain in Natchez.
But this historic brick building (shown in the photo below) at 1358 John A. Quitman Blvd has an even stronger claim to fame. Any guesses?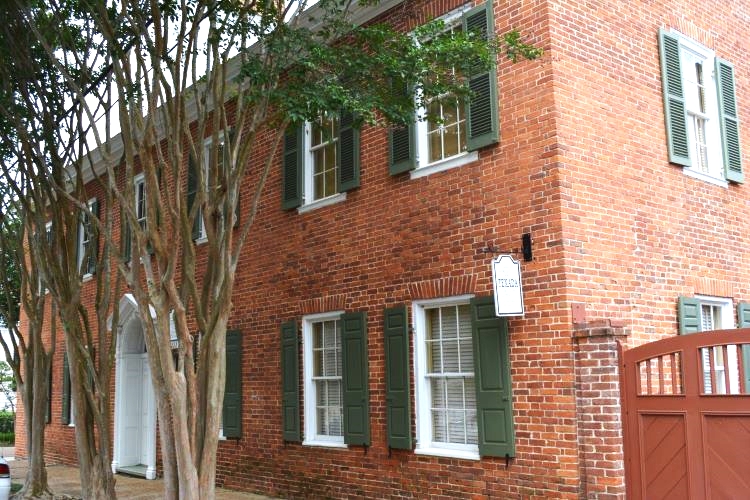 Drum roll, please! Texada is the oldest, surviving "state capitol" building in the United States. It served as the state's capitol between 1817 and 1820.
Yes, it's been modified inside throughout its two centuries of history. But it still sports some original third-floor paint, molded chair railings and beadboard ceilings.
Visitors can admire the building's exterior from the street. But please know that this structure is not routinely open for public tours. It's a private residence and not a bed-and-breakfast inn.
That said, however, it's worth contacting Natchez Pilgrimage Tours. In the past, "Spring Pilgrimage" or "Fall Pilgrimage" tour packages have featured Texada. 
Depending on your visitation date, those "combo ticket" packages may offer entry to a few Natchez historic homes or sites — such as Texada — that aren't normally open to the public.
Even if not, simply gazing at the brick building from the sidewalk gives travelers a sense of rolling back into history.
16. West Indies Style:  The House on Ellicott Hill
Exuding a totally different look is Natchez's House on Ellicott Hill, built in 1798 or so. Sporting West Indies architectural styling, it's located at 211 North Canal Street.
Just head for the northeast corner of Pearl and Washington Streets in uptown Natchez. You'll discover good river views from the bluffs.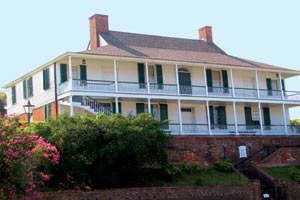 What's special historically? At this home, General Andrew Ellicott first raised the American flag over Natchez in 1797.
He did so under the direction of U.S. President George Washington. Not surprisingly, the city's Spanish authorities (Spain was the ruling nation at the time) were not amused! 
Inside the House on Ellicott Hill, visitors will find some original and period furnishings. Ellicott himself chose some of those.
General Ellicott always hoped Washington would visit Natchez someday. But alas, that never happened.
Intriguing House Feature?
One unusual feature is the home's posterior "dry moat." That creates passage, light and air flow behind and around the lower story. That dry moat also necessitated construction of short bridges from the upper story to the top of the adjacent hill.
At press time, the House on Ellicott Hill was open for public tours on Friday, Saturday and Sunday at 10 a.m. and 2 p.m. The Natchez Garden Club operates the home and tours so check its website for the latest information.
17. Historic Jewish Temple B'nai Israel
Did you know that a centuries-old Jewish community thrived in Natchez prior to the U.S. Civil War. Today, the area's Jewish community is smaller in numbers than in the past but proud of its rich heritage.
It's the oldest such community in Mississippi. Local Jews worship today at the 1905-era Temple B'nai Israel, situated at South Commerce and Washington Streets.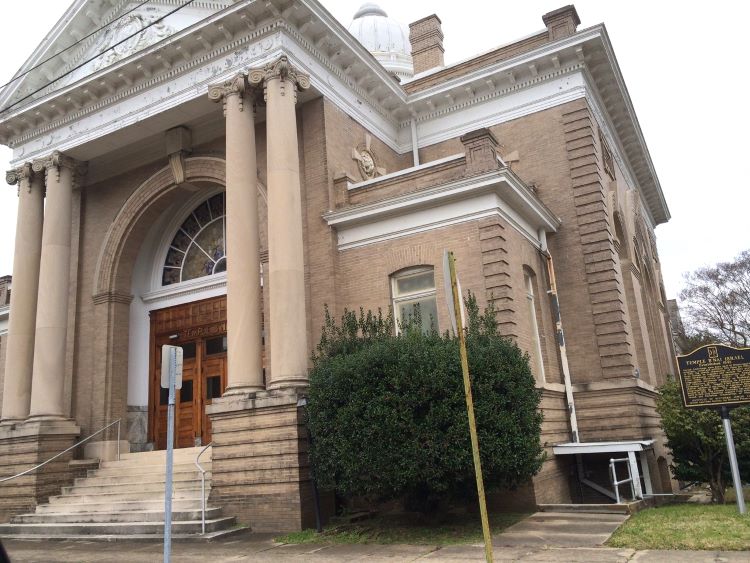 Featuring lovely, stained-glass windows, this temple replaced a former 1872 structure on the same site.  The AQV hop-on/hop-off motorcoach, for example, stops near the temple for those who want to check out the temple's exterior close up.
Signaling the start of a multimillion-dollar restoration and renovation, a wheelchair access ramp to the historic sanctuary was added in 2019.
Also, the temple's roof and historic dome were restored. Work continues. When it's all finished, the temple will open consistently as an event space and community arts hub.
In addition, an on-site museum will tell the story of Jewish life in Natchez.
Want to visit this year?  Temple B'nai Israel was still closed at presstime due to the pandemic. Events and religious services are conducted via Zoom.
Normally, the temple offer some tours for visitors. Pre-pandemic, those were available by appointment with advance arrangements. So check the temple's Web site or call the temple directly at 860-423-3743 for the latest. Policies for many U.S. attractions are evolving in 2022. 
18. Magnolia Hall, Dunleith and More Homes
Built in the late 1850s, Magnolia Hall, the former home of a cotton broker, also is lovingly under the auspices of the Natchez Garden Club. This Greek Revival-style historic home is located at 215 South Pearl Street in Natchez.
Highlights? Look for the plaster magnolia blossoms that are incorporated into the design of the parlor ceiling centerpieces. In addition, Magnolia Hall — also known as the Henderson-Britton House — is known for its 19th century antiques and artifacts.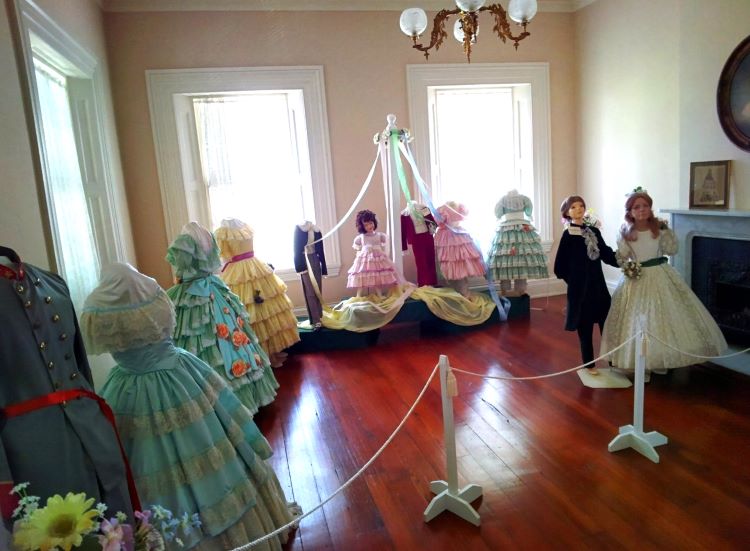 Most notably, travelers touring the interior of Magnolia Hall will eyeball an incredible costume collection. Those period costumes are displayed in rooms throughout the home (see photo above).
For more information on Magnolia Hall, visit its listing on the Visit Natchez website.
Greek Revival-Style Dunleith
Another spectacular historic home to tour is the Greek Revival-style Dunleith. Its design includes 26 humongous brick-and-stucco columns and wrap-around porches.
While Dunleith closed during the pandemic, it's fortunately now in the hands of new owners. They're rolling on getting back to normal with hosting B&B guests and tours too.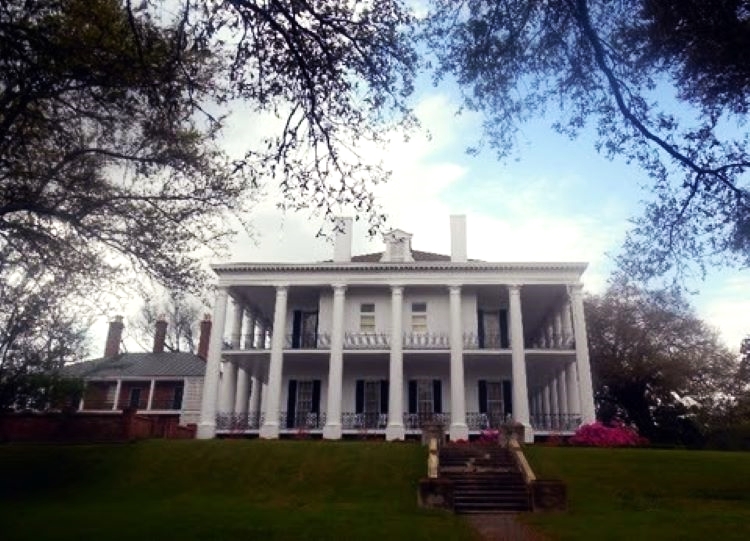 Designed as a residence in 1856, today's Dunleith Historic Inn features 22 elegant and charming rooms. The Meandering Traveler stayed here pre-pandemic and we enjoyed our stay immensely. 
The guestrooms span three distinct buildings: Main House, the Courtyard Lodge and the Dairy Barn. Inside, Dunleith brims with "treasures" including antique furniture, family portraits and photos.
In addition, visitors will view Dunleith's original 1790s carriage house and stables. That's now converted into the Castle Restaurant and Pub.
Natchez also has other historic homes of interest (some tourable throughout the year, others only at pilgrimage time or during special events). Among them are Auburn, Concord Quarters, The Burn, Landsdowne, Choctaw Hall, Hawthorne, Linden, Oak Hill and others.
19. Rolling on … Heading Beyond Natchez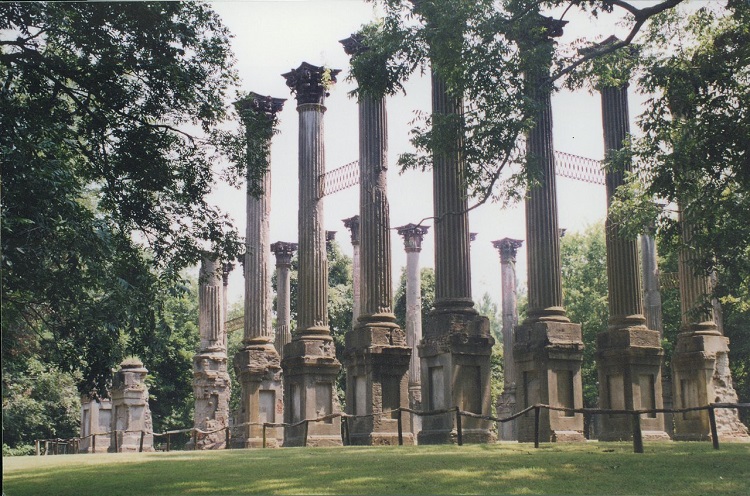 Some cruise line tours, as well as private arrangements, can take guests beyond the city, such as to Port Gibson and the nearby Windsor Ruins.
Local residents were relieved that when the war ended, the Windsor mansion had survived intact. It was still gorgeous and "standing," while other mansions had been destroyed.
But the joy was short-lived. Alas, during a post-war party, Windsor burned to the ground under mysterious circumstances.  Today, only the mansion's huge columns remain (see photo above). It's an eerie site.
Desire to See How Cotton is Farmed?
Just across the river from Natchez is the State of Louisiana. One highly popular shore excursion is the half-hour or so trip to Frogmore Cotton Plantation & Gins, an authentic, 1,800-acre working cotton plantation.
This Louisiana site also has many 18th and 19th century historic buildings. Depending on the time of their visit, cruisers might have the chance to pick cotton directly from the field.
Cruisers will see cotton technology and how it's evolved from Eli Whitney's original cotton gin. Today, Frogmore is a modern cotton plantation using 900-bale-a-day computerized cotton production.
Here's a bit of "official" information received from the Frogmore folks that also may help visitors:
Nineteen historical buildings dating from 1790's to 1900 are a restored tribute to Frogmore Cotton Plantation & Gins, a modern 1,800-acre working cotton estate with a computerized farm and gin.
As you arrive at the computerized cotton gin, the owner will meet you and escort you through the gin and cotton farm operations.
Participate in picking cotton and removing the seeds and tour a rare, steam engine gin listed on the National Register of Historic Properties.
Be seated in the hand-hewn log cabin and listen to narration and the vocalist's songs highlighting the history of southern plantations, including the Constitution, Emancipation Proclamation, and accurate statistics of the enslaved and planter families.
After an enlightening overview of the historical Frogmore owners, explore the cotton fields and authentic cabins to learn the origin of southern cuisine, the day-to-day operations and how their labor force evolved into sharecropping, a way of life for 100 years.
Enjoy a complimentary beverage as you browse an original plantation store."
For more information, visit http://www.frogmoreplantation.com
Celebrating the Music of the Delta
Another worth-the-drive attraction that's reachable on a day outing from Natchez is the small Delta Music Museum & Arcade (see photo below). It's located in Ferriday, LA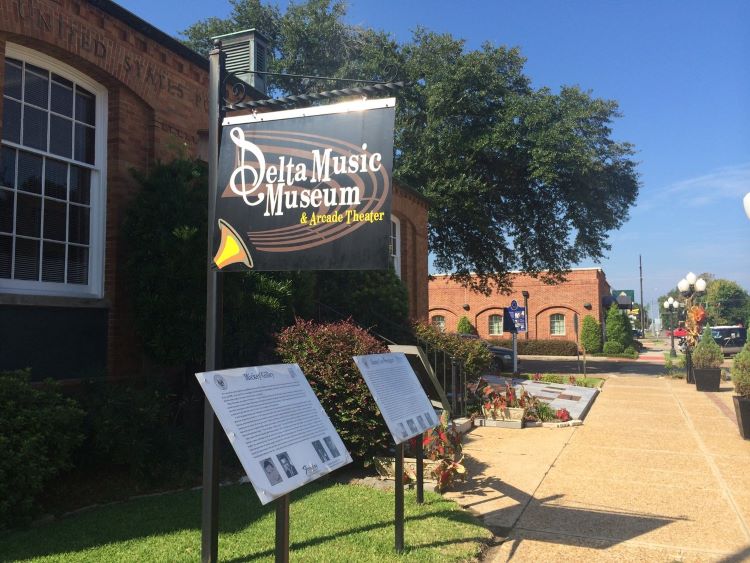 Here you'll discover exhibits about the many rock-and-roll and blues musicians from the Mississippi River Delta. That's everyone from Mickey Gilley to Jerry Lee Lewis and blues trombonist Leon "Pee Wee" Whittaker.
New Kayaking Option
New activities are also surfacing in the great outdoors in and around Natchez. For instance, active travelers might head out for kayaking fun.
Visit Natchez tells The Meandering Traveler that there's a new kayaking option. OutsideIN MS operates guided kayaking tours from a location that's just 10 miles west of Natchez.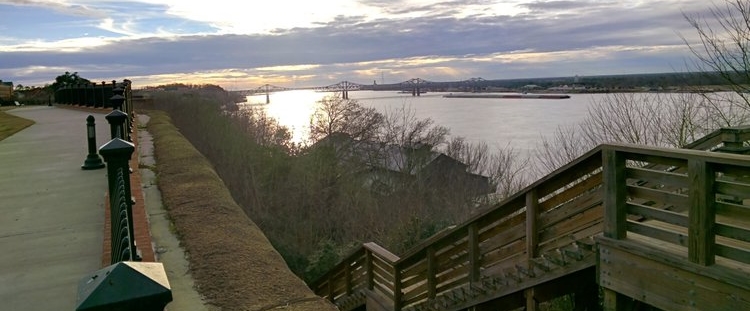 20. More from Visit Natchez
For more information about rolling on the Mississippi River or making the most of your time ashore in Natchez, MS, check out Visit Natchez's website — www.visitnatchez.org.
Also, The Meandering Traveler is curious to know if you've previously traveled to Natchez by land or on a river cruise. If you enjoyed your time ashore in Natchez, here's our request:
Please use the Reply Section below to tell us if you've traveled to Natchez. What did you most enjoy seeing or doing in the city or environs?
Everyone has "different" favorite activities. While we've outlined ours above and in Part 1 of this Natchez blog too, we obviously couldn't cover every option. So, your first-hand insight is valuable and welcome.
Our goal is to provide tips that help readers. We'll publish the most helpful of those replies here.
Important Notes from Pavlus Travel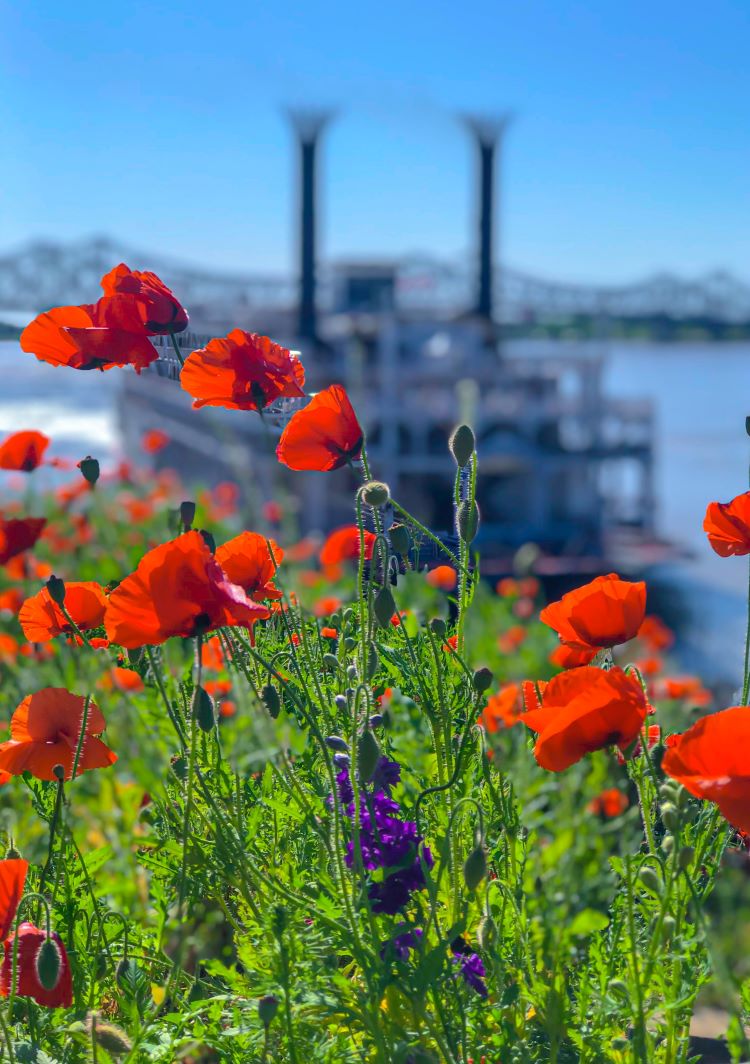 This blog site is editorial in nature and designed for "basic, general information" about travel; it's not designed to provide specific pricing nor is this blog site staffed with travel advisors.
 So, please don't use the Reply Section below if you're asking for pricing, travel dates, accommodations, brochures or other specific requests.
That said, we are most happy and eager to assist you. Here's how…
If anything does tweak your interest in the story and you DO have questions about specific pricing, brochures, savings, itineraries, dates of travel, accommodations, accessible options and so on, please contact Pavlus Travel at 800-528-9300.
Or visit us online at Pavlus Travel's official agency Web site; there you can "live chat" with us online too!
IMPORTANT TO KNOW! Pavlus will assist travelers with learning about the top options for Mississippi river cruise voyages. Also, we offer terrific pricing!
Thanks for reading!
.