April 2022, we hardly knew you! Yes, another month has come and gone. Warmer weather is on the way and we know many of you can't wait to "get back out there" traveling. Here are our picks for the top travel announcements made in April 2022.
1. Remember Crystal Esprit? Now "Reimagined" by Lindblad
Some readers may have sailed on the former Crystal Cruises' yacht, Crystal Esprit. Well, it's been revitalized in a top-to-bottom refit for Lindblad Expeditions-National Geographic (see photo above). Carrying 48 guests, the newly renamed National Geographic Islander II has the soul of a private yacht, with all-suite accommodations.
This upscale, small oceangoing expedition ship will debut on August 18, 2022. Equipped with stabilizers, it provides a comfortable ride and will sail year-round in Ecuador's Galapagos Islands. Blue footed boobies, marine iguanas, sea lions and massive turtles, here we come!
Teak decks will connect indoor and outdoor spaces. Guests will dine at the newly expanded, al fresco Patio Café and sophisticated Yacht Club Restaurant. Dishes will spotlight Ecuador's four regions with locally sourced ingredients.
A reimagined Cove Lounge will offer pre-dinner recaps, cocktails and presentations. National Geographic Islander II also will sport a well-outfitted observation desk, new marina and Science Hub.
The expeditionary vessel will carry a fleet of kayaks, stand-up paddleboards, a custom-built, glass-bottom Zodiac and numerous Mark V Zodiacs.
Sweet Suites
In 26 suites, guests will enjoy large windows, convertible king/twin beds, a sofa, stocked mini-bar, flat-screen TV, WiFi, ample closets and marble double-sink bathrooms. Four Islander Suites (three of them totally new) will offer multiple windows, separate living rooms and bathrooms with a tub and rain shower.
Connecting suites, a family suite and four dedicated solo suites are available. For prices/dates/itineraries, talk with your travel advisor. Here's the April 2022 announcement.  
2. New Flights, New Spritz Cocktail!
For airline news, our top travel news pick comes from United Airlines, which is kicking off the largest transatlantic expansion in its history.
With 30 new or resumed flights, the airline network will be 25 percent-plus larger than in 2019. Look for…
New nonstop flights to the vacation destinations of Amman, Jordan; Bergen, Norway; Azores, Portugal; Palma de Mallorca, Spain and Tenerife in the Spanish Canary Islands.
Five new nonstop flights: London, U.K.; Zurich, Switzerland; Nice, France; Munich, Germany; and Milan, Italy. 
Resumption of service on 14 Atlantic routes and increased flight frequencies in six others.
Here's a link to United's press release with all the details.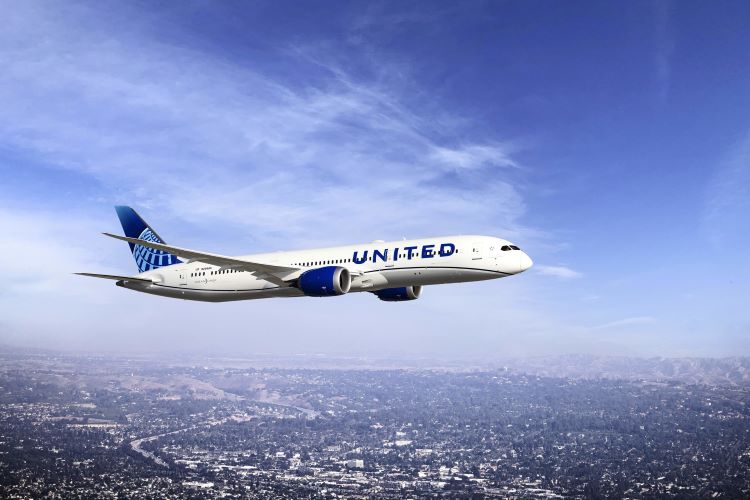 Spritz to Italy 
One fun, new inflight perk? On select summer seasonal flights to Italy, United will serve up complimentary Spritz Society premium sparkling cocktails. Originating in Italy's Veneto region in the late 1800s, Spritz cocktails are soaring in popularity with U.S. consumers.
Expect the Spritz cocktails on United's expanded summer seasonal flights between Chicago and Milan, Italy, starting May 6. They'll also be served on United's summer flights between New York/Newark and Rome starting May 26.
Want to try them on the ground? Customers can also purchase Spritz Society cocktails for $2 in the Chicago O'Hare and Newark United Club locations during the first month they're available onboard from that airport. Here's the announcement about United's Spritz roll-out.
3. Top Travel News: AmaWaterways Extends Douro Season
Cruises for most major river lines on Portugal's Douro River generally stop each year in early November and resume in late February or March. One river line sailing there had previously told The Meandering Traveler that necessary work is often done on the river locks over that late-in-the-year period.
But in a top travel announcement during April 2022, AmaWaterways said that it will sail on the Douro until the end of December in both 2022 and 2023. Itineraries will also go up the river to the same destinations, so the AmaDouro will continue to navigate those same locks late in the year.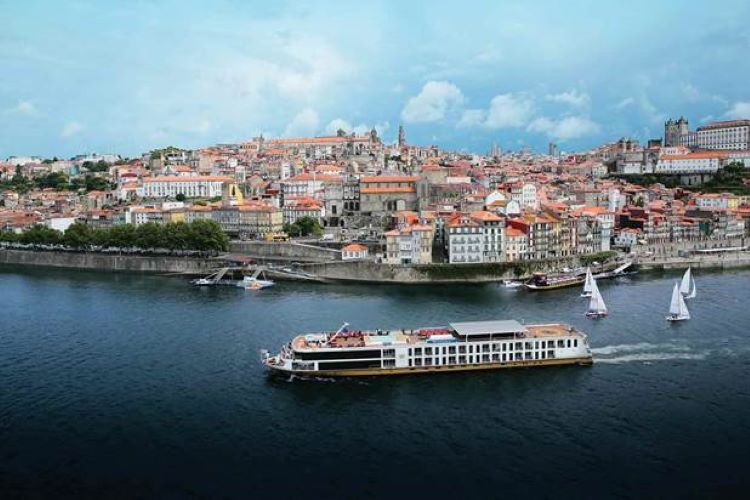 Janet Bava, chief marketing officer, AmaWaterways, told us in a one-on-one interview at the Seatrade Cruise Global conference in Miami Beach in late April that the upscale river line's management and its Portuguese partners have worked out all details to operate a longer Douro River season.
So, in total, AmaWaterways plans to add 14 additional sailings roundtrip from Porto, Portugal, on AmaDouro late in the season, both this year and next.
Will More Follow?
So, the big question is this: Will the other lines follow suit, also instituting longer Douro seasons? Who knows, but it will be interesting to watch over the next few months.
If you sail on any Douro river vessel, though, you'll likely spend a day or so in Porto. So, check out The Meandering Traveler's blog of earlier this year, where we outlined fun activities for those going ashore in Porto.
4. Italy's Belmond Hotels Display Amazing Garden Artworks
Luxury hotel group Belmond partnered with internationally acclaimed art gallery Galleria Continua on an exclusive project, entitled MITICO. Kicking off during the Venice Biennale (April 19-22), four hand-picked artists began installing works in landmarked Belmond gardens across Italy.
Not all top travel announcements are earthshaking. Sometimes, they're just amazingly creative. That's our view about this Belmond news.
In essence, Belmond's MITICO embodies a new art philosophy of inclusivity and community. It reinterprets customs shared universally among different societies such as cooking, painting and observing. And it focuses on how those activities are handled within the societies.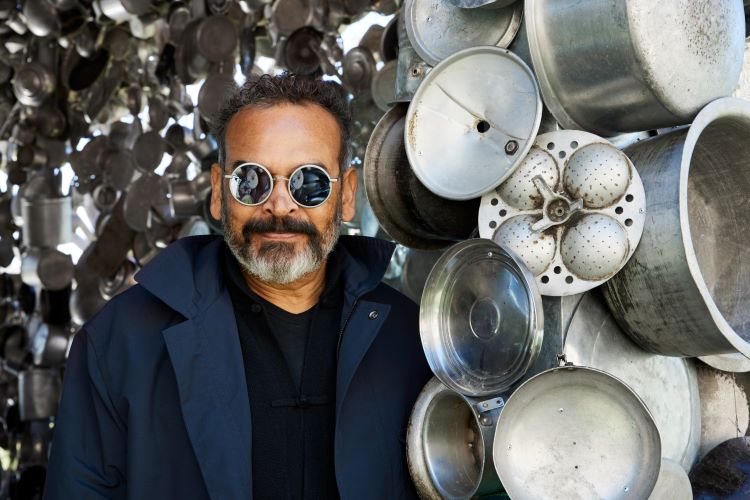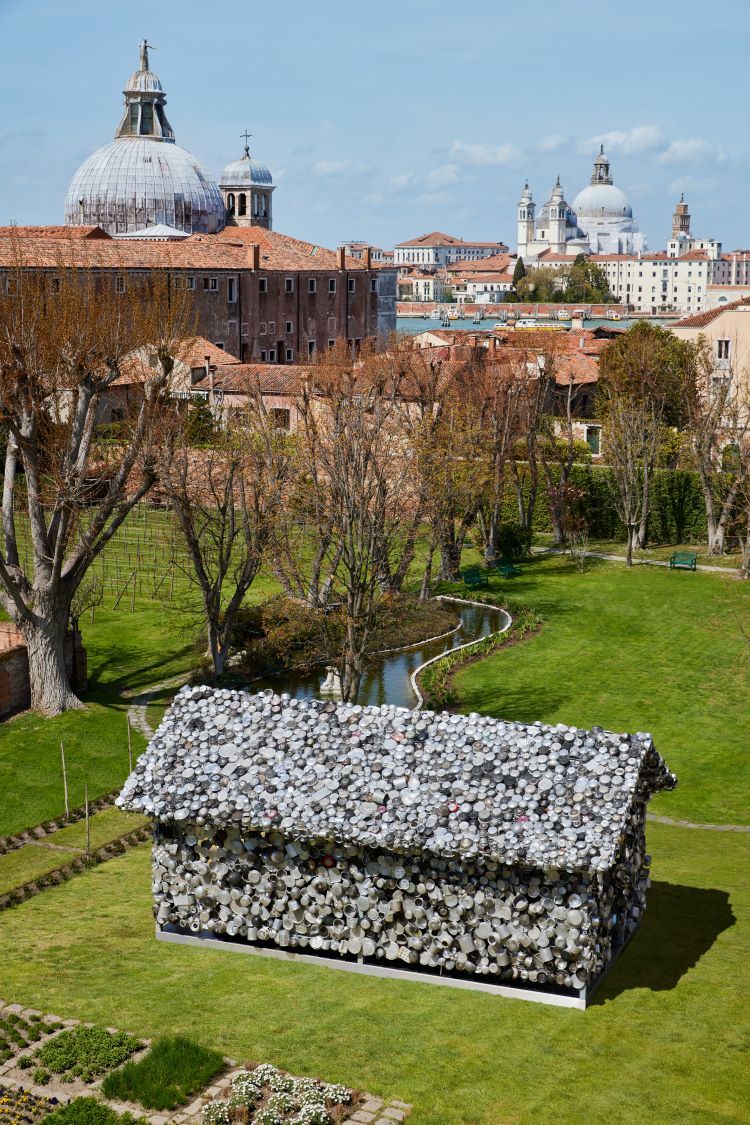 Cooking the World
First up was Indian artist Subodh Gupta's "Cooking the World" installation, which opened in Venice's Cipriani's Casanova gardens on April 23, 2022.
The artist has installed a large house (see photo at right) on the grounds of the famed hotel.
That artistic kitchen is fashioned from thousands of discarded pots, pans, and utensils, honoring the individual histories and narratives of the past utility of each piece.
Stepping inside the house, though, guests will see a fully equipped modern kitchen. The installation remains on display through November 19, 2022.
Three More Artistic Installations
In May, three more installations will debut at several Belmond hotels in Italy.
The first is Argentinian artist Leandro Erlich's "Window & Ladder" at Florence's Villa San Michele.
Another is Italian artist

Michelangelo Pistoletto's

"Accarezzare Gli Alberi" (L'Etrusco) at

Castello di Casole in Tuscany

. 
Finally, Cameroonian artist

Pascal Marthine Tayou

will unveil his garden exhibition at

Sicily's Grand Hotel Timeo

.
Desire to read the full press release? Here's that Belmond announcement link.
5. Top Travel News: New Silver Nova Design Details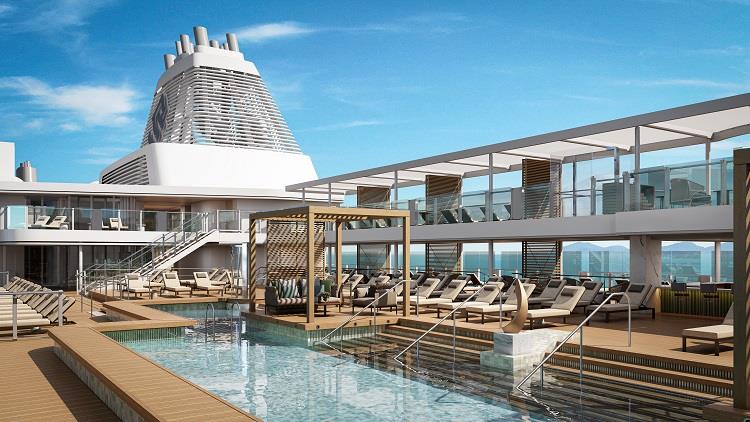 In April, Silversea Cruises unveiled details about its 11th ship, the new, 728-passenger Silver Nova, expected in 2023. For luxury travelers eager to know about the new ultra-luxury ship, this definitely ranks as a top travel announcement.
Built with a revolutionary asymmetrical design—a first for the ultra-luxury line – the ship has many all-new outdoor spaces including an outward-facing pool deck; an al fresco dining area; and a sky bar aft.
If you're a pool fan and love any ship's top pool deck, it's good to know that, at 1,400 square feet, the main Silver Nova pool (see photo above) is larger than those on the cruise line's previous ships. Look for a new layout, wide entry steps and more shallow waters for sitting.
In addition, Silver Nova's all-new, infinity-edge whirlpool is aptly named The Cliff Whirlpool.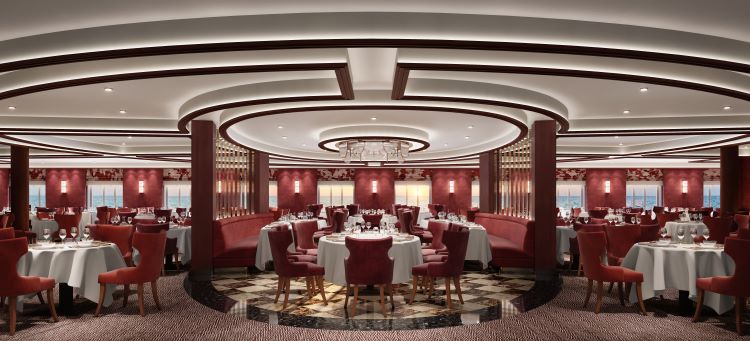 More about Silver Nova
One of eight dining venues, Atlantide, a guest favorite, will seat 270 guests and have a new interior design (see photo above).
Silver Nova will offer 13 different suite categories, the most diversity of accommodations on any of its ships. All suites will have their own private verandas (balconies). New aft suites also will offer 270-degree views.
The ship will also become the world's first low-emissions cruise ship with advanced hybrid technology utilizing fuel cells. So, the ship will have "zero harmful emissions while in port."
To learn more about the new ship design, read the Silversea announcement.
6. New Mountain Region Resort Planned for Margaritaville
How does one evoke memories of a past classic era, yet bring in a modern twist? Well, in April, Margaritaville, a global lifestyle brand inspired by Jimmy Buffett's songs, fun and escapism, announced that it will build its first Margaritaville Resort Village.
That's top travel news, but guess where they'll build the first village?
Heading into the great outdoors, Margaritaville chose Pennsylvania's Pocono Mountains!  Construction will begin in 2023 with opening expected by mid-2024.
Tapping into Eco-Beauty
The thought is that the Pocono Mountains' natural beauty will make the perfect retreat for those in search of fun, relaxation and a backdrop of lakes and mountains. A new Margaritaville Resort Village also will offer diverse accommodations.
For example, Margaritaville Hotel Pocono Mountains (see photo below) will pay tribute to the original Pocono Manor, built in 1902.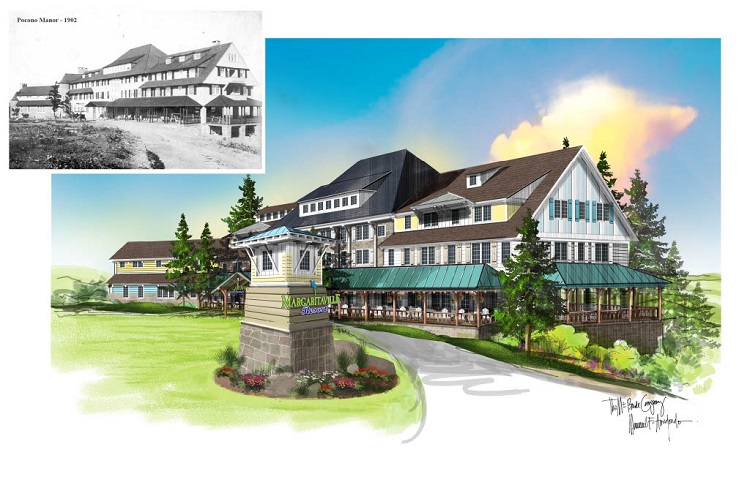 The hotel will offer wilderness gardens, unique restaurants, swimming pools, endless activities and live entertainment, plus an adjacent LandShark Bar & Grill with gorgeous views.
Camp Margaritaville & Winter Draws
Separately, Camp Margaritaville, a luxury camping and entertainment destination also within the new "village," will offer RV and Super Premium RV sites and cabins.
What's nifty is that each RV Suite will have its own golf cart, covered charging station, hot tub, hammock, fire pit, Adirondack chairs and covered "living room."
The new camp's public areas will include a Margaritaville Retail Store, Fins Up Fitness Center, Cheeseburger in Paradise Restaurant, Fin City Game Room, and a 5 o'Clock Somewhere Swim-Up Bar, and more.
In addition, the village will offer rustic Tiny Home Bungalows, townhouses and "build for rent" cottages. In wintertime, vacationers can hit the LandShark Tube Slide Runs, License to Chill Ice Pond and a Winter Market.
For more details, check out Margaritaville's official announcement on April 18, 2022.
7. Design That's Fit for a Queen
Sailing the North Atlantic Ocean since 1840, Cunard Line is readying for the 2024 launch of its new Queen Anne.
Look for more American and Canadian travelers to sail Cunard. That's because it's making an even bigger push in the North American market. The arrival of the new ship will mean more cruises for Alaska, Australia and Japan.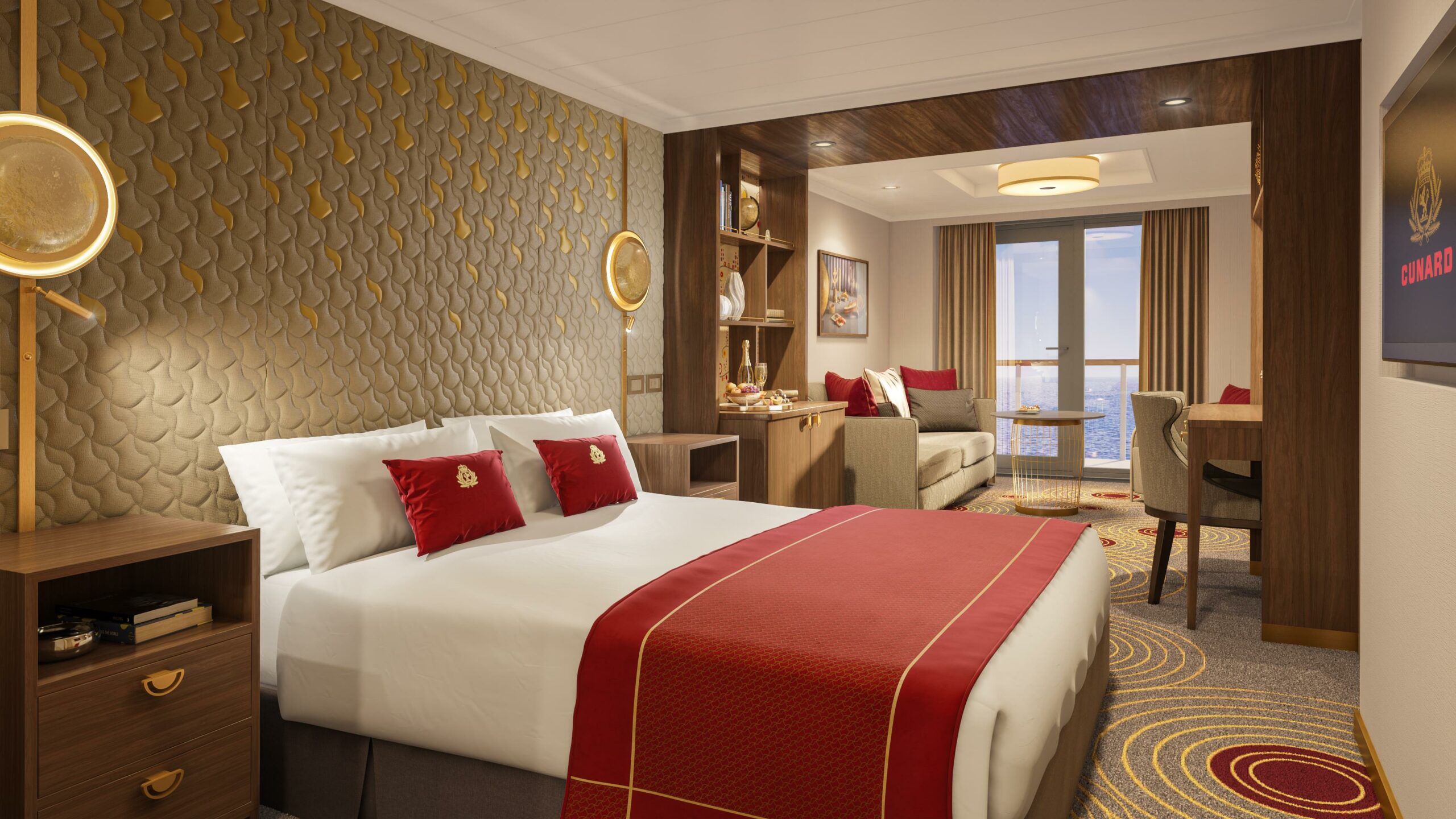 Sneak peek? Cunard recently revealed the designs for Queen Anne's staterooms and suites. They're designed by Adam Tihany, creative director, with a team that includes David Collins Studio, Richmond International and Sybille De Margerie.
History is always a part of any Cunard undertaking. The design team spent much time at Cunard's archives in Liverpool, U.K., examining historic photos, past ship layouts, fabrics, patterns, textures, business documents, marketing materials, menus of the past and so on.
Stateroom Designs
Queen Anne's stateroom categories each have a distinct design. Princess Grill suites (as shown in the photo above) will sport Cunard's red and gold tones and wooden furnishings, while top Queens Grill suites will offer a bold art deco design, luxurious materials in deep shades of purple and wood.
The Grand and Master Suites are designed as "luxe residences" with subtle shades of green, purple, taupe and grey, framed with wood and marble highlights.
Each of the top six suites will be named after an iconic waterway from Cunard's history. So, expect these: Mersey, Solent, Boston, Hudson, Halifax and Clyde.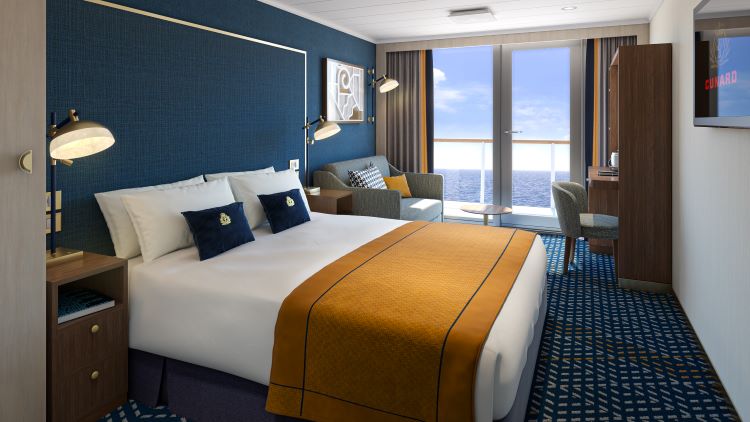 Britannia Staterooms
The majority of Queen Anne's accommodations are Britannia cabins (see photo above). In fact, Cunard plans up to 200 percent more Britannia cabins than on its other ships.
Britannia staterooms will reflect a deep blue color scheme with flashes of gold. Three-D paper-cut deco frames will celebrate Cunard's historical deco patterns. Wall coverings will feature a print pattern with inspiration from Cunard's crest.
As for public spaces, Queen Anne's Grand Lobby (see photo below) will be the focal point for the ship's Cunard deco design. The ship's bolder design will show evolution from the rest of Cunard's fleet.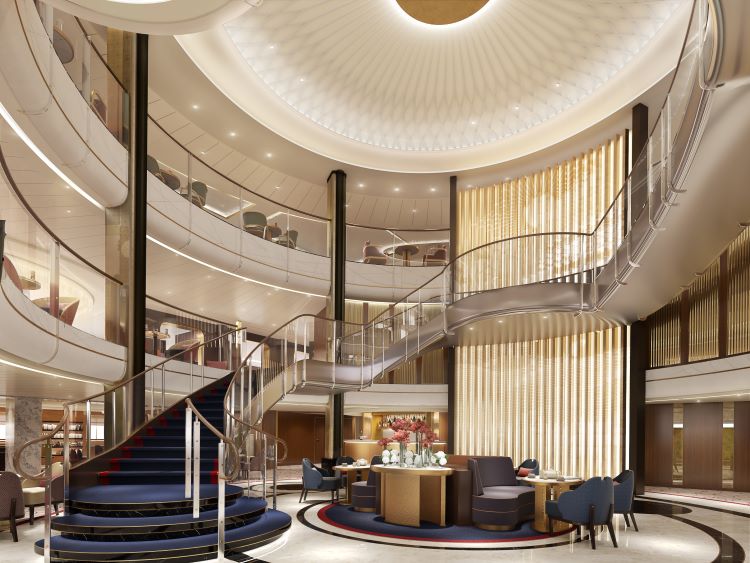 For more information about this top travel news development, visit this Cunard website page focused on everything to know about Queen Anne.
8.  California Dreaming – What's New in Napa Valley?
Travelers dreaming of a California wine getaway to Napa Valley will find many new options for a savory vacation. That's clearly a top travel development for oenophiles.  
Most notable is the recent opening of Stanley Ranch, an Auberge Collection Resort, nestled on 700 acres of ranchland and vineyards. Wellbeing is a top focus of the new resort.
Stanley Ranch officially opened on April 29, 2022. Guests will stay in 135 cottages and guestrooms.
Frankly, the new property sounds heavenly. Guests can sign up for immersive retreat experiences, take meditative morning walks through the vineyards and enjoy bike rides along the Napa River.
More New Napa Activities
Also new in Napa Valley? Earlier this year, the Clif Family Enoteca Private Tasting Salon opened. Visitors can sip small-production Howell Mountain estate wines with organic seasonal produce from the Clif Family Farm.
Visitors can relax on the outdoor terrace and sample a flight of single-vineyard Cabernet Sauvignon wines. Or, they can retreat to a stylish indoor salon and enjoy a glass of wine adjacent to a fireplace.
In downtown Napa, cocktail lovers might check out The Arbaretum by Napa Valley Distillery. The owners picked a name that blends "arboretum" and "bar."
What's on tap to do?: Huddle around a working 65-gallon copper-and-stainless steel still. Learn about the art and science of distillation. Then, enjoy hand-crafted cocktails, premium spirits and a selection of small plates.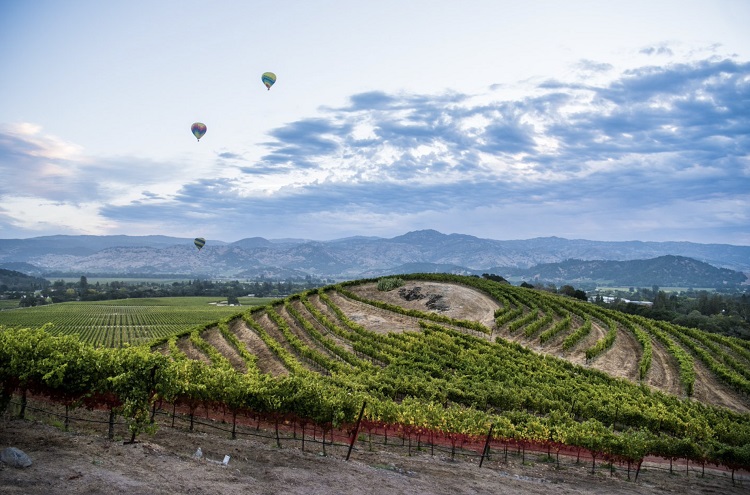 Other Napa Enticements
In St. Helena, the historic Heitz Cellar just debuted an exclusive new tasting room. It can accommodate up to 90 guests with plenty of outdoor space.
Levendi too has unveiled an elegant tasting room in downtown Napa Valley, where visitors can taste 96-points Cabernet Sauvignons, among other bottles.
Separately, new education-centric activities will appeal to travelers of all ages, tapping into a larger "edu-vacation" trend.
Or, if you're thinking of planning a wedding or special event, consider the magical vineyard backdrops at Carneros Resort & Spa and Auberge du Soleil. The latter just debuted a newly renovated private dining venue.
Want the complete run-down on all that's new in Napa Valley? Here's the press release that Visit Napa just released about the happenings. 
9. Viking Expands Downton Abbey Partnership with New Film
Viking became a household name by sponsoring PBS' MASTERPIECE through the years that Downton Abbey aired. Now, the ocean/river/expedition cruise line has taken that partnership to an even higher plateau!
Simply put, Viking is going Hollywood. That qualifies as a top travel announcement in our book.
On April 18, 2022, the cruise line announced that it is partnering with Focus Features, Universal Pictures and Carnival Films for the release of the new full-length film, Downton Abbey: A New Era.
That's the highly anticipated continuation of the first Downton Abbey film and beloved television series. This continuation of the 2019 feature film reunites the original principal cast. Movie goers will follow both the Crawley family and the staff of Downton Abbey.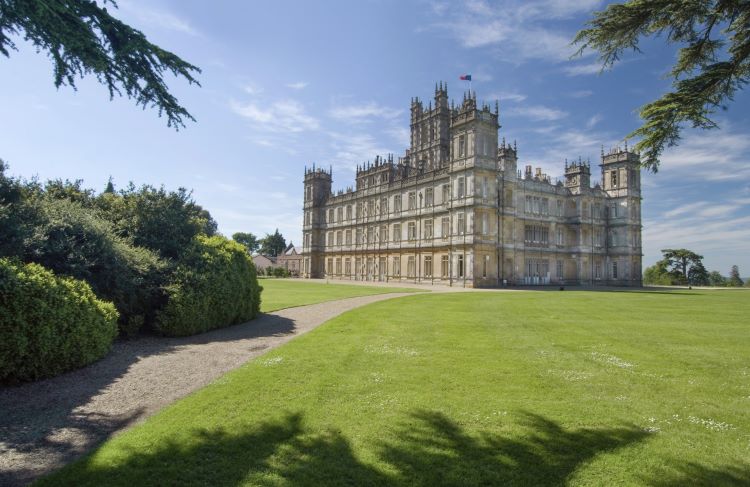 Traveling to France
During the new flick, consumers will see the Crawleys and staff at the Downton estate and also traveling to southern France. There, they'll explore the region. They'll also uncover the mystery of the Dowager Countess' newly inherited villa.
Here's a link to the full Viking press release with more detail about the film project.
The new film premiered in London on April 25. It will open in U.S. theaters on May 20, 2022.
We can already hear the celebratory cheers and thanks going out to Viking from appreciative Downton Abbey aficionados!
Exploring Highclere Castle
Since 2013, Viking also has offered other ways for consumers to experience life at Highclere Castle. For instance, Karine Hagen, Viking's executive vice president, and the castle's Carnarvon family created Privileged Access pre- and post-cruise extensions. 
These extensions are offered in conjunction with select Viking cruises. Both the Oxford & Highclere Castle and Great Homes, Gardens & Gin extensions are highly rated by cruise guests.
Lady Carnarvon has also welcomed viewers to Highclere Castle on Viking.TV. In her ongoing series, At Home at Highclere, she offers virtual Privileged Access to the historic home and its grounds. She's led more than 20 virtual tours and offered glimpses of life at her home.
Downton Abbey Sweepstakes
Now for some fun! Through June 30, 2022, Viking is offering a sweepstakes for U.S. and Canadian residents. Those who enter via this sweepstakes link will have a chance to win a grand prize trip for two.
That grand prize will include Viking's eight-day river voyage, Paris & the Heart of Normandy and a three-night Privileged Access Oxford & Highclere Castle extension. The grand prize winner will also receive roundtrip international Business Class air for two.
Just enter by June 30 to be eligible for the second grand prize drawing opportunity; one other grand prize drawing earlier has already closed. But there's still time for this one. So, again, click the sweepstakes link above to enter.
10. Top Travel News: Disney's Summer 2023 Family Cruises
From Alaska's majesty to the sun-kissed Greek Isles, Disney Cruise Line is offering families some enticing vacations in 2023. Certainly, one highlight is that, for the first time, Disney Dream will sail its first season of four- to 11-night European voyages.
The ship will sail from Barcelona, Spain and Rome, Italy to ports throughout the Mediterranean, including a first-ever seven-night sailing to the Greek Isles with port calls that include Santorini and Mykonos.
In addition, late summer/early fall departures of the Disney Dream from Southampton will feature cruises to Spain, France, the British Isles, Norway and Iceland. New ports of call for Disney include La Rochelle, France and two new ports in Norway – Skjolden and Sandnes, both featuring outdoor activities.
For those seeking a 2023 sailing to Alaska, Disney Wonder will offer five-, seven- and nine-night voyages from  Vancouver, Canada.
Florida & Caribbean 
Three Disney ships will sail from Florida to the Caribbean and Bahamas in 2023 too. For its first full summer of cruises, the new Disney Wish will homeport in Port Canaveral near Orlando.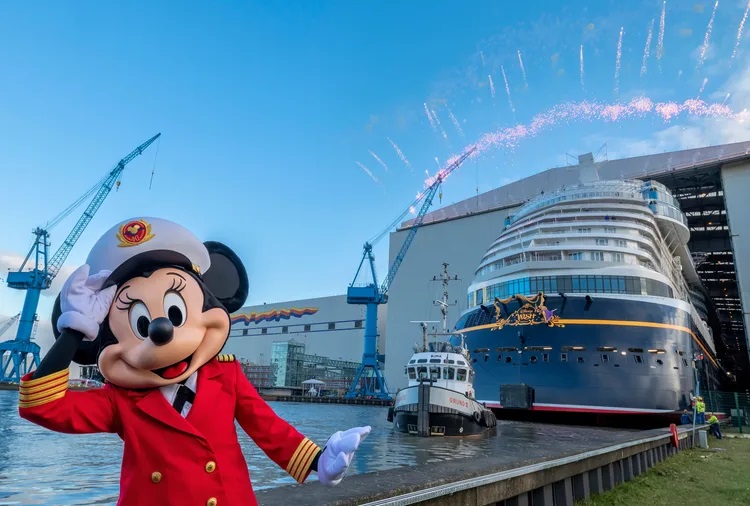 Disney Wish (shown in the photo above) will sail three- and four-night Bahamas cruises to Nassau and Disney's private island oasis, Castaway Cay.
Disney Fantasy will also depart from Port Canaveral for five- to 10-night eastern and western Caribbean sailings. That ship's other voyages will include a 10-night southern Caribbean voyage and an eight-night Bermuda sailing.
In addition, Disney Magic will sail from Miami.
Reservations for these new summer 2023 cruises will "open for sale" on May 9, 2022. That's a few days out, so this is just brief peek at what's planned.
Looking to the Future
Seeking more details on any of these voyages or other announcements above? It's simple. Just speak to your travel advisor.
For now, we're signing off and heading out to enjoy the spring weather. Check back here in a few weeks for our next monthly roundup of top travel happenings.
Important Notes from Pavlus Travel
This blog site is editorial in nature. It's designed for "basic, general information" about travel; it's not designed to provide specific pricing nor is it staffed by travel advisors.
 So, please don't use the Reply Section below if you're asking for cruise or land pricing, travel dates, accommodations, brochures or other specific requests.
That said, we are most happy and eager to assist you. Here's how…
If anything does tweak your interest in the story and you DO have questions about specific  cruise lines, itineraries, pricing, brochures, savings, dates of travel, accommodations, accessible options and so on, please contact us at 800-528-9300.
Or visit us online at Pavlus Travel's official agency Web site; there you can "live chat" with us online too!
Thanks for reading!