Simply put, France is a foodie's paradise.
In Paris, Lyon, Bordeaux and along French rivers, travelers can savor foie gras, fresh oysters, boeuf Bourguignon and other delectable culinary favorites.
The Meandering Traveler likes these six voyages below as great examples of upscale/luxurious "France River Cruises."
Trio of River Regions
What's terrific is that foodies have savory options in three different French river regions.
Certainly, Paris serves up incredible cuisine and wine, and cruisers can also explore Giverny and Normandy on Seine River cruises.
Food-and-wine enthusiasts love to explore Bordeaux and the Dordogne/Garonne river region.
Of course, nothing beats Lyon, often called the world's gastronomy capital; cruises head south within the Rhone/Saone.
So let's sail…
1. France River Cruises: Viking's "Paris & The Heart of Normandy"
Travelers sailing on Viking River Cruises' well-designed "Paris & The Heart of Normandy" cruise will explore the sites and gastronomy of the French capital and head for the D-Day beaches too.
Celebrating art, food, history and culture, this eight-day itinerary also will includes time to explore Rouen's Gothic architecture. Cruisers will also stroll through Claude Monet's house and gardens in Giverny.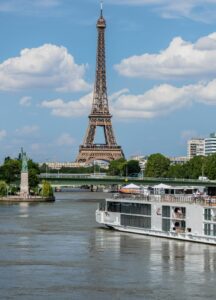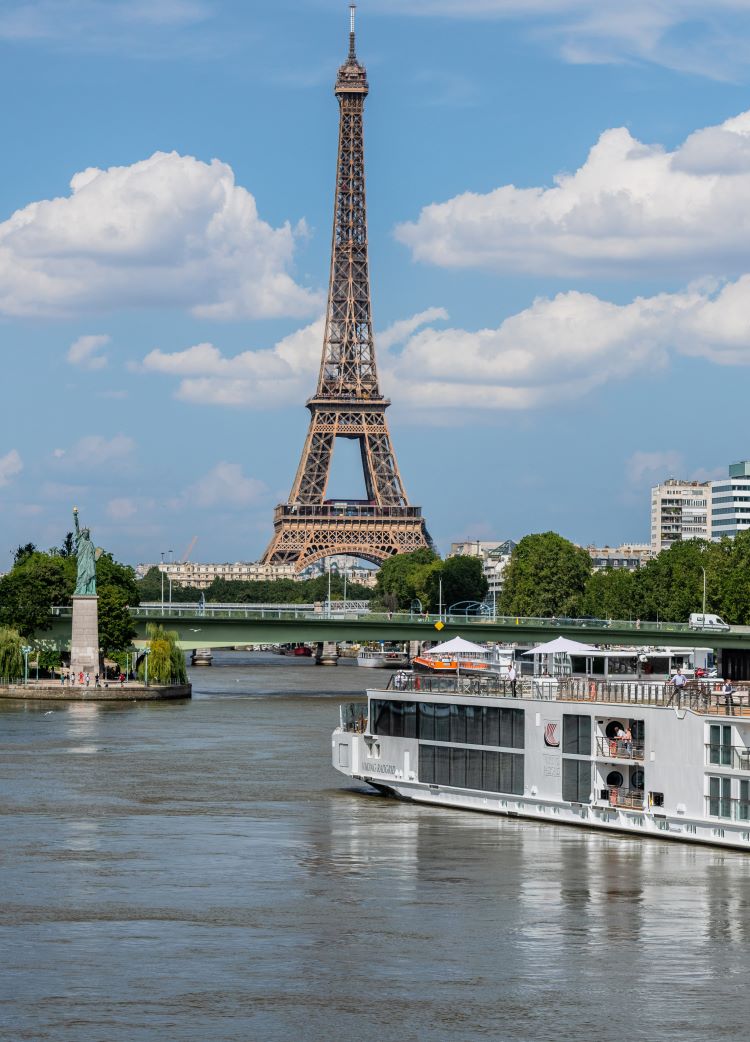 One plus for cruisers? It's Viking's docking point at Port de Grenelle, a short walk from Paris' Eiffel Tower.
New Longships
Another is that the line has several new Viking Longships dedicated to Seine sailings. Christened earlier this year, they were built in 2020 with customized hulls and engines designed for navigating the Seine.
The four new "sailors" include Viking Skaga, Viking Radgrid, Viking Fjorgyn and Viking Kari. 
Previously, Viking's Longships positioned on the Seine River were "longer" and couldn't reach or dock at Port de Grenelle. Now, guests have a more convenient option for exploring the heart of Paris.
Flavors of Paris
Six shore excursions are included with this itinerary's cruise fare. Foodies might head out on Viking's "Flavors of Paris," a culinary-focused tour with moderate walking.
Guided through a historic city quarter, river cruisers will stop at various shops to taste French specialties. They'll sample everything from chocolate to baked goods, olive oil, tuna, sardines, locally produced cheese and sausages, tapenades and more. Wine and a warm beverage await along the way too.
Starting cruise fares for Viking's "Paris & The Heart of Normandy" were $2,699 to $3,699 per person, double occupancy, depending on departure date; pricing is subject to change. Talk to a travel advisor about specifics, the latest fares, accommodations availability and any solo or accessible options.
At press time, many cabin categories on many 2022 dates were sold out. It's good to know that Viking offers this same itinerary in 2023. 
2. River Cruise: AmaWaterways' "Impressions of the Seine/Paris"
For a week-long France river cruise, The Meandering Traveler suggests AmaWaterways' enticing "Impressions of the Seine and Paris" itinerary. 
A relatively new offering for the upscale line, it's a point-to-point sailing between Le Havre on France's northern coastline and Paris.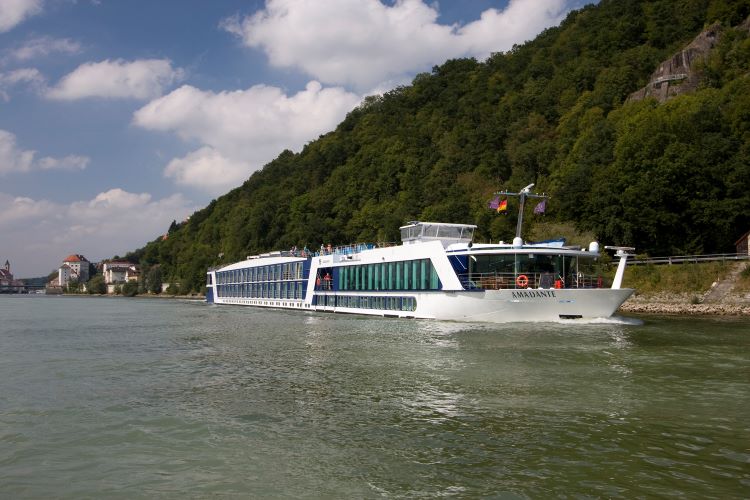 The 144-passenger AmaDante will offer a highly pampering cruise. Plus, cruisers can explore ashore at Paris, Giverny and Normandy, as well as the island monastery of Mont St. Michel.
Artistically-minded travelers can meander through Monet's lovely home and gardens in Giverny. Foodies will love sampling Norman chocolate, cheese and cider.
Active travelers can borrow a bike from AmaWaterways and explore independently or book the line's guided bike tour through Vernon and other spots.
AmaDante departs on this itinerary on multiple dates now through October 2022 and in 2023. At press time, fares for the October 15, 2022 departure started at $3,599 per person, double occupancy; other dates had different starting prices. Fares are subject to change.
Talk to your travel advisor about dates, accommodations (including solo and accessible accommodations) and other specifics.
Wine-Themed Voyages
In addition, on three dates this year AmaWaterways has designated several "Impressions of the Seine and Paris" voyages as wine-themed cruises. Departure dates are July 2, 2022 and July 30, 2022, from Le Havre, and August 20, 2022, from Paris.
Guests will sail with a wine host and enjoy special wine-focused activities and tastings. For those wine-themed cruises, fares start at $3,699 per person, double occupancy.
Extending the Vacation
What's also nifty is that this seven-night "Impressions of the Seine and Paris" itinerary can be easily expanded in several ways for a more in-depth France experience.
One option is to add on AmaWaterways' land package. That includes two pre-cruise nights in Paris, three post-cruise nights in St. Malo and one post-cruise night in Paris.  At press time, this add-on package was priced at $2,360 per person, double occupancy.
Alternatively, guests can combine two or three AmaWaterways' itineraries that touch different French regions. To accommodate that, AmaWaterways has created same day embarkation/disembarkation dates for many French river itineraries.
So, guests can book a trip that allows them to get off their Seine River cruise one day, and on that same day, they then board a second French river cruise in Lyon or Bordeaux.
It's also possible to make the vacation even longer by combining three voyages in three regions including the Bordeaux area. Definitely touch base with your travel advisor to discuss the many options.
3. Savory River Cruise: Uniworld's "Grand France"
Uniworld Boutique River Cruises offers a luxurious, 15-day "Grand France" itinerary from Paris to Avignon. But wait, there's no river between Paris and Avignon?
Yes, that's true. But this France river itinerary is actually two voyages combined into one grand vacation.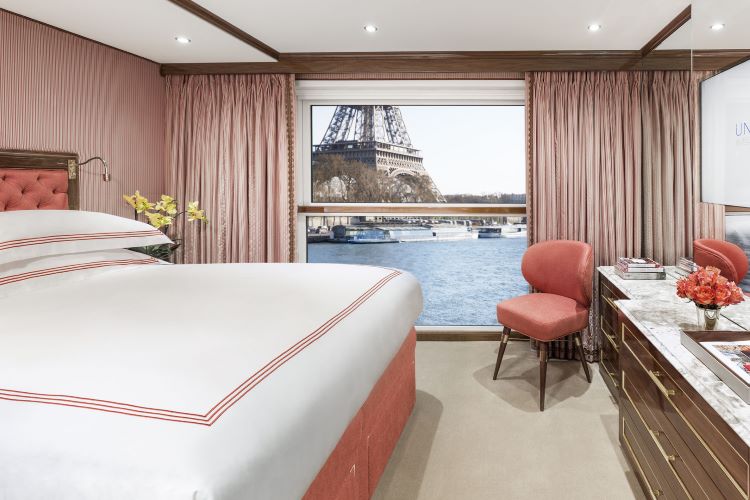 One Journey, Two Cruises
First, guests will sail on the Seine River and visit Paris on the 64-passenger Joie de Vivre. Going from one to the other, they'll travel by TGV train between Paris and Lyon. There, they'll board the 79-passenger Catherine.
To see the robust details of this cruise, check out Uniworld's page with the day-to-day itinerary details.
Offered on multiple dates this year and next, this itinerary has starting prices from $6,999 to $8,999 per person, double occupancy; talk with a travel advisor about details as well as options for solo or accessible accommodations.
In addition, Uniworld's guests can create the "Ultimate France" vacation, a 22-day cruise from Bordeaux to Avignon; check out the itinerary here. It's a way to lengthen your river voyage.
Best of all, cruisers can explore more "foodie-focused" areas within France — not needing to cross other European borders.
Bouchon Hopping
One "must do" for foodies?  While in Lyon, Uniworld's guests should consider the line's "Lyon, Capital of Gastronomy" tour. Let's just say that no one eats better than the residents of Lyon.
More than a century ago, local women opened unpretentious "bouchons" to feed hungry workers. Today, those bouchons carry on — serving locals and visitors alike.
Traditional bouchons continue to serve hearty meat-based cuisine, but also luscious dumplings (quenelles) and a seasoned cream cheese (cervelle de canut). 
Uniworld's shore excursion guide will introduce cruise guests to the city's bouchons and specialty food shops. Be sure to taste the macarons!
The guide will also show guests the city's historic quarter with its medieval and Renaissance architecture and "les traboules," the city's old passageways.
France River Cruises: "Nights Out"
New in 2023, Uniworld will offer "Nights Out" evening experiences on its French river cruises. As yet, details aren't yet available publicly, but the line started these in some other countries this year. So stay tuned.
 4. River Cruise:  Tauck's "Savoring France"
Tauck offers many appealing France options. We'd check out Tauck's 10-day "Savoring France: Paris, Lyon & Provence" itinerary, available in both 2022 and 2023.  
Cruisers will explore Paris and Lyon, two gastronomic hot spots. They'll also enjoy a Rhone river cruise on the 98-passenger Emerald.
Along the itinerary route, cruise guests will explore Arles, Avignon, Roussillon and Viviers. To see the full line-up, check out the day-by-day itinerary at this Tauck page.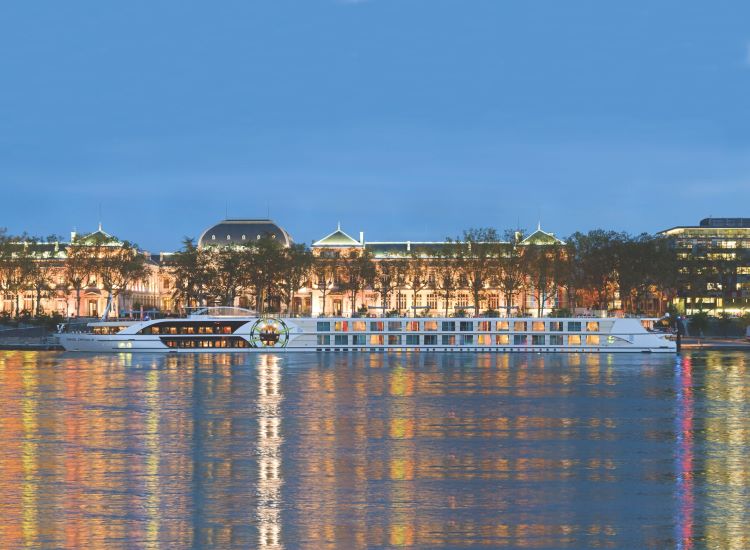 Foodie Delights
What's special about this Tauck itinerary? Besides sailing on an intimate ship, foodies will likely love these "included" perks that Tauck offers on this voyage:
Pastry class for Tauck guests at Le Cordon Bleu Paris;
Food walking tour in Paris featuring visits to a pastry shop, creperie and a wine or champagne bar;
Provençal lunch at a private ranch in La Camargue;
Reception and dinner at Fouquet's on the Champs-Elysées in Paris;
Private wine tastings in Beaujolais and Châteaneuf-du-Pape;
A walking tour of historic Vieux Lyon and a tasting at Les Halles de Lyon.
Day at Tain l'Hermitage
We also particularly like the last full day of the cruise, when Emerald docks at Tain l'Hermitage. Tauck's guests will head for Valence, known for its local markets and Chef Anne-Sophie Pic's gourmet cooking school.
There, they'll be treated to a chef's demonstration and a wine-and-cheese pairing class and tasting. Then, they'll visit a Tain l'Hermitage chocolate shop. The outing then concludes with a mini-train ride through the Heritage vineyards.
Offered now through October 2022, Tauck's "Savoring France: Paris, Lyon & Provence" vacation is priced from $4,990.  Some solo and accessible accommodations are available.
Pricing is subject to change and varies by date, availability and accommodations selected. Check with your advisor for the latest options and pricing.
5. River Cruises: Scenic's Southern France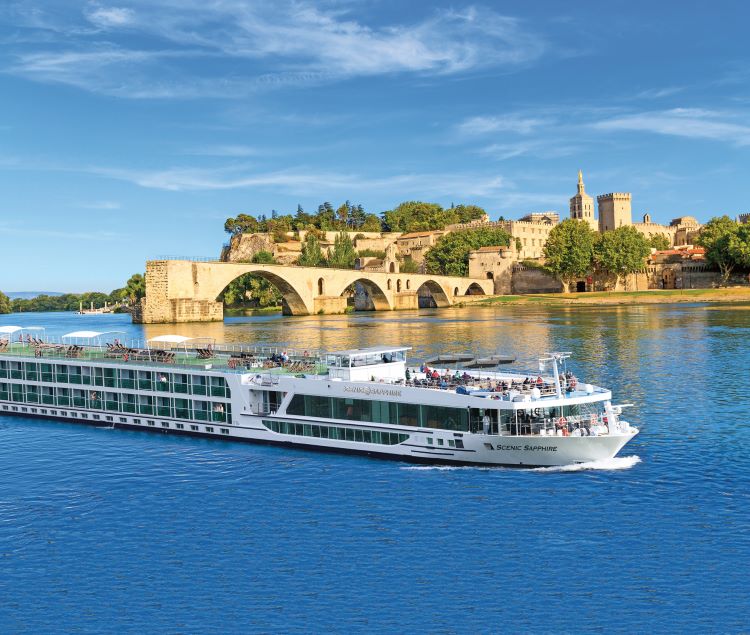 Another savory option for foodies is Scenic's 11-day "Spectacular South of France" river cruise, departing roundtrip from Lyon.
Sailing along the Rhone River, the 149-passenger Scenic Sapphire will depart on multiple dates through mid-October 2022, and in 2023 as well.
Expected to sell out quickly (and just announced this week) is one special October 20, 2022, departure. This voyage will be hosted by Top Chef favorite Bryan Voltaggio. He'll host an onboard cooking demonstration for guests.
Chef Voltaggio will also lecture about seasonal cooking and create one four-course meal for all guests. Some guests even might score a reservation for an intimate meal in L'Amour with the celebrity chef.
Charming Ports, Avignon Overnight
But whether travelers sail on this special departure or any of the regular sailings, charming ports of call along the route offer enticing culinary and wine activities. They include Chalon-sur-Saone, Tain l'Hermitage, Tarascon and Viviers.
Shore excursions often encompass culinary or wine themes, plus the ship will overnight in Avignon, allowing guests to enjoy dinner ashore and dine as the French do!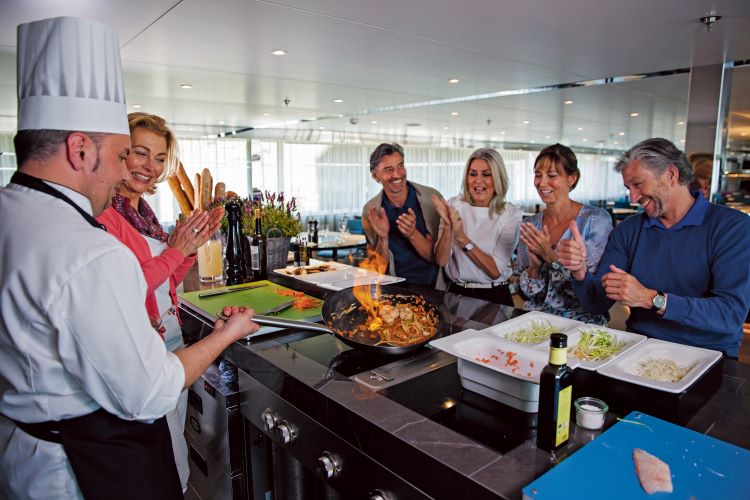 Cooking Classes
Love to cook? Foodies will likely appreciate the ship's Scenic Culinaire (see photo above), the ship's onboard cooking emporium. Guests can participate in "included" cooking classes for up to 10 guests at a time
At press time, fares for Scenic Sapphire's September 20, 2022, departure, for example, started at $6,395 per person double; fares are subject to change and availability.
To check availability for the Chef Voltaggio sailing on October 20, 2022, talk with a travel advisor immediately. As noted, it's likely to sell out quickly.
6. France River Cruises:  Avalon Waterways' Burgundy/Provence
Another combination option is "Culinary Experience in Burgundy and Provence," an appealing itinerary offered by Avalon Waterways. On the northbound segment, guests start in Arles within the south of France; that city has some incredible Roman ruins.
Ports visited during the northbound river cruise include Avignon; Viviers, where Avalon plans a chocolate and wine tasting; and Tournon-Vienne, where guests can expect an onboard pastry demonstration.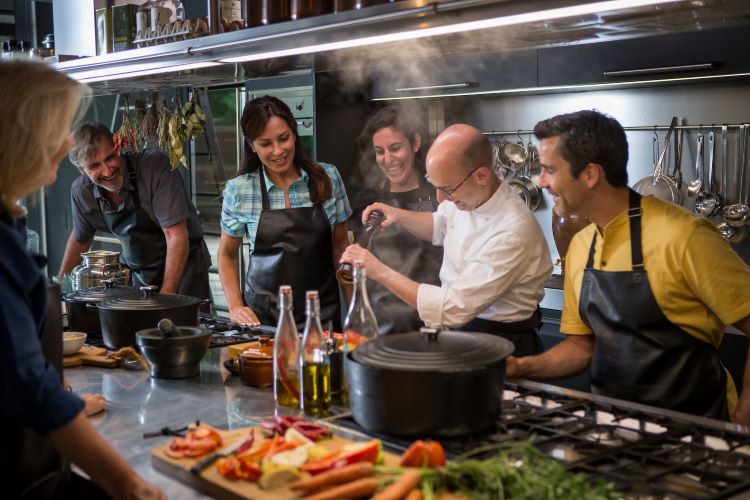 In Lyon, guests will head out either for a culinary tour or guided sightseeing with a photo stop on Fourvière Hill; in either case, back aboard guests will enjoy a food-and-wine-pairing dinner.
Then it's on to Tournus–Chalon-sur-Saône and a onboard cheese-and-wine tasting. The cruise concludes in Chalon-sur-Saône. 
At press time, this cruise was priced from $4,798 per person, double occupancy. Multiple dates and accommodations choices are available, so chat with your travel advisor. Avalon also has options for those who desire to extend their vacation.
More France River Cruises: Bordeaux on the Horizon
Most river cruise lines also offer France river voyages in the Bordeaux area. That region is particularly appealing to both foodies and wine enthusiasts. So, why didn't we mention more of those voyages above, except in a few supplemental references?
Bottom line is that we'll be doing a separate, robust look at European wine-themed cruises in a month or two. So, we plan to cover those Bordeaux-area itineraries as one significant part of that blog.
Keep in mind that other river lines too offer enticing France voyages including CroisiEurope, U by Uniworld, Emerald Cruises and Riviera River Cruises, among others.
When chatting with your travel advisor, be sure to explain what you'd like to do to customize or personalize your river vacation, such as additional foodie options, for example.
Here are two blogs of earlier this year that offer a few customization ideas and tips. Part One is here, followed by Part Two.
One fact is clear. Foodies will find enticing itineraries on the three major French river regions during 2022 and 2023.
Important Notes from Pavlus Travel
This blog site is editorial in nature. It's designed for "basic, general information" about travel; it's not designed to provide specific pricing nor is it staffed by travel advisors.
 So, please don't use the Reply Section below if you're asking for cruise or land pricing, travel dates, accommodations, brochures or other specific requests.
That said, we are most happy and eager to assist you. Here's how…
If anything does tweak your interest and you DO have questions about specific  cruise lines, itineraries, pricing, brochures, savings, dates of travel, accommodations, accessible options and so on, please contact us at 800-528-9300.
Or visit us online at Pavlus Travel's official agency Web site; there you can "live chat" with us too!
Thanks for reading!