Are you a river cruiser who loves art? Or, do you have a passion for museums or immersing yourself in local culture and heritage? Then, let's go "museum hopping" within one of Europe's most popular river cruising regions.
Check out our "Top 10 Picks for Best Museums along Europe's Rhine River." Also, within the Reply Section, tell us your favorites too!
1. The Rijksmuseum, Amsterdam, The Netherlands
If you're an art buff who loves the Dutch Masters, head for the Rijksmuseum, the national museum of  The Netherlands in Amsterdam. Many of the paintings were commissioned by wealthy merchants during the Dutch Golden Age.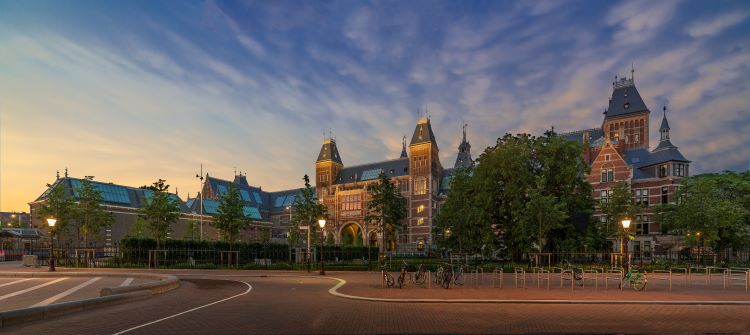 Not to be missed? That's Rembrandt's most famous masterpiece, "The Night Watch." Painted in 1642, it's humongous – 12 feet by 14.5 feet.  Most notably, the artist used great skill in light and shading.
The entire painting covers a company of Dutch soldiers "moving out" on a mission. However, they're not the center of attention. That's reserved for Captain Frans Bannick Cocq, attired in black with a red sash.
He leads the group, accompanied by his lieutenant, Willem van Ruytenburch, in yellow with a white sash. What's special is the "glow" about them – the light that the artist created which draws your eye to them.
Also highlighted is one woman in the background holding a chicken (see photo below).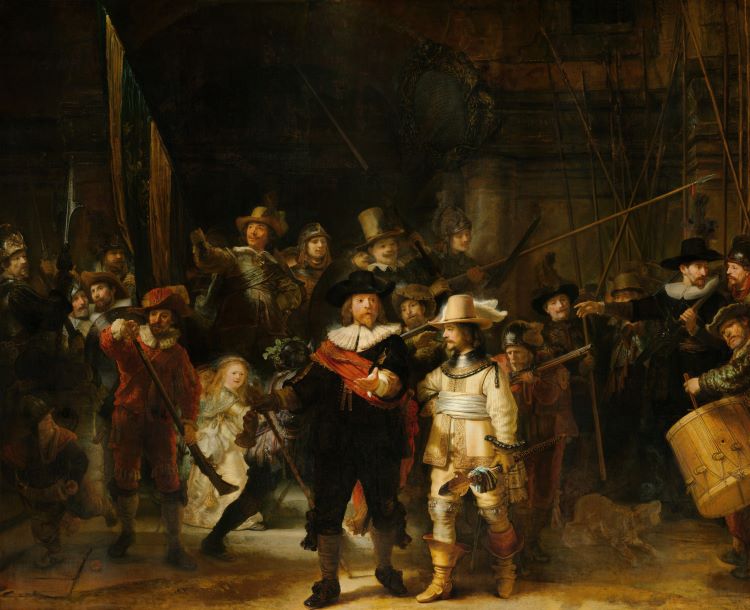 The visitor's eye is certainly drawn to these three figures. That's despite the painting's portrayal of many others. Rembrandt's use of light, the painting's sheer size and the subject matter are captivating. 
The Rijksmuseum is open daily (including all public holidays). Admission is 20 euros per person. Those under 18 are admitted free.
Museum Hopping: 2023 Vermeer Exhibition
Sailing in spring 2023? Do you love Johannes Vermeer's most famous painting, "The Girl with a Pearl Earring"?
Then it's advantageous to know that the Rijksmuseum will display that painting — on loan from Mauritshuis in The Hague — and dozens of Vermeer's other works in a major exhibition.
Scheduled to run from February 10 to June 4, 2023, this special Vermeer exhibition will feature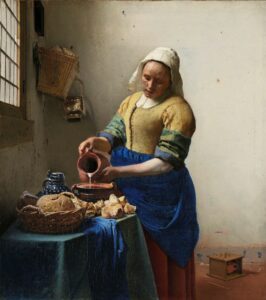 35 well-known paintings by the Dutch artist.
For example, The Rijksmuseum will display its own four Vermeer works including "The Milkmaid" (shown in the photo at right) and "Woman Reading a Letter."
Also look for these other Vermeer works on loan from museums across the globe:
"The Geographer" (Stadel Museum, Frankfurt, Germany),
"Lady Writing a Letter with Her Maid" (National Gallery of Ireland),
"Woman Holding a Balance" (National Gallery of Art, Washington, D.C.) and
"Girl Reading a Letter at the Open Window" (Gemäldegalerie Alte Meister, Dresden).
An added bonus? During the same Vermeer exhibition dates, the Museum Prinsenhof Delft will field its own special exhibition, "Vermeer's Delft." The artist was born and lived in Delft throughout his career.
Rijksmuseum Fun Fact!
Did you know that the Rijksmuseum is the world's only museum with a road inside it? Built at the edge of Amsterdam's historical city center, the building originally was a city gate.
The road was used by motorized vehicles until 1931. But it simply wasn't the best solution for exhibitions. So, cars were banned after that point. Today, though, you can still ride through on a bicycle.
Viking River Cruise Plus Rijksmuseum
Many river cruise lines offer voyages to/from Amsterdam, among them Viking River Cruises. During 2022 and 2023, a 10-day "Holland and Belgium" itinerary operates between Amsterdam and Antwerp, Belgium.
Cruises depart on many dates between March and November. Pricing for 2022 voyages starts at $3,499 per person, double occupancy. Here's the Viking website page with more information.
One perk of this Viking itinerary? Guests receive 10 included tours within the cruise fare. For instance, one is "Amsterdam's Golden Age." That's an eight-hour tour with a Rijksmuseum visit, among other activities.
After Viking's guests view "The Night Watch" and other masterpieces, they'll board a boat to traverse the city's network of canals and gaze out at lovely historic buildings and daily life along the canals.
After lunch, guests will then continue on foot to one of the canal house museums. There, they'll learn about the lives of Amsterdam's 17th century elite.
2. Van Gogh Museum, Amsterdam
Born in Holland in 1853, artist Vincent van Gogh spent the first half of his life in the Netherlands and Belgium. Today, Amsterdam's Van Gogh Museum is home to the world's largest collection of the artist's works.
For those visiting on a land tour or cruise in fall 2022 and during the holidays, though, there's another draw. The Van Gogh Museum's special exhibition, "Golden Boy Gustav Klimt," runs from October 7, 2022, through January 8, 2023.
What's special? First, Klimt's works are rarely offered on loan. Second, this is the largest look at Klimt's works ever in the Netherlands.
Third, this exhibition will showcase not only Klimt's art but that of those who inspired him. For instance, those luminaries included Auguste Rodin and Henri Matisse.
Open daily, the museum charges 19 euros per person to enter. Admission is free for those under 18.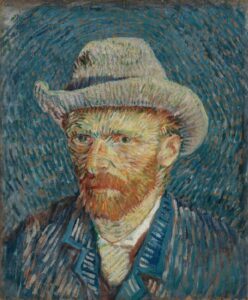 Van Gogh Quirky Fact
During the time that Van Gogh lived in Arles, France, he had a housemate — French painter Paul Gauguin. Let's just say it didn't go well.
Both vied for the affections of a bar waitress and a confrontation ensued that included a blade. Van Gogh lost a piece of his ear cartilage.
Many ocean and river cruises embark/disembark guests in Amsterdam. That's a plus as some cruisers who are museum fans might want to arrive a day or two early to explore all the attractions.
Check out the Van Gogh Museum's web page for the latest ticket information. IMPORTANT: At press time, tickets for entry were only sold online. 
3. The Chocolate Museum: Koln (aka Cologne), Germany
The magnificent Cologne Cathedral, the world's highest twin-spired church, draws everyone's eye in Koln (or Cologne to English speakers). But while the cathedral is a "must-see" for many travelers, if time permits, why not savor something of a sweet nature in town too?
That's "The Chocolate Museum" or Imhoff-Schokoladenmuseum, which is operated in collaboration with the Lindt & Sprüngli chocolate brand. The museum's exhibits strike a good balance between education and indulgence.
First, visitors learn about chocolate's origins and how cocoa is grown across the globe. Then, on the museum's second floor, chocolatiers demonstrate their skill at handcrafting chocolate including truffles and chocolate bars.
Visitors can design their own unique chocolate bar of white, milk or dark chocolate, adding in such  ingredients as nuts or caramel. Chocolatiers craft them, and after the tour, visitors are presented with their own chocolate treat.
Museum Hopping: 10-Foot-High Chocolate Fountain
Other highlights in the Chocolate Museum include a 10-foot-high chocolate fountain; guides will dip wafers into the liquid chocolate for guests to taste. Also fun to view is the "tropicarium" with cacao trees growing in a glass cube.
During much of the year the museum is open daily, but it's closed on Mondays in November and January through March. Admission is 13.50 euros for adults, 8 euros for children 6 to 18, and kids under six are admitted for free.
Museum hopping allows river cruisers to immerse themselves in culture and heritage along the Rhine River, but this museum delivers a sweet reward as well.
Tauck calls at Koln (Cologne) during its eight-day "Romantic Rhine" itinerary from Amsterdam to Basel, Switzerland. The 130-passenger Inspire or Grace sail this itinerary from June through September.
Fares start at $4,890 per person, double occupancy. Talk with your travel advisor about specifics, accommodations, accessibility needs and travel dates.
From August through October, Tauck also offers 15-day "Rhine and Moselle" voyages with a stop in Cologne. Guests sail on Inspire or Grace with fares starting at $7,590 per person, double occupancy.
4. Siegfried's Mechanical Music Cabinet, Rudesheim, Germany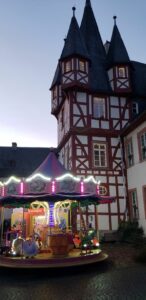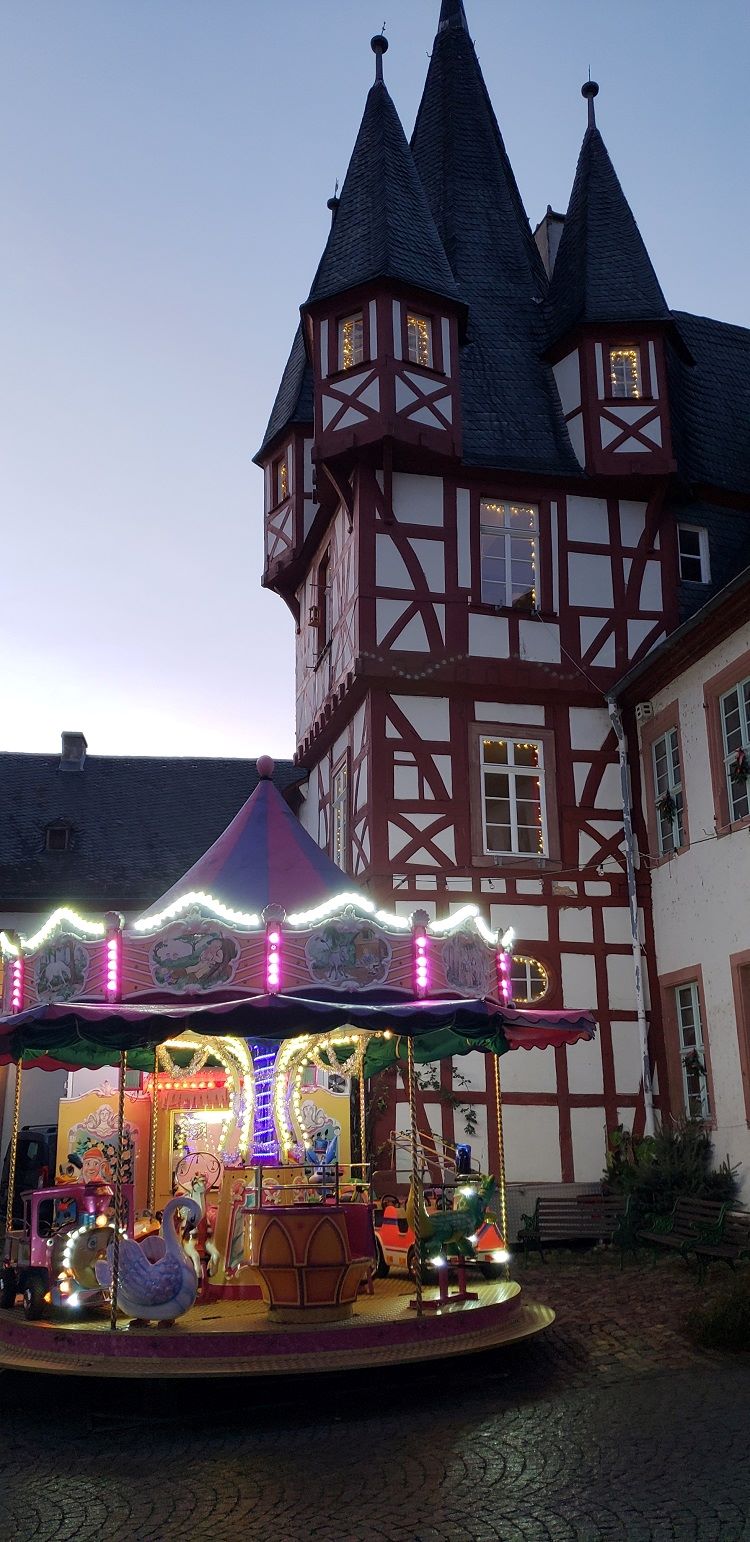 With the motto "your ears will be all eyes," Siegfried's Mechanical Music Cabinet was Germany's first museum of mechanical musical instruments.
What's the draw? Travelers will discover an incredibly diverse collection of 350 self-playing musical instruments.
But the true appeal is when they start to play. From organs to violins, pianos to other instruments, it's a real treat.
A visit here is amazing, humorous and eye-opening, to say the least. German collector Siegfried Wendel started the museum in the 1960s at Hochheim am Main.
Later, the museum moved to its current home in Rudesheim. It's actually housed in a home called Bromserhof. Did you know that it was a 15th century knight's residence? True!
Siegfried's Mechanical Museum opens daily for 45-minute guided tours with a limited number of participants.
Many river cruise lines offer tours, but if going on your own, be sure to reserve a slot with the museum in advance. Only guided tours are offered.
Admission is 6.5 euros for adults and 3.5 euros for children. For museum information, visit this page. 
Captivating Rhine
Many river cruise lines call at Rudesheim. For example, AmaWaterways offers a seven-night "Captivating Rhine" itinerary with a call in town.
From March through November, the 162-passenger AmaCerto and the 156-passenger AmaLucia, AmaStella and AmaSiena operate this itinerary. At press time, fares started at $2,049 per person, double occupancy.
Prices are subject to change. Talk with your travel advisor for details on specific accommodations, any solo fares, accessibility needs and dates of travel.
AmaWaterways has one Rudesheim shore excursion that will take guests on a tour of Siegfried's Mechanical Musical Cabinet (museum).
Of all our "museum hopping" suggestions, this is our top "unforgettable experience." We can still visualize the multiple violins all playing themselves and making music!
5. The Museum of Ancient Seafaring, Mainz, Germany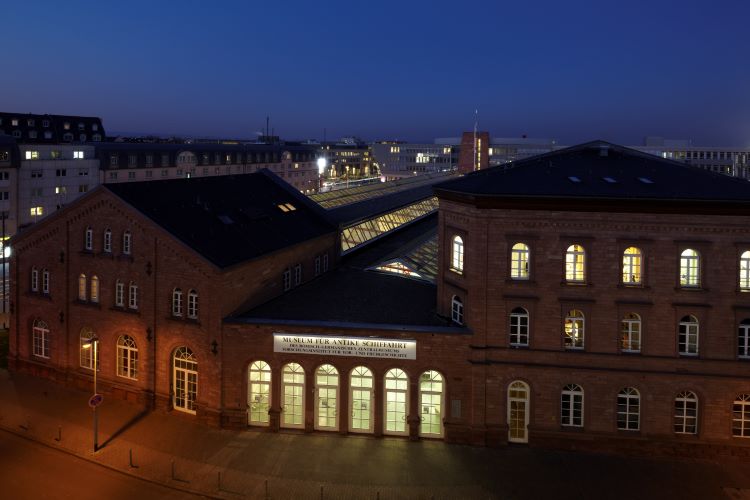 Cruisers tend to love maritime-focused attractions ashore. So those visiting Mainz, Germany, might check out the Museum of Ancient Seafaring (fur Antike Schifffahrto).
That said, the museum is temporarily closing July 1, 2022, for renovation. Many planning a river cruise next year, though, should be able to visit. The museum will reopen in spring 2023.
Situated in Mainz's southern area, the museum showcases such ancient vessels as simple boats, cargo ships, official patrol craft and naval ships.
Most notably, museum visitors will see some actual wrecks as well as impressive reconstructions of multiple Roman ships discovered in Mainz in the 1980s.
This is definitely a city steeped in Roman history. Incredibly, when excavations were under way to extend the Mainz Hilton, presto, three more Roman ships were discovered.
Museum Hopping: Roman Maritime Life
As the era of the Roman Empire's power was ending, these ships' crews were tasked with protecting the Rhine frontier from hostile attacks. Epitaphs of mariners displayed at the museum offer insight into the turbulent life of sailors at sea.
Letters and other documents also provide gleanings about Roman navy life. What's nifty? Visitors can also witness ongoing ship restorations in the museum's restoration workshops.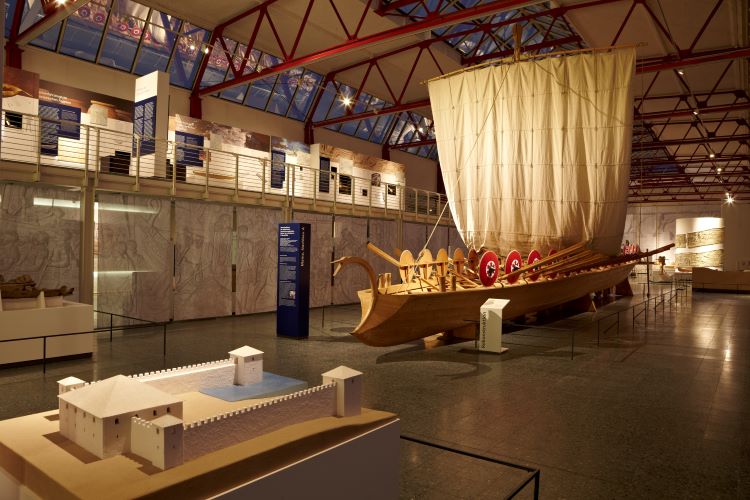 At press time, the museum was open Tuesday through Sunday. Admission is free.
But as mentioned above, this museum is closing on July 1, 2022 through spring 2023 for renovations. Consult the museum's website for the latest information.
 Viking River Cruises offers an eight-day "Rhine Getaway" itinerary with a port call in Mainz. Voyages operate from March to November, both this year and next. Fares, which include six guided tours, start at $1,999 per person, double occupancy.
6. The Gutenberg Museum: Mainz, Germany
Founded in 1900, Mainz's Gutenberg Museum is dedicated to Johannes Gutenberg (1400-1468), the inventor of movable type and book printing. If you desire to learn about the history of books, printing and writing, this is a fabulous "deep dive" into those subjects.
Visitors will browse beautiful books and learn about fascinating printing technologies. Another highlight is seeing a replica of Gutenberg's workshop.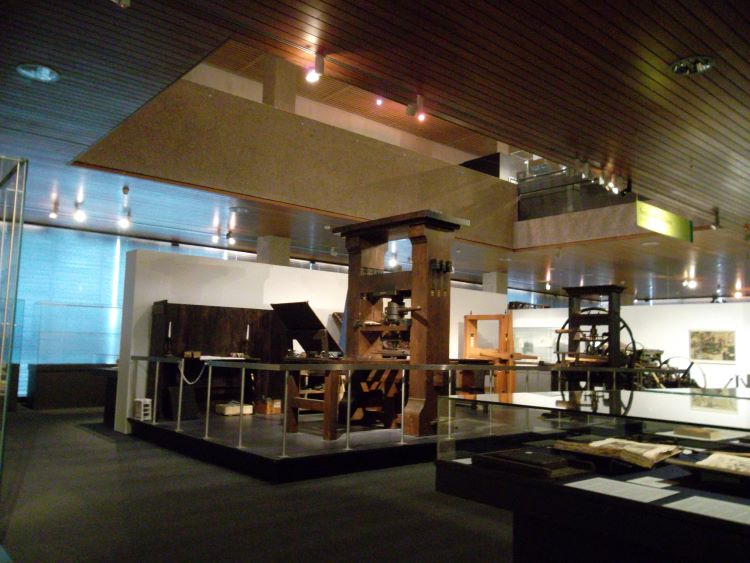 Visiting this summer? Running through September 25, 2022, the Gutenberg Museum will offer a special exhibition entitled, "Our Most Beautiful… and the Wine." Look for displays of museum treasures and wine-themed materials – from labels to songs and ad posters.
Gutenberg Bibles
Did you know that in the early 1450s, Gutenberg used his invention to produce around 180 copies of the Bible? Yes, those gained fame as "Gutenberg Bibles."
The first two complete Gutenberg Bibles are displayed at the museum. Interestingly, out of some 180 original printed copies of the book, 49 still exist. That said, fewer than half are complete.
Fun Fact? The last sale of a complete Gutenberg Bible took place in 1978 with the successful auction buyer shelling out some $2.2 million. Today, experts believe that a complete copy might fetch as much as $35 million at auction.
At press time, the Gutenberg Museum was open Tuesdays through Saturdays, closed on Mondays and public holidays. Admission is 5 euros for adults, 3 euros for students 19 and up and seniors 63 and up, and 2 euros for children 8 to 18. Younger kids are admitted free.
Avalon Waterways to Mainz
Avalon Waterways offers a  "Romantic Rhine (Southbound)" voyage that sails from Amsterdam to Basel with a port call in Mainz. For this eight-day voyage, guests sail on Avalon Tranquility II, Avalon Panorama or another Avalon vessel.
Sightseeing? In Mainz, guests can choose either a guided walk in Mainz with a visit to the Gutenberg Museum, or alternatively, a guided tour of Heidelberg Castle or another excursion.
Avalon Waterways' cruises operate through December 2022. At press time, fares for the December 3, 2022, voyage started at $2,598 per person, double occupancy. In addition, voyages are offered in 2023.
7. Technik Museum, Speyer, Germany
For river cruise guests who enjoy delving into automotive history, train travel or aviation/aeronautical technology, the Technik Museum in Speyer, Germany, is a "must see."
Home to Europe's largest space flight exhibition, the complex visibly beckons with a retired Lufthansa 747 jet crowning a museum platform.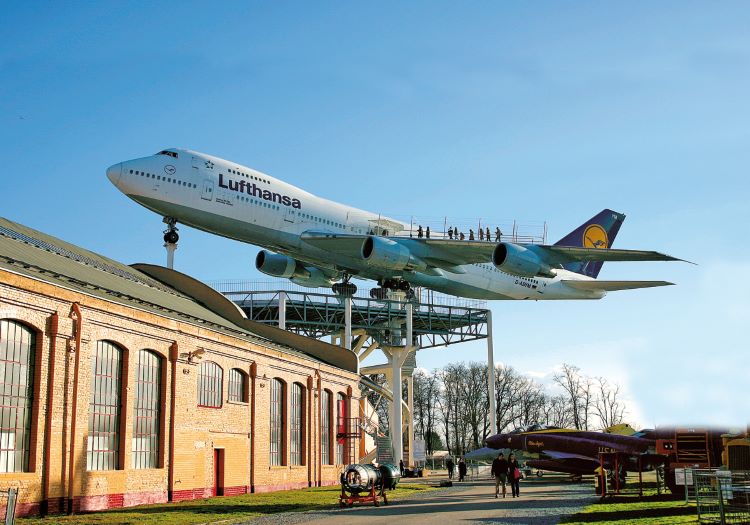 Other museum attractions include a submarine, rescue sea craft, an original moonstone, space suits, locomotives, fire engines, the Russian space shuttle BURAN, vintage cars, musical organs, motorcycles and much more.
Open daily throughout the year, the Technik Museum's admission fee is 24 euros for adults, 19 euros for children 5 to 14 years of age, and free for kids 4 and under.
To decide if you'd like this attraction to be on your "museum hopping" list, check out the offerings here at the Technik website.
Museum Hopping with Uniworld
Among the many river cruise lines that call at Speyer is Uniworld Boutique River Cruises. Guests who book the luxury river line's "Castles Along the Rhine" itinerary will sail on the 152-passenger S.S. Antoinette, or alternatively, on River Queen or River Empress.
On Uniworld's "Generations Collections" voyages – purposely designed for families — one "Submarines and Space Crafts" shore excursion visits the Technik Museum.
One fun activity for kids and parents alike is the 131-foot-long spiral slide. It flows from the Lufthansa 746 plane platform to the ground.
Uniworld operates this "Castles along the Rhine" itinerary on many dates between March and November. At press time, this voyage was priced $2,999 per person, double occupancy. Here's Uniworld's website link to the full itinerary.
8. Colmar Pocket Memorial Museum (France) from Breisach, Germany
Reachable on a shore trip from Breisach, Germany, is Colmar, a picturesque Alsatian city in France. Travelers will discover half-timbered houses, canals, flower-laden windowsills, cobblestone lanes and savory cuisine.
If cruisers are interested in World War II history, we'd definitely suggest a tour of the Colmar Pocket Fighting Memorial Museum and military cemetery.
Housed in the vaulted basement of a former presbytery, the museum focuses on the two months of fierce fighting between Allied troops and the German Army.
The twists and turns of that combat unfolded around the Colmar area during the harsh winter of 1944-1945.  For specifics, check out the museum's pages explaining the battle and liberation.
Viking River Cruises offers an "included" tour to this World War II museum during its eight-day "Rhine Getaway" cruise.
Cruisers can head out "museum hopping" from Viking Idun, Viking Baldur or another Viking Longship. Voyages operate from March through November both this year and in 2023.
Fares start at $1,999 per person, double occupancy. Here's the link to the Viking itinerary page. Talk with a travel advisor about your specific needs in accommodations, accessibility or travel dates.
9. Alsatian Museum, Strasbourg, France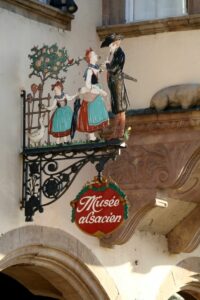 Strasbourg, France is often a favorite port of call for river cruise guests sailing between Amsterdam and Basel. One fun, culturally rewarding activity is a visit to the Alsatian Museum (or Musee Alsacien).
Visitors will tour reconstructed, timber-framed houses that are connected via wooden staircases and passageways. It's a fabulous way to gain insight into Alsatian life "back in the day."
Within the houses are 18th and 19th century items and artifacts. Interior architecture represents diverse parts of Alsace including the Vosges Mountains, vineyards and agricultural plains.
Visitors will view costumes, toys, furniture, ceramics, religious objects and secular imagery. Craft workshops on site provide another layer of "immersion" into Alsatian culture.
The museum closes on Tuesdays and select holidays. Admission is 7.5 euros for adults; 3.5 euros for students up to age 25 and seniors 60 years of age and older; and free for children under 18.
Check the museum web site for more details.
Museum Hopping: Enchanting Rhine
AmaWaterways offers seven-night "Enchanting Rhine" itineraries that include a port visit to Strasbourg. In 2022 and 2023, these voyages operate from March through December.
Sailing this itinerary are multiple AmaWaterways' vessels including the 152-passenger AmaStella, AmaSiena and AmaLucia. In addition, the 162-passenger AmaPrima and AmaCerto also operate this itinerary.
Fares start at $2,199 per person, double occupancy, and up, depending on the departure date.  Talk to a travel advisor for more options and details.
In addition, Riviera River Cruises offers an eight-day "Rhine River to Switzerland" cruise with embarkation in Cologne, Germany.
The cruise visits Strasbourg and numerous other Rhine River destinations including Rudesheim, Speyer, Breisach and Koblenz. So, along the route, cruise guests might head for some of the museums mentioned above.
10: The Basel Museum of Fine Arts, Basel, Switzerland
Dating back to 1661, the municipal art collection of Basel – called The Basel Museum of Fine Arts or Kunstmuseum Basel – is now the oldest public art collection in the world. It dates to the time that the city acquired the Amerbach Cabinet.
Now through September 25, 2022, visitors have the opportunity to view a large special exhibition "Picasso – El Greco."  The exhibition consists of loaner works assembled around a core of Picasso masterworks from the museum's own collection.
Masterpieces by both artists are juxtaposed in 40 different pairings. With a fascinating premise, it's somewhat of a time travel encounter. Keep in mind that Pablo Picasso (1881–1973) lived centuries apart from El Greco (1541– 1614), aka Doménikos Theotokópoulos of Crete.
Admission to The Basel Museum of Fine Arts is 25 euros for those 20 years of age and older. Or, fees are 8 euros for teens 13 to 19, 13 euros for students 20 to 30 years of age and mobility impaired visitors with ID. Children under 13 are admitted free.
The museum closes on Mondays but opens all other days of the week. For hours and more details during your time of visitation, check out the museum's website. Then, head out museum hopping along the Rhine River.
Art Basel in June
Separately, every year in June, the city itself hosts Art Basel, celebrating modern classics and contemporary art. Begun in 1970 by Basel gallerists, it exhibits more than 4,000 artists.
You may have heard of its offshoots? They're Art Basel Miami Beach and Art Basel Hong Kong.
Among the many river cruises of multiple lines offering a chance to explore Basel is Tauck. The river line offers an eight-day "Romantic Rhine" voyage roundtrip from Basel.
Those luxurious cruises sail between June and September. At press time, fares started from $4,890 per person, double occupancy. Here's the itinerary to check out.
Museum Hopping: Parting Thoughts
Certainly, Europe is a cornucopia of art and cultural attractions. The list above provides options for a voyage of museum hopping adventures. Before heading out, though, check the museum's website for any advance reservation requirements and the latest hours.
One of our favorite museums, Koln's (Cologne's) Romano-Germanic Museum, adjacent to the Cologne Cathedral, is currently closed for renovation. Yes, some artifacts have moved to the Belgian House, Cacilienstrasse 46, and that's open for visitors.
But two of the Romano-Germanic Museum's biggest draws  — the magnificent Dionysos-Mosaic and Poblicius-Tomb on Roncalli Square — are closed at present. 
Have you sailed the Rhine? What museums did you tour and like? Tell us about your experiences in the Reply section below and we'll publish some of the best of the comments.
From art to chocolate, from World War II history to Gutenberg Bibles, there's something for all in museum hopping along the Rhine River.
But if your personal passions lean elsewhere — such as active adventures along European rivers — talk to your travel advisor. The goal is always for consumers to enjoy the best vacation for their personal needs and interests.
Important Information from Pavlus Travel
This blog site provides only "basic, general information" about travel; it's not designed to provide specific pricing nor is it staffed by travel advisors.
So, please don't use the Reply Section below if you're asking for pricing, travel dates, accommodations, brochures or other specific requests. 
That said, we are most happy and eager to assist you. Here's how…
If anything does tweak your interest in the story and you DO have questions about specific pricing, brochures, savings, itineraries, dates of travel, accommodations, accessible options and so on, please contact us at 800-528-9300.
Or visit us online at Pavlus Travel's official agency Web site; you can "live chat" with us online too!
In addition, for your own protection, please do not put any personal information (address, phone, email, etc.) in the Reply Section below. Contact us via the phone or Web site link listed above.
Thanks for reading!