Do you desire a luxury cruise but prefer a truly relaxed, friendly, casual onboard aura? Then, talk with your travel advisor about small-ship Windstar Cruises. In June 2022, The Meandering Traveler sailed on the line's revitalized/lengthened Star Pride (photo above by Judi Cuervo) and discovered its "5 Best Features to Love."
5 Best Features: First, Setting the Stage
First, though, a bit of background is in order for those not familiar with Windstar. The small-ship line operates six small ships on two different types of vessels.
Three are classic motorized sailing ships (yes, with real sails) — the 342-passenger Wind Surf and the 148-passenger Wind Star and sister Wind Spirit. 
In addition, Windstar operates three Star Plus-class luxury motorized yachts — Star Breeze, Star Legend and Star Pride. In a past life, they sailed as Seabourn vessels.
Since 2011, Xanterra (which operates land-based hotels and resorts) has owned and operated Windstar. That company also acquired those three Seabourn yachts for Windstar in 2013.
Robust Star Plus Initiative
Within the past two years, Xanterra has spent $250 million in a robust Star Plus Initiative to upgrade and update those three motorized ships.
Don't miss viewing this Windstar video, which shows the amazing process of how these ships were split in half and lengthened with a new mid-section added. The ships are now 84 feet longer than in the past.
In addition to our cruise earlier this month on the updated Star Pride, it's also worth noting that we sailed in summer 2021 on the inaugural cruise of Star Breeze. That was the first of the Star Plus-class vessels to return to service, followed by Star Legend in September 2021.
So our perspective on the revitalized ships comes from two cruises, not just one. So, here are our picks for "5 Best Features to Love about Windstar's Revitalized Star Pride." The points mentioned, though, apply to all three ships in the Star Plus-class.
#1 Right Sized: More Spaces yet Still Small
After the Star Plus Initiative enhancements, each ship's capacity increased from 212 guests per ship to 312 guests per vessel. Our top "best feature"? It's that these vessels are now perfectly sized.
Yes, capacity is up but they're still small ships. In fact, they have lower capacity than the line's flagship, Wind Surf.
Best of all, guests will find that they retain a small-ship feel and deliver highly personalized, friendly service. Frankly, we loved our recent cruise. We also found the updated ship easy to navigate.
While guest elevators forward and aft are tiny (accommodating four, but two or three is more comfortable). Another new, slightly larger elevator has been added mid-ship in the refit.
#2 Spacious New Accommodations, More Suites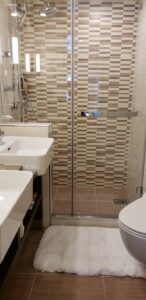 Some 50 suites were added to each ship when a new center section was inserted.
Whether existing or new, though, all suites have new soft goods — a soft, new color palette and new carpeting and drapes. All also have new bed linens and soft, comfortable mattresses.
In addition, ALL suites on the ship now sport totally new bathrooms. Taken as a whole, the accommodations updates easily rank among among our five best features of this new ship.
Most bathrooms now offer a large, tiled shower (see photo at right of the one in #634, a Star Balcony Suite), which we loved for its spaciousness.
Some suites still have both a bathtub and shower. Chat with your advisor if you "must have" a tub, or alternatively, prefer a shower only.
In our 277-square-foot Star Balcony Suite, a mid-range accommodation (not the top suites on the ship), we also discovered new double sinks.
Five Best: Flipped Living Space in Star Balcony Suites
The new Star Balcony Suites in the "inserted" part of the ship have a "flipped" living space. So, within these new 277-square-foot suites, the bedroom area is adjacent to the French balcony.
A a long desk/vanity area and drawers are directly opposite the bed; the desk has a elongated upholstered stool for sitting.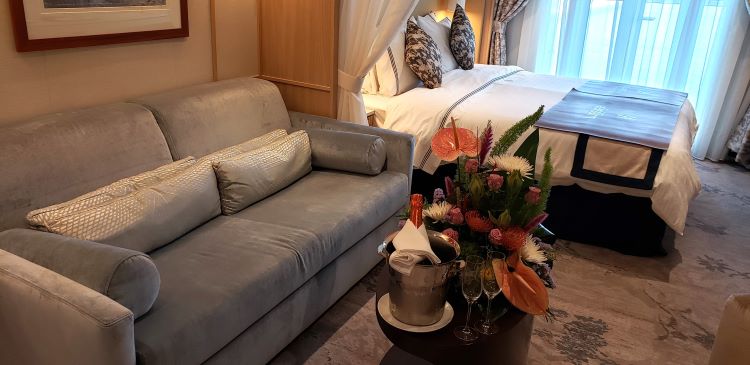 In this new suite configuration, guests enter the suite directly into the living area. While the suite is spacious square-footage-wise, the flipped layout also gives it an open feel. One walks in and encounters "living space" immediately, not the bed.
Guests can relax on a long couch (ours pulled out, but not all do), with a coffee table, two upholstered chairs and another small table. Plus, there's a cabinet with a mini-fridge that's stocked daily with beer, wine and sodas.
Each day, fresh carafes of drinking water are nicely placed atop that cabinet by the cabin steward.
The Star Balcony Suite also offers a walk-in closet with a large personal safe (we liked it as it was large enough to store our laptop computer). The closet also has a few drawers, a hanging rack for clothing, laundry bags and some cubby holes for storing small items.
While the large flat-screen TV is located within the bedroom area, it's viewable from the couch but not the chairs. But those are moveable if you're planning a movie night with friends.
While older suites on the ships received the update of a new color palette, new soft goods including drapes, carpeting and linens, as well as new mattresses, they still have their older furniture.
Five Best Features: Flipped Suites & Choices of Configuration
The choice of whether you opt for one of the new French balcony or picture window suites that are totally new, or instead, choose a similar suite that was on the ship previously and has a reverse lay-out, it's a personal choice.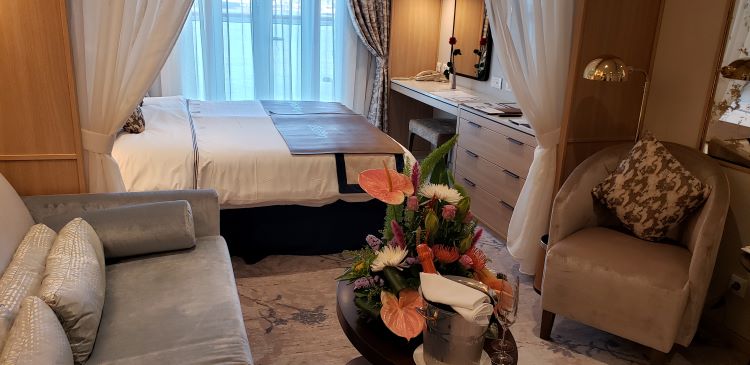 Do you as a guest desire to lie down or sit up in bed and gaze out the glass to the destination or sea views beyond? If so, talk to your advisor about selecting a suite that's new and offers bed space adjacent to the window (see the photo showing that configuration above).
But, if you prefer to gaze at the outside scenery from a comfortable chair or couch in the living space, then opt for the ship's older suites (yet updated with new soft goods and bedding). Their living room is adjacent to that French balcony or window.
As we don't sit up in bed, we would have preferred the living area flipped. But it's different strokes for different folks, and whichever configuration you choose, the "digs" are nice and comfy. Just chat with your travel advisor about your preferences.
New Grand Owner's Suites
The newly revitalized ships also have some sumptuous new top suites, also among the ship's best features. For example, two new Grand Owner's Suites, #640 and #641, midship, offer 1,374 square feet of space.
That's when combined with the adjoining suite to create a three-bedroom, 3.5 bath suite.
We'd highly recommend viewing this excellent video by Windstar about the revitalization of Star Breeze. In particular, this video starts out with a good look at those new Grand Owner's Suites.
It also shows the newly updated forward-facing suites with balconies overlooking the bow. They're another highlight of the refit project.
#3 Enlarged Spa & Fitness Spaces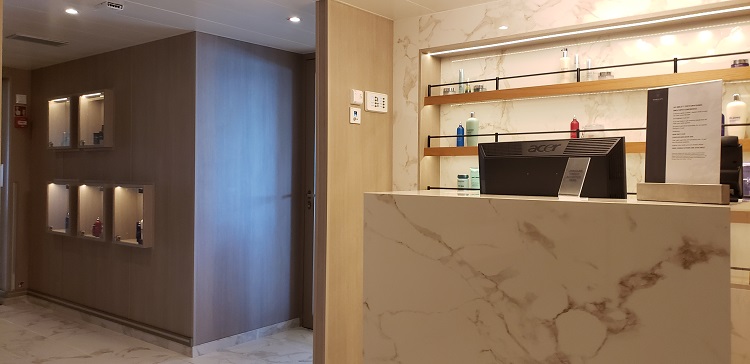 Given guest feedback, Windstar enlarged the spa's overall footprint on the Star Plus-class ships. That's among the new best features of these revitalized ships.
Keep watching that video link mentioned above to see more of the spa facilities. Those include treatment rooms, a steam room, sauna and much more.
We had a haircut in the spa's pleasant salon area; it was certainly large enough for the size of this ship. We were also highly satisfied with the cut by Oleg from Ukraine, a pleasant guy who's the spa manager.
We also noticed that the exercise facility was much larger than in the past. So, there's a separate room for yoga, Pilates or exercise classes, plus a decent sized gym with the latest equipment (see photo below but understand that the machine to the far right is just one of many machines that extend into more space "around the corner." 
#4  Savory Specialty Dining Experiences
Overall, it was the high-quality dining that impressed us the most about the Star Plus-class revitalization. Windstar has partnered with two culinary luminaries for specialty dining experiences that are clearly among the ship's best features.
Most notably, renowned Chef Anthony Sasso has introduced the new Cuadro 44, a Spanish style, "small plates" restaurant. A celebrated guest chef at the James Beard House, Sasso originally gained fame as one of the youngest chefs recognized by the Michelin Guide.
In Cuadro 44 (see photo below) Sasso has crafted a savory menu of modern and inventive Spanish cuisine. Dishes are inspired by his own travels across the Iberian Peninsula.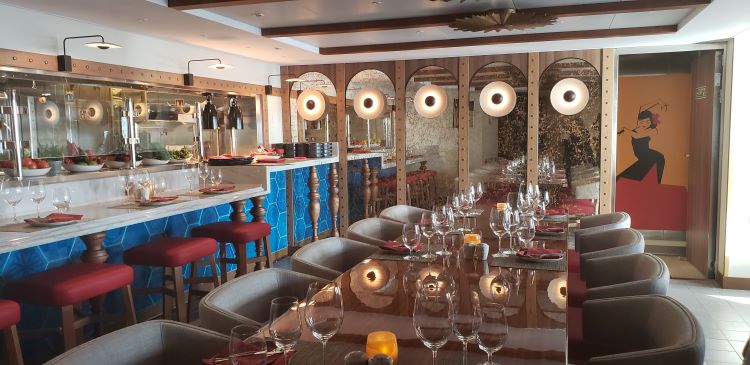 Five Best Features: Dining at Cuadro 44 
Reservations are a must for Cuadro 44 given its popularity. We were told at Cuadro 44's entrance by a restaurant crew member that we couldn't make the reservations there directly.
Bottom line? Guests must call or visit the ship's reception desk to make reservations for this intimate, 38-seat specialty restaurant.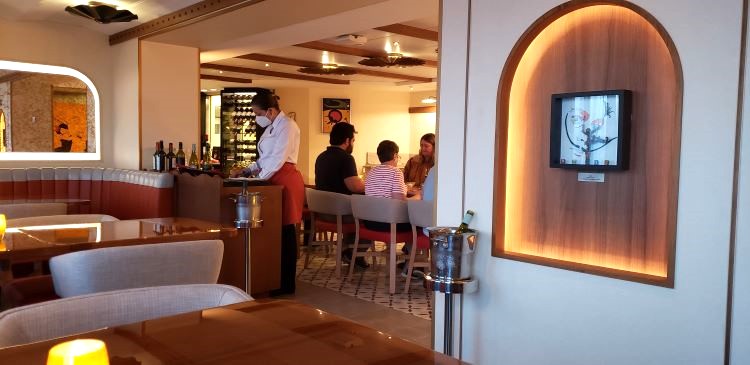 Once you're seated in this intimate restaurant, with tables for two, four or more, get ready for a special experience. The eatery also has one long communal table that can accommodate either a group or individual travelers who want to converse with other guests at dinner. 
A small dining bar offers a few high-topped chairs facing the restaurant's dedicated galley. Here, guests can watch the chefs preparing the dishes.
Cuadro 44's Tapas Menu
The savory menu starts with a choice of many eclectic small plates. Order whatever you'd like to taste, sample and share with your seatmates. That could mean two or three plates for a couple, or five to seven plates for a table of four to six people.
When considering best features on a newly revitalized ship, this is where this restaurant truly shines. Among the small plates (tapas) choices on our recent Star Pride sailing were:
Jamon Iberico (Extremadura): A 24-month, aged pork leg from a pig raised solely on acorns in southern Spain.
Anchovies and Marinated Olives (Pais Vasco): Cantabrian anchovies with lemon zest.
Potato Tortilla (Madrid): Potato frittata with parsley creme fraiche and potato chip gremolata.
Catalan Salad (Catalunya): Chicories, chickpeas, cherry tomatoes, olives and vinaigrette.
Paella Croquetas (Valencia): Aborico rice balls, nori panko crust, chorizo aioli and nasturtium.
Pulpo Gallego (Galicia): Charred Portuguese octopus, Yukon gold potato salad, pickled celery, piparras and yogurt.
Grilled Chorizo (Balaeric Islands): Spanish sausage, gigante beans, quince jam and honey.
Recommended? We thought all the small plates fabulous. That said, during our two cruises, the absolute "best of the best" plate to sample if you love seafood is the charred octopus mentioned above.
Staff say it's a continual favorite among guests. Another is the Paella Croquetas or rice balls (see photo below).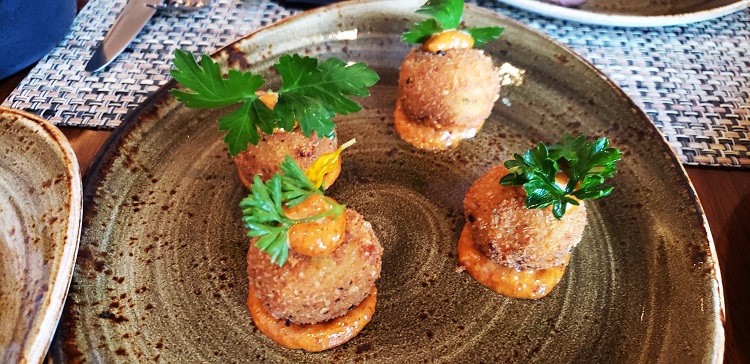 The Delicious Main Event
Cuadro 44's main entrees included one that we absolutely loved –Fideos Mar y Montana from Valencia, Spain. We liked it so much we ordered it on two different nights.
Fideos Mar y Montana consists of toasted angel hair, confit chicken leg, chorizo, black mussels and sea beans (see photo below).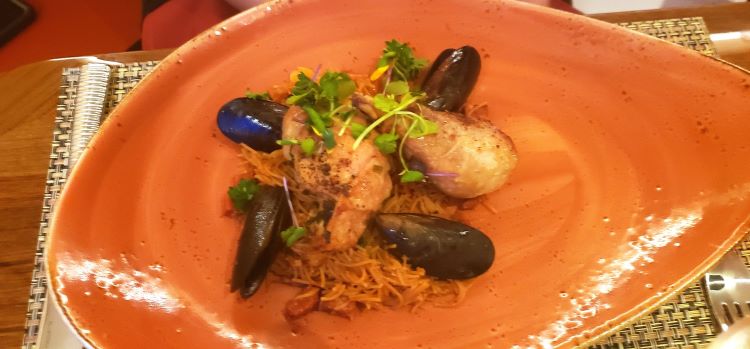 Other entrees offered at Cuadro 44 during our cruise were:
Moroccan Cauliflower (Jerez) with harisa, hazelnuts and mint.
Pescado de la Playa (Andalucia), a summer gazpacho, seafood salad and cucumber oil.
Lamb Chops (Catalunya) with mint salsa verde, green apples, kohirabi and manchego.
Pork Belly (Extremadura) with grilled leeks and pearl onions, jamon bacon bits and citrus pork juice.
One entree that didn't live up to expectations? That was the Cod (Pais Vasco) with olive oil poached bacalao, salsa "pil, pil," confit potatoes, artichoke hearts and Manila clams. Another diner at our table expressed a similar opinion to ours.
That said, Cuadro 44's servers were very accommodating. One immediately asked what else I'd like instead. That replacement entree arrived quickly and was tasty.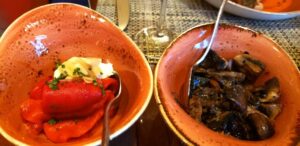 By the way, the veggie "sides" in the restaurant included grilled mushrooms and roasted red peppers (see photo at left). Or, guests could order sides of potatoes or fried green peppers.
And for dessert, we'd highly recommend the Churros y Chocolate (see photo below).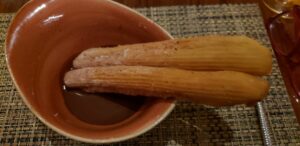 Other dessert options included an orange-infused creme brulee; a boozy almond cake with sangria fruity and whipped cream topping; and an assortment of cheeses.
Overall, we loved Cuadro 44 — one reason why "enhanced dining" ranks high among our five best features of the revitalized Star Plus-class ships.  
Star Grill by Steven Raichlin
Atop the ship on the open deck — but under a canopy covering — is Star Bar and its adjacent sofas and chairs on one side.
On the other side are tables (see photo below) for the line's new Star Grill by Steven Raichlin, the well-known, culinary grill master.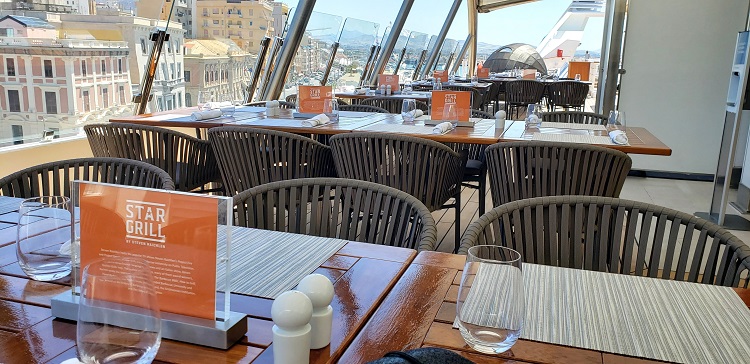 Star Grill's buffet set-up is centrally positioned in front of the bar. It has an adjacent, dedicated galley. Star Grill is open daily for lunch and once or twice a cruise at dinner.
The grilled items aren't strictly American fare, but rather both that as well as grilled items from the region where the ship is sailing or other countries too. It's a global grilling fest, so to speak.
One day at lunch we savored a yummy grilled chicken with an optional spicy sauce. Other options? Depending on the day, guests were observed eagerly chowing down on grilled ribs, brisket, grilled hamburgers, hot dogs and more.
The buffet also offers an attractive array of salad items, fresh fruits, quiche, hot sides such as potatoes and veggies, plus breads and desserts. Nearby, a soft-serve ice cream machine awaits; guests can add a range of toppings.
Yet to come? Windstar is working with Raichlin on menus to create a night-time, table-service dining experience. There's no word yet on that timing, though.
Room Service Hang Tags
During our previous Star Breeze cruise, the line said it was redoing the door hang tag for ordering room service breakfast. The existing hang tag menu was quite basic — a bread/pastry basket plus milk, juices and coffee/tea.
So, when we boarded Star Pride this month, we noticed that the hang tag hadn't changed. In an update, Windstar told us that it has indeed "completely redone" the hang tag.
But with 2022's supply chain issues, it's been awaiting delivery of those tags. That was expected to occur in Barcelona the day that we disembarked. 
So hopefully now, those have arrived. If so, guests can order everything from eggs to pancakes, sausage, bacon, omelets, veggies, fruit options and more.
Of course, guests can still call room service 24-7; menus are viewable on the in-suite entertainment system.
Best Features: MORE Dining Options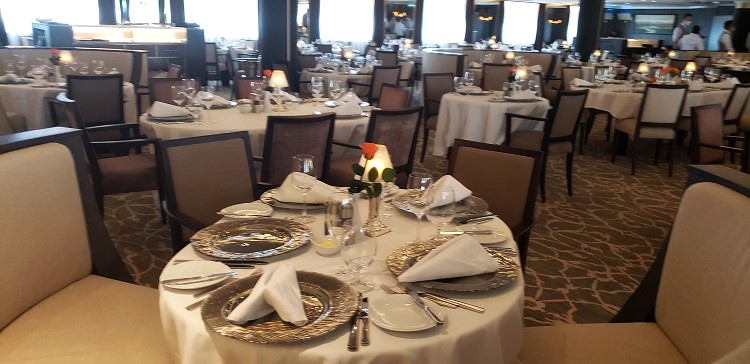 We dined at the open-seating, main restaurant, Amphora, on several nights. Accommodating all guests, it's a lovely, elegant space.
Cruisers will order from a fine dining menu with tasty cuisine. On the service side, maitre d' "Hubert" from Lyon, France, efficiently directed the dining room's operations and flow. Servers strived to provide top-notch dining room service.
In addition, the top-deck Veranda restaurant serves up yummy buffet style fare. Specialties include several entrees as well as carved meats, pasta creations to order and fresh stir-fried wok items.
At night, Veranda transforms into Candles, with outdoor seating under a canopy roof and stellar sea-and-land views. It's a bit more upscale experience.
The 40-ounce Tomahawk Steak certainly delivers "bragging rights" for those guests who finish that humongous entree.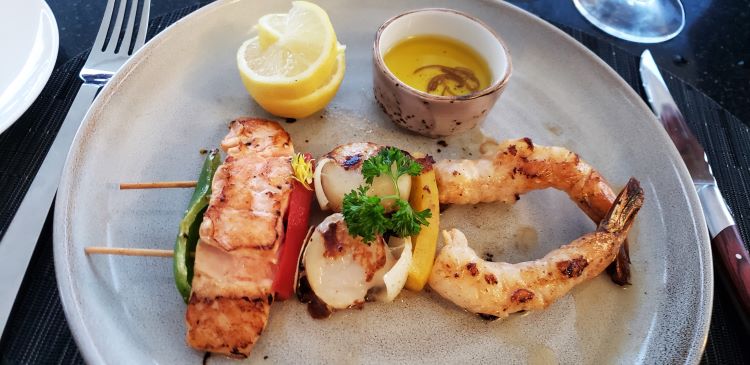 Here's a look at one of the Candles' savory seafood entries (see photo above) — consisting of two skewers of shrimp, scallops, fresh fish and veggies.
Accompanied by fresh lemon and drawn butter, we felt this entree was light, savory and perfectly cooked. No tough scallops here for sure!
Reservations are highly recommended for Candles as it's a popular experience; again, contact reception via phone or in person.
In addition, Star Plus-class vessels all offer 24-hour room service. Check the in-suite TV screen for the menu.
Best Features: Dining Service that Wows
Stellar service with a smile is what you get on Windstar. At lunchtime one day in Verandah, I happened to chat with one of the servers, Era from Bali.
She asked if I desired anything else from the buffet. As a result, I asked her to bring me a small serving of chicken curry. She cheerfully did so.
In chatting a bit more with her, I explained that I loved all kinds of Asian food, but that Penang Curry was my favorite. I was simply making conversation, not requesting anything at all.
She quipped that she would go to Malaysia and would get it and be right back. I chuckled and humorously said, "I'll see you in three or four days then."
However, 10 minutes later she reappeared with the executive chef in tow. He smiled and graciously offered to make me Penang Curry and serve it in Amphora the next evening.
So, sure enough, when our group dined the following night there, it arrived when others received their entrees.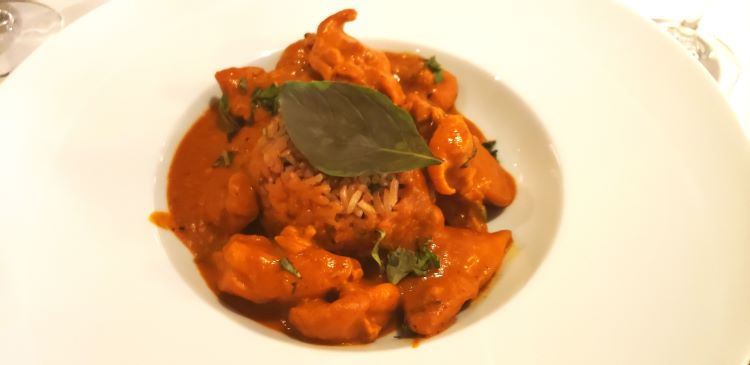 The Penang Curry dish (shown in the photo above) was tasty and spicy. In fact, several of my table mates were eyeballing it with envy. Two said they would have enjoyed that too although they enjoyed the menu entrees they selected.
This is a good example of how Windstar offers personalized, proactive service to exceed guest expectations. And that's precisely what luxury cruising and luxury service is all about.
#5. New, Enlarged Pool Deck with New Pool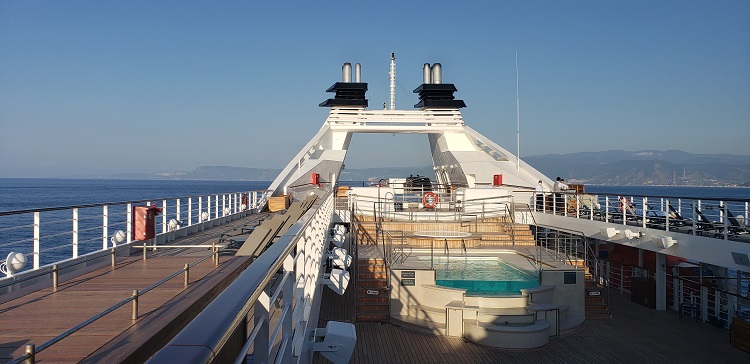 Cruisers who sailed on the Star Plus-class ships in the past had told the line they would prefer a "larger, more proper pool." Ask and ye shall receive, per the old adage.
That's exactly what guests will see if they sail again on these revitalized/lengthened ships. Thus, the newly enlarged pool deck is another of our five "best features."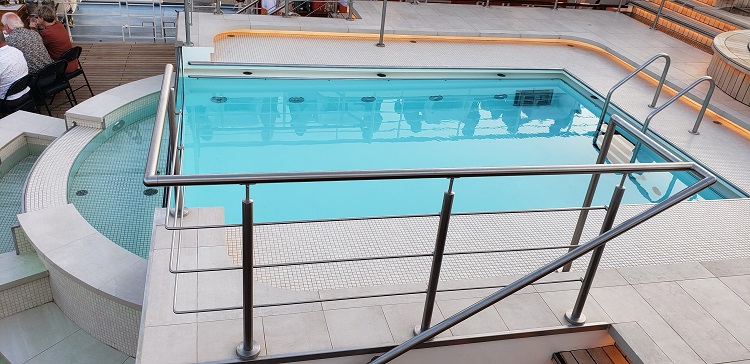 The pool deck features now include a larger pool with one glass side (see photo above), and a whirlpool positioned slightly higher.
Plus, new showers are nearby. Best of all, there's plenty of deck space to accommodate tables, chairs and loungers.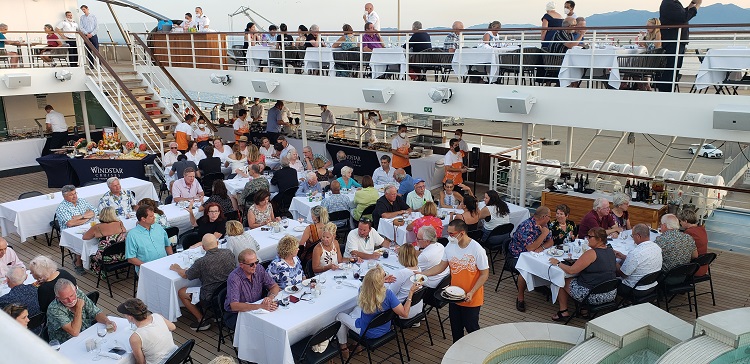 During our cruise, guests relaxed at a sit-down barbecue dinner (see photo above) on the pool deck.
That was followed by fun line dancing. Guests and crew showed their best moves (see photo below) as the ship's "live" entertainers sang and played.
An added element of fun? The pool lighting changed colors from green to pink, blue and more hues.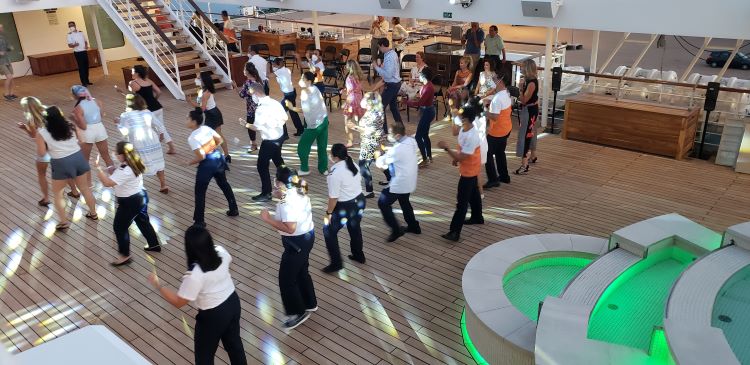 Guests and crew had a fun time with line dancing atop the newly enlarged Pool Deck of Star Pride. Photo by Susan J. Young
Best Features: Parting Thoughts
The Star Plus-Class initiative represented a major investment for the cruise line, at a cost of $267,000 per berth. Simply put, the final result is fantastic.
These three sister motorized ships are all now a bit larger but still small in nature and style. They offer a casual, luxurious experience with personalized service and fine dining.
The ships are also small enough that they can sail into many remote or smaller ports, On our recent cruise, the ports of call included Cagliari in Sardinia, Gythion in Greece and Trapani in Sicily, to name just a few.
During the recent refit, all four engines on all three ships also were replaced. Now, newer engines deliver more fuel efficiency and also are more eco-friendly.
Two new tenders  offer more capacity — thus reducing wait times for guests to board a tender. The tenders also depart from a new, more convenient tender platform.  
Best Features: Fare Flexibility is a Runner Up
Sample pricing? For instance, Star Pride will sail a seven-night "Around Iceland" voyage roundtrip from Reyjkavik, Iceland, departing on August 30, 2022.
On Windstar's website, fares at press time started at $4,799 per person, double occupancy. Fares are subject to change. For the latest pricing information, any deals, solo or accessible accommodations options, talk to your travel advisor.
The good news is that Windstar offers flexibility in fare options. While we didn't pick pricing as one of our five best features, in hindsight, it could have easily been so.
Cruise Only or All Inclusive
For example, "Cruise Only" fares include: all meals including those at specialty restaurants and 24-hour room service; nonalcoholic beverages including specialty coffee and tea, bottled water and zero-proof cocktails; and complimentary Watersports Platform equipment and snorkel gear for guest use.
Alternatively, "All Inclusive" fares include all that plus unlimited Wi-Fi; unlimited beer, wine, and cocktails; and gratuities.
On this "Around Iceland" itinerary, for example, the "All Inclusive" fares are priced at an additional $79 per person, per day. So, whatever your perspective on fares — the more the merrier or bare bones, Windstar has options. 
Also chat with your travel advisor about any solo options or accessibility concerns. Earlier, we mentioned the small size of elevators. So, talk with your advisor about any mobility equipment and what's doable on these ships and on tenders.
Shake-Down Cruise
Did we like our Windstar sailing this month? You bet. In fact, we loved the revitalized ship.
Just keep in mind this first sailing in more than two years was a so-called "shake-down" cruise. Not surprisingly, there were some operational tweaks needed; one issue involved bathroom piping.
The good news is that Windstar's senior management team was aboard for our sailing. So, they were actively addressing any tweaks needed. Some guests were moved to new suites as well.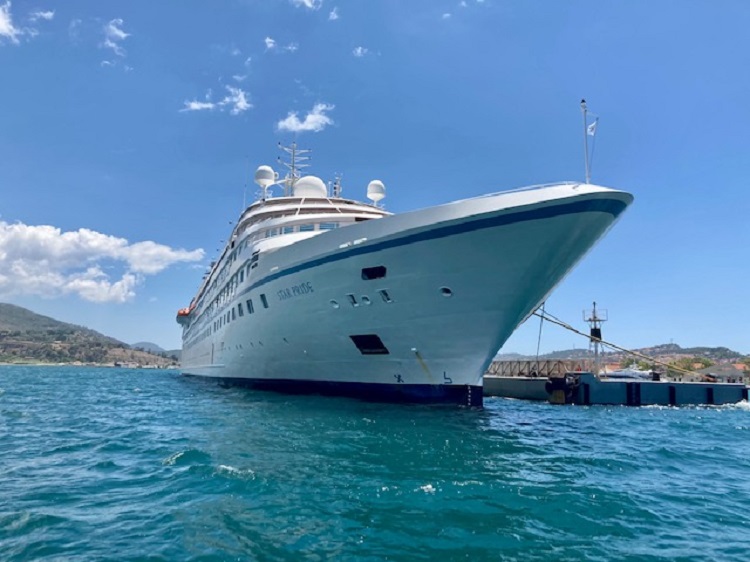 Right now, the line is still holding overall guest capacity on board to a bit lower level than the maximum. So, we had about 224 guests on our voyage, versus a maximum of 312.
Overall, we loved our Star Pride voyage and its delivery of comfortable, casual luxury with stellar service. The five best features listed above are definitely a plus for guests. We'd definitely sail again on these ships.
Fortunately, as Windstar and other cruise lines are returning to service with their full fleets, the U.S. government also recently dropped the requirement for Americans to present a negative COVID-19 test to return to the U.S. via air flights. 
So, that makes travel a bit easier, particularly as other countries have also eased some entry requirements. For more information on Windstar Cruises and to learn more about its best features, visit https://www.windstarcruises.com/
Important Information from Pavlus Travel
This blog site provides only "basic, general information" about travel; it's not designed to provide specific pricing nor is it staffed by travel advisors.
So, please don't use the Reply Section below if you're asking for pricing, travel dates, accommodations, brochures or other specific requests. 
That said, we are most happy and eager to assist you. Here's how…
If anything does tweak your interest in the story and you DO have questions about specific pricing, brochures, savings, itineraries, dates of travel, accommodations, accessible options and so on, please contact us at 800-528-9300.
We will discuss your travel style, personality, likes/dislikes and what travel products match with your vacation desires, as well as the best features of those products.
Or visit us online at Pavlus Travel's official agency Web site; you can "live chat" with us online too!
In addition, for your own protection, please do not put any personal information (address, phone, email, etc.) in the Reply Section below. Contact us via the phone or Web site link listed above.
Thanks for reading!