Yum, yum. Pass the halibut please.
Foodies will love that Holland America Line is introducing several new fresh Alaska seafood dishes in partnership with the Alaska Seafood Marketing Institute (AMSI).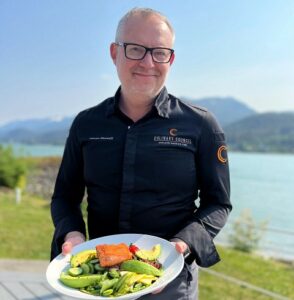 Chef Ethan Stowell has created three new savory seafood dishes. Guests will discover those on the main dining room menus of six Holland America ships sailing in Alaska waters.
Chef Stowell (see photo at right) is a member of Holland America's Culinary Council, a consulting panel of top-notch chefs.
Many readers know that master chef Rudi Sodamin chairs that Culinary Council. 
Earlier this year, The Meandering Traveler wrote about Sodamin, his culinary career, cooking philosophy and food face creations in a separate blog. 
Sustainably Sourced Seafood 
At a press briefing and dinner event in Juneau, AK, last week, Holland America debuted the three new dishes.
For example, guests can indulge in a fried Alaska cod sandwich with malt vinegar aioli and savoy cabbage slaw.
Alternatively, guests can now order an Alaskan salmon chop. That's prepared with cucumber, tomato, avocado, bacon and green beans (shown in the photo above right). 
The third new Alaska seafood dish by Chef Stowell? That's roasted fennel-crusted Alaska halibut with artichokes and Taggiasca olives.
The new dishes complement several Alaska seafood dishes already offered on the six Alaska ships.
Delivering Fresh Alaska Seafood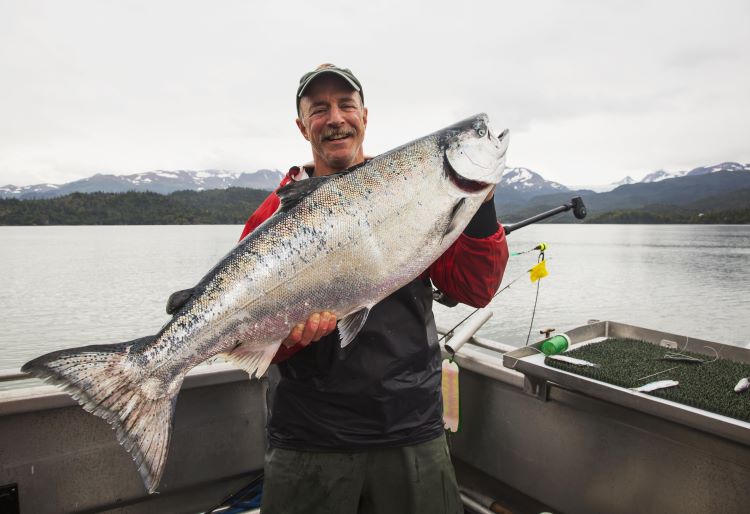 This is the first formal culinary-focused relationship between ASMI and a major cruise line. ASMI is a public-private partnership between the State of Alaska and the state's seafood industry.
"We've been sharing the thrill of Alaska with guests for 75 years, longer than any other cruise line," said Dan Rough, Holland America's vice president of revenue management and an Alaska Travel Industry Association board member. "Protecting and enhancing that heritage is a matter of commitment and pride."
Rough added that the Alaska seafood industry's commitment to wild seafood is very much in line with the cruise line's sustainability efforts: "We're committed to partnering with local businesses and we're proud to be working with Alaska's fishing families."
Alaska Seafood for Six Ships
If you're wondering how much fresh Alaska seafood the cruise line purchases and serves on each of its Alaska cruises, check out these eye-opening facts.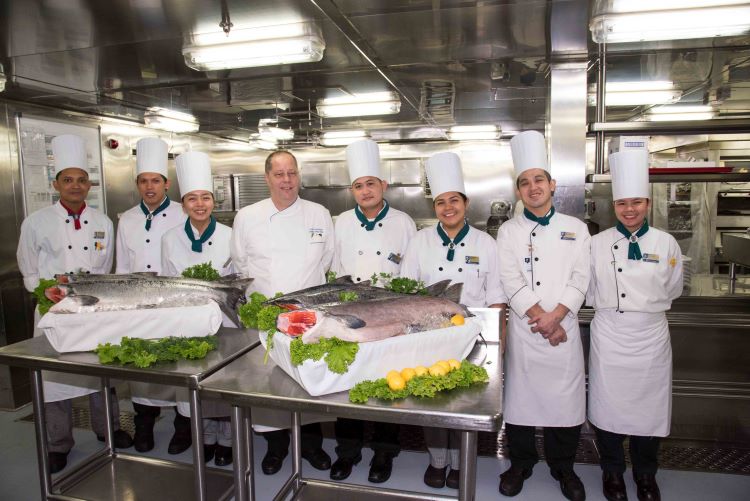 Holland America Line purchases and serves more than 5,000 pounds of wild Alaska seafood per cruise. 
Guests consume more than 2,000 pounds of Alaska salmon on each Holland America cruise. For instance, each evening the onboard restaurants offer a different salmon dish. Plus, guests can enjoy a salmon bake buffet once each sailing.
Holland America serves more than 1,000 pounds of Alaska cod in various dishes throughout each sailing.
The line provisions more than 800 pounds of Alaska halibut for each cruise. The Pinnacle Grill specialty restaurant features halibut each evening. Plus, it's served within other dishes in multiple onboard restaurants.
Guests also chow down on more the 500 pounds of Alaska rockfish, 400 pounds of Alaska flounder and 200 pounds of Alaska black cod (also known as sablefish). Many of the ships' restaurants serve varied fish dishes at lunch and dinner.
Holland America purchases more than 400 pounds of Alaska pollock purchased for each cruise
Alaska Up Close Initiative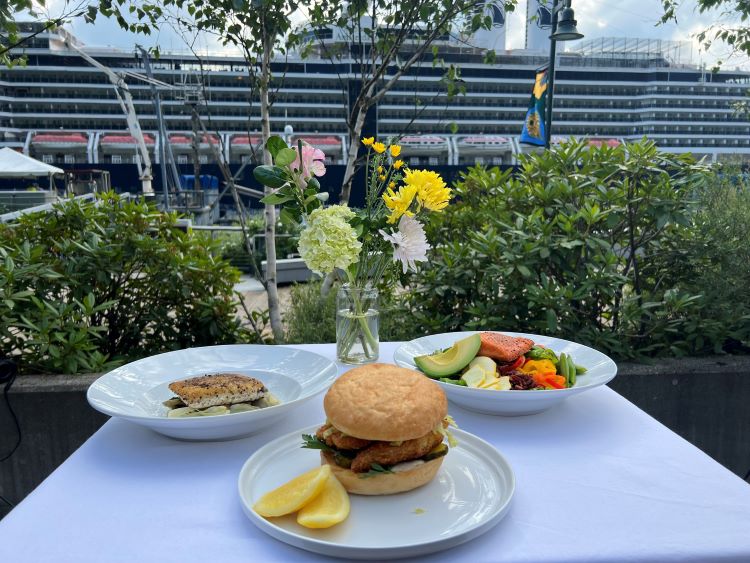 Through the new culinary partnership and Holland America's "Alaska Up Close" initiative, Holland America Line and ASMI will showcase the riches of Alaska's waters in additional programming. As a result, they'll focus on seafood but also the stories of the people behind the fish.
In addition to Stowell's new dishes (shown in the photo above), look for other new seafood recipes in the future. Also, the partners will produce destination and cooking demonstration videos.
And they'll launch onboard Alaska seafood trivia. For more information, visit Holland America's Alaska website page or talk with your travel advisor.