Want to visit London or other parts of the United Kingdom on vacation, but can't bear to leave your cherished Fido or Fluffy behind? Well, during the "dog days" of summer and during late spring or early fall too, you and your pet — either a dog or a cat — can travel in style and comfort aboard Cunard's Queen Mary 2 (QM2).
Sailing across the Atlantic Ocean, the 2,691-passenger QM2 operates weekly during those periods between New York City and Southampton, U.K.
The classic ocean liner delivers a hefty quotient of relaxation, pampering and fun for both two-legged folks and their four-legged friends. While airplanes can provide quicker transport, QM2 is definitely a more civilized way for both people and pets to travel "across the pond."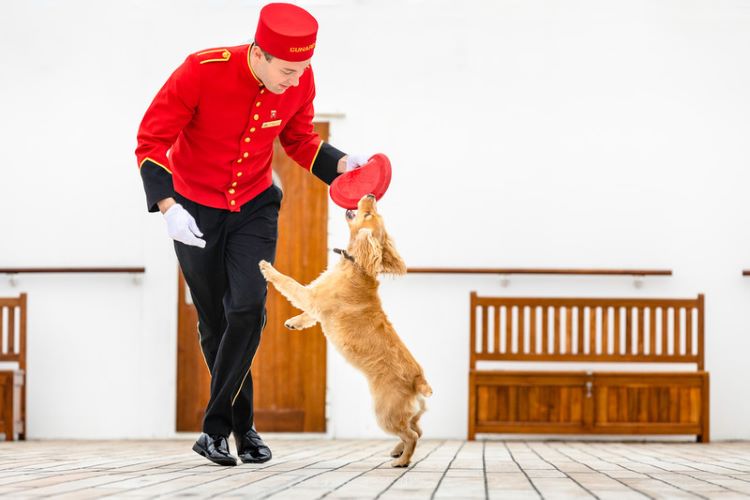 Another important point? Pets arriving in the U.K. via a faster-arriving commercial airline flight or private jet must still meet the U.K.'s strict regulations for animals entering the country. For many pets, that could mean a lengthy quarantine.
But not for pets traveling on QM2. Simply follow the rules (see below for more on those) and your pet will disembark with you.
Then you'll both get off refreshed, reinvigorated and relaxed — ready to explore Southampton, London, the rest of the United Kingdom and beyond.
Sailing with Pets 
Cunard's liner QM2 is the only cruise industry vessel that — on a routine basis — transports pets. Even then, that's only on transatlantic voyages between the U.S. and U.K.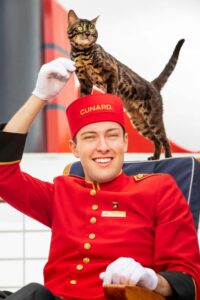 Why don't other lines do so? It's simple. They don't sail transatlantic as a "regular route."
Typically other ships only sail across the Atlantic for repositioning perhaps once in spring and once in fall.
In contrast, QM2 makes approximately 20 transatlantic crossings each year. So, it's a different type of product with different options including the pet transportation.
But why doesn't QM2 carry pets along elsewhere in the world on other itineraries?
Given international regulations varying country to country, it's too complicated. And in some cases, it's simply impossible.
A Storied History  
Historically, though, animals have sailed on Cunard's ships for nearly two centuries. Founded by Samuel Cunard in 1840, Cunard's first ship was the grand liner Britannia. 
In those early years, Britannia carried a cow aboard to provide fresh milk for passengers. Later, thoroughbred horses also sailed, as did an elephant, raccoon and monkey.
Plus, one wild sparrow forgot to disembark at Southampton and took a vacation to New York.
In 1963 on board Pavia, a special guest, "Jimmy," a hippopotamus, traveled on deck. An awning over the hippo's cage protected him from the sun. Cunard crew pampered him with a cold shower hourly each day at sea — helping keep him cool.  
Most notable, though, are the celebrity pets. Dogs belonging to actress Elizabeth Taylor, a frequent Cunard guest, and the Duke and Duchess of Windsor also traveled in style on Cunard's ships.
Dog Days as Guests Board 
It's a bit of an eye-opening experience to arrive by taxi or private car at the Brooklyn Cruise Terminal in New York City. One exits the vehicle, grabs his or her bags and then spots passengers seated and waiting to board – with their dogs!
But what happens after boarding? Now a bit about the process…
Yes, guests can bring dogs and cats too on the transatlantic voyage, providing their owner or handler has made kennel reservations well in advance  (a bit more about that below).
But pets cannot stay in the guest's stateroom or suite. Nor do they roam public spaces beyond those associated atop the ship adjacent to QM2's kennel area.
Pet Pampering and Care
During the crossing, the pets travel atop the ship in a comfortable, interior pet kennel area. Within that enclave, a full-time kennel master and assistants provide around-the-clock pet care.
They feed and walk the pets (see photo below), plus keep the kennels clean. Bottom line? Pets receive much personal attention.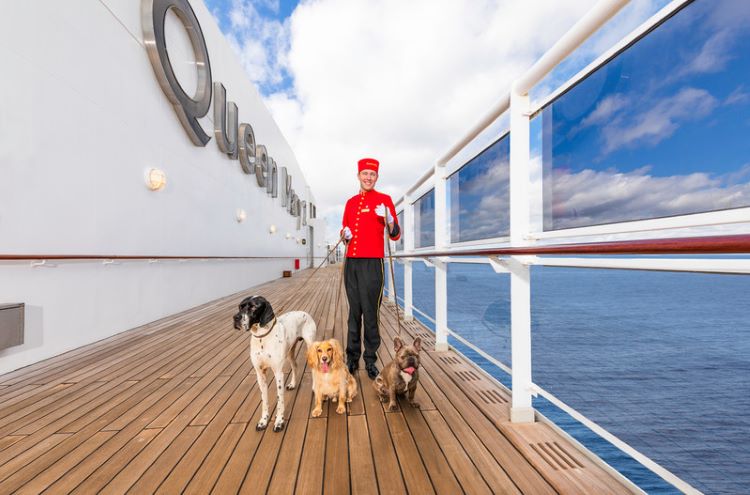 In fact, before the animals arrive, the kennel master compiles a list of the pets' likes and needs. So, as with other Cunard passengers, kennel guests will cruise in the doggy's or kitty's version of the "lap of luxury."
For example, the journey includes freshly baked dog biscuits at turn-down. Each pet also has a choice of new beds, blankets and toys.
And what can beat a walk on deck with sea views?! The QM2 is also equipped with dog and cat life preservers for the ultimate in safety.
Dog Days of Sailing: Cunard's Kennel Services
As for the individual kennel accommodations, each is similar in look to a kennel cage or crate that a pet might have at home – although a bit more spacious. Each can accommodate a dog of 25 pounds or a kitty.
Have a bigger pooch? No worries, two kennels can also be opened up to create one larger kennel to accommodate a bigger dog.
Check with your travel advisor, though, about what kennel space is available and discuss the size of your pooch or kitty.
Within that 24-kennel facility, owners can, of course, visit with their pets. An indoor owner's lounge is just the spot for cuddling and playing with your dog or cat while you're sailing the high seas.
Yes, there's also an outdoor pet play area. With an eye to the detail that differentiates Cunard, the kennels' outdoor pet play area features both a historic English lamppost and an American fire hydrant (see photo below).
We suspect that canines and felines from both sides of the pond will feel comfortable aboard QM2 and think it's a pretty good vacation.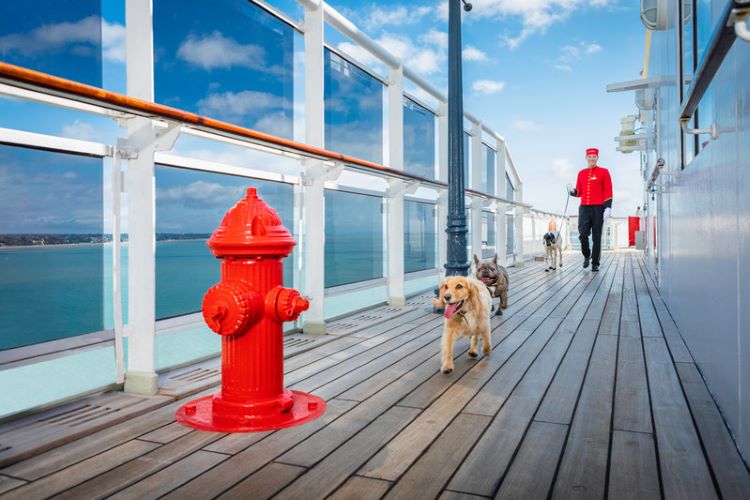 Bringing Fido or Fluffy on QM2
To bring your pet aboard, cruisers must make an advance reservation just as if booking a separate cabin for a friend. What's different is that, of course, your pup or kitty will stay atop the ship in that kennel area described above.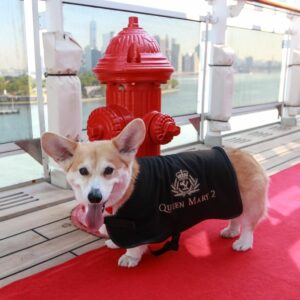 What does it cost? One upper kennel berth costs $800 for the journey.
Or, a lower kennel berth (typically reserved for larger dogs) costs $1,000 per sailing. Both options are solo occupancy.
Of course, those prices above are only for your pet; your own cabin fare is separate.
People Fares
For example, starting prices at press time for those "human" accommodations on the October 22, 2022, eastbound sailing were:
$899 per person, double occupancy for a Britannia inside stateroom;
$2,359 per person, double occupancy for a Britannia Club Balcony stateroom;
$4,449 per person, double occupancy for Princess Grill accommodations
$4,899 per person, double occupancy, for top-of-line Queens Grill suites.
Kennels are Popular Sellers
Travel in 2022 is proving exceptionally popular. People are raring to go on vacation after several years of pandemic-era restrictions.
Be sure to chat with your travel advisor well in advance if you wish to book and also to take your pet. Cunard says the kennels sell out every sailing.
Ask your travel advisor to check "kennel availability" before booking your own accommodations. In that regard, have several alternative travel dates in mind. 
If kennel space is sold out for the dates you can travel this year, look at 2023 availability. At press time, there were plenty of "dog days" of summer (as well as spring and fall) kennel slots available for next year.
What's Needed for Documentation?
As for documentation – needed for government authorities to clear your dog or cat into either the U.S. or U.K. — here's what's required.
For Eastbound Voyages from New York to Southampton:
Dogs or cats must have a Pet Passport.
Pets traveling in the kennels must be fitted with an easily readable microchip.
All dogs and cats must be vaccinated against rabies.
All pets must be issued an official Veterinary Certificate.
 Pets must be treated as a precaution against tapeworm not less than 24 hours or more than 120 hours before check-in. Yep, an official certificate must be issued.
For Westbound Voyages from Southampton to New York:
 Dogs or cats must have a Pet Passport.
 Dogs or cats must have a current health certificate, which shows that they were examined by a veterinarian within 30 days prior to entry into the State of New York.
 Also, the pet must be vaccinated against rabies within 14 days to 12 months prior to arrival into the State of New York.
Start Early in Planning
Some of these required pet health documents may take weeks or months to procure. It's highly recommended that owners start the procedures well in advance of their sailing.
IMPORTANT NOTE: Without the documentation specified above, the pet will not be boarded by Cunard.
Dog Days of Relaxation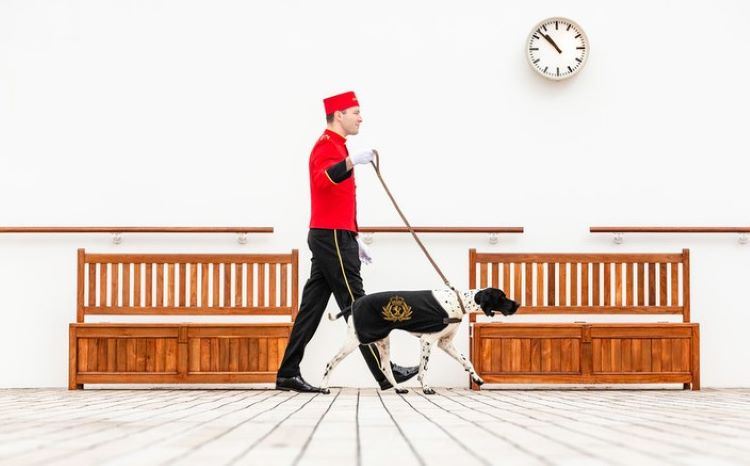 On average, Cunard offers 20 transatlantic sailings annually between New York and Southampton. Nearly 500 dogs and cats sail every year!
Some are even "frequent cruisers" — taking the transatlantic voyage with their owners every year or several times a year.
Just think of the "bragging rights" these pets will have upon their return home. They'll bark or meow about their fantastic Cunard vacation experiences to canine or feline friends and relatives.
So, "woof, woof," "meow, meow," a pampering pet getaway awaits for dogs and cats sailing the ocean blue on Queen Mary 2. 
Editor's Note:
We've had fun researching and writing this blog on how travelers can bring their dog or cat on Queen Mary 2's transatlantic voyages. But annually, luxury travelers sail without their pets in far greater numbers.
Thus, in next week's blog, we'll publish a different look at Cunard Line's transatlantic voyages from the "human guest" perspective. We'll talk about how travelers headed to the U.K. this summer, fall and in 2023 can avoid airline hassles, crowded airports and lost luggage.
Sailing across the ocean blue takes more time, of course. But the rewards are pampering service, enriching activities, sumptuous accommodations and great dining. So, stay tuned.
Important Information from Pavlus Travel
This editorial blog site provides only "basic, general information" about travel; it's not designed to provide specific pricing nor is it staffed by travel advisors.
So, please don't use the Reply Section below if you're asking for pricing, travel dates, accommodations, brochures or other specific requests. 
That said, we are most happy and eager to assist you. Here's how…
If anything does tweak your interest in the story and you DO have questions about Cunard's pricing, brochures, savings, itineraries, dates of travel, accommodations, accessible options, transatlantic pet travel options/reservations, and so on, please contact us at 800-528-9300.
Or visit us online at Pavlus Travel's official agency Web site; you can "live chat" with us online too!
In addition, for your own protection, please do not put any personal information (address, phone, email, etc.) in the Reply Section below. Contact us via the phone or Web site link listed above.
Thanks for reading!