Antarctica here we come! We're happy to report that Crystal Endeavor, the former Crystal Cruises' expedition ship, has a new home – with Silversea Cruises. Starting in November 2022, this nearly new expedition ship will begin sailing as Silver Endeavour.
And yes, the newly acquired ship will head to "The Great White Continent" in winter 2022-2023 — replacing Silver Explorer there.
Pricey but Fabulous
As a "new build" and Crystal's first expedition ship, Crystal Endeavor first sailed in 2021. At the time, Crystal was owned by Genting Hong Kong.
But in early 2021, given Genting's financial woes, the vessel was seized "or arrested" in Gibraltar, U.K. Subsequently, a Gibraltar court approved the ship's sale to help repay Genting's creditors.
So, how much did Silversea's parent company, Royal Caribbean Group, pay for the vessel?
Well, let's just say it's a good chunk of change — $275 million. That's particularly true when considering that the ship carries just 200 passengers.
That's a price tag of approximately $1.38 million per berth.  And we have only one word for that: "Wow!"
Looking at the purchase another way, though, it might actually be a pretty good deal. Consider that Genting Hong Kong reportedly paid a whopping $385 million or so for the new build. That's about $1.9 million per berth.
What's important to note is that the sticker price represents much more than one ship. We believe it speaks to the strong value of the "business opportunity" — burgeoning growth in luxury expedition cruising.
Silver Endeavour: Luxurious Explorer
There's no roughing it with Silver Endeavour. The swanky vessel is expected to attract luxury travelers seeking the absolute best — even while sailing to far-flung regions.
The Meandering Traveler personally sailed on Crystal Endeavor in November 2021. From our perspective, it offered all the "bells and whistles." That included stellar service, suite accommodations, dining, entertainment and more.
Look for Silversea to continue that recipe for success.
"One of the most luxurious expedition ships afloat, Silver Endeavour will accelerate our strategy of growth, enriching our offering to unprecedented levels," says Roberto Martinoli, president and CEO, Silversea Cruises.
A few months ago, Martinoli talked with us one-on-one about Silversea's plans. Check out his insight in this Meandering Traveler blog.
Recouping Crystal Endeavor Deposits
Typically, when the court sells an asset, the new owner is not responsible for financial obligations of the former owner.
However, a big plus for guests who originally paid a deposit on a future voyage of Crystal Endeavor is a goodwill gesture from Silversea's parent company, Royal Caribbean Group.
As part of the ongoing RCL Cares program, the cruise company says that it will protect the deposits of guests who were originally booked on Crystal Endeavor if they make a new booking on one of the three Royal Caribbean Group brands.
So, consumers can choose a booking on Silversea Cruises, Celebrity Cruises or Royal Caribbean International.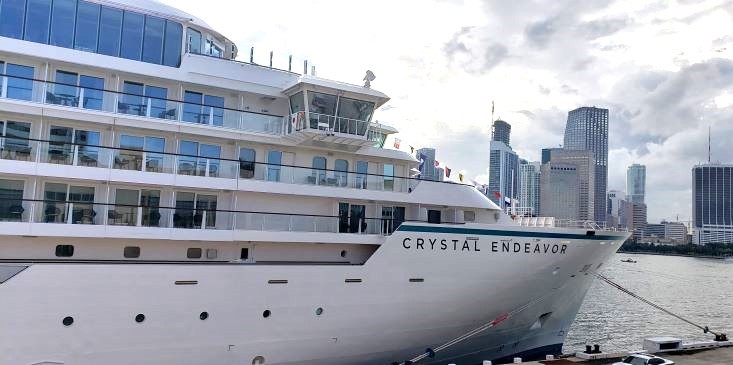 From Silversea's perspective, "we are delighted to offer an additional incentive to all guests who were booked on the former Endeavor to experience the Silversea difference," says Martinoli, adding that guests can use that deposit paid to sail on any of 11 Silversea ships.
Jason Liberty, president and CEO, Royal Caribbean Group, says: "We believe those Crystal guests will receive back their deposits, but we want to give them added assurance."
To the extent the Crystal Endeavor guests do not receive their deposits back from Crystal or other sources, the Royal Caribbean Group will refund any amount paid on their new booking up to the amount of their lost deposits from Crystal.
The line said that the complete terms of the offer will be provided soon on www.silversea.com.
Silver Endeavour: Polar Bookings
As mentioned earlier, Silver Endeavour will replace Silversea's Silver Explorer on 2022-2023 Antarctica sailings.
Bookings for Silver Endeavour's upcoming Antarctica season (November 28, 2022 to February 12, 2023) will be taken initially under Silver Explorer, which will leave Silversea's fleet.
Silversea's website will reflect the "change of ship name" in the coming weeks. To help sort it out and with any questions in the interim, contact a professional travel advisor.
Silver Endeavour's inaugural season will feature the popular "Antarctica Bridge" sailings; these allow cruise guests to avoid the Drake Passage transit.
For example, a December 3, 2022, "Antarctica Bridge" departure is priced at $19,500 per person, double occupancy. That door-to-door fare covers many complimentary perks.
Among them are: private executive transfers, a pre-cruise hotel night, economy class air (or reduced business-class air) from the U.S. to South America, business-class charter air between Argentina and King George Island, Antarctica, the six-day ultra-luxury expedition cruise roundtrip from King George Island, and more.
Endeavor or Endeavour?
You may be wondering why Crystal spelled Endeavor as it did, while Silversea puts a 'u' in it so it's Silver Endeavour. The answer is simply a cultural difference as the U.S. and U.K. often spell the same word slightly differently.
History counts too. Did you know that 18th century British explorer James Cook's vessel was HMS Endeavour? It's true.
So, "to honor the spirit of expedition travel, we have renamed the ship Silver Endeavour—paying testament to one of history's most famous vessels," explains Barbara Muckermann, chief commercial officer, Silversea Cruises.
She continued: "Aboard Silver Endeavour, travelers will channel the same sense of discovery that guided pioneering explorers, such as James Cook, in bygone eras."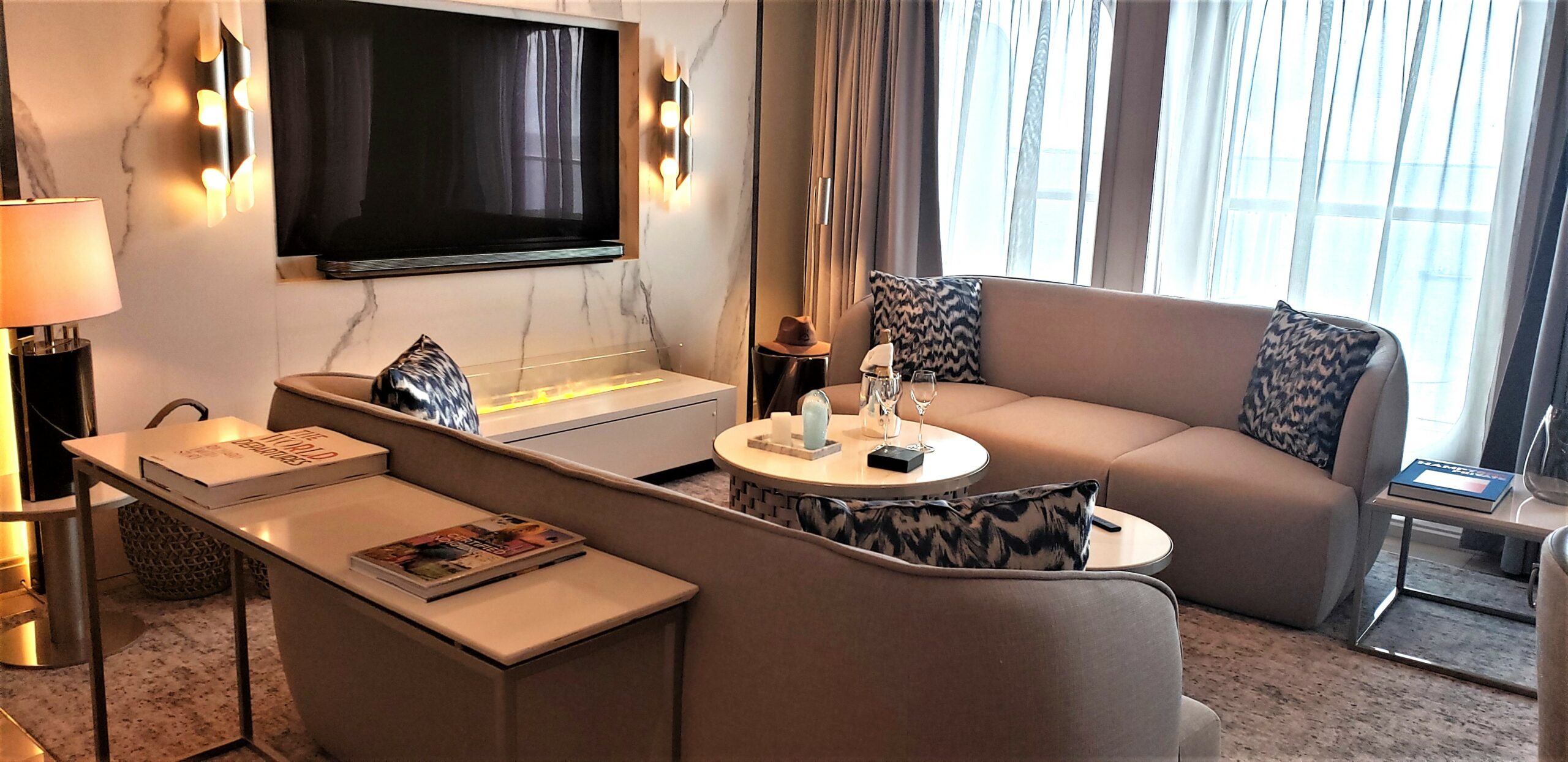 In November 2021, The Meandering Traveler sailed on the new Crystal Endeavor. (See photo above of the living area within one of Crystal Endeavor's top suites.)
Our assessment? It's a gorgeous and pampering enclave of luxury. Clearly Silversea will put its mark on the vessel. But, for now, we'll have to wait and see what develops there.
An Era of Change
Up through early January, Crystal Cruises continued to operate. But then the line's financial foundation fell apart as parent Genting Hong Kong hit the financial skids.
Fortunately, for the ships, the outcome now looks much brighter. Now, all will return to cruising for two different ultra-luxury brands.
In our Meandering Traveler blog of a few weeks ago, we reported that A&K Travel Group Ltd., the travel company owned by Geoffrey Kent and Heritage (the industrial holding company chaired by Manfredi Lefebvre d'Ovidio) had acquired both Crystal Symphony and Crystal Serenity.
A&K Travel Group also bought the rights to the brand name, Crystal Cruises. The group will refurbish both vessels, which will begin sailing for the "new" Crystal Cruises in 2023.
In the latest chapter, on Monday, Royal Caribbean Group put out its press release confirming the aquisition of Crystal Endeavor.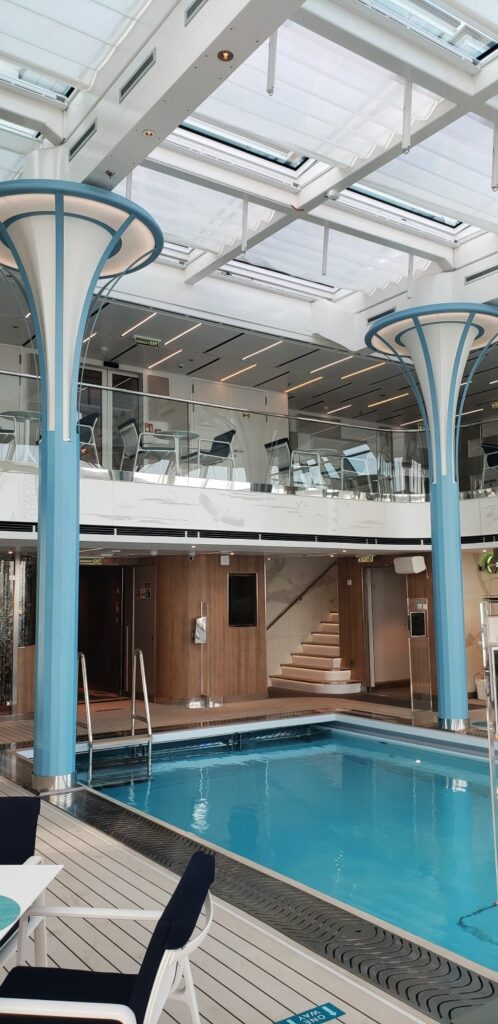 Silver Endeavour "Makes Five" 
Silver Endeavour will become the fifth expedition ship in Silversea's fleet.
Want to see polar bears in the Arctic or penguins in Antarctica? No problem. Built to PC6 Class polar specifications, Silver Endeavour will carry Zodiacs, kayaks and cutting-edge navigation and exploration technology.
For example, the ship's remote gimbal camera system can capture high-quality images at up to 3.2 miles away.
Don't expect a helicopter anytime soon, though. Crystal desired that option for guests to "flightsee." But it didn't have the funds to bring that vision to reality.
The ship does have a helicopter pad. But Silversea's executives have said publicly that they aren't keen on operating a helicopter in eco-sensitive polar regions.
What is clear, though, is that the all-suite expedition vessel will maintain its high level of luxury with Silversea's crew-to-guest ratio of approximately one-to-one.
Most notable for an expedition ship? The vessel offers an incredible two-story solarium with a swimming pool and whirlpool (see photo taken in November 2021 at right).
In addition, Silver Endeavour will offer spacious suites; multiple restaurants, bars and lounges; an expansive spa; and an array of indoor and outdoor observation areas.
Coincidentally, both the larger Silver Cloud and Silver Wind will also operate Antarctica itineraries during winter 2022-2023.
Poised for Growth
Increasingly, high-end, affluent customers desire to travel to remote, hard-to-access destinations, says Martinoli. Thus, he believes that the expedition cruising industry is poised to resume accelerated growth.
"Silver Endeavour will strengthen our polar offering, further diversifying our broad-ranging product," Martinoli says. He also credits the valuable "ongoing support of Royal Caribbean Group" in making that happen.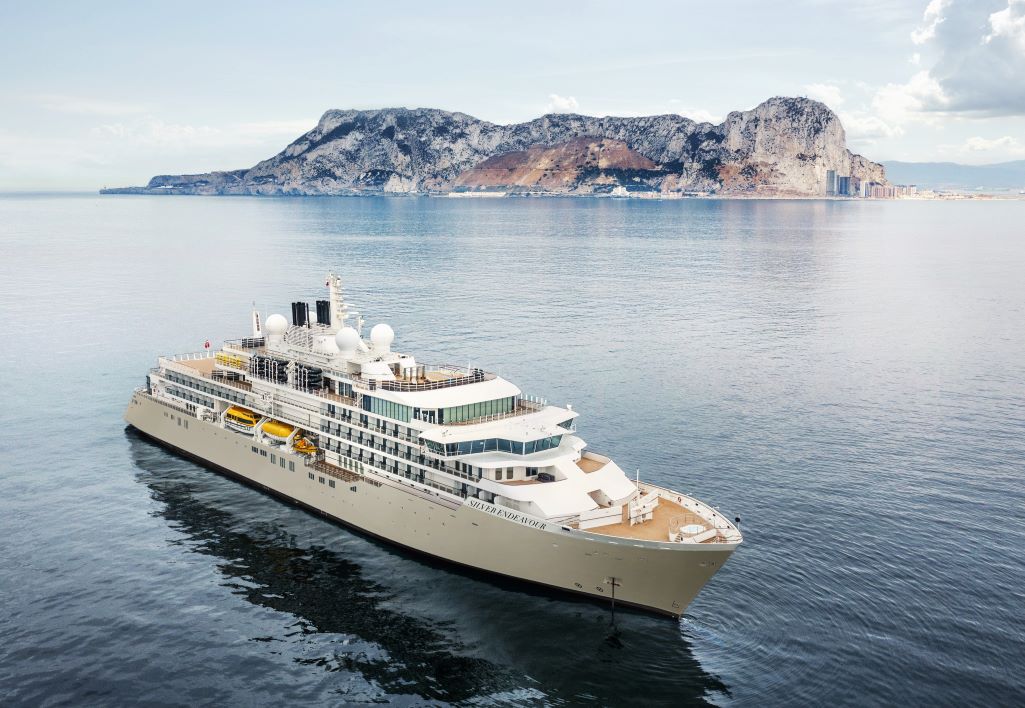 Those travelers who previously sailed on Crystal Endeavor, though, may see some familiar crew members back. Silversea says it hopes to welcome back those crew members and will give them priority in hiring.
So, as the last half of 2022 is moving along a downslope, Crystal's former assets have found new homes. We can't wait to see how it all plays out with more details.
For pricing, accommodations options, solo travel, accessible suites and more, contact your travel advisor with questions. 
Important Information from Pavlus Travel
This blog site is designed for "basic, general information" about travel; it's not designed to provide specific pricing nor is it staffed by travel advisors.
So, please don't use the Reply Section below if you're asking for pricing, travel dates, accommodations, brochures or other specific requests. 
That said, we are most happy and eager to assist you. Here's how…
If anything does tweak your interest in the story and you DO have questions about specific pricing, brochures, savings, itineraries, dates of travel, accommodations, accessible options and so on, please contact us at 800-528-9300.
Or visit us online at Pavlus Travel's official agency Web site; you can "live chat" with us online too!
Thanks for reading!