Founded in 1840 by Samuel Cunard, Cunard Line has an incredible, storied history. As for notable guests, Frank Sinatra, Elizabeth Taylor, Ella Fitzgerald, Judy Garland, George Takei, Meryl Streep and many other celebrities all sailed with the line in the past, so why not you in 2022 or 2023? Taking a transatlantic voyage is a great way to avoid 2022's crowded airports and cancelled flights. 
Today's guests who possess "the luxury of time" can board Cunard's flagship Queen Mary 2 instead. As the world's only major, active "liner," its specialty is the seven-night transatlantic crossing (spring, summer and fall).
During this classic, luxurious experience, you'll sail between New York City and Southampton, U.K, without port calls. It's a great way to soak up the fresh, sea air and endless ocean views.
Most importantly, guests typically arrive relaxed and refreshed. So after disembarking the liner on the eastbound crossing, you'll be ready to hit the ground running for a London getaway or perhaps a longer U.K. vacation.
Alternatively, passengers can board in New York for a nine-night transatlantic journey between New York and Hamburg, Germany. From there, those planning a mainland Europe vacation can hop on a train to many European cities. So, Paris, Rome or Madrid awaits.
Longer Transit but More Relaxing
Yes, commercial aircraft and private jets can get you to Europe quicker. A transatlantic voyage spans 3,150 nautical miles. But after reading this summer's news stories about lost luggage, airline cancellations and airport woes, well, a transatlantic voyage deserves consideration.
An added perk is that one arrives in Southampton or Hamburg refreshed and ready to explore — without the jet lag of quickly transiting time zones. Instead, your body adjusts to the multiple time zone changes over the course of a week.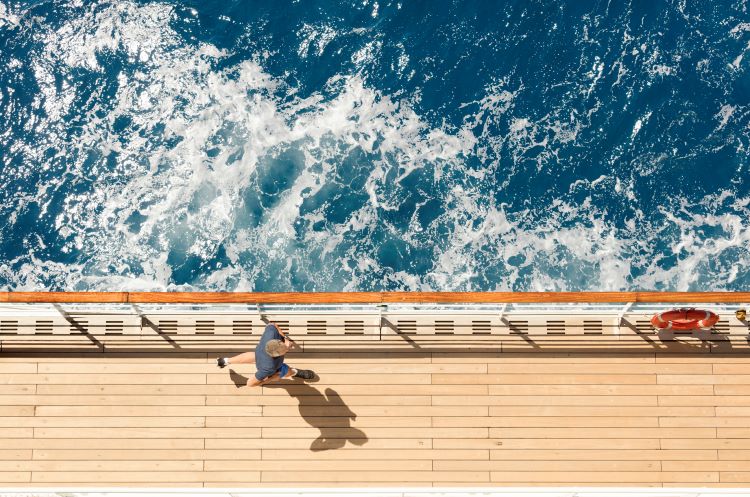 Below, The Meandering Traveler will touch on QM2's accommodations, fares and activity options. But first, it's important to understand what makes Cunard different as a brand. In many ways, it's all about heritage.
So, let's have a bit of fun looking at the celebrities and VIPs who've sailed on Cunard over the centuries.
Royalty, World Leaders and Troops
Heading back and forth across the Atlantic Ocean for 182 years, Cunard's passenger liners have transported many notable guests. The first British "royal" to sail was Prince Alfred, Queen Victoria's second son, who boarded S.S. Arabia in 1861.
The current U.K. monarch, Her Majesty Queen Elizabeth II, has strolled aboard as she's christened two ships in Cunard's modern fleet — the current flagship, QM2, and the Queen Elizabeth. She's also christened the retired Queen Elizabeth 2, now a floating hotel in Dubai, U.A.E.
And the third ship in the modern fleet, Queen Victoria, was christened by The Duchess of Cornwall,  Camilla Parker Bowles, in the presence of The Prince of Wales, Prince Charles.
Over the years, world leaders such as former British Prime Minister Winston Churchill and former U.S. President Dwight D. Eisenhower sailed on Cunard's vessels.
In addition, during World War II, the original Queen Mary and now departed liner Queen Elizabeth (sailing between 1938-1968 for Cunard) carried more than one million troops back and forth to Europe. Churchill credited that with ending the war a year earlier than would have been the case without those troop transports.
During the 2004 Athens Olympics, QM2 didn't sail but was positioned to provide accommodations for athletes' families. The liner also hosted the U.S. men's basketball team.
In addition, these world leaders of that era stayed overnight aboard:  UK Prime Minister Tony Blair, French President Jacques Chirac and U.S. President George H. W. Bush.
Who's Who? Frank Sinatra and Charles Dickens
Cunard's passenger manifests are akin to a "who's who" of the various eras. Besides the celebrities mentioned earlier, other 20th century guests included Charlie Chaplin, Walt Disney, Humphrey Bogart, Katharine Hepburn, Spencer Tracy, Judy Garland, Clark Gable, Alfred Hitchcock and Debbie Reynolds, to name a few.
More recently, Wes Anderson, Roman Coppola and Jason Schwartzman worked on "Isle of Dogs" during their QM2 crossing, according to Cunard.
Francis Ford Coppola reportedly used his time aboard a Cunard transatlantic voyage to put final touches on "The Godfather Notebook."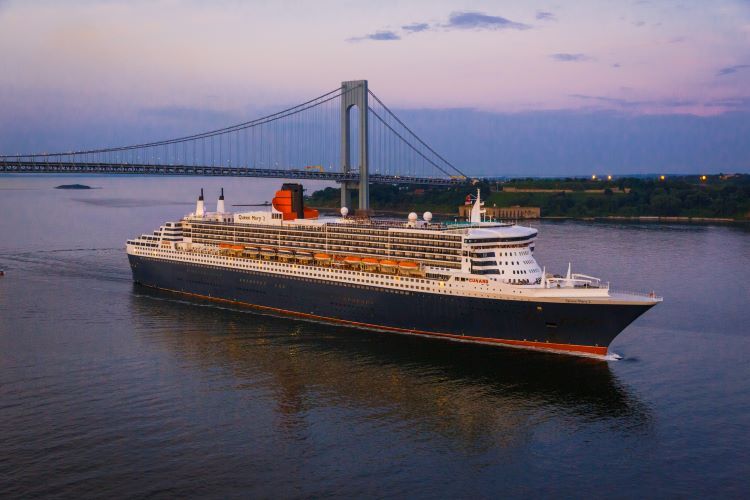 Another Cunard tidbit? British singer/songwriter Ed Sheeran sailed from New York to Southampton to write his latest hit album, "Divide."
Other modern-day Cunard travelers have included comedian Keegan Michael Key, music producer Benny Blanco, drummer Travis Barker and rock musician Lenny Kravitz.
Transatlantic Voyage: Authors and Movies
Over the years, many famous authors have favored Cunard's ships too. Dickens sailed in 1842, a year before "A Christmas Carol" was published.
Playwright Tennessee Williams sailed in the 20th century. Decades later, so did American espionage/military novelist Tom Clancy, English crime writer P.D. James and nonfiction author Bill Bryson of "A Walk in the Woods" fame.
In addition, QM2 has hosted unique celebrity celebrations. The entire movie cast of "The Greatest Showman" including Hugh Jackman, Zac Efron, Rebecca Ferguson and Zendaya were among the stars who walked the red carpet aboard QM2 for that movie's 2017 premiere in Brooklyn, NY.
And, yes, even the showman himself, P.T. Barnum, sailed several transatlantic voyages on Cunard ships "back in the day." That's how he met opera singer Jenny Lind, aka "The Swedish Nightingale, and invited her to tour in his U.S. show.
Currently, QM2 has a starring role as "the setting" for the now running HBO Max feature film, "Let Them All Talk." Scenes were filmed aboard and the movie features Meryl Streep, Dianne Wiest and Candice Bergen. 
A Liner Not a Cruise Ship
Ocean travel by passenger ship was still the prime way to travel across the Atlantic until 1958. Elizabeth Taylor made the journey on many occasions, often bringing along her dog. See our related blog last week about the dog kennels on QM2 and how you too can take Fido or Fluffy to the U.K.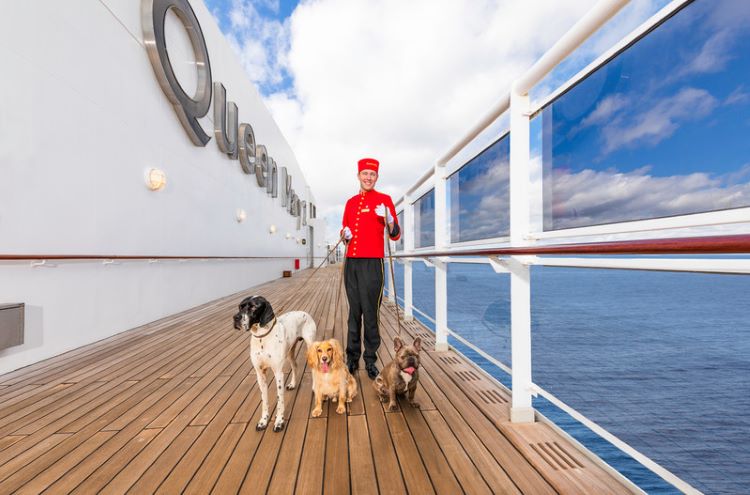 Cunard is quick to point out that the 2,695-passenger QM2, launched in 2004 and updated sizably in 2016, is an ocean liner. Structurally, it's not a cruise ship. It's perfect for operating transatlantic voyages.
But what does that mean? Yes, cruise ships certainly are built to safely cross oceans. But QM2 is built to take continual long-distance, North Atlantic Ocean travel — day after day, week after week, year after year.
Consequently, it has a much thicker hull and other design features that separate this liner from an average cruise ship. Typical cruise ships may do only one or two full ocean crossings a year as they're repositioning.
Transatlantic Home-Away-From-Home: Major Revitalization
Over the years, of course, QM2 has been updated on several occasions. During a major, 2016 revitalization project, many of QM2's public spaces were reworked.
For example, Kings Court, the casual Lido-style buffet restaurant, was transformed into a more usable space.  The redesigned Winter Garden became the new Carinthia Lounge (see photo below).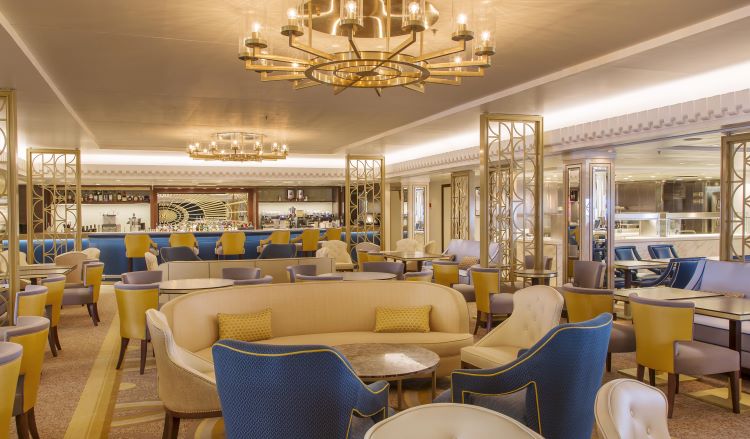 The alternative Todd English specialty restaurant was replaced with the Cunard Verandah restaurant. Also, on the sweet tooth side, a new Godiva Chocolate Café surfaced in Sir Samuels, a great spot for sandwiches, muffins and light fare.
In addition, all stateroom and suites were updated and redesigned. New solo cabins were added. Public corridors and meeting spaces received new carpeting with an Art Deco style look.
During QM2's next refit, scheduled in 2023, the spa facilities will be redesigned to reflect the fleet's recently introduced spa concept, Mareel Wellness & Beauty. While the concept is now operational on all three ships, look for QM2's spa spaces to receive a complete makeover.
Transatlantic Voyage: A Unique Onboard Product
The Meandering Traveler was present at both QM2's keel laying and christening. In fact, we've sailed three times on this liner.
For instance, one voyage sailed along the U.K. coastline. Another operated along the U.S. and Mexico Pacific coastline.
Our third voyage, though, was a week-long transatlantic crossing from New York City to Southampton, U.K. We can say emphatically that it was our most memorable QM2 voyage.
No, the transatlantic is not a typical cruise itinerary of five to six ports in a week-long cruise. It's many days at sea.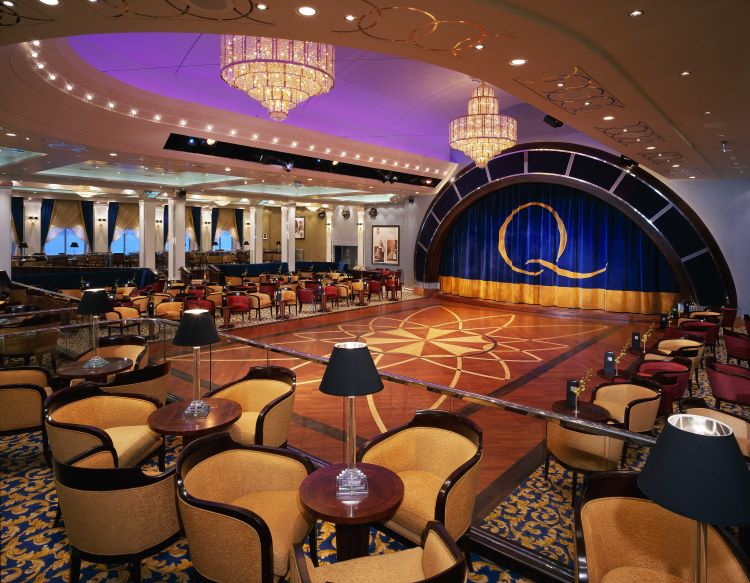 But what else is different? First, you'll find many touches of traditional U.K. culture. Be sure to visit the Queen's Room (shown in the photo above) which displays a bust of Her Majesty Queen Elizabeth II plus a portrait of the monarch and the late Prince Phillip.
Traditional Pub
And what would a product rooted in British culture be without a pub? One of our favorite casual dining spots is the Golden Lion Pub (see photo below), a great place for fish and chips.
Pass the vinegar, please, and don't forget a good brew too.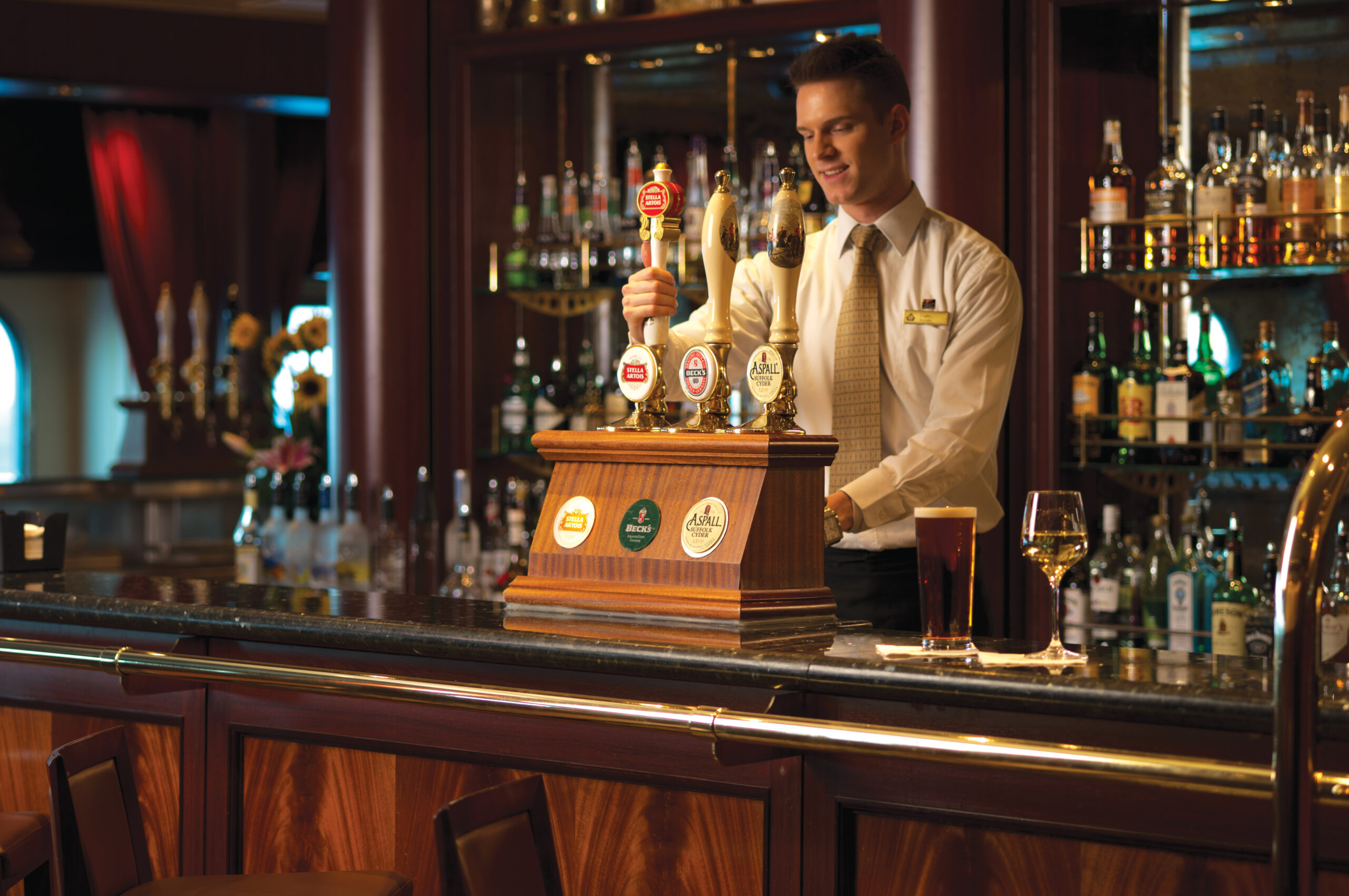 QM2 also has a lovely area called Maritime Quest, which provides a graphic illustration of Cunard's history through beautiful, informative panels.
We loved strolling along those elongated panels and looking at historic photos in other spaces. All add perspective to the sailing experience.
Other unique or classy options? QM2 also serves an incredible high tea. But if you prefer to learn something new at sea, Cunard offers fencing lessons. Ready, set, "en garde."
Ballroom Dancing, A Sense of Occasion
Queen's Lounge, a spectacular, 10,500-square-foot ballroom dancing show place, is a throwback to the golden era of transatlantic liner travel. Frankly, we couldn't stay away from this spot for enjoying an evening cocktail or glass of wine.
We loved admiring the couples elegantly floating across the floor. Some were quite skilled, others not so much. But everyone seemed to have a great time.
During the crossing, instructors give elegant demonstrations and also teach ballroom dancing classes for guests. So, anyone care to tango? Or how about a foxtrot, waltz or quick step?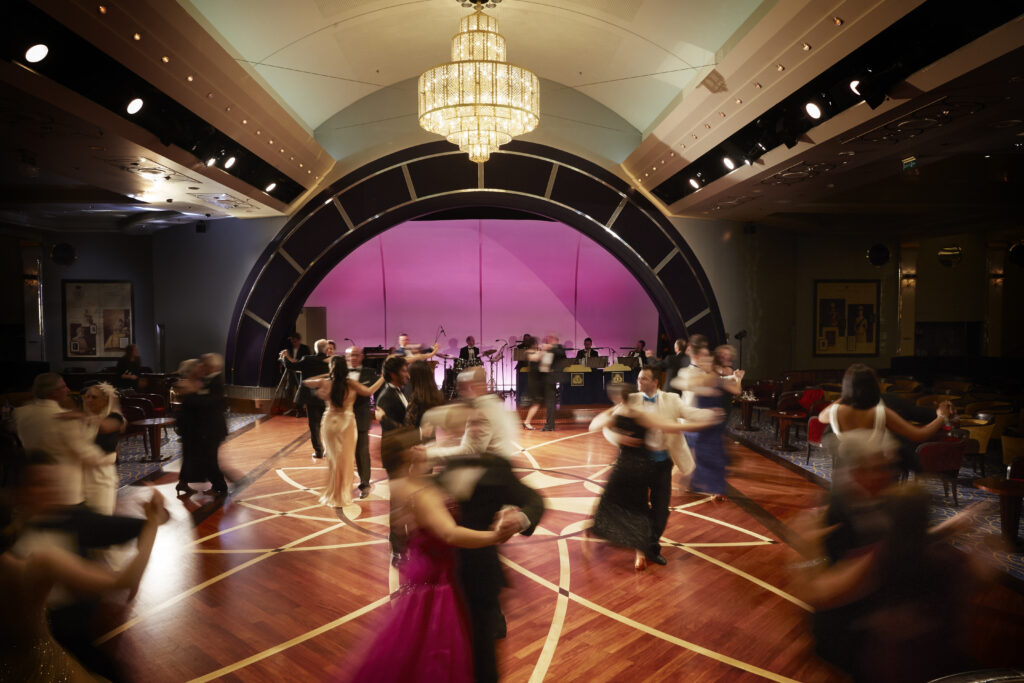 Transatlantic Voyage: Dressing Up
Other lines' cruise ships have done away with many or all formal occasions. Dressing up has become a lost art.  That said, QM2 does preserve the aura of a sense of occasion.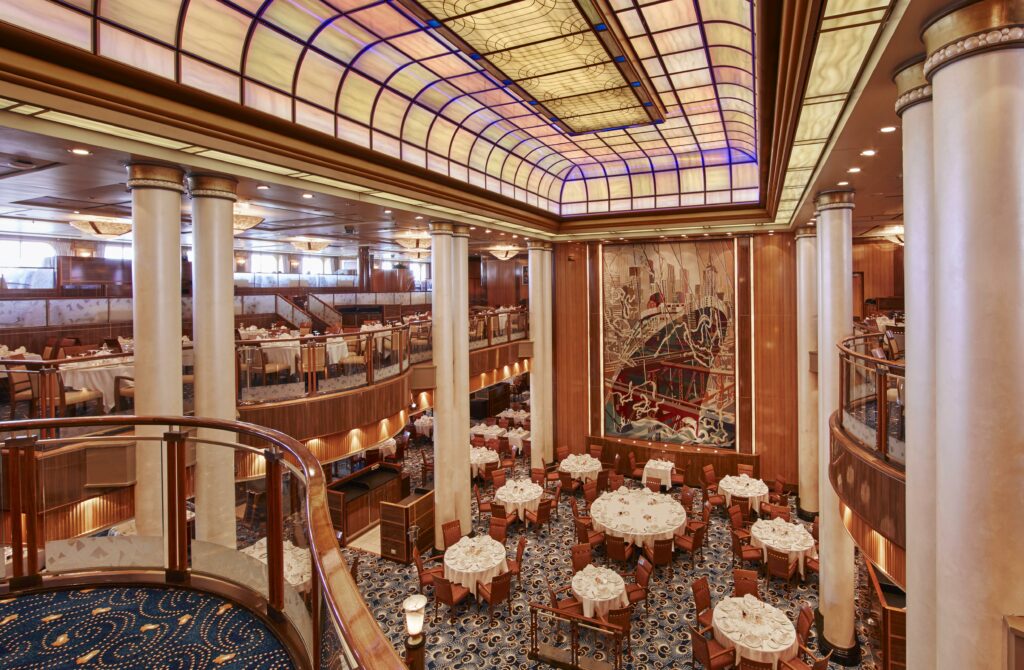 The ship's Britannia Restaurant is also a spectacular venue (see photo above), with an Art Deco style that's reminiscent of the "Golden Age of Cruising' in the 20th century.
So, expect "dressing" for dinner several nights per cruise on "Gala Nights."  That means a tux/bowtie or suit/tie for the gents and elegant dresses for the ladies.
However, in recent years, Cunard has also somewhat relaxed the dress code on non-Gala nights. For example, men are not required to to wear a jacket or tie and ladies can wear a nice pants suit or casual dress.
Not to be missed, though, are the themed nights, such as the "Masquerade Ball," "Black and White Ball," or "Roaring 20s Night." The latter, in particular, is great fun!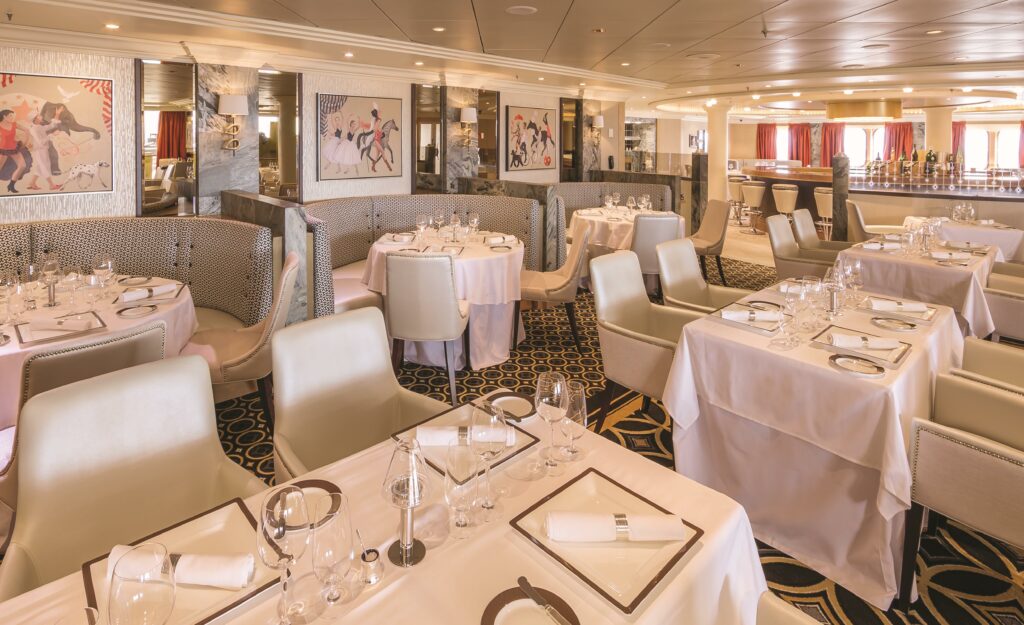 If you love specialty dining, we'd also suggest making a reservation for the Steakhouse at The Verandah (see photo above).
More Relaxed "Crossing" with Casual Options
One personal observation? Without the "port-a-day" hustle and bustle of getting off the ship, sightseeing or exploring, guests didn't seem as tired at the end of the day.
For instance, we felt busy every day on board, but more relaxed and less stressed. So, getting ready for dinner wasn't a big deal — just part of our day. It also signaled the start of evening entertainment.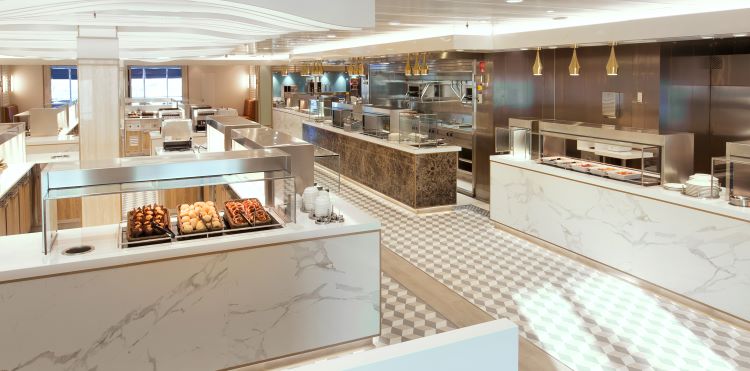 Keep in mind that if guests don't fancy dressing up on the Gala Nights, they can dine casually in some other spots. Among those is the King's Court (see photo above) with tasty food stations.
During the evenings, King's Court offers themed cuisine that might feature Italian cuisine one night, Indian or Pan-Asian the next night. Plus, there are plenty of classic favorite dishes too.
Another casual dining option is, of course,  24-hour room service.
From our perspective, if you like to dress up certain nights and not on others, you'll likely do fine on the QM2. But if you hate to ever dress up, then chat with your travel advisor about making the right "match" for your vacation style.
Transatlantic Voyage: No, You Likely Won't Be Bored
It took us a long time to decide to finally book a transatlantic voyage. Why so, given that we loved the ship from our experiences our first few voyages aboard?
Frankly, we were just a bit wary of this itinerary. Mostly, we'd sailed on typical cruise ship itineraries with ports of call along the route. We like going ashore to explore new places throughout the globe.
So, we had a hard time envisioning how we'd do with a week at sea and no port calls.
The reality? When the voyage was completed and we disembarked in Southampton, it was crystal clear. We were never bored on our transatlantic crossing. In fact, we'd go back in a heartbeat.
There was so much to do aboard. Cunard's "Daily Programme" (yes, the U.K. spelling is used) showcases all the activity options that start early in the morning and run into the evening.
Two days before the ship docked at Southampton, we said to ourselves: "Oh my goodness, we still haven't done the Planetarium. Let's go or we'll be out of time."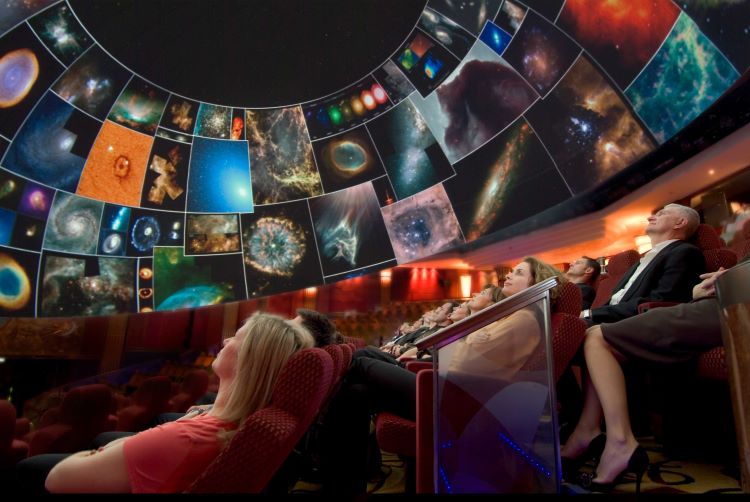 So, we did. One can look to the stars in a bit different way in QM2's planetarium — via constellation shows and virtual reality rides.
Today, the ship's planetarium is still the largest afloat on the world's oceans with programming by the American Museum of Natural History.
Mareel Wellness & Beauty  
Of course, one top activity for many guests is enjoying a pampering spa treatment (or two or three, for that matter) during this week-long voyage. The ship offers a full-service, 20,000-square-foot Mareel Wellness & Beauty concept. Many fellow guests went back again and again during our week at sea.
The spa's Aqua Therapy Center provides a unique water environment for guests to explore, including a thermal suite, hydrotherapy pool and relaxation area.
QM2 also offers several pools, whirlpools, a top-deck jogging track, lounges, a casino, robust exercise center, a magnificent theater and more.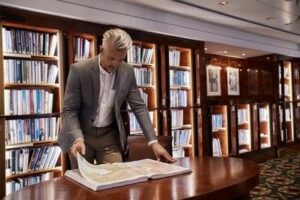 Cunard is also known for robust libraries at sea, so not surprisingly, QM2's Library (shown in the photo at right) offers the most books of any seagoing library.
A week at sea is a great time to catch up on your reading.
Insight Speakers and Entertainment
Do you like enrichment talks? One of Cunard's signature offerings, the Insight Program, champions the idea of intellectual and artistic pursuits at sea.
Insight enrichment lectures, Q&A sessions or presentations span such topics as astronomy, literature, history, maritime discoveries, entertainment and media, to name a few.
For example, over the past few years on select transatlantic voyages, Cunard has hosted World War II and Vietnam War combat veterans through its partnership with "The Greatest Generations Foundation." Listening to the veterans talk about their wartime experiences is an unforgettable experience.
Cunard also sets up an array of entertainment throughout the cruise including Broadway-caliber shows. Hosting 1,105 guests, the magnificent, two-level Royal Court Theatre offers tiered seating and concert hall acoustics.
Transatlantic Voyage: Events at Sea 
Transatlantic crossings also host Cunard's "Event Voyages." For example, those have included "Transatlantic Fashion Week." Guests have sailed with top fashion designers and models. Activities have included fashion shows and runway presentations.
Much is coming up too. On September 15, 2022, the Royal Shakespeare Company will perform on the westbound transatlantic crossing. That group will also participate in several other voyages.
Guests will be treated to exclusive Shakespearian theatrical scenes, classic performances on stage and on screen, drama workshops, a Q&A session and more. They'll also peruse a unique exhibit about Shakespeare's Stratford-upon-Avon.
Departing New York for Southampton on December 3, 2022, Cunard will welcome the return of the "Literature Festival at Sea."
Notables participating in literary workshops, talks and readings are expected to include Ian Rankin, Bernardine Evaristo, Mary Beard, Alexander McCall Smith and Richard Osman.
QM2's Luxurious Staterooms and Suites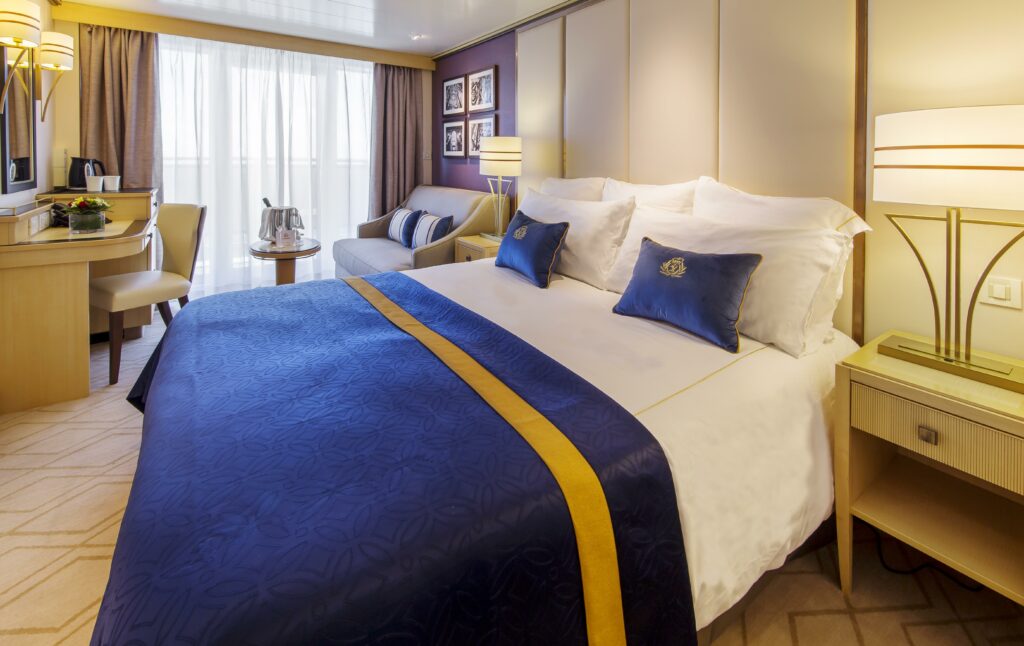 QM2 has a wide range of pampering accommodations. In the Britannia class, that includes inside, oceanview, solo, balcony or balcony club staterooms.
For example, Britannia Inside Cabins on the October 7, 2022, eastbound sailing from New York to Southampton start at $899 per person double.
Stepping up a bit, Britannia Balcony Cabins on that departure start at $1,199 per person, double occupancy and Britannia Club Balcony Cabins (shown in the photo above) start at $2,359 per person, double occupancy.
We stayed in a Britannia Club Balcony Stateroom during our sailing. It was comfortable, spacious and a good spot for relaxing or watching an on-demand movie. We also enjoyed room service dining al fresco on our balcony.
Guests staying in Britannia Club Balcony stateroom enjoy one exclusive dining perk. They can dine for breakfast, lunch, and dinner in the Britannia Club Restaurant, which is a more intimate dining area adjacent to the Britannia Restaurant.
The Grill Suites: More Space, More Perks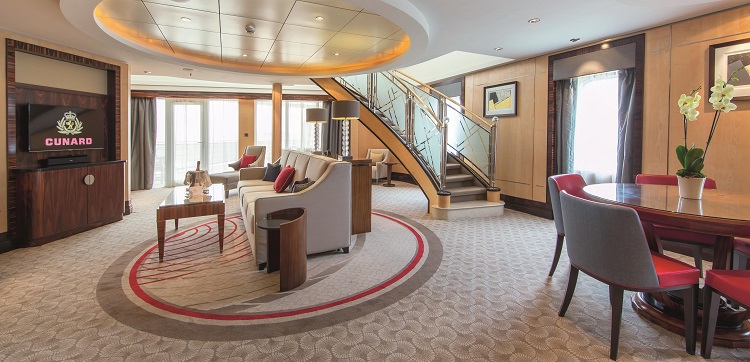 For those seeking more space, more pampering and more perks, Cunard offers Princess Grill Suites and Queens Grill Suites. Suite sizes can vary based on the stateroom's position and grade, but generally speaking, Princess Grill Suites offer 381 square feet of space.
Queens Grill Suites range from 506 square feet to 2,249 square feet. Among the options is a Grand Duplex Apartment, the top-level Queens Grill Suite (see photo above).
Guests in both Princess Grill Suites and Queens Grill Suites receive priority embarkation/disembarkation; fresh fruit refilled daily; chocolates and either sparkling wine (Princess Grill Suites) or champagne (Queens Grill Suites) upon embarkation; and Penhaligon's toiletries, soft velour robes and slippers.
Both categories come with other perks too so chat with your travel advisor for all the details. For instance, Queens Grill Suites receive pre-dinner canapes and a fully stocked bar.
Stellar Suite Service
Let's just say you'll be properly and warmly pampered by either a Princess Grill Suite steward or, for those in a Queens Grill Suite, both a butler and concierge.
Cunard's goal is a stellar level of service. So, why not ask the Queens Grill Suite's concierge to make an appointment for a massage, set up a private dance lesson or arrange a party with other guests? Those are great ways to personalize and customize your week-long sea voyage.
Exclusive Restaurants
Top perk for staying in a Grill-level accommodation? Hands down that's the exclusive access to either the Princess Grill or Queens Grill restaurant (based on those suite designations).
Queens Grill Suite guests also can access a Queens Grill Terrace with a whirlpool.
For the October 7, 2022, eastbound sailing, Princess Grill Suites start at $4,449 per person double occupancy. Queens Grill Suites start at $4,899 per person double occupancy.
Talk to your travel advisor for questions you may have about additional travel dates, the accommodations options, solo travel, accessibility needs and more.
The Perfect Anecdote
QM2 is the largest, longest and priciest ocean liner ever constructed. At her launch, she was also the largest cruise industry ship ever built.
Now, that largest ship title is held by Royal Caribbean International's Oasis-class ship, the new Wonder of the Seas; see Part 1 of our recent blog series here. In addition, here's Part 2 with more detail about family travel on that ship.
Engineered and built as a trans-ocean liner, though, QM2 is designed for long-distance transatlantic crossings. Today, it's the only passenger vessel providing regularly scheduled, routine transatlantic service.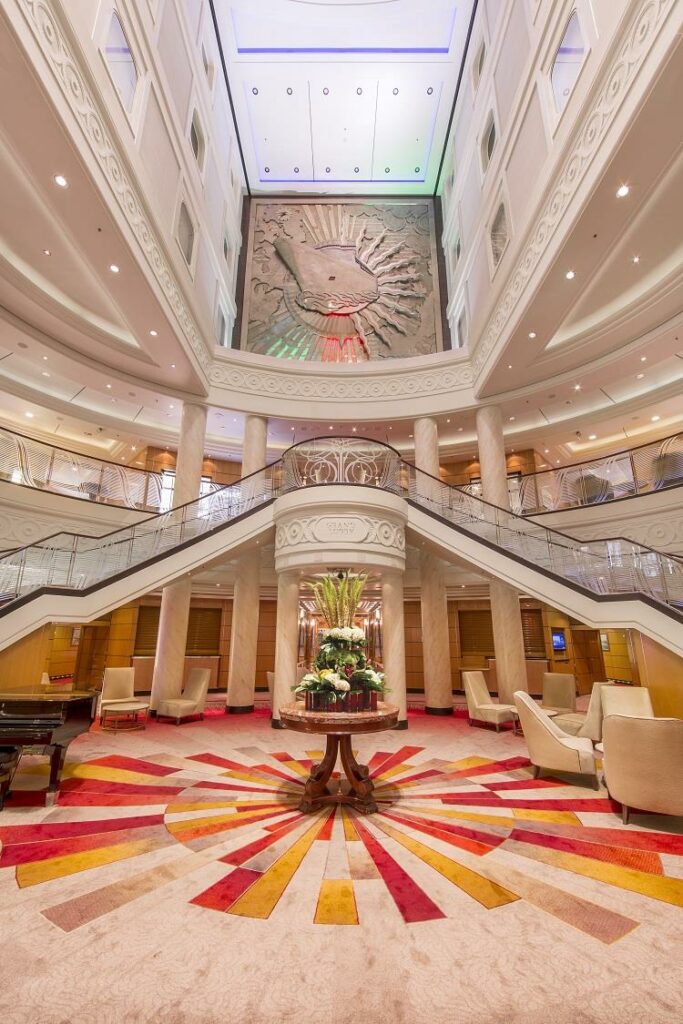 Interested in taking a transatlantic voyage? QM2's "crossings" start in spring, continue through the summer and into fall. The ship sails elsewhere during wintertime.
This year, in particular, trans-ocean travel has great appeal. Reports of lost luggage, airport and airline staffing woe and cancelled flights are in the news, more so than in the past.
With QM2, guests can sail one way, enjoy a European getaway or longer vacation, then fly home or opt for a return transatlantic voyage.
Transatlantic Voyage: A Special Experience
For those who love days and days at sea, a transatlantic voyage on the QM2 is a special, one-of-a-kind voyage with a strong sense of maritime heritage.
Yet, guests enjoy modern comforts, spacious accommodations, savory dining and plenty of activities.
After the boarding, the liner becomes "the destination" through the time that guests disembark.
To read more from Cunard's perspective, here's a link to the line's website page about the ship's transatlantic sailings.
Intrigued?
For more information on how to sail on a QM2 transatlantic voyage and avoid airport/airline hassles this summer or fall, talk to your travel advisor.