Looking back to what's happened in July 2022 in the travel world, here are our picks for the month's best travel news and tidbits. So, come along and see what's new or upcoming.
1. California River Cruise? Yes, ACL Will Sail to Napa and Sacramento!
Consumers are often familiar with river cruising on the Mississippi River and other U.S. heartland rivers. Similarly, they may have sailed along the Columbia/Snake rivers of the Pacific Northwest.
But how about a California inland waterways voyage? That's an intriguing option. Here's the scoop.
Starting in 2023, American Jazz, a modern riverboat series vessel of American Cruise Lines, will debut a new eight-day "San Francisco Bay" cruise. The 190-passenger vessel will sail roundtrip from San Francisco.
What's most interesting are the interior California port calls — Napa, Vallejo, Stockton and Sacramento, CA. 
American Jazz will cruise along the Napa and San Joaquin rivers, as well as through the San Francisco and San Pablo bays.
California Dreaming
"Exploring this beautiful region of Northern California by riverboat will provide a new opportunity for our guests to discover the Bay area and the Napa Valley in an exceptional way," says Charles B. Robertson, president and CEO, American Cruise Lines.
He adds: "Many have driven there but not many can say they have actually cruised through wine country."  (See a drawing/illustration of the itinerary route at right).
Heritage, Culture, Agriculture and Viniculture
Cruise guests will explore northern California's history, culture and geographic influences, plus visit agricultural communities and wine country.
From San Francisco, American Jazz will cruise along such scenic sites as the Golden Gate Bridge, Treasure Island and the infamous Alcatraz. 
Cruisers will head out for a wine tasting session at a Napa Valley winery. At the Stockton 99 Speedway, racing fans can get their adrenalin flowing with a NASCAR-style driving experience.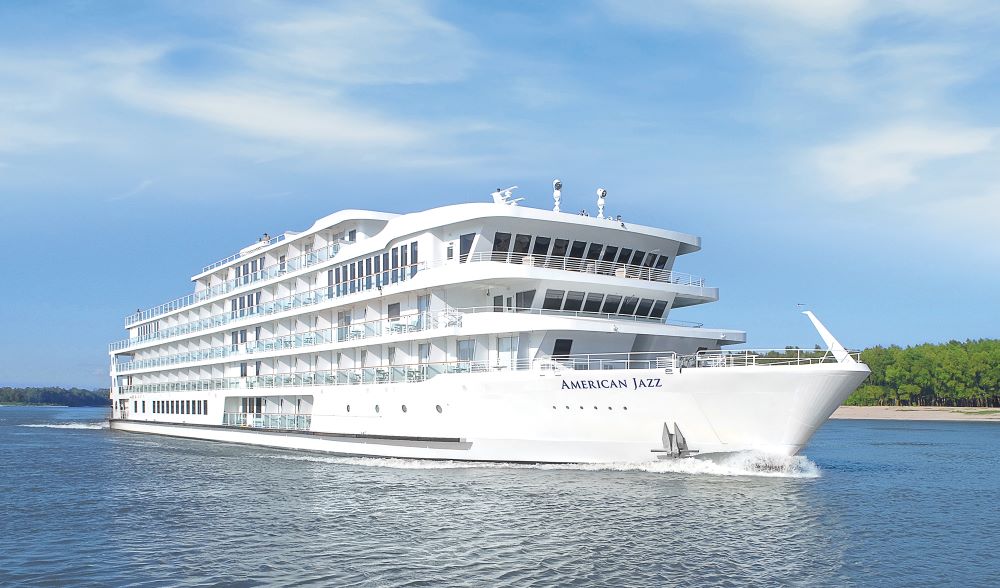 In Sacramento, guests can tour Old Sacramento's underground city/port or the California State Railroad Museum. What's impressive is the museum's collection of historic steam locomotives.
Cruise Activities and Fares
While traveling on American Jazz, guests will enjoy such activities as daily sunrise yoga, wine tasting presentations and northern California cooking demonstrations.
Fares for the new "San Francisco Bay" itinerary start at $6,095 per person, double occupancy; talk with your travel advisor for questions about this new itinerary, accommodations, accessibility needs and more.
The 2023 departure dates are February 17, February 24, March 3 and March 10. Frankly, this is one "we'd love to take." You can see the full American Cruise Lines itinerary here.
2. Live Events Return to Americans' 2022 Travel Plans
Survey data from Allianz Partners USA's 14th annual "Vacation Confidence Index" shows that six in 10 Americans expect to attend a ticketed event in 2022. In addition, one in five American expects to attend three or more events.
Increasingly, people crave the energy and electricity of a shared experience with other fans. Sports events, concerts and other live events are playing a more prominent role in 2022 vacation planning.
"Entertainment is a huge part of the American travel landscape, with fans eager to punch their ticket to fun," says Daniel Durazo, director of external communications, Allianz Partners USA.
"The lifting of mask wearing and COVID testing requirements has helped bolster fan demand," he adds.
One demographic trend? "The Vacation Confidence Index" shows that the average number of events on consumers' calendars decreases based on the rising age of the respondent.
Demographic Differences
For example, 76 percent of those ages 18-34 will attend at least one event compared to 63 percent for those ages 35-54.
In contrast, 45 percent of those 55 years of age and older will attend at least one event this year. A similar pattern emerges for those planning on three or more events this year.
Clearly, though, survey respondents appear ready for live engagements that go beyond living room streaming experiences.
Another research tidbit? With overall travel spending  reaching record levels in 2022, nearly half (44 percent) of those surveyed say they're likely to visit both indoor and outdoor event venues while traveling.   
The "Vacation Confidence Index" has been conducted each summer since 2009 by national polling firm Ipsos Public Affairs on behalf of Allianz Partners USA.
A vacation is defined as leisure travel of at least a week to a destination at least 100 miles from home.
3. Crystal Endeavor Sold for $275 Million, Renamed Silver Endeavour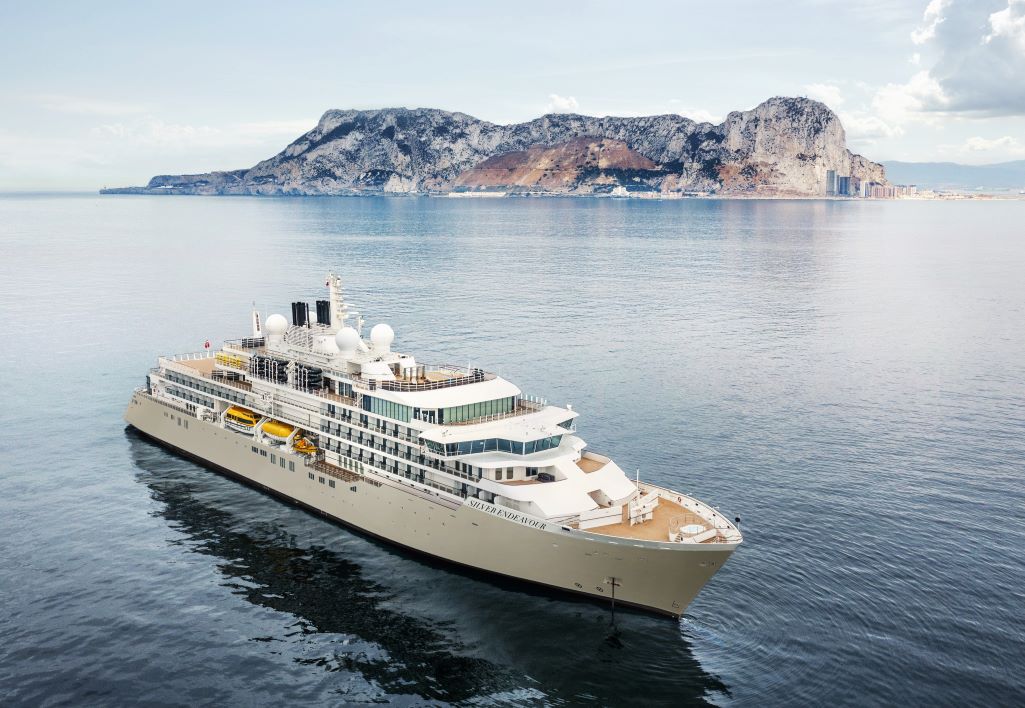 After several months of speculation about where Crystal Endeavor would end up, it became "official" in early July. Royal Caribbean Group bought the nearly new expedition ship (launched in 2021) for its ultra-luxury Silversea Cruises brand.
The price tag was $275 million! That said, the amount is far less than what Crystal paid for it just a year ago. See more about this sale by reading our extensive blog with more details about the ship sale and what's ahead. 
The ship has been renamed Silver Endeavour. It will begin cruising for Silversea in November 2022.
It will replace Silver Explorer, which is leaving the fleet, for the 2022-23 Antarctica season—including the ship's highly popular Antarctica Bridge sailings. For more about Silver Endeavour and upcoming cruises, contact your travel advisor. 
 4. "Major Makeover" Will Create Fairmont The Breakers Long Beach
The iconic Breakers Hotel in Long Beach, CA, is getting a major makeover. Fairmont Hotels & Resorts, part of hospitality group Accor, in partnership with Pacific6, is undertaking a major renovation and redevelopment.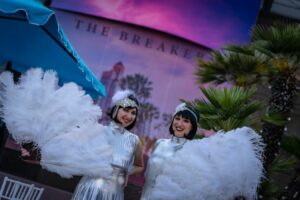 Originally opened in the 1920s as a lavish waterfront hotel, The Breakers was a sought-after destination — a place "to see and be seen."
For example, Cary Grant, Babe Ruth, Elizabeth Taylor and Clark Gable were among the celebrities and Hollywood stars who stayed at or dined at the iconic hotel. 
Following the restoration/redevelopment, Fairmont The Breakers Long Beach will reopen in 2023 as a luxury boutique hotel. Guests will stay in 185 rooms and suites. 
Boutique Hotel Spaces
Guests staying at this boutique property will also enjoy a rooftop pool and terrace overlooking the Terrace Theater Plaza. An open-air rooftop lounge and bar will deliver  360-degree views of the Pacific Ocean and Los Angeles basin.
In addition, the hotel will offer a lavish two-story spa, wellness and fitness center; a live jazz club and music lounge; and five food and beverage venues. Fans of the historic hotel will likely appreciate the reopening of the famed Sky Room restaurant.
To learn more, check out the Fairmont news release about the revitalization/reopening of Fairmont The Breakers Long Beach.
5. New "Field of Dreams" Experience on AQV's Upper Mississippi Cruises
We expect that movie buffs and sports fans alike will enjoy American Queen Voyages' new "Field of Dreams" premium shore excursion experience on the Upper Mississippi River.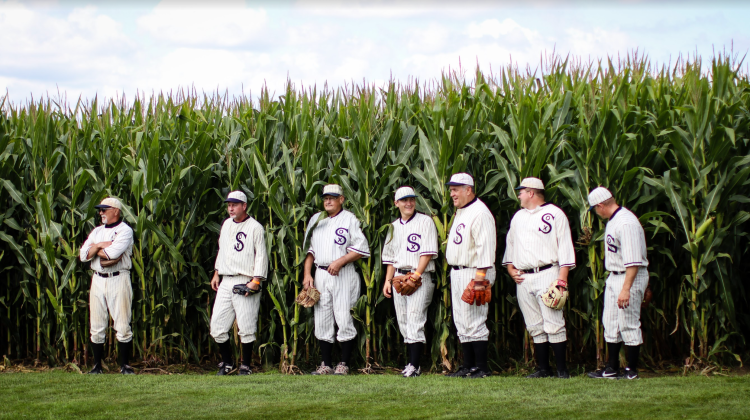 The star of the excursion? That's the iconic baseball diamond in nearby Dyersville. It gained fame in the 1989 film starring Kevin Costner, James Earl Jones and the late Ray Liotta.
This new shore excursion was first offered on July 22, 2022, when American Countess called at Dubuque, IA. Through October 8, 2022, guests sailing on AQV's nine-day voyages between St. Louis (Alton, IL) and Minneapolis (Red Wing) also can choose this new shore option.
Best Travel News: Visits to "Field of Dreams" Sites
After the ship docks in the city of Dubuque, where much of the movie was filmed, a local guide will show guests many "Field of Dreams" sites. You'll see the local elementary school, University of Dubuque, and Central Avenue (transformed into Boston for the film).
Departing the city, cruise guests will see cornfields and farmlands weaving through the Iowa bluffs. They'll then arrive at the "If You Build It" exhibit to explore the story that inspired the film. They'll also view behind-the-scenes photos taken during the filming.
"Our guests always enjoy strolling in the footsteps of Mark Twain's classic characters in Hannibal, MO, and spotting bald eagles near Red Wing, MN" says Isis Ruiz, chief commercial officer, American Queen Voyages. "Adding the 'Field of Dreams Experience' premium excursion in Dubuque promises to create even more memorable moments."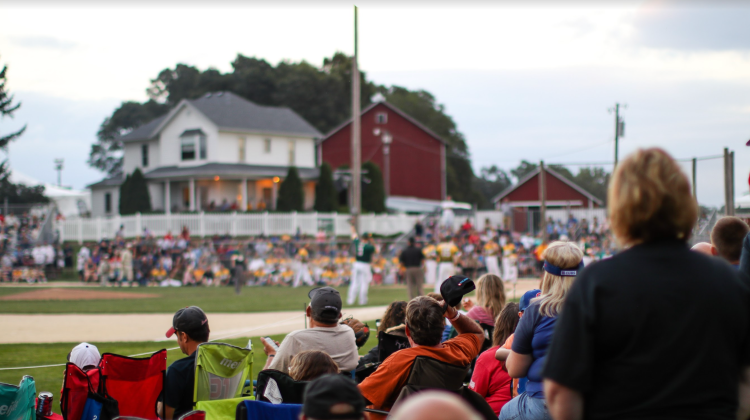 At the actual "Field of Dreams" baseball diamond and farm shown in the film, guests may walk the bases like Shoeless Joe Jackson, emerge from the corn and take a break on the bleachers. Those are all popular Instagrammable moments for movie and sports fans.
So, what's the cost? AQV's premium "The Field of Dreams Experience" is priced at $99 per person.
Three AQV Vessels Will Offer the New Shore Excursion
American Queen, American Duchess and American Countess will offer this new excursion on voyages between St. Louis (Alton) and Minneapolis (Red Wing). Departures in 2022 are August 28, September 10, September 11, September 24, September 26 and October 16.
Cruise fares on American Duchess' September 10, 2022, departure from Minneapolis, for example, start at $2,899 per person, double occupancy. Talk with your travel advisor about specifics for dates, accommodations choices, other fares and discounts.
Additional ports on AQV's "Upper Mississippi River" cruises include Hannibal, MO; Bettendorf, IA; La Crosse, WI; and Burlington, IA. For more information, visit www.AQVoyages.com.
6. CDC Eliminates COVID-19-Era Program for Cruise Ship Operations
With little fanfare, the U.S. Centers for Disease Control and Prevention (CDC) abruptly ended its COVID-19 program for cruise ship operations.
Instead, the CDC has replaced that former approach with new voluntary guidelines for the cruise lines. Overall, it's a more workable program for cruise lines and their guests.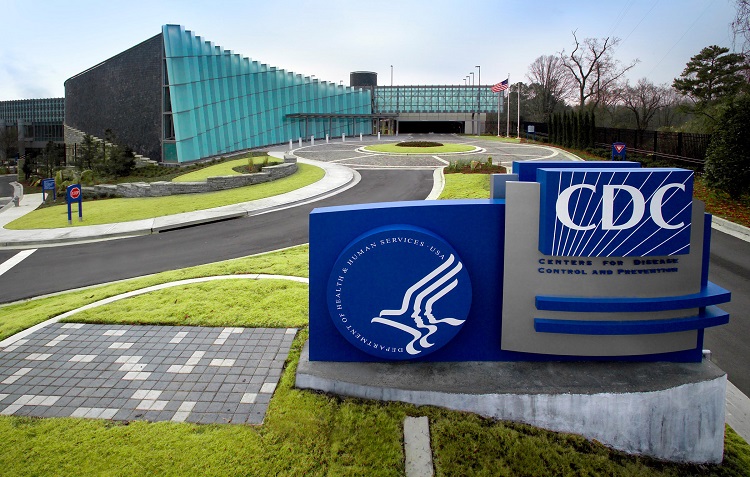 Cruise lines still maintain their own health and safety protocols so guests must follow those. One change since the CDC's decision, though, is that many cruise lines have eliminated pre-boarding COVID-19 tests.
Just Keep in Mind
Check with your travel advisor or the individual cruise line, though. Policies vary by cruise line. In addition, neither the CDC decision nor cruise line policies can change any testing or vaccination requirements of foreign countries or destinations.
Here's the latest from the CDC about COVID-19 and cruise travel.
7. RSSC Unveils 2024-2025 Grand Voyages
Longer voyages are becoming increasingly popular with cruise fans. Often, they're looking for 60-to-80-night Grand Voyages. While these aren't quite a World Cruise in length, they're the next best thing!
"The recent launch of our 2025 World Cruise was met with unprecedented demand, so we know that there is huge appetite for our longer voyages," says Jason Montague, president and CEO, Regent Seven Seas Cruises. 
So, in July 2022, the ultra-luxury cruise line announced plans for four new Grand Voyages for 2024-2025. They're part of the "Legendary Collection."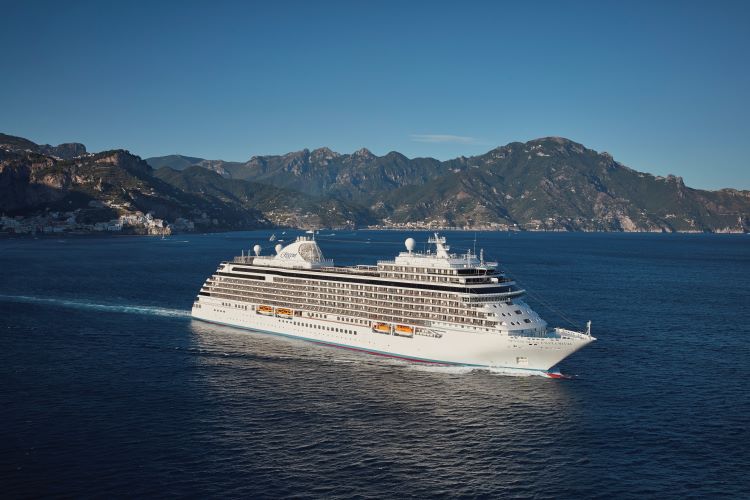 Seven Seas Explorer, Seven Seas Mariner and Seven Seas Voyager will sail these Grand Voyages to northern Europe, the Mediterranean, Asia and Africa.  
Grand Arctic Adventure
Departing from New York City, for example, Seven Seas Mariner will sail an 83-night "Grand Arctic Adventure" to Barcelona, Spain. Travelers will view Greenland's untamed wilderness and Iceland's volcanic splendor.
Then, the ship will cross the North Sea via the Faroe Islands to Denmark. Guests will enjoy overnights in port at Antwerp, Belgium; Berlin, Germany; Oslo, Norway; and Stockholm, Sweden.
They'll also gaze at the gorgeous Norwegian fjords and spend time in the Netherlands, France, Portugal and Spain too. All-inclusive fares start at $62,499 per person, double occupancy. Here's the line's website page with "Grand Arctic Adventure" itinerary details. 
Grand Spice Route Quest 
On March 25, 2025, Seven Seas Voyager (see photo below) will sail a 70-night "Grand Spice Route Quest" from Auckland, New Zealand, to Athens, Greece.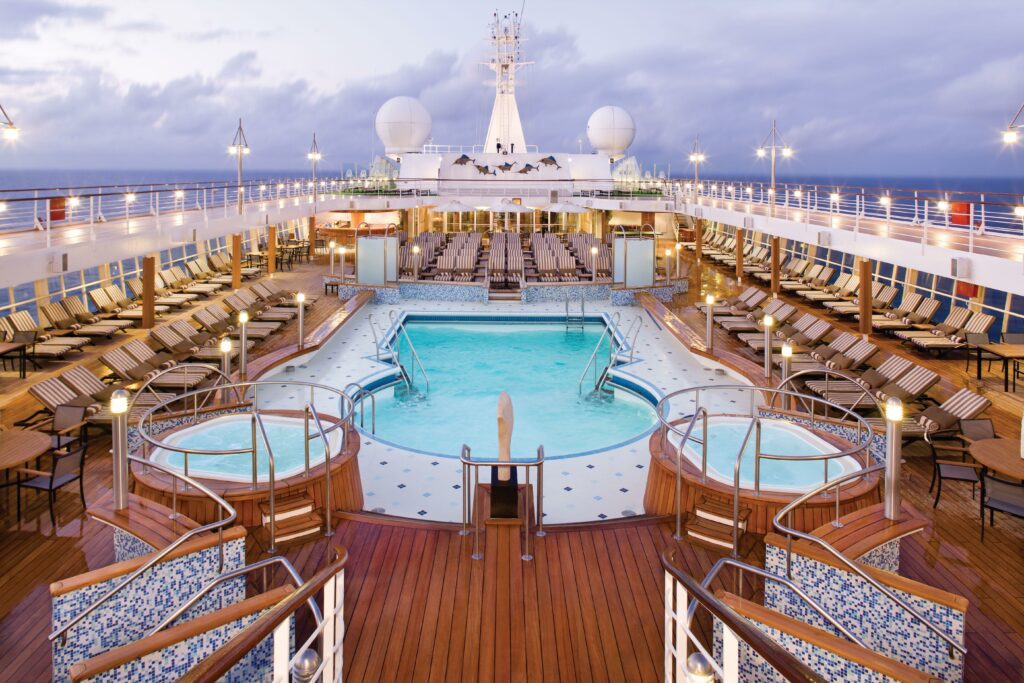 The ultra-luxury ship will cruise along Australia's east coast, then cross the Timor Sea to Indonesia. Guests will enjoy overnights in Bali, Indonesia; Singapore; Ho Chi Minh, Vietnam; and Bangkok, Thailand.
The itinerary also includes the spice capitals of Sri Lanka and India, and ancient treasures in Luxor, Egypt. All-inclusive fares start at $46,999 per person, double occupancy. Here's a link to the line's page with more itinerary details. 
Other Grand Voyages 
Two other Grand Voyages are planned too. For example, Seven Seas Voyager will operate a 79-night "Grand European Sojourn" voyage roundtrip from Lisbon, Portugal. Departing on June 28, 2024, it will visit both northern Europe and the Mediterranean. All-inclusive fares start from $62,999 per person, double occupancy. For full itinerary details, visit this Regent Seven Seas' web page.
During Seven Seas Explorer's 63-night "Grand Asia Exploration," guests will sail from Tokyo, Japan, to Sydney, Australia. Departing October 18, 2024, the Grand Voyage features 10 overnights in ports, 11 port calls in Japan, plus time ashore in Taiwan, China, Vietnam, Thailand, Indonesia and Australia. All-inclusive fares start from $45,999 per person, double occupancy.
"Our guests are eager to travel around the world and create memories all while enjoying the exquisite luxuries that are the hallmark of the Regent experience," emphasize Montague. "We are confident that these four inspiring Grand Voyages will be incredibly popular."
Inclusive Value 
Together with all-suite, all-balcony accommodations, guests traveling on a Grand Voyage will enjoy a complimentary, one-night, pre-cruise hotel package and dinner; an exclusive shoreside experience; door-to-door luggage service; unlimited valet laundry including dry cleaning and pressing; phone time per suite; and a commemorative gift.
Those perks are in addition to other luxurious amenities already included in a Regent sailing. For instance, guests receive unlimited complimentary shore excursions in every port of call; roundtrip, business-class air on intercontinental flights from the U.S. and Canada; gourmet cuisine in a range of onboard specialty restaurants and al fresco dining venues; fine wine and spirits; entertainment; unlimited Internet access; pre-paid gratuities; and transfers between the airport and ship.
For more information, visit RSSC.com or contact your travel advisor.
8. Jet Blue and Spirit – Merger Plans Announced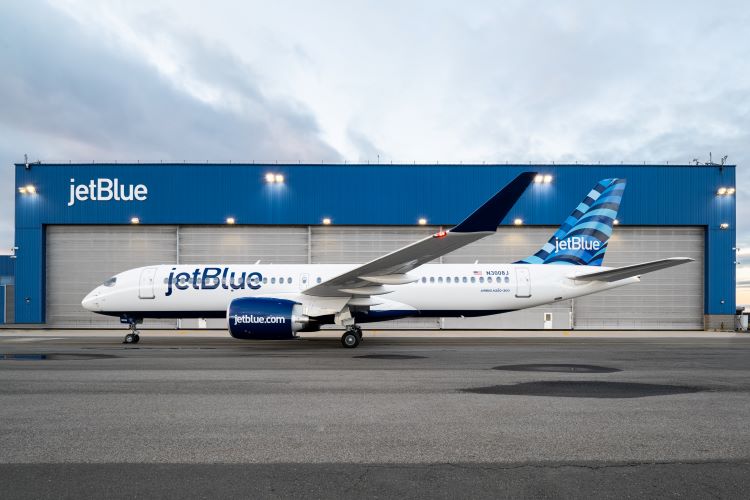 Jet Blue Airways Corporation and Spirit Airlines have agreed to merge. If approved by Spirit's shareholders and federal regulators, the merger would create the U.S.' fifth largest airline.
The deal came shortly after any potential merger deal between Spirit and Frontier Airlines fell apart. For all the details, check out this link to the Jet Blue press announcement about the merger deal. 
9. Seabourn's First Expedition Ship, Seabourn Venture, Sets Sail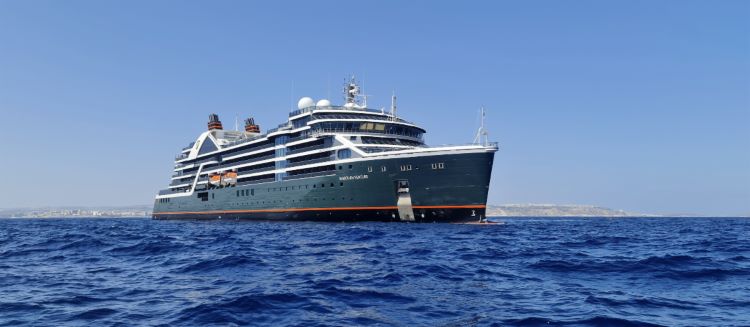 Seabourn's new Seabourn Venture, set sail for its first expedition on July 27, 2022. The expedition ship departed Tromso, Norway, on a 12-day "Northern Isles" expedition to the Arctic and the Svalbard Archipelago.
That's one of the world's northernly inhabited areas. Guests on the inaugural cruise this week may possibly spot reindeer, puffins and polar bears.
Here's a look at the ultra-luxury line's press release about the new ship setting sail. For all the itinerary and ship details, check out this Seabourn page.  Also, be sure to chat with your travel advisor about Seabourn's new expeditionary itineraries to remote regions of the world.
10.  American Hotel Industry Shows Recovery Progress
The American Hotel and Lodging Association (AHLA) provided insight and results from its "2022 Midyear State of the Industry Report." Here are a few key tidbits:
Hotel

occupancy is expected to average 63.4 percent in 2022, approaching pre-pandemic levels.
By year's end, American hotels are expected to employ 1.97 million people — 84 percent of the pre-pandemic hotel workforce.

Interestingly, 47 percent of business travelers say they've extended a business trip for leisure/vacation purposes in the past year.

Some 82 percent of business travelers also say they're interested in doing that for the future.
Here's the full report from AHLA. 
Important Information from Pavlus Travel
This editorial blog site provides only "basic, general information" about travel; it's not designed to provide specific pricing nor is it staffed by travel advisors.
So, please don't use the Reply Section below if you're asking for pricing, travel dates, accommodations, brochures or other specific requests. 
That said, we are most happy and eager to assist you. Here's how…
If anything does tweak your interest in the story and you DO have questions about any of the travel products above, their pricing, brochures, any discounts, itineraries, dates of travel, accommodations, accessible option and so on, please contact us at 800-528-9300.
Or visit us online at Pavlus Travel's official agency Web site; you can "live chat" with us online too!
In addition, for your own protection, please do not put any personal information (address, phone, email, etc.) in the Reply Section below. Contact us via the phone or Web site link listed above.
Thanks for reading!