Driving on a road trip from Miami to Key West in the Florida Keys is akin to visiting another country. The "vibe" and "feel" of the vacation evolves as visitors keep driving southward along the 113-mile-long Florida Overseas Highway.
Let's just say that the Florida Keys exude a highly relaxed, tropical, laid-back, and at times, super-duper quirky style. We found the "locals" very friendly and the eco-views stunningly gorgeous.
From Key Largo to Islamorada, Marathon and Key West plus many isles in between, we simply couldn't wait to discover what was along the next mile, on the next island or over the next bridge.
But while, at times, we got carried away with the journey, it's easy for drivers to stay grounded. Just look for the Florida Overseas Highway's Mile Marker (MM) signs. Then you'll always have a sense of your progress along the drive.
So, without further ado, here's a look at 10 fun, quirky discoveries that we made while driving through the Keys.
1. Sail Away on the Original African Queen
Yes, it's the real deal. Visitors to Key Largo can see or even sail away on the "African Queen," a steam-powered vessel made famous by its prominence in the 1951 Hollywood movie of the same name.
Today, that century-old boat is docked at the Marina Del Mar marina. That's part of the Holiday Inn complex at Mile Marker 100 in Key Largo.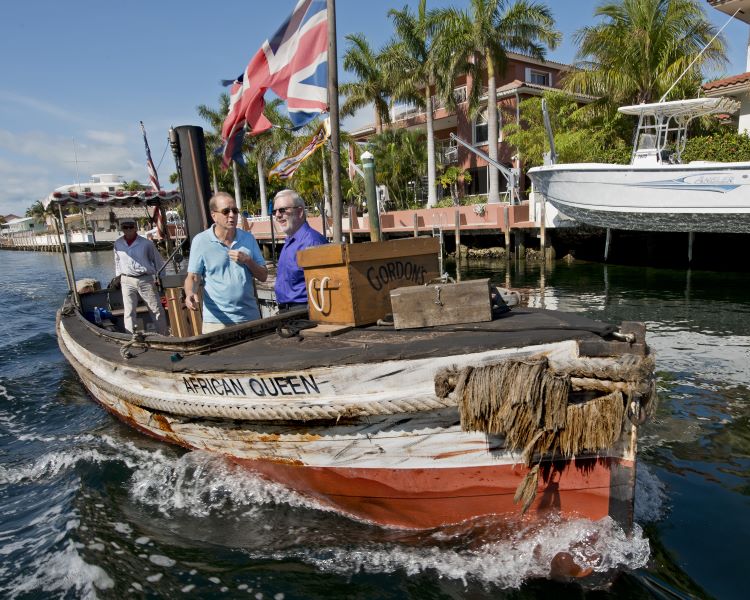 Built in England in 1912, the African Queen was shipped to the British East Africa Railway, located on the Victoria Nile River and Lake Albert. Back in the day, that was the border of the Belgian Congo and Uganda.
The boat was built in a narrow fashion so it could navigate the Victoria Nile. Often, the boat's cargo there included mercenaries, missionaries and hunting parties.
Movie Memories 
To most consumers, though, the boat's claim to fame is from the 1951 flick that starred Humphrey Bogart and Katherine Hepburn. Bogart was subsequently honored with a "Best Actor" Academy Award for his performance.
In fact, the American Film Institute has ranked "The African Queen" as the 17th greatest movie of all time. Here's the full AFI list.  
Sailing on The African Queen
Want to head out on the African Queen just as Bogie and Hepburn did? Well, it won't be in Africa, but travelers can reserve tickets for a fun, 1.5-hour sightseeing cruise.
As the ship sails through the Port Largo Canal area, it's a hoot to watch the boat engine's steam pressure build.
Listen to the distinctive whistle blow as the journey heads to the Atlantic Ocean and back again. Depending on conditions, visitors can even take a turn at the helm!
Boat rides are usually offered at 10 a.m., noon, 2 p.m. and 4 p.m. Cost is $59 per person for those 13 and older, $25 for those 4 to 12 years of age. Here's the site for more information, booking a time slot and buying tickets. 
Coincidentally, "Key Largo" was the name of another Hollywood movie. That 1948 flick also starred Bogart and co-starred Lauren Bacall. A local bar, the Caribbean Club, was the spot where some of that movie's exterior scenes were filmed.
2. Take a "Selfie" with a Gigantic Conch Shell
Fun reigns in the Florida Keys. So, while driving south from Key Largo to Key West, we stopped to snap a photo of a lovely conch shell statue.
It's easy to find — in front of Theater of the Sea, a marine park at 84721 Overseas Highway. That's about Mile Marker 84.4.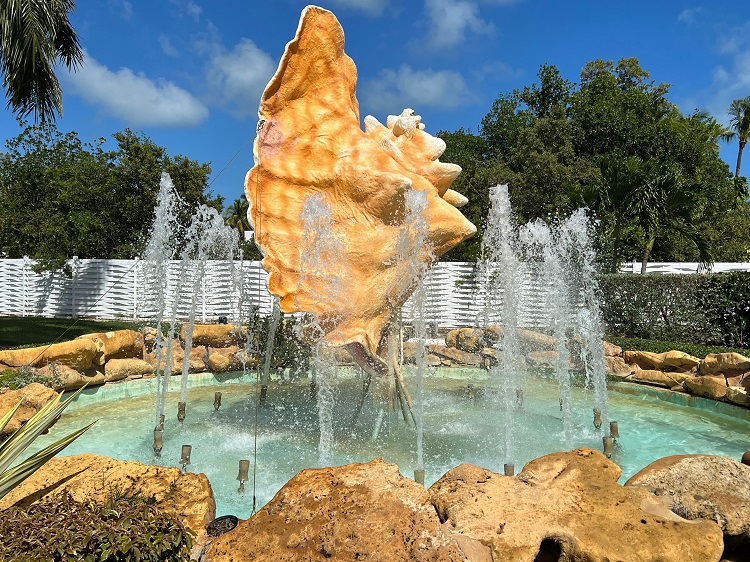 Driving south, we safely pulled off the road into the grass — getting out of the way of traffic. My friend hopped out and, presto, took the shot (shown in the photo above).
The colors of the shell are gorgeous, and a bright blue sky created the perfect backdrop.
More Conch Statues
As noted, visitors will find conch shell statues in several spots throughout the Keys. For instance, one massive, starker-in-look one is found at Key West High School's parking lot.
At 18 feet in height, that "Fighting Conch" represents the high school's mascot.
3. Check out the Six-Toed Cats
Certainly, anyone desiring to explore the history of author Ernest Hemingway's time in Key West, should visit the Ernest Hemingway Home and Museum. We did so this summer and enjoyed the experience.
Open daily, the museum is located at 907 Whitehead Street, Key West. It's open either for guided tours or travelers can walk through the home and gardens on their own.
What's unique, beyond the tales of Hemingway? Well, this attraction is a cat lover's paradise.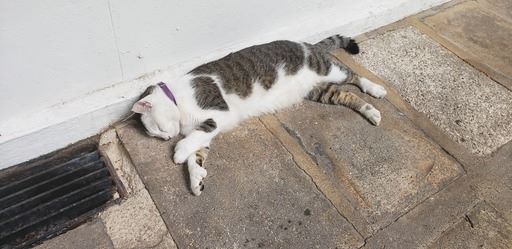 Yes, some 60 polydactyl (six-toed) cats live on site. Cats normally have five front toes and four back toes.
So, visitors viewing these cats often remark that it appears as though they have a "thumb" on their paw.
About half the cats at the museum have the physical polydactyl trait – most with the extra toes on the front feet, some on their back feet too.
Even those who don't have it physically, have it within their DNA. So, they can pass it along to offspring.
Descendants of Snow White
How did the cats get here? Author Ernest Hemingway was given a white, six-toed cat by a ship's captain. Many of the current feline residents are descendants of that feline, called Snow White.
In fact, Hemingway always named his cats after famous people. As a result, today the museum follows that tradition. The kitties are well taken care of, under the watchful eye of a veterinarian, who provides all necessary preventive care and vaccinations.
Interestingly, polydactyl cats aren't of any specific breed. The trait is found in any breed and the cats vary in look.
We noticed signs around the museum grounds, explaining that petting the cats is "do so at your own risk." That said, we observed numerous folks who simply couldn't resist. The kitties we met didn't seem to mind!
Kitties Galore
From our perspective, as the afternoon ticked away, more and more felines just wanted to nap, though. Still, if you're a cat fan, it's worth a stop to take a look, tour the home and museum, see the kitties and stroll the lovely grounds.
The museum is open daily from 9 a.m. to 5 p.m. Advance reservations are not required. Tickets are available only at the museum, plus only cash is accepted.
General admission for those 13 and older is $17. Admission for children (5 to 12 years of age) is $7, and younger kids are admitted free. For more information, visit the Hemingway Home and Museum's website.
4. Stop for a "Selfie" with a Friendly Manatee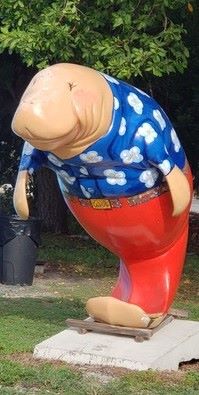 One of the most fun things about a road trip in the Florida Keys is unexpectedly discovering fun spots along the route. The islands are a cornucopia of visual artistry.
Manatee statues and décor featuring sea cows (including many mailboxes spotted along the Overseas Highway) are prolific throughout the Keys.
For instance, on our recent drive from Key Largo to Key West, we spotted this playful manatee (see photo at right) in the Middle Keys.
The colorful art piece was outside the Shady Palm Art Gallery & Photography, 2888 Overseas Highway, Marathon, FL.  Just adjacent, you'll also see a ferocious shark creation.
If you enjoy looking at local art, we'd suggest popping into that gallery. It displays artwork from more than 50 local artists.
Friendly and Slow Moving
As for the manatee statue, it depicts an aquatic, gentle giant, also called a sea cow.
While spotting the statue is fun, there's also the possibility that you might even see the "real thing" on your Florida Keys trip, particularly if you're out on the water.
Moving freely between fresh, saline and brackish waters, manatees favor Florida's coastal areas, bays, estuaries, canals and rivers.
Averaging nine feet long (with some up to 12 feet in length), these marine herbivores are slow moving and often quite friendly.
That's why we liked this art piece discovery as it looked playful. Again, throughout the Keys, visitors will often spot other manatee statues or rural mailboxes with manatee designs. So, keep your eyes peeled!
5. Walk, Cycle or Run along the Old Seven-Mile Bridge, or Ride the New Blue Tram
Listed on the National Register of Historic Places, the Old Seven-Mile Bridge in the Middle Keys was originally a centerpiece of railroad baron Henry Flagler's Florida Keys Over-Seas Railroad.
Following a hurricane, the bridge was closed in 2016 for extensive repairs; that work was completed in December 2021. A 2.2-mile part of that bridge, named "Old Seven," reopened to pedestrian recreation in January.
But now there's a new way to explore. Look for the blue tram!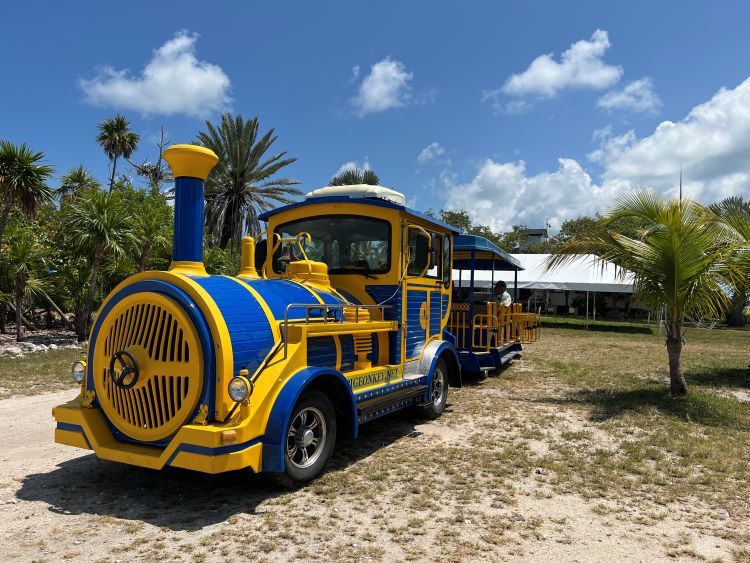 This new 60-passenger tram began transporting visitors along a 2.2-mile span of the historic Old Seven-Mile Bridge to tiny Pigeon Key.
That's a tiny island nestled beneath the bridge. It once hosted about 400 workers who were building the railroad in the early 20th century.
For more information, visit www.pigeonkey.net or call 305-743-5999.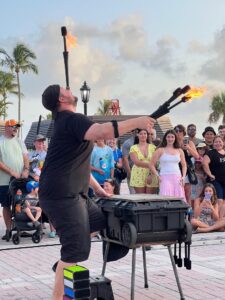 6. Celebrate the Sunset at Mallory Square
The Florida Keys have a zillion fun, fantastic ways to celebrate stunningly gorgeous sunsets over the water.
Certainly, the craziest is the nightly sunset celebration at Mallory Square. We watched this talented fire juggler (see photo at right) and other quirky, fun performers.
In addition, you'll find talented local artists selling their creations in stalls. Why not enjoy a colorful drink or tasty treat at a nearby cafe or food truck?
Then just watch as the sun sinks below the horizon — leaving you with a breathtakingly gorgeous view.
Here's a link to more details about the Mallory Square sunset celebration.
Viewing the Colorful Horizon at Sunset Key
But if you're seeking a more relaxing, civilized approach to sunset viewing, we'd suggest making a reservation for dinner at Sunset Key. This luxurious resort island is an eco-paradise. It's just offshore from Key West's Mallory Square area.
Restaurant goers with reservations at Latitudes on Sunset Key can head for Pier 29 behind the Opal Key Resort & Marina. The island resort's boat will transport them for the quick ride to the aptly named key.
Walking off the boat, Latitudes' back patio is immediately to the right as people walk into the resort complex.
We dined here, had one of the best meals ever and chose an indoor table with a stunning view (but diners can also dine outside on the patio). We'll talk more about dining here in a future blog.
This is truly the dining spot for a sunset view to remember, though. If a photo speaks louder than words, see below.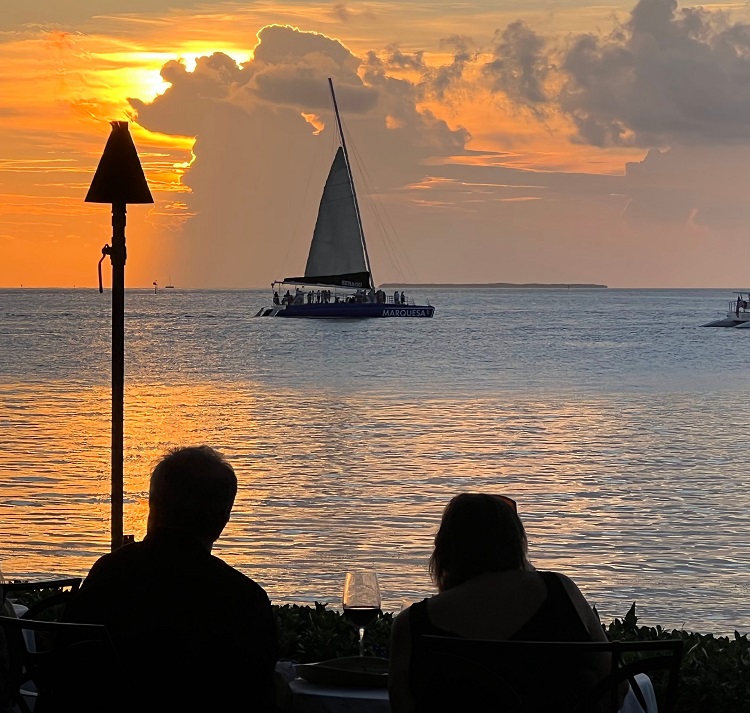 7. Pose with Betsy, the Lobster, at Rain Barrel Village
Yes, the Keys are known for critters of many types. One is the spiny Florida lobster. So, when we drove by "Betsy, the Lobster," out front of Rain Barrel Village, 86700 Overseas Highway, we just had to stop.
For more than four decades, the open-air complex that is Rain Barrel Village has been a popular spot. It's a bit of a tropical garden oasis, lined with specialty shops, galleries and boutiques.
We found a cornucopia of local art, handmade crafts, custom jewelry, resort wear and, of course, souvenirs.
But it's "Betsy" that drew us closer. She's humongous – approximately 40 feet long and 30 feet high (see photo below).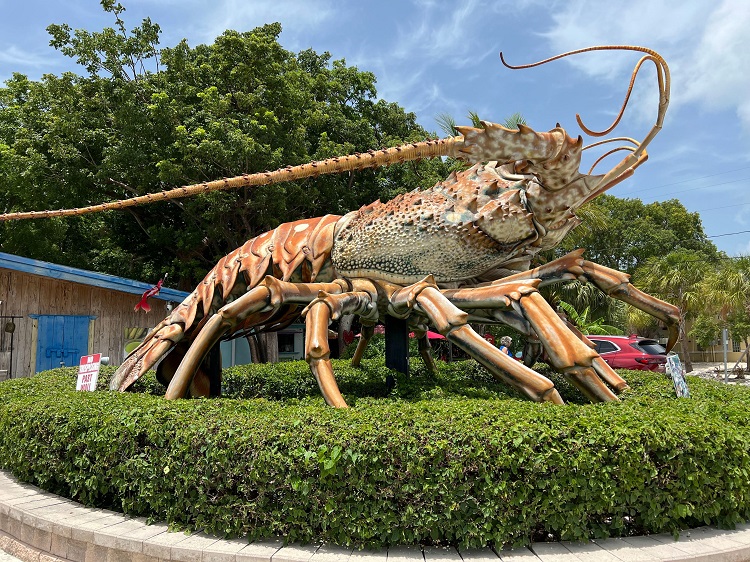 Betsy, who is also anatomically correct, was created by Marathon artist Richard Blaze decades ago. This crustacean art piece is definitely worth a stop for a photo.
So, admire Betsy. But also take time to walk amid Rain Barrel Village's shops, talk with artists and grab some local treats or drinks. Here's the link to the Rain Barrel Village website. 
8. Check out the Presidential Limo: A 1950 Lincoln Ambassador
How often do you get to see a presidential limousine? One way to do so is to tour the Harry S. Truman Little White House, 111 Front Street, Key West.
Outside, nestled under a canvas canopy near the home is a 1950 Lincoln Ambassador Limousine (see photo below).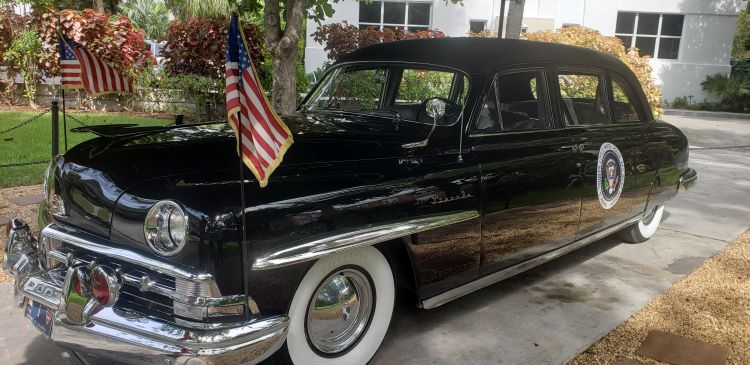 This is one of the presidential motorcade cars from Truman's era. If the parking spot under the canopy is empty, the limo may still return soon — on many days.
That's because it's often driven out of the complex for a short time as part of the attraction's recently introduced new VIP White Glove Tour ($645 for up to six guests).
No, you don't need to buy that luxury tour to see it. You can simply look at the car parked on the grounds pre- or post-house tour.
But if you desire to ride in it, though, you'll need to book that new white glove tour.
The Meandering Traveler showcased the special perks of this luxury tour in a previous blog. It was #9 of our recent, "Top 10 Travel News Tidbits for August 2022 – Air, Land, River, Sea."
9. Explore Key West's Shipwreck Treasures and Maritime Heritage
The Keys have an adventurous side, much of it having to do with the sea – the Atlantic Ocean on one side, the Gulf of Mexico on the other.
In the 1800s, sailors would board their boats in Key West, and their wives would hold onto the memory of seeing their loved ones sail away. They never knew whether the sea would be kind and their loved one would return.
Several attractions preserve the heritage of the Keys and its seagoing culture. For example, towering over the historic seaport area is the Key West Museum of Art & History at the Custom House, 281 Front Street.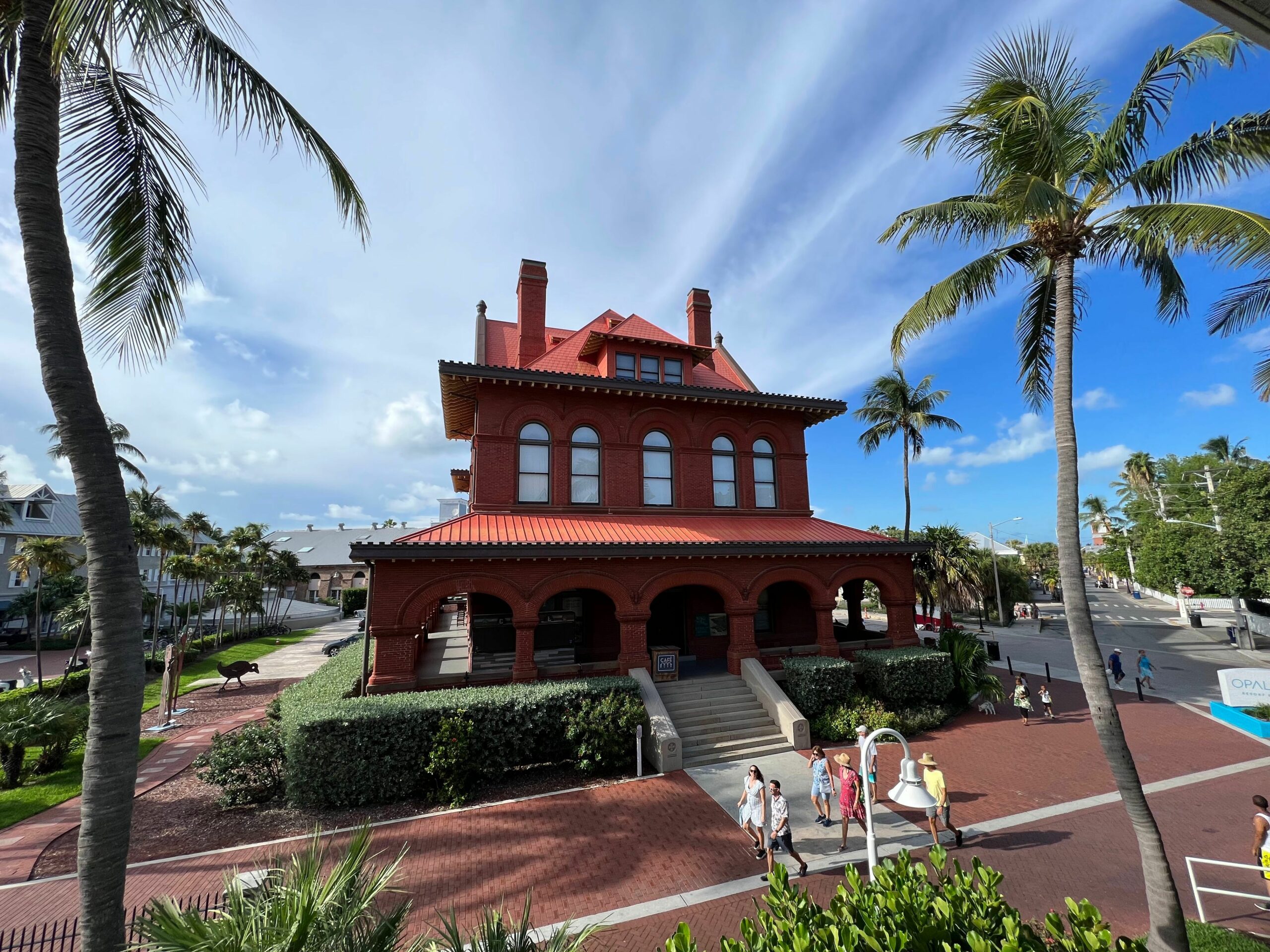 Now a National Historic Landmark, this red-brick structure is as gorgeous today as it was in 1891 when it opened. It's a great spot to peruse old photos, paintings and artifacts of Key West's past.
Among the artifacts in the museum's permanent collection, for instance, is a 19th century ship's log. Kept by Captain Alexander Jones during his time aboard several merchant ships he commanded, it covers much time aboard voyages between Baltimore, MD, and Savannah, GA.
But it also covered his sailings to New York, Philadelphia, Florida, New Orleans and various ports in the Caribbean, South America and Europe. And, it included accounts of shipwrecks in the Florida Keys.
Treasure Hunter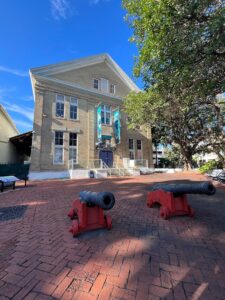 For fans of shipwreck history, two Key West museums are "must see." One is the Mel Fisher Maritime Museum, 200 Greene Street, Key West.
An American treasure hunter, the late Fisher (who died in 1998) was best known for discovering the 1622 wreck of the Spanish galleon, Nuestra Señora de Atocha, in Florida waters.
Silver bars were recovered in 1973 from the wreck. Following that, in 1975, Fisher's son Dirk discovered five bronze cannons. The markings on those proved that the wreck was the Atocha.
Over time, more than $450 million in gold, silver, Colombian emeralds and other treasures were ultimately recovered from Atocha. That included 114,000 Spanish silver coins, known as "pieces of eight."
Today, the museum displays artifacts from a number of 17th century shipwrecks. Those include Atocha, as well as Henrietta Marie and two other Spanish galleons, Santa Margarita and Santa Clara, a conquistador-era galleon.
The Wreckers' Story
Another bit different "take" on shipwrecks is found at the entertaining Key West Shipwreck Museum, 1 Whitehead Street. It tells the story of the so-called "Wreckers."
They lived in Key West's pioneer days — making a living by salvaging goods from sunken shipwrecks on nearby reefs.
The museum's programming for visitors includes "live" actors, films and actual shipwreck artifacts. The latter are from the 1985 rediscovery of the wrecked vessel Isaac Allerton, which sank in 1856 on a Florida Keys reef.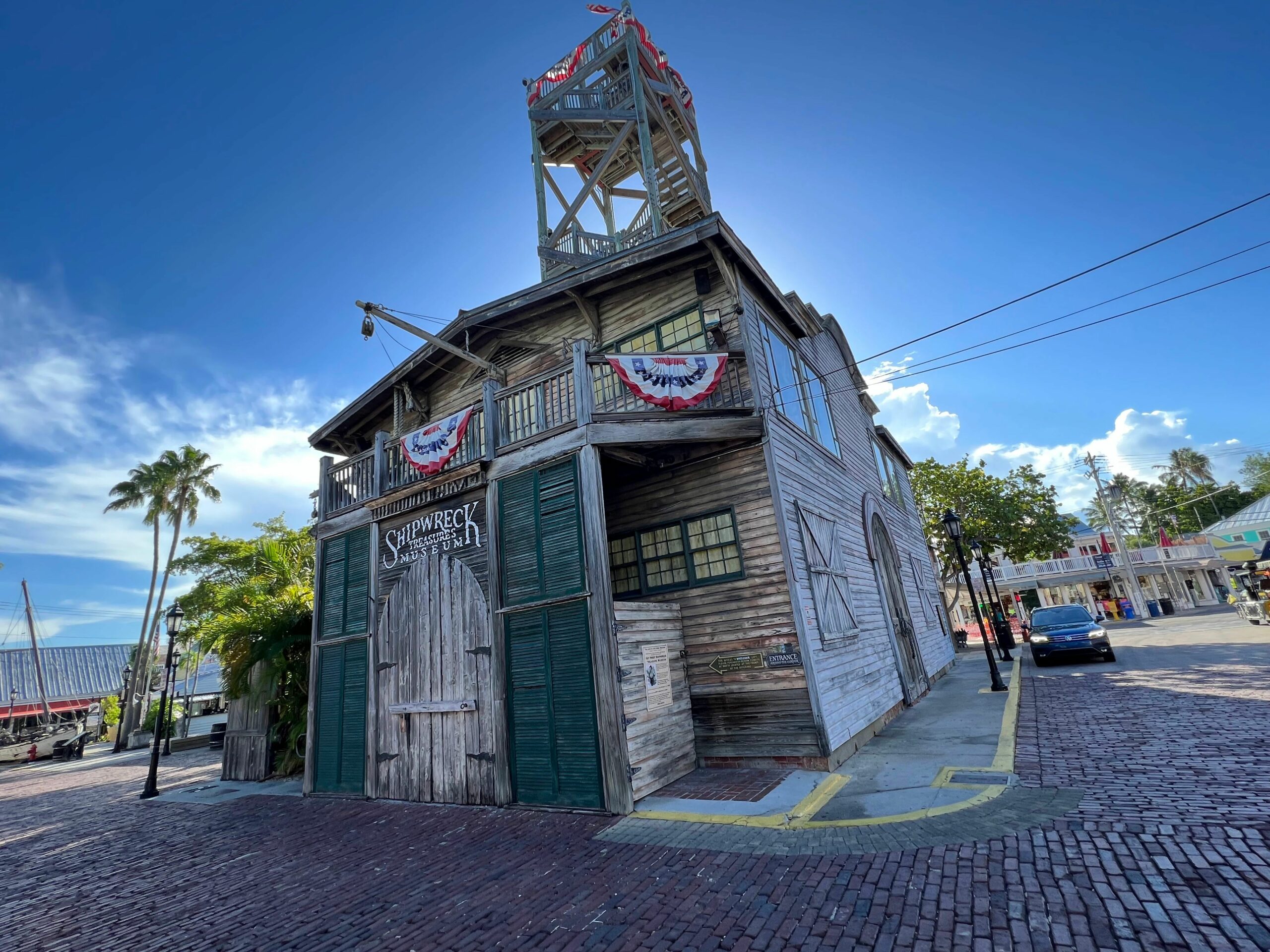 In this museum, visitors will join "master wrecker Asa Tift" and his wrecking crew as he explains how this unusual industry was an economic driver in early Key West.
Visitors also will be invited to climb the 65-foot-tall lookout tower and, if need be, alarm Tift of any wrecks on the reef.
The experience combines heritage and entertainment, and it's a good way to learn about the wrecking industry of Key West's past.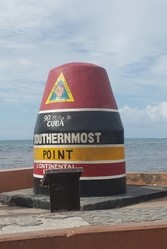 10. Journey to the Southernmost Point Monument
One part of Key West is tapped as the "Southernmost Point in the Continental U.S."
It's actually closer to Havana, Cuba, only 90 miles away, than it is to Miami, FL.
So, head for the corner of South and Whitehead streets and look for the huge red, black and yellow buoy with white dividing stripes.
It's a very popular – and often crowded – photo stop. But most people can't resist a quick snap.
Erected in 1983 by the City of Key West, the Southernmost Point buoy is a landmark.
You can easily get there by taxi. Or, you might book a city sightseeing tour that provides a view. Among those are trolley tours or the Conch Train, for example.
So, that's it for our list of fun, quirky things to see or do in the Florida Keys. And the list goes on…
For More Information
For more information on everything to see and do in the Keys, check out this website: Florida Keys and Key West. 
Interested in a drive vacation through the Keys? Then talk to your travel advisor about a car rental or private car service, as well as hotel accommodations along the route.
Stay tuned for another Florida Keys land blog this fall. We'll then chat about our luxury hotel stays and dining experiences.
Important Notes from Pavlus Travel
This blog site is designed for "basic, general information" about travel. So, it's not designed to provide specific pricing nor is it staffed by travel advisors.
Please don't use the Reply Section below if you are asking for pricing, travel dates, accommodations, brochures or other specific requests. 
That said, we are most happy and eager to assist you. Here's how…
If anything does tweak your interest in the story and you DO have questions about specific pricing, brochures, savings, accommodations, accessible options and so on, please contact us at 800-528-9300.
Or visit us online at Pavlus Travel's official agency Web site; there you can "live chat" with us online too!
Thanks for reading!