Ambling into Syd Norman's Pour House on the new 3,100-passenger Norwegian Prima one recent afternoon, The Meandering Traveler grabbed a seat. But, no, yours truly didn't indulge with live music and cocktails. Hey, it was a bit too early at 1 p.m. (P.S. We did that later!)
Instead, I attended a press briefing featuring Harry Sommer, president and CEO, Norwegian Cruise Line (NCL), who cheerily chatted and answered questions.
His "Take" on The Haven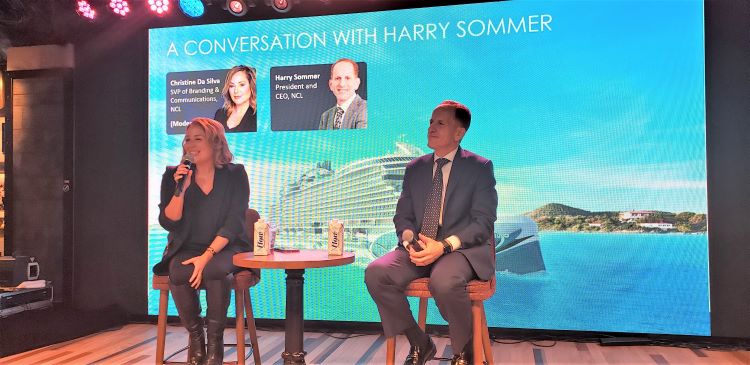 I specifically asked Sommer about his thoughts on The Haven. That's NCL's upscale "ship within a ship" complex of top suites and exclusive accommodations.
The Haven is key-card-accessible and entry is only for those guests staying in this complex. For the first time across the NCL fleet, Norwegian Prima's Haven offers sea views from every public space.
The new ship's Haven also introduces the line's first new, three-bedroom suite in 15 years. And guests will discover lovely, comfortable yet upscale design by Piero Lissoni, one of Italy's preeminent designers.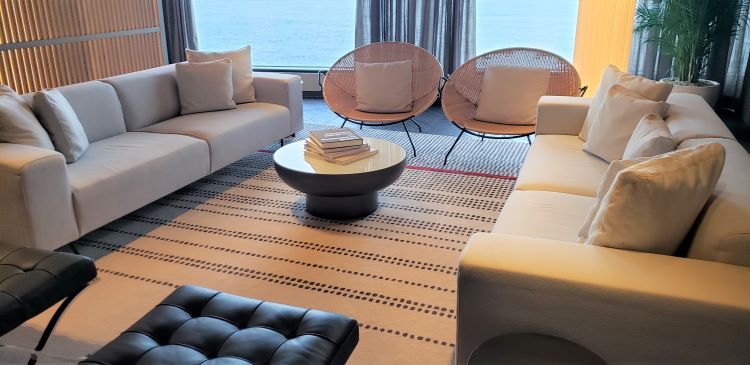 When your stateroom/suite is in The Haven, you'll discover a private area for relaxation. This complex is usually quieter and more intimate than in most venues across the ship.
For Haven guests, that means access to an exclusive lounge, restaurant, pool and sun deck spaces, among many others.
Norwegian Prima: Quick Look at "The Haven"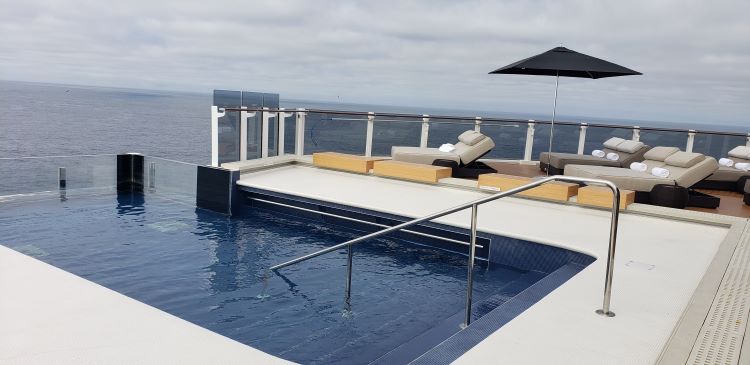 On Norwegian Prima, I also really like that The Haven is positioned fully aft (a really nice location) with an infinity pool. Its two-level outside Sun Deck is enticing, for sure. The top deck of that is reserved for those 16 and older.
As we outline Sommer's thoughts, we'll provide a few photos we snapped during our group tour of The Haven. Just keep in mind, though, that unlike "Gilligan's Island," this wasn't even a three-hour tour.
Instead, think "quick flash introduction." Our group tour following a guide in and out lasted only 10-15 minutes. Getting photos without people in the way was not easy.
That said, I hope the photos in this blog offer a sense of some of the appealing spaces within Norwegian Prima's Haven.
107 of 1,600 Accommodations
Sommer says that The Haven on the new Norwegian Prima accounts for 107 of 1,600 total staterooms and suites aboard. So, it's about 6 percent of all accommodations.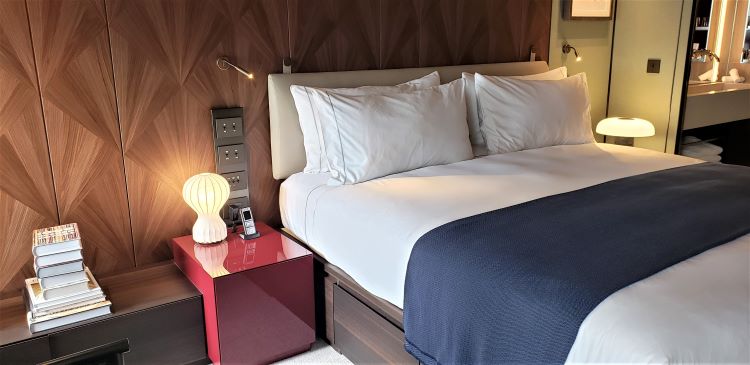 Did you know that fleetwide, The Haven has about 3 percent of every ship's total staterooms/suites. "This ship has the largest Haven percentage of any ship in the fleet," he emphasizes.
What type of guest books The Haven? Not surprisingly, Sommer says a stay in The Haven appeals to "a slightly different demographic — a slightly more affluent demographic and, to some extent, a slightly more older demographic."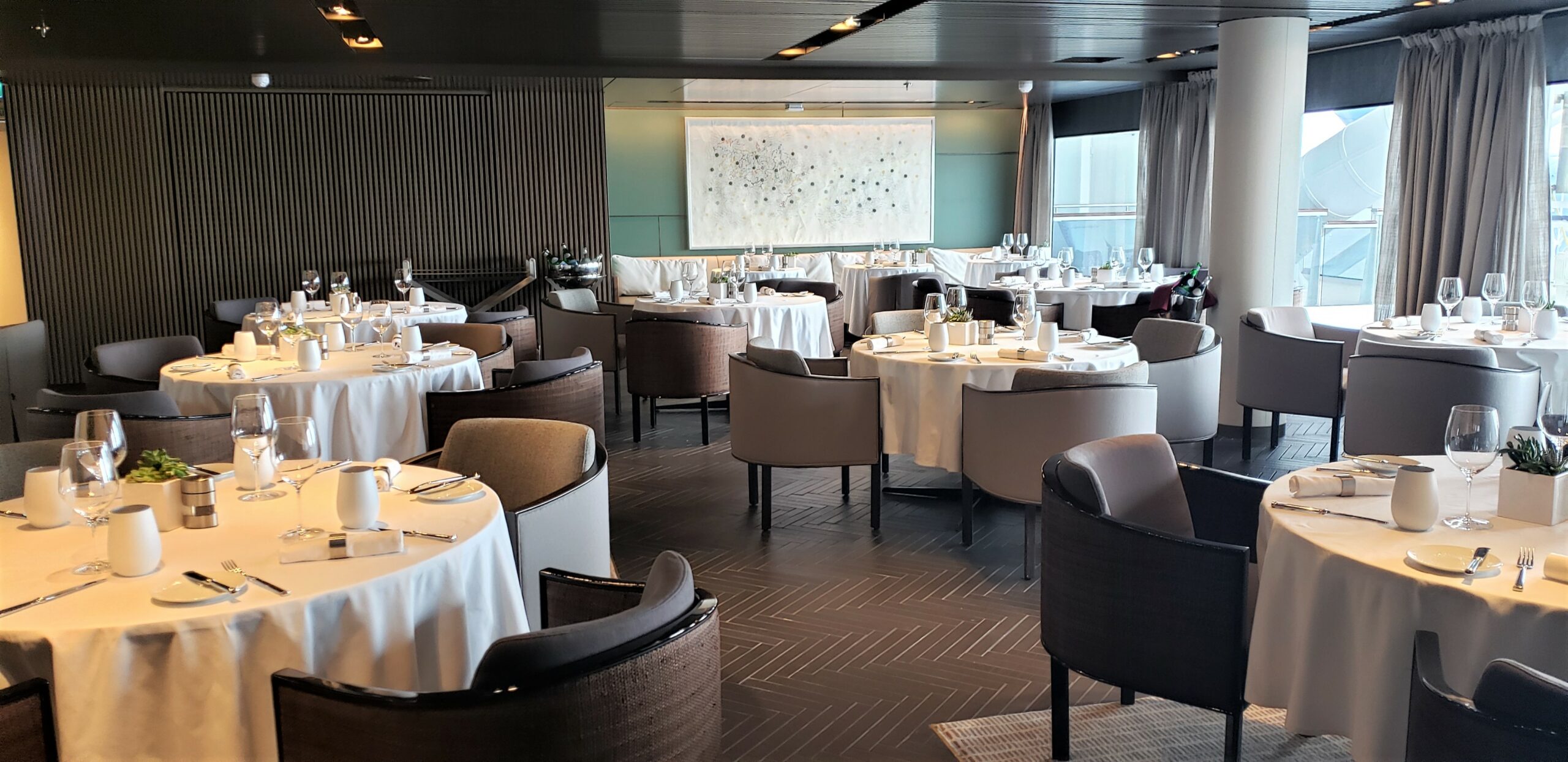 He also stresses that this ship-within-a-ship complex strongly appeals to mature folks taking a multigenerational family vacation at sea.
"We've seen to a really large extent, the matriarch/the patriarch of the family staying in The Haven, but their children and grandchildren maybe stay [outside The Haven] in balcony cabins. Everyone gets the best of both worlds."
Norwegian Prima: Multigenerational Appeal
Affluent travelers who opt to travel with their children and grandchildren may have been "hard pressed to find a suitable vacation experience before," he adds.
Because if they wanted to sail on an upscale brand, the experience was luxurious for them, "but there really weren't facilities that would interest parents in their 30s or 40s and their children under 20," according to Sommer.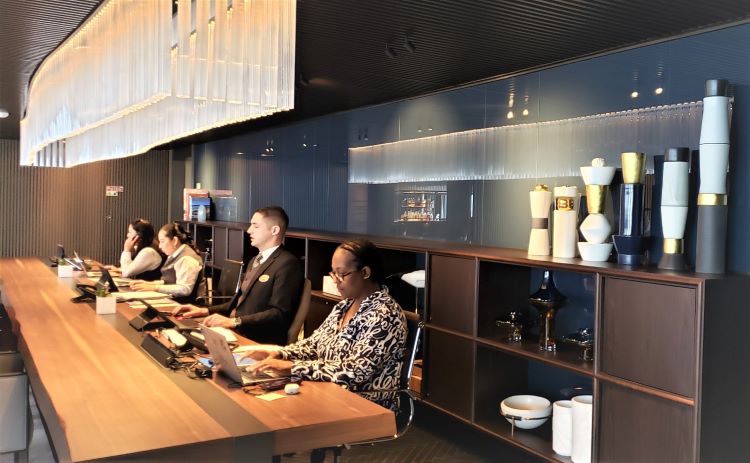 Spelling it out, Sommer says that in The Haven, people who are in that more affluent demographic on a family vacation "get the concierge, butler, key card access, a private restaurant, their own pool and more"
Yet, the family as a whole also can tap into all the amenities and razzle-dazzle stuff of a big ship. So, outside The Haven, people can attend events aboard or catch a show in the Prima Theater on Decks 6-8.
"Price is Right Live," "Noise Boys" & Summer (Donna that is!)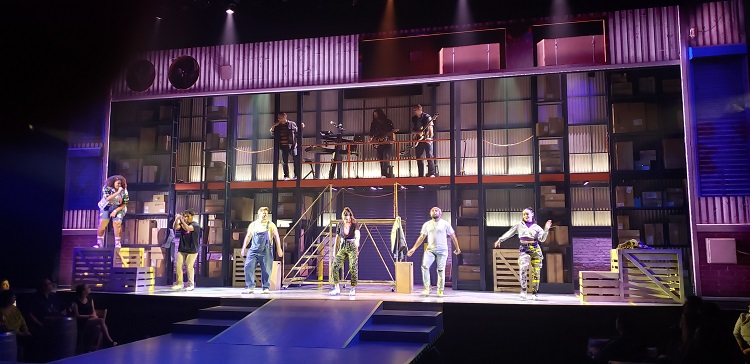 For example, in its theater, Norwegian Prima offers "The Price is Right Live" event, the hip-hop/tap dancing "Noise Boys" (see photo above) and "Summer: The Donna Summer Musical," among other performances and shows.
All shows we watched were of high quality. That said, we absolutely loved the Donna Summer-themed production show; reservations are a "must" for all shows. We did it immediately after boarding.
We loved the superb quality of the voices playing Donna at various stages of her life and career. Among them is Kimberley Locke, a finalist (third place) in the second season of "American Idol." Hey, she can really belt out the songs!
Alternatively, while the family can do activities together, they can separate for their own pleasures. Grandparents might enjoy a dip in The Haven's pool or relax on its Sun Deck lounge beds. Or, they might enjoy a spa treatment or read a good book while relaxing in The Haven's living room area.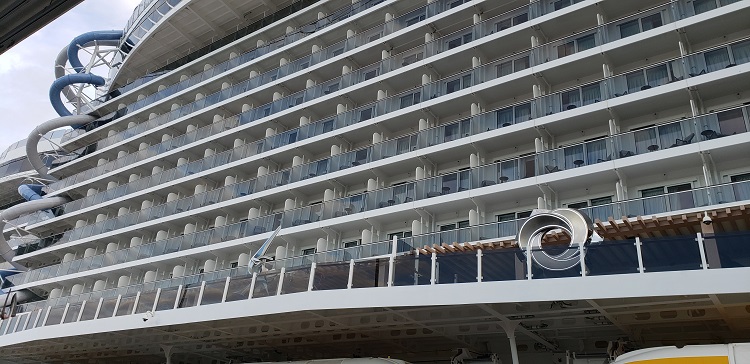 At the same time, their children and grandchildren might zoom around a three-level racetrack, get thrills on the 10-story Drop and the Rush slides, go high-tech in the Galaxy Pavilion and do "all the other wonderful things," Sommer explains.
Just in case you're wondering, Galaxy Pavilion is best described as a high-tech wonderland. It has such elements as a flying theater simulator, escape rooms and TopGolf.
Expanding the Options
While acknowledging that The Haven doesn't represent the bulk of the line's guests, Sommer says it's opened up a new demographic for NCL. So, if you're a great grandparent or grandparent and would like to travel with your adult kids and grandchildren, it's one good option to consider.
Having just toured Norwegian Prima's Haven, although briefly, I have to say I loved the aft positioning, the infinity pool and the many exclusive spaces for Haven guests.
There's also a new outdoor spa area with a glass-walled sauna and cold room. One suite we toured was lovely too, although so many people were touring it, I didn't get great shots (but you can see one of the bedroom areas in the photo used higher up in this blog). Next time!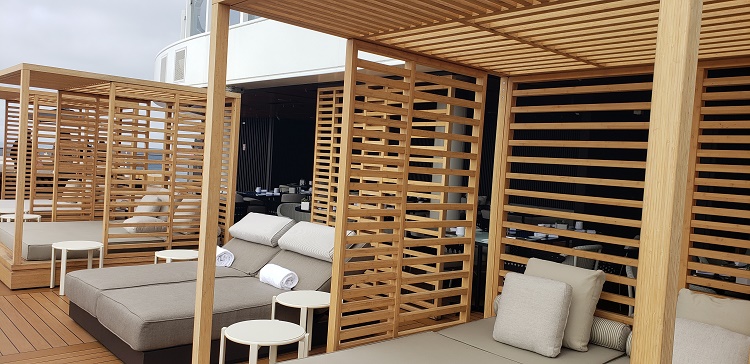 While The Haven suites are luxurious and service is incredibly pampering, Sommer also says,  We believe the core staterooms that we have are absolutely fantastic. They're the most spacious that we've ever had, the largest bathrooms we've ever had, and the most thoughtful design that we've ever had."
From my end, I stayed in #14162, a balcony stateroom. The suite was spacious and the large rainforest shower was user friendly in how it worked.
My balcony stateroom also was outfitted with just about everything I needed. I loved the two pull-out basket shelves in the closet that were handy for storing things.
Guests will also find other good storage, eco-friendly water containers, a mini-fridge, hairdryer, coffee maker, desk/make-up area, safe, couch with nice pillows, a large, wall-mounted flat-screen TV, full-length mirror on the sliding door for the closet and comfortable balcony seating.
Superb, Personalized Service
In addition, my cabin steward, Dexter, who hails from the Philippines, was superb. One thing that was very noticeable. It isn't simply Dexter who was friendly and addressed me by name and asked if I needed anything.
Yes, amazingly, it was also one or two other cabin stewards in the same corridor. That was quite impressive.
Many of the public spaces throughout the ship were designed by Miami's Studio DADO. We'll talk more about our first-hand perspective on this ship in later blogs.
Foodies, stand by. In a week or so, we'll outline options for the new Indulge Food Hall as well as in several other dining venues. So, look for original photos (yum, yum) and menus in an upcoming blog.
Norwegian Prima Itineraries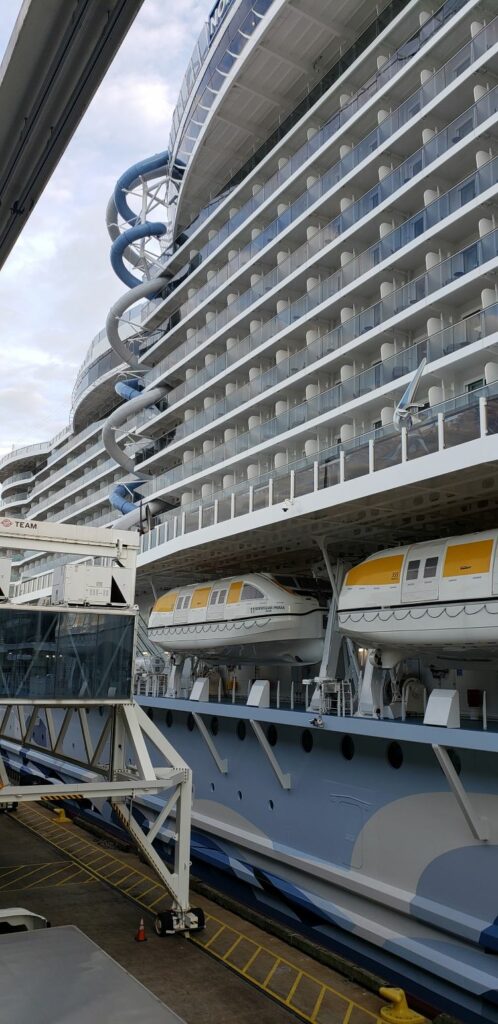 Norwegian Prima sails this 2022-2023 winter season to the Bahamas/Caribbean from Port Canaveral, FL.
In one pricing example, at press time, a seven-day "Caribbean: Great Stirrup Cay and Cozumel" cruise offered on multiple dates throughout the season started at $779 per person, double occupancy.
Fares for guests who desire to stay in the Haven for a January 8, 2023, departure started at $3,499 per person, double occupancy. All prices are subject to change.
In late spring/early summer, the ship will operate a brief season out of New York to Bermuda. Then, Norwegian Prima will reposition to Europe.
For instance, it will sail cruises from June through September 2023 between Southampton, U.K., and Reykjavik, Iceland, via Norway.
In winter season 2023-2024, the ship will home port at Galveston, TX, and sail Caribbean cruises.
Want More Information about Norwegian Prima?
Definitely chat with your travel advisor for questions and information about departure dates, fares, accommodation choices, solo travel, accessibility, and more.
Ask about bundling of valuable perks such as specialty dining, basic Wi-Fi, a beverage package and more with NCL's popular "Free at Sea" option. Sommer says that 82 percent of guests opt for that when booking a cruise.
For more information about Norwegian Prima, visit the line's website page.
Important Information from Pavlus Travel
This blog site is designed for "basic, general information" about travel; it's not designed to provide specific pricing nor is it staffed by travel advisors.
Any personal views expressed reflect the anecdotal perspective of the author — simply one opinion by a frequent traveler. The views expressed should not substitute in any way for use of a professional travel advisor for either advice or booking of any vacation.
Also, please don't use the Reply Section below if you're asking for pricing, travel dates, accommodations, brochures or other specific requests. 
That said, we are most happy and eager to assist you. Here's how…
If anything does tweak your interest in the story and you DO have questions about specific pricing, brochures, savings, itineraries, dates of travel, accommodations, accessible options and so on, please contact us at 800-528-9300.
Or visit us online at Pavlus Travel's official agency Web site; you can "live chat" with us online too!