As the year winds down, The Meandering Traveler  has picked the five best Globus escorted tours that we'd love to take in 2023! They take travelers to the Iberian Peninsula; Alberta, Canada; Iceland; the southern U.S.; and Italy.
We selected each tour based on its Globus inclusions, the travel route and style of touring. Some are Small Group Discovery Tours, limiting capacity to an average of 24 guests.
One is an "Undiscovered" tour. Globus says that offers "off-the-beaten-path" sightseeing. And another is a Globus Choice escorted tour that's designed for greater personalization of the vacation experience.
For all, though, Globus nicely bundles first-class hotel accommodations; motorcoach travel; expert guided touring (varying in scope by type of tour); dining perks; and special activities into one package price. As a result, travelers just relax and enjoy their vacation.
So, let's tour!
1. "Lisbon & Northern Spain"
For a truly deep dive into the Iberian Peninsula's culture and heritage, we'd suggest looking at Globus' 12-day "Lisbon and Northern Spain" itinerary for 2023.
As one of the tour operator's Undiscovered tours, it's a top-notch, escorted tour. Yet, it also traverses a region that many travelers may not have thoroughly explored during a past visit.
For instance, many European travelers have visited Lisbon, Portugal, or Barcelona, Spain, where the tour begins and ends, respectively. But some likely have not traveled by land to the incredible destinations along this route.
A Robust Iberian Peninsula Itinerary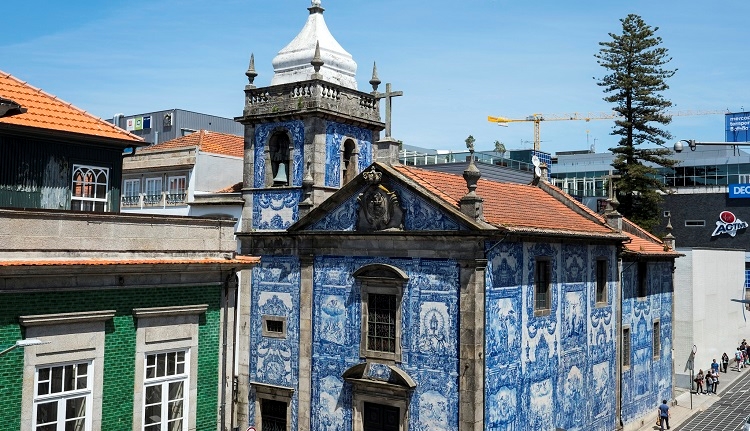 To begin this tour, guests spend two nights in Lisbon. Then they board their deluxe motorcoach for sightseeing along Portugal's central and northern coast. First up is Fatima, home to a number of Christian sacred sites.
Then, travelers will spend one night in Porto, Portugal, gateway to the Douro Valley and its cascading vineyards. Anyone care to taste a savory port wine?
Readers can learn more about Porto in our extensive destination blog published earlier this year.
As the tour continues, travelers arrive in northern Spain for visits to Vigo and La Toja Island. Guests will tour the popular pilgrimage site of Santiago de Compostela, spending two nights in the area.
Then they'll visit Luarca, famed for its cider houses serving that traditional local drink. After an overnight in Oviedo, they'll then travel on to Santander, Bilbao and the seaside resort of San Sebastian for two nights.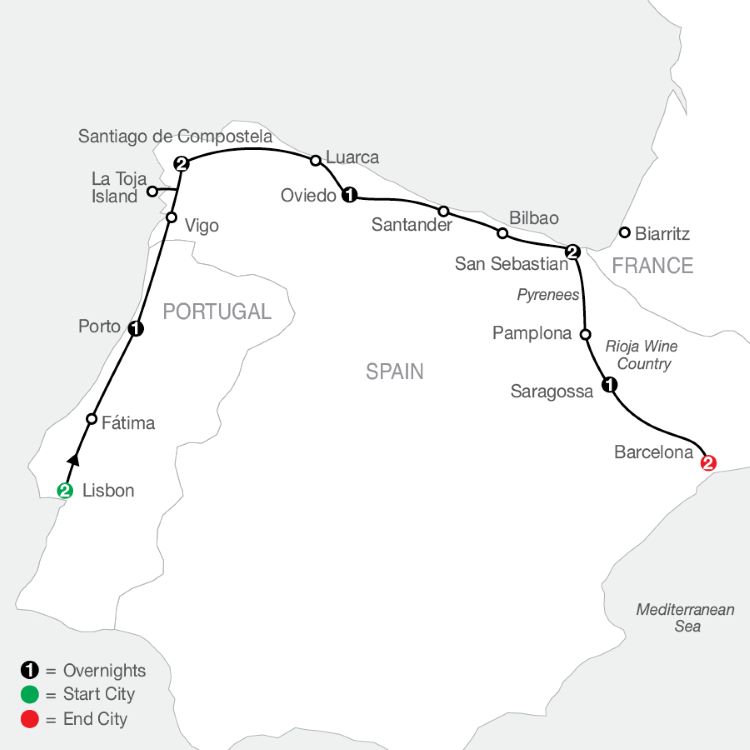 Across the Pyrenees
Crossing the Pyrenees, the motorcoach will then take Globus' guests to Pamplona, famed for the annual "running of the bulls."
Traversing pretty Rioja wine country, travelers will stay one night in Saragossa. Finally, it's on to Barcelona for a two-night stay and the escorted tour's conclusion.
Along the route, the Iberian Peninsula delivers incredible culinary and wine tasting opportunities. Travelers might sample savory paella (see photo below) or even learn how to cook it. And bring on the wine and port wine!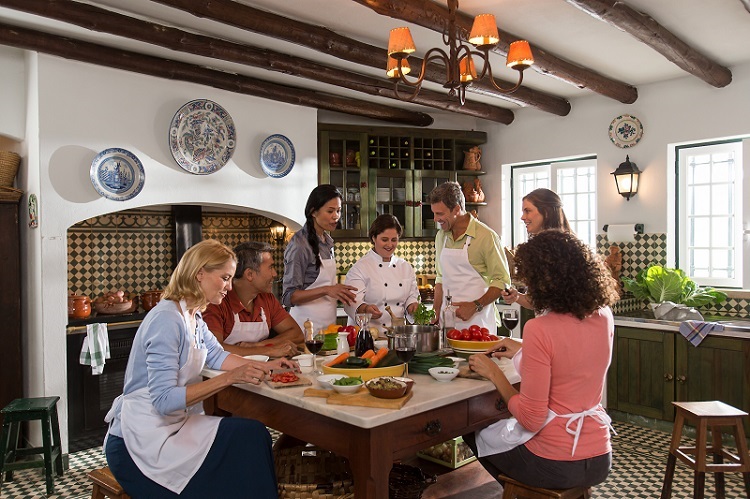 Are you a "collector' of UNESCO World Heritage Sites? One factor we like is that guests on this tour have opportunities to see or visit these incredible UNESCO World Heritage Sites along the route:
Belem Tower in Lisbon;
The Historic Center of Porto;
Monastery of the Hieronymites (also called the Jeronimos Monastery) in Lisbon;
The Monuments of Oviedo;
Santiago de Compostela (Old Town); and.
The works of Antoni Gaudi at Barcelona's Sagrada Familia.
For the "Lisbon and Northern Spain" escorted tour, Globus offers a dozen 2023 departure dates between April and September. Pricing starts from $2,659 per person, double occupancy. That's based on an April 8, 2023 departure.
Small Group Discovery Tour
One big perk is that some departures of this "Lisbon and Northern Spain" tour are also classified by Globus as a Small Group Discovery Tour. As a result, the group's size is limited (average of 24 guests) and travelers aren't traipsing on and off a motorcoach with a larger group.
Just so you know, Small-Group Discovery Tours include all the same features of a traditional Globus Europe escorted tour. For instance, that means a tour director, motorcoach transportation, local expert guides for sightseeing, hotel accommodations, some dining (in this case, 11 breakfasts, one lunch and four dinners) and more.
One of those smaller group options is the May 20, 2023, departure. Pricing begins at $3,239 per person, double occupancy.
2. "Great Resorts of the Canadian Rockies with the Calgary Stampede"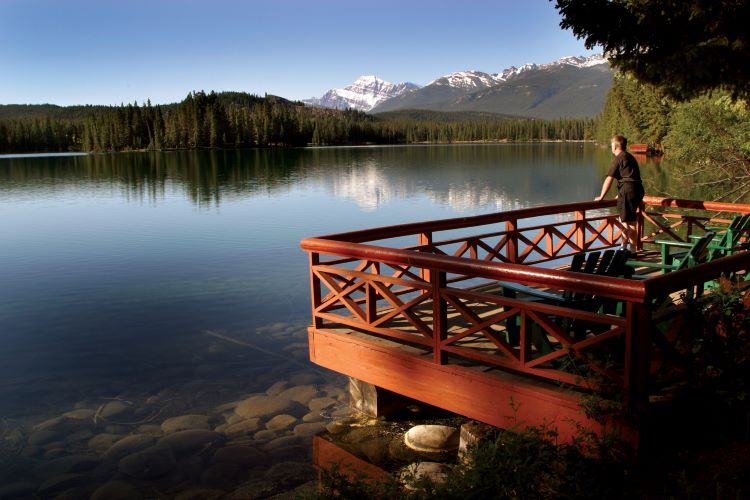 Nothing beats gazing in awe at some of North America's most rugged terrain, yet doing so in style and comfort! Certainly appealing in that way is Globus' 10-day, escorted "Great Resorts of the Canadian Rockies with the Calgary Stampede" tour.
Operating roundtrip from Calgary, Alberta, Canada, this tour balances outdoor exploration with indoor pampering. On the eco-side, Globus' guests will visit two stunningly gorgeous national parks — Banff and Jasper.
They'll head out for a guided walk along the turquoise waters of Lake Louise, enjoy a cruise on Maligne Lake and take a thrilling Ice Explorer ride through the Columbia Icefield.
Another highlight? While visiting Banff, Globus' guests will meet with a "Canadian Mountie," a member of the Royal Canadian Mounted Police. They'll hear tales of rural law enforcement adventures.
And how about those Mountie uniforms? Travelers will learn about the traditions behind that easily recognizable Mountie attire — a wide-brimmed hat, red jacket and jodhpurs.
Rockies, Resorts and Rodeo
But again, pampering is on the schedule as guests will stay at a trio of five-star resorts. These include the lovely Fairmont Jasper Park Lodge, the Fairmont Chateau Lake Louise and the Fairmont Banff Springs Hotel.
But yippee!  Get ready for the world's largest rodeo. An added touring bonus is a chance to attend the annual Calgary Stampede.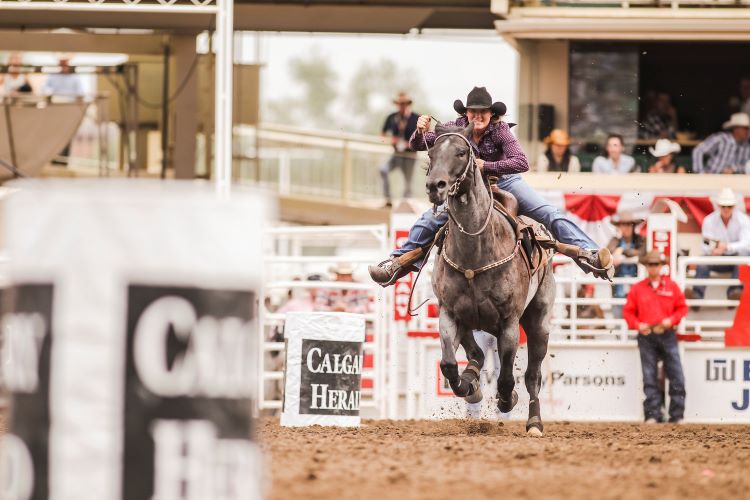 To provide some directional guidance, here's a look at the Globus map (see photo below) that shows this touring route.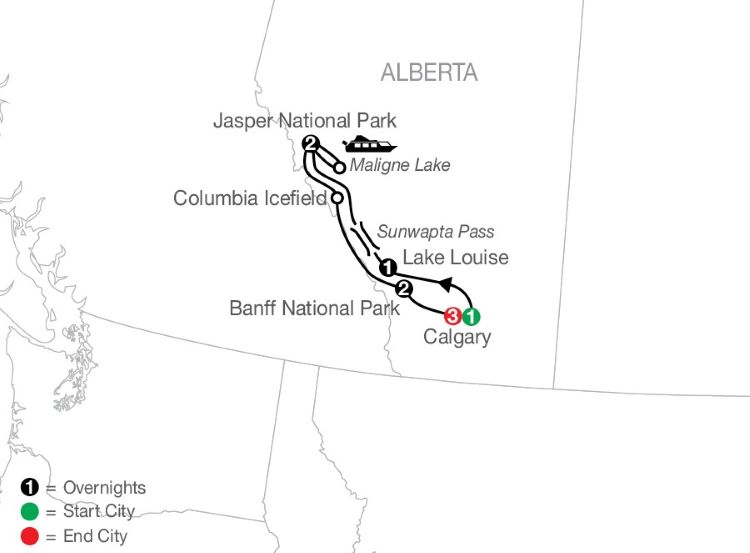 A Bit More Detail
Departing on July 4, 2023, this tour has many inclusions, among them nine breakfasts and three dinners.
On its website at press time, Globus listed a starting price of $4,719 per person, double occupancy. Again, though, chat with your travel advisor and ask about any special offers or discounts.
3. "Iceland Adventure"
For a breathtaking European eco-experience, we've selected Globus' eight-day "Iceland Adventure." It's an appealing escorted tour through the "land of fire and ice."
In particular, we like the tour route as it circles the entire island. This tour doesn't just visit one Icelandic region. So, diverse scenery and experiences await.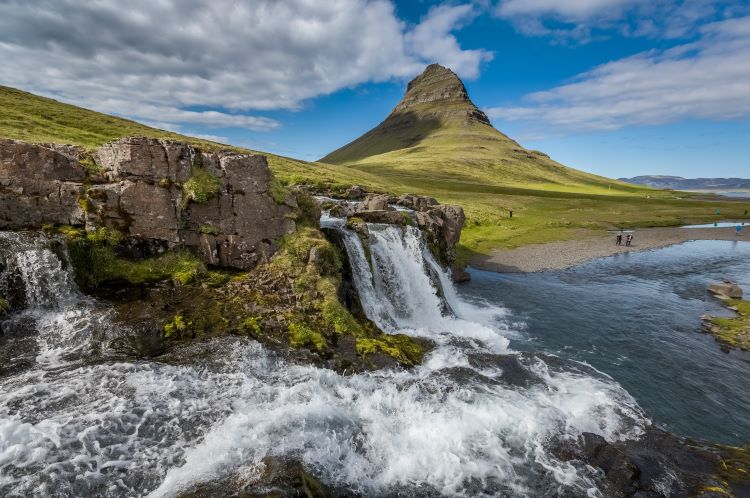 Globus' tour guests will see volcanoes, waterfalls, glaciers, black-sand beaches, floating icebergs and geothermal springs. There are also cultural and heritage elements to this tour.
It's also fun to say, "Bond, James Bond," as you peer at the spectacular Lake Jokulsarlon. It's home to Europe's largest glacier. Many "Die Another Day" movie scenes were filmed in the area.
Land of Extremes
Iceland is a fascinating land of extremes. Globus' guests, for example, can taste hot bread baked by the heat of the hot springs and also sip Geysir schnapps served super cold.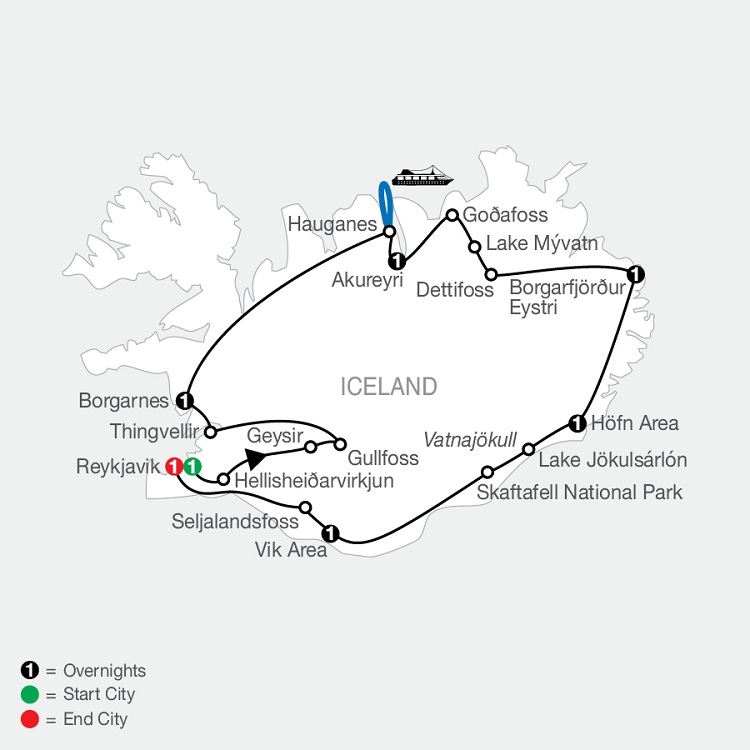 Hotel Stays Across Iceland
For the complete day-by-day, escorted tour itinerary and what's to see and do along the route, check out this "Iceland Adventure" page on the Globus website.
In addition to a Globus tour director leading this escorted tour, there are a slew of additional inclusions. For example, guests will receive seven breakfasts and seven dinners.
They'll also stay for seven nights at the Hilton Reykjavik Nordica, the Fosshotel Vatnajokull in the Hofn area, the Akureyri Hotel Kea and other first-class accommodations throughout Iceland.
Available on multiple dates between April 2023 and September 2023, this escorted tour is priced from $3,849 per person, double occupancy; that's a sample starting price based on the April 30, 2023 departure.
Select departures are also designated as a Small Group Discovery Tour. For one small-group departure on May 21, 2023, pricing starts at $4,289 per person, double occupancy. Prices are subject to change.
Check with your professional travel advisor about all the options and any special discounts or available offers. 
4. "America's Musical Heritage"
For travel closer to home, "America's Musical Heritage" is an appealing 10-day Globus escorted tour. Taking guests through Tennessee, Mississippi and Louisiana, this tour likely will appeal to both music and southern heritage buffs. 
For example, in addition to the many musical sites along the route, this tour will also showcase elegant antebellum mansions and historic cotton plantations.
Starting in Nashville, TN, travelers will visit Nashville's Honky Tonk Row and enjoy reserved seats at the Grand Ole Opry.
Then it's on to Memphis, TN, for a tour of Elvis Presley's Graceland and the famous studios and streets of this "Music City."
More Musical Inclusions
Winding its way southward, the motorcoach will follow the path of the Mississippi River to the famed Delta Blues Museum in Clarkdale, MS.
Tour goers will peruse historical images, artifacts and musical instruments. One highlight? Travelers can see the cabin where the late blues legend Muddy Waters lived as a sharecropper.
In addition, this Globus tour will take travelers to the B.B. King Museum in Indianola, MS. 
The Meandering Traveler also likes that Globus will offer guests lunch with a local musician at the Ground Zero Blues Club in Clarksdale. That club is owned by Academy Award-winning actor Morgan Freeman.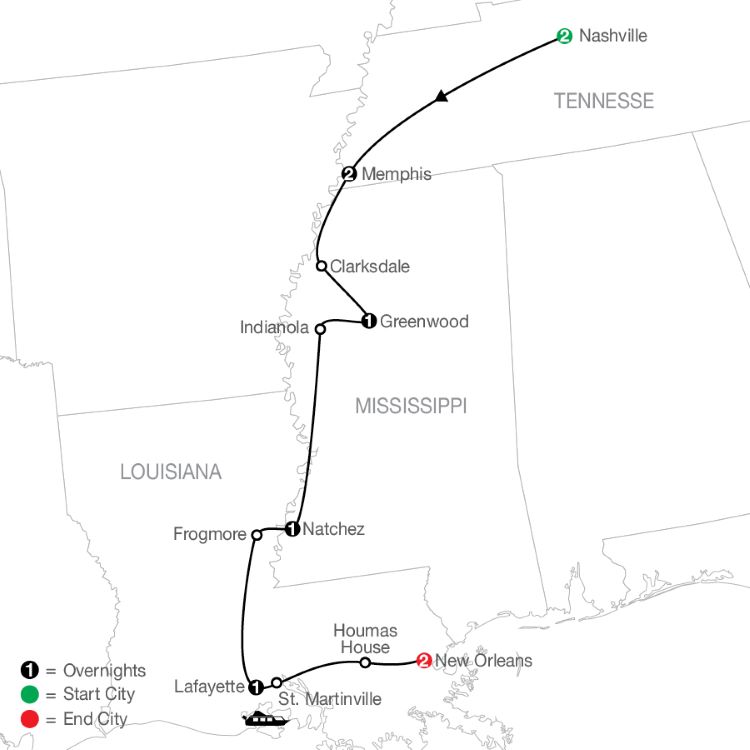 Guests also will stay one night in Greenwood. Many of its buildings are listed on the National Register of Historic Places.
In Greenwood, Globus will provide a guided tour to see the filming locations of the Oscar-winning film, "The Help."
Natchez to New Orleans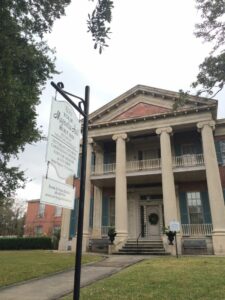 One "America's Musical Heritage" tour highlight is an overnight stay in the lovely city of Natchez, MS.
The Meandering Traveler previously wrote two blogs about what's to see and do in Natchez. Here's Part One and Part Two.
While in Natchez, tour guests will be treated to a lovely dinner at the antebellum-era Magnolia Hall mansion (see photo at right) in Natchez.
The motorcoach then will depart for Louisiana for a visit to St. Martinsville and an overnight in Lafayette in "Cajun Country." 
As the tour reaches New Orleans, music buffs can head out for "live" blues, jazz and other music and also enjoy the city's famous beignets.
Hotels For This Tour
In Nashville, guests will stay at the Gaylord Opryland Resort, while at Memphis they'll settle into the Guest House at Graceland. At Greenwood, MS, accommodations will be at the Alluvian Hotel. 
While in Natchez, tour guests can enjoy heritage, music and, yes, even a bit of gaming, with their stay at the Magnolia Bluffs Casino Hotel. Other hotels include the DoubleTree Hilton Lafayette and the Sheraton New Orleans.
Globus' guests on the 10-night itinerary can choose from numerous departures between April 2023 and October 2023.  Pricing starts at $3,299 per person, double occupancy, on several departures.
For readers wanting to now more about this itinerary, here's the link to the Globus website page.
Stay Longer: 12-Night Tour Option
In another option, travelers wishing to spend more time in New Orleans can book a 12-night version of that same itinerary. Priced starting at $3,529 per person, double occupancy, it includes two extra nights.
In addition, those on the April 8, 2023 departure of the 12-night tour will arrive in New Orleans during French Quarter Fest.
Music lovers also might consider the 12-night itinerary that departs April 14, 2023. That way, they'll have the opportunity to attend New Orleans' renowned Jazz and Heritage Festival.
Globus nicely includes a Jazz Fest package for guests; that includes a one-day festival pass plus transportation to and from the Jazz Fest grounds. Contact your travel advisor for more information and booking.
5. "Veni, Vidi, Vici: Umbria and Tuscany by Design"
If you enjoy an escorted tour but also love flexibility, we suggest one new Choice Touring by Globus itinerary:  "Veni, Vidi, Vici: Umbria and Tuscany by Design."
First, yes, it's still an escorted tour. That said, it's not traditional.
Appealing to foodies and cultural buffs, this Umbria and Tuscany tour includes the service of a tour director, hotel accommodations, some dining, motorcoach transportation and guided sightseeing at some "must-see' sites along the route.
What's different is that there's more free time on these Choice Touring by Globus tours. So, guests tailor activities at certain stops to their own interests and passions.
YourChoice Excursions
Nature walk? Boat cruise? Wine flight? It's up to you.
In this new touring "format," travelers will also receive some curated "YourChoice Excursions" within their tour package (no added fee).
So, guests taking the "Veni, Vidi, Vici: Umbria and Tuscany by Design" tour start their vacation in Ostia, Italy. They will stay one night there before heading out for an incredible journey through hilltop towns.
Then,"the choices" begin to unfold.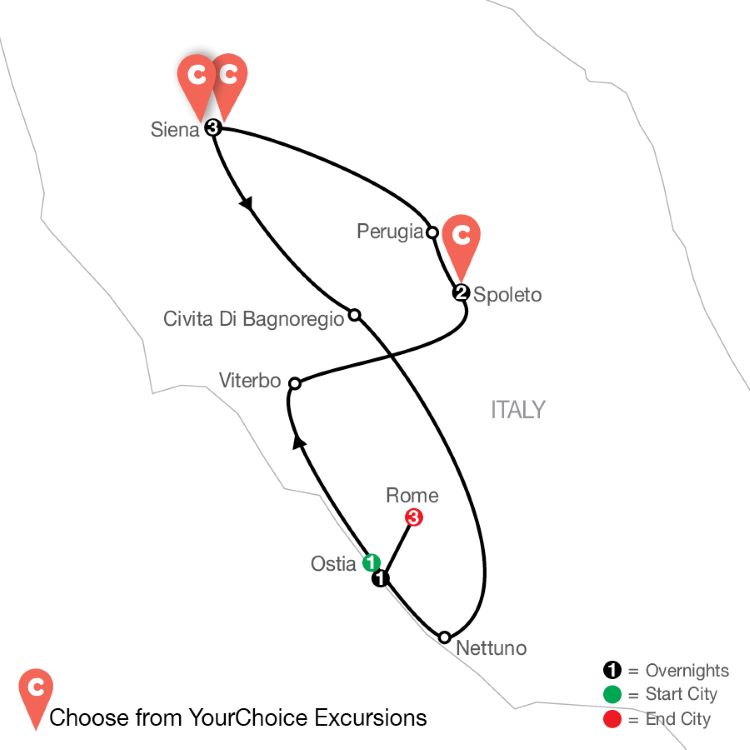 Spoleto "Included" Options
When reaching Spoleto for a two-night stay, guests will have one full day there. So, they can relax, head out on their own or choose one of the following "included" GlobusChoice Excursions. 
TREK: Chasing Waterfalls — Guests who choose this option will follow an expert naturalist guide on a short, easy park path to get "up close" to Marmore Falls, the world's highest man-made waterfall. The ancient Romans created this engineering feat to drain the swamps above the Nera River.
GAZE: Isn't it Romantic? — Over the millenia, the city of Terni has been a key trading and transport center for goods of all kinds. Travelers opting for this excursion will see the Roman amphitheater, where concerts are still performed. Also, they'll visit the tomb of "St. Valentine" at Basilica San Valentino and learn about his life.
STROLL: Diamonds in the Rough —

During a cultural option in the Umbrian hills, Globus' guests will learn about the art of truffle hunting. Local farmers will share their tips and tidbits about finding, collecting and cultivating truffles. Globus describes this excursion as "a great experience for foodies and wine lovers."
Tour guests will also have GlobusChoice Excursions included for their three-night stay in Siena. 
Ebb and Flow
To further demonstrate the ebb and flow of this escorted tour — and how it mixes traditional touring with flexible choices, let's look at the following day.
Travelers will depart Spoleto, stop at Perugia (not for guided touring but for an orientation and free time). Then it's on to Siena, where Globus will conduct a guided walking tour for views of the Duomo and Piazza del Campo. 
So, you get the concept — it's a balance of traditional "must see" touring and flexible options.
Pricing for "Veni, Vidi, Vici: Umbria and Tuscany by Design," a GlobusChoice Touring option, starts at $2,369 per person, double occupancy. That's based on an April 30, 2023 departure.
Multiple departures operate throughout summer 2023, the last on September 23. There's also an option to extend the vacation with three nights in Rome. Ask your travel advisor about that, if desired.
Again, here's the Globus link to more information about this escorted tour with added flexibility. 
Touring the Globe
With Globus Journeys, travelers can pick their passion and touring style. So, we hope you've enjoyed our brief "snapshot look" at our picks for the five "Best Globus Escorted Tours."
All prices listed above are subject to change, and vary by departure date. For more information about these and other Globus tour options, chat with your professional travel advisor.
Talk about your personal travel style, evaluate the enticing choices and then get ready for a fantastic tour in 2023!
Important Notes from Pavlus Travel
This blog site is designed for "basic, general information" about travel. So, it's not designed to provide specific pricing nor is it staffed by travel advisors.
Please don't use the Reply Section below if you are asking for pricing, travel dates, accommodations, brochures or other specific requests. 
That said, we are most happy and eager to assist you. Here's how…
If anything does tweak your interest in the story and you DO have questions about specific pricing, brochures, savings, accommodations, accessible options and so on, please contact us at 800-528-9300.
Or visit us online at Pavlus Travel's official agency Web site; there you can "live chat" with us online too!
Thanks for reading!