Sailing the Columbia and Snake rivers of the U.S. Pacific Northwest region delivers a scenic journey close to home. Travelers on small ship cruises can "follow in the footsteps" of the Lewis and Clark Expedition (1804-1806), also known as the Corps of Discovery expedition.
But while floating along in comfort and style, they'll gaze at incredible eco-beauty in the Columbia River Gorge (see photo below) and elsewhere.
Snow-capped Mount St. Helens and Mount Hood deliver dramatic views, while the Cascade Locks and Bonneville Dam are showpieces for incredible engineering.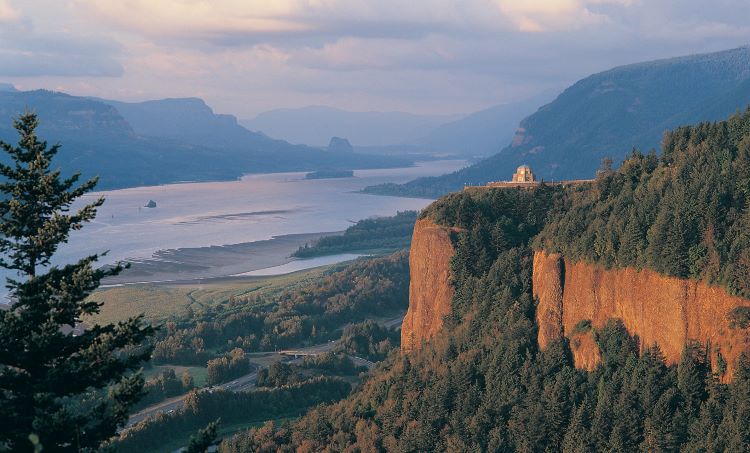 For those who've "been there, done that" on the Mississippi River, the Columbia and Snake rivers are a natural travel progression. They're also close to home.
What's special? While every traveler has his or her own perspective, for some it's seeing the Victorian-era homes of Astoria. For another, it's perusing an incredible antique automobile and aircraft museum.
For others it's the outdoor adventure — trekking, biking and kayaking. And, of course, other travelers love the wine tasting and craft beer scene.
Stark Scenic Diversity
Perhaps the top draw? It's often a stark scenic diversity. Landscapes evolve from majestic spruce and pine trees to rolling hills speckled with vineyards and cherry trees. Likewise, lush landscapes transform into high desert.
"Probably the most magical aspect of a Columbia and Snake rivers sailing from my perspective is the dramatic change in landscape," says veteran cruise journalist Judi Cuervo. She sailed on an American Queen Voyages' cruise along the rivers in March 2022, plus also previously sailed with UnCruise Adventures.
"There you are, sailing along, and suddenly the lush, forested riverbank topped with majestic mountains is gone, and in its place is a dry, endless desert," she explains, adding: "It happens in the blink of an eye."
That Pacific Northwest high desert was created in the aftermath of catastrophic flooding events that occurred thousands of years ago. But today, the desert is gorgeous in its own way.
But during this cruise, travelers will also see plenty of lush, green landscapes with majestic peaks too.
Multiple Small Ship Lines
Travelers can explore the region via a range of comfortable, well-appointed small ships that operate between March and November.
Yes, you could book a land trip to these destinations. But cruising is a more comfortable, easy way to go — as you float from destination to destination. You'll have a range of river cruise lines to choose from too.
Small ship voyages on the Columbia and Snake rivers are operated by American Cruise Lines, American Queen Voyages, Lindblad Expeditions-National Geographic and UnCruise Adventures, among others. Talk with your travel advisor about travel to the region and picking the cruise line that matches best with your cruise personality and personal preferences.
In this first of two blogs about the Pacific Northwest experience, The Meandering Traveler will shine the spotlight on four prime destinations that cruisers might visit, depending on the line's itinerary.
So, drum roll please… In this blog we'll look at:
Astoria, Oregon;
Vancouver, Washington;
Richland and Walla Walla, Washington;
Clarkston and Spokane, Washington.
In our next blog later this week, we'll cover The Dalles, Oregon, another popular port of call.
We'll spotlight one cruise line example per destination. But most small-ship lines sailing the Columbia and Snake rivers include a range of these ports. So, talk with your travel advisor about all the options.
Lovely Astoria, Oregon, by Small Ship
First up is, Astoria OR, just a short distance from the Pacific Ocean. Straddling three rivers, the city is among the most picturesque port destinations in North America.
One highlight is the city's collection of lovely Victorian-era homes. Nestled into the hillsides, they overlook the Columbia River.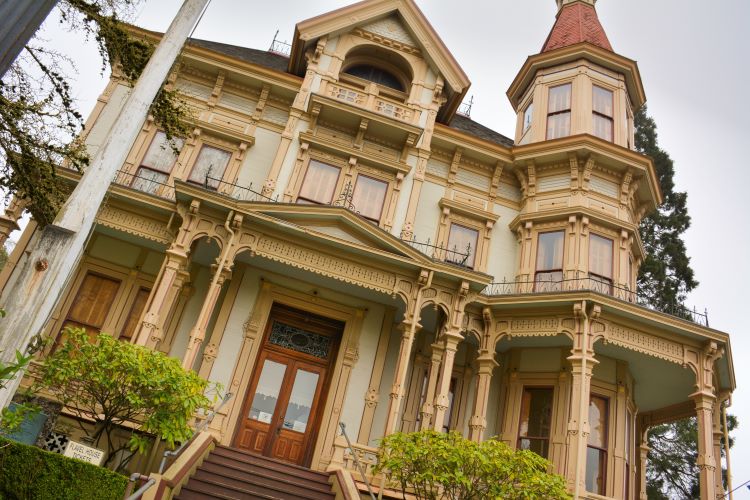 In addition, Astoria has a rich history – reflecting a wide range of cultures. The people of the indigenous Clatsop Tribe have inhabited the area for thousands of years. Many current residents are descendants of early settlers from other cultures.
For instance, visitors often stroll through the Garden of Surging Waves, honoring the city's connection to China over the years. That's because in Astoria's 1800s history, many Chinese workers arrived to work at railroads, canneries and jetties along the Columbia River.
Astoria Riverwalk
But the city's energy and pulse lies along the Astoria Riverwalk. Travelers often walk under the 4.1-mile Astoria-Megler Bridge, close to the Port of Astoria.
Definitely, check out the Maritime Memorial. Also, cruisers love exploring the region's maritime history at the Columbia River Maritime Museum.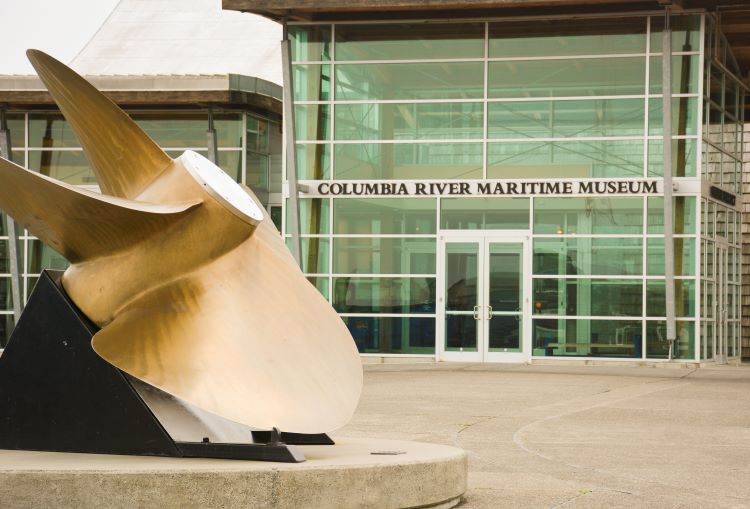 Wildlife buff? If you're lucky, you might see sea lions lounging around the docks near 36th Street.
Middle Village – Station Camp
If you're interested in Lewis and Clark history, a "must see" is the Middle Village – Station Camp. Here's the scoop.
In 1804, Captain Meriwether Lewis and William Clark camped here for 10 days. They were leading a Corps of Discovery exploration during the era of U.S. President Thomas Jefferson.
As they watched the Pacific waves crashing against the land at the area's Cape Disappointment, it was the end of two years of exploration. Traversing rugged, remote U.S. territory, they'd forged a westerly path to the Pacific Ocean.
If you'd like more touring ideas for Astoria, here are two good resources.
Small Ship: American Song
As our one example for this port, we've selected American Cruise Lines' 10-night "Northwest Pioneers" itinerary. It operates in both directions between Portland, OR and Clarkston, OR.
ACL has several ships on this itinerary. Among them is the 180-passenger American Song (see photo below), the first modern-series riverboat that debuted in 2018.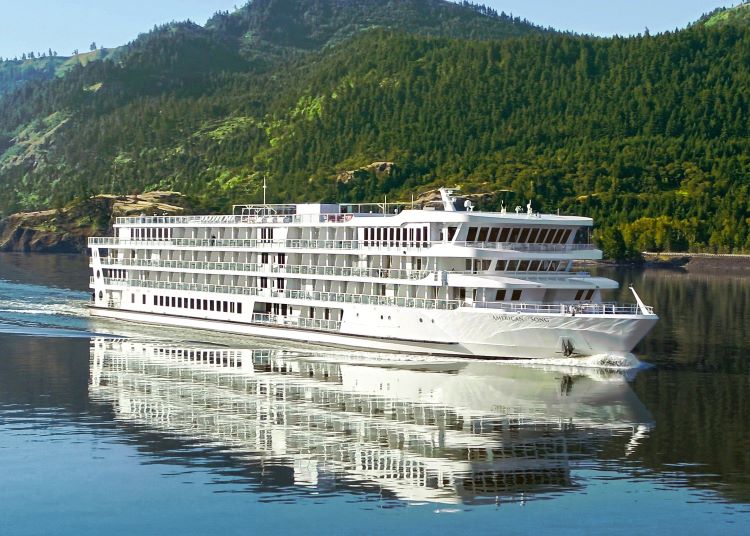 That river vessel departs for these Columbia and Snake rivers cruises in June and September of 2023 and June, September and October 2024. Along the route, the cruise will visit Hayden Island, Astoria, The Dalles, Hood River and Pendleton, OR.
In addition, the ship will call at Kalama, Stevenson and Richland, WA. Also, if you love "days at sea" on an ocean voyage, it's good to know that this river cruise has an equivalent – one day of sailing along the scenic Columbia River Gorge and another day cruising the Snake River.
American Cruise Lines also offers shorter, seven-night cruises on several ships.
Glass Galore
With extensive glass throughout the ship, American Song features a four-story glass-enclosed atrium with a large domed skylight. Guests have superb views from both accommodations and public spaces including lounges 40 feet above the water.
At press time, 2023 fares for this 10-day "Northwest Pioneers" itinerary on American Song started at $8,075 per person, double occupancy; fares are subject to change and availability.
For more details about this itinerary, go to this ACL website page.
Vancouver, Washington
No, we're not talking about urban Vancouver in British Columbia, Canada. That's a highly popular and busy embarkation port.
Instead, Vancouver, WA, is a river port that's just a short drive from Portland, OR. Nestled between the Pacific Ocean, the Columbia River Gorge and Mount St. Helens, it's typically the embarkation point for river cruises billed as starting in Portland.
Historical tidbits? In 1806, Lewis and Clark explored here, and by 1825, the British-based Hudson Bay Company had established Fort Vancouver as a base for fur trading activities.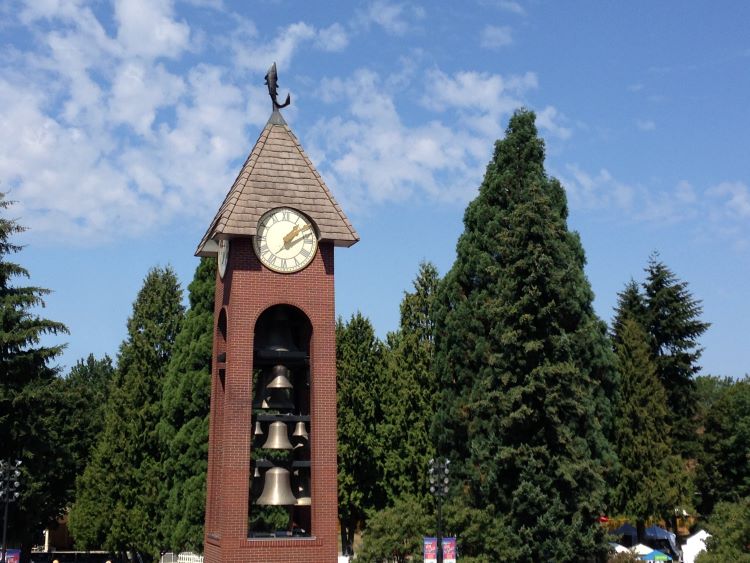 If you visit Vancouver, you'll find diverse attractions, plenty of outdoor activities, quirky shops and a vibrant craft beer scene.
We'd suggest heading to the 90-foot-long Grant Street Pier, the focal point of Vancouver's Waterfront. It's fun to watch the sailboats, enjoy tasty seafood or sip a Washington State wine at Maryhill Winery's satellite tasting room.
In fact, there are multiple wine tasting spots in the pier area. Brew fans might head for the self-serve beer wall on the second floor of Barlows Public House.
Mount St. Helens
In 1980, the majestic Mount St. Helens erupted in a powerful volcanic explosion. Touring in and around the mountain is a popular option for travelers.
Heck, you can even peruse the "Blast Zone" and get a first-hand look at how Mother Nature heals from such a catastrophic event.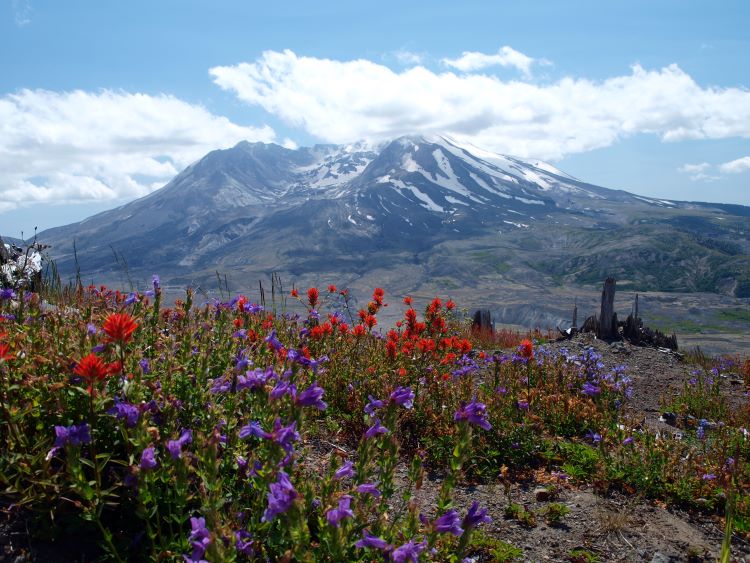 Many travelers visit the Johnston Ridge Observatory, the closest stop to Mount St. Helens' crater.
So, get out your phone for a selfie. Also, another popular stop on tours of the area is the Mount St. Helens Visitor Center at Silver Lake.
Small Ship: American Empress 
American Queen Voyages' 233-passenger American Empress, the largest paddlewheel cruise vessel west of the Mississippi River, sails the Pacific Northwest between March and November.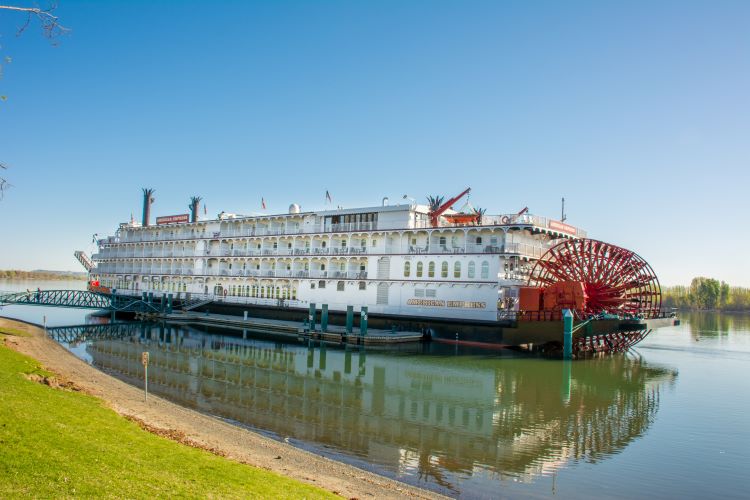 Among its itineraries is a seven-night roundtrip voyage from Vancouver, WA (Portland, OR). With Victorian charm as well as modern enhancements, its week-long voyage includes port calls at Stevenson and Camas/Washougal in Washington state and Astoria and The Dalles in Oregon.
What's nifty on this itinerary is that Vancouver itself is akin to a port call. So, guests will embark one day but then spend the rest of that day and the entire next day exploring the destination.
At press time, pricing started at $1,299 per person, double occupancy. For more details on the voyage as well as the region and ship, visit this AQV website page.
Richland and Walla Walla, Washington
Stepping off a small ship, travelers will take a short stroll beyond the park to reach downtown Richland and its restaurants, shops and attractions. What's special? Let's just say that this area was critical to the outcome (and end) of World War II.
In 1910, Richland was a small agricultural community, but that ambience changed during World War II as the area turned into a bedroom community for workers at the top-secret Manhattan Project.
That U.S. government program – supported by Canada and the United Kingdom – was designed to create nuclear weapons. With the Manhattan Project in town, Richland grew from 300 residents in summer 1943 to 25,000 by World War II's end in August 1945.
The government owned all land and buildings. Upon the start of the project, the town's residents were evicted. Government housing was built for workers in the Manhattan Project facility handling plutonium.
Today, some prefabricated duplexes and single-family homes remain from that era. They can be viewed around town.
Walla Walla
While Richland is known for the Manhattan Project, nearby Walla Walla is famed for its wine. More than 120 wineries are spread across the area and there are thousands of acres of vineyards.
The grapes grown in the Red Mountain area, near the Columbia River, are of the highest quality. That's because of the region's water, soil and sunshine.
Another Walla Walla draw is The REACH Museum, officially called the Hanford Reach Interpretive Center (see photo below). With both indoor and outdoor exhibits, this 14,000-square-foot museum recognizes the historical, ecological and scientific importance of the last free-flowing section of the Columbia River.

It's also a gateway to the 196,000-acre Hanford Reach National Monument, established by U.S. President Bill Clinton.
Some cruise line tours feature the Franklin County Historical Society and Museum. Housed in the 1911-era Carnegie Library, this museum has original architecture that's gorgeous.
Inside, be sure to learn how the Northern Pacific Railroad helped shape this part of Washington and how World War II impacted the local community. 
Small Ship: Wilderness Legacy  
We like UnCruise Adventures' seven-day "Rivers of Adventure and Wine" cruise sailing roundtrip from Portland. The 86-passenger Wilderness Legacy operates this itinerary.
With a style that's a bit different, this vessel isn't a typical river ship. It's more adventure- and even expedition-oriented in many ways. For example, it offers Sea Dragon, a portable launch platform for kayaks and paddle boards.
But Wilderness Legacy, purpose-built for Pacific coastal cruising, also has beautifully carved wooden cabinetry, very nice interior spaces, plus a spacious Owner's Suite. 
UnCruise's "Rivers of Adventure and Wine" itinerary includes Astoria, the Hood River Valley, Richland/Walla Walla, the Palouse River, Deschutes River and Rowena Plateau.
Weekly departures for 2022, 2023 and 2024 run from late August through November. Fares at press time started at $4,895 per person double for 2023; pricing is subject to change and availability.
Here's a link to more information on this UnCruise Adventures itinerary on the Columbia and Snake rivers.
Clarkston and Spokane, Washington by Small Ship
At the confluence of the Snake River and the Clearwater River, the inland port of Clarkston, WA, was settled in 1862 by Robert Bracken. In its early years, the area was called Jawbone Flats, Lewiston, Concord and other names.
Today, though, the name is Clarkston to honor the legacy of William Clark of Lewis and Clark fame. Not surprisingly, directly east across the Snake River is Lewiston, ID. As the larger and older of the two towns, it's named for Meriwether Lewis.
The Lewis and Clark expedition passed here via canoes in October 1805, although neither of the two men visited the Clarkston side of the river. They also returned to the area in 1806.
In and around Clarkston, travelers will hear tales of the famous expedition, as well as learn about this land's first people, the Nimiipuu.
Of course, for many travelers, the draw isn't history nor culture — it's viniculture! Fortunately, this is a stellar grape-growing region. Here you'll find the award-winning Basalt Cellars Winery and Parejas Cellars among others.
Spokane and Hells Canyon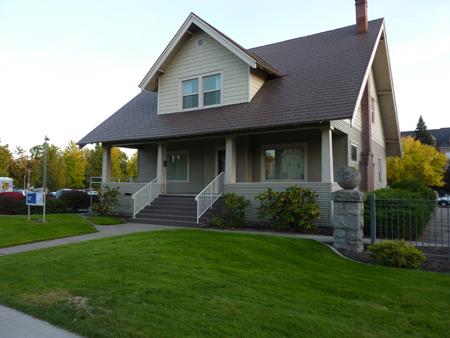 Spokane, WA, is the airport gateway for Clarkston departures. Many cruisers tour Spokane during a pre- or post-cruise tour or stay.
One fun factoid? Spokane was the childhood home of singer and actor Bing Crosby.
Near Gonzaga University, Crosby fans might opt to tour the house where Bing Crosby grew up (see photo at right).
They can also see a collection of the crooner's memorabilia.
For other diversions, cruise guests also can hop aboard the historic Looff Carousel, gaze at gorgeous Spokane Falls and make an ascent up "The Hill."
Among the rewards for that ascent, for instance, are incredible views of elegant mansions and city sites.
Flora lovers who arrive at this destination can start celebrating now. Why? Spokane has a cornucopia of blooming attractions. They include the formal Duncan Gardens, Joel Ferris Perennial Gardens, Rose Hill Gardens and the flower-filled Conservatory.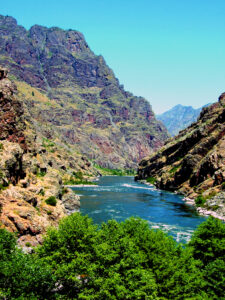 Jet Boat Ride through Hells Canyon
Highly popular with travelers is a jet boat ride through Hells Canyon, North America's deepest gorge.
In addition to spectacular scenery, cruisers might spot bighorn sheep, deer, eagles and other wildlife as the boat traverses the canyon.
In addition, a stop in Hells Canyon is often made at the Idaho Garden Creek Preserve, owned by the Nature Conservancy.
Small Ship: National Geographic Quest
Lindblad Expeditions-National Geographic offers a seven-night "Columbia and Snake Rivers Journey" on dates in September and October 2022 and 2023. Other Lindblad ships will also sail this route on other dates.
Operating this voyage is the 100-passenger National Geographic Quest. With 50 outside staterooms, the small ship was purpose-built to explore the North American coast.
What's special? During this voyage, National Geographic Quest will transit a series of eight locks that lift the ship 700 feet. That's 10 times the elevation of the Panama Canal!
As for the itinerary, the cruise begins in Portland and subsequent days are spent in Astoria, the Columbia River Gorge/Hood River, Palouse River and the journey concludes in Clarkston.
Fares at press time started at $5,710 per person, double occupancy. They're subject to change and availability.
For more details, here's the Lindblad website page that explains this small-ship vacation experience.
On to The Dalles 
At week's end, The Meandering Traveler will focus on The Dalles, another popular port of call for cruise guests sailing the Columbia and Snake rivers. 
Have questions? Definitely, chat with your professional travel advisor about the small ship voyages offered on the Columbia and Snake rivers.