At the Oregon Trail's western end, The Dalles, OR, was an 1800s-era hot spot in the quest for Pacific Northwest expansion. Back in the day, the Columbia and Snake rivers delivered adventure at best, a dangerous ordeal at worst.
Pioneers, soldiers, trappers, adventurers, gunslingers and gold miners headed out from here, loading their wagons onto barges or rafts. In contrast, modern-day river cruisers thankfully sail these rivers in comfort and style.
Today's cruisers float along the rivers with plenty of creature comforts and pampering. Along the route, there are diverse attractions, spectacular eco-beauty, wine tasting options and outdoor recreation.
Surprises await too. How about a world-class museum with 80 Auguste Rodin works of art? Or, alternatively, a neon sign museum? Yep, travelers will find both in or around The Dalles.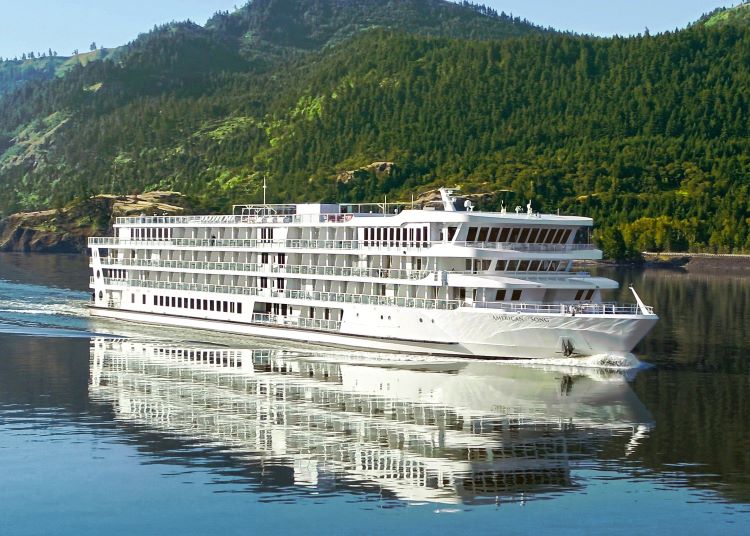 Earlier this week, The Meandering Traveler looked at examples of small ship cruises spotlighting one itinerary each for four cruise lines — American Cruise Lines, American Queen Voyages, Lindblad Expeditions-National Geographic and UnCruise Adventures.
In addition, we talked about several ports of call along the Columbia and Snake rivers. In this blog, we'll focus on the enticing options for touring in and around The Dalles, a popular port call. So, let's go…
Port of Call: The Dalles
In the 1850s, Fort Dalles was built to protect people heading into the wilderness to settle following the so-called "Whitman Massacre." That involved the killing of missionaries by a local indigenous tribe.
One interesting fact? This was the only military post between the Pacific coastline and Wyoming.
If you're wondering what's to see of Fort Dalles today, there's only one structure that remains. That is the "Surgeon's Quarters."
That structure is now incorporated within the Fort Dalles Museum. The museum provides a glimpse into 1800s military artifacts, old medical equipment and household items.
Recreation and Wine
If cruisers seek activities in the great outdoors, The Dalles offers everything from windsurfing to fishing in the Columbia River. Among the "catches" you might reel in are walleye and sturgeon.
The Dalles, nestled on the fringe of Oregon's wine country, is also now an area where vintners are planting and nurturing new vineyards. So, cruisers will find wine tasting opportunities ashore.
Although the area is part of the Oregon High Desert, it also has a long growing season. In addition, it offers a relatively warm climate.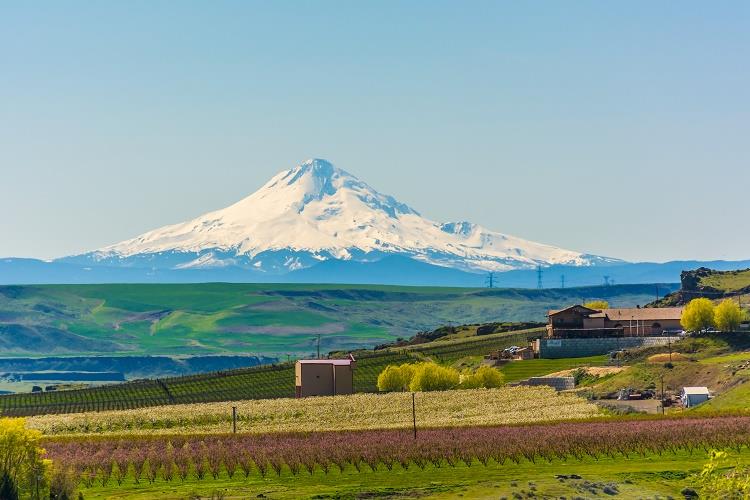 In addition, Mount Hood and the Cascades provide a viniculture boost. How so? They shield the area from the levels of rainfall experienced in the Willamette Valley.
Thus, vineyards and orchards are increasingly popping up in and around The Dalles. Likewise, local wine production has soared, and this destination now has a vibrant wine scene.
Columbia Gorge Discovery Center and Museum
One "must see" attraction for many river cruise guests interested in learning about the region's eco-system is the Columbia Gorge Discovery Center and Museum, 5000 Discovery Drive, The Dalles.
What's special is that it was built around the natural eco-system. So, the goal is to preserve the area. Visitors will learn about the geography of the region, how that's evolved and what's gone into 11,000 (yes, 11 millennia) of history.
Cruise guests love the daily raptor show. The center says that it's the only place in the gorge where people can meet and learn about the area's native birds of prey.
We're talking, for example, about falcons, hawks, owls and eagles. All the birds of prey at the center are unable to be released back into the wild due to injuries.
Antique Airplanes and Automobiles
For antique automobile buffs and airplane enthusiasts, a different type of shore excursion beckons, though. It's not natural but mechanical in nature.
Definitely auto or airplane enthusiasts should plan to visit the Western Antique Aeroplane and Automobile Museum (WAAAM). The Meandering Traveler journeyed to this museum on an American Queen Voyages excursion.
We included it in our blog about Top U.S. Aviation Attractions earlier this year.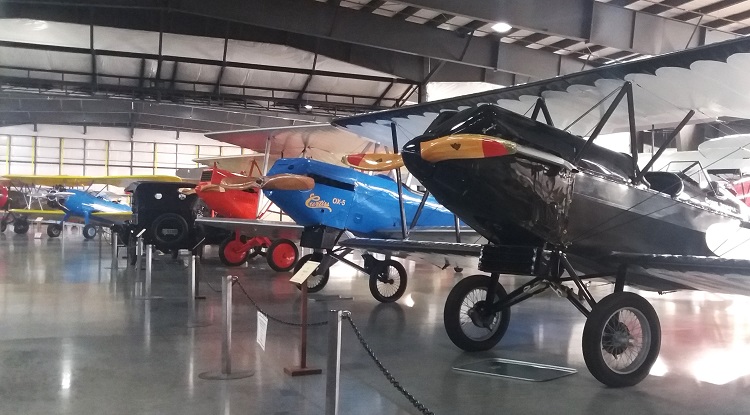 What's to see? For example, the robust collection features more than 350 aircraft, automobiles, military vehicles and motorcycles from the 1910s to the 1970s.
We liked that many of the aircraft are "still flying" and also that, at times, the museum gives rides in its antique automobiles.
Also nice is that WAAAM groups the planes and cars from the same era together, along with artifacts, uniforms, news headlines and more from that year or era. It's a great way to "sink back" into the decades of the past.
1917 Curtiss JN-4D Jenny
Stars of the aircraft exhibits are a 1917 Curtiss JN-4D Jenny featuring an OX-5 90 HP engine, a Piper Cub and collections that reflect WACO, Aeronca and Stearman.
Of the 130 or so cars, you'll see a 1914 Detroit Electric, a Ford Model A, a Ford Model T, a Packard, a Studebaker or even a Locomobile. As for motorcycles, WAAAM displays Harley Davidsons, Indians, Cushmans and more. You'll also see tractors, military Jeeps and engines.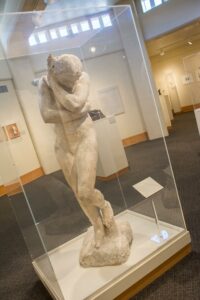 Maryhill Museum – Rodin Art and More
"Travelers to The Dalles can expect spectacular sunsets, awe-inspiring scenery, Native American culture and phenomenal wines, but most don't expect a world-class art museum, pretty much in the middle of nowhere," emphasizes Judi Cuervo.
She's a veteran cruise journalist who talked with The Meandering Traveler about heading off on a shore excursion day at The Dalles in March 2022.
But Cuervo says spectacular art is exactly what visitors will get at the Maryhill Museum, 35 Maryhill Museum  Drive, Goldendale, WA. It's not far from The Dalles.
The museum sports an incredible collection of Auguste Rodin artwork as well as period furniture and fashions.
For example, "visitors can view an elaborate gown worn by Queen Marie of Romania to the 1896 coronation of her cousins, Tsar Nicholas I and Tsarina Alexandra of Russia," notes Cuervo.
In addition, visitors will peruse gilded furniture from Romanian royal palaces.
A tip? Cuervo suggests that visitors be sure to head to the second level where the Theatre de la Mode showcases post-World War II French couture fashion on miniature mannequins.
Most impressive and unexpected, though, is the museum's Auguste Rodin Gallery. Travelers can gaze at more than 80 of his original works — bronzes, terra cottas, plaster studies and water sketches.
The Dalles: Neon Signs Galore
For a more electrifying experience in The Dalles' city center, don't miss the National Neon Sign Museum, 200 E. Third Street, The Dalles. Cuervo describes it as "flashy, funky and total fun."
It's lovingly cared for by David Benko, executive director. He purchased the museum's home — a three-story, colonial-style brick building — from the city for $1.
In return, he restored the building, and now it's a museum packed with "liquid fire." Travelers will see vintage neon signs and a potpourri of other items too. Most pay homage to advertising and signage and their roles in American history.
Many river cruisers visiting the museum will likely be dazzled by the glowing, flashing signs that sport such names as Buster Brown, Greyhound, Cadillac and Coca-Cola.
But "the jewel in the National Neon Sign Museum crown is the first neon-gas light tube invented by Georges Claude, the French equivalent of inventor Thomas Edison.
Sailing to The Dalles
American Cruise Lines, which operates multiple ships on the Columbia and Snake rivers, sails into The Dalles, for example, with its 190-passenger American Harmony, a modern-series river vessel.  This intimate ship offers modern amenities, modern styling and a five-story, glass-enclosed atrium with a large domed skylight.
One voyage that calls at The Dalles? That's the ship's seven-night "Columbia and Snake Rivers Cruise" from Hayden Island, OR, to Clarkston, WA. In 2023 and 2024, numerous departures are operated between March and November.by American Harmony or other ACL vessels 
Ports of call along the route include Astoria, OR; Kalama, WA; The Dalles, OR; and Pendleton, OR/Richland, WA. Seven-night fares for this voyage start at $4,505 per person, double occupancy.
Paddlewheel Voyage
Another line, American Queen Voyages, operates its 223-passenger American Empress on the Columbia and Snake rivers. Launched in 2002, the vessel — the largest paddlewheeler west of the Mississippi — received a major renovation/update in 2014; it's received other enhancements since too.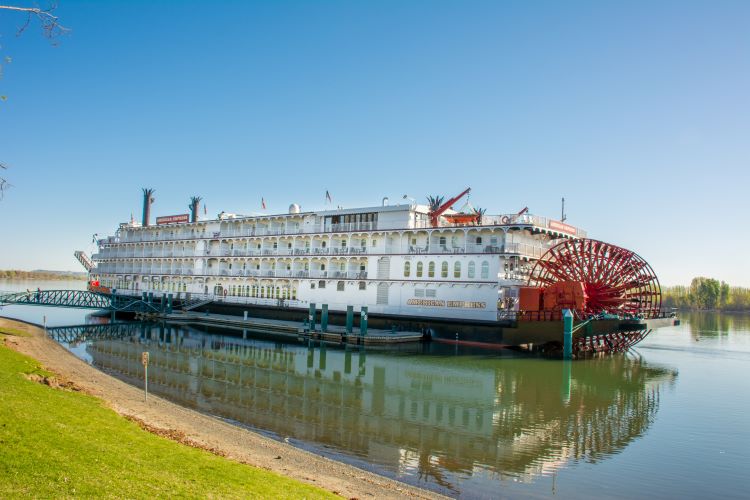 Among its Pacific Northwest itineraries, American Empress operates a nine-day Portland to Clarkston, WA, itinerary between March and November 2022-2024.
Ports of call include Astoria, OR; Camas/Washougal, WA; Stevenson, WA; The Dalles and Richland, WA. This American Empress sailing starts from $4,199 per person, double occupancy.
Columbia and Snake Rivers
Later this year in preparation for the 2023 river cruise season, we'll cover a few more ports of call along the Columbia and Snake rivers.
Meanwhile, if you're interested in learning more about all the options, contact your professional travel advisor.