After several years, travel to Australia and New Zealand is "back" and in a big way. Cruise lines are eagerly returning to the "Down Under" region, thanks to eased tourism restrictions.
For instance, earlier this month, Holland America Line announced its new 94-day "2024 Grand Australia and New Zealand" voyage on the 1,432-passenger Volendam.
Departing January 3, 2024, this 13-week cruise is best described as "an extravaganza of discovery." The ship will sail deep into the South Pacific — covering thousands of nautical miles in its journey roundtrip from San Diego, CA.
Convenient Voyage: Roundtrip from San Diego
What's notable? Americans will board with ease in a U.S. port. So, they'll avoid any international flights or foreign airports. Many Canadian travelers also will have a shorter international flight to the embarkation point.
Circumnavigating the land "Down Under," this Grand Voyage has been more than 10 years in the making. As a result, guests will explore 43 ports of call – a whopping 17 of those in Australia.
In addition, the ship will overnight in four ports — Fremantle (Perth) and Sydney, Australia; Auckland, New Zealand; and Papeete, Tahiti. That nicely allows guests more shore time for dining, evening entertainment or special events.
Equally worth noting is that two evening departures are planned for Honolulu, Hawaii, and Brisbane, Australia.
And get ready to snap stunningly gorgeous photos. That's because the ship will also sail within New Zealand's scenic Milford Sound.
No Lions, Tigers and Bears … But Yes, Dragons and Wallabies!
As for island port calls, Volendam will make 16 of those at South Pacific isles. Among them are American Samoa, Fiji, Vanuatu, New Caledonia and Komodo, Indonesia. Komodo is famed for its wild Komodo Dragons, the world's largest lizards.
Believe it or not, these gigantic reptiles can weigh 156 pounds and reach up to 10 feet in length. Seeing them freely prowling the landscape is an unforgettable experience.
For more wildlife viewing, the ship also will call at Kangaroo Island, Australia. Did you know that it's one of the absolute best places to see Australian marsupials in the wild?
Almost half the island remains bushland or a national park. So, that habitat is home to koalas, echidnas and, amazingly, a million or so "mini-roos" or tammar wallabies. Yes, we said "a million or so."
In addition, at Kangaroo Island, cruise guests can walk through one of Australia's largest sea lion colonies. Likewise, it's possible to spot rare southern right whales offshore.
Australia: A Sought-After Destination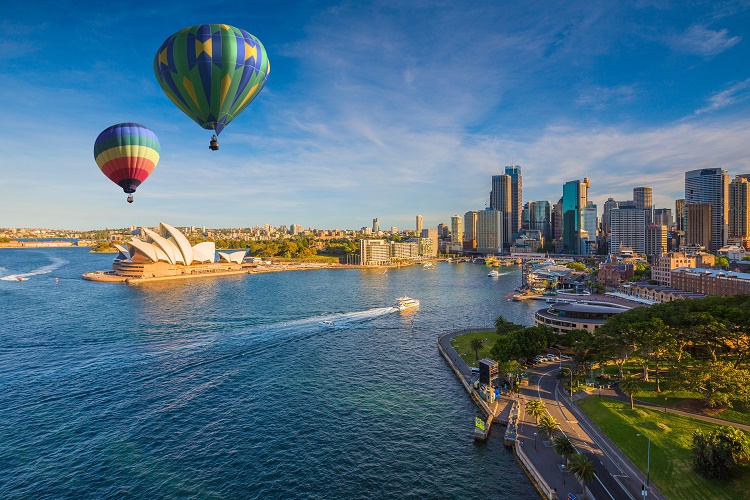 "Australia continues to be a sought-after cruising destination, and by offering it as a Grand Voyage we're able to take our time and feature other beautiful locales like the islands of the South Pacific, New Zealand and the Great Barrier Reef," says Beth Bodensteiner, Holland America's chief commercial officer.
On this Grand Voyage, shipboard activities will include local cultural entertainment from the region of sailing, as well as special guest headliner appearances and festive parties.
Equally important, guests can expect dining menus to change regularly, regional culinary specialties that incorporate local ingredients and a Captain's Grand Voyage Dinner.
Two shorter segments of this Grand Voyage also are available. For example, one is 58 days from San Diego to Sydney and the other is 36 days from Sydney to San Diego.
Accommodations and Fares
This new "Grand Australia and New Zealand" voyage is already proving popular with travelers. For the full Grand Voyage, some accommodations and top suite categories were sold out at press time.
Beyond that, though, there's good news too! Travelers can still reserve their spot on this voyage in the following categories; Inside from $15,599, Oceanview from $16,999, and Vista Suites from $36,999. All prices are per person, double occupancy, and subject to change.
As an example, those Vista Suites span 297-379 square feet of space including a private veranda. With floor-to-ceiling windows, these suites offer a comfortable sitting area, a mini-bar and refrigerator.
Two lower beds convert to one queen-size bed, if desired. Travelers will get a good night's sleep as the line's signature Mariner's Dream bed features a plush Euro-Top mattress.
Vista Suite bathrooms have a whirlpool bath and shower. For all the accommodations choices, features and inclusions, talk with your travel advisor.
Early Booking Benefits
Guests who book the full 94-day "Grand Australia and New Zealand" voyage by June 1, 2023, will receive 3 percent savings off the cruise-only fare, along with amenities valued at up to $4,770 per person.

Perks for veranda and select ocean-view staterooms include onboard spending money up to $300 per person, prepaid gratuities for crew and luggage delivery service to/from San Diego for two pieces.
Guests in those accommodations also will receive an initial in-suite liquor set-up, a complimentary shore excursion and a welcome bottle of sparkling wine.
If you step up to a suite, you'll also receive onboard spending money up to $1,000 per person, unlimited luggage delivery service to/from San Diego and an Internet package.
From the line's perspective, "it's been more than 10 years since we've offered this Grand Voyage itinerary, and we listened to our guests who requested that we bring it back," Bodensteiner says. "The San Diego departure makes it easy for our North American guests to explore this region and make it a memorable journey along the way."
For additional information about this "Grand Australia and New Zealand" itinerary, check out Holland America's web site. For more details about accommodations, pricing and more, chat with your travel advisor.
More Australia and New Zealand
Many other cruise lines – from contemporary to premium, luxury and ultra-luxury — also are offering new Australia and New Zealand voyages. Here's a small sampling of those. Your travel advisor can provide more details, based on your desired departure time frame.
Starting this December and into early 2023, Viking will offer 15-day cruises between Sydney and Auckland on multiple dates. Providing even more flexibility in the traveler's timing, this itinerary is also offered between late 2023 into early 2024. Guests will sail on one of Viking's 930-passenger ocean ships.
Starting in December 2024 and continuing through April 2025, ultra-luxury Regent Seven Seas Cruises will position its 732-passenger Seven Seas Explorer in the South Pacific. It will sail to destinations in Australia and New Zealand.
Three Ships in the Region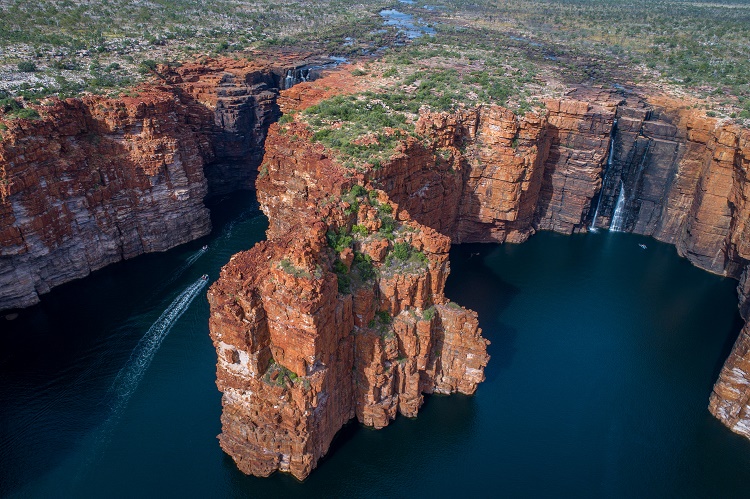 Ultra-luxury Silversea Cruises plans its largest-ever program of voyages in Australia and New Zealand during 2024 with a total of 25 voyages. Here's a link to the Silversea website page with more information.
Expedition ship, Silver Cloud, will sail its first voyages in Australia's remote Kimberly region. As a result, guests will view waterfalls, sun-scorched gorges and signs of Aboriginal history.
During its first season "Down Under," the new Silver Nova will offer seven long diverse itineraries, exploring the coast of Australia, New Zealand, Micronesia and Melanesia. Meanwhile, Silver Muse will sail shorter voyages to Australia and New Zealand.
Speaking of the remote Kimberley region, one new Lindblad Expeditions voyage we like is "Kimberley Expedition: Australia's Wild Northwest." For instance, during an optional sightseeing flight, Lindblad's guests can experience the remote Bungle Bungle Range with its dramatic rock formations.
Seabourn too has many options in the South Pacific; here's a link to its website page about these sailings. Needless to say, we've provided just a small sampling of the many cruise options for Australia and New Zealand.
Ask your travel advisor for more information about the variety of fares, accommodations, departure dates, solo travel or accessibility options for any of the above voyages or others. 
Why? First, new Australia and New Zealand voyages seem to be unveiled weekly at present. Second, a professional travel advisor can expertly match your vacation style and personality with a cruise that best meets your needs.
Touring "Down Under" 
Tour operators also are returning "Down Under." One appealing option is Tauck's 20-day "Australia & New Zealand" itinerary. It's offered from January through April 2023 and again during September through December 2023.
What's the cost? Pricing starts from $14,490 per person, double occupancy, plus international airfare. But, for example, that price does include six private charter flights while guests are "on tour." That's a good move by Tauck as the touring experience becomes a bit speedier and easier for guests.
On tour, Tauck's guests will explore Melbourne, the Outback (Uluru/Ayers Rock), Mossman and Sydney, Australia. They'll also visit Wellington, Blenheim, Queenstown and Auckland, New Zealand.
What's special? One Tauck Exclusive is a tour and three-course "Dinner with the Warbirds" at the Omaka Aviation Heritage Center. Star attractions are the World War I and World War II aircraft, owned by Sir Peter Jackson.
Here's a link to the Tauck site with much more detail about this itinerary.
So, when it's time to head "Down Under," it's good to know that new options are surfacing daily. Kangaroos, here we come!
Important Notes from Pavlus Travel
This blog site is designed for "basic, general information" about travel. So, it's not designed to provide specific pricing nor is it staffed by travel advisors.
Please don't use the Reply Section below if you are asking for pricing, travel dates, accommodations, brochures or other specific requests. 
That said, we are most happy and eager to assist you. Here's how…
If anything does tweak your interest in the story and you DO have questions about specific pricing, brochures, savings, accommodations, accessible options and so on, please contact us at 800-528-9300.
Or visit us online at Pavlus Travel's official agency Web site; there you can "live chat" with us online too!
Thanks for reading!