Strolling into the new Indulge Food Hall on the new Norwegian Prima a week ago on a sailing from New York City, I immediately sensed something a bit different. Definitely, this isn't your typical casual buffet restaurant (and yes, Norwegian Prima has one of those on a different deck too).
But while this is, for the most part, a complimentary, casual option for guests, it's put together a bit differently in design and concept.
Rather than one big space with multiple seating areas, it's a combination of more intimate, smaller spaces and separate eateries.
So, the food hall is nicely divided up with walls, bars, counters, seating areas, and even such elements as food-truck-style stations (one in an Airstream trailer). Also providing "separation" are open galleys where guests can watch chefs preparing the dishes.
As a result, Indulge Food Hall exudes less of a crowd feel. You won't sit down and see hundreds of others also seated in one big space. Overall, I loved the smaller spaces and the vibrant, modern-design "look and feel" of the place.
Most notable, if you're a junkie for global cuisine, you'll likely find something that appeals to your palate here.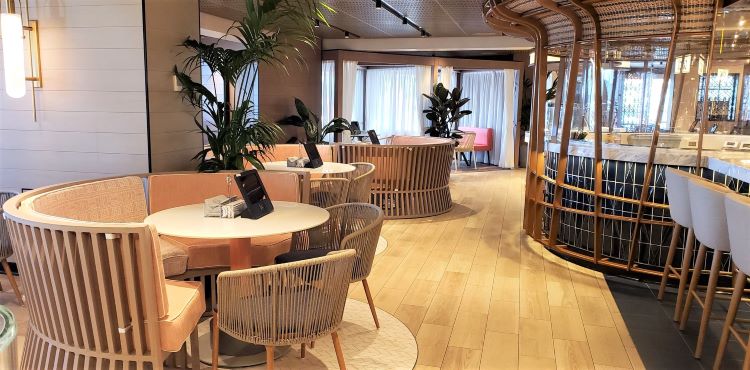 Norwegian Prima's Food Hall Eateries
Let's run down the 11 individual eateries within the food hall. Situated on Deck 8 aft, Indulge Food Hall offers this portfolio of options — nearly all complimentary to guests. That's a big plus for those seeking dining choices without fees.
The Gardens (Salads, plus you can add chicken, beef or other protein to the dish to make it more a meal. Keep in mind, though, that portions are generally small-plates size)
Texas Q Steakhouse (Southern comfort dishes and barbecue)
Tamara (Indian food and vegetarian dishes)
Seaside Rotisserie (A new venue, this offers grilled or rotisserie-style dishes, such as small lamb chops, yummy kabobs and tenderloin.)
The Latin Quarter (Housed in a former Airstream trailer, this food-truck station serves up tostados with crab, mushrooms or tuna, or alternatively guacamole and chips or totopos, known to many of us as nachos)
Nudls (Noodle dishes that range from Italian gnocchi to German spaetzle and Asian specialties such as Pad Thai or Singapore Noodles)
Tapas (A food-truck-style eatery, this venue offers plates of cured meats and cheeses. Hanker Spanish ham or Manchego? You can order that from Tapas, as well as chorizo, Idiazabal cheese, bruschetta-like appetizers and more.)
Just Desserts (Sweet treats)
Just Ice Cream (Multiple hard ice creams are available)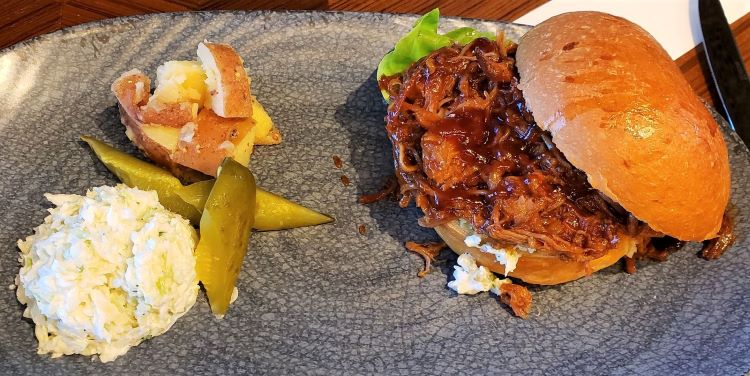 Added Charge 
Just fyi, two of the venues offer beverages or desserts at an added charge.
Starbucks (Yes, the authentic coffee powerhouse; coffee drinks ranged from $3.25 to $6.25 during our cruise)
Coco's (Think of "designer dessert" fare priced at $3 to $6 for gourmet milkshakes, sundaes and gelato.)
It's also extra for beer, wine and soft drinks. Do guests with a beverage package or Free at Sea still pay? We've asked NCL to clarify this point. (They're checking, and when we hear back, we'll add pertinent information here.)
But whether you stick to the complimentary fare or not, choice is the buzzword at Indulge Food Hall. So let your culinary mindset run free.
You might select one dish that's Indian, another that's a favorite in the American South plus a Mexican taco and a soup or salad.
A bit about seating? In Indulge, you'll find regular tables, high-top tables with bar stools or slightly lower bar stools at a counter (sometimes in front of an eatery with a "view" of the cooking action).
As for me, I simply slid into a booth to begin my tasty culinary journey across the globe. So, let's go….
iPads for Ordering, Paper Menus Too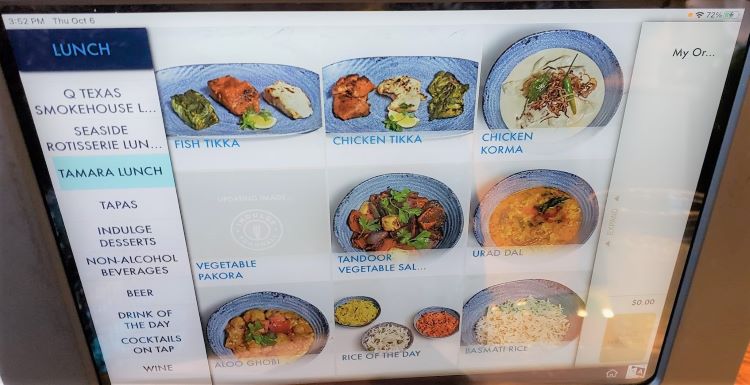 First, you'll notice that each inside table has a high-tech iPad for checking out the full menu. Then, you simply touch the screen to order what you'd like.
No worries if you're not a techie genius. It's easy, I promise. Or, if preferred, feel free to ask a server for a paper menu.
They also have those for the outside tables, which do not have the iPads. Both inside and outside, plenty of friendly servers constantly roamed.
Servers will assist guests with questions or help them navigate the iPad for the first time. You order and presto, the dishes are delivered to your table.
I observed one person with a mobility issue asking the server if he'd bring "anything chocolate" for dessert. The NCL server returned sporting a huge smile — and two luscious-looking chocolate concoctions, one in each hand.
Order One at a Time or All at Once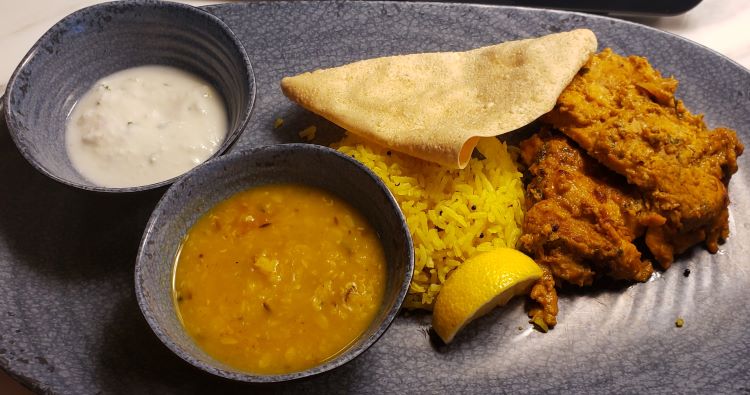 One tip if you go? If you want to eat in a relaxed fashion, then simply order one dish at a time. Then place your order for your next small plate after you finish the first.
Otherwise, an order of three or four dishes, for instance, simply goes to the various galleys or preparation areas at the same time. Dishes are delivered when finished from different spots within the food hall.
So, for example, I got mine all at once, a lesson learned.
Good to know? The speed of dishes to the table — from order to delivery — was quite good. Plus, hot dishes were just that – piping hot!
Ingredients also seemed quite fresh. I loved my salad, which had a bit of "crunch" and a light dressing that was delicious (see photo below).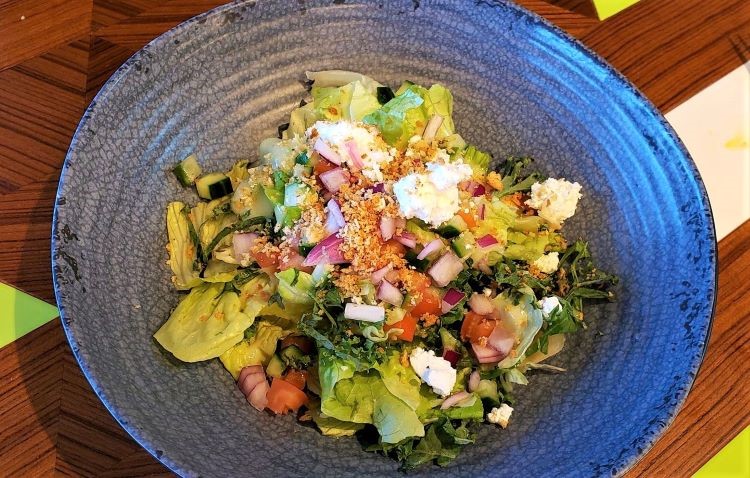 Norwegian Prima: Food Hall Offers Small Plates
I also liked the size of the portions — not too small, not too big. The small plates were just right for sampling and ordering multiple menu items to "try."
Also, pay attention to the "sold out" label that can appear at the top of some of the menu item listings. Once I ordered French Onion Soup from The Garden, but the soup never arrived.
So, the server and I looked about 10 minutes later again on the menu. That soup was showing "sold out." At times, that label at the top of the menu item on the iPad may simply be overlooked by the guest.
Alternatively, in another meal I had at this food hall, the dish definitely wasn't "sold out" at the time of ordering. I looked very carefully. But with many people ordering at the same time, by the time my order was ready for preparation, alas, it was "sold out."
If so, simply "go with the flow" and order something else. There is plenty from which to choose!
One favorite Asian dish for many guests who dined at Indulge Food Hall was Singapore Noodles (shown in the photo below). I love Asian food and felt the spices were just right for most folks – some zip but not over-the-top.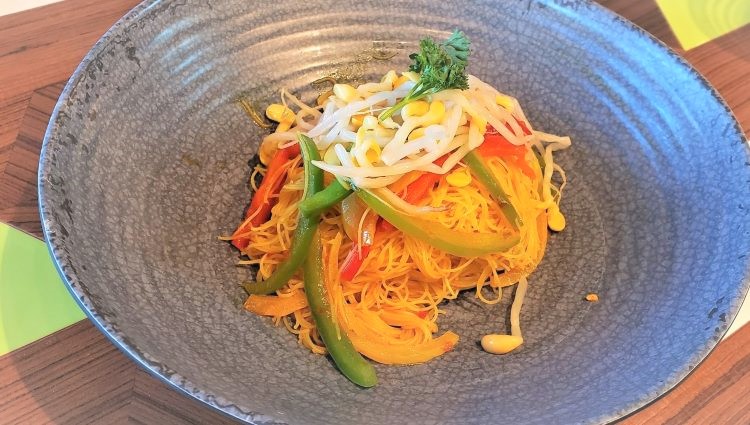 Easy Ordering via iPad 
As for beverages, I ordered one glass of wine, simply by tapping my room key card to the screen. Presto, the beverage price was added to the order, I could add a tip, and it was placed on my onboard account tab.
I dined twice at Indulge Food Hall. Dishes were very good both times. Once, I sat on a high stool at the counter where I could watch the Indian chefs do their culinary magic at Tamara.
What's to order at that specific venue? I opted for a Tandoori dish (see photo below), but cruisers could also order fish tikka, aloo ghobi and other favorites.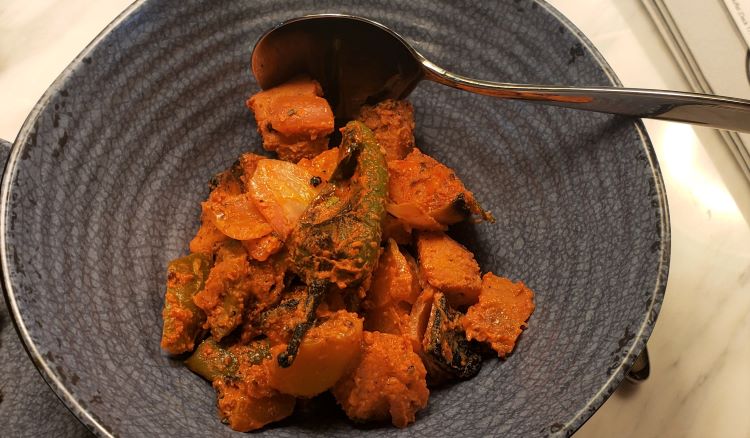 Tamara's rice and accompanying naan were superb. Menus at certain venues may vary between day and night. In the Indian restaurant at dinner, for example, guests might order roasted pork vindaloo or saag paneer.
Indulge Food Hall: Points to Consider 
Overall, I'd highly recommend the Indulge Food Hall, and I like the concept. If you're looking for something exotic or simply a fabulous comfort food, check it out.
The crispy fried okra (shown in the photo below) is perfect for a couple or several friends to nibble on. In my case, well, "oops." Since I had hadn't traveled with a companion or friend on this trip, it was simply "mine, all mine."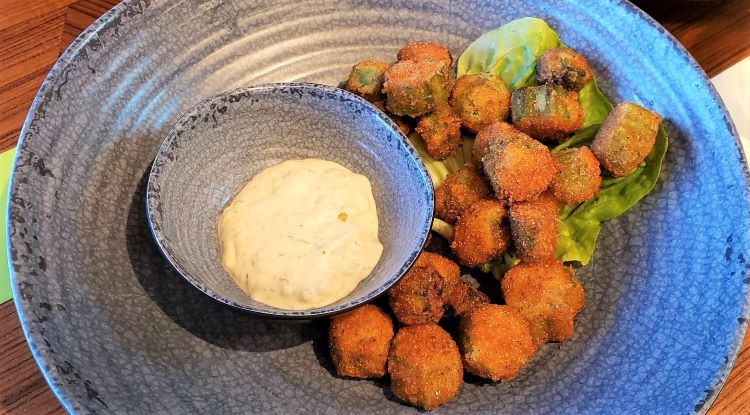 Capacity in this food hall, though, was at times, a challenge, given its popularity with guests. Yet, even though the ship wasn't totally full on my cruise, people milled around the food hall looking for an open table, booth or counter stool.
I watched as some gave up, saying, "Let's go somewhere else." All that said, I was on a shorter, "shake down" cruise with travel industry personnel (so everyone wanted to see this new venue immediately).
It's possible that the flow of guests might be somewhat different on a regular departure, specifically a seven-night or longer cruise.
One tip that worked for me on my second visit to Indulge Food Hall was to dine early when the restaurant opened. Others said going later worked for them. In both cases, it was easy to grab a table.
Guests loved that the experience could be fully complimentary, if desired, based on their choices. Overall, travelers we met and chatted with loved this food concept.
Norwegian Prima
Indulge Food Hall is just one of 18 dining venues on Norwegian Prima. For instance, there's a new Palomar restaurant (very nice).
I dined there, enjoyed the elegant aura of the restaurant and ordered the "Cioppino," a luscious Mediterranean-inspired seafood dish. If offered on your sailing, I'd highly recommend that. 
Norwegian Prima is the first of six vessels in Norwegian Cruise Line's new Prima-class. It's the line's first new class of ship in nearly a decade.
Throughout the ship, you'll find many similar "bit smaller" spaces than on the line's larger ships. NCL leaders wanted a ship that was less akin to a cruise ship and more reflective of a high-end hotel.
That said, yes, you'll find a full-service spa, well-equipped fitness center, two 10-story slides, a Galaxy Pavilion and a three-level racetrack. So, you won't run out of fun activities, believe me.
More about Norwegian Prima
Launched in August 2022, Norwegian Prima is 143,535 gross tons and accommodates 3,100 guests at double occupancy. The vessel has 20 decks, featuring nearly 1,600 staterooms.
It also has the ship-within-a-ship enclave, The Haven, offering high-end suites and exclusive spaces for guests staying there.
The Meandering Traveler attended a recent onboard briefing by NCL President and CEO Harry Sommer, who talked about The Haven.
Itineraries & Fares for Norwegian Prima
For more information about cruises on this ship, which sails Bahamas and Caribbean voyages from Port Canaveral, FL, this winter 2022-2023 and in Europe in summer, contact your travel advisor.
Discuss pricing based on your accommodation desires, as well as itineraries and departure dates. Or, check out our blog earlier this week for basic itinerary information and one or two price examples.
But your fare may vary considerably, depending on your specific choices. Your advisor can help you make the right match. Plus, discounts or promotional offers are often available.
So, start the conversation. Ask away. And if you go, bon appetit!
Important Information from Pavlus Travel
This blog site is designed for "basic, general information" about travel; it's not designed to provide specific pricing nor is it staffed by travel advisors.
Any personal views expressed reflect the anecdotal perspective of the author — simply one opinion by a frequent traveler. The views expressed should not substitute in any way for use of a professional travel advisor for either advice or booking of any vacation.
Also, please don't use the Reply Section below if you're asking for pricing, travel dates, accommodations, brochures or other specific requests. 
That said, we are most happy and eager to assist you. Here's how…
If anything does tweak your interest in the story and you DO have questions about specific pricing, brochures, savings, itineraries, dates of travel, accommodations, accessible options and so on, please contact us at 800-528-9300.
Or visit us online at Pavlus Travel's official agency Web site; you can "live chat" with us online too!