In a new blog feature moving forward, The Meandering Traveler will provide readers with select "firsthand experiences." They'll show our personal perspective while traveling, give helpful travel tips, outline lessons learned along the journey and more. For instance, today, I'll look at one easy way to create a "vacation bonus."
No, it's not a monetary bonus. It's something better.
Earlier this week, I disembarked the new Seabourn Venture in Callao (Lima), Peru, after a two-week voyage. But I didn't head directly to the airport.  
Instead, I set out on Seabourn's post-cruise "Lima City Tour," ending five hours later at a Callao airport hotel. Since my American Airlines flight wasn't until 11:45 p.m., I thought, "What the heck? Why not!"
Pre- or Post-Cruise Tours Can Create a Vacation Bonus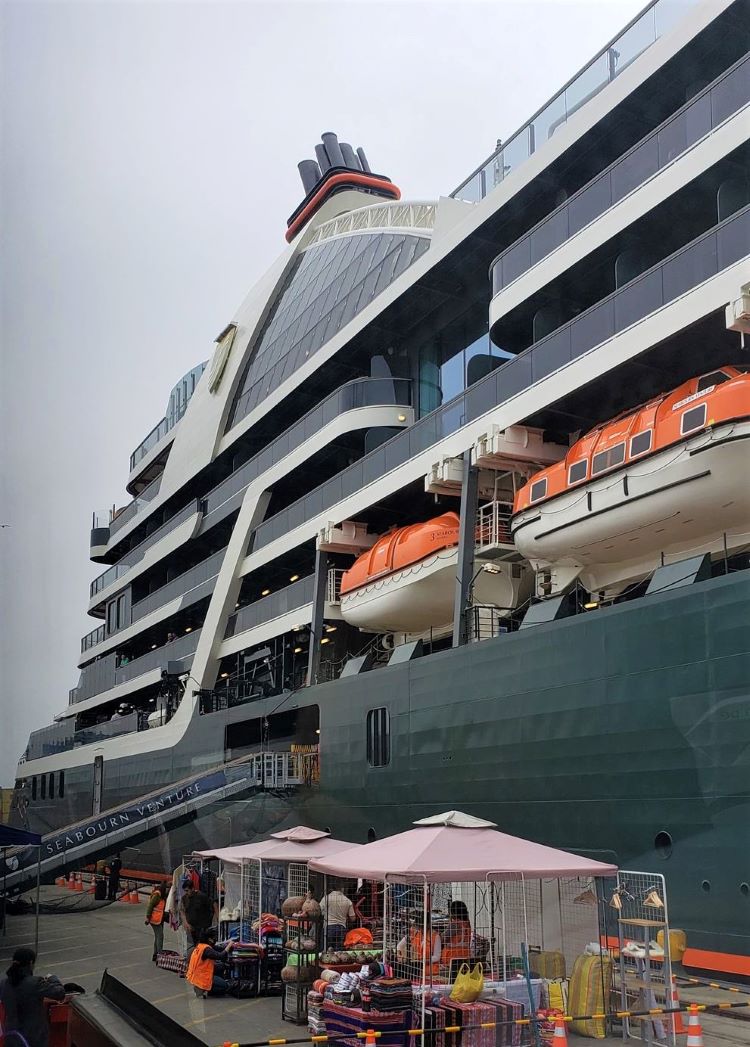 The reality is that pre- or post-cruise touring, whether it's a half-day shore excursion, or alternatively a multi-day tour, can be highly rewarding. Think of it as a vacation bonus.
Sure, it's often about seeing more sights or new places across the globe. But that's only part of  the equation.
For me, Lima delivered the "wow" as I chatted with local residents, soaked in the destination knowledge from Seabourn's excellent tour guide and immersed myself deeper in Peruvian culture.
So, here's my firsthand look at Seabourn's "Lima City Tour" ending at the airport. I'll offer insight into the tour, as well as lessons learned during my twists and turns along this journey.
Bye Seabourn Venture, Hello Motorcoach
Upon bidding farewell to the 264-passenger Seabourn Venture, a lovely, new expedition ship and my home away from home for the past two weeks, yes, I felt a twinge of sadness.
That said, down the gangway I trudged. Seabourn crew members provided a helping hand and sorted out where I was heading.
I quickly identified my luggage; it was loaded on my Seabourn tour's motorcoach and I was soon off for a day of exploring the Lima area.
It's good to mention that the Port of Callao had highly visible security — a strong police presence. We also had a police motorcycle escort for the coach's trip through the adjacent industrial areas.
This cruise ship was among the first back into Callao post-pandemic. It's clear that Peruvian officials want the "tourism return" to go well.
Gazing out the motorcoach windows, en route to the historic center of Lima, I listened attentively. Our professional tourism guide began to lay out the picture of life — past and present — within Peru's capital city.
First, he talked about the city's structure, comprised of dozens of districts. Callao is one, Miraflores another, for example.
Vacation Bonus: Soaking in a Local Perspective
In brief "snapshot" overviews from our guide, we learned about Peru's turbulent political history, the local lifestyle, economic drivers, religion, ethnic heritage and more. Most interesting to me was the discussion about Lima's exceptionally dry climate.
Who knew?! Nestled within a central Peruvian region along the Pacific Coast, I would have thought Lima would get a fair amount of rain. But Mother Nature only doles out about three inches of rain a year maximum to the Lima area!
As a result, it's dusty — VERY! We immediately noticed shopkeepers sweeping the dust away from their buildings and sidewalks.
Our guide asked this: "Do you see any storm drain openings along the sidewalks?" Incredulously, we saw none. "With that little rain, there's no need for drains," he explained.
Incan or Spanish? Or Both?
As we approached the historic core of Lima, Peru's capital city with a population of 10 million, our guide talked about the city's founding nearly seven centuries ago. On January 18, 1535, Lima was officially established by Spanish Conquistador Francisco Pizarro in the Rimac River valley.
That's nearly 500 years ago!
Already living in the region were natives of the Ichma polity, later integrated into the Incan Empire. Under Spanish rule, however, the area became the capital of the Viceroyalty of Peru. A Real Audiencia or a Spanish appellate court opened in Lima in 1543.
This is where a tour can get interesting, though. Our guide explained that he's of Spanish descent on his father's side and Incan on his mother's side. So, how do the locals feel about the Spanish conquest, we wondered?
Some are fine with it, others aren't, he explained, noting that it often depends on one's heritage. He's in the middle with genes in both ethnic groups.
That said, he appreciates that the Spanish brought their Catholic religion to the region. But at the same time, he'd have liked the Spanish conquerors to have understood the Incan Empire's advanced scientific focus (quite amazing for its time) and allowed that to continue.
Incan Achievements
As superb road and bridge builders, the Incas were master engineers. They built transportation infrastructure through steep mountain ranges – carving out staircases and gouging tunnels from rock.
Most impressive were Incan suspension bridges, which used thick cables to hold up walkways.
But they were also the techies of their era in one way. We were astounded to learn that the Incas had invented a seven-bit binary code to store information. They were centuries ahead of their time. 
Discovering Lima's Colonial-Era Architecture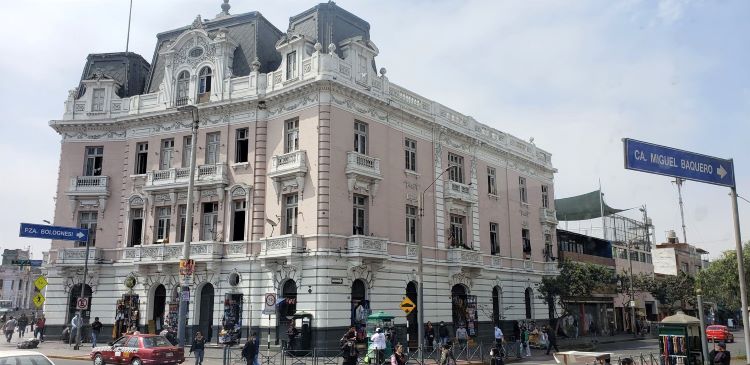 After learning much about the heritage and culture of the Lima Province, we reached our tour's first big "reveal." We gazed at an area brimming with gorgeous colonial-era architecture (see the photo above snapped from our motorcoach).
While we didn't stop here, the coach took a nice slow jaunt by the stately colonial structures. So, we were able to shoot a few photos from the windows.
I actually can't wait to dig into the history at home — reading more about what I've seen along the way. That's a vacation bonus that can help extend the experience, even after travelers return home.
As our coach progressed farther into Lima's city center, we viewed historic residential areas too. Many of these homes were badly damaged in past earthquakes. Our guide explained that many residents simply abandoned their properties and moved away.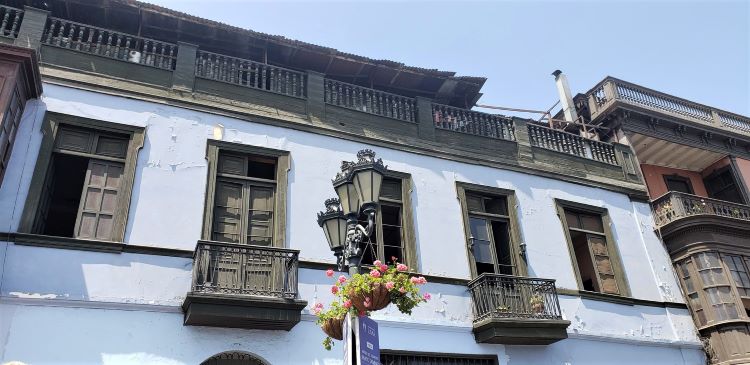 I particularly liked the look of this home (see photo above). While we couldn't be sure if it was vacant or not, it appeared to be missing a few windowpanes.
Soon, we reached the motorcoach drop-off point. The main event — sightseeing on foot in the city's historic core — was about to begin. Along the stroll, we eyeballed economic extremes.
A low-income neighborhood was to the left, and in the opposite direction, we entered the grand, opulent historic center. In many ways, Lima is a city of contrasts.
Vacation Bonus: The Splendor of Plaza de Armas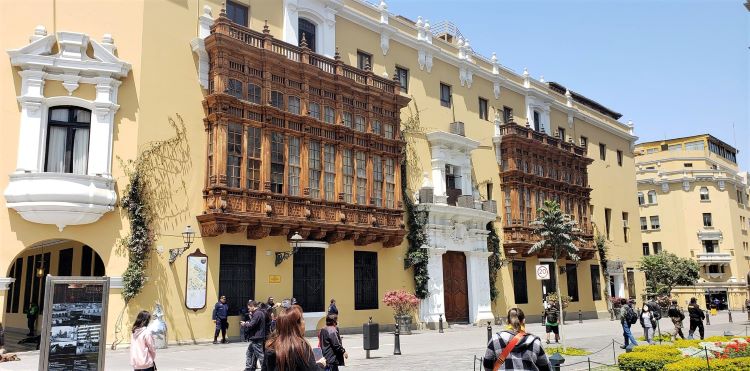 Did you know that Lima, situated within the northern section of the city's historic core, is one of the oldest cities in South America? Certainly, a star attraction of Lima is the impressive Plaza de Armas. Here, the Spanish laid the city's first foundation stone on January 18, 1535.
Also called Plaza Mayor, this gathering place takes your breath away, particularly if you're seeing it for the first time as I was. It's ringed by magnificent Spanish colonial and Republican-era buildings.
The plaza's central fountain dates to 1650. But the plaza isn't just buildings. It exudes life as local residents traverse sidewalk paths and colorful blooms dot the grassy areas.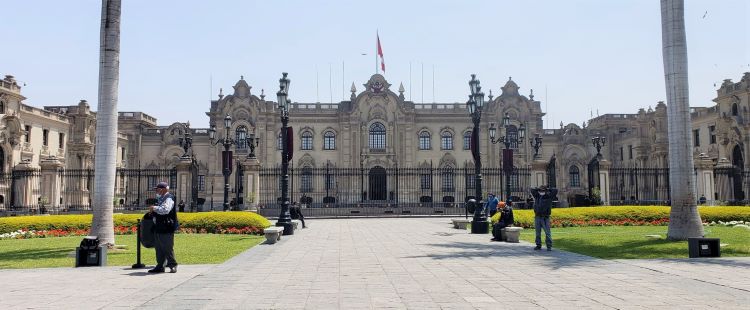 From Plaza de Armas, travelers can spin 360 degrees to eyeball Peru's magnificent Presidential Palace, the Archbishop's Palace and Lima's City Hall. Plus, there are other historic structures and, of course, the magnificent Cathedral of Lima.
Top Vacation Bonus: The Cathedral of Lima
Certainly, the square's crown jewel is the Cathedral of Lima (See photo below). Pizarro's city plan dedicated this area to a spot for practicing religious faith.
The first house of worship built on this site was just a small church. A much larger cathedral was subsequently built here but devastated in an 18th century earthquake.
Today's magnificent cathedral, which opened to grand fanfare in 1750, reflects the rebuilding effort. No, it's not the Pizarro era's original church, but this grand lady is 272 years old.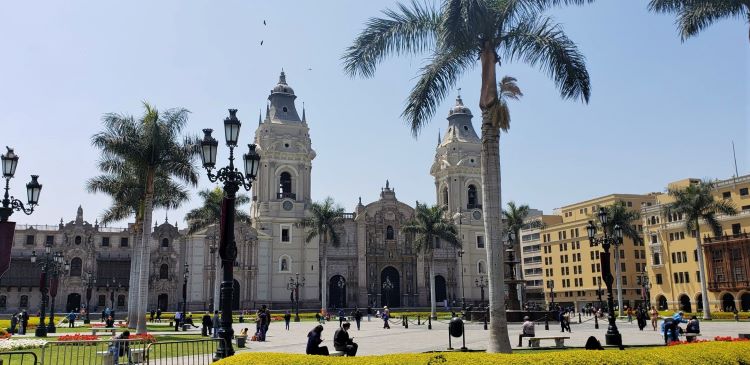 Entering this grand structure, travelers immediately will spot a side funerary chapel dedicated to Francisco Pizarro. Commissioned in 1928, this chapel reflects overall design by Spanish artist Manuel Piqueras Cotoli; it has Spanish and pre-Hispanic-era motifs.
On one side of the chapel is a funerary monument to the Spanish conquistador. Over the years, there's been mystery and intrigue surrounding his death and remains.
That's because in 1977, it was discovered that the remains placed in this chapel initially and said to be his, were likely not.
That's because Pizarro's skull and other remains had been discovered within the cathedral's crypt, just below the altar. Today, officials using the latest scientific methodology firmly believe that the remains interred in this chapel are Pizarro's (90 percent likely, they say, and the scientific proof standard is 80 percent).
Suffice it to say, it's a bizarre tale, so we won't even try to explain it here. Here's one account of the bizarre mystery, though.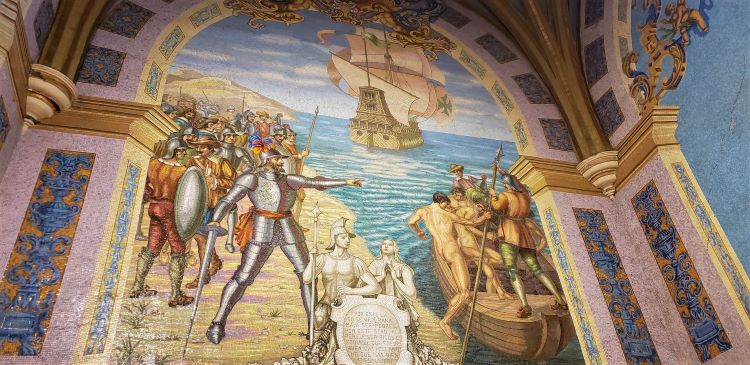 That aside, the Pizarro Chapel is resplendent with sparkling Venetian wall mosaics, created by Spanish artist Amadeo Mantellato. Yet, the mosaics (in the photo above) do reflect the sad consequences of the Spanish conquest of the Incans.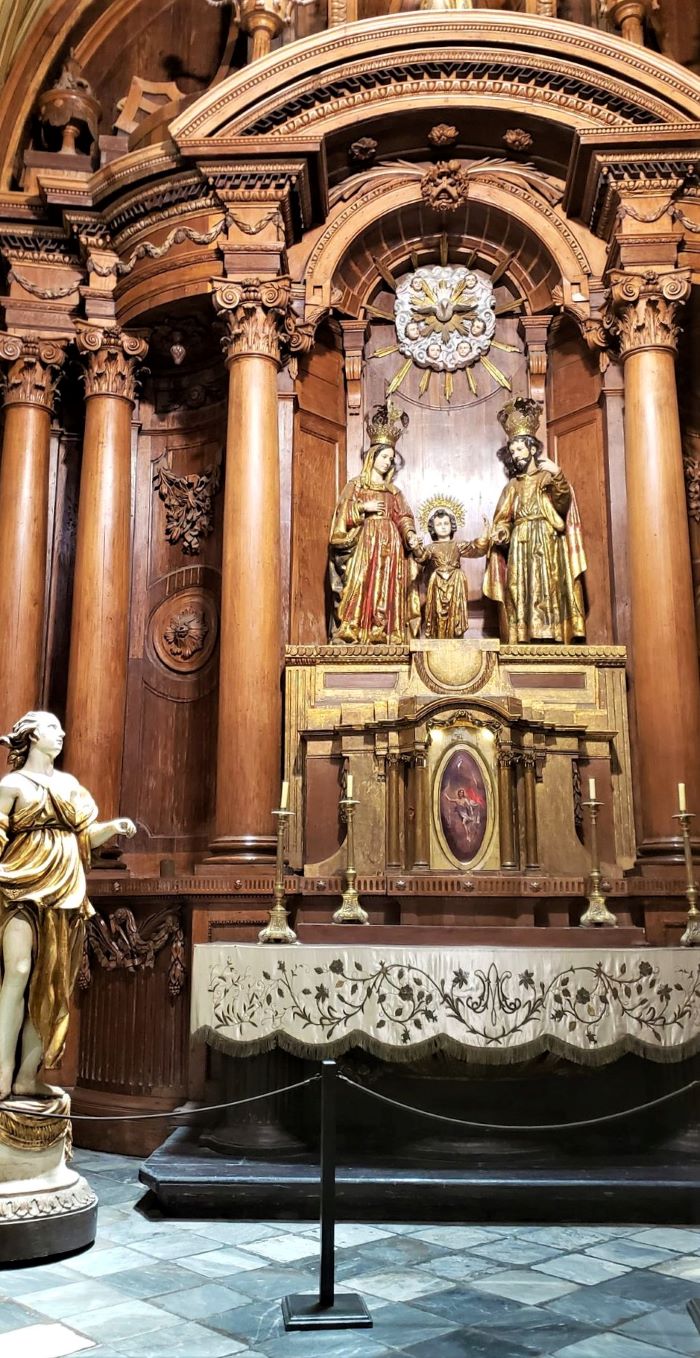 Throughout the cathedral, other side chapels date mostly from the 16th to 18th centuries. They sport ornate religious decor, statuary and artwork.
For instance, one side chapel is the St. Joseph Gallery (see photo at right). It's dedicated to that patron saint of carpenters.
Within the main sanctuary area, we took a few minutes to sit in a wooden church pew and just "soak it all in." For example, there's a grand altar area. And nearby, lovely brown altar-area choir stalls reflect Lima Baroque style.
One More Cathedral? Well, It Could Be "The One"
During past vacations, many readers have likely traipsed in and out of a zillion churches in Europe, the Americas and elsewhere.
Certainly, I have. Many are stunningly grand cathedrals with incredible artifacts and showy, highly embellished, opulent interiors. Many are quite famous and depicted on travel posters or destination promotional materials.
Yet, ask me what I remember specifically inside. Yes, I often recall a cathedral's outside appearance or maybe one feature inside, but not a whole lot more.
That's not likely to be the case with this cathedral, though — at least not for me.
Yes, the Cathedral of Lima exudes grandeur and offers visitors gorgeous chapels and a magnificent altar to view. But at the same time, this religious structure also has a simplistic, reverent appeal.
In what I'd call a "give-and-take" design style, it balances the ornate with the ordinary. For instance, soaring cream-colored walls lack decor and art but also flow into ornate places and spaces.
The Ornate and the Ordinary
In another example, ornate side chapels have simple, wood-railed gates.
Lesson learned? Too often it's easy for travelers to pronounce, "Oh, I've been to plenty of churches or plenty of historic homes. Why should I spend time seeing yet another?"
Well, this cathedral delivers pleasant contrasts. That showed me that my "next cathedral" actually became my "unexpected discovery." In travel, that's an amazing gift.
Simply put, I was touched in unexpected ways by the look and character of this cathedral. It truly was my personal vacation bonus.
Construction Tidbit
In one of the cathedral's side corridors, the guide showed our group a plexiglass panel that covered a small part of the wall cut away.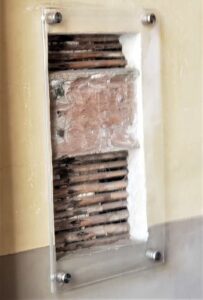 Seems this cathedral is built with a mixture of plaster and bamboo. That's a lighter, less rigid construction combination. Incredibly strong, those materials improve the chances of the cathedral surviving the next "big one" in terms of an earthquake.
I took a photo of the cutaway panel (see photo at left). Upon first blush, the bamboo appears fragile. But the guide said, "it's very strong" and can flex with movement. 
Tip: My simple lesson learned is that — at any age — we can learn something new while traveling.
People Watching In and Around the Square 
I should note that sometimes while traveling, it's not the tour itself that enhances the experience. It can also be free time spent just sitting and observing. Do you find that's the case for you?
Since our Lima city tour continued on to a local convent and tour goers were heading into the catacombs, our guide suggested that those who preferred not to climb down, could wait at one of two local cafes. Both had views of the Plaza de Armas.
Hailing from Hershey, PA, aka "Chocolatetown USA," often described as "The Sweetest Place on Earth," I chose the chocolate shop cafe! An adjacent cafe was operated by the Museo del Pisco (Pisco Museum). And yes, some tour goers enjoyed the Pisco sours!
The cafes afforded a great perch for people watching. My table was perhaps 200 feet from the cathedral's front entrance and I could clearly see part of the plaza. So, if you're traveling independently in Lima and need a break, this is a good spot to stop.
A Guidebook Tale
About a half hour before I arrived at the cafe, our group was in the cathedral and getting ready to depart. I had asked the cathedral's staff if I could buy an English guidebook. They had none on the shelves. Quickly, the woman working the ticket booth made a call; they tried hard to find one.
But alas, nothing had surfaced as our tour was leaving. So, I nicely said, "Thank you, but I need to move out with the group now. Thanks for looking."
The guide remarked, "Well, they might catch up with us a few blocks away if they find an English guidebook." My thought? "No way. That's not likely."
So, imagine my surprise after 15 minutes of sitting at the cafe, when I noticed one of the cathedral's 20-something employees headed my way. She was carrying a clear bag with my guidebook. Amazing!
She showed me the book, told me the price, and I explained that I only had U.S. dollars; I would have used a credit card at the cathedral, as I didn't want to exchange money on my last day in Peru.
The Extra Mile
Unbelievably, this young lady told me, "I'll go get change." Off she went, my $20 bill in hand. She turned to say, "'I'll be back." Ten minutes later she was, bringing the proper change in hand.
I thanked her and we began to chat. Her English was excellent and she explained that she'd studied at a local Lima university — taking a tourism guiding curriculum. Despite the difference in our ages, we hit it off.
So, she sat down and we chatted about life in Peru and the U.S. We talked about travel and tourism, people in general and Peru's political situation.
Simply put, we "shot the breeze" freely in a cross-cultural discussion for about 20 minutes. It was an incredibly "immersive dive" into Lima's culture and lifestyle.
Returning to the Coach
As she returned to the cathedral, my tour group was returning from the catacombs. So, I rejoined the group — sauntering through a riverside park where working-class folks were setting up market stands. I would have liked to have stayed a bit longer, but alas, it was time to depart.
Another Tip: Stop here and there, even if only for 10 or 20 seconds, during group "transit" walks to/from a motorcoach. Otherwise, it's easier to think of that final destination (getting to the coach) and miss what's happening along the way.
In my case, I watched the locals sort flowers, position rows of pretty pots, set up for food sales and lay out handicrafts. It was just a moment in time, and then I walked a bit faster to catch up with the group.
While I didn't stay for the Lima market's opening, I gained some sense of what was going to happen there. No, it wasn't a major attraction or big sight to see.  But it was a rewarding glimpse of how a local community mobilizes into action.
On to Upscale Miraflores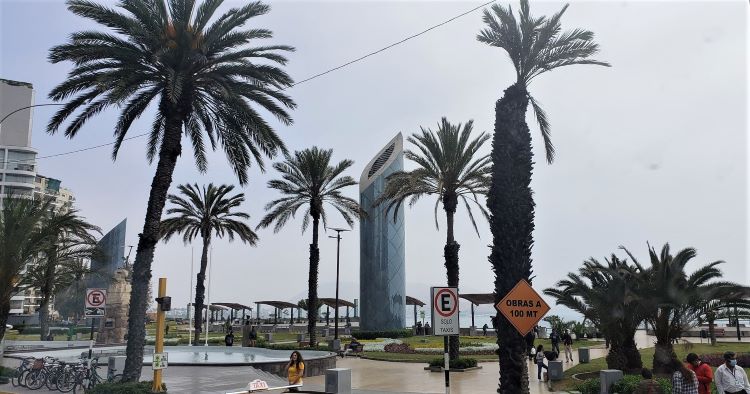 Our Seabourn Lima City Tour then continued through several other city districts including one Bohemian-like area. After a half hour, we arrived at Miraflores, an upscale district overlooking the Pacific Ocean.
Looking out, the views revealed a cornucopia of high rises including condominiums and modern corporate office buildings.
Factoid? The guide told us the monthly rental price for an upscale two-bedroom, two-bath apartment in Miraflores. It's about $1,000 less per month than for a one-bedroom apartment in my area of South Florida.
Real estate prices, which the guide thought were high, were again, lower than where I live at home. For a moment, I wondered: "Where's the local real estate office?"
In a 15-minute Miraflores cliff-top stop, people on our tour strolled grassy areas and walkways. Friends tell me it's often cloudy, but during our visit there was a tad of sun with mostly overcast skies.
That said, we watched as hang gliders soared and then dipped below the cliffs. Couples walked hand in hand, birds swooped into palm trees, and dog lovers were out and about.
Vacation Bonus: Seeing Dramatic Cliffs
Leaving Miraflores, the motorcoach tooled along a cliffside road created from a dry riverbed. As we reached the base of those cliffs, our coastal drive to Callao's airport had begun.
On one side, Pacific Ocean waves crashed, on the other, miles of dramatic cliffs rose towered 250 feet or more in height. Authorities have covered the exposed dirt of the cliffs with anti-landslide netting. That continues for miles.
Along the journey, we also spotted facilities created for the 2019 Pan American Games; they're now repurposed for recreation and sports.
Wyndham at the Airport
All too soon, we arrived at the Wyndam Grand de Sol Aeropuerto Lima. I'd reserved a day room. Others from my tour simply lingered in the lobby for several hours until it was time to head for the airport.
Hotel employees at the front desk and providing security at the elevators couldn't have been any nicer and more helpful. I would highly recommend this hotel if you are flying in and out of Lima and are seeking a convenient airport hotel.
My deluxe room was clean, modern and well-appointed. I also was happy that it had good Wi-Fi (complimentary for guests) as I worked much of the day from my hotel room.
Just how convenient was it to the airport? Forget the need for a taxi or car service. When it was time for people's flights, they simply walked across the street directly into the airport terminal.
I opted to take the hotel's second-floor walkway that extends over the street and leads into the second-level of the airport. It's a great way to avoid a maze of cars below. Plus, one doesn't have to navigate around so many people and their luggage being offloaded.
Tip: Once within the terminal, those checking bags should grab an elevator down to the airline ticket counters level. Or, if you have no bags to check, just head on to immigration, the shops, restaurants, VIP lounges and departure gates.
Vacation Bonus: Gaining Local Perspective
Travel to any destination across the globe is far more than simply seeing a "bucket list" spot. Touring with a "local" who imparts local knowledge truly puts both the "sites and sights" in better perspective.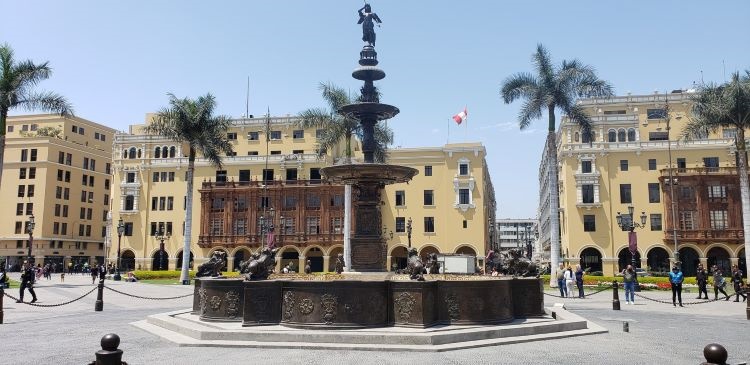 Certainly, that can elevate the traveler's knowledge, but it also can foster longer-lasting memories. I truly believe that 10 or 15 years from now, when I gaze at my photos (such as the photo shown above taken in Plaza de Armas) that my memories will be more vivid, thanks to the people I met along the way.
Who could forget the kindness of the staff at the Cathedral of Lima and the young woman who proactively sought me out (after I'd left the cathedral) to deliver an English guidebook I'd asked about but not paid for on site.
In my case, Seabourn's half-day Lima city tour with an airport drop-off was just a one-day outing. But the lesson learned is that any pre- or post-cruise touring can absolutely be a "vacation bonus."
Other cruise guests who'd traveled pre-cruise to Machu Picchu on a multi-day tour told me the same. So, the next time you plan to cruise anywhere across the globe, be sure to check the post-cruise day tours or multi-day. add-on packages.
Even a one- or two-day pre- or post-cruise experience can sizably boost the overall experience. To me, it's a definite vacation bonus!
Already, I'm asking myself: "When can I go back to Peru?"
For more information on Seabourn, visit the line's website. For more information on Peru, here's the tourism board website link. Talk with your travel advisor about potential post-cruise excursions or a pre- or post-cruise, multi-day travel package.
Important Information from Pavlus Travel
This blog site offers "basic, general information" about travel; it's not designed to provide specific pricing nor is it staffed by travel advisors.
Any personal views expressed reflect the anecdotal perspective of the author — simply one opinion by a frequent traveler. The views expressed should not substitute in any way for use of a professional travel advisor. And that applies to either advice or booking of any vacation.
Also, please don't use the Reply Section below if you're asking for pricing, travel dates, accommodations, brochures or other specific requests. 
That said, we are most happy and eager to assist you. Here's how…
If anything does tweak your interest in the story and you'd like to talk about a future vacation, please DO call us at 800-528-9300.
Definitely, if you have questions about specific pricing, brochures, savings, itineraries, dates of travel, accommodations, accessible options and so on, please contact us. Again, call us at 800-528-9300 or visit and "live chat" at Pavlus Travel's official agency Web site.