"The Love Boat"… promises something for everyone!" So sang Jack Jones and later Dionne Warwick. Many of us can still sing those words!
The song lyrics, specifically that promise, certainly "rang true" last Saturday at the start of a special seven-night Mexican Riviera sailing of a modern 'Love Boat,' Discovery Princess.
Prior to the sailing from Los Angeles, CA, original cast members from the late 1970s/early 1980s scripted TV show, "The Love Boat," had an opportunity to meet, mix and mingle with the new hosts and cast of "The Real Love Boat."
That's a new CBS romantic adventure dating show. While the new cast and hosts are not sailing this week on Discovery Princess, favorites from the original series are.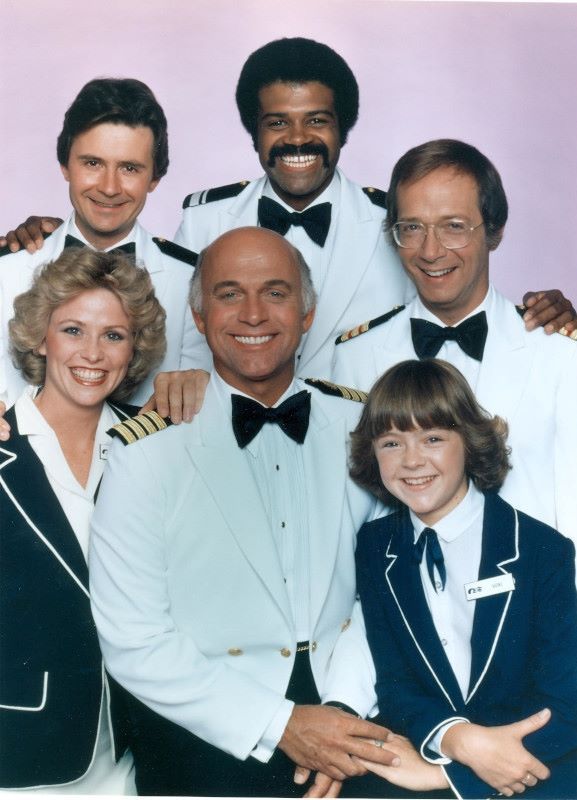 "The Love Boat" – The Original Cast
I'm sure you're having a nostalgic moment checking out the photo atop this story. Can you recognize those original stars decades later? You'll see:
Jill Whelan (Vicki Stubing), now Princess Cruises' Celebration Ambassador;
Cynthia Lauren Tewes (Julie McCoy, the cruise director);
Bernie Kopell

(the ship's doctor);

Ted Lange (Isaac, the bartender); and
Fred Grandy

(Gopher, the chief purser).
One cast member sadly not aboard this sailing, though, was Gavin MacLeod, the original Captain Stubing, who died in 2021.
This special Princess sailing was dedicated to MacLeod.
Here's what the original cast looked like "back in the day" too (see photo at right). This photo is courtesy of Princess Cruises.
"The Real Love Boat"- New Hosts and Cast
During last Saturday's pre-cruise meet-up, the original series stars mingled and chatted with Rebecca Romijn and Jerry O'Connell, the two hosts of the new show. 
They also met "The Real Love Boat's" three crew members who are also regular cast members (also shown in the photo at the top of this story): 
Captain Paolo Arrigo, 46, hails from Italy. He's a

highly accomplished mariner whose career spans more than a quarter century at sea.

Captain Paolo Arrigo joined Princess Cruises as a deck cadet in 1996 after serving for a year in the Italian Coast Guard. (He's in the photo atop this story on the far left).
Ezra Freeman, 26, serves as a bartender in the new show. From the U.S., she's served with Princess Cruises since 2019. (She's wearing the red jacket in the photo atop this story). 
Matt Mitcham, 36, from Canada, serves as the new show's cruise director. Mitcham has lived the "real-life" version of the "The Love Boat," making vacation dreams come true as a cruise director. He met the woman of his dreams onboard in 2016 and they're now married. (He's on the far right in the top photo). 
Together, the trio of "regular cast members" for the new show have more than 40 years of cruise industry experience. In case you're wondering, yes, The Real Love Boat," is set on a Princess ship. The actual filming unfolded on Regal Princess.
The New Show's Premise
So, what's the new show about? Simply put, this new show brings singles together to cruise the Mediterranean while looking for love. It's a real-life adventure.
With their real cruise industry experience, Arrigo, Freeman and Mitcham also bring expertise to help the singles find love. At times too, they help the singles navigate the romantic (and sometimes turbulent) waters ahead.
Destination dates, challenges and surprise "new singles" test the couples' compatibility and chemistry.
"The Real Love Boat" airs on the CBS Television Network at 9 p.m. Eastern time, 8 p.m. Central Time. It's also available to stream live and on demand on Paramount+.
"The Love Boat" – More from Jill Whelan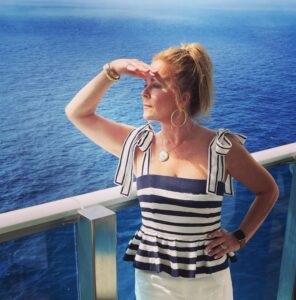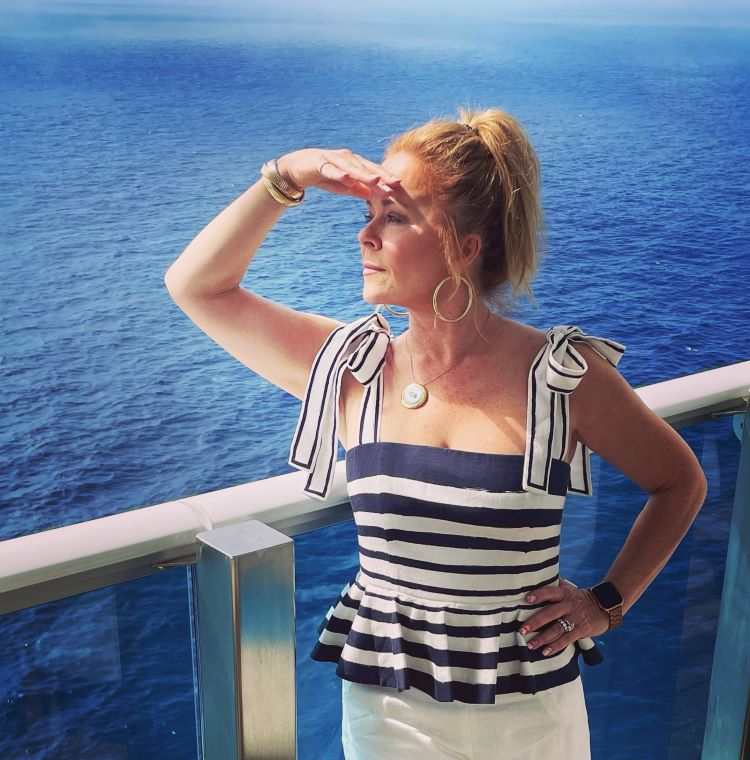 We're also excited to share that on Monday we received a bit of first-hand feedback from Jill Whelan (shown in the photo at right). She kindly answered our questions about the meet-and-greet of the two casts last Saturday.
Here's Whelan's perspective.
What was the most fun about getting together with the new cast last Saturday?
"It's exciting to see the young singles so enthusiastic and so positive about the show. It's always a joy to see Captain Paolo, Cruise Director Matt and Bartender Ezra because they're just really amazing crew members and I enjoy their company so much. It was great to see Jerry and Rebecca and introduce them to the rest of my cast family from the original show."
What was the best part about being involved with the new show?
It was just fun to see the dynamic of the singles and take bets on who would end up with whom.
How did you honor Gavin in this meet-up?
"Not only did we honor Gavin by sharing memories of him with the reality show cast on Saturday, but we are currently spending a week onboard Discovery Princess for the Love Boat-themed cruise with loyal fans of the original show.
"We're remembering Gavin every day and sharing each of our favorite stories about what an incredible man he was. We know he is with us in spirit."
There's a bit more from Whelan at the end of this story. Also, if you recall, we also extensively interviewed Whelan for two "Memories of The Love Boat" blogs — Part 1 and Part 2  — that ran earlier this year. Definitely, give them a read if you haven't previously. 
"The Love Boat" – A Maritime Historian's Perspective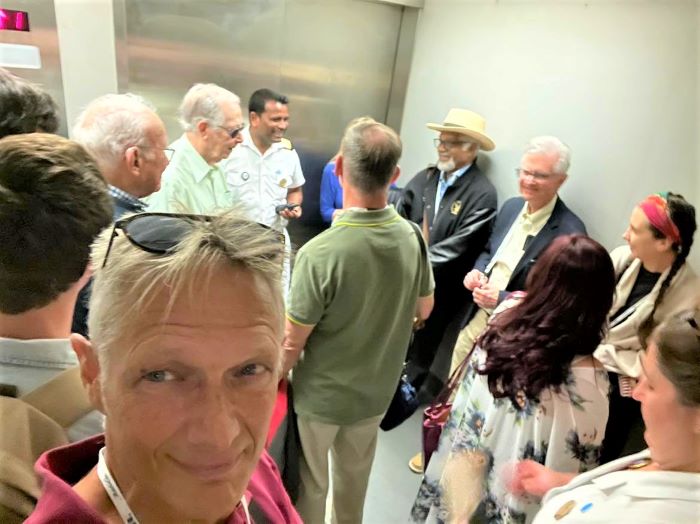 We've also secured a bit of first-hand feedback from Peter Knego, maritime historian and cruise journalist (see the photo at right).
"A long-held dream came through for me this week when I boarded Discovery Princess for 'The Love Boat' reunion cruise," Knego tells The Meandering Traveler. "Seeing the original cast members mingling with the new cast in the Wakeview Bar on sailing day was such a delight."
He explains that the new cast is not sailing on the ship this week but the original cast members are:  "They've been treated with such reverence by the crowd on board and they even officiated a renewal of vows ceremony."
That happened, says Knego, "in the packed-to-the-rafters Piazza on our first sea day in honor of the late Gavin MacLeod, who, of course, played Captain Stubing on the original show."
Knego quips: "How fun to see the cast members on deck or getting a coffee and then to watch them 'back in the day' on the original show on the in-cabin TV."
That excitement is likely to continue as the original cast members host and attend various events for guests over the next five days.
In a presentation coming up this Friday, Knego will impart how the first three original "Love Boat" episodes unfolded.
Parting Thoughts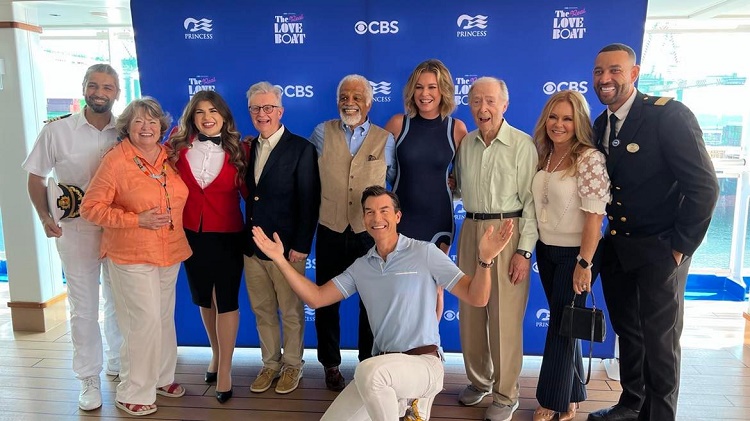 It seems that the new cast and crew were "awed" by their meet-up with the original cast members, and vice versa (see photo above). "Rebecca and I grew up watching the original 'Love Boat,'" said O'Connell (shown kneeling in the photo above). "Our show is inspired by that beloved series so to meet the original cast was just a wonderful experience,"
We wanted to ask Whelan one last question. Here's how she answered…
Why does "The Love Boat" have such an enduring legacy among consumers? What's the secret sauce?
"I think the original attraction to 'The Love Boat' was how we were able to introduce cruising to the masses. It was seemingly unattainable and we brought it to everyone's living room each week.
"Not only did viewers get to see the world from their armchair but they got to spend an hour watching people fall in and out of love, and at the end of 60 minutes, we always had a happy ending. It was an hour of escapism at a time when we were coming out of a recession and people needed something to look forward to."
Whelan also said this: "Who would've thought that all these years later, so many people would still hold such fond memories of our show so close to their hearts? Each and every one of us are incredibly grateful."
Knego sums it up this way: "Love floats!"
Important Information from Pavlus Travel
This blog site offers "basic, general information" about travel; it's not designed to provide specific pricing nor is it staffed by travel advisors.
Any personal views expressed reflect the anecdotal perspective of the author — simply one opinion by a frequent traveler. The views expressed should not substitute in any way for use of a professional travel advisor. And that applies to either advice or booking of any vacation.
Also, please don't use the Reply Section below if you're asking for pricing, travel dates, accommodations, brochures or other specific requests. 
That said, we are most happy and eager to assist you. Here's how…
If anything does tweak your interest in the story and you'd like to talk about a future vacation, please DO call us at 800-528-9300.
Definitely, if you have questions about specific pricing, brochures, savings, itineraries, dates of travel, accommodations, accessible options and so on, please contact us. Again, call us at 800-528-9300 or visit and "live chat" at Pavlus Travel's official agency Web site.