Last week, The Meandering Traveler arrived pierside in Bridgetown, Barbados, and look what we found — the new PC-6-class expedition ship, Seabourn Venture.
What's special. This is a small ship, designed to carry just 264 guests (fewer in some polar zones as designated by authorities). While the line has operated its expeditionary Ventures by Seabourn program on some other ships, this is the ultra-luxury line's first purpose-built expedition ship.
So, we boarded (easy, peasy) with scads of friendly Seabourn crew members waiting outside the vessel to greet us. They grabbed our carry-on bags, helped us onto the gangway stairs, and presto, we were soon inside the ship.
From the moment of boarding, I felt as though I was with friends. In addition, I was delighted when a crew member recognized me from a 2019 Asian trip on Seabourn Ovation.
Don't you just love that?! That's what cruising is all about. Friendly folks, memorable moments and people who matter along the way. When I'm sailing, I feel as though I'm at home in many ways.
Okay, enough about me. Let's get a "first look" at the new Seabourn Venture, which will be joined by a sister ship, Seabourn Pursuit, in 2023.
Seabourn Venture: Feels Bigger Than It Is
Have you ever wondered, "Will I feel cramped on an expedition ship?" Well, the answer is likely "no" on this one.  Simply put, this ship "feels" a bit bigger than it actually is.
It's intimate, but not crowded. On my cruise, granted,  the ship has approximately 150 guests. So, I've often walked along corridors, sauntered into a lounge or stood at the elevator with no one else in sight.
But even at popular shipboard gatherings, such as a highly humorous "Crossing the Equator" ceremony on an aft deck, the crowd was manageable. I came late and still found a fairly close seat (and took this photo below).
What happens in an Equator ceremony? Well, the "victims" (willing crew members) kiss a fish and get thrown in the pool under orders from "King Neptune." The pageantry creates a good chuckle.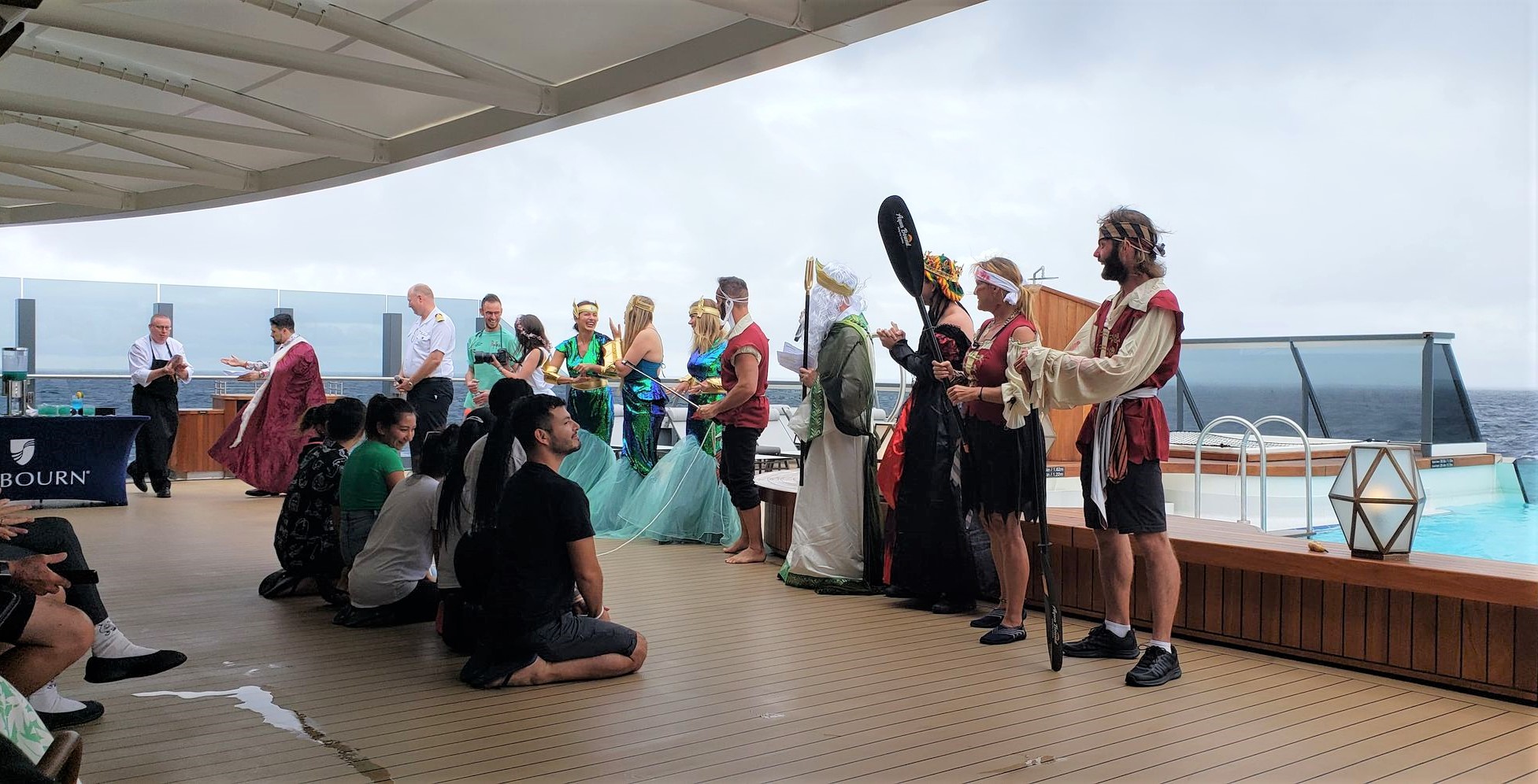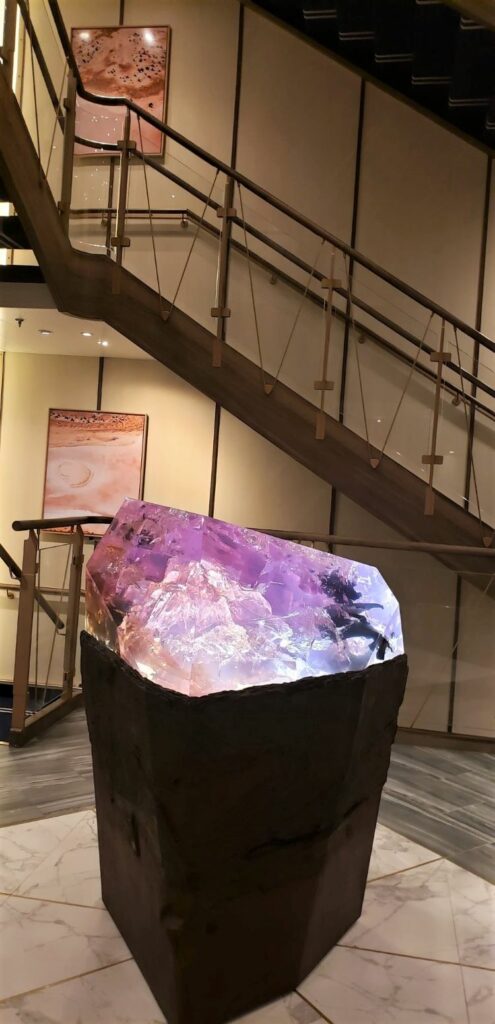 The sky-lit staircase spanning the Atrium, which connects all guest decks, creates an open-space feeling too. We liked the diamond-shaped floor pattern.
Unique Artwork
At the base of this space, however, is a bizarre artwork (see photo at right). We didn't see any plaque or sign explaining it. One guest tried to tell me his perspective but I'd simply call it "eye-catching."
That said, this morning I received an email response back from Seabourn in Seattle and, alas, here's what they say about it:
"It is a large, luminous resin sculpture by English artist Tom Price — representing a world of wilderness that gradually appears the closer the viewer gets."
Well, do you see that? I'm not sure I do, but I like the glow of it and applaud the intent.
More Roomy Spaces
In the main Restaurant too, the overall space seemed quite roomy. In fact, this eatery stretches a long way from its entry point to a glass-encased wine display in the rear.
But one night, a crew member escorted me to a table close to that wine display. Amazingly, I was able to see that the restaurant also expanded side to side in that area — making the Restaurant much larger than I'd originally thought.
Also spacious is the open-concept Seabourn Square, which is home to several guest services desks, comfortable seating, a future cruise desk, coffee/snack bar, library of books, a few computers for guest use and more.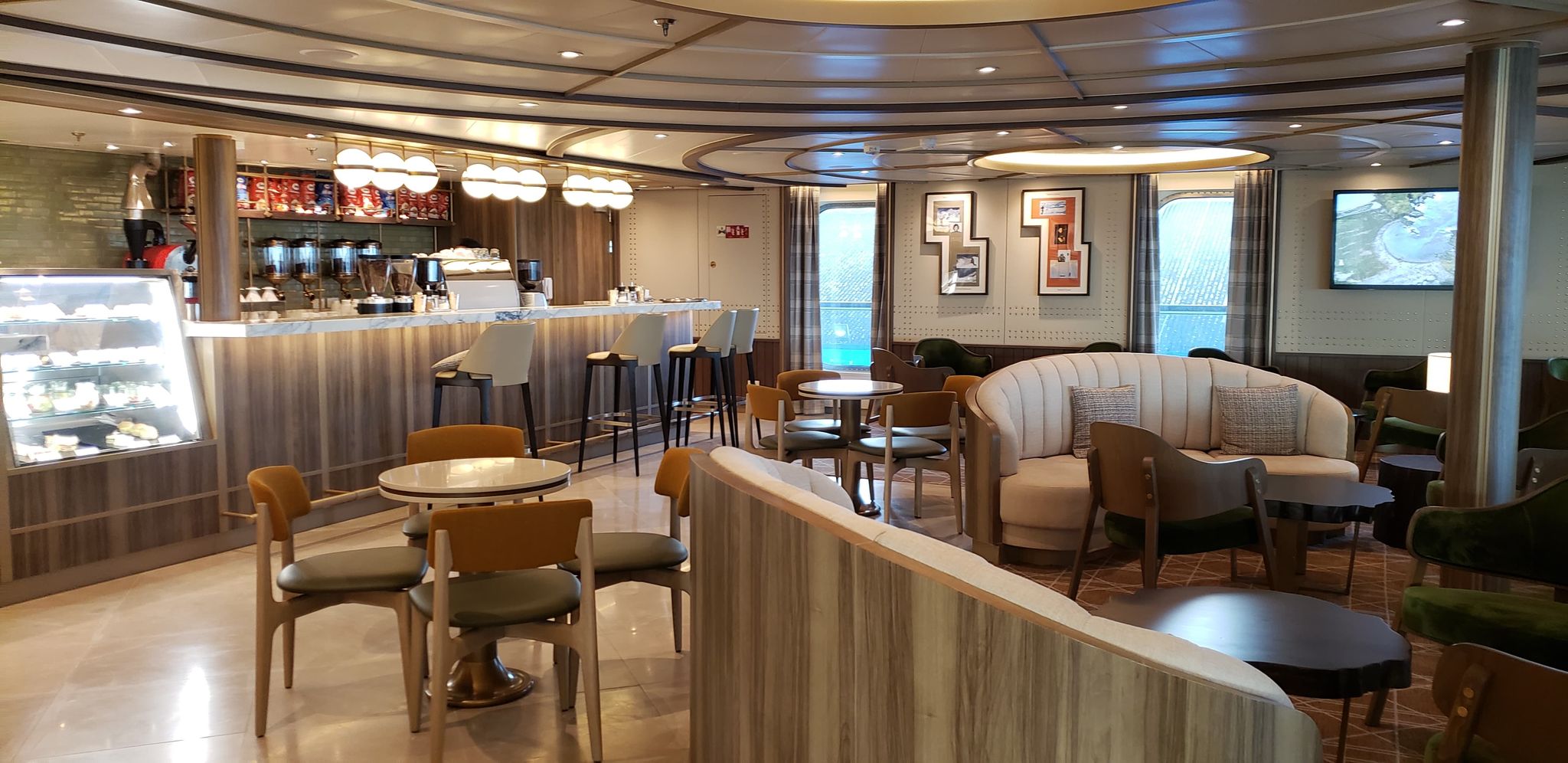 Seabourn Venture: Spacious Suite
As for our accommodations, we settled into #823, a V4 category Deluxe Veranda Suite. It's outfitted with a plush, comfortable queen bed, convertible to two twins upon request. High quality linens, a fluffy duvet and six pillows await guests.
Nice touches? Custom bedside panels have toggle switches and a foldaway reading lamp. There's also an old-fashioned analog clock on the wall. Good storage is provided via a long cabinet with interior shelves.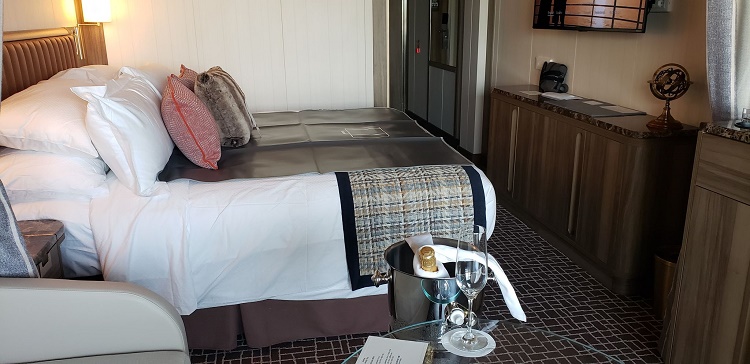 The suite is most spacious in its living room area, which has a long, pull-out couch and a glass-topped dining table. The living area also has a curved desk area with both a chair and a stool (see photo below). We also like the attractive, large circular mirror hanging on the wall above the desk.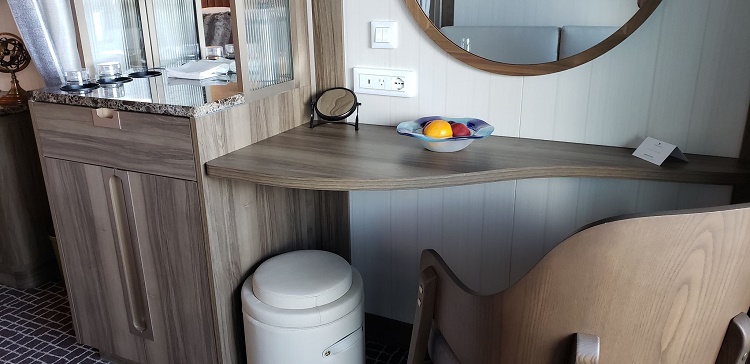 Cabinetry and Closets
Adjacent to the desk surface is a tall cabinet; it holds a mini-refrigerator and glassware. Water bottles continually filled by housekeeping are easy to grab; they're positioned in drop-down holders.
Our clothes were nicely accommodated in a large, walk-in closet with hanging bars and drawers. Plus, this closet has a personal safe, plush robes for guest use, umbrellas and slippers.
Since this IS an expedition ship, a separate closet opens to reveral a nifty drying rack for wet boots and clothes.
Our bathroom offers an elongated sink and two faucets. When it's time to "clean up," guests can choose between a bath in a full-sized tub with shower apparatus (see photo below) or a small, walk-in shower.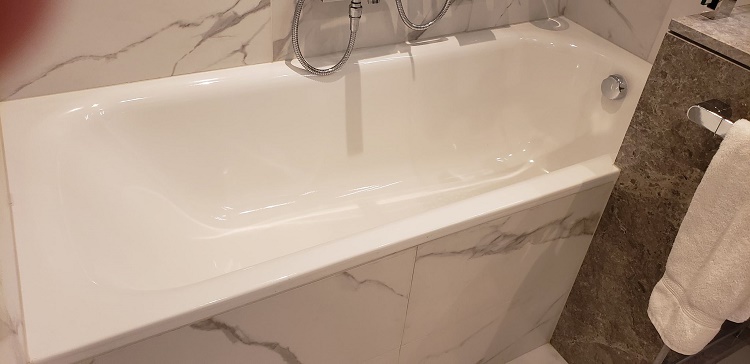 Molton Brown products fill the bathroom shelves, and guests can use as much as they want of those products. But they're not the tiny bottles found in many hotels. So, don't take them home as you'll be charged.
Stellar Views via a Forward Camera
As for the suite's large flat-screen, wall-mounted TV, it has the usual bells and whistles of movies, TV and expedition talks (particularly nice if guests can't attend every lecture in person).
Given that this is a Panama Canal transit voyage, on that particular day earlier in this cruise, I enjoyed watching the world outside on the ship's forward bridge camera. Yes, I'd sit on my balcony for first-hand views of the canal activity and go to the bow at times too.
But, as the transit takes a full day and I was also working remotely on board, I spent much time that day in my suite.  So, it was great to be able to turn on the TV and pull up the forward camera view. Presto, I was watching the locks open!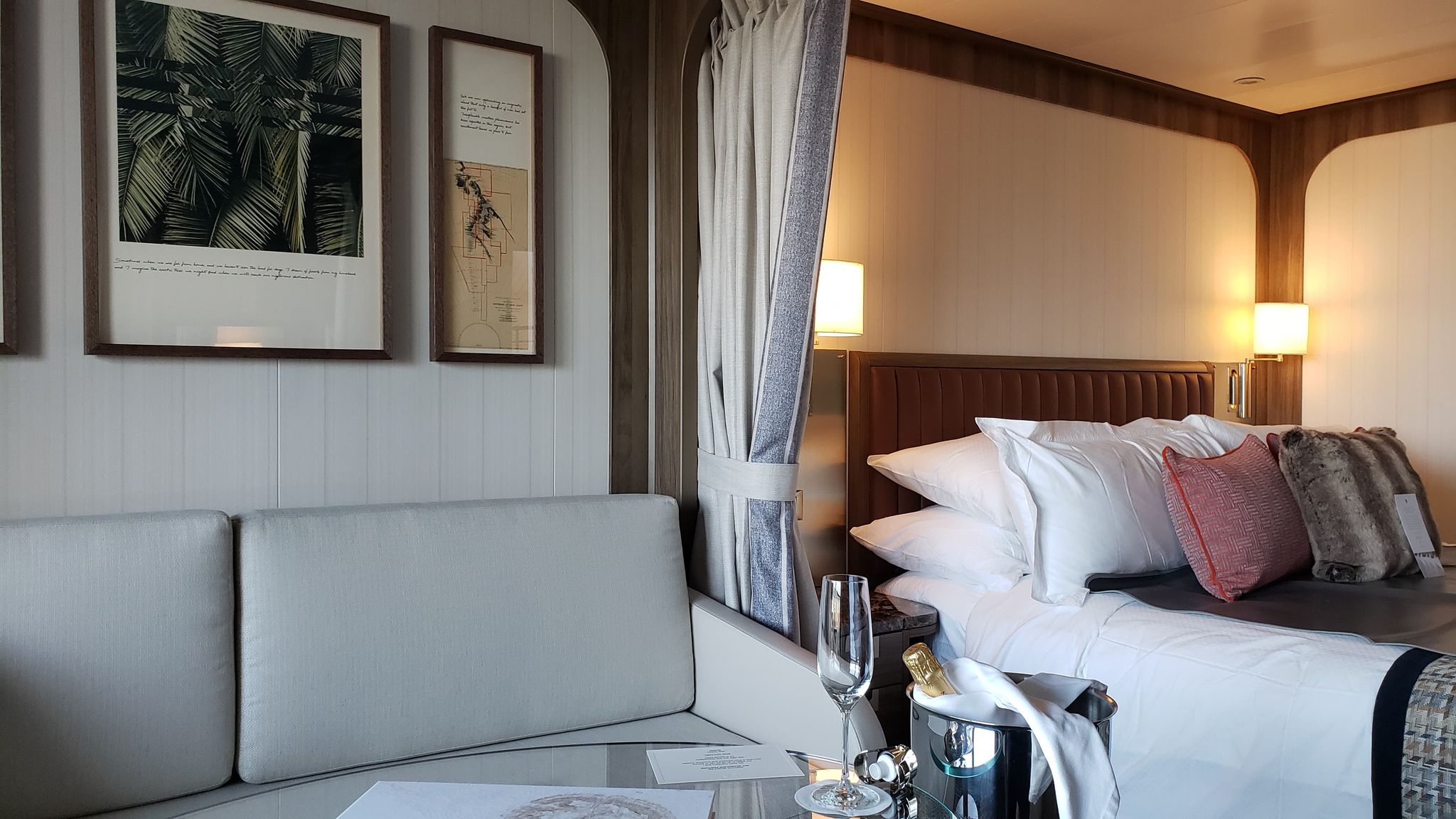 Wi-Fi was adequate in our suite. On one occasion, maintenance/engineering proactively knocked on my door as they could tell "electronically" that my techno-panel apparently wasn't showing a strong signal. Presto, it was fixed.
Worth Repeating: A Friendly Crew
From the moment of boarding, guests are made to feel at home. Crew members call guests by their names — "Good morning, Mr. Smith, or How are You Miss Jones."
Crew also go above and beyond. Last night at dinner I had a wonderfully spicy Asian shrimp entrée. I quipped to the server that the only thing better would have been to have paired that with the yummy duck spring roll I had tasted at the previous night's dinner (but not on the menu on this night).
Her response? "Do you want me to see if the chef can whip that up for you?" FYI, I said, "no," as I didn't want them to bother, but it was the proactive thought she had that made the difference.
Servers know after just a night what cocktails, wine, beer, sodas one likes. I asked for ice in my water once, and it was done night after night.
And in the stateroom, they learn what you like and don't like quickly. My housekeeper team cheerfully removed my duvet (too hot for me) and replaced it with a sheet and blanket. When I had to move (long story) to another suite, the housekeeping team did the same without a word from me.
Communicating with Guests
I also felt that the crew got better and better in communicating and interacting with guests every day that the voyage continued. I just sent the front desk an email and asked them to print it out, and shortly after, it was delivered to my suite.
Maintenance crew members who appeared at my door to first investigate an AC issue, then that weak WiFi signal (both now working great in my suite) were quite friendly and helpful.
Overall, we'd give the crew an A+ on the friendliness and guest service front.
First Look: Faux Fireplaces, Warm Aura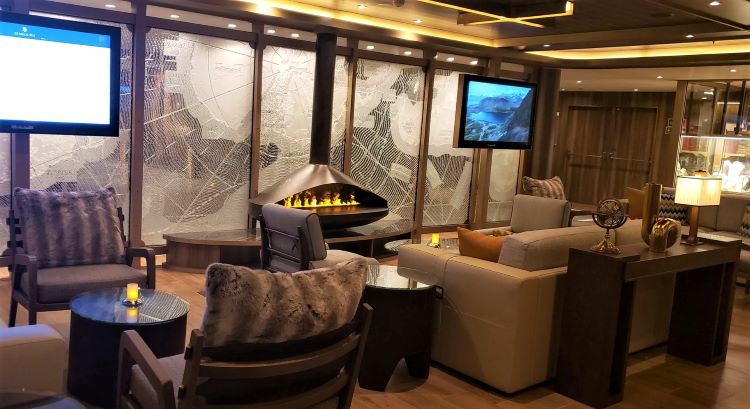 At the heart of Seabourn Venture is Deck 4's Expedition Lounge. It's the comfortable "hot spot" where guests gather prior to and after off-ship expeditions.
We particularly loved the look of the two faux fireplaces, which produce life-like water vapor. Fortunately, they're not real fires, though, so they don't emit heat.
They just create a comfortable, warm feeling for those enjoying a cocktail or conversation with friends.
We also liked the custom furniture, crafted from wood, wool, leather and faux fur. Conveniently, the Expedition Lounge's bar with stools is on one side (see photo below), the ship's boutique on the other, so pick your passion.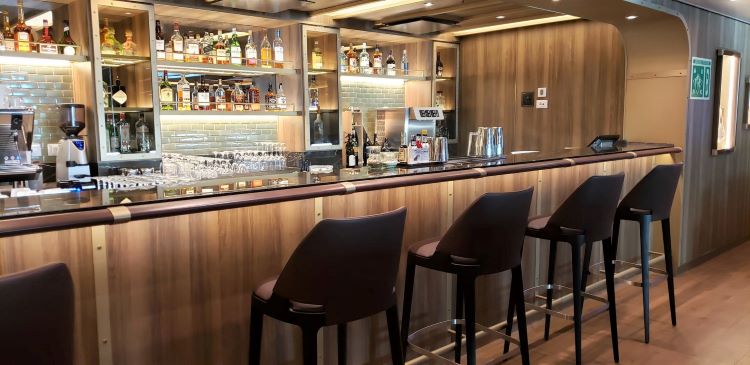 Seabourn Venture: Discovery Center
Adjacent to the Expedition Lounge is the Discovery Center. Think of this as an expedition classroom, movie theater and entertainment hub. Here you might hear a solo entertainer, a few musicians or lecturers offering expedition or destination talks.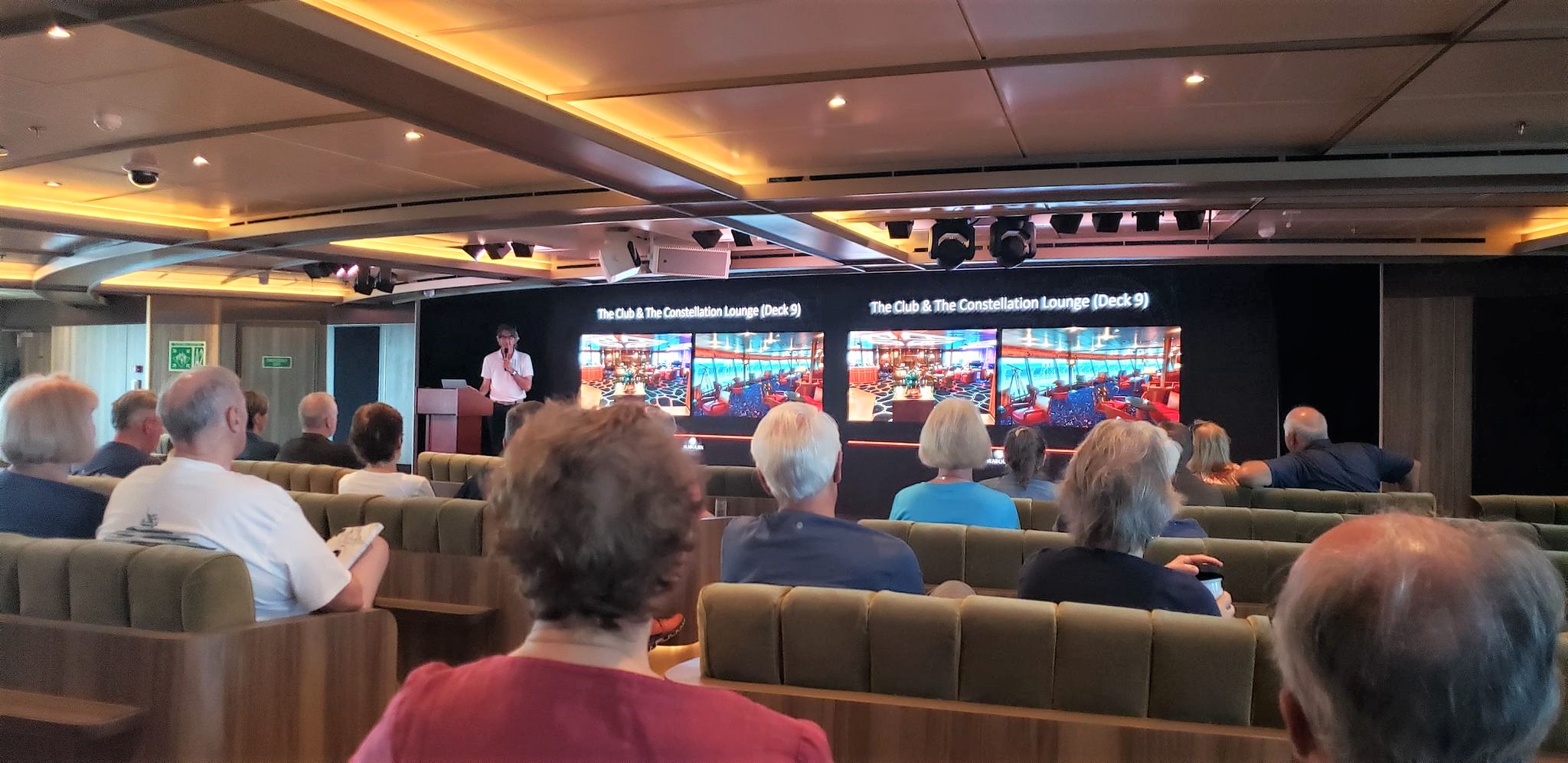 Seabourn Venture carries a 26-person team of scientists, scholars, naturalists and other experts. One interesting presentation I enjoyed laid out the range of diverse bird life in the Panama Canal area, for example.
Couple of tips? Don't expect the same kind of theater as on a big ship. It's one-level and without any soaring ceiling. It's not a place for large Broadway-style production shows.
That said, we liked the soft, couchlike, plush curved seating and it's a warm, inviting space. Plus, it's the spot for a popcorn movie night too!
My only "could be improved" is that the design with only a small difference in the descending seat levels, means that, at times, with tall folks seated in front of you, the view can be a bit compromised. But, humongous side-by-side screens span the length of the stage to offer screen viewing from different angles.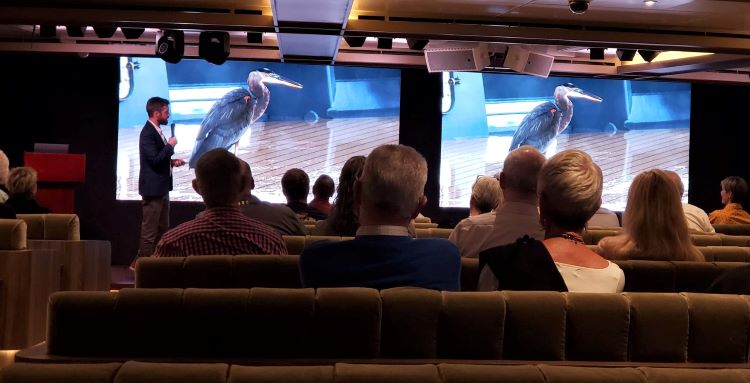 Seabourn Venture: Tasty Cuisine
Guests sailing on Seabourn Venture typically head to one of three prime places to dine each evening; some nights are designated formal, others casually elegant.
That type of information is included in the daily program on the Seabourn app or a daily printed program (available upon request from your housekeeping team).
The Restaurant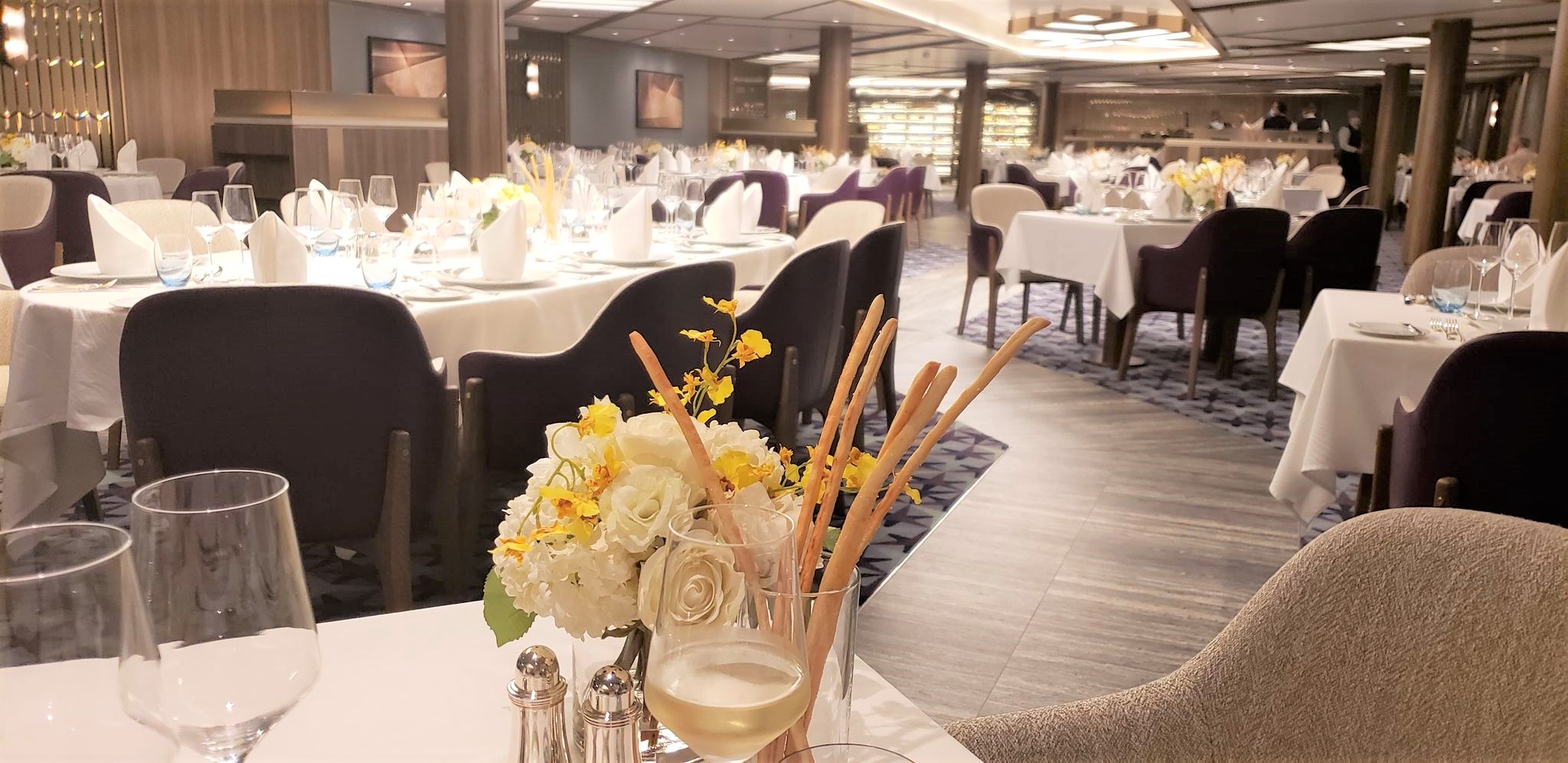 Elegant and resplendent, the main Restaurant seems more akin to what one would find on a big ship or a classic luxury ship, not so much on an expedition ship (at least in past decades). We're glad that times have changed.
The Restaurant features tables with white tablecloths, fine china and crystal, a glass with Seabourn's famous bread sticks (see photo above) and custom-designed dining chairs from Italian furniture manufacturer Roda. In the rear of The Restaurant is a large wine display case that's both glass and framed in bronze.  
Plus, you'll see decor that incorporates geometric carpeting, neutral colors and leather wall paneling. Some guests can sit at window tables, if they desire.
We found an area of the dining room that we liked and discovered that the same servers are in that zone nightly. That's a plus.
I look forward to seeing my favorite servers nightly now. But, at the same time, I'm not locked into a set dining time or table.
What's Cooking? 
Each night, servers pour house white and red wines. One night we enjoyed a 2021 Clarendelle Bordeaux from Clarence Dillon Wines. Other nights we savored  Italian, American or New Zealand house wines.
Guests can also order other drinks or select a bottle from the wine list. 
As for menu selections, this restaurant offers two types for appetizers, starters, salads and entrees. If you're curious and willing to try different dishes, then the "Inspirations" left side of the menu will appeal.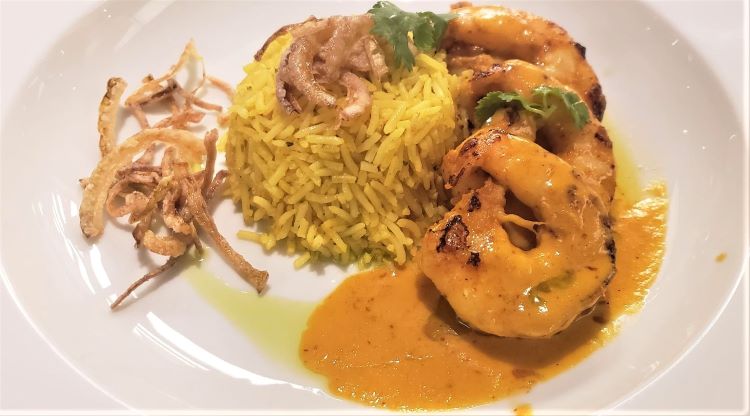 Changing nightly, the Inspiration choices are creative or fusion in nature, adding a bit of an edge – and at times, a bit more spice. For instance, "Chef Ainsley's Special: Sour and Spicy Assam Prawns" with onion and cilantro fried rice (see photo above) was incredibly tasty.
We also tried the "White Crisp Asparagus" with baby bok choy and balsamico (see photo below).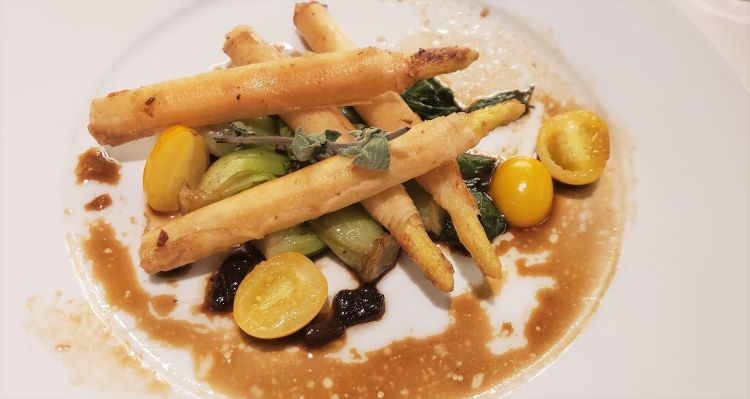 Another vegetarian dish offered in the Inspirations menu was "Baked Egg and Asparagus Gratin" with truffled mushrooms.
Classic Favorites Too
But if you like American fare or more traditional menu items, perhaps salmon, USDA Prime meat (see photo below), chicken and so on, you'll find that too. Just look for the Classics menu items on the right side of the menu.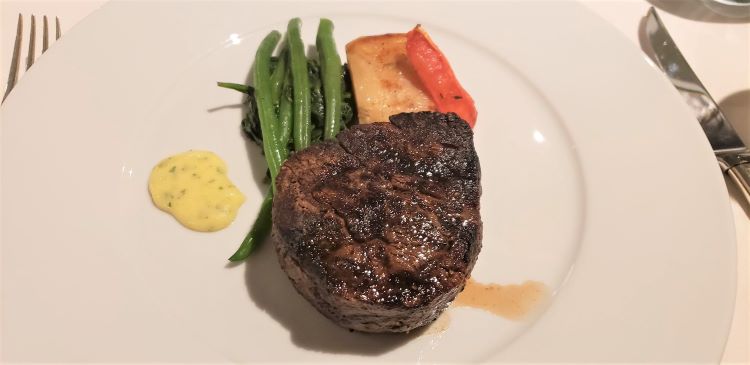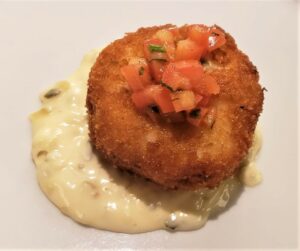 First hand tip? I highly recommend ordering the seafood cake (see photo at right) as one appetizer on the Classics menu. Let's just say this was ordered and enjoyed on several nights!
A separate dessert menu provides many yummy gelato flavors and other sweet treat concoctions. A tray of petit fours is also brought to the table when the desserts are served.
Casual Choices 
On Deck 5, the casual Colonnade is a buffet-style eatery at breakfast and lunch, but it's a table-service restaurant in the evenings too. Geographically-themed dinner menus change nightly, so you might find dishes of  "Old England" or the "Pacific Ocean."
Inside, the evening table settings are attractive. Or, guests can dine outside on the aft deck, home to an infinity-style pool, two whirlpools and a pair of sculptural showers.
If it's offered on any given night, be sure to try the  Colonnade's "Earth and Ocean" offering on that outside deck. It's a hit with many guests.
We've experienced it on other Seabourn ships, have really enjoyed the selections and hope to experience it later in this cruise.
Seabourn Venture: Sushi at The Club
And wildly popular on Seabourn Venture is "Sushi at The Club." Nightly from 6 p.m. to 9 p.m., guests head to The Club for cocktails, sushi and live music. Usually, that entertainment is a guitar player who also sings or a pianist accompanied by a singer.
While the Sushi at the Club menu is extensive, it's mostly "raw" seafood fare. Don't expect Asian cooked dishes here.
For vegetarians, there's Edamame as well as a vegetarian roll of cucumber, rice and seaweed, for example.
But for die-hard sushi fans, this dining option with unlimited sushi and sashimi is pure heaven. Just order as much as you like — and repeatedly. One guest that we've met aboard loves it so much that he goes for the sushi both pre- and post-dinner!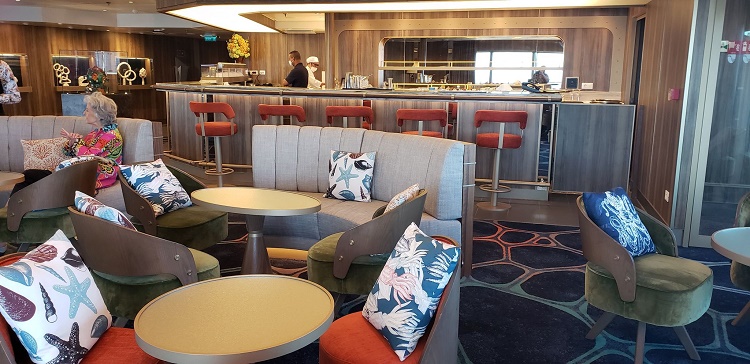 I particularly like this Club space for relaxation. While the decor has the beige and brown tones found in many Seabourn spaces, this venue also has dashes of zippy color such as orange on some seat coverings. The white and blue pillows also brighten things up.
Bites, Snacks and Room Service
Got the munchies and it's not time for a full meal? You can get "bites" at the Bow Lounge as an early riser between 6:15 a.m. and 9 a.m., lunch between 11:30 p.m. and 2:30 p.m. and in the afternoon between 3 p.m. and 6 p.m.
In addition, Seabourn Square offers coffee, gelato and snacks. Plus, there's 24-hour room service.
The reality? Well, I may have to try to learn how to bake croissants after ordering them nearly every day for morning room service. I'm definitely becoming addicted to Seabourn's, which are light, fluffy and big.
When ordering room service, omelets are a good choice too. Our mushroom one was very tasty.
Also, ask for crispy bacon and then redeem yourself nutrition-wise by ordering the fresh fruit plate too. I wasn't a fan of the rather bland sausage, however.
Coffee arrives in a big pot — steaming hot — and it stays hot for several hours in that container.
Let's Explore
Seabourn Venture's expedition voyages offer complimentary Seabourn Expedition offerings such as Zodiac cruises, hikes, nature walks, scuba diving and snorkeling.
Optional (added fee) activities include some shore excursions, kayaking, and submarine dives (to a maximum of almost 1,000 feet underwater). Two custom-built submersibles are only used, though, at select destinations, depending on weather conditions and government policies.
The subs can carry six passengers and one pilot. It's important to mention that I'm sailing on a repositioning cruise, so it's not the typical expedition fare every day. My submarine "dive" was cancelled in Santa Marta, Colombia, due to lack of permission from local authorities.
Some folks were rescheduled for our sub ride two days later, but alas, I was on the wait list. Now, apparently, there won't be more dives permitted by destinations along our route during this cruise.
So, I'm using the age-old best advice for travelers: "Go with the Flow!"
A Robust Zodiac Fleet
Zodiac rides also aren't something I'm doing on this trip, although I've done them many times in the Galapagos and Alaska. They're exhilerating and great for getting up close to stunningly gorgeous scenery (such as dramatic cliffs or glaciers) and wildlife.
But this voyage, I'm working remotely onboard here many days and heading ashore in Peru on several other types of tours. That said, I definitely wanted a close look at the Zodiac fleet, so I meandered up to the top deck. I was amazed to see such a "gathering of  Zodiacs."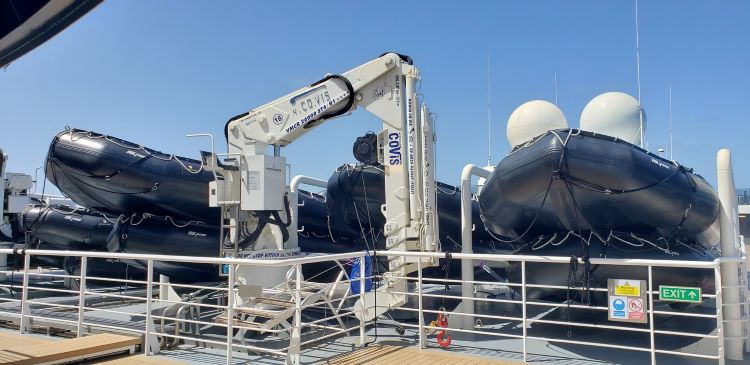 Seabourn Venture carries 24 Zodiacs (check out the photos above and below), enough for everyone on the ship (at full capacity) to go out and about at the same time. So one isn't scheduled for 10 a.m. and a friend at 2 p.m., for example.
In Antarctica or the Arctic, that's a big plus. If polar bears or penguins are spotted, some folks aren't left behind waiting for a Zodiac time slot later in the day when they might miss seeing the wildlife.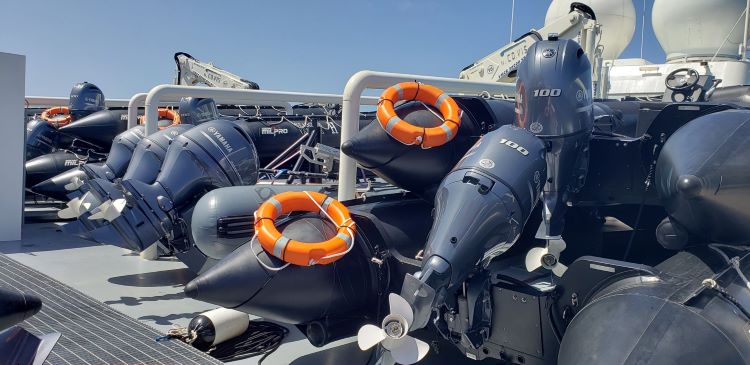 In addition, the ship carries kayaks and stand-up paddleboards too. So, if you're a water junkie and love to explore, there are lots of ways to do so, including snorkeling.
Those seeking less adventurous water action will find a lovely aft pool (see photo below) and two whirlpools on the Colonnade's back deck.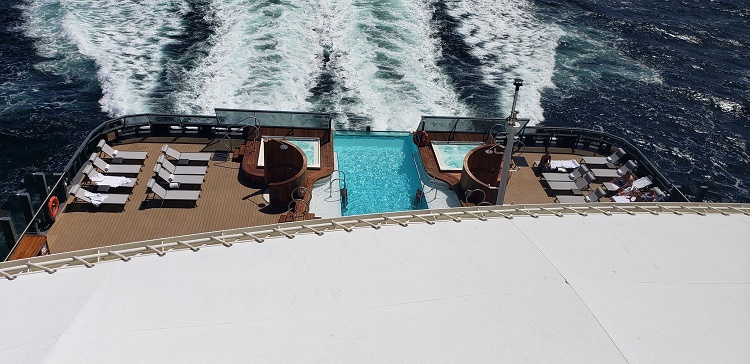 More Spaces and Places
In my free time aboard, I checked out the Bow Lounge (seen in the photo below) on Deck 6 forward. Good to know? It offers the closest lounge access to the water for marine life spotting.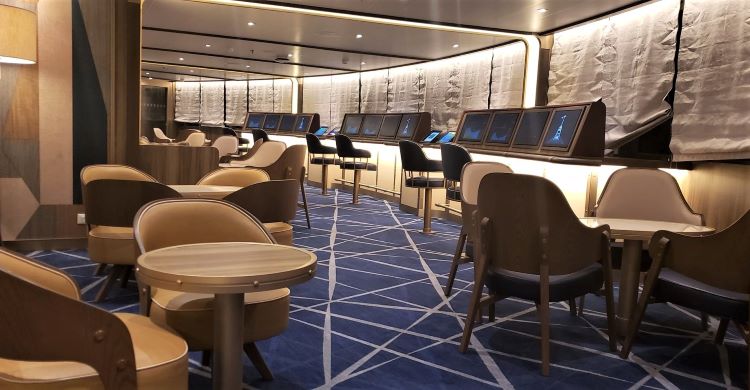 Large screens also project live footage from an exterior drone. Smaller touch screens offer a live map, weather information and more.
On the ship's top deck, the highest indoor viewing point on Seabourn Venture is the Constellation Lounge. With stunning, 270-degree views, it features plenty of seats and a central bar, a focal point for drinks and socialization.
Earlier today, I headed to the Spa & Wellness facility for a much-needed haircut. It has an attractive welcome area with a few seats. While there, I popped into the facial treatment room (see photo below) to check it out.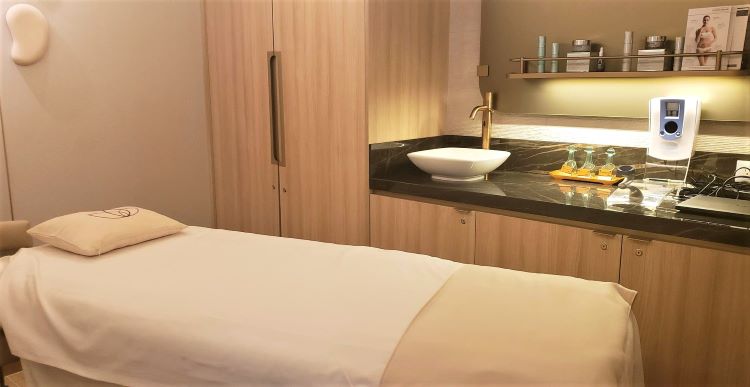 I'm still making the rounds in terms of seeing all the spaces. What can I say? I'm having a great time, working hard (I'm writing this and other copy aboard) and seeing spots around the ship as I can.
So, yet to come is the sauna, as well as the "mud zone" or Landing Zone, a utility space where guests change, clean, and store boots and gear following excursions.
But I hope that my "first look" at the new Seabourn Venture has provided some perspective on what's aboard.
Seabourn Venture Itineraries
For now, it's good to know where the new expedition ship sails. Look for it in the Arctic, Greenland, Iceland, the Northwest Passage, the Caribbean, Central and South America, Antarctica, the Amazon and more remote spots across the globe.
For specific itineraries, accommodations information, reservations or more details, please contact your professional travel advisor.
And more new ships are launching in the fourth quarter 2022 too. Check out our blog post about what's debuting.
Important Notes from Pavlus Travel
This blog site is designed for "basic, general information" about travel. So, it's not designed to provide specific pricing nor is it staffed by travel advisors.
Please don't use the Reply Section below if you are asking for pricing, travel dates, accommodations, brochures or other specific requests. 
That said, we are most happy and eager to assist you. Here's how…
If anything does tweak your interest in the story and you DO have questions about specific pricing, brochures, savings, accommodations, accessible options and so on, please contact us at 800-528-9300.
Or visit us online at Pavlus Travel's official agency Web site; there you can "live chat" with us online too!
Thanks for reading!