Seeing Rome's Spanish Steps for the first time, I was watching a Saturday afternoon movie, "Roman Holiday." I remember that Audrey Hepburn and Gregory Peck zoomed around the city on a Vespa and also that they walked down those beautiful steps while eating gelato.
While I was quite young when first seeing that movie, alas, my real "Roman Holiday" experience did come some 20 years later. Thankfully, I've been blessed to return to Italy every year to explore.
Dating back nearly 3,000 years, Rome is often referred to as Italy's "eternal city." Why? It's believed the city will remain even if the world falls.
Every year, I fall more in love with the Italian capital city, its Spanish Steps and the continual discovery of learning something new. Certainly, many travelers who've visited Rome have journeyed to the steps as one photo stop on a city tour.
But if you haven't stayed in the area, then we hope our tips here will help you make the most of your time and "dive deeper" into this area of Rome. Talk with your travel advisor about all the options for cruises from Civitavecchia coupled with a pre- or post-cruise stay. Or, you might head out on a Rome city stay or escorted tour that begins or ends in the city.
History of the Spanish Steps   
Over the years, I've learned a lot about the history of the area before the steps were built. The area is part of Pincian Hill. While that's not one of the famous seven hills of Rome, it does lie within
the wall built by Roman Emperor Aurelian between 270 A.D. and 273 A.D.
In Roman times, the Spanish Steps' hillside was known as the "Hill of Gardens." Wealthy Romans built palaces and villas here with elaborate landscaping and flowers.  Today, the plants and blooms along the steps flourish, thanks to the adjacent Aqua Virgo.
One of 11 Roman aqueducts that once supplied water to the ancient city, the Aqua Virgo was completed in 19 B.C. by Marcus Vipsanius Agrippa. Let's just say that this Roman general, statesman and architect was certainly well-connected. He was the son-in-law, friend and lieutenant to Roman Emperor Augustus.
The Aqua Virgo, coincidentally, is Rome's only remaining working aqueduct; it still provides water to several of the city's famous fountains.
Tip for myself and readers too:  I recently learned about tours that take visitors down to see Aqua Virgo; it is now on my list of future things to do. The entrance is a small door next to the Villa Medici.
Look for the plaque that reads "Alla Chiociola del Pincio. That's translated: "snail of the Pincian." It refers to a long spiral stairway that descends 82 feet down to the aqueduct.
When in Rome, Do as the Italians Do 
Did you know that the Italians don't call the stairs Spanish Steps? Instead, they simply refer to them as "la Scalinata", which derives from their correct name, La Scalinata di Trinità dei Monti. Composed of 12 ramps and 135 travertine steps, this staircase is considered the widest and longest in Europe!
Commissioned by French diplomat Étienne Gueffier, construction was done between 1723 and 1725 under the direction of Italian architects Francesco de Sanctis and Alessandro Specchi.
Staying and Dining. 
When visiting Rome, you might consider staying near the top of the Spanish Steps — a terrific central position for touring the city.  In fact, at the very top of the steps adjacent to the Piazza della Tinita del Monti is the Hotel Hassler, one of Rome's finest hotels.
An enclave of luxury, it's a fabulous spot to relax with friends after a long day of touring. At press time, summer rates for some dates in 2023 started at 800 euros a night. Your travel advisor can set you up with a pampering stay.  
Ristorante Trinita De Monti
I also love that the Hotel Hassler is located across from my favorite restaurant in the city, Ristorante Trinita de Monti. This welcoming spot offers a memorable Italian dining experience.
For instance, travelers can dine outdoors, seated at white-tableclothed tables and along a cobblestoned piazza. So, what's good to order?  To start you off with a first course, I recommend either of these:  
Ravioli ripieni di carbonara, saltati al tartufo nero estinvo e guanciale soffiato (ravioli stuffed with carbonara and black truffle)
Carpaccio di spignola con fragole, pistachios and passion fruit (sea bass carpaccio with strawberries, pistachios and passion fruit).
Perfection!
Plus, the restaurant is a great "perch" for people-watching. It's a place where modern life and ancient history seem to converge.
16th Century Church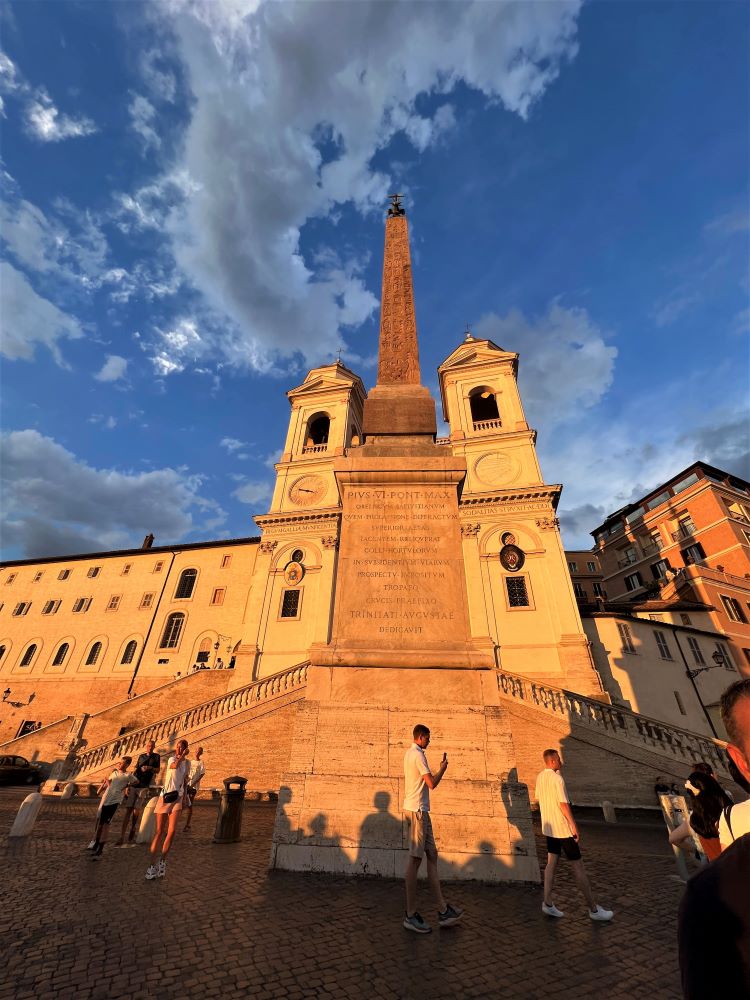 In addition, those savoring a meal at that eatery will have amazing views of the Trinita dei Monti church (see photo at right), perched atop atop the Spanish Steps. Built with French funds, it was commissioned by France's King Louis XII..
Tip? Take a few moments and go inside  This church holds one of Rome's most prized masterpieces, Deposizione by Italian artist Daniele da Volterra.
Walking out of the church, though, don't be surprised if you do a "double take" wondering if you're in the right spot.
That's because you'll come face to face with the Sallustian Obelisk (see photo at right). Named after the Roman historian Sallust, it once graced his gardens. It's designed to imitate famous Egyptian monuments with inscriptions and hieroglyphics.
Just be aware of your surroundings and prudent with valuables in this area, just as you would within most urban areas frequented by visitors across the globe. Pickpockets love a distracted tourist.
I had no issues there, but descending the church's stairs during my August visit, I was inundated by vendors selling roses and water bottles. Be sure to bargain, if you buy. I did and the three-euro bottle of water quickly become a euro!
Lovely at Sunset
As a well-loved landmark, the Spanish Steps draw thousands of tourists at all hours of the day. But this area of Rome truly comes alive in the late afternoon and early evening. That's when the Italian ritual of a leisurely stroll or "passeggiata" commences.
For travelers, myself included, nothing cures jet lag better than standing atop of the steps at sunset. Golden light shines atop you, and the sunsets are magnificent. But the experience is truly heightened by having an elevated, expansive view of Rome — as far as your eyes can see. 
2016 Makeover
In 2015-2016, the Spanish Steps needed a makeover. Heavy foot traffic and invasive plants had created cracks. So, the steps were closed, as a 1.5-million-euro repair project began.
Some 80 craftsmen tackled the repairs, with funding provided by luxury jewelry company Bulgari. Fortunately, the Spanish Steps have been magnificently restored and reopened.
Tip: Be aware of one change, though. In the past, the Spanish Steps were considered as a place to rest from long walks through the city. But new regulations enacted in 2019 make that illegal. No longer can visitors or locals sit, lie down, eat or dirty the steps.
Just know that the fine is 400 euros, and police are typically on site. Of course, admiring the Spanish Steps from above or below and walking up and down is still perfectly fine. You just won't see me eating gelato on the steps as the characters Princess Anne and Joe Bradley did in "Roman Holiday."
Barcaccia Fountain
At the foot of the steps in the Piazza di Spagna is the gorgeous Barcaccia fountain which in Italian means "ugly boat." It's magnificent so I truly didn't understand how this beautiful fountain could be dubbed ugly until I learned the tale behind that.
Constructed in 1627 by artist Gian Lorenzo Bernini and his father on behalf of Pope Urban VIII, the fountain takes its name from a sinking barge ship. The fountain was inspired by the 1598 flood of the Tiber River.
That weather event pushed boats to the very place where the fountain stands today. In fact, if you go, take a close look. You'll see that it's cleverly designed below the road level as if it were semi-submerged.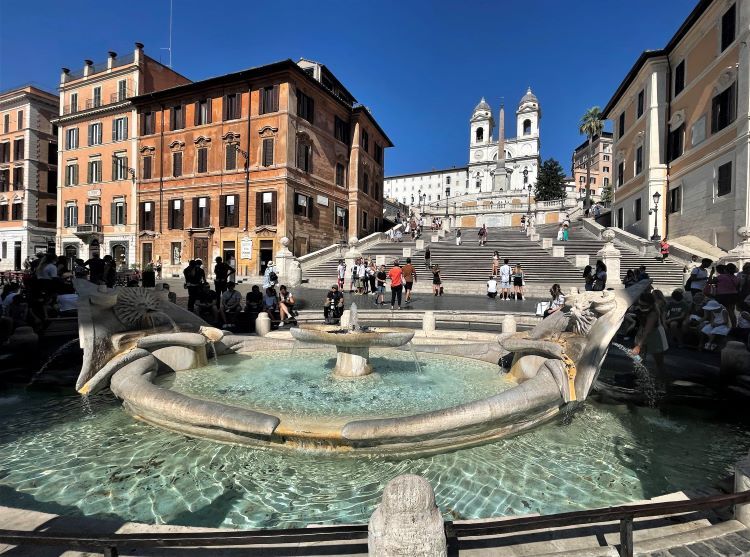 English Connections 
At the right of the bottom of the Spanish Steps, near the Piazza di Spagna, is the Casina Rossa. One claim to fame is that this is the home where English poet John Keats lived for several months in late 1820 and early 1821. He died of tuberculosis here in February 2021 at the age of 25.
Since the early 20th century, Casina Rossa has housed the Keats-Shelley Memorial House. What's notable is that its library has one of the most complete collections of English romanticism works. Visitors are welcome to tour the house, with Keats' bedroom as one highlight. To learn more, click the above link.
On my most recent trip, I learned that "back in the day," the area near Casina Rossa was dubbed the English Quarter or "Ghetto degli Inglesi." Starting in the early 19th century, a community of British expats took up residence here. Among the notables were Florence Nightingale, Lord Byron, and Charles Dickens, to name a few.
Another uniquely English icon of the area is the lovely Babington's Tea Room, founded in the late 19th century by two Englishwomen catering to fellow English citizens. The elegant tearoom is located just opposite the Keats-Shelley house.
If you have time, I'd suggest popping in here to enjoy a coffee, dessert or traditional high tea served on gorgeous fine china. It's a nice spot to stop in the Spanish Steps area for a morning or late afternoon snack.
Rome's "Rodeo Drive" – Via dei Condotti
Across from the Spanish Steps and Barcaccia fountain is what I like to call, "the Rodeo Drive of Rome." That's Via dei Condotti. Many visitors to Rome, myself included, enjoy taking time here for a little "retail therapy."
Here you'll find Gucci, Dolce & Gabbana, Yves Saint Laurent, Fendi, Prada, Hermes, Louis Vuitton, Ferragamo and others, to name a few of the designer brands. Simply put, if you're an American and in the market for designer items, the exchange rate (at least currently) and Italy's VAT refund can save you big.
After enduring the crowds, beating the August heat, and hoping to numb myself for the upcoming credit card bill, I took my new Yves' purchase next door. Soon, I was seated in Antico Caffé Greco, the oldest running bar/"caffe" in Rome.
How old is old? Well, this bar opened in 1760. It's most famous for its "who's who" list of literary patrons including John Keats, Percy Shelley and Lord Byron. The bar is Italy's second oldest after Venice's famed Caffé Florian.
It's also considered the third oldest coffee bar in the world, the oldest being Café Le Procope in Paris. As I sat sipping my drink, I pondered my purse purchase – a bag that is French in essence but crafted in Italy – just like the Spanish Steps.
The visit to Antico Caffé Greco was amazing so I have no regrets about the expensive Negroni. It was delicious.
Piazza Mignanelli & Villa Medici
At Piazza Mignanelli, about a minute's walk away from the Spanish Steps, stands a column dedicated to the Immaculate Conception. It debuted on December 8, 1857, so on that day every year, the Pope and the entire city of Rome pay homage to the Virgin Mary. The fountain is adorned with beautiful flowers.
There's also a set of stairs by the Valentino fashion house's creative headquarters and store. From those stairs, you'll find a great shaded short-cut back up to the Piazza della Trinita del Monti.
Walking up the Spanish Steps, though, is the perfect activity to burn off the calories. From the top, take a left turn and head to a building that simply doesn't look as though it should belong in Rome.
That's because this is Villa Medici of the famous Renaissance-era Florentine Republic.  The Medici family ruled the powerful city of Florence, and for more than a century this elegant Roman villa was the seat of their Grand Dukes. It was also the republic's embassy to the Holy See.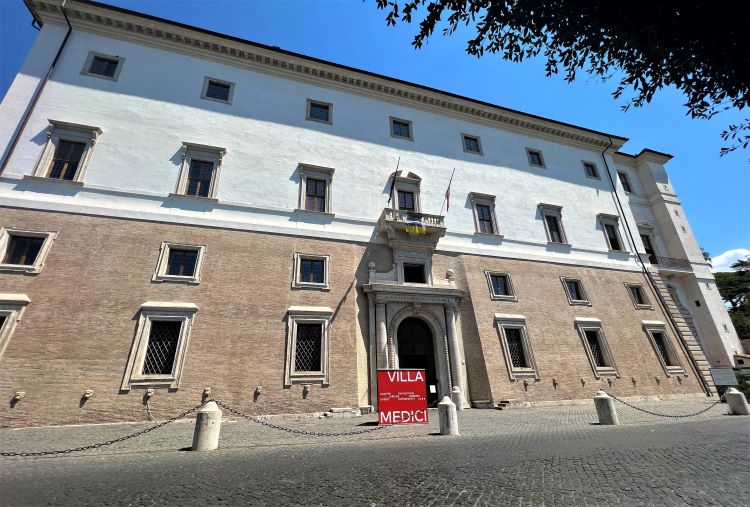 Villa Medici and Ornate Gardens
When the Medici dynasty died out in 1737, the villa was purchased by Napoleon Bonaparte. He transferred it to the French Academy at Rome. Today, it's still owned by France and serves as an arts education center.
Tip: Head to the back of the palace, and you'll notice how the rear of the structure looks as though it would fit perfectly in the French countryside with its distinctive architecture and expansive, ornate gardens.
During my August visit, the city was in the throes of a drought, so the garden's grasses weren't green. But even so, those gardens offered an oasis of calm away from the Piazza di Spagna's crowds. I decided a future spring visit is a must to experience it in full bloom.
A tour of the Villa Medici's changing gallery exhibits is a great way to spend an hour or two. Now through February 26, 2022, for example, visitors can view an exhibition of 150 photographs from the Bachelot Collection.
Palazzo Zuccari 
For something truly unique, check out the doors and windows of Palazzo Zuccari along Via Gregoriana near the Spanish Steps. In reality, most people walk by the building without even noticing.
But this building is called "Casa dei Mostri," which means "House of Monsters.. The scary artistic creations above the windows and doors are unforgettable once you spot them — as their eyes seemingly follow you as you move.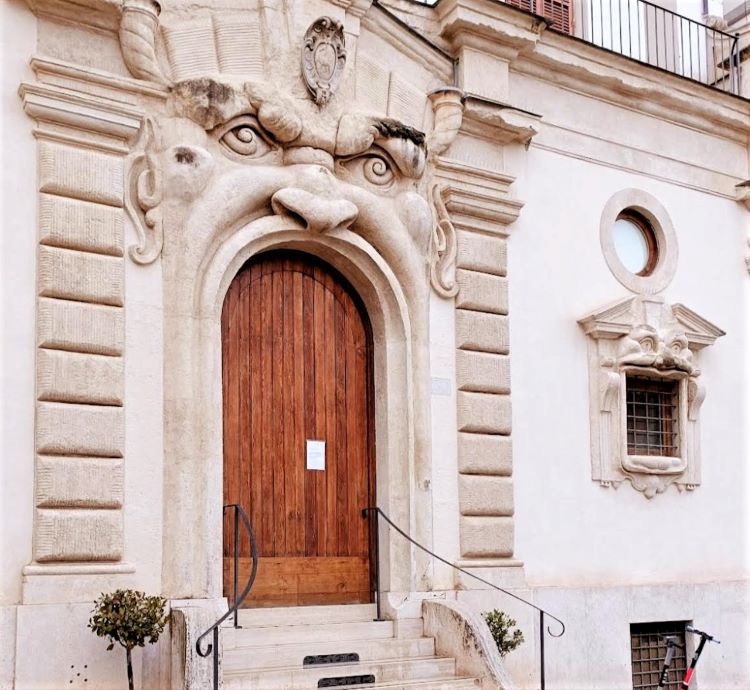 This eerie artistic facade is at the entrance to the Hertiziana Library, one of the world's most important places for conserving books and sourcing art history. You'll discover rare incunabula to entirely digital editions.
Established in 1913, the library is managed and financed by the German government through the Max Planck Institute.
In Search of "Roman Holiday"
On my last visit to Rome a few months ago, I was determined to finally find the apartment of Joe Bradley (Gregory Peck's character) from "Roman Holiday." It's along Via Margutta, which is a short street with history dating back 2,000 years. Today, it's a beautiful residential area teeming with artists.
It's easy to see what the attraction is. Terra cotta-colored buildings covered in ivy are a magnet for creative people. Famous Italian filmmaker, Federico Fellini, lived on this street for decades. Clearly, he was inspired by the surroundings as he often filmed scenes for his movies there.
I almost missed finding the Joe Bradley apartment as the area was covered in scaffolding. Arriving at Via Margutta, #51, I found the door was closed and locked. So, I went next door to an art gallery where I asked the man sitting at a desk, "Is this the 'Vacanze Romane' apartment?"
He smiled at me and responded, "Si." I asked if it was ever open and he pulled out a key and unlocked the door for me. He was nice but asked me to not take photos. I walked through the door to the graveled courtyard, cast iron lamps and apartments surrounding that.
Presto, it was exactly as in the movie. My childish enthusiasm of that long ago movie came to life. I perused the area for a few minutes and counted my blessings for being able to experience it.  As I departed with a big smile on my face, I said, "grazie mille" or "a thousand thanks." The art gallery employee responded back, "Arrivederci."
Indeed Rome, until we meet again!
Parting Thoughts 
Fortunately, 2023 is almost here, and it will soon be time for me to plan another Rome getaway. Are you ready to go too? If so, consult with your travel advisor.
He or she can provide great recommendations for everything from city stays to escorted tours and seagoing adventures. Many ocean cruises embark or disembark from Civitavecchia, Rome's port.
On the land side, Tauck offers "The Sweet Life: Rome & Sorrento, a Family Bridges tour with departures from March through December 2023. The seven-day tour is designed for parents and children.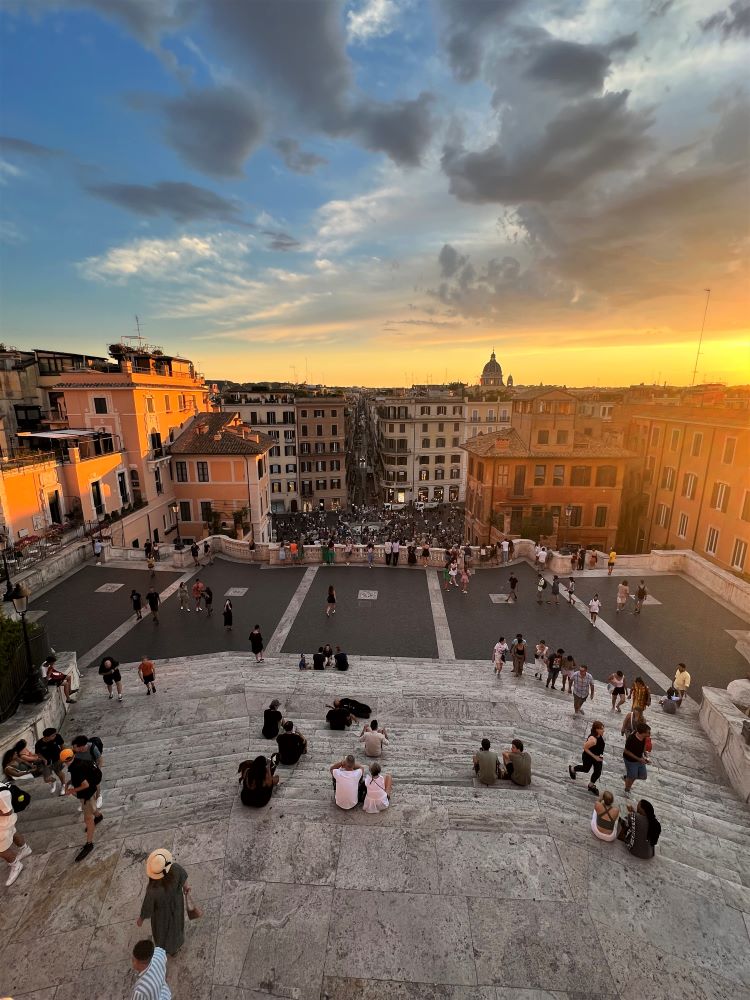 Activities include such exclusive events as an after-hours tour of the Vatican Museums/Sistine Chapel and a private evening at a Sorrento-area agriturismo. At presstime, prices started at $3,990 per person, double occupancy. 
A Few Luxury Cruise Examples
As for a 2023 luxury  cruise departing from Civitavecchia, here are two of the many options:
On July 3, 2023, Regent Seven Seas, offers a 10-night "Paths of the Great Conquerors" sailing from Athens to Civitavecchia (Rome). Along the route, Seven Seas Mariner will call at Istanbul and Izmir, Turkiye; Santorini and Chania, Crete, both in Greece; and Catania and Amalfi/Positano in Italy. At presstime, fares for a Deluxe Veranda Suite started at $11,799 per person, double occupancy .
Departing September 1, 2023, Silversea Cruises' new Silver Nova will operate a seven-day Mediterranean sailing that begins at Civitavecchia and ends in Monte Carlo, Monaco. Ports of call include Alghero in Sardinia, Livorno (Tuscany), Portoferraraio (Elba) and Genoa, all in Italy; and Toulon and Antibes, France. At presstime, fares for a Classic Veranda Suite started at $6,800 per person, double occupancy.
Again, contact an expert travel advisor to talk about options for a tour, cruise and pre- or post-cruise stay or a city stay getaway to Rome. While it's not always that all roads lead to Rome, for me, it's that many vacations do.
Here's a link to the Italian Tourist Board website, where readers can find more information about Rome activities, dining and events.
Pretty soon, I (and hopefully you too) will be saying hello to the city using the local residents' informal Latin greeting: "Salve Roma!"
 

Important Information from Pavlus Travel
This blog site offers "basic, general information" about travel; it's not designed to provide specific pricing nor is it staffed by travel advisors.
Any personal views expressed reflect the anecdotal perspective of the author — simply one opinion by a frequent traveler. The views expressed should not substitute in any way for use of a professional travel advisor. And that applies to either advice or booking of any vacation.
Also, please don't use the Reply Section below if you're asking for pricing, travel dates, accommodations, brochures or other specific requests. 
That said, we are most happy and eager to assist you. Here's how…
If anything does tweak your interest in the story and you'd like to talk about a future vacation, please DO call us at 800-528-9300.
Definitely, if you have questions about specific pricing, brochures, savings, itineraries, dates of travel, accommodations, accessible options and so on, please contact us. Again, call us at 800-528-9300 or visit and "live chat" at Pavlus Travel's official agency Web site.