When I was 11, my dad and I began planning our dream road trip throughout the U.S. during summer 1964. My mom was increasingly horrified when department store trucks kept showing up at our front door day after day with deliveries of supplies, camping gear, clothing, suitcases and more.
But in the end, mom too "bought into" our plan for an amazing journey. As a family of three, we set off for a nearly three-month adventure in a 1960 Mercury with a humongous trunk and a rooftop carrier.
I felt akin to the 19th century pioneers heading into the "western unknown" in covered wagons. I even fashioned a sign displayed on one of our rear windows. It simply said, "California or Bust!"
14,000 Miles and Counting! 
Departing in June, we explored 29 U.S. states, two Canadian provinces and two Mexican states. So, in late August, with the school year about to begin, the adventure came to a close as my dad drove back into our Pennsylvania driveway.
My dad was a barber, my mom a secretary. So, great wealth wasn't a part of the equation. We stayed with friends in Virginia and Iowa, with relatives in Louisiana and California, and with one of my dad's World War II Army buddies in the Midwest.
And oh, yes, we stayed at many hotels and motels — all inspected by my mother who wanted to "see" the room before committing to it. Plus, we camped about 10 days total — mostly in U.S. or Canadian national parks.
Just how far did we drive? It was 14,000 miles and counting! Yes, you read that correctly: 14,000 MILES.
But from the moment the trip was over, it was far more than mileage to this child who'd turned 12 along the journey. Simply put, it was a learning experience for life.
The Gift of Travel: An Exploratory Mindset
My brain was rewired to an exploratory mindset. This shy child never looked at the world quite the same again. I was always more eager to try new things, to seek out new experiences and to meet new people.
Sadly, 58 years later, my parents have passed. But their legacy hasn't. For me, it was their "gift of travel." As a result, for the past two decades I've worked as a full-time, professional travel journalist, working for both consumer and trade magazines.
I travel 275 days a year on assignment, year after year. Yes, of course, I see wonderful spots, meet interesting people and have amazing experiences. At the same time, yes, it's a job.
Typically, I work long hours at a laptop computer day after day — even while in Paris, or Hong Kong or the Caribbean. I have deadlines, copy due and bosses to please. But exploring the globe is my passion and joy — and a legacy from my parents.
The reality is that they're with me, close at hand, in the spirit of every journey I take, every trip I make.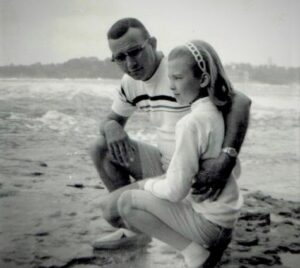 Spreading the Word
In my parent's honor, in this blog, I'm spreading the word about the value of giving "the gift of travel" to the young adults, teens and children in your family. Whether it's a road trip, a tour, ocean cruise, river voyage, all-inclusive stay or city package, consider making that special trip with multiple generations of your family.
First, it's a great way to bond, share experiences, reconnect and create lasting memories. But it also will give the youngest travelers in your family precisely the kind of precious gift that I received — an exploratory mindset, a love of travel, and an appreciation of people and cultures across the globe.
Plus, kids will learn to appreciate the simple moments. How so? When I head for Miami International Airport, as I often do for business, and I start thinking negatively about potential air travel hassles I might encounter, I stop right there.
Instead, I just smile, relax and recall. Because on that grand trip in 1964, we did go to the Miami airport — as an inexpensive activity. My dad just wanted me to savor the joy of watching a plane come in.  Today, I still love aviation. Every time I arrive at MIA, I think of him holding my hand as we watched the planes take off and land.
The Gift of Travel: A Family Affair
As the holidays are just around the corner, it's a great time for a travel gift. Perhaps plan a multigenerational family ocean cruise such as on Wonder of the Seas  (see photo below). You'll discover top-notch entertainment, supervised kids and teen clubs, multi-faceted dining and plenty of stateroom and suite categories from which to choose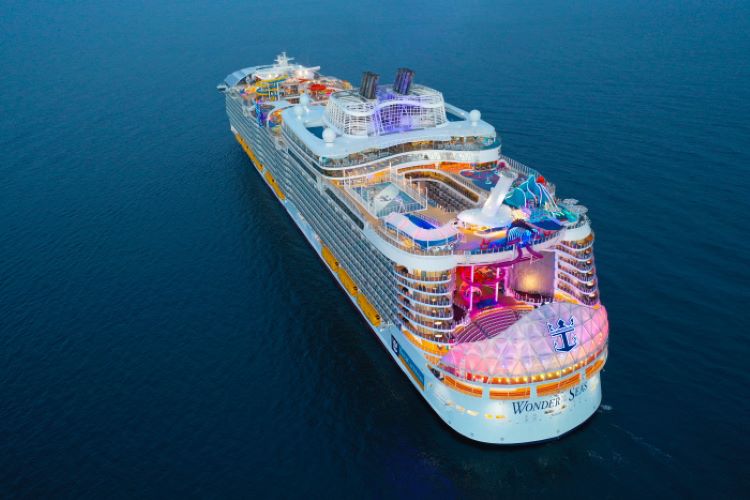 Alternatively, you might consider a family-focused European journey, or a Caribbean resort stay. Or, how about a private safari for the family group in Africa?
But, if a multigenerational trip with three or four generations of travelers all going together just isn't doable, consider individual gifts of travel for your relatives during the holidays. For instance, you could provide your Generation X children with the gift of a trip so they can take their kids on an exploratory journey.
Tauck, Uniworld and others have many family-focused options. Cruises allow for family time ashore, but couples can also have some "me time." Couples might enjoy a romantic dinner, while the kids are entertained with a movie night or other activities in the teen or children's clubs.
Planning a Multigenerational Trip
For those interested in giving their loved ones "the gift of travel," the timing is great right now. First, Black Friday and Wave Season sales offer some amazing deals.
Second, many cruise lines and tour companies are just announcing their latest itineraries. So, you'll have the best choice of accommodations and options by booking soon.
And with the holidays coming, it's a wonderful option to place an envelope or box under the tree with "the gift of travel" inside. For instance, you could book a family cruise from Australia, and wrap up a box with a stuffed koala holding the gift letter.
The family doesn't have to travel until 2023, 2024 or beyond, so they'll have plenty of time to focus on the trip details. But the trip booking itself will make an incredible 2022 holiday gift.
Giving the Gift of Travel: Tap into a Travel Advisor
My dad and I planned our cross-country trip on our own. We didn't know about the concept of a travel advisor back then. Now, thank goodness, today, consumers have access to skilled travel professionals who can make suggestions, provide expert advice and set up arrangements.
In addition, with today's travel environment, it's good to have someone on your side — to turn to for assistance — if something unusual arises. That's especially true when traveling in a group. So, definitely chat with a travel advisor.
If you're taking adult children, grandchildren or elderly parents, you may be traveling with enough people to qualify for group rates, depending on the travel supplier. Did you know that some cruise lines consider just eight people as a group – thus offering advantageous deals. Groups may also receive other perks.
That said, it helps to think about what you want in such a trip before chatting with an advisor.  Who will go? Most importantly, what are the ages and interests of each of the travelers?
Prepare and Offer Insight
That way, an advisor can help you find the best type of multigenerational trip that would satisfy all travelers in your family group. It's not one size fits all. For the most amazing vacation, be sure it's the right match.
Customizing a trip is important. For example, if your family loves auto racing, a Formula One event cruise that calls at Monte Carlo could be a fabulous trip. But if your grandkids are into studying marine life, a voyage on a ship that calls at destinations with snorkeling or dolphin interactions might be a good choice.
So, think about one cherished activity that would appeal to each family member. Write it down and discuss the list in full with your advisor. That way, the advisor can cover all the bases with their suggestions for potential trips to fit your family's needs.
The Horse Example
Case in point? I was 11 during the "big trip," and my dad knew I loved horses. So, he said to me: "We don't have time to go to both Alaska and also spend time at the horse farms of Kentucky. So, I'll leave this to you. Which do you want?"
Of course, which do you think I chose as an 11-year-old girl? So, we headed to Kentucky where I "visited" elderly Triple Crown Winner Citation, saw Kentucky Derby Winner Tim Tam and many other stellar horses. It was the ultimate experience for me.
But today, while I remember the horses, I celebrate my selfless father who planned a trip and allowed an 11-year-old to have some say in the destinations. He never got to Alaska, but my mom and I did later in life. We thought of him along the way as we panned for gold and viewed stunningly gorgeous scenery.
The Gift of Travel: Work Considerations
Wondering about whether your adult grandchildren or children could go on such a trip, given their work schedules? Get a sense of that, but keep in mind some of these factors. First, there have been significant improvements in Wi-Fi connectivity while traveling.
Plus, working remotely is more common. More companies have accepted that and Zoom meetings have become the norm for many workers.
And, depending on the trip destination, a member of your entourage could come for a few days, fly home for business for a few days, and then return to the vacation. That's not uncommon for a working professional who is accompanying a spouse or parents on a World Cruise, for example.
Often with enough advance notice, such as if the "gift trip" occurs a year or so out, people can simply use their vacation time.
But if a week is all you feel that your son, daughter or grandchildren could do but you'd definitely like a longer trip, consider this option. Some cruises are sold either as a 55-day Grand Voyage but also as individual segments of that.
So, the working folks can still come but perhaps on a seven-day segment in the middle of that longer voyage. But if you're retired or a remote employee, the longer cruise is doable too.
The Gift of Travel: Long-Term Impact
A family vacation that's multi-generational is far more than just a long weekend, a week's trip or a longer getaway. It's a lifetime of memories for all.
But it's also a way to leave a legacy to the younger generations. It's about instilling a strong desire for travel, cultural exploration and meeting people of other cultures. It's also about the gift of experiences.
I've never forgotten diving into a savory lunch of fresh seafood at Fisherman's Wharf in San Francisco, wearing a cowboy hat and learning how to use a lasso at the Calgary Stampede, bargaining with Mexican craftspeople or gazing up at the eco-majesty of the Grand Tetons.
Consider that my story is multiplied thousands of times daily by others with similar experiences, perhaps yourself included.
This week, for example, I'm sailing on Norwegian Encore for a business conference. Today, I chatted with Brennan Quesnele, vice president of strategic and national accounts for Norwegian Cruise Line.
He echoed my thoughts about the value of parents or grandparents giving the "gift of travel" to their children or grandchildren. When he was growing up, his family took many road trips.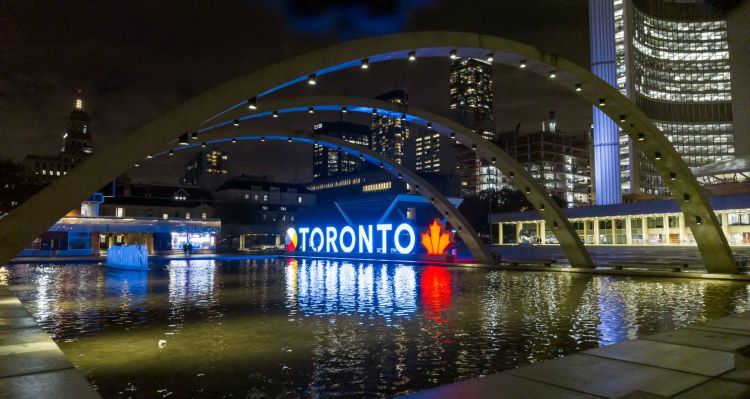 "We would drive to the biggest city which was closest to us – which was Toronto. Ontario, Canada (see a more recent photo above). It would be a mix of seeing the bright lights of a big city, and all that a big city has to offer and then all the attractions that were around, such as Niagara Falls and the parks."
Coming from a more rural, small town, Quesnele says: "The travel — traveling together as a family although we didn't get on a plane or go overseas – was just the experience of seeing something I didn't grow up with [at home]. It made me very excited."
So, how did that influence his future adult life and career? "Honestly, it was formative," he emphasizes. "It made me who I am today. It's how I fell in love with travel. And it's how I got into the travel industry."
Plan Now for Holiday Gift Giving
The holidays are coming up fast. So, why not consider a gift of a family vacation? It's likely something your kids or adult children and their children will remember forever. And your legacy may be inspiring them to travel, to explore and to learn from different people and cultures across the globe.
The options are almost endless. You might book a Tauck Bridges tour, designed for parents with teens or children. Or talk to your travel advisor about a surprise holiday gift for the family, perhaps an Alaska touring experience for summer 2023.
Or, the entire family — three or four generations — might head out to take a Micato Safari.   You'll stay at pampering lodges and head out with a private driver and guide in search of wildlife.  Everyone loves spotting elephants and lions.
Vacations on multiple cruise lines await too with activity choices for multiple ages. Many cruise lines are now heading back to more exotic destinations. Plus, there are also vacations closer to home for those who prefer that.
For Quesnele, when it comes to the importance of travel that his folks instilled, "I'm always wanting more. I needed to have that as part of what my life looked like."
For this writer too it was the greatest gift that my parents could have provided — that exploratory mindset. If you want that for your children and grandchildren, why not give your travel advisor a call?
The advice is free, the deals are great this month, and the legacy of such a trip is likely to be priceless.