We're excited about the July 2023 start-up of the new Explora Journeys. It's a new luxury lifestyle brand that seeks to deliver "an ocean state of mind." The goal is to connect guests with the sea, with themselves and with like-minded people.
But don't call it a cruise. Rather, it's "a journey," the brand's leaders say. Look for a boutique hotel experience as well as elements of a superyacht journey. And yes, there will be some differing twists and turns along the way (read more below on that) as guests sail the ocean blue.
The guest-to-crew ratio will be 1.25 to 1, a strong indication of an upscale product. The line promises top-notch service, pampering of guests, sumptuous home-like suites and immersive destination experiences.
Sound good? Desire to learn more? Well, here are 10 key points to consider about the new Explora Journeys!
1. Explora Journeys: A New Definition of Luxury
Bringing a strong luxury cruise and travel background to the new brand is Chris Austin, the line's chief sales officer. Some readers may remember Austin from previous senior leadership roles at Seabourn and the luxury portfolio of Starwood Hotels & Resorts.
Austin emphasizes that Explora Journeys' guests can expect an approach that's a bit slower and deeper in style — exhilarating but not exhausting. In addition, the line is designing itineraries with ports less visited by others and with less-traditional scheduling.
For instance, one of the line's new ships might arrive at a popular French or Italian Riviera port early in the morning. Most cruise lines would simply dock as soon as possible in every port. Guests might hurry to be off the ship and start exploring by 8 a.m. or so.
In contrast (in certain ports), Explora I might simply sail along the area's picturesque coastline. So, guests can sleep in or enjoy a leisurely breakfast aboard while viewing spectacular scenery as the ship cruises along the coastline. That's more akin to what guests might do on a private yacht.
Then after the ship docks in late morning or early afternoon, guests can head ashore in a leisurely manner. Bottom line? We absolutely love the thought that guests aren't rushed. In addition, the schedule often will allow guests to stay ashore throughout the afternoon, late into the night or even overnight in a destination.
2. Explora Journeys: Building a New Fleet
Fleet-wise, the new luxury brand is building six new ships. Four of those (see photos above and below by Explora Journeys) are 63,900-GT and will serve 900 or so guests. One per year will launch between 2023 and 2026.
The other two vessels will be a bit larger with deliveries in 2027 and 2028.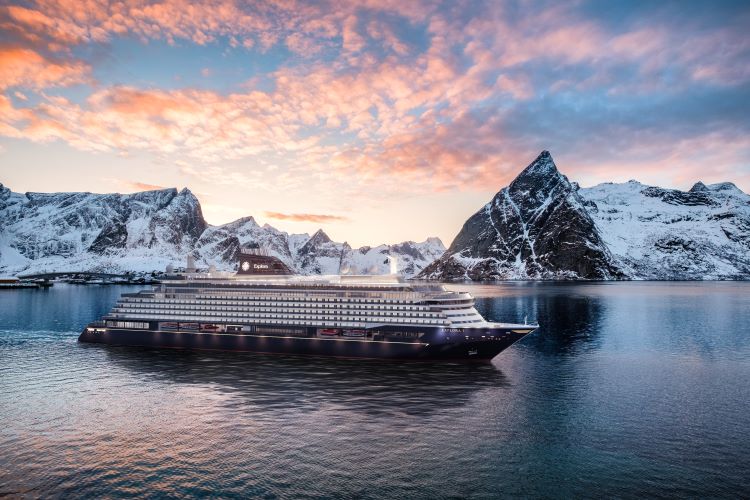 The brand's first ship, Explora I, will set sail on its inaugural voyage from Southampton, U.K., on July 17, 2023. That 15-night "Maiden Journey into Epic Fjords and the Arctic Circle" itinerary will touch four countries in Northern Europe.
Ports of call will include: Zeebrugge, Belgium; Geiranger, Trondheim, Molde, Leknes, Bronnoysund, Flam, Bergen and Stavanger, all in Norway; and Skagen and Copenhagen, Denmark. At press time, pricing started at $9,250 per person, double occupancy.
In another example of how Explora Journeys has tapped experienced leaders for its operations, Heike Berdos is the new ship's general manager. A 15-year veteran of Azamara Cruises, she was part of the start-up team that launched that cruise brand. She also previously served as a hotel director for Celebrity Cruises.
3. Inaugural Journeys for Explora I and Explora II
Sales are now open for many other voyages in Explora I's "Inaugural Journeys Collection." During its first year, the ship will sail to the Baltic region and Scandinavian fjords; Iceland and Greenland; and the U.S. East Coast and Canada. 
For example, the eight-night "Inaugural North American East Coast Journey to Metropolises and Canadian Maritimes" journey departs on September 23, 2023, from New York City. It sails to Quebec City, Quebec, Canada. At press time, pricing started at $4,085 per person, double occupancy.
Guests seeking a warm weather cruise late in 2023, should ask their travel advisor about Explora I's Caribbean itineraries during next year's Christmas and New Year's holidays. Beginning in January and February 2024, the ship will head southward to South America.
One experience that's definitely on our "bucket list" is to experience the over-the-top, colorful pageantry and vibrant dance music at Rio de Janeiro's annual Carnival. You too? Well, talk to your travel advisor as the luxury ship will call at this Brazilian city during that festival period and stay overnight in port.
Also, during Explora I's inaugural year, guests can book voyages from Vancouver to Hawaii and Hawaii to Vancouver, prior to the 2024 Alaska season. Contact your personal travel advisor for the latest and greatest information; he or she can discuss travel dates, accommodations choices and pricing, based on your specific choices.
Explora II's Inaugural Journeys
On December 6, 2022, Explora Journeys also announced 25 journeys and 14 extended sailings for Explora II. Between August 2024 and April 2025, that new ship will visit 82 ports in 26 countries within the Mediterranean, the Middle East, India, the Indian Ocean and Africa.
If you're seeking an exotic, luxury, boutique journey, this line up seems particularly appealing. Why not talk with your travel advisor about the opportunities?
4. Explora Journeys: The Suite Spots
The 14-deck Explora I and Explora II (as well as two other sister  ships in that same class) will welcome guests in 461 luxurious oceanfront suites, penthouses and residences, all with private terraces. Guests can choose from these spacious accommodations:
One 3,014-square-foot Owner's Residence
22 Ocean Residences
67 Ocean Penthouses
371 Ocean Terrace and Ocean Grand Terrace Suites
Of those, 82 suites are connecting suites. That's a plus if you're considering a multigenerational journey or if you'd like to travel with another couple or elderly parents.
Coincidentally, entry-level or so-called "lead-in" accommodations, the 377-square-foot Ocean Terrace Suites and the 420-square-foot Grand Ocean Terrace Suites (shown in the photo below) are some of the cruise industry's largest in that category.
Their private terraces range from 75 square feet to 118 square feet; that creates an extension to the living space complete with daybeds and an alfresco dining area.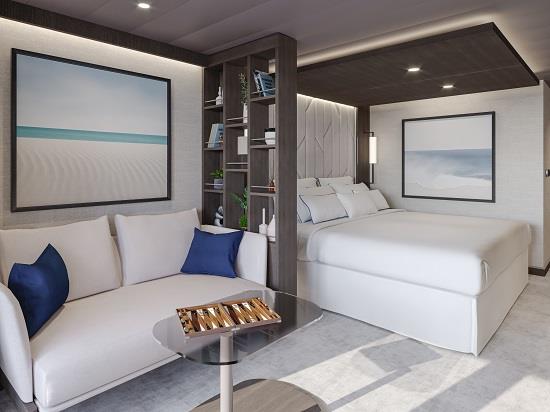 Suite Design
The design of each suite has been developed in collaboration with De Jorio Luxury & Yachts projects and London-based architectural and interior design studio NenMar. Suites will be furnished with European and, in many cases, Italian furniture.
The outside views are pretty spectacular too — such as sailing within Alaska's scenic Inside Passage. Explora 1's 11-night "Inaugural Alaska Journey: Remote Wrangell and Spectacular Sitka" departs May 6, 2024, roundtrip from Vancouver, B.C. That journey calls at Ketchikan, Wrangell, Sitka, Skagway, all in Alaska, plus Victoria B.C.
Guests will also have superb scenic views in Misty Fjords and Tracy Arm Fjord. Pricing starts at $6,400, per person, double occupancy. Contact a professional travel advisor to discuss all the accommodations options, travel dates for the Alaska 2024 season and more. 
5. What's Included in Explora Journeys' Fares? 
Guests who book Explora Journeys will pay a fare that includes the following:
Pre-paid gratuities for crew members;
A welcome bottle of champagne and spirit bottle upon arrival;
Unlimited beverages, fine wines and premium spirits, specialty coffees, teas and soft drinks available anytime, including in-suite mini-bar;
Access to the thermal spa area;
Wellness and fitness programs, both onboard and ashore;
Multiple culinary experiences including in-suite dining; and
Ship-wide, high-speed, unlimited Wi-Fi.
The fares don't include such items as a specialty, high-end bottle of champagne or a special cut of humongous steak (yes, other steaks are offered and included, for sure).
Air travel tickets and shore excursions also aren't included. Why? During the line's research, luxury "focus group" participants said they didn't want those in a new, luxury travel product.
That's because they prefer to book their own air, rent a private car, or even visit with friends in a destination visited many times. So, they don't wish to pay for shore excursions that they simply won't need or use.
6. Explora I: A Snapshot Look at Public Spaces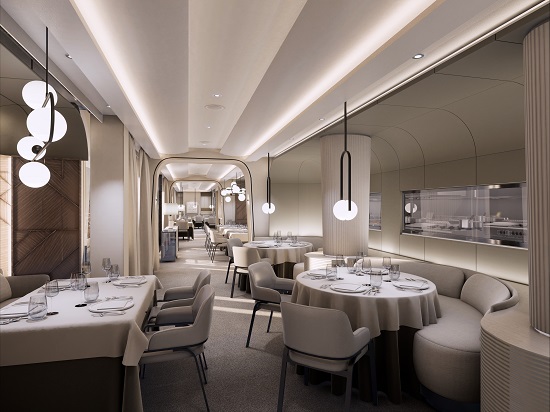 Throughout the ship, Explora Journeys will put a high emphasis on dining. Travelers will discover 11 distinct culinary experiences across six restaurants (see photo of the Restaurant Anthology above), as well as in-suite dining.
When it's time for a cool cocktail or colorful alcohol-free drink, 12 bars and lounges await. Eight of those are outside, four indoors.
Guests will also have access to 10,764 square feet of space dedicated to a luxurious spa, indoor and outdoor wellness areas, fitness facilities, an outdoor sports court and running track.
Water play or outdoor relaxation? Explora I will offer four swimming pools, including one inside pool with a retractable roof (see photo below). To relax to the max, you'll find extensive outdoor decks with private cabanas.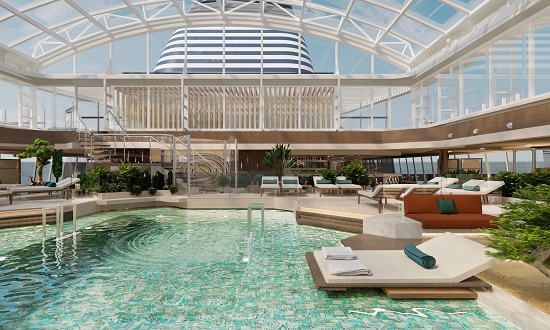 Extensive Outdoor Space
As outlined in our previous Explora Journeys' story earlier this year, the ship will offer 178,680 square feet of total public space, 67,275 of that outdoor public space. So, guests will have plenty of room to spread out.
One design focal point is "water," so guests also can expect to find more than 26,910 square feet of deck space. Again, it's all about inspiring that "ocean state of mind."
7. Explora Journeys: Onboard Activities and Events
So, what's to do onboard? In early December, the new brand gave consumers a sneak peek at some of the new activities.
With "Ombre Sunsets," guests will hone their photography skills in the Explora Lounge. They'll learn how to: capture a fiery sunset as it fades to rosy blush; take the perfect selfie for Instagram; or light a personal portrait or piece of art to the best effect.
In the Malt Whiskey Bar, "The Spirit of Whiskey," will be an entertaining tutorial from skillful mixologists as guests try their hand at making signature drinks.
With a Melodic Master Class, resident onboard artists will sail, mix and mingle with guests, share their talents and discuss song writing, improvisation and composition.
As for onboard events…
Captain's Log…Secrets of the Sail: Guests will join the captain or bridge officers on a walk around the deck. The bridge team will impart how old seafaring methods have given way to today's mind-boggling technology.
With Bal Mythos, at the stroke of midnight, guests can choose to don hand-crafted masks depicting local gods and goddesses. They'll enjoy a club vibe as they dance to the resident Bacchus Band and singers.
Midnight Wayfinder: With dreamy guitar music and storytelling under the stars or around the Conservatory Pool, guests will learn how sailors have long relied on the sea, wind and stars to bring them safely to shore.
Inferno: An unforgettable nod to the glamour of Manhattan's Studio 54, TV's "Soul Train" and Europe's 1970s discos, guests will sip cocktails from the era and boogie the night away.
8. Onboard Experiences and Rituals
Desire more? Here are a few great options! 
An Evening by Candlelight: One intimate and cozy part of every Explora I journey is that guest musicians and vocalists will perform in a candlelit-like experience in the main lounges – with a range of genres from classical music to movie soundtracks.
Decadence: Theming varies from lounge to lounge with live music, immersive performances and an air of lavishness that the brand says will "make The Great Gatsby look second-rate."
Le Jazz: Guests on journeys (voyages) that include France can enjoy a Parisian jazz club experience, accompanied by French martinis and canapés.
Let the Good Times Roll: On Caribbean itineraries, Explora Journeys will offer a New Orleans jazz cabaret with a French Creole menu, absinthe cocktails and music.
In addition, Explora Journeys says that a central aspect of sailing with the brand will be daily, weekly, monthly or annual rituals. They'll mark everything from sunrise to moonrise. Look for these to take place at the same time, on the same day, and in the same place across the company's fleet.
Ocean State of Mind: Simple daily guided meditations — weaving local cultural practices into soothing stories about the day's destination — will unfold against a backdrop of sky and ocean.
Sundial Salutation: This twice-daily, movement-based wellness ritual will invigorate guests as they begin each day, then calm them as sunset slides into nightfall.
Sunset Aperitivo: Signature drinks and canapés associated with the various ports of call will be served in the bars and lounges, each with its own unique sonic vibe.
9. Enrichment on Explora Journeys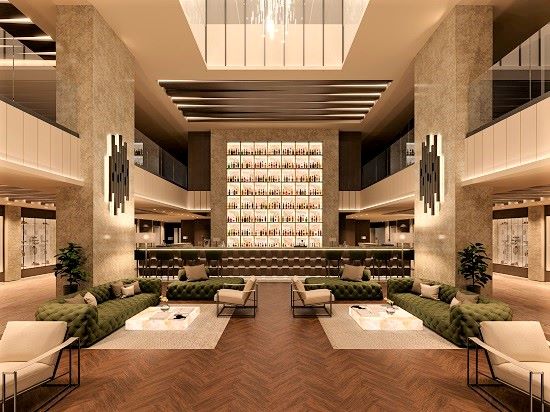 If you love enrichment, Explora Journeys promises cultural, destination-themed "deep dives."  So, you can expect the ships to offer talks, courses and informal conversations. Guests will come together for stimulating learning opportunities led by invited experts in their respective fields. Here's a look.
The Book Club: Select journeys will feature a particular book relating to the region in which the ship is sailing — culminating in a reading with the author. We love this idea as it combines two of our favorite activities — travel and books!
Single Origin: Led by a world-class barista, guests will familiarize themselves with local coffee cultures through tastings relevant to the countries visited along the itinerary route.
Artisanal: Look for courses taught by local experts and focusing on destination-themed crafts – from textiles and tapestries to baskets and chocolate making.
Club Soda is designed to support and entertain guests who enjoy an alcohol-free lifestyle.
Prism events will be organized to celebrate the diversity of Explora Journeys' guests.
And the Solivagant Society will bring solo travelers together in activities, events and experiences throughout the journey.
10. A Guest-Centric Experience, Based on Consumer Research
In talking with The Meandering Traveler, Austin explains that the Explora Journeys experience will be highly guest-centric. That's because the new brand conducted tens of thousands of hours of research with both luxury travelers and travel advisors.
So, look for a vibrant, luxury-focused, cosmopolitan brand with a European flair. Again, the brand philosophy is to provide guests with a slower, deep dive, reflecting elements of both a relaxing, boutique hotel experience and travel elements found onboard a private superyacht.
Port-wise, Explora Journeys' vessels will visit marquee destinations but also off-the-beaten-path ports, harbors and bays.
For More Information on Explora Journeys
For details on all the itineraries, visit the Explora Journeys website. Want to know more about accommodations, pricing, contract airfare, any special deals, accessible needs or solo travel? Then definitely consult with a professional travel advisor.
"