From the Desk of Craig Pavlus, founder and chairman, Pavlus Travel
As I ambled along the Grand Plaza of the new 3,260-passenger Celebrity Beyond last month, I immediately noticed that this gathering space was slightly different than on Celebrity Cruises' two other Edge-class ships.
After a two-night sneak peek at the ship, my  prime"takeaway" is that Celebrity has stepped it up a notch with several smart tweaks made to this new 140,600-gt ship.
Celebrity Beyond: More Space, New Places
First off, let's talk about space. Bottom line? There's more space on this ship. It definitely makes a difference – yet in subtle ways – to enhance the guest experience.
Our loyal Celebrity past guests will find some new spaces, and plenty of nooks and crannies. One reason is that the line lengthened this ship — the third in its class. So, it's now 1,073 feet long, which is 69 feet longer than the 2,910-passenger, 129,500-gt Celebrity Apex  and sister Celebrity Edge.
Most times, when a ship is lengthened, it means that it's cut in half with one new mid-section added. But Lisa Lutoff-Perlo, the line's president, told Pavlus Travel that Celebrity Beyond received two new 33-foot sections in two different spots, plus a full additional deck.
Grand Plaza Spaces, Le Voyage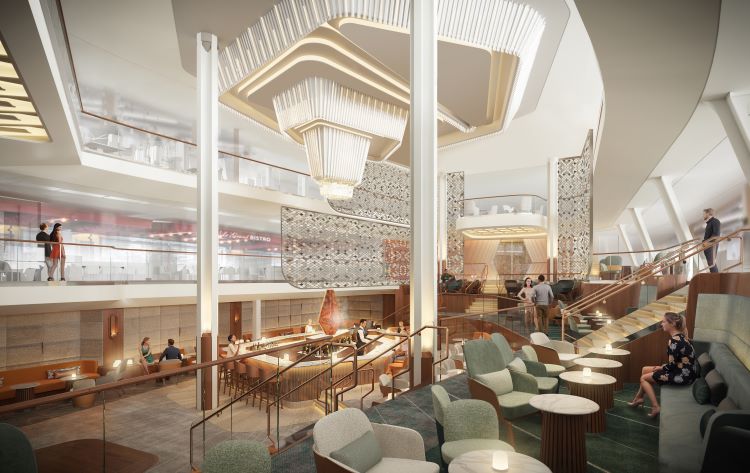 Along the Grand Plaza, we liked several new spaces that were added. For example, on Deck 4, Celebrity Apex's multi-deck Grand Plaza is surrounded by the Grand Bistro, Café al Bacio and the Craft Social Bar. But if you book a voyage with Pavlus and sail on Celebrity Beyond, you'll find those PLUS the new Le Voyage.
That's the new signature restaurant by famed chef Daniel Boulud, Celebrity's culinary ambassador. Upscale and a bit dreamy in quality, the 50-seat Le Voyage offers contemporary design by Jouin Manku, with soft tones, plus private banquette seating. By way of background, Manku is the creative group that designed the Jules Verne restaurant in Paris' Eiffel Tower. 
This specialty dining venue carries a charge of $125 per person for the Tasting Menu, or $139 for a Chef's Table experience. Here's a look at the Le Voyage menu.  We're getting hungry just thinking about that.
But getting back to new spaces along the Grand Plaza, here's a bit more on that. On Deck 5, the Fine Cut Steakhouse and Raw on 5 still surround this atrium-like space as they do on Celebrity Edge.
What's new? The line has also added the intimate World Class Bar on Deck 5; it's offered in partnership with Diageo.
Celebrity Beyond's Martini Bar Shifts in Location
Loyal Celebrity guests who've previously sailed on the Edge-class ships will also notice that the line has shifted the Grand Plaza's 4th Deck Martini Bar into the middle of the plaza. Previously, it was off to the side in that space. Now, it's become a focal point for the entire space.
I'd suggest heading to the Grand Plaza's Martini Bar in the evening for a cocktail or mocktail, or to simply socialize with friends. Why? You'll hear some very good live entertainment – a guitar player, small group of musicians or a singer.
In addition, the plaza is a gathering point — a place "to see and be seen." Many times, I watched as guests walking along this area happily spotted friends or relatives — stopping to converse.
One Grand Plaza plus is that there are "smaller" spaces — many intimate seating areas designed just for 10 to 20 people. There's one, for example, just outside Le Voyage that looks down to the Martini Bar action. If you plan to go to dinner at Le Voyage with another couple or two, it's a good spot to "meet up."
At select times during the evening, the Martini Bar's bartenders also launch into a fun show. It's amazing how they juggle drink shakers and toss them between themselves. During the short time we watched, they never missed a beat nor dropped the shakers!
One Additional Deck, Expanded Spaces   
Celebrity Beyond has 17 decks, so the vessel is also taller than the other two 16-deck sister ships. That allowed Celebrity to expand The Retreat, which now has a more spacious, two-story sundeck. Here you'll find secluded cabanas, more water features, new seating areas and other exclusive spaces for Retreat guests.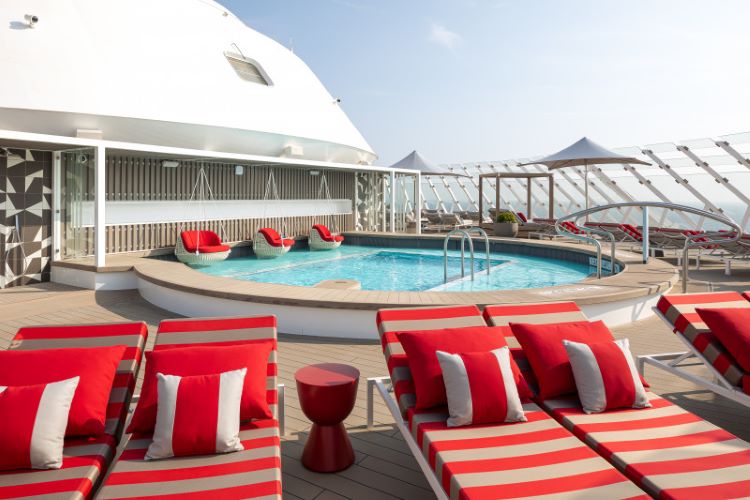 Also expanded on Celebrity Beyond is the Resort Deck; it reflects designer Kelly Hoppen's vision and has more open-air spaces than the sister Edge-class ships. In addition, the ship has a much larger, two-level Sunset Bar, which was designed by Nate Berkus.
Another welcome tweak is the expansion of the eco-friendly, open-air Rooftop Garden. It's a guest favorite for strolls and cruisers love "soaking up" the fresh sea air. You'll discover flora maintained by professional gardeners, as well as new cantilevered pools.
Celebrity Beyond's Upscale Accommodations
As for accommodations, I toured a number of the suites and there's no doubt that Celebrity Beyond has a range of appealing choices. For instance, by booking new Aqua Sky Suites, guests will enjoy the AquaClass experience, access to the spa's Thermal Suite and The Retreat's exclusive spaces and services.
Seeking to truly splurge? Two good choices are the two-level Edge Villas, which have a private plunge pool and access to The Retreat Sun Deck, or perhaps the 1,900-square-foot Iconic Suite.
Iconic Suite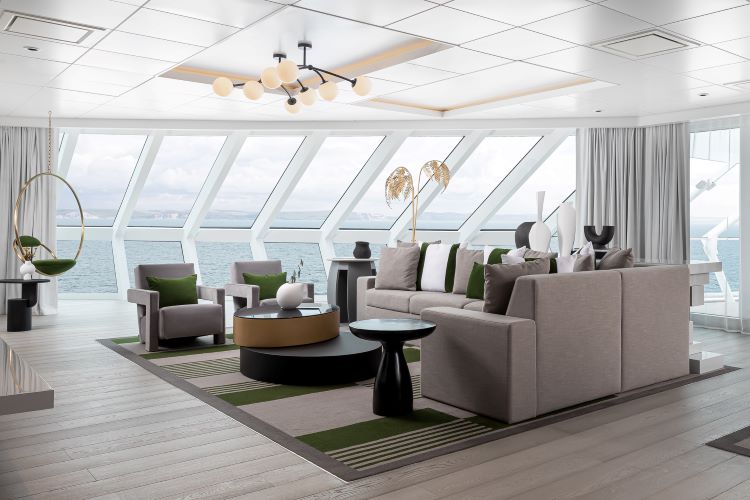 Let's just say that this suite more closely resembles a spacious condominium than a cruise ship cabin.  It's perfect for two couples — or perhaps a couple and their parents — as it offers two bedrooms. Each of those has incredible views and a private master bathroom.
The spacious living room area (see photo above) is like a private home with a sectional seating area, multiple flat-screen TVs throughout the space and a large dining area. Unique touches? Well, there is a hanging chair in the living area along with a Peloton bike.
I like the idea that guests can work out with sea views. Plus, the Iconic Suite also offers sizable private outdoor space via a sundeck with double daybed and hot tub.
And for the ultimate in service, this suite was designed with a butler's pantry. Why not ask the butler to orchestrate a private, in-suite, get-together for friends traveling aboard? Or, alternatively, the butler might serve guests movie night snacks and drinks.
Here's a look at all the accommodations on Celebrity Beyond — including the popular Infinite Veranda staterooms. In those, guests simply push a button and the top pane of window glass drops down to create an open-air balcony.
We at Pavlus Travel will happily discuss all the accommodations options on this new ship. Our advice is free, so give us a call today.
Celebrity Beyond's Itineraries
If you're interested in sailing on this new ship, you're probably wondering: "But where can we go on this ship?" I've selected a few sample itineraries to give readers a sneak peek.
Close-In Travel, Close to Home 
If you're thinking, "I'd like to go on this ship soon," one option is a seven-night Caribbean cruise. Sailing roundtrip from Port Everglades (Greater Fort Lauderdale), FL, Celebrity Beyond will call at Puerto Plata in the Dominican Republic, St. Thomas in the U.S. Virgin Islands and St. Maarten/St. Martin, an island that's known for its dual Dutch-French heritage and culture.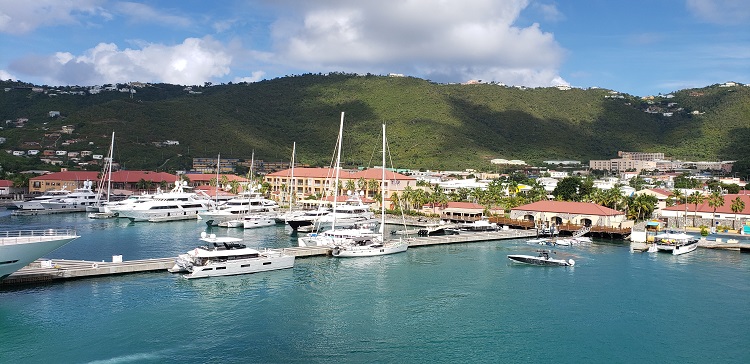 This Caribbean cruise is available on multiple departure dates between January 2023 and March 2023. For the February 8, 2023, departure, pricing at press time started at $800 per person, double occupancy for an inside cabin or $1,221 per person, double occupancy, for a veranda stateroom.
Those seeking luxurious accommodations, plenty of space to spread out and exclusivity should consider booking accommodations in The Retreat. At press time, those started at $5,489 per person, double occupancy.
Just remember that Pavlus Travel provides excellent service as well as discounted pricing. We're a valuable resource for you. So, give us a call to discuss your vacation needs.
Italy, Turkey and Greek Isles
For nine sailings from May through October 2024,
Celebrity Beyond
will sail an "
Italy, Turkey & Greek Islands
" itinerary; voyages operate roundtrip from
Civitavecchia (Rome)
.
That's great as those who desire can stay over and enjoy a few days in the city.                                                                                                                                                                                                                                                                          
Among the enticing ports of call are Istanbul (overnight stay) and Kusadasi (for Ephesus), both in Turkey; Santorini, Piraeus (Athens) and Mykonos, all in Greece; and Naples, Italy. Plus, this itinerary features three days at sea to enjoy pool time and other features of the ship. 
Celebrity Beyond and the Next Sister
All in all, I enjoyed my brief time aboard Celebrity Beyond, the newest Celebrity ship. And as we "sail into 2023," look for another new sister, Celebrity Ascent, to join the fleet.