As the world "opens up" to exotic travel once again, many upscale cruise lines are heading back to Asia. Among them is ultra-luxury Seabourn. If you're interested in luxurious Asian cruises, check out The Meandering Traveler's top three picks for Seabourn Asian itineraries that we'd love to take!
1. Asian Cruises: Seabourn from Singapore
If you're looking at Asian cruises and seeking a good Southeast Asia overview itinerary, check out Seabourn's voyages from Singapore. First, it's easier getting to Singapore than to some other spots in Asia. Highly rated Changi International Airport has a robust portfolio of flights.
In addition, the island nation of Singapore delivers a fascinating combination of East and West. Modern skyscrapers tower over the island city, while Chinese, Indian and Malay influences are felt around every corner. Top luxury hotels await too — making it a perfect spot for a pre- or post-cruise tour.
Added bonus? Don't get us started on thinking about the food! Singapore has fabulous fine dining, local restaurants of high quality and hawker's markets. These large food courts have individual stalls, serving Chinese, Malay, Indian, European and other cuisine from across the globe. We'd suggest going stall to stall and picking out foods to try.  
Just before the pandemic, The Meandering Traveler flew to Singapore to catch up with Seabourn Ovation for a two-week Asia cruise. Simply put, we had a fabulous experience and are planning to book a similar voyage soon.
So, coming up in 2024, we'd suggest this voyage —  Seabourn Encore's 14-day "Thailand, Cambodia and Vietnam" itinerary from Singapore to Hong Kong. The 600-passenger ship will sail to Laem Chabang (for Bangkok), Thailand; Ko Kood, a lovely Thailand beach island where Seabourn offers its signature "Caviar in the Surf" presentation; Sihanoukville, Cambodia; and Ho Chi Minh City, Danang (Hue) and Halong Bay (for Hanoi), Vietnam.
Departure dates in 2024 are January 6, January 20, February 17 and March 2.  At press time, on the two earliest departures, veranda cabins started at $7,279 per person, double occupancy, while Owner's Suites were in the starting price range of $17, 279 per person, double occupancy.  The two later dates were slightly higher. Contact a reliable travel agency for assistance in booking.
Asian Cruises: Authenticity and Eco-Beauty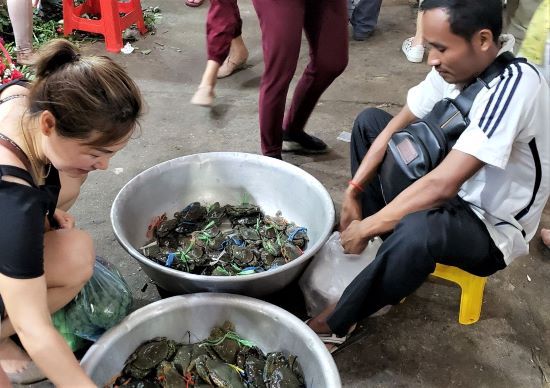 Highlights for authenticity? Head to Sihanoukville's market on a Seabourn tour, as you'll walk through a fresh produce, fish, seafood and meat market. We've been to "a lot" of markets worldwide, but this one was high on the "authentic" scale.
For example, while walking around, you'll see the usual stalls, but also vendors seated on the floor in the middle of the market's aisle. You have to walk around them and their tubs of live fish or crabs.
We'd also suggest that during the Danang port call, guests consider booking Seabourn's day tour to the ancient city of Hoi An, a UNESCO World Heritage Site. History buffs will find much to love. We liked the overall look of the place; it was exceptionally pretty.
And nothing is more authentic than nature, so if you're not touring Hanoi, then opt for a day boat tour through the hauntingly gorgeous Halong Bay. You'll cruise on emerald waters, see hundreds of towering limestone rock formations and tropical foliage.
From a personal perspective, this wasn't simply a highlight of my Seabourn Asia voyage. It's also now one of my all-time favorite eco-spots across the globe. .
On this 14-day "Thailand, Cambodia and Vietnam" itinerary, you'll also have plenty of time to relax during six sea days. To learn more, chat with your professional travel advisor, who can discuss accommodations options, solo travel, accessibility and more.
One tip? Definitely inquire about any discounted air ticket pricing. For example, Pavlus Travel often is able to offer contract air tickets.
Pre-Cruise Singapore
During a pre- or post-cruise stay, we'd suggest travelers balance the modern Singapore by seeing some historic or eco-attractions. A friend picked me up to view a lovely neighborhood of Colonial-era homes before we popped into the lush Singapore Botanic Gardens.
Hiring a private car and driver is one way to pick what you desire to see and just head out. You'll cover more ground in a day than on a normal tour, most likely. For first-time Singapore visitors, another way to get a good sense of Singapore is to book a sightseeing tour on a "hop-on, hop-off" bus. Just ask your hotel concierge where the nearest boarding stop is located.
We hopped aboard, went to the open-air top deck, and took the complete loop around the city. It's a fabulous way to not worry about the traffic. You just relax, look around at everything, hear expert commentary and take photos galore. If you go around once, you'll get the entire tour.
Then head out for a second loop, getting off and back on at a couple of key attractions you desire to see. Then just hop back on and return to your original boarding spot.
Bonus: Angkor Mid-Cruise Option
One nice option on this "Thailand, Cambodia and Vietnam"  specific itinerary is a mid-cruise journey from "Angkor Wat to Ho Chi Minh City." As the ship prepares to sail from Sihanoukville to Ho Chi Minh City, guests who book this optional tour will instead head to the airport in Sihanoukville.
There, they'll then board a flight to Siem Reap, Cambodia, tour the ancient UNESCO World Heritage sites and stay overnight. The tour concludes with a flight to Ho Chi Minh City so guests can catch up with the ship.
Personally, we have to say there are few experiences worldwide that can compare to strolling through the Angkor temples. At the enchanting, somewhat eerie Ta Prohm, Banyan Trees have wrapped around, through and into the temple structure. It's incredible to see first-hand.
At press time, prices for this optional mid-cruise journey (including the hotel stay, guided arrangements and two air flights) started at $2,509 per person, double occupancy. Starting pricing for a solo traveler was $2, 909.
2. Asian Cruises: Combining Australia and Asia
If you want to see as much as possible of Asia in one trip, one good option is Seabourn's 72-Day "World Cruise: Australia & Asian Splendors" itinerary. Departing February 20, 2024, the 458-passenger Seabourn Sojourn sails from Sydney, Australia, to Singapore.
Along the route, guests who are port collectors will love going ashore at myriad ports in Australia, Timor-Leste, Indonesia, the Philippines, Taiwan, Japan, South Korea, China, Vietnam, Cambodia and Thailand.
This World Cruise has proven very popular, as top suites are sold out. That said, at press time, there was still availability for Oceanview Suites starting at $44,199 per person, double occupancy, and Veranda Suites at $55,199.
Taste of Australia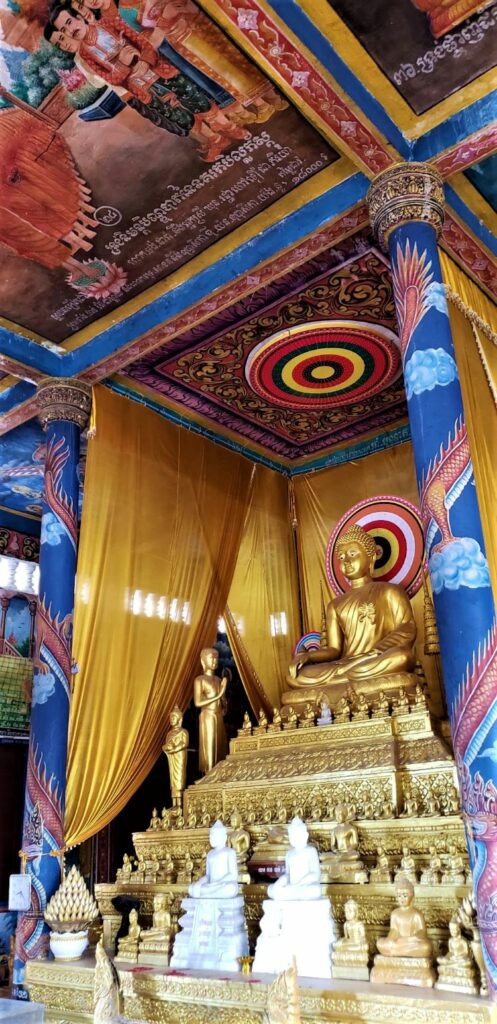 Among the highlights? First up, you'll get a taste of Australia with a visit to Cairns and activities along the Great Barrier Reef. Or, you might head out from Darwin on the "Adelaide River Jumping Crocodile Cruise,"which provides a fun Outback experience.
Seabourn cruisers will watch huge jumping saltwater crocodiles shooting out of the water in pursuit of their prey.  Suddenly, you'll gain an understanding of why it took Europeans more than two centuries to settle in this area! That tour then concludes with a stop at an Aussie pub for a beer or soft drink. 
Other "Aussie" ports of call include Townsville, Airlie Beach, Morton Island and Cooktown.
On to Asia
Seabourn Sojourn will then begin its journey around Asia, starting with the island of Timor-Leste as well as multiple destinations in Indonesia and the Philippines (including an overnight stay in Manila).
We like that this voyage dives deep into some of the destinations' culture and heritage. For example, it calls for four days at three different destinations in Taiwan including an overnight in Taipei.
In addition, guests also enjoy a full week visiting such Japanese destinations as Nagasaki, Hiroshima, Naha, Kagoshima and others. Also on the schedule are port calls at Busan (Pusan) and Jeju (Cheju), South Korea.
In China, the ship will sail into Shanghai for an overnight stay, plus spend a day cruising along the Yangtze Estuary.
Another Chinese port call is Zhujiajian (Putuoshan). What's the draw? The island is named for Mt. Putuo, one of four Chinese mountains sacred to Buddhists. Travelers will discover an isle that's a picturesque treasury of temples and 80+ monasteries.
The voyage then will continue to Hong Kong for an overnight stay and also make multiple port calls in Vietnam. The ship also will call at Sihanoukville (photo of a temple shown on a Seabourn tour is shown at right). Cambodia, as well as Ko Kood and Laem Chabang (Bangkok), Thailand.
To check out the full itinerary on the Seabourn website, click here.  Or to find out more about this World Cruise opportunity, discuss accommodations and options for pre- and post-cruise stays, contact your professional travel advisor. 
3. Asian Cruises: A Great Way to Couple Asia with Alaska
Another Seabourn voyage that we'd love to take is the 44-day "Jewels Of The China Sea and Kuroshio Route." Why? It combines the best of Alaska with the best of Asia. Plus, guests will embark the 458-passenger Seabourn Odyssey in Hong Kong, providing a good opportunity for a pre-cruise stay there. That may also open up possibilities for visiting nearby Macau or other parts of China pre-cruise.
First-Hand Tip: If you go, don't miss Hong Kong's night-time, "Symphony of Lights," a colorful sound-and-light show. The best place to see it is from a seat on a small boat in Hong Kong's harbor. Hotel concierges can assist with tickets. While much of the show is visible from land spots throughout the city, anthe harbor's central point offers an immersive, 360-degree view in the middle of the action!
Also, for a pre-cruise stay, ask the concierge about making a reservation for dinner out on the town. Try the local dim sum (steamed or fried dumplings with various fillings). Yum, yum.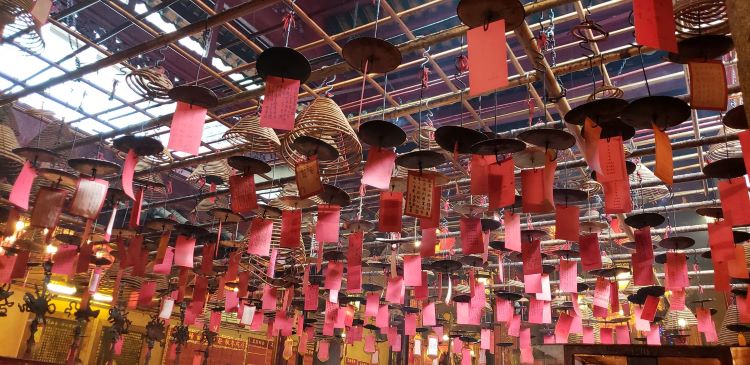 Robust Asian Calls 
After boarding the Seabourn ship, guests will then depart Hong Kong for three ports in Taiwan including Taipei.  Cruisers will go ashore in two South Korean ports and also enjoy an in-depth exploration of Japan.
For example, Japanese ports of call will include Ishigaki;  Miyakojima (Hirara), Miyako, Nagasaki, Fukuoka, Hiroshima, Kobe, Ishinomake, Hakodate and Kushiro.
In China, travelers will head ashore at Tianjin, for Beijing, which is 105 miles away. But the two cities are connected via both a highway and high-speed rail. Seabourn makes an overnight call at Tianjin to provide guests with access to an optional mid-cruise "Journey to Bejing" overland trip. Points of interest typically may include the Forbidden City, Temple of Heaven, Tiananmen Square, the Ming Tombs and the Great Wall.
Then, Seabourn Odyssey will sail north and across the Pacific Ocean to the Aleutian Islands of Alaska. Port calls will include Dutch Harbor and Kodiak. While some guests may head out fishing during the Kodiak port call, many others likely will desire to see and photograph the local birds and wildlife.
Top of the list for most people? It's the possibility of seeing Kodiak Island's "alpha" animals — massive brown bears. Did you know that Kodiak's male bears can weigh up to 1,500 pounds and stand 10 feet tall? It's best to watch from a distance, obviously!
For history buffs, we'd suggest visiting the Kodiak History Museum (previously called the Baranov Museum). It's Alaska's oldest standing structure.  The Russian American Company constructed this building in 1808.
More in Alaska
After leaving the Aleutian Islands, Seabourn Odyssey then sails southward along Alaska's coastline with calls at Homer, Sitka, Klawock and Ketchikan. Another stellar highlight is a visit to pristine Glacier Bay.
New for 2023, the first cruise ships will begin calling at Klawock on Prince of Wales Island, AK.  The area is home to an indigenous Tlingit community. So, cruisers can expect cultural, eco- and heritage activities akin to the kinds of activities found in Icy Strait Point, AK. Here's a link to the Klawock website. 
The voyage then calls at Nanaimo on Vancouver Island, B.C., and the cruise concludes in Vancouver, B.C. So, guests have enjoyed a robust Asia cruise but they also see Alaska and end the journey in North America.
Again, here's the Seabourn link to peruse what this "Jewels Of The China Sea and Kuroshio Route" itinerary entails. At press time, this cruise was priced starting from $25,299 per person, double occupancy, for an Ocean View Suite. Veranda Suites started at $29, 299 per person, double occupancy. Higher level accommodations were listed as unavailable.
Chat with your travel advisor about accommodations, pricing, special promotions and discounted airfare.  Or if you'd prefer a different type of Seabourn voyage, perhaps on a different ship such as the new expeditionary Seabourn Venture or to a different region of the world, also contact your travel advisor.
Happy travels in heading to Asia or wherever you're heading across the globe in 2023 or 2024!
Important Information from Pavlus Travel
This blog site offers "basic, general information" about travel; it's not designed to provide specific pricing nor is it staffed by travel advisors.
Any personal views expressed reflect the anecdotal perspective of the author — simply one opinion by a frequent traveler. The views expressed should not substitute in any way for use of a professional travel advisor. And that applies to either advice or booking of any vacation.
Also, please don't use the Reply Section below if you're asking for pricing, travel dates, accommodations, brochures or other specific requests. 
That said, we are most happy and eager to assist you. Here's how…
If anything does tweak your interest in the story and you'd like to talk about a future vacation, please DO call us at 800-528-9300.
Definitely, if you have questions about specific pricing, brochures, savings, itineraries, dates of travel, accommodations, accessible options and so on, please contact us. Again, call us at 800-528-9300 or visit and "live chat" at Pavlus Travel's official agency Web site.