Throughout our 10-day, Antarctica cruise on Silversea Cruises' expeditionary Silver Endeavour, penguins appeared here, there and everywhere!
Just as travelers head to the Arctic region hoping to see polar bears and reindeer, they venture to Antarctica for penguins. Yes, one can see them in the zoo, for sure. But, during my time on Silver Endeavour over a holiday sailing throughout Antarctica, I can say that absolutely nothing beats the sight of seeing tens of thousands of penguins up close.
So, if you'd like to see penguins in the wild, consider a luxurious Antarctic cruise; your personal travel planner can help you find the best cruise expedition product to match with your vacation style, personality, budget and accommodations preferences.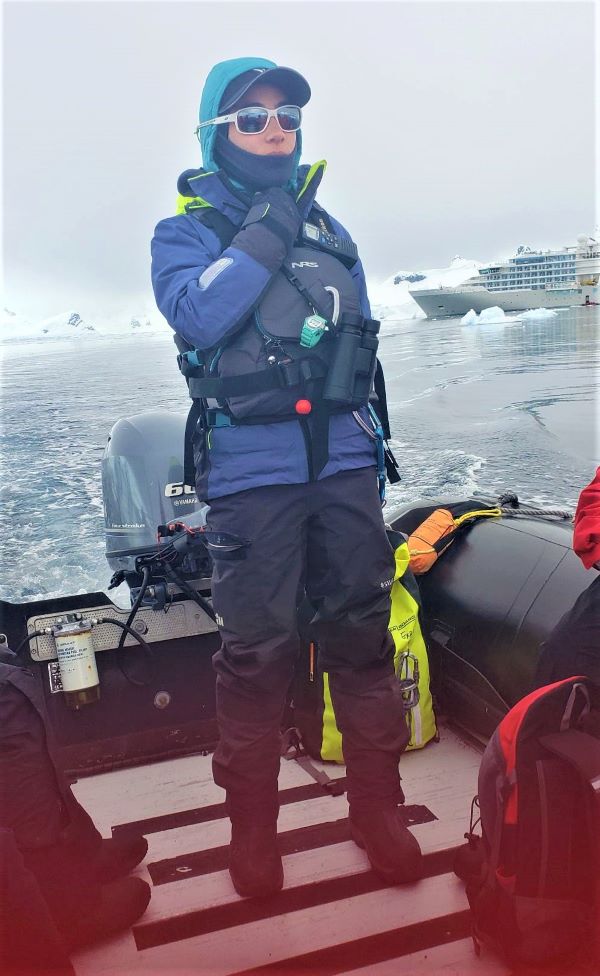 Given strict regulations in polar regions, though, you'll likely sail on a small-ship Antarctica cruise, as we did. Silver Endeavour has the capacity to take 200 guests to polar regions, but on our voyage there were just 142 guests aboard.
By way of background, this PC6-class, polar vessel is the former Crystal Endeavor, a new expedition ship that only sailed for a couple of months prior to Crystal's cessation of operations early in 2022.
Silversea made some updates in 2022, but the ship was essentially fresh and new. So, limited changes were made — things such as signage, colors and dining venues (La Dame replaced the sushi restaurant on Crystal, for example). But look for additional updates after the line puts the ship in drydock in a few months.
Antarctica Cruise: Luxurious, Home-Away-From-Home Base
Departing December 19, 2022, Silver Endeavour proved to be our perfect home-away-from-home base for the holidays.
If you plan to sail, we'd say that it offers fine dining, good wine selections, pampering spa and wellness services, several lounges, a humongous library, a strong enrichment program and more. Simply put, this expedition ship is a pampering enclave of luxury. 
Onboard service is superb on every level. We love that every suite has both a butler and cabin steward. That assures that all the guest suites will continually be clean and tidy, and that a familiar face — the butler — will bring room service and handle individual guest requests.
But while the ship and its onboard product are fabulous, it's the expedition side that shines the brightest. Each day, guests will head out for adventurous Zodiac cruises (see photo above of one Zodiac heading out from Silver Endeavour) to see stunningly gorgeous natural beauty. 
In Antarctica, that could range from views of icy cliffsides to rocky beaches, from majestic mountains to huge icebergs and ice shelves. On the wildlife side, cruisers will likely spot plenty of seals, whales, penguins and other birds.
Expedition Central 
So, daily or even twice daily, we ventured — already outfitted in parkas and waterproof pants provided by the line — to "The Mud Room" (which looked clean as a whistle frankly). There we "booted up" — putting on waterproof boots, also provided by Silversea.
We each had our own locker, where we found our life jacket for use only on the Zodiac rides. Adjacent to our locker was our boot rack for drying boots after an expedition ashore.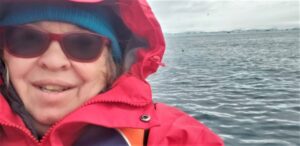 Just a personal aside… On the day I was scheduled to board a flight from the U.S. to Santiago, Chile (en route to Antarctica), I sprained my foot and ended up in ER. Ooops!
So, I had to wear a medical boot for the first few days. It eventually came off, but I wasn't able to do all the landings.
That said, Silversea's expedition team does a great job of offering fact-filled, enriching Zodiac rides. Plus, those Zodiac cruises are fabulous for up close viewing of both wildlife and scenery.
After other guests did wet landings ashore on beaches or at icy areas where the expedition team had carved out steps, Silver Endeavour's guests headed out to explore. They were guided via flags along a route marked by the team as safe. One wouldn't want to fall into a glacial crevice or disturb nesting birds in certain areas!
Ski poles were provided by the line for those who needed those. That way, people could walk up a glacial slope or along a snowy, uneven path. Active guests had many options for beach walks, trekking and climbing up hillsides.
And, of course, there was the "polar plunge" once during a voyage — with guests jumping into the frigid ocean. Our cruise set a Silver Endeavour record — 83 guests took the plunge. 
Guests Split Into Four Groups
To limit the number of people ashore to 100 at a time, a requirement of Antarctica regulations, Silversea split guests on our voyage into four groups — red, green, yellow and blue. Generally, the first two color groups would board the Zodiacs and go right to shore for an experience there.
Then 30 to 45 minutes later, the other two groups would board their Zodiacs for a cruise close to icebergs, glaciers and land. Then the groups would switch experiences.
In addition, depending on the destination, on some days the line only offered Zodiac cruises. Other days only a wet landing was offered. If conditions were right, kayaking was also offered from the ship. 
Antarctica Cruise: Pristine Icy Landscapes, No Civilization
Unlike most cruises when you know you're going to be in a certain port today, another one tomorrow, ships operating Antarctica cruise proceed a bit differently. Our expedition leader told us she needed to reserve a slot at a particular bay, landing site, harbor and so on. 
If that slot is already reserved by another operator or ship, then Silver Endeavour and other ships must go elsewhere. But slots also are given up at times and thus that space opens up for another ship. That happened toward the end of our cruise when guests were fortunately able to go ashore at Paulet Island (see more later in this blog).
It's a good way to assure the sites aren't overrun with travelers. It also assures that regulations for no more than 100 guests ashore at one time are met. From the guest perspective, it also provides a more pristine Antarctica experience. Generally, your ship won't be pulling into a bay with other ships.
As a result, I only saw one Hurtigruten ship on the entire journey. And even so, we were simply passing each other headed somewhere else.
Lots of Scenic Beauty, No Regular Port Calls
If you go, it's also important to understand that you will see scenery, scenery and scenery. Yes, repeating that … lots and lots and lots of scenery. Other expedition cruise regions are often different.
For example, in the Galapagos or Alaska, there might be a call at a spot with a wildlife rescue/preservation center with buildings, or even a small town or indigenous village to explore. In Antarctica, once you board the ship, you'll likely feel as those you've left everything except Mother Nature behind.
During our cruise, we gazed at a few red, uninhabited huts belonging to an Argentinian research base.  But essentially, that was it from what I observed. Otherwise, it was just spectacular eco-beauty.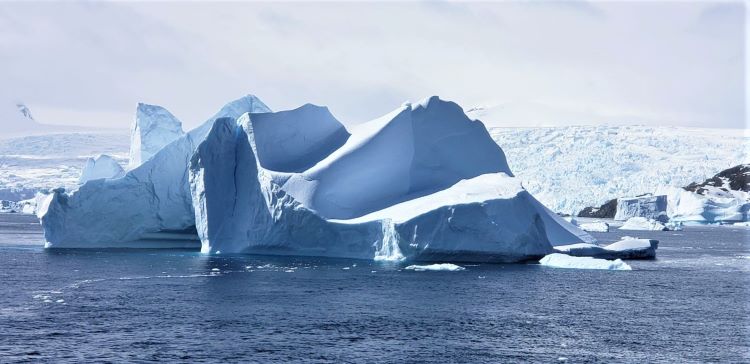 Definitely chat with your personal travel planner about what fits well for your specific personal vacation style and personality," emphasizes Shelby Steudle, president of Pavlus Travel. "There's no one-size-fits-all in finding the best vacation. It's important to find what's right for you."
That said, Steudle says that "an Antarctica cruise is a fantastic experience unlike any other on Earth. Give us a call if you wish to ask questions and chat about the possibilities."
Antarctica Cruise: Zodiacs and Wildlife Sighting
So, what's to see wildlife-wise in Antarctica. Well, Antarctica is the only continent without terrestrial mammals. Here's one of many helpful websites that explain a bit more about Antarctica's wildlife. 
We often spotted large humpback whales  and heard their "blows." In fact, at times we heard the "blow" before even seeing the whale. That was pretty neat.
At one point, eight or 10 whales were in close proximity in and around Silver Endeavour. At other times, on Zodiacs, one would spot a whale maneuvering along the coastline looking for a tasty meal.
We also spotted many seals — from Weddell seals lounging on the ice to one curious fur seal who popped his head up near our Zodiac, clearly checking us out. Other seal species include Ross, crabeater, leopard and elephant.
Birders will likely see everything from Arctic Terns to Snowy Sheepbills, Snow Petrels and many more species.
Antarctica Cruise: My Kingdom for a Penguin
When we arrived via our charter air flight at Prince George Island in the South Shetland Islands, we headed by a small shuttle to the shoreline where Zodiacs were waiting to take us to Silver Endeavour.
I knew instantly that this was going to be a special eco-adventure. Alas, one lone penguin was waiting near the Zodiacs — as if to greet us!
Over the next 10 days, I spotted penguins at nearly three-quarters of all landing sites/Zodiac cruising destinations visited. And by the way, penguins found in Antarctica span seven species — Adelie, King, Chinstrap, Emperor, Gentoo, Macaroni, and Rockhopper.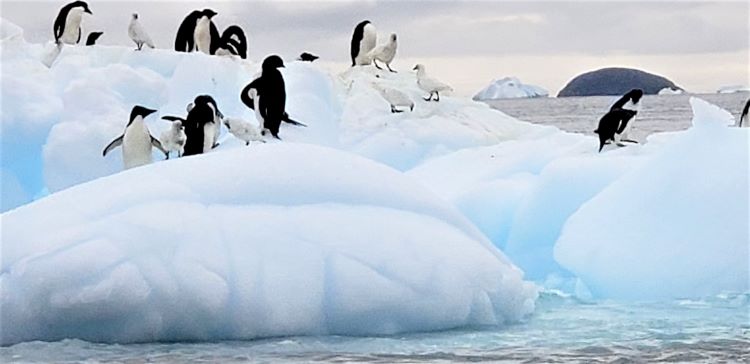 We gazed at mostly Adelie, Gentoo and Chinstrap penguins during our voyage. But nowhere were these cute furry critters as prolific along the journey than they were at Paulet Island, at the northern tip of the Weddell Sea.
Paulet Island
Paulet Island has been listed as an Important Bird Area (IBA) by BirdLife International. Why? An extremely large breeding colony of 100,000 or so pairs of Adelie penguins live on this island, which is less than a square mile
Simply put, I took the Zodiac cruise along the shoreline (see photo below) and it was the highlight of my Antarctic voyage.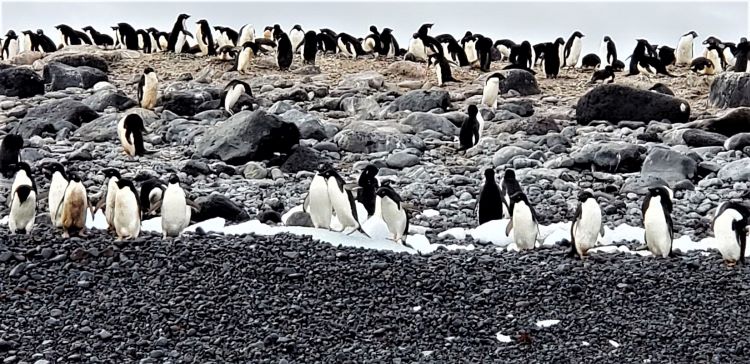 For me, at least, this was true penguin immersion. As far as my eyes could see on the beaches and along the shoreline, as well as up the hillsides, were tens of thousands of penguins. They huddled on land and many had newborn chicks of various sizes. The little, grey fuzzy chicks were adorable.
In addition, the penguins waddled down to the sea, jumped in and swam around our Zodiacs. They're quite speedy in the water.
Some were perched on icebergs floating offshore between our Zodiacs and Silver Endeavour. Upon returning to the ship, I headed for my suite. Sure enough, from my private balcony, I could also see penguins swimming and leaping out of the water around the ship.
For me, it was the top exploratory adventure of the trip. Such fun. So special. An Antarctic eco-experience I will never forget. Those penguins were simply everywhere!
Stone Hut Historic Site
Also, some in our group climbed up a bit on Paulet Island to see the remains of a stone hut historic site. It was built in February 1903 by survivors of the wrecked Antarctic by members of the Swedish South Polar Expedition. That expedition was led by Otto Nordenskjold.
One grave of an expedition member and the rock structure built by the survivors are officially designated an Antarctic  "Historic Site and Monument."
Antarctica Cruise: Itineraries Vary Widely, Day by Day 
Keep in mind that with all "potential landing sites" in Antarctica, there are no guarantees of a visit. Factors influencing the decision to visit include weather conditions, other ships that hold a reservation to visit and the length of the voyage. Longer voyages offer more options. 
Pack your "flexibility," if opting for any Antarctica cruise. It's a day-by-day, hour-by-hour schedule at times. And things can change.
That said, an Antarctica cruise is a truly amazing experience no matter the sites visited. From my end, each spot visited was pristine and a blessing to see.
This type of voyage also builds a sense of camaraderie among the guests. It was fun to gather nightly in the Explorer Lounge as the expedition leader offered a "recap" of the day's explorations (see photo below). She also laid out the next day's potential schedule for guests.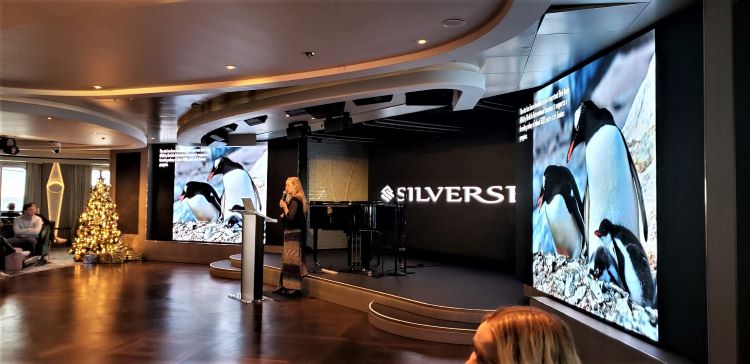 Getting to Your Antarctica Cruise
If you're interested in such an "End of the Earth" experience, talk with a personal travel planner. There are two main ways to reach Antarctica from the Western Hemisphere. One is on a cruise departing from Ushuaia, Argentina, or Puerto Williams, Chile;  those voyages transit the Drake Passage.
Silversea offers voyages from Puerto Williams but it also offers the so-called "Antarctica Bridge" sailings; we took one of these "avoid the Drake" options. Cruisers take a flight to Santiago, Chile, then another flight the next day to Punta Arenas, Chile; the Silversea fare includes one night's pre-cruise stay at hotels in both spots and a one-night, post-cruise stay in Punta Arenas as well.
Also included in the fares are the air flights between Santiago and Punta Arenas and charter flights to/from Prince George Island in the South Shetland Islands.
Penguins aside, I'll talk more about the cruise itself in another blog in a few weeks. One positive?  I was able to load this blog and a limited number of photos from the ship in Antarctica! I found the WiFi pretty fantastic, a bit of a surprise.
So stay tuned.
Important Information from Pavlus Travel
This blog site offers "basic, general information" about travel; it's not designed to provide specific pricing nor is it staffed by travel advisors.
Any personal views expressed reflect the anecdotal perspective of the author — simply one opinion by a frequent traveler. The views expressed should not substitute in any way for use of a professional travel advisor. And that applies to either advice or booking of any vacation.
Also, please don't use the Reply Section below if you're asking for pricing, travel dates, accommodations, brochures or other specific requests. 
That said, we are most happy and eager to assist you. Here's how…
If anything does tweak your interest in the story and you'd like to talk about a future vacation, please DO call us at 800-528-9300.
Definitely, if you have questions about specific pricing, brochures, savings, itineraries, dates of travel, accommodations, accessible options and so on, please contact us. Again, call us at 800-528-9300 or visit and "live chat" at Pavlus Travel's official agency Web site.