As 2023 begins, South Florida's wintertime Caribbean cruise season is in full swing. Two of the world's top cruise ports, PortMiami and Port Everglades, are welcoming new ships and new itineraries. For example, the new Celebrity Beyond is sailing from Port Everglades (see photo above; photo by Port Everglades). So, if you're ready for a cruise getaway from South Florida, talk to your travel advisor.  Make the most out of your vacation by considering a pre- or post cruise stay too as South Florida attractions are serving up many new activity options.
S. Florida Attractions: Greater Fort Lauderdale
Ale Trail for Brew Fans
Beer enthusiasts likely will love the new Visit Lauderdale Ale Trail Passport, a free mobile-exclusive digital pass. The passport makes it easy for visitors to discover Greater Fort Lauderdale's thriving brewery scene and to go where the locals go. Or, travelers can create their own customized tour.
What could be better for a brew fan than a curated collection of craft breweries to visit? Once visitors sign up, they'll be automatically checked in when they visit an Ale Trail stop. That way, they can earn points redeemable for Visit Lauderdale merchandise and receive exclusive deals/discounts at Ale Trail stops.  Here's all the scoop at the Visit Lauderdale Ale Trail Passport site.
Historic Plantation with Eco-Tour
If you enjoy diving into history but also enjoy the great outdoors, check out the new eco-tour available via paddleboard or kayak at the historic Bonnet House. Sunrise Paddleboards.
After paddling from Coconut Cove, guests can walk the grounds of the historic plantation. The rewards are views of desert gardens and the beach. Plus, at times, visitors might spot raccoons, wild monkeys, turtles, manatees and heron.
For the complete look at what's new in Greater Fort Lauderdale (including new dining and hotel options), check out Visit Lauderdale's "what's new" update.
S. Florida Attractions: Greater Miami
Arts, Culture and Heritage or Health and Wellness Discounts
Through January 31, 2023, the Greater Miami Convention & Visitors Bureau's continuing focus on "Miami Arts, Culture and Heritage Months" means exclusive offers for visitors on museum admissions, theater performances and more. It's a great way to explore the city.
For example, travelers can receive buy-one-get-one-free admission to downtown Miami's Pérez Art Museum Miami (PAMM). Similarly, two-for-one admission is offered to the Gold Coast Railroad Museum; which preserves, exhibits and operates more than 40 historic rail cars. And those are just two of many options for travelers staying a few days pre- or post-cruise.
In addition, February 2023 and March 2023 are "Miami Health and Wellness Months." During those months, top spas, golf clubs and fitness centers put together special deals on sports activities, classes and events.
To learn more, check out this Greater Miami CVB website page about the program.
New Rare Dinosaur Exhibition
The popular Phillip and Patricia Frost Museum of Science is currently running a new exhibit, "Ultimate Dinosaurs: Meet a New Breed of Beast." If you're visiting Miami before or after your cruise this winter, head on over. This hands-on, interactive special exhibition runs through April 23, 2023.
We think it's a pretty neat option if you enjoy immersing yourself in the world of dinosaurs and seeing something different. For example, travelers will learn about dinosaurs that evolved in isolation in South America, Africa and Madagascar. Thus, this exhibition showcases 13 dinosaurs most people have never heard about. You'll see 13 rare dinosaur casts, dinosaur fossils and touchable fossilized dinosaur specimens.
To learn more about what's new for travelers heading to the Miami area — including new hotel openings and other news — check out this press release, updated in December 2022.
S. Florida Attractions: The Florida Keys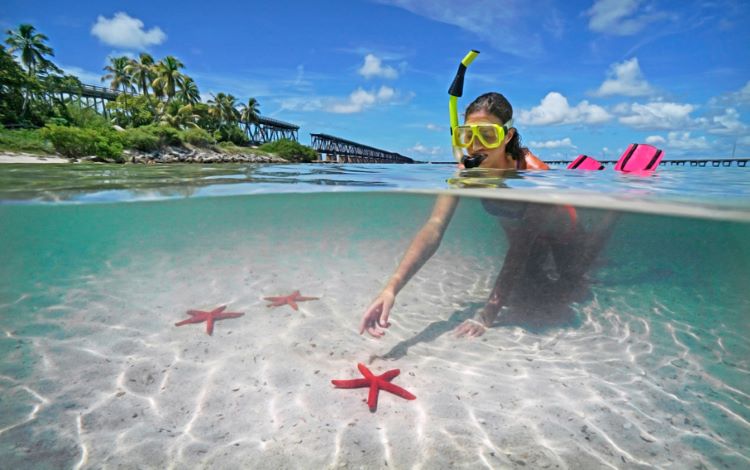 New Eco-Activities 
The Florida Keys & Key West offer much to entice South Florida cruisers eager to explore during a pre- or post-cruise stay. Check out The Meandering Traveler's blog of a few months ago about "10 Quirky, Fun Things to Do in the Florida Keys." 
If eco-preservation is your passion,  it's good to know that Mote Marine Laboratory & Aquarium is dedicated to raising corals ( brain, star and branching coral species) both onshore and offshore in the Florida Keys. It also "outplants" corals along the Florida Keys reef tract.
Newly opened is Mote's third land-based Keys coral nursery at Key Largo. It's now offering complimentary public tours for up to 12 participants. Tours are scheduled Fridays at 10 a.m. at Reefhouse Resort & Marina, 103800 Overseas Highway. Travelers can make a reservation and learn more at this Mote website page.
In Marathon, the Florida Keys Aquarium Encounters, 11710 Overseas Highway, has rolled out a new marine exhibit featuring a Cassiopeia or moon jellyfish. Another fun activity at this attraction is a guided, in-water Coral Reef encounter; guests will snorkel or dive with more than 2,000 fish, and feed sharks or other predators through a window.
At this attraction's Stingray Cove, guests also can enter the water to interact with stingrays. Or they can pet and feed an adult nurse shark at the Big Shark Bay encounter. 
If you're heading to Key West, FL, check out the redesigned Florida Keys Eco-Discovery Center in Truman Waterfront Park. It's open to visitors on Fridays and Saturdays . You'll see contemporary new exhibits that put the spotlight on mangrove habitats and allow interaction with life-sized mangrove branches.
To learn more about what's new in the Florida Keys (including hotel news and updates), check out this link. 
Plan an Early 2023 Winter Getaway
If you're interested in cruising this winter — this month through the end of March 2023 — from Port Everglades or PortMiami, be sure to chat with a skilled personal travel planner. "One of our travel professionals will lay out the options and help you find the best match for your vacation budget, style and personality," says Shelby Steudle, president of Pavlus Travel.
She continues: "And that includes arrangements for the cruise itself, as well as accommodations, air travel and more. Give us a call or visit our website to learn about all the possibilities. A plus for consumers? We also have access to many discounts and deals."
So, get ready to soak up the sun on a winter Caribbean cruise and enjoy new southern Florida attractions and activities at the same time.  It's a recipe for a great, warm-weather vacation getaway.
Important Notes from Pavlus Travel
If anything does tweak your interest in the story and you DO have questions about specific pricing, brochures, savings, accommodations, accessible options and so on, please contact us at 800-528-9300.
Or visit us online at Pavlus Travel's official agency Web site; there you can "live chat" with us online too!
This blog site is designed for "basic, general information" about travel. It does not provide specific pricing nor is it staffed by travel advisors.
Please don't use the Reply Section below if you are asking for pricing, travel dates, accommodations, brochures or other specific requests. Please use the 800 number or online link. 
Thanks for reading!