As January 2023 fades into history, The Meandering Traveler looks at a mix of top news, quirky travel tidbits and interesting developments from the month.
1. Travel News: Oceania Cruises: It's Allura
Oceania Cruises, which will launch its first new Allura-class ship Vista in May 2023 announced the name it's chosen for the second vessel in that 1,200-passenger series. Fittingly, it's called Allura, and will debut in 2025 as the line's eighth ship.
"We're thrilled with the incredible demand we have witnessed for Allura's sister ship, Vista, with her 2023 maiden season already sold out," says Frank A. Del Rio, Oceania's president. "We know Allura will be equally as popular with our guests."
Allura highlights will include an array of inventive new dining experiences including Ember, an upscale signature restaurant serving reimagined American classics, and Aquamar Kitchen. Both will debut as well on Vista in May. Allura will also offer a new Chef's Studio.
The ship will be staffed by 800 officers and crew. Currently under construction in Italy by shipbuilder Fincantieri, the all-veranda vessel will sail her maiden voyage in spring 2025.
Interested in booking? Well, you'll have to wait a tad longer. Oceania says that details of Allura's inaugural season for Europe and the Americas — itineraries and fares — will be released in spring. Bookings will open to the public in summer 2023. If you're interested, let your travel advisor know so he or she is prepared to jump on any deals or advance bookings for loyal Oceania past cruisers.
2. Travel News: Paul Gauguin's 25 Years in the South Pacific
We'd be remiss if we didn't give a "shout out" to Paul Gauguin Cruises, which is celebrating 25 years of sailing in French Polynesia.
Ever desire to explore the South Pacific's Society Islands, Tuamotus, Marquesas, and beyond to the Cook Islands, Fiji, and Bali, Indonesia? Then you might check out the 330-passenger luxury explorer, Paul Gauguin.
This intimate vessel was purposely designed to navigate the region's remote lagoons. The onboard ambience is carefree and enriching, thanks to crew members who hail from the region.
Launching the year-long celebration is a new commemorative video. We think it effectively captures the essence of the ship and the brand's intimate connection to The Islands of Tahiti. You may view it here.
But look for more celebratory activities in the coming weeks and months. For example, the line says it will soon announce exclusive anniversary offers. Plus, the line plans special 25th anniversary events both ashore and aboard.
The ship is truly an immersive draw for those desiring to "dive deeply" into the South Pacific isles' cultural, heritage and eco-experiences. Navin Sawhney, CEO Americas for Paul Gauguin Cruises and Ponant (the line's parent company), says this: "As we celebrate this 25th year, we are incredibly grateful to our loyal guests…for their continued devotion to Paul Gauguin Cruises."
Sawhney adds: "We look forward to a year of nostalgic celebration and new discovery."
Recently Updated Ship
While the Paul Gauguin has sailed in the South Pacific and French Polynesia for 25 years, it was recently updated and refurbished. So, guests should find it fresh and welcoming.
The line's popular, seven-night "Tahiti and the Society Islands" itinerary operates on many dates in 2023. For many June and July departures, pricing at press time started at $4,550. Fares are subject to change. '
Here's a look at that itinerary from Paul Gauguin Cruises. Also, here's a link to Tahiti tourism information if you'd like to read more about travel within the Islands of Tahiti.
In total, the line offers highly inclusive voyages of seven- to 16-nights throughout French Polynesia and the South Pacific. Itineraries feature multiple overnights at such isles as Bora Bora, Moorea, and Tahiti. Some voyage fares start at $2,990 per person, depending on itinerary and departure date.
For more on Paul Gauguin, visit www.pgcruises.com. To discuss all the South Pacific options by sea or land, talk with a professional travel advisor. 
3. Travel News: Four Seasons to Open New Luxury Hotel in Rabat, Morocco
For those who love both exotic travel and the luxury hospitality of Four Seasons Hotels and Resorts, it's good to know that there's an enticing new vacation hotel on the horizon. In January 2023, Four Seasons and Atlantic Coast Hospitality, a subsidiary of Abu Dhabi-based real estate development firm Q Holding, announced plans for the upcoming Four Seasons Hotel Rabat at Kasr Al Bahr, anticipated to open in Rabat, Morocco, sometime in 2023.
Kasr Al Bahr, meaning "castle of the sea," was originally built as a sprawling 19th century royal summer palace. It later transformed into a military hospital prior to closing in 1999.
Following extensive renovations of this 12-acre cliffside retreat, Four Seasons Hotel Rabat at Kasr Al Bahr will usher in a new era for the historic property. Guests will stay in 204 luxuriously appointed rooms and suites overlooking the Atlantic Ocean.
Rabat, Morocco's capital city, is a UNESCO World Heritage site along the Atlantic Ocean. It offers beautiful beaches, music festivals and more than 500 acres of parkland.
Travelers will also discover past French and longstanding Islamic influences such as the Hassan Tower and the Kasbah of the Oudayas.
Pampering Resort Amenities
For today's luxury travelers, the new Four Seasons property also will serve up pampering resort amenities and venues. For example, Four Seasons Hotel Rabat at Kasr Al Bahr will feature seven restaurants and lounges.
It will also boast a full-service spa with well-appointed treatment rooms; an indoor pool; and several outdoor resort-style pools.
When it opens in 2023, Four Seasons Hotel Rabat at Kasr Al Bahr will become one of four Four Seasons properties in Morocco. The property is just a 20-minute drive from Rabat–Sale Airport and 90 minutes from Casablanca's Mohammed V International Airport.
Visitors will also be able to take Morocco's high-speed train service from Rabat to Casablanca (45 minutes) and Tangier (one hour and 45 minutes). Here's the full press release announcement about this Four Seasons hotel.
4. Travel News: Riviera River Cruises; New 11-Day Itineraries
If you're akin to many people, you want to make the most of your cherished vacation. For river cruisers heading to Europe, that often means booking a river cruise longer than a week. With the growing popularity of those longer voyages, Riviera River Cruises has announced the addition of three new 11-day itineraries to its 2024 European river cruise schedule.
These longer voyages will sail France's Seine River and also the Rhine and Moselle rivers in central Europe. They come as Riviera experienced strong demand for its first 11-day itinerary, "Lyon, Provencal Rhone and the Camargue River Cruise" on the Saone and Rhone rivers in 2023.
After seeing that response, Riviera is excited to offer three more 11-day itineraries in 2024, says Marilyn Conroy, Riviera's executive vice president of sales and marketing, North America. "They're the ideal fit between our eight-day cruises, which some might think aren't quite long enough, and our 15-day cruises, which might leave others wanting to get home," she explains.
"And because they're based on existing itineraries on the Seine, Rhine and Moselle Rivers, they allow guests to experience these regions a little more deeply," Conroy notes.
Travel News: Enticing, Longer Itineraries
"Paris, Normandy and Historic Treasures of the Seine River Cruise" — From Paris to Le Havre and back on the Seine River, guests will enjoy guided tours and visits that include Paris, Chateau d'Auvers and the cemetery where Vincent Van Gogh is buried in Auvers-sur-Oise.
In addition, cruisers will see or explore Rouen, Normandy's D-Day beaches, Honfleur or the Étretat chalk cliffs, the Abbey Jumieges ruins and Abbey St. Wandrille near Caudebec, Monet's house and garden in Giverny, the Castle of La Roche Guyon and Chateau de Malmaison near Mantes-la-Jolie. At press time, fares began at $4,029 per person, double occupancy*
"Cologne, the Rhine Gorge and Medieval Germany River Cruise" — From Cologne to Nuremberg, Germany, and back on the Rhine River, travelers will head out on guided tours and visits that include Cologne, Andernach, Braubach, Rüdesheim, Mainz, Miltenberg, Wertheim, Wurzburg, the Romantic Road to Rothenburg, Ochsenfurt, Bamberg and Nuremberg.
Plus guests will cruise through the Rhine Gorge. Pricing starts at $4,209 per person double, occupancy.*
"The Moselle, Luxembourg and the Majestic Rhine River Cruise" — From Cologne to Trier on the Moselle River, Mannheim on the Rhine River and back to Cologne, guests will enjoy guided tours and visits that include Andernach, Koblenz, a wine tasting at a local cellar in Bernkastel, Luxembourg, Trier, Cochem, Rudesheim and the surrounding vineyards.
They'll also explore Worms, Mannheim or Speyer, Heidelberg or the Schwetzingen Palace garden, Marksburg Castle in Braubach, Bonn and Cologne, as well as sail through the Rhine Gorge. Starting fares are $4,139 per person, double occupancy.*
* All fares are subject to change. Talk with your travel advisor for the latest.
5. Travel News: Six Smartphone Tips for International Travel
We appreciated seeing a press release outlining "Six Smartphone Tips for Traveling Internationally in 2023." Those were offered by UScellular, the U.S.' fourth largest, full-service cellular carrier. So, we'd suggest readers take a look — particularly if you're not familiar with cell phone usage overseas. These are simple tips but good ones from our perspective.
For example, the tips cover everything from "Get a Messaging App" to "Check Your Plan" and "Download Maps." With the latter, if you're planning to walk, bike or drive to unfamiliar locations and are unsure of your connectivity, you can download maps on to your Apple or Android device and access them offline using Google Maps. After you download an area, use the Google Maps app just like you normally would, and the offline map will guide you to your destination as long as the entire route is within the offline map.
To see the entire list of helpful tips, visit the UScellular press release. 
6. Travel News: American Cruise Lines is California Bound!
American Cruise Lines (ACL) said that its 180-passenger American Jazz, one of the company's 10 Modern-riverboat series vessels, is currently repositioning from the Mississippi River to the West Coast. The small ship will begin new California river cruises starting this month.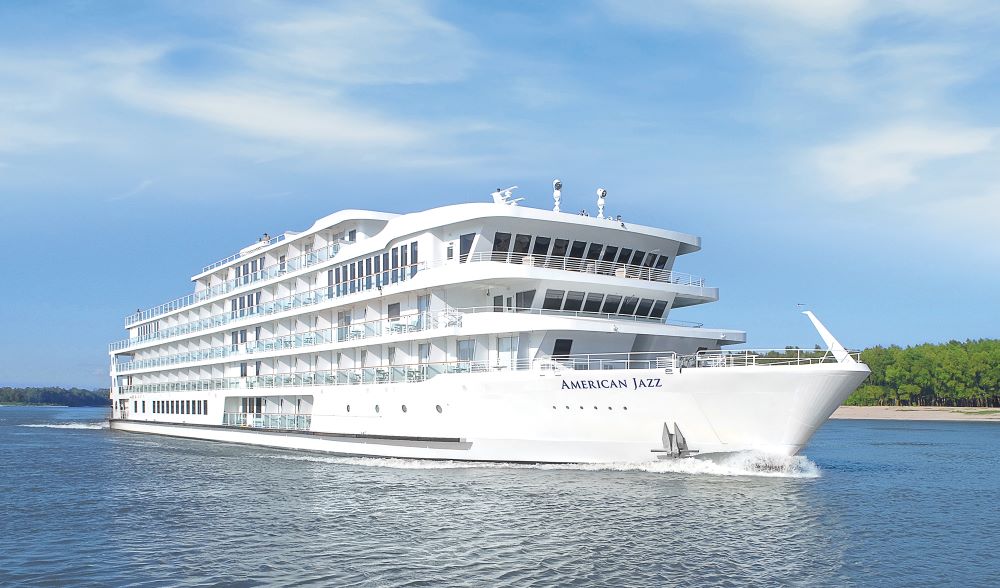 After transiting the Panama Canal, American Jazz's arrival at San Francisco Bay will herald a historic development in U.S. river cruising. How so? The vessel will become the first U.S.-built riverboat to offer overnight cruises throughout the bay and California Delta in more than 80 years.
The ship will depart on its first eight-day San Francisco Bay cruise on February 24. Taking guests to California's wine country, it will cruise the Napa, Sacramento and San Joaquin rivers. The Meandering Traveler previously covered the small-ship line's initial announcement in a July 2022 blog.
"Exploring San Francisco Bay and the California Delta by U.S. riverboat is a momentous occasion for domestic river cruising and another first for American Cruise Lines," says Charles B. Robertson, ACL's president and CEO. We are proud to provide this new opportunity for our guests to experience the joys of cruising close to home, as they discover yet another beautiful area of the country by riverboat."
California Sailing
With many departures in 2023 and 2024, this itinerary will operate roundtrip from San Francisco on multiple dates. The ship will dock in four California cities — San Francisco, Stockton, Sacramento and Vallejo, and also sail San Francisco Bay, San Pablo Bay, the Napa River and the San Joaquin River.
Guests will explore San Francisco as well as California's wine country, where they'll visit vineyards and enjoy special tastings. One guest activity that we'd like to experience is ACL's "become a winemaker for a day" option.
Interested in this cruise? Want more specifics? Check out the new itinerary. Then chat with your travel advisor about departure dates, accommodations and other details. 
7. Travel News: Seabourn, HAL, Cunard & Princess To Get SpaceX's Starlink!
We were thrilled to learn this past month that Carnival Corporation will add next-generation, advanced connectivity using SpaceX's Starlink for many of its brands. Those include ultra-luxury Seabourn as well as Cunard Line, Holland America Line, Princess Cruises and several other brands. Here's the press release announcing what's planned and when. 
A personal note? On a recent trip to Antarctica, the end of the Earth, about a month ago, The Meandering Traveler was apprehensive about what we'd discover for shipboard Wi-Fi. While Wi-Fi connectively can be dicey on any ship at times, the remoteness of the region concerned us. So we were pleasantly surprised that, except for a brief period on the first day, we had excellent connectivity for most of our voyage.
In fact, we uploaded copy and photos into an online content system, something we can't always do at sea. Bottom line? We were sailing on Silversea Cruises' Silver Endeavour, which is also now using SpaceX's Starlink. Parent Royal Caribbean Group announced last year that it would add the service for all its brands. 
8.  Travel News: The Last Goodbye at the Factory for Boeing's 747  
Signaling the end of an era in aviation, officials from Boeing and cargo carrier Atlas Air Worldwide joined current and former employees as well as customers and suppliers to celebrate delivery of the final Boeing 747 to Atlas.
While 747s continue to fly the globe today, the final 747 delivery in January 2023 was a poignant moment — bringing to a close more than a half century of 747 production at Boeing's Everett, WA, factory.
The aircraft has been a decades-long success both for passenger travel and cargo operations. Some former Boeing employees (called the "Incredibles") who designed and built the first 747, returned to be honored at the Everett factory. That's where the journey of the 747 began in 1967.
Queen of the Skies
Do you know how many 747s were produced? Well, here's the tally: The Everett factory produced 1,574 of these airplanes during the life of the 747 program.
As the first twin-aisle airplane and "jumbo jet," the so-called "Queen of the Skies" enabled airlines to connect people across vast distances and oceans. The aircraft's development also solidified Boeing's role as an industry leader in commercial aviation.
The airplane's core design offered a distinctive hump and upper deck seating. Over the decades, Boeing improved on the original design with models like the 747-400 in 1988. The final 747-8 model was launched in 2005. While some airlines already have retired their fleets of 747s, many of the aircraft are still flying across the globe.
Here's the Boeing's press release about the final aircraft delivery. So, to the 747, our thanks for the memories. And for all our readers heading out into the skies this year (on whatever aircraft type you're flying), we wish you smooth and safe travels.
Important Notes from Pavlus Travel
If anything does tweak your interest in the story and you DO have questions about specific pricing, brochures, savings, accommodations, accessible options and so on, please contact us at 800-528-9300. Or visit us online at Pavlus Travel's official agency Web site; there you can "live chat" with us online too!
This blog site is designed for "basic, general information" about travel. It's not staffed by travel advisors.
Any price examples used in the above blog are subject to change. They also do not represent the full range of options; a travel advisor can assist with additional information.
Please don't use the Reply Section below if you are asking for pricing, travel dates, accommodations, brochures or other specific requests. Please use the 800 number or online link. 
Thanks for reading!