Another new, 168-passenger Viking Longship is headed for France's Seine River. Launching in 2025, the river rambler will sail Viking's popular eight-day "Paris & the Heart of Normandy" river cruise.
Are you ready to admire iconic landmarks in the "City of Light"?  Well, the Eiffel Tower and Arc de Triomphe await. Or, head inside the famous Louvre to "soak up" art heritage and gaze at the iconic Mona Lisa and other masterpieces.
But what if you desire to sail with Viking on the Seine this year or in 2024? The good news is that you'll have many options. Four new Viking Longships purpose-built for the Seine — Viking Fjorgyn, Viking Kari, Viking Radgrid and Viking Skaga – launched in 2022. They'll begin sailing their 2023 season from Paris in a month or so.
But first, let's chat about the new ship, and then the "Paris & the Heart of Normandy" itinerary and other Viking options in France.
Seine River Cruise: Another New Viking Longship
Viking, which first sailed European waters 25 years ago, is the world's largest river cruise company. It continues to grow at a rapid pace, so travelers have even more options to sail global rivers.
So, what's special about the new ship? In its February 1, 2023, announcement about the latest new Seine River vessel, Viking stressed that all five of the Viking Longships on the Seine are purpose-built for navigating that river.
In plain English, that means they're just a bit shorter than Viking Longships on other European rivers. The reason is to create access to some spots larger ships can't go. "One big plus is that if 'location, location, location' means everything to a traveler, then the Viking Longships deliver that well on the Seine in the heart of Paris," says Shelby Steudle, president, Pavlus Travel.
How so? "Viking's ships use an exclusive docking location at Port de Grenelle, which is just a short walk from the Eiffel Tower," she emphasizes. Guests will also get a close-up look at Paris' own smaller replica of the U.S. Statue of Liberty. It's one quarter the size of the statue in New York harbor.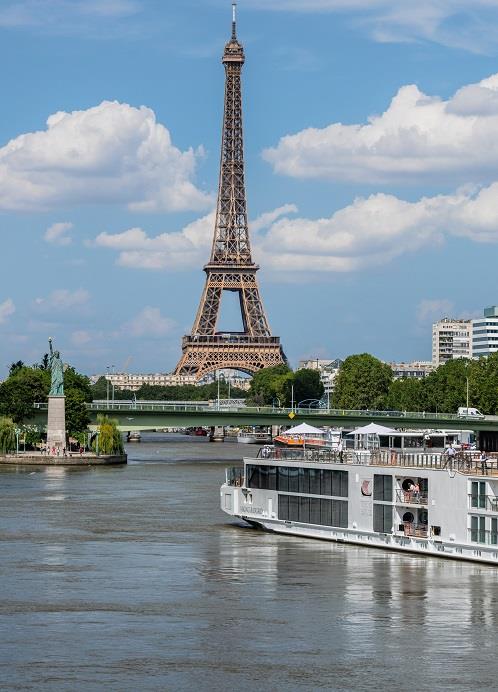 So, within minutes of leaving the river ship, guests can be staring up at Gustav Eiffel's famous tower, "The Iron Lady," built in 1889 for a World's Fair. Did you know that, originally, it was expected to be torn down after the fair. Fortunately, that wasn't the case, and today, the Eiffel Tower reigns as an iconic, enduring symbol of Paris and a "must visit" site for many travelers.
Viking Longship Features
As for the Viking Longships sailing the Seine, they offer 85 staterooms and suites. Guests can expect to see Viking's signature Aquavit Terrace (indoor-outdoor) and interior Scandinavian design.
Sustainability-wise, these river vessels have onboard solar panels. Plus, they're equipped for shore power to reduce reliance on fuel while in port. They also leverage hybrid technology with large-scale battery packs.
Seine River Cruise: Paris & the Heart of Normandy
The Seine River itself flows 483 miles between Paris and the ocean in northwestern France. The Viking Longships operating the eight-day "Paris & the Heart of Normandy" itinerary sail roundtrip from Paris and as far westerly as Rouen. 
Six guided tours are included in the pricing. Guests can venture out for these memorable experiences and more:
Explore Giverny and visit the beautiful gardens and farmhouse where artist Claude Monet lived and worked;

Stroll Vernon's cobblestone streets, which are reminiscent of the Middle Ages, and some of the half-timbered houses feature magnificent wooden carvings;
Trace the footsteps of Joan of Arc in Rouen, as well as view Gothic architecture and a magnificent cathedral;
Walk hallowed ground at Normandy's American Military Cemetery and World War II beaches;
Delve into history, art, food and customs in both French urban and pastoral settings.
At press time, the "Paris & the Heart of Normandy" river cruise was priced from $2,799 per person, double occupancy. Prices are subject to change, so chat with your professional travel advisor today and ask about pre- or post-cruise extensions.
Deals and Extensions
In addition, your personal travel planner can discuss any discounts, promotions and contract air options. Why not call today as the cruise industry's Wave Season is in full swing? That often can translate into the best deals of the year or great promotions with lower deposits or added amenities.
For those who'd like to extend their "Paris & the Heart of Normandy" vacation, Viking also offers a three-night, pre- or post-cruise Paris stay. At press time, pricing for that began at $799 per person, double occupancy; prices are subject to change.
That said, we'd splurge for the premium three-night, pre- or post-cruise stay, starting at $1,199 per person, double occupancy. That premium option includes a luxurious stay at the elegant Sofitel Le Scribe. An included tour also will allow you to discover more and gain tips to make the most of your Paris stay.
Or, guests can opt for a post-cruise stay in Paris and continue to London and the U.K.'s Highclere Castle, the filming site for PBS's "Downton Abby."
Seine River Cruise, Plus Others in France 
Viking also has other options for river cruises that include Paris. New for the line is "Christmas on the Seine," an eight-day option with six guided tours. It's a joyful time of year. Cruisers can gaze at lovely seasonal lighting displays along the Avenue des Champs-Elysees.
During the last month of the year, guests also can explore Christmas markets in both Paris and Rouen. Viking's "Christmas on the Seine" starts at $2,499 per person double, with departure running between late November and late December.
In addition, Viking offers many options for combining a Seine River cruise from Paris with additional cruises in France's Bordeaux region or the Rhone/Saone in the south of France. Here's a good page to peruse for all of Viking's French river options.
Paris and Beyond French Borders
Plus, the line has options for a Paris stay and river cruises on the Rhine or other European rivers beyond France.
Be sure to consult a professional travel advisor before booking, as you might miss out on some great deals or discounts. Plus, they'll handle the details of the nitty-gritty travel arrangements. Then you can simply sit back and relax. It's a good way to spend your time learning more about Paris and the Seine River destinations before you set sail — making the trip even more memorable.
Curious about what a personal travel planner does and just how experienced are they? Here's a recent profile for Pavlus Travel's Pam Chavez, showcasing the personal travel advisor's expertise and specialties. Or, check out another advisor profile for Lee Alvarez, who cites Paris as one of her favorite destinations.
Important Notes from Pavlus Travel
If anything does tweak your interest in the story and you DO have questions about specific pricing, brochures, savings, accommodations, accessible options and so on, please contact us at 800-528-9300. Or visit us online at Pavlus Travel's official agency Web site; there you can "live chat" with us online too!
This blog site is designed for "basic, general information" about travel. It's not staffed by travel advisors.
Any price examples used in the above blog are subject to change. They also do not represent the full range of options; a travel advisor can assist with additional information.
Please don't use the Reply Section below if you are asking for pricing, travel dates, accommodations, brochures or other specific requests. Please use the 800 number or online link. 
Thanks for reading!