The "Age of Grandeur" is on the horizon. Regent Seven Seas Cruises' newest ship, the 732-passenger Seven Seas Grandeur will set sail in late 2022. The 55,000-gross-ton ship "floated out" from the Fincantieri shipyard in Ancona, Italy, earlier this month.
So, timing-wise, it's a great time to outline our "Top 10 Fabulous Factoids" about this ultra-luxury ship. What can guests expect? Not all details have yet been revealed, but here's what we know thus far.
1. The Age of Grandeur: Expect Opulent Public Spaces
Personality-wise, Regent Seven Seas' ships have an elegant look and feel that's a bit different from other ultra-luxury brands. Each brand has its own persona, of sorts. This brand conjures up such thoughts as "opulence," "elegance" and, to a great extent, "over-the-top grandeur."
An added plus for this ship is that the line engaged the award-winning Studio DADO, specialists in boutique cruising and hospitality interior design, to help create the level of luxurious interior design aboard. So, if the ultimate in luxury is what you're seeking, this ship could be a fabulous vacation fit!
2. Enjoy "Al Fresco" Relaxation with All Private Balconies
Seven Seas Grandeur will set sail as Regent Seven Seas' third all-balcony ship. The first two, Seven Seas Splendor and Seven Seas Explorer, debuted in 2016 and 2000, respectively.
One big plus is that all guests who sail on this ship – in any of the ship's 15 different suite categories — will have private balconies with furniture. Some of those balconies will be incredibly spacious and the top suites will have private hot tubs.
3.  The Age of Grandeur: Luxuriate in the Regent Suite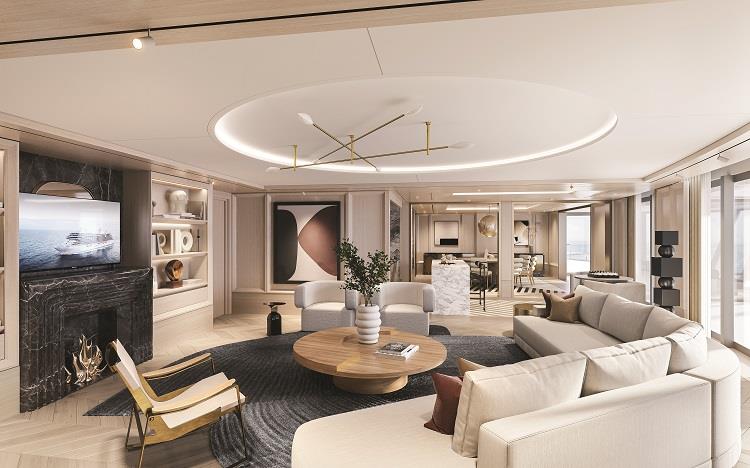 Certainly, getting everyone's attention on this class of ship is the palatial Regent Suite, which both sister vessels have as well. One incredible factoid stands out: The suite will span 4,443 square feet!
Representing the "ultimate" in ultra-luxury accommodations, this suite will overlook the ship's bow. Exuding a condo-like feel, it will include an expansive living area with personalized bar set-up, a dining area, two bedrooms, two full bathrooms and one half bathroom.
The ship's "reimagined" Parlor will resemble a skylit, glass-enclosed living space. Two chaise lounges will invite afternoon daydreaming or night-time stargazing.
A top feature when talking about this suite? Having toured the Regent Suite on a sister ship, we expect that we'll love the private, in-suite spa (see one photo below). It will offer unlimited, complimentary treatments, a sauna, steam room, and jetted bathtub. In addition, the Regent Suite's expansive private balcony is home to a Tresse Minipool.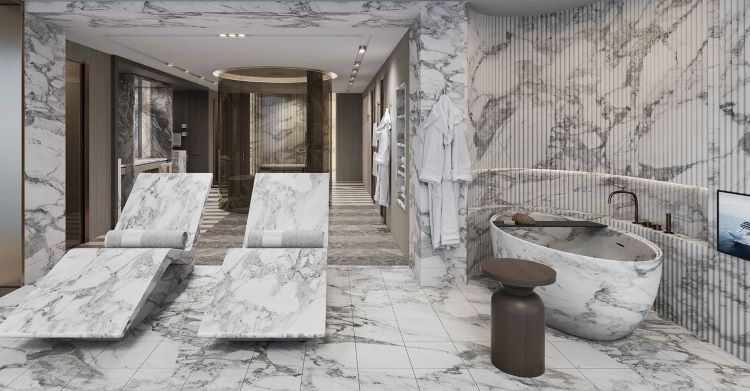 4. Savory Dining Options Galore
On the culinary side, Seven Seas Grandeur will offer several specialty restaurants. At Prime 7, guests will chow down on succulent top-quality steaks, seafood or prime rib. In contrast, Chartreuse is expected to evoke memories of a chic fine dining restaurant — the type that guests might discover during an evening stroll in Paris.
Also, as the largest specialty restaurant at sea, Compass Rose's menu will feature modern French dishes. Cruisers can expect to see a new design for Compass Rose as well.
"Restaurants on board all Regent ships are exquisite, but for Seven Seas Grandeur's Compass Rose we wanted to create a space that was truly a feast for the eyes," says Yohandel Ruiz, founding partner, Studio DADO. "This new design of Compass Rose will pique guests' curiosity and sense of wonder before they have even set foot in the restaurant."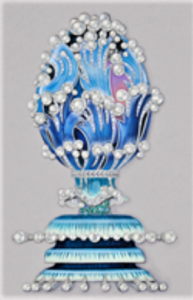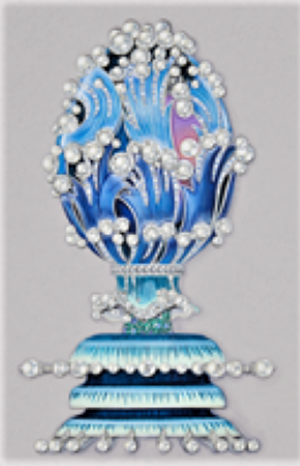 5. Enjoy Multimillion-Dollar Art — Including a Faberge Egg
Strolling the public spaces and corridors of Seven Seas Grandeur, guests will walk amid a multimillion-dollar art collection. What's the jewel in the crown? That's the "Journey in Jewels," a hand-crafted Faberge Egg (see photo at right).
A few months ago, Regent Seven Seas announced that it had inked a partnership with Faberge, the globally renowned jewelry house. So, if you head for the ship's atrium you'll see this Egg Objet on display.
The Faberge Egg will take inspiration from the iconic Faberge Winter Egg of 1913, while also heavily representing the natural elements of the sea.
Check out our previous blog that summarized the October 2022 announcement about the Faberge Egg.  Also, a captivating video about the egg's design is here:
6. The Age of Grandeur: Other Top Suites
Size-wise, the Regent Suite is the top accommodation, but there's just one of those. As a result, that suite is expected to book quickly if the experience on the two sister ships is any indication. So, if you're seeking a top suite that's a cut above, what do you do?
Well, on Seven Seas Grandeur, you'll find several other appealing choices with plenty of space. Located on Deck 8 and Deck 9, the Master Suites are spacious in their own right at 1,895 square feet to 2,108 square feet (both interior and outdoor spaces). 
Guests can expect a "Park Avenue" look and feel. Luxury touches in the living room include crystal chandeliers, a grand piano and rosewood furniture. The Master Suite also offers two bedrooms and two bathrooms outfitted with marble and stone. 
Pampering services are a given. Just ask the butler to serve an elegant, white-tablecloth, romantic dinner al fresco on the private balcony. Guests staying in a Master Suite will also have a large private balcony — 831 square feet to 984 square feet of space.
Other good options are the 1,836-square-foot Grand Suites (there are eight aboard); the 918-square-foot Grandeur Suites (six aboard), and the 814-square-foot Seven Seas Suites (four aboard).
7. Entertainment Relaxation Spaces 
While the line has yet to reveal much about onboard entertainment, guests will find these entertainment areas.
Constellation Theater: This two-deck-high theater will have plush seating and good sightlines. The line says to expect "lavishly staged, high-energy shows produced by our own team of Broadway professionals."
Grandeur Lounge: With an elegant design, the ship's namesake lounge will be the place for signature cocktails and soulful sounds.
Meridian Lounge: With an expansive bar and relaxed armchairs, this will be the spot to gather with new friends for a cocktail, particularly after a theater performance.
Observation Lounge: If you're seeking terrific land-and-sea views, this is one of the best spots on the ship. This lounge will have both live music and a whimsical chandelier.
In addition, the ship also has a Connoisseur Club and Casino.
8. The Age of Grandeur: 15 Lavish Suite Categories
In total, Seven Seas Grandeur will offer 15 categories of suites. That said, wherever you stay, you'll have ample space to spread out. Size-wise, the smallest suite is 307 square feet.
The popular Deluxe Veranda Suite category ranges from 308 to 361 square feet. All suites include a furnished private balcony.
9. Butlers and Special Amenities in Penthouse Suites and Higher 
Butler service is provided for the Penthouse Suites and higher category suites. A butler will gladly help you unpack, set up a romantic al fresco dinner on your private balcony, or arrange a special private-car adventure ashore, depending on individual guest desires.
Other amenities that distinguish the Penthouse Suites (and above categories) are daily canapés, an in-suite Windows tablet for guest use aboard and a Bose Bluetooth speaker.
As for those Penthouse Suites, here's the scoop. There are 55 of those on board with up to 644 square feet of space (and balcony space of up to 194 square feet). These suites offer separate seating area from the bedroom.
10. Age of Grandeur: All-Inclusive Product
Regent Seven Seas is known for its "all-inclusive" approach. So, these items are generally included within the cruise fare: two-for-one, all-inclusive fares; roundtrip air on domestic flights; unlimited shore excursions; unlimited beverages including fine wines and spirits; open bars and lounges plus an in-suite, mini-bar replenished daily; pre-paid gratuities; dining at specialty restaurants; transfers between airport and ship, unlimited Wi-Fi, valet laundry service and more.
In addition, Concierge Suites and higher accommodations include a one-night, pre-cruise hotel package. And as noted above, Penthouse Suites and higher accommodations receive butler service.
Parting Thoughts 
If you're interested in sailing on Seven Seas Grandeur, chat with your travel advisor as soon as possible. This ship has proven highly popular for bookings on its inaugural year journeys.  Your travel advisor can assist in identifying the best options for you.
Here's one itinerary example. On March 5, 2024, Seven Seas Grandeur will sail roundtrip from Miami, FL, for a 10-night "Magic in the Caribbean" voyage within the Bahamas/Caribbean region.
Guests will have three sea days throughout the journey. Ports of call will include: Great Stirrup Cay, Bahamas (a cruise line private island experience); San Juan, Puerto Rico; Gustavia, St. Barths; Roseau, Dominica; St. John's, Antigua; and Tortola, B.V.I.
At presstime, there was still some high-end suite availability, although many of those categories were waitlisted. With two-for-one fares already "taken off," the base pricing for a Grandeur Suite (GN category) started at $14,099 per person, double occupancy, while a Penthouse Suite (A) accommodation started at $10,899 per person, double occupancy. A Deluxe Verandah Suite began at $7,799 per person, double occupancy. Fares are subject to change.
The ship will sail within the Caribbean this winter, then reposition to the Mediterranean Sea for summer 2024. Then it's back to the U.S. for fall foliage voyages in fall 2024.
Again, chat with your travel advisor. Now is the time to discuss your vacation "wishes" so you can plan ahead if you're seeking a voyage on this ship. In just nine months, the "Age of Grandeur" will begin with the ship's launch.
Important Information from Pavlus Travel
This blog site offers "basic, general information" about travel; it's not designed to provide specific pricing nor is it staffed by travel advisors.
Any personal views expressed reflect the anecdotal perspective of the author — simply one opinion by a frequent traveler. The views expressed should not substitute in any way for use of a professional travel advisor. And that applies to either advice or booking of any vacation.
Also, please don't use the Reply Section below if you're asking for pricing, travel dates, accommodations, brochures or other specific requests. 
That said, we are most happy and eager to assist you. Here's how…
If anything does tweak your interest in the story and you'd like to talk about a future vacation, please DO call us at 800-528-9300.
Definitely, if you have questions about specific pricing, brochures, savings, itineraries, dates of travel, accommodations, accessible options and so on, please contact us. Again, call us at 800-528-9300 or visit and "live chat" at Pavlus Travel's official agency Web site.