We're rollin' on the river – the Mississippi River – while sailing this week between New Orleans, LA, and Memphis, TN, with executives of American Queen Voyages. So, The Meandering Traveler is getting some hints about the new culinary offerings that this American river line will introduce moving forward.
The culinary moves come as Cindy D'Aoust, the brand's new president, puts her own touches on the river cruise experience. She joined AQV last September.
On boarding day for the 417-passenger American Queen, for example, we were treated to a new brunch experience the line fielded for the first time. It unfolded in the ship's J. M. White Dining Room (shown in the photo below)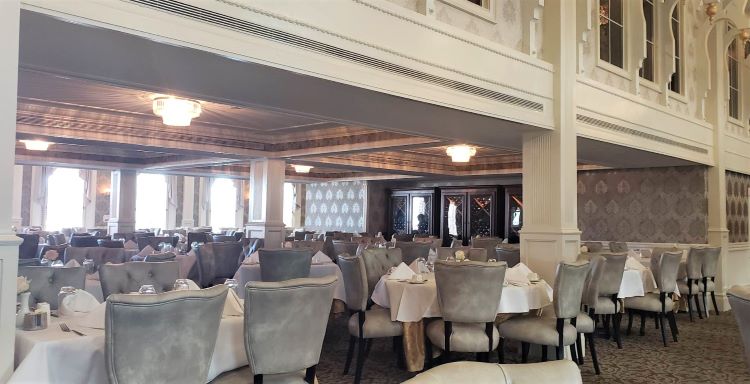 Important Note: AQV is still in the "initial stages" of trialing and introducing new options, so what's offered is still being tweaked and fine-tuned.
That said, D'Aoust and others are emphatic that guests can expect, for example, many elements of our brunch experience and other new options to surface during future voyages. So, the brunch might be served in its entirety on another day, not necessarily boarding day, for example. A sailing day would make a lot of sense.
So, what is known thus far?
Regina's Culinary Touch
Good news for AQV loyalists is that Regina Charboneau, the line's culinary ambassador will remain with the line moving forward in helping debut those new options.
The Meandering Traveler wrote about Charboneau, her passion for cooking and background in a past blog.  Affectionately known as "The Biscuit Queen of Natchez," she's a renowned southern chef who owns a Natchez, MS, cooking school.
Look for Charboneau to be spending more time on ships and doing more culinary demonstrations. Most notably, she'll be doing more to "engage" the ships' culinary crew members one-on-one. She'll impart knowledge about her specialties and, in turn, tap into their diverse culinary expertise.
Specifically, Charboneau's role will be more "proactive" and "hands on" in culinary product development. She won't simply be marketing-focused, as she was during the recent past.
New Culinary Offerings: Brunch Menu
On the brunch buffet, we savored Charboneau's tasty butter biscuits with caramelized applewood bacon and jam (Two of those are shown in the photo below adjacent to the berries). As one New York City resident at our table put it: "If I never have anything else in my life to eat, I want those!" 
We can concur that they were quite tasty. And their smaller size made them the ideal accompaniment to other breakfast fare. Of course, we had to taste a lot of the other dishes. And no, we didn't eat this entire plate shown below. We just sampled (well, except for the bacon — going, going, gone!)
We also particularly liked the cheese souffle with chives (shown on the right side of the photo below).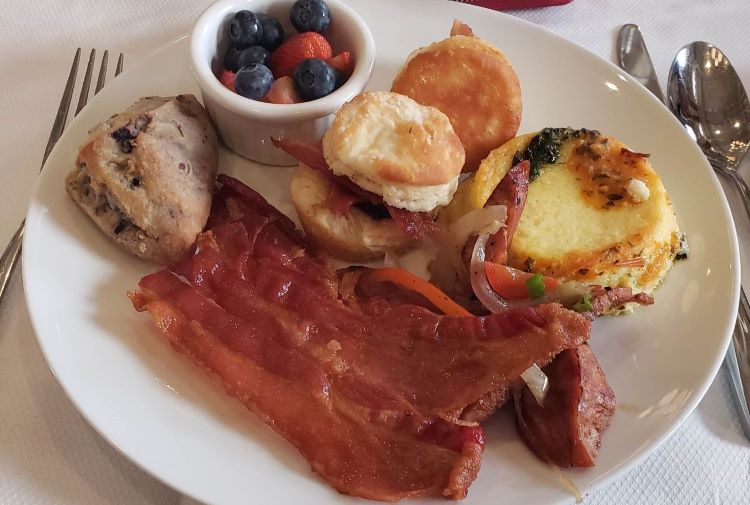 D'Aoust emphasizes that she and her team are still exploring options. They're throwing around ideas and trialing certain things. The goal is to come up with new culinary features for guests. Look for more detail about those new options over the next few months.
Brainstorming for Ideas
For example, she'd like AQV to become more engaged with local businesses along the waterways that the ships sail. So, for example, if there's a pastry shop and deli along the route, there might be an opportunity for that type of small business to come aboard, do surprise offerings or provide samples of its specialties for guests.
D'Aoust is also interested in creating new opportunities on the culinary side ashore. For instance, guests might go ashore with a picnic basket prepared by the crew. That way, they might enjoy the great outdoors in a park or along the riverbank. Those are the type of culinary ideas AQV is evaluating.
New Culinary Options for Brunch 
So, let's chat about the new brunch menu we sampled this week. It included two main two food sections. First, the self-serve buffet offered the following:
Breads and morning pastries
Berries and fresh fruit
Steamboat side salad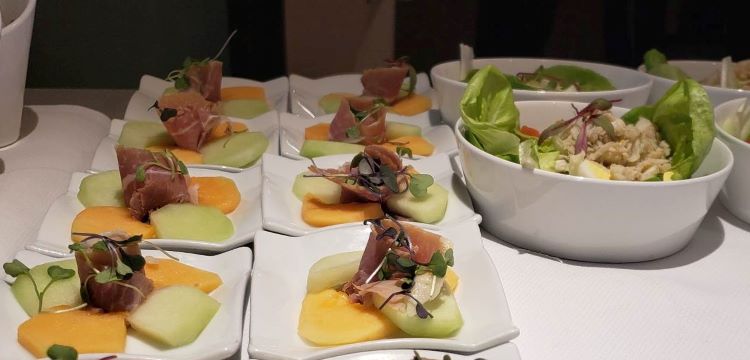 Caprese salad with roasted asparagus (highly recommended by several guests at our table)
Crab Louie salad
Savory southern-style grits (A covered pot with grits and accompanying cheese and bacon, is shown in the photo below. Regina Charboneau's mini-biscuits with bacon and jam are on the far right).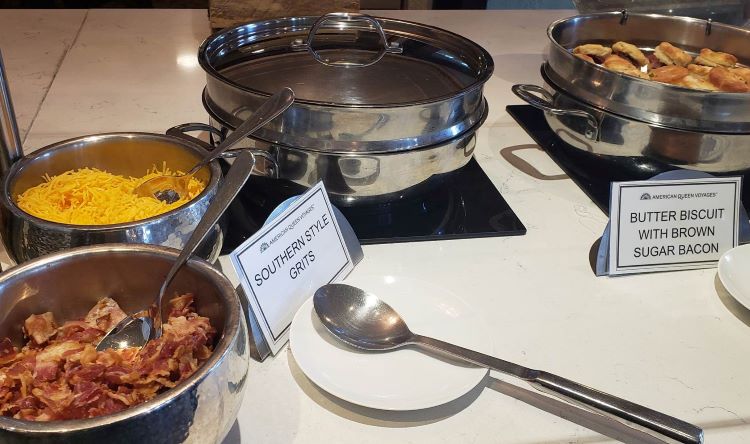 Hot smoked salmon plate
Melon and country ham
Breakfast meats (smoked bacon, sausage links and smoked sausage)
Andouille hash with fried eggs
Cheese souffle with chives
Hand-carved ham
Plus, it wasn't listed on the buffet menu, but the buffet also had fresh oysters on the half shell (shown in photo below on the left side; adjacent dishes include salmon and the Caprese salad with rooted asparagus).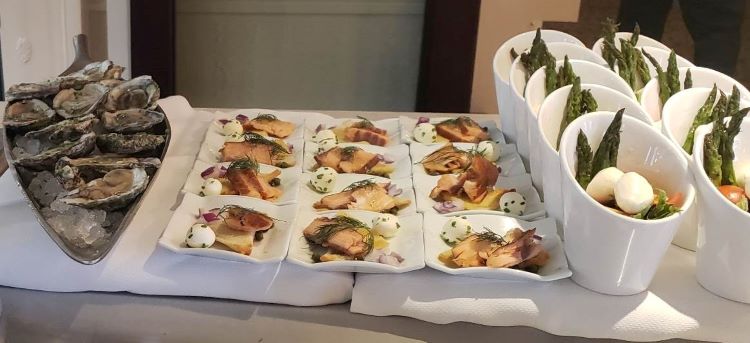 A La Carte Lunch Specials
The second section of the new brunch menu deals with A La Carte Lunch Specials. We ordered the shrimp bisque, which was superb. Guests could also order the following:
Eggs Benedict
Chicken fricassee
Bronzed redfish
Monte Cristo sandwich
Eggplant "pasta" with grilled vegetables
The beverage menu included:
A Bloody Mary Bar
Champagne or mimosa
Freshly brewed tea
Soft Drinks
Lemonade
While the buffet was self-service, our server volunteered to get us anything on the buffet. She took orders and delivered all the A La Carte Specials and drinks too.
New Culinary Development for AQV: America's Test Kitchen
Recently, American Queen Voyages also inked a partnership to become a sponsor of America's Test Kitchen. That TV culinary group will also assist in creating, testing and debuting new regional specialties on AQV's vessels sailing on North American rivers.
Look for select dishes to show up as a highlight on dining room menus. Recipes for those dishes will also be shared with guests. Plus, they'll be prepared during onboard culinary demonstrations.
AQV Schedules
AQV sails the Mississippi River, other North American heartland rivers, and the Columbia and Snake rivers of the Pacific Northwest. Here's a link to their website to see all the options. In addition, competitors Viking and American Cruise Lines also sail on U.S. rivers.
Talk with your travel advisor about the itineraries, accommodations, promotions and any deals or discounted airfare for a vacation on American Queen Voyages or another river line. Pretty soon, you can be 'rollin on the river too. And if you're traveling on AQV, you'll likely have some savory new culinary options.
Important Notes from Pavlus Travel
If anything does tweak your interest in the story and you DO have questions about specific pricing, brochures, savings, accommodations, accessible options and so on, please contact us at 800-528-9300. Or visit us online at Pavlus Travel's official agency Web site; there you can "live chat" with us online too!
This blog site is designed for "basic, general information" about travel. It's not staffed by travel advisors.
Any price examples used in the above blog are subject to change. They also do not represent the full range of options; a travel advisor can assist with additional information.
Please don't use the Reply Section below if you are asking for pricing, travel dates, accommodations, brochures or other specific requests. Please use the 800 number or online link. 
Thanks for reading!