Are you considering or dreaming about a pampering river cruise? During AmaWaterways cruises on global rivers, travelers can enjoy top-notch service, get "up close" to destinations, gaze at eco-beauty and sip and savor fine wine and cuisine.
Best of all, they can float along the river into a country's heartland — while comfortably cocooned in upscale accommodations on an intimate, luxury river vessel. (AmaDahlia is shown above on the Nile River; photo by AmaWaterways).
With that in mind, check out The Meandering Traveler's "Top 5 Takeaways for What's New at AmaWaterways," gleaned from a chat with the line's Rudi Schreiner, president and co-founder, and Kristin Karst, executive vice president and co-founder.
1. Oh Magdalena! New Voyages through Colombia's Heartland
Some readers likely have sailed into Cartagena, Colombia, during a daytime port call on a Caribbean ocean cruise. If so, you've probably admired the city's 16th Century Old Town as we did during a Silversea Cruises voyage a few years back.  We enjoyed ambling along the Old Town's cobblestone streets, strolling through its pretty squares and admiring the colorful colonial buildings.
But after just a few hours, we and our fellow cruisers reboarded our motorcoach, returned to the ship and sailed away to the next port of call in another country. In the evening, we talked about liking what we'd seen in Cartagena. And we wondered what was further inland for travelers to see in Colombia's heartland?
Simply put, we wanted to know more about Colombia and to explore "deeper" into its interior. We wanted to dive deeper into the region's heritage, culture, music and cuisine. So, the good news is that starting March 30, 2024, travelers will have an enticing new way to do just that — on new AmaWaterways river cruises!
AmaWaterways Cruises: Coming in 2024 on the Magdalena River 
Yes, we admit it. We're big river cruise fans. So, we're super excited about any luxury river line that starts voyages in a new region. In this case, AmaWaterways will begin sailing Colombia's Magdalena River ("Rio Magdalena" in Spanish) in the spring of next year. It's the line's first river venture in South America.
Flowing through a region rich in biodiversity and cultural draws, the Magdalena River stretches more than 900 miles from La Magdalena lagoon within the Andes mountains to the Caribbean. As the ship moves further inland, cruisers will see the locals engaged in farming or fishing.
Schreiner believes that the Magdalena provides a great way for people to experience an exotic river cruise – yet much closer to home (than Southeast Asia or Africa, for example). Plus, there are good air options.
Two great resources? We'd suggest readers view this one-hour YouTube virtual presentation, conducted this past week by AmaWaterways' Schreiner, Karst and others. During this presentation, you'll get a sneak peek at the new itineraries, two new river vessels, ports of call, activities for cruisers, special events and so on. Note: Some sound distortion at the beginning of this event is only fleeting; it clears up quickly.
We'd also suggest perusing this AmaWaterways website page.
Exotic Itineraries, New Ships  
Okay, now that we've piqued your interest, you may be wondering: "But what can I expect to find in the quality of a river vessel operating these new voyages?" Well, AmaWaterways is currently building two new river vessels in Colombia.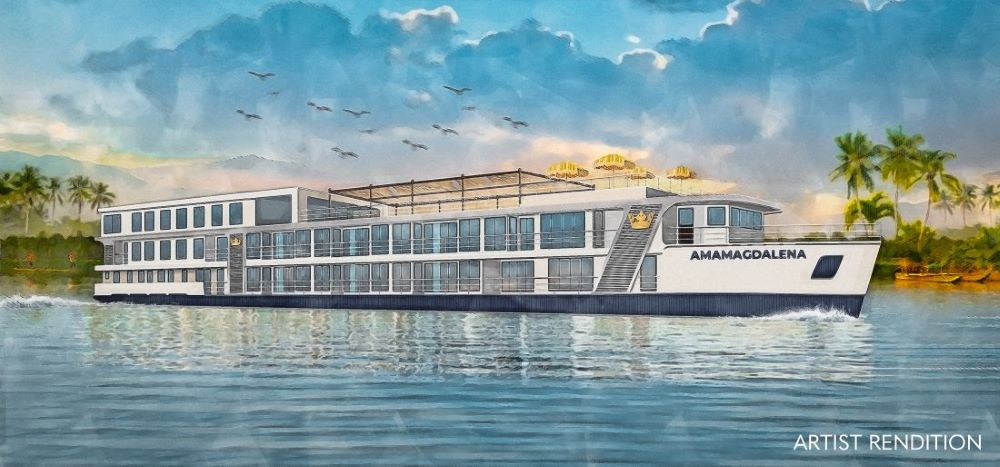 So, if you sail along the Magdalena River, you'll do so on a sparkling, intimate new ship. Starting with the line's March 30, 2024, departure, the new, 60-passenger AmaMagdalena will begin voyages deep into the Colombian interior. Sister AmaMelodia will begin sailing in June 2024.
As for itineraries, AmaWaterways is offering two seven-night options, which vary only slightly. A "Wonders of Colombia" itinerary will operate from Cartagena, Colombia, to Barranquilla, Colombia. The "Magic of Colombia" itinerary will operate in reverse.
At press time, fares for both started at $3,599 per person, double occupancy; prices are subject to change. Click on the two itinerary links to see the individual itineraries and the cruising route and destinations. Just keep in mind that AmaWaterways is still in the process of uploading all the Magdalena cruising information to its website.
Barranquilla Tip, Plus Extending Your Trip
If you've been to Cartagena, you may wonder about Barranquilla's claim to fame. Well, it's best known for its colorful, four-day "Carnaval de Barranquilla," the world's second largest such celebration with floats, parades, dancers, musicians, entertainers and street fun. Year-round, though, river cruisers can get a taste of that by strolling through Barranquilla's Museo Romantico to view Carnaval artifacts from past celebrations.
For a truly immersive vacation, depending on which of the two itineraries is chosen, we'd suggest travelers add AmaWaterways' pre- or post-cruise stays in Cartagena; Medellin, Colombia; or Panama City, Panama. Definitely let your professional travel advisor know if you're interested in the new Colombia options.
2. Remote Work: AmaWaterways as a Floating Office 
Approximately 26 percent of all American workers are now "remote workers," according to Zippia, a company focused on careers and jobs.  That site also projects that approximately 36.2 million U.S. employees will be working remotely by 2025. In fact, 85 percent of managers believe that teams of remote workers will become the new norm.
While working remotely offers many positives, 40 percent of remote workers say that struggling to unplug at the end of the day is their biggest challenge, and 50 percent says they feel lonely once a week. Well, one way to solve those issues — for a week or two at least — is to head for a pampering river cruise. And many people are doing that more often.
Sometimes one spouse or partner may desire a river cruise, but the other person can't take off from work. With remote workers, it's no issue. One person can tour during the day, the other do his or her required work. At night, then the couple can socialize with newfound friends, and enjoy cocktails, dinner and evening activities. Or, both people can tour in the morning, and then the remote worker put in the hours starting mid-day.
Wi-Fi and Internet
One reason that consumers working remotely are increasingly heading for global rivers is that the vessels have Wi-Fi/Internet access. "So, everyone can enjoy a vacation and work at the same time," Karst says.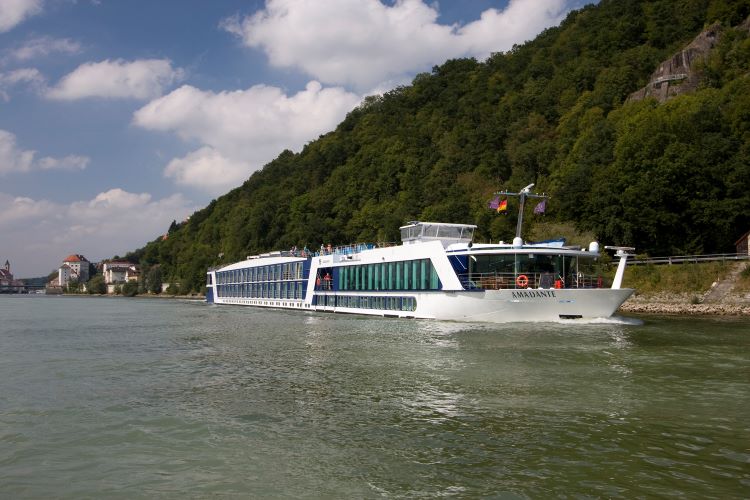 In Europe, AmaWaterways offers complimentary Wi-Fi throughout the ship and high-speed Internet as part of the in-stateroom "Entertainment-On-Demand." Plus, during most days, the ship is docked in the heart of towns and cities, so off-site Internet options are also available, if needed.
Working in exotic locales can be a bit more challenging. In Africa, AmaWaterways says free Wi-Fi is available but may be limited or sporadic during certain times of the day. That's due to the ship's isolated location.
In Vietnam and Cambodia, free Internet and Wi-Fi are available in the ship's lounge with computer stations. Just be sure to evaluate your choice of region carefully, based on your type of remote work and the amount of time daily you must spend working online.
Perks of Working Remotely
Here are some of the perks of working remotely on a river cruise — ones we've personally experienced sailing on AmaWaterways' AmaStella in Europe.
The work environment is relaxing and comfortable. Your stateroom or suite offers a quiet environment. We've found it easy to handle business emails and write on the laptop during a river cruise.
On days when other guests or family members are touring ashore, we've also discovered that it's easy to work online in a lounge, restaurant or other public space.

As the ship floats along, work hard but look up at times for gorgeous views of the outside world. It sure beats sitting in a home office. We loved spotting a m

agnificent castle, quaint village or cascading vineyard.

Dining is a treat as no meal preparation is required. Onboard, remote workers can head to the ship's lunch offerings, perhaps choosing to dine al fresco. Or, workers can enjoy a lunchtime experience they certainly won't find at home — heading out to a Parisian cafe or chowing down on a tasty bratwurst while "lunching" in Bernkastel, Germany. 

Night-time pursuits are also enticing. During a cruise on Portugal's Douro River, guests might start work at 6: 30 a.m., work until 2:30 and then head out late afternoon or evening for wine tasting. Or, in Vienna on the Danube River, you might talk to the concierge or shore desk manager about attending an orchestral concert or ballet performance.
If you're feeling lonely after a day of working remotely in the stateroom or suite, just head for the ship's lounge to meet new people and socialize.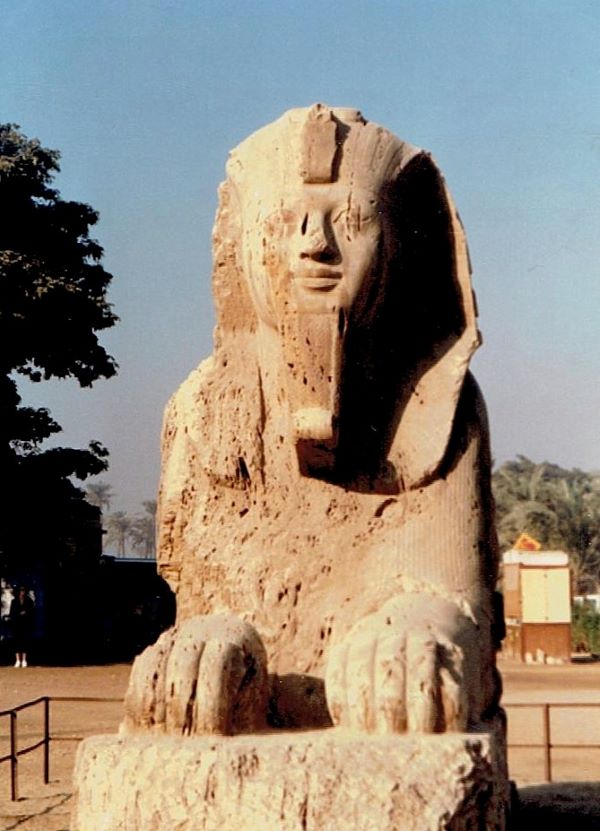 3. AmaWaterways Cruises: Soaring Interest to Cruise Like an Egyptian
Don't walk like an Egyptian as the old song goes. Instead, go river cruising like one!
One exotic river region that's absolutely booming in terms of AmaWaterways' bookings is Egypt's Nile River, Schreiner tells us. Consumers are absolutely clamoring to head for this exotic region.
"Egypt is the most beautiful, amazing destination from the culture, the history, the beauty of the country, and the people, who are very friendly and polite," Karst tells us. While tourism was pretty much shut down during a 10-year period of revolution and the political strife that followed, she says travel to Egypt is back and in a big way.
Karst continues: "Now that everything is well and [considered] safe again, it really drives people to explore this unique part of the world."
One hook for many travelers is that sometime in 2023, the new Grand Egyptian Museum will open. It's located on the Giza Plateau and convenient to the Pyramids. Highly anticipated, it's expected to offer views of incredible artifacts to delight ancient history buffs. 
Here's an independent web site with interesting tales and information about the new museum
AmaWaterways Cruises: "Secrets of Egypt and the Nile"
"We like AmaWaterways' 11-night "Secrets of Egypt and the Nile" itinerary for its excellent allocation of time," says Shelby Steudle, president of Pavlus Travel. "For example, guests will spend three included nights in Cairo pre-cruise, so they can truly custom design what they wish to see and do or take the line's included tours. Certainly, when it opens, that long-awaited Grand Egyptian Museum will draw many river cruisers."
Guests will then take an internal air flight (included in the cruise fare) to Luxor. There, they'll board the 72-passenger AmaDahlia for a seven-night cruise roundtrip from Luxor. They'll also spend one night post-cruise in Cairo; that's also included in the fare.
Both ships have an all-inclusive product, according to Karst. That's because most people don't go to Egypt multiple times, she notes: "You pretty much go one time and want to see everything."
At press time, all-inclusive fares for the 11-day adventure in 2023 started at $5,999 per person, double occupancy. Prices are subject to change.
In addition, travelers can add an optional pre-cruise land program in Jordan, as well as a post-cruise land program in Israel or Dubai, U.A.E. In particular, "Egypt, Jordan and Israel are in high demand," Karst reports.
Lovely, Intimate AmaDahlia
Launched in 2021, AmaDahlia has 36 staterooms including 16 magnificent suites. Guests are served by 62 crew members.
We'd suggest soaking up some sunshine and gazing at Nile riverbank scenery from the ship's top deck.  That space has both a bar and heated swimming pool. Surrounding the pool are lounge furniture and umbrellas (see photo below).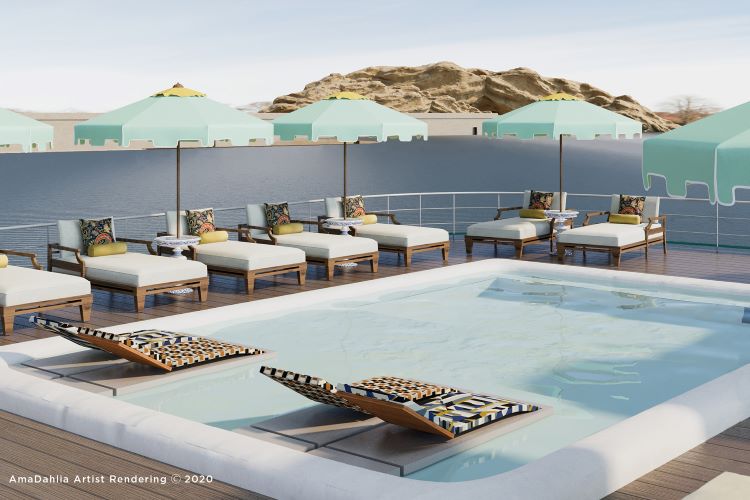 Among the interior spaces are a Chef's Al Fresco Restaurant, hair and nail salon and two massage rooms.
The latest news, according to Pavlus Travel's Steudle, is that another new AmaWaterways vessel, AmaLilia, will launch on the Nile in 2024. It will offer 41 staterooms and suites.
So, are you ready to "river cruise like an Egyptian"? If you'd love to meet the people, dive into global cultures, heritage and cuisine, and gaze at ancient sites frequented by the Pharaohs, call your personal travel planner today.
4. Making the Most of a Vacation, Staying Longer
Many consumers isolated during the pandemic couldn't travel or celebrate important special occasions with family members and friends. As a result, many now are seeking to "make the most" of their cherished vacation.
Karst says they want to stay longer and do more. Many consumers are asking for back-to-back cruises – turning a seven-day vacation into a 14-day or even longer trip.
So, in Europe, AmaWaterways has adopted "same day embarkations" on many itineraries. Presto, guests can disembark one cruise, take the line's transportation arrangements (air, train or road) and hop on another ship the same day. That keeps the food, wine, activities and enrichment flowing.
For example, she says travelers might desire to come off a Seine River cruise in Paris, travel to Lyon, and start their next cruise experience on the Rhone/Saone rivers the same day.
For those seeking a "World Cruise" of sorts on global rivers, the line announced its unique "Seven Rivers Journeys" in 2021. Those grand-shebang itineraries are offered in 2023 and 2024. Karst also expects the line to offer this lengthy vacation option again in 2025.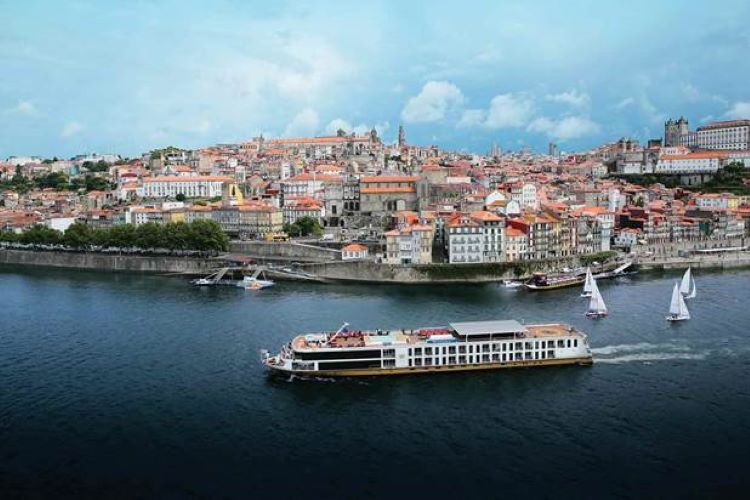 5. AmaWaterways Cruises: Extended Seasons on Select European Rivers
Typically, AmaWaterways and other river lines end their season of sailings along Portugal's Douro River in mid- to late November. That won't be the case later this year. Look for the line to continue sailings through year's end.
That opens up new opportunities for river cruisers to sip and savor within this wine-focused region. Check out our past blog about what to see and do in Porto. 
"It's a wonderful time to experience Portugal during the holiday season, visit the Porto Christmas markets and experience local holiday traditions," adds Pavlus Travel's Steudle. Plus, travelers can leave the summer crowds behind."
Rhine and Danube Extensions Too
Looking ahead to 2024, Schreiner and Karst also revealed that AmaWaterways will operate an "extended season" on the Rhine and Danube rivers. What does that mean? Well, normally ships might begin operating on central European rivers in March or April.
Next year, however, AmaMagna, the line's purpose-built wider vessel, will begin sailing the Danube River in mid-February. In turn, AmaLucia also will begin sailings earlier in the year on the Rhine River.
So, much is new this year and beyond on global rivers with AmaWaterways. Check out more AmaWaterways options on the Pavlus Travel website. Also, read a past blog about enticing themed cruises that this river line and other lines offer too.
Looking ahead, we can't wait to see what's next!
Important Information from Pavlus Travel
If anything tweaks your interest in this blog and you'd like to talk about a future vacation, please DO call us at 800-528-9300.
Definitely, if you have questions about specific pricing, brochures, savings, itineraries, dates of travel, accommodations, accessible options and so on, please contact us. Again, call us at 800-528-9300 or visit and "live chat" at Pavlus Travel's official agency Web site.
Note to Readers: Please do not use the reply section of this site to ask questions about potential vacation options. Instead, call the number above or visit the Pavlus Travel website. This blog site offers "basic, general information" about travel; it's not designed to provide specific pricing nor is it staffed by travel advisors. Any personal views expressed reflect the anecdotal perspective of the author — simply one opinion by a frequent traveler. The views expressed in the blog above should not substitute in any way for use of a professional travel advisor.